daily fantasy sports articles
2018-19 NBA Daily Fantasy Tips for Thursday, 14th February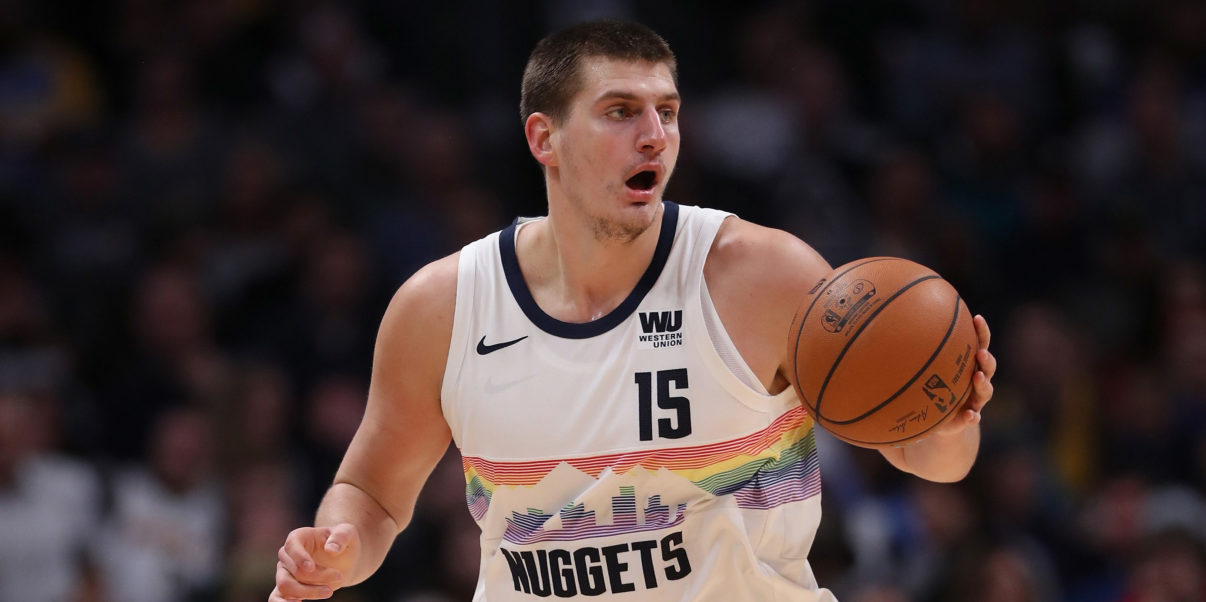 NBA Wednesday (Thursday AEST) brings us the second last day of games before a week off for the all star break with a monster 11 game slate. The usual major DFS tournaments are on offer:
We have broken down the matchups and highlighted the key plays to help you build winning lineups. For more insight into how to utilise our game breakdown data check out our NBA DFS Training Camp Series:
Part 1 – Betting Lines and Totals
Part 2 – Matchup Analysis – Pace and Defense vs Position
Part 3 – Key Statistics in Daily Fantasy Basketball
Part 4 – Trade Analysis – Breaking Down the Jimmy Butler Trade
Part 5 – DraftKings Sharpshooter Winning Lineup Recap
Part 6 – Adjusting for Line-up News
Have you seen our new NBA DFS Cheat Sheets? We have added even more information for you to see at a glance, including pace numbers, last 5 scores per player and a new Slate Overview section, which brings you projected pace, projected fantasy score totals and Vegas lines and totals for every team on the slate. The perfect accompaniment to our regular previews and a great starting place for the days we don't cover!
GAME BREAKDOWN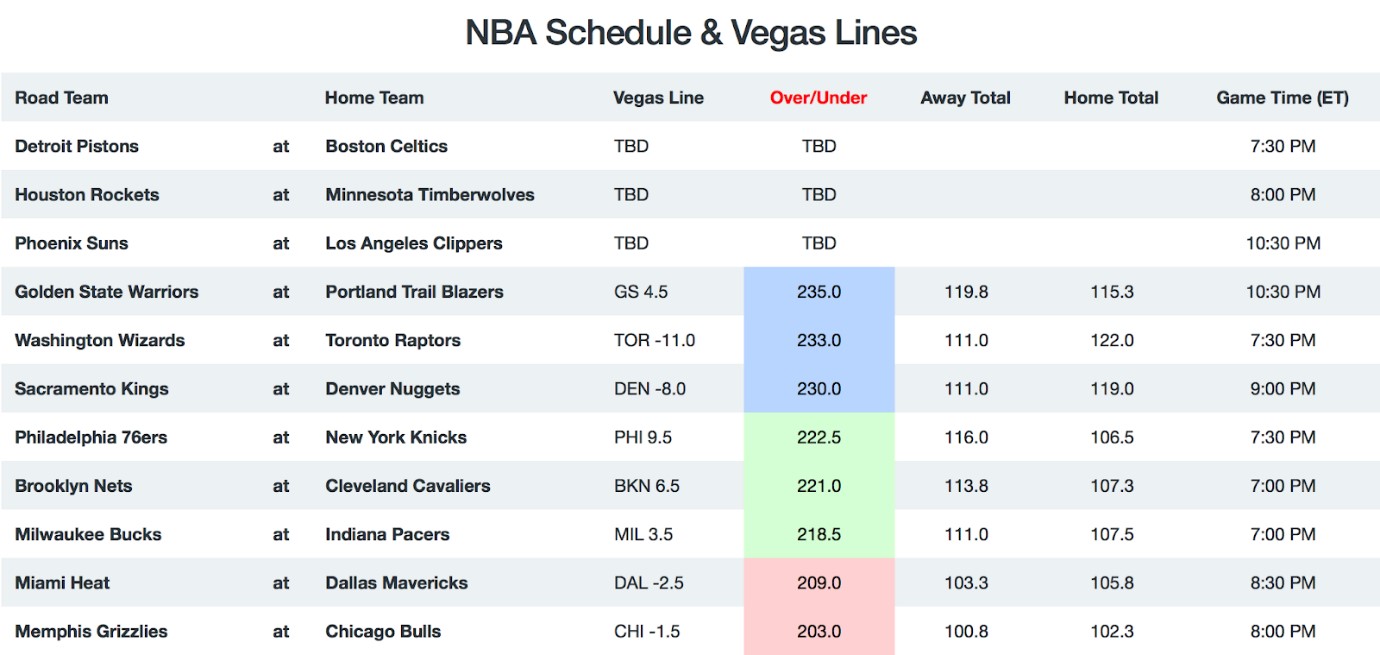 This is a monster slate so you can expect it to be a wild ride, particularly when you throw in the fact we are still fresh off the trade deadline and there are injuries galore with three games yet to have a line set (we break down the injuries below).
There are three games with 230+ point game totals. The closest line of these surprisingly enough is Golden State at Portland. With the highest total on the slate at 235 points this should be an attractive game to target, particularly on Portland's side.
Of the games yet to have a line set Phoenix at Los Angeles is the game that stands out. This total should be amongst the highest on the slate, and with the Clippers essentially packing it in for the season at the deadline there is every chance Phoenix can keep this game close.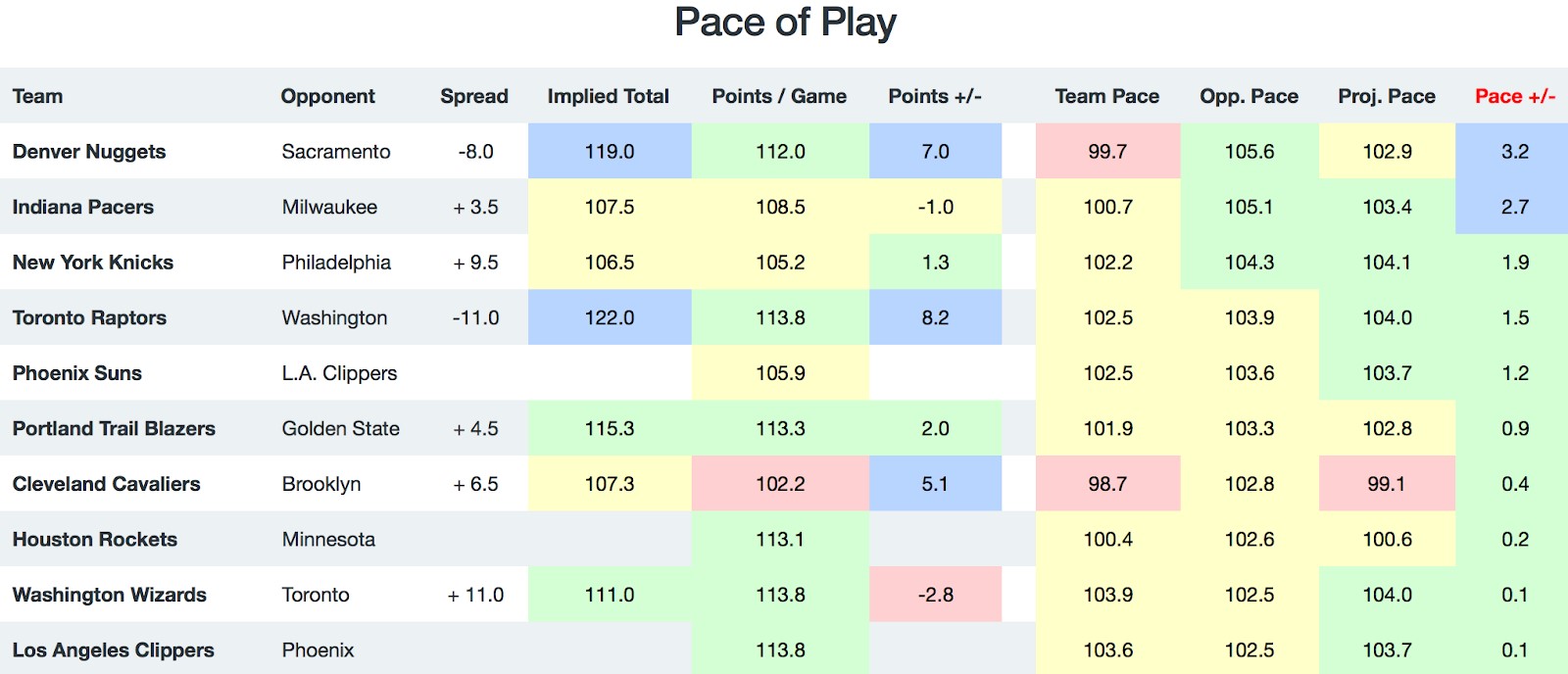 Denver are in the top pace up matchup on this slate against Sacramento who have played at the second fastest pace in the league this season. The risk here is Denver are 8 point favourites, however the Kings have continued to surprise this season and are currently sitting in the playoff picture so the game has every chance of staying competitive.
Indiana are in the second top pace up spot of the slate, however be cautious given it is against the Milwaukee Bucks who are ranked number one in defensive efficiency this season.
Injury News
Major injury news that could impact this slate includes:
Boston
Kyrie Irving was out on today's slate. In the games Kyrie has missed this season Terry Rozier (DS $11,410, DK $6,900) has been the biggest beneficiary moving into the starting lineup and averaging +12.7 fantasy points, however at this point he has also been priced way up. The sneaky play has been Gordon Hayward (DS $8,990, DK $4,800) who has been finding form recently and averaged +6 fantasy points in games Irving has missed this year.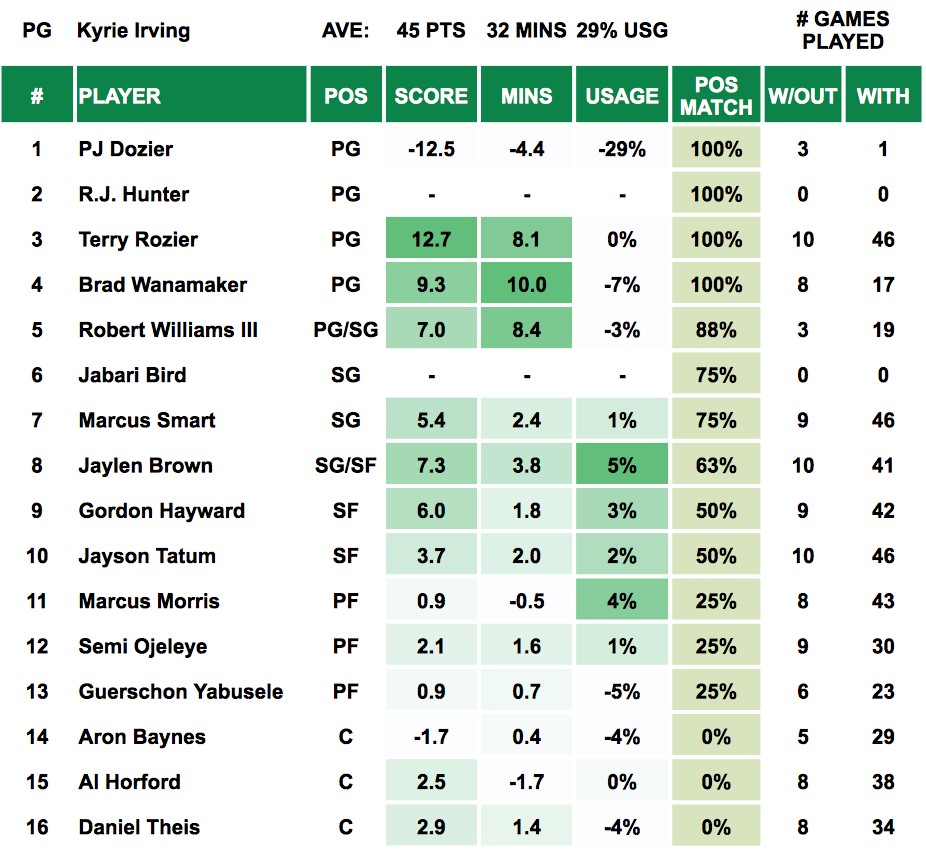 Golden State
DeMarcus Cousins is out for the game against Portland on this slate. Cousins has played 23 minutes a game since returning from his achilles injury this season and had a whopping 28% usage, which means with him being out Stephen Curry (DS $17,440, DK $9,200) and Kevin Durant (DS $17,500, DK $9,300) will resume pre-Cousin's work loads. Kevon Looney (DS $7,010, DK $3,700) will likely take Cousins spot in the starting lineup.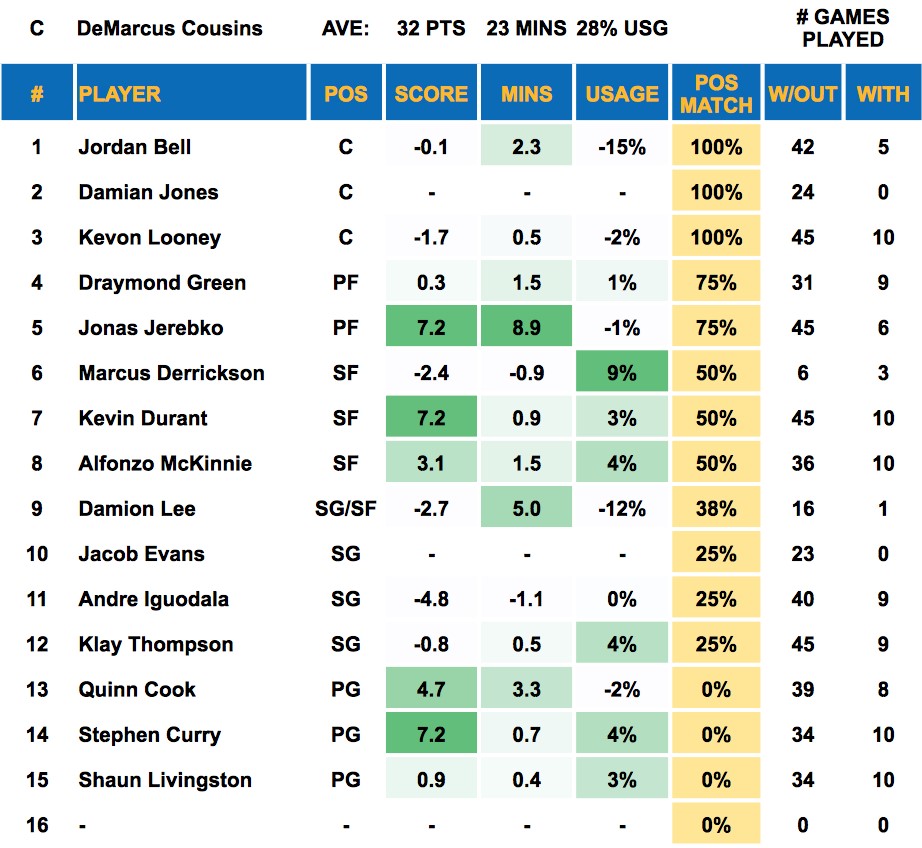 Memphis
Mike Conley is a game time decision on this slate. Conley missed today's game and Delon Wright (DS $7,210, DK $3,600) replaced him in the starting lineup to return 26 fantasy points.
Minnesota
Andrew Wiggins is a game time decision on this slate. Luol Deng (DS $6,530, DK $4,100) has been the biggest beneficiary in games Wiggins has missed this year averaging +7.9 fantasy points from an extra 10 minutes playing time.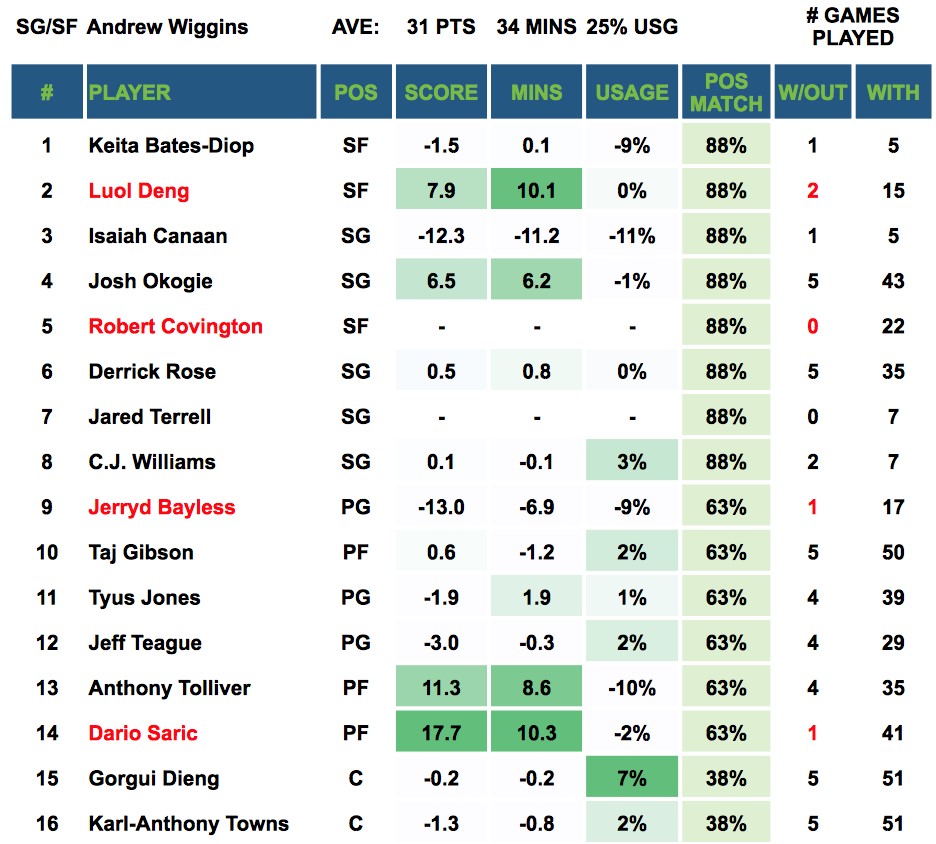 VALUE
Remember to monitor injury news, particular those uncertainties noted above, as tip off gets closer as further value should open up.
Collin Sexton (DS $10,080, DK $4,900) remains at a value price on DraftKings despite averaging over 30 fantasy points from 35 minutes over his last five games. On this slate he draws the Brooklyn Nets who have played at the second fastest pace in the league over the past 15 games.
Dario Saric (DS $9,330, DK $4,600) has become a starter over the last two games notching up 37.5 fantasy points from 33 minutes in his most recent game. If Wiggins remains out on this slate Saric will be an elite play against Houston.
Al-Farouq Aminu (DS $8,720, DK $4,500) returned to a normal level of action in his recent game notching up 28.75 fantasy points from 33 minutes of playing time. That was against the Thunder who are athletic and play at a fast pace. On this slate they have a similar matchup against Golden State where the Trailblazers will require Aminu to matchup against Kevin Durant. This pace up matchup will also suit Aminu who have a ceiling of 40+ points.
MID-PRICED
Montrezl Harrell (DS $12,200, DK $6,900) has been unleashed since the Clippers upended their roster at the trade deadline. While still coming off the bench he is now playing over 30 minutes a game and has averaged over 35 fantasy points in the last 5 games. On this slate he matches up against Phoenix who have given up the third most fantasy points to centres this season.
Draymond Green (DS $11,530, DK $6,000) should benefit from Cousin's being out by receiving a slight increase in usage and a boost in rebounding rate through playing greater minutes at centre. His price has dropped almost $1,000 on DraftKings since Cousin's entered the lineup making him decent value on this slate.
PREMIUM
Nikola Jokic (DS $18,750, DK $10,100) is in the top pace up matchup of the slate against Sacramento who have given up the third most fantasy points in the league this season. He brings 70 point upside and this is a matchup that will give him every opportunity to unleash that at little ownership given the number of stars on the slate.
Jusuf Nurkic (DS $13,250, DK $7,400) is another GPP special on this slate. After his recent performances he should be very low owned and I love attacking the centre position against the Warriors (pre-Cousins anyway). With Cousins out he will be matched up against Kevin Looney for the majority of the match, or Draymond at times, both of which offer mismatch for Nurkic.
Data provided by Notorious of RotoGrinders and Daily Fantasy Rankings NBA Resources

Always remember to gamble responsibly. When the fun stops, stop. If gambling is having a negative impact on your life, seek support at Gambling Help Online. 18+ only.