daily fantasy sports articles
2018-19 NBA Daily Fantasy Tips for Thursday, 17th January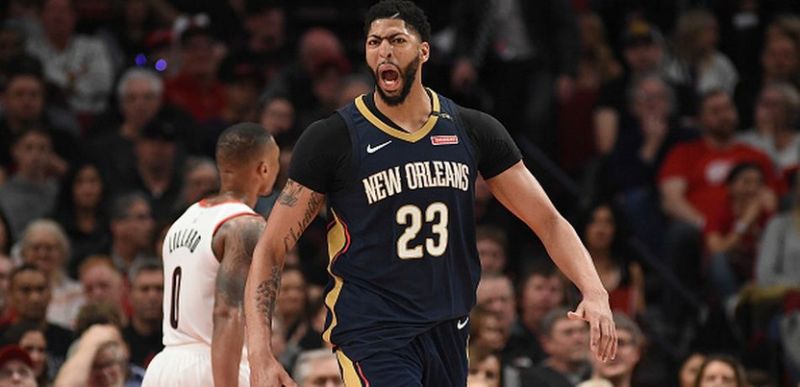 This week has had beautifully sized slates each day and NBA Wednesday (Tuesday AEST) continues that with a user friendly 8 games slate. The usual major DFS tournaments are on offer:
We have broken down the matchups and highlighted the key plays to help you build winning line ups. For more insight into how to utilise our game breakdown data check out our NBA DFS Training Camp Series:
Part 1 – Betting Lines and Totals
Part 2 – Matchup Analysis – Pace and Defense vs Position
Part 3 – Key Statistics in Daily Fantasy Basketball
Part 4 – Trade Analysis – Breaking Down the Jimmy Butler Trade
Part 5 – DraftKings Sharpshooter Winning Lineup Recap
Part 6 – Adjusting for Line-up News
Have you seen our new NBA DFS Cheat Sheets? We have added even more information for you to see at a glance, including pace numbers, last 5 scores per player and a new Slate Overview section, which brings you projected pace, projected fantasy score totals and Vegas lines and totals for every team on the slate. The perfect accompaniment to our regular previews and a great starting place for the days we don't cover!
GAME BREAKDOWN

Once again we have a New Orleans Pelicans matchup that stands above the rest, this time by 18 points to the second highest total on the slate with a massive 240 point game total. This game will be far and above the most popular target, however given the number of stars in these games stacks might be difficult to squeeze in. The line for this game against the Warriors is set at just 6 points but given the recent form of the Warriors I personally think there is every chance of a blowout.
There are two games on this slate without game totals set at this point due to injury news which is discussed below.

Yikes… this might be the slowest paced slate of the season. Just 5 teams in pace up matchups and no major pace up situations.
Memphis have the pace up matchup on the slate vs Milwaukee but targeting the Bucks can be at your own risk given they have the are third best in defensive efficiency this season.
Golden State are in the second biggest pace up spot and we outlined this matchup in game totals above. This is most likely a better pace than calculated above given that the Warriors play at a faster pace with Curry in the lineup.
Utah might be the sneaky team to target as they matchup against the LA Clippers who have played at the 9th fastest pace in the league this season and are ranked 22nd in defensive efficiency.
INJURY NEWS
Major injury news that could impact this slate includes:
Boston
Kyrie Irving and Marcus Smart both missed the last Celtics game. Kyrie isnt on the injury report at the moment but given there is no line it still must be considered that he is a chance to miss. We got burned earlier this week on these two but it is still Gordon Hayward (DS $8,610, DK $5,200) and Terry Rozier (DS $7,180, DK $4,900) who have been the biggest beneficiaries with Kyrie out according to our player out tool below. In the last game with both Irving and Smart out it was Brad Wanamaker (DS $5,000, DK $3,400) and Jaylen Brown (DS $8,800, DK $4,600) who you wanted in your lineups scoring 27.75 and 36.5 fantasy points respectively.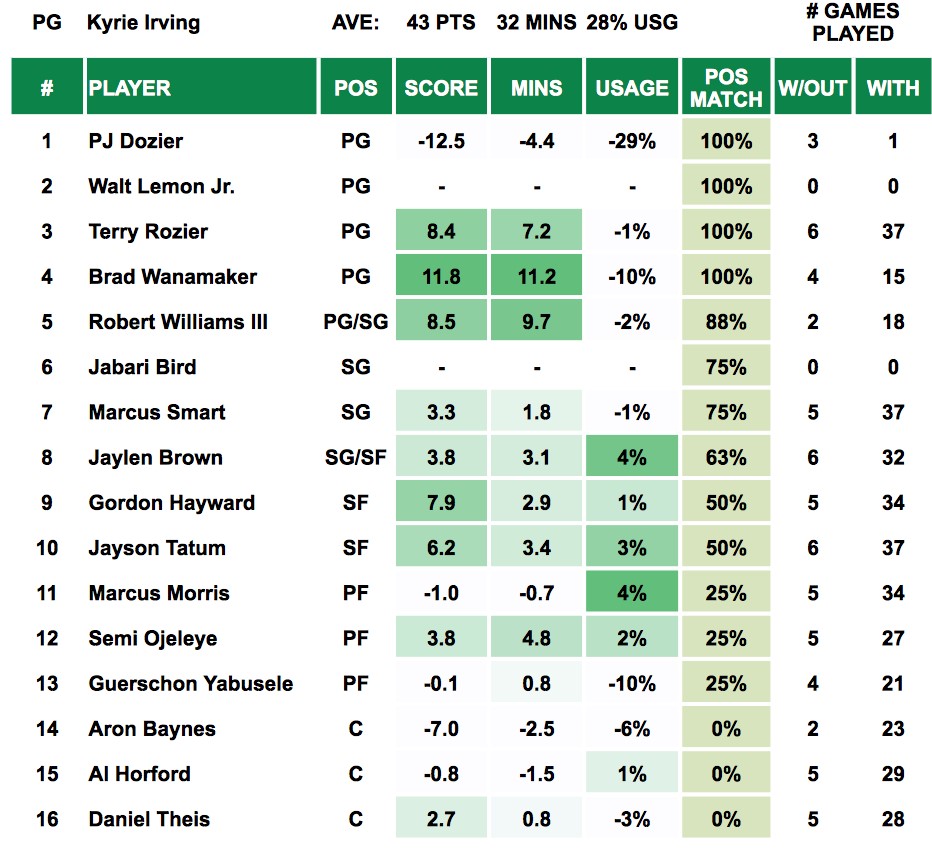 Memphis Grizzlies
Marc Gasol is questionable on this slate. He has yet to miss a game this season and there is little in regards to the on/off stats this season, however I would expect Mike Conley ($13,180, DK $7,600) to get a usage boost without Gasol. Joakim Noah may get the start, however Jaren Jackson Jr (DS $9,060, DK $5,600) and JaMychal Green (DS $9,500, DK $4,900) should play more minutes at centre.

VALUE
Value will open up as the slate gets closer, it is worth highlighting that if Kyrie Irving and Marcus Smart are out again it will be Terry Rozier (DS $7,180, DK $4,900), Brad Wanamaker (DS $5,000, DK $3,400) and Jaylen Brown (DS $8,800, DK $4,600) who should feature heavily in lineups.
Jae Crowder (DS $8,110, DK $4,300) / Royce O'Neale (DS $6,480, DK $4,500) are the chalk of a few days ago but will likely be forgotten on this slate after mediocre performances. Both are in the same situation however with the Jazz injuries still there. Jae Crowder in particular makes for an interesting GPP target after shooting 3/30 over his past 3 games you have to expect a regression to the mean is coming shortly.
Joe Harris (DS $8,600, DK $4,600) is one of my go to value plays if all else fails and nothing else opens up. He brings 40 point upside at this price and will continue to get a strong allotment of minutes with Jared Dudley, Allen Crabbe and possibly Shabazz Napier out.
MID-PRICED
Al Horford (DS $10,470, DK $5,900) has been struggling since returning from injury primarily due to minutes limits. These were lifted two games ago but he only ended up playing 20 minutes last game due to a blow out. This is a good bounce back spot for Horford at a cheap price, centres have been able to take advantage of Ibaka since Jonas has been out.
Jaren Jackson Jr (DS $9,060, DK $5,600) is in a pace up matchup vs the Bucks which should suit his style of play. Furthermore as mentioned above if Gasol is out of this match I expect Jackson to pick up more centre minutes.
Klay Thompson (DS $13,820, DK $6,500) has been oddly priced down on DraftKings despite two 40+ point games from his last three and this matchup being the top game of the slate. The Pelicans have given up the most points in the league to shooting guards over the last ten games and any game stacks will likely include either Thompson or Draymond Green who are well priced.

Elfrid Payton (DS $9,500, DK $5,700) will be another popular play to help get exposure to this 240 point game total. The micro matchup does not stand out but If this game becomes an absolute shoot out there should be plenty of opportunity for Payton to fill up on peripheral stats and return value at his current price point, and he brings 40+ point upside
PREMIUM
James Harden (DS $25,840, DK $13,000) / Anthony Davis (DS $24,460, DK $11,800) … groundhog day? Feels like it. Once again these two stand out as the premium plays on this slate. If the value is there the popular move will be to squeeze both in, and playing one of these two will be almost mandatory. James Harden's usage is only going up after Capella was added to the injury list and he has been around the 50% mark each night since Paul and Gordon went down. Last game was against the slowest team in the league and 7th best defensively, but Harden still managed 77 fantasy points taking 33 shots, 15 threes and 18 free throws.
Davis on the other hand is in the game of the night with a 240 point game total, the fastest pace, and in one of the best positions to take advantage of the Warriors at centre.
Rudy Gobert (DS $15,800, DK $8,500) has averaged just under 50 fantasy points per game over the last four games with Rubio out of the lineup, topping the 50 point mark twice. On this slate he draws one of the top matchups in the league for centres with the Clippers giving up the most points in the league to the position over the last 10 games.

Data provided by Notorious of RotoGrinders and Daily Fantasy Rankings NBA Resources

Always remember to gamble responsibly. When the fun stops, stop. If gambling is having a negative impact on your life, seek support at Gambling Help Online. 18+ only.