daily fantasy sports articles
2018-19 NBA Daily Fantasy Tips for Thursday, 24th January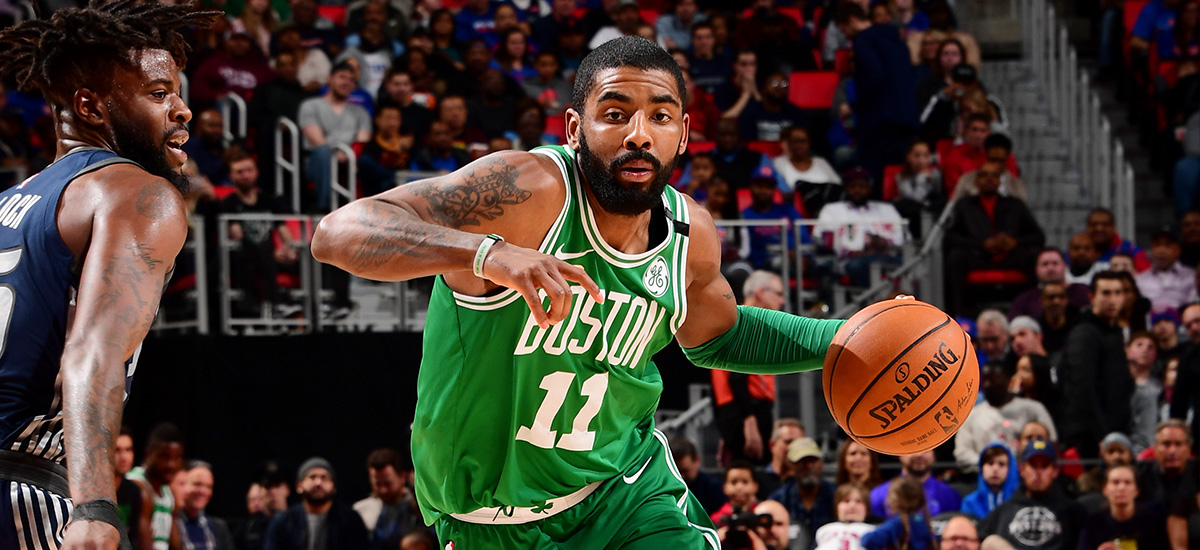 This NBA Wednesday (Thursday AEST) we return to the typical monster slates with 10 games on the card. The usual major DFS tournaments are on offer:
We have broken down the matchups and highlighted the key plays to help you build winning lineups. For more insight into how to utilise our game breakdown data check out our NBA DFS Training Camp Series:
Part 1 – Betting Lines and Totals
Part 2 – Matchup Analysis – Pace and Defense vs Position
Part 3 – Key Statistics in Daily Fantasy Basketball
Part 4 – Trade Analysis – Breaking Down the Jimmy Butler Trade
Part 5 – DraftKings Sharpshooter Winning Lineup Recap
Part 6 – Adjusting for Line-up News
Have you seen our new NBA DFS Cheat Sheets? We have added even more information for you to see at a glance, including pace numbers, last 5 scores per player and a new Slate Overview section, which brings you projected pace, projected fantasy score totals and Vegas lines and totals for every team on the slate. The perfect accompaniment to our regular previews and a great starting place for the days we don't cover!
GAME BREAKDOWN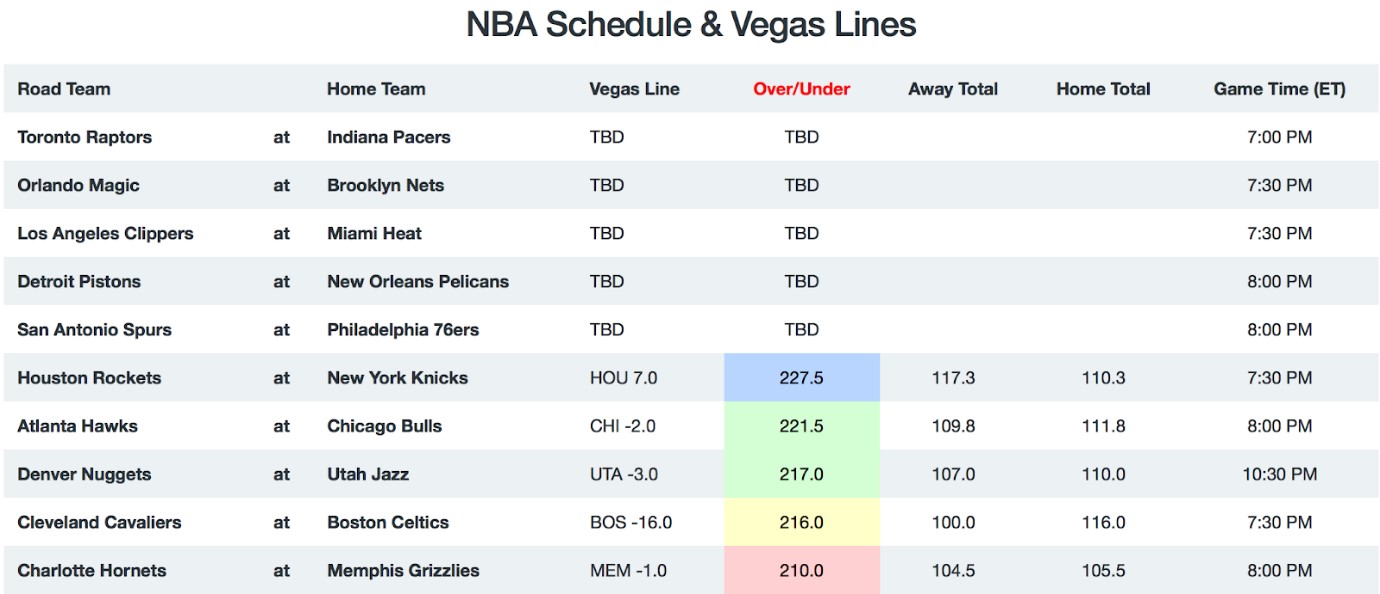 A ridiculous amount of injury news on this slate makes with 5 games yet to have a game total set. We break down the injury news below. Of the games without totals Detroit at New Orleans is likely to have the highest total.
From the game totals set Houston at New York has the highest game total at 227.5 point, which isn't jumping off the screen but might actually be up the top on this slate given there are no real matchups between two pace up teams.

Consistent with the game total analysis above there are limited teams in pace up matchups on this slate.
Chicago stand out as the top target on this slate matching up against Atlanta who are playing at the fastest pace in the league this season and are 25th in defensive rating. This game is expected to stay close with a 2 point line, which is rare in Atlanta games, which has resulted in Chicago's implied point total being +10.8 points on their season average.
Detroit are in the next bet pace up spot against New Orleans who have been 5th in the league this season and 26th in defensive rating.
Injury News
Major injury news that could impact this slate includes:
Orlando
Aaron Gordon has missed the last two games but has participated in practice and is on track to play in the game against Brooklyn on this slate. In the even he is out again, during the 4 games Gordon has missed this year Jonathan Isaac (DS $7,790, DK $4,400), Terrence Ross (DS $11,540, DK $5,700) and Jonathon Simmons (DS $6,260, DK $3,600) have been the biggest beneficiaries: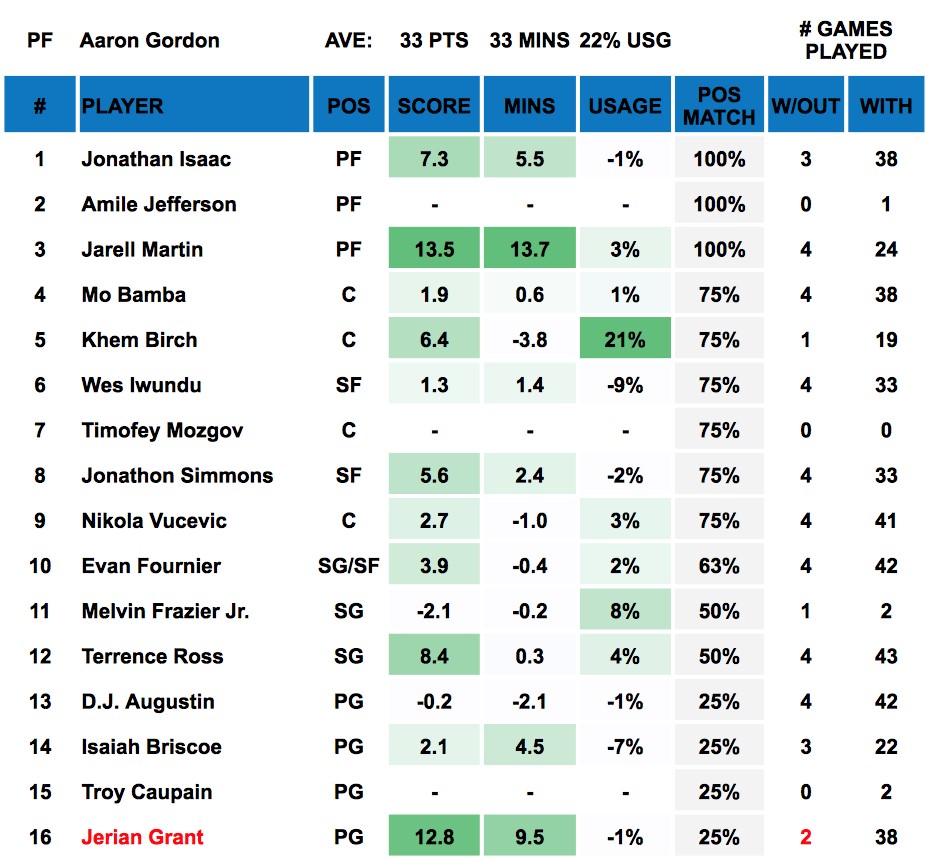 Toronto
Kawhi Leonard will remain out for the matchup with Indiana on this slate. In the 12 games that Leonard has missed this year it has been Kyle Lowry (DS $14,230, DK $7,200) who has been the biggest beneficiary averaging +12.2 fantasy point per game from a 6% increase in usage. Serge Ibaka (DS $11,200, DK $5,900) has had the biggest usage increase at 7%, which has resulted in +6.9 fantasy points per game.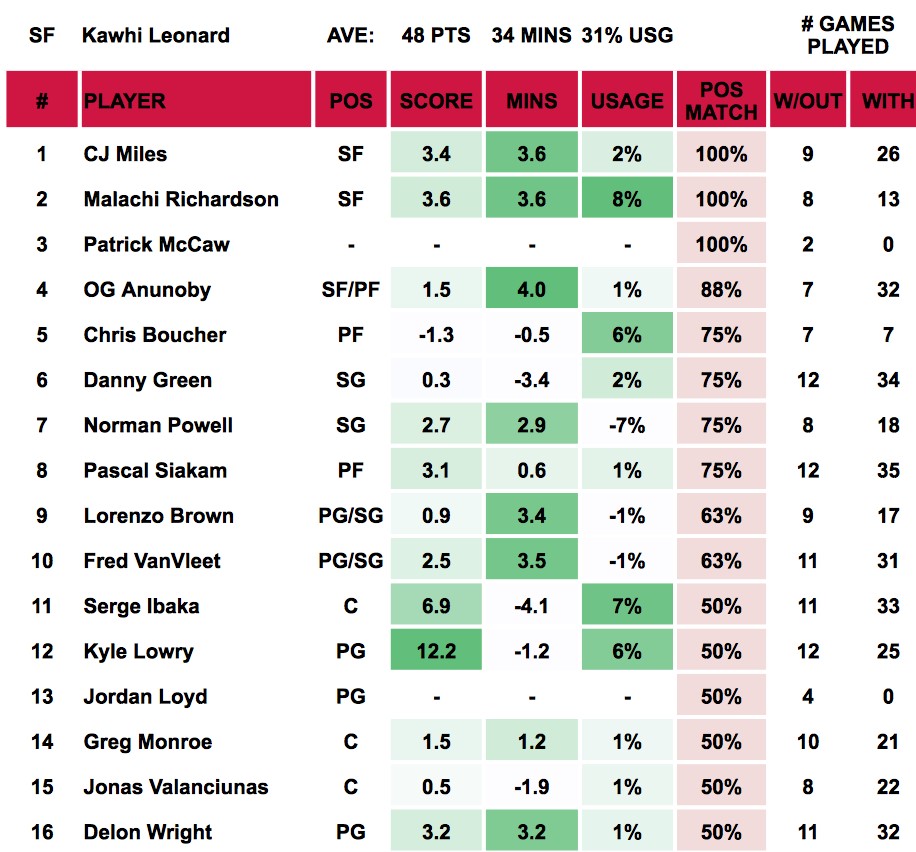 LA Clippers
Danilo Gallinari is out and Lou Williams has been out but played today. Montrezl Harrell (DS $11,890, DK $6,700) has moved into the starting lineup averaging +4.9 minutes resulting in +9.2 fantasy points. Tobias Harris (DS $15,530, DK $7,800) been the biggest beneficiary however, averaging +14.4 fantasy points in games without Gallinari.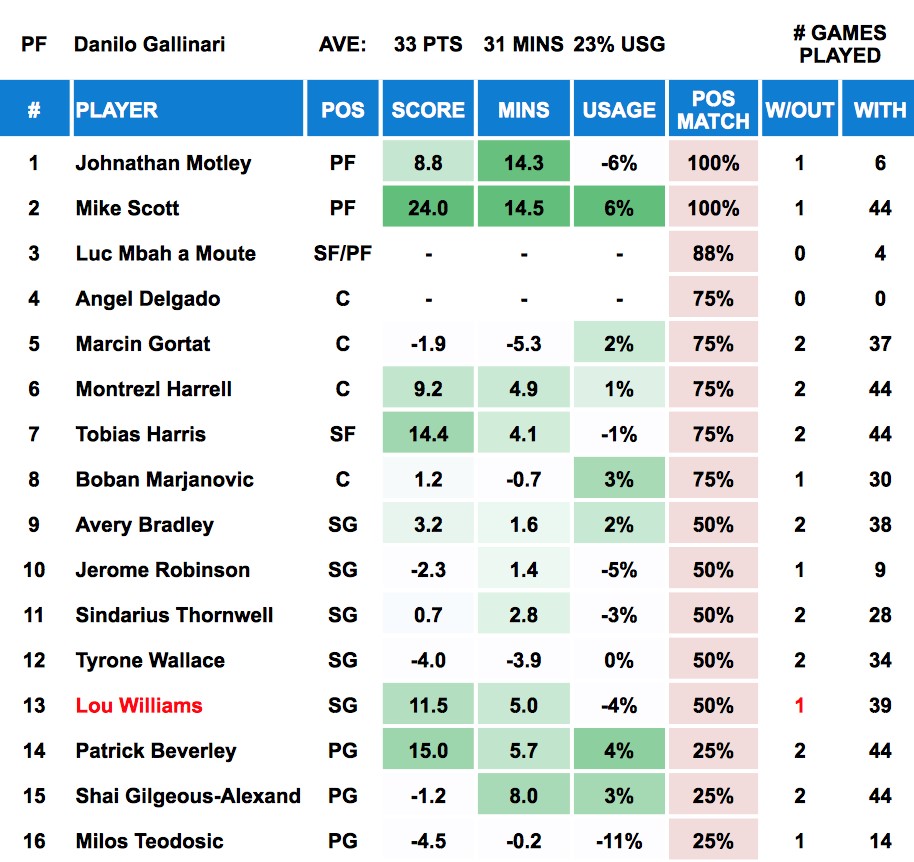 Detroit
Andrew Drummond has been in the concussion protocol and did not practice today. Zaza Pachulia (DS $7,180, DK $4,200) has moved into the starting lineup in Drummond's absence and averaged +6 fantasy points from an additional 16.4 minutes of playing time.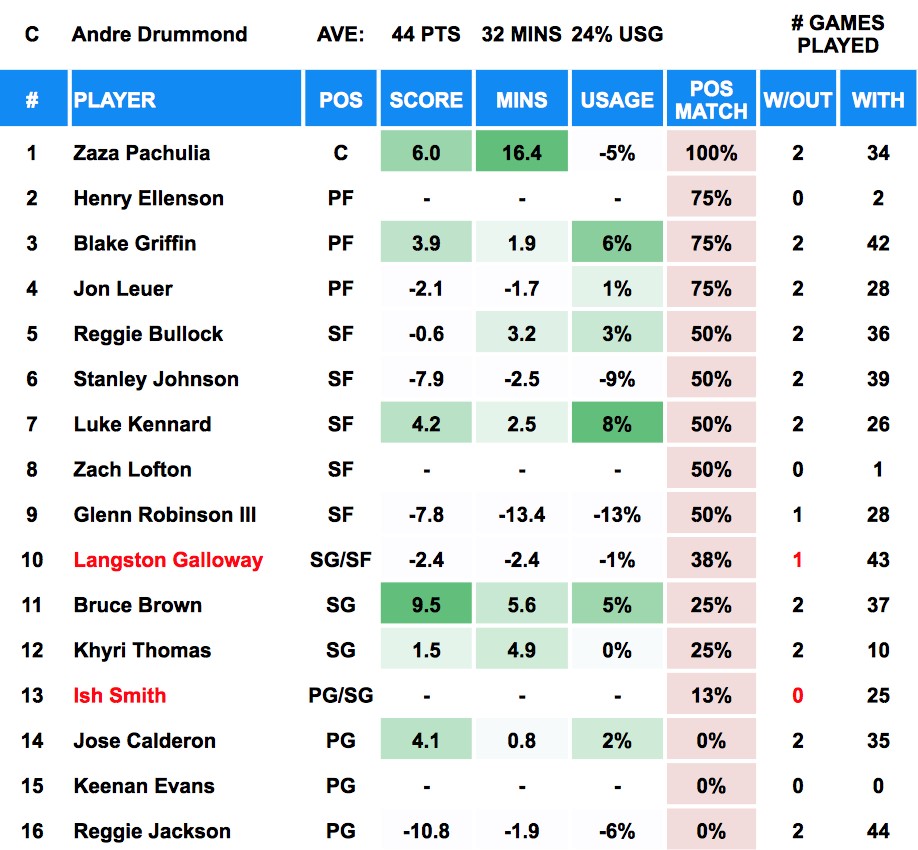 VALUE
Fred VanVleet (DS $9,910, DK $4,600) will remain in the starting lineup on this slate with Leonard out. VanVleet has seen a slight price decrease on DraftKings for the slate despite scoring 42.75 fantasy points from 32 minutes of action today. On this slate the matchup vs the Pacers isn't as juicy, however he should still be safe for all formats at this price point.
Jahlil Okafor (DS $8,570, DK $4,600) will likely get the start again at centre with Anthony Davis out injured. Last game he was unleashed at extremely low ownership and bare minimum pricing he dropped a massive 40 fantasy points. On this slate he will be one of the most popular plays as people chase the points, he still holds risk as his minutes are never assured, but vs Detroit he shouldn't have too much issue on the defensive end going against Zaza Pachulia.
Austin Rivers (DS $8,720, DK $4,600) has seen a price decrease after one poor performance. He remains a safe value play, particularly if there is nothing else available. Rivers will play 30+ minutes and is matched up against the Knicks who have given up the second most fantasy points this season.
MID-PRICED
Lauri Markkanen (DS $12,240, DK $6,600) / Kris Dunn (DS $12,270, DK $6,300) are my favourite plays to get exposure to the Atlanta matchup on this slate. Playing in the pace up matchup on the slate both players are under priced.
Atlanta have given up the most points to point guards in the league over the last 10 games:

Justise Winslow (DS $12,510, DK $6,400) has seen a price decline after two mediocre performances, however both of these matchups were against slow paced teams. On this slate he matches up against the Clippers who play at the 9th fastest pace in the league. The Clippers have also given up the 8th most points in the league to point guards this season, the position Winslow is now playing. He should be a nice under owned option on this slate.
PREMIUM
James Harden (DS $28,580, DK $13,400) … I don't want to go over Harden's recent exploits yet again, if you don't know what he has been doing lately I have to question why you are even here. Every slate we have to decide whether to roster him at this price point or fade, and this matchup is no easy call. Playing against the Knicks who have given up the second most fantasy points in the league this year, and in the Garden where Harden will likely want to put on a show, the 70-80 point range that you need at this price point is in play.
Kyrie Irving (DS $20,370, DK $9,400) has been unstoppable recently going over the 60 point fantasy mark in three out of his last four games. On this slate he will have the revenge narrative against Cleveland who are one of the worst defensive teams in the history of the NBA. The main risk on this play will be the blowout, which is almost a certainty in this matchup.
Nikola Vucevic (DS $17,150, DK $9,300) is in a smash spot against Brooklyn on this slate. The Nets have been the top matchup for centres all season until recently, but they are still conceding the 3rd most points to the position this year. Vucevic looks to still have a big advantage in the matchup as well, playing Brooklyn three games ago he put up 50 fantasy points despite shooting just 7/20 from the floor.
John Collins (DS $13,930, DK $7,900) should be in a smash spot on this slate vs Chicago who have had trouble with bigs all season. Giving up the fourth most rebounds in the league this season and fourth most points to centres should play right into Collins hands and he has flashed 50 point upside this season.
Data provided by Notorious of RotoGrinders and Daily Fantasy Rankings NBA Resources

Always remember to gamble responsibly. When the fun stops, stop. If gambling is having a negative impact on your life, seek support at Gambling Help Online. 18+ only.