daily fantasy sports articles
2018-19 NBA Daily Fantasy Tips for Thursday, 28th March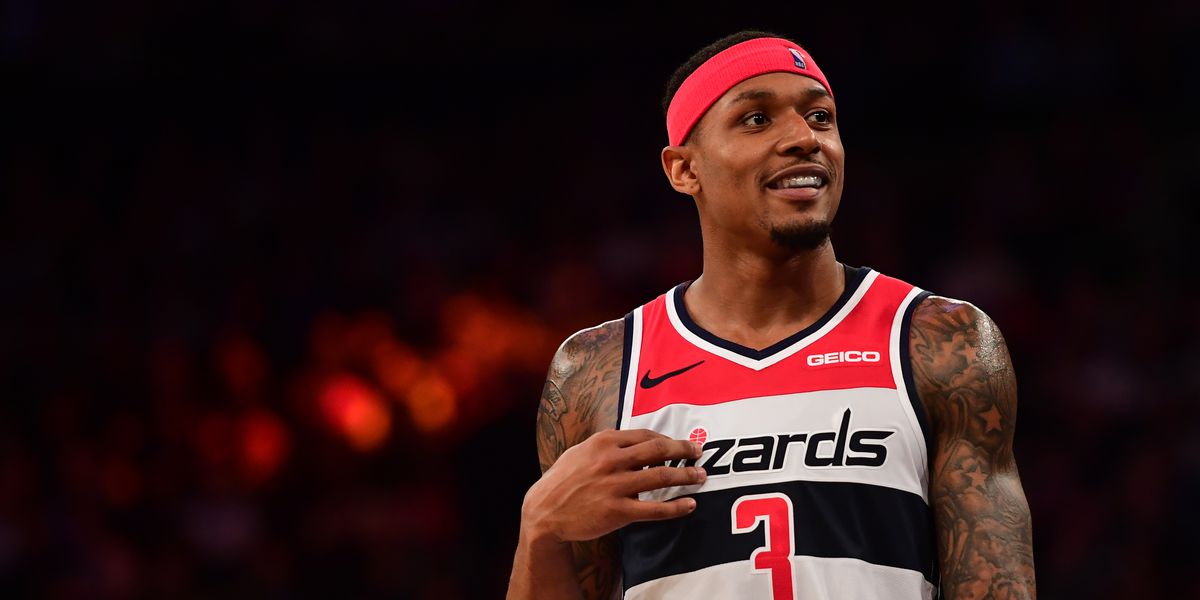 NBA Wednesday (Thursday AEST) brings a small 5 game slate to play. The usual major DFS tournaments are on offer:
We have broken down the matchups and highlighted the key plays to help you build winning lineups. For more insight into how to utilise our game breakdown data check out our NBA DFS Training Camp Series:
Part 1 – Betting Lines and Totals
Part 2 – Matchup Analysis – Pace and Defense vs Position
Part 3 – Key Statistics in Daily Fantasy Basketball
Part 4 – Trade Analysis – Breaking Down the Jimmy Butler Trade
Part 5 – DraftKings Sharpshooter Winning Lineup Recap
Part 6 – Adjusting for Line-up News
Have you seen our new NBA DFS Cheat Sheets? We have added even more information for you to see at a glance, including pace numbers, last 5 scores per player and a new Slate Overview section, which brings you projected pace, projected fantasy score totals and Vegas lines and totals for every team on the slate. The perfect accompaniment to our regular previews and a great starting place for the days we don't cover!
GAME BREAKDOWN

This is what we deal with at this time in the season with uncertainty over who will suiting up on a daily basis as resting hits an all time high. There are just two lines set at this point as we await further news on who will be playing, we break down potential impact of this below.
The top game total released so far is Washington at Phoenix at 231 points, which I expect to remain the largest total when all are released. This game also sports a 1.5 point line indicating it should remain close throughout making it an elite target on this slate.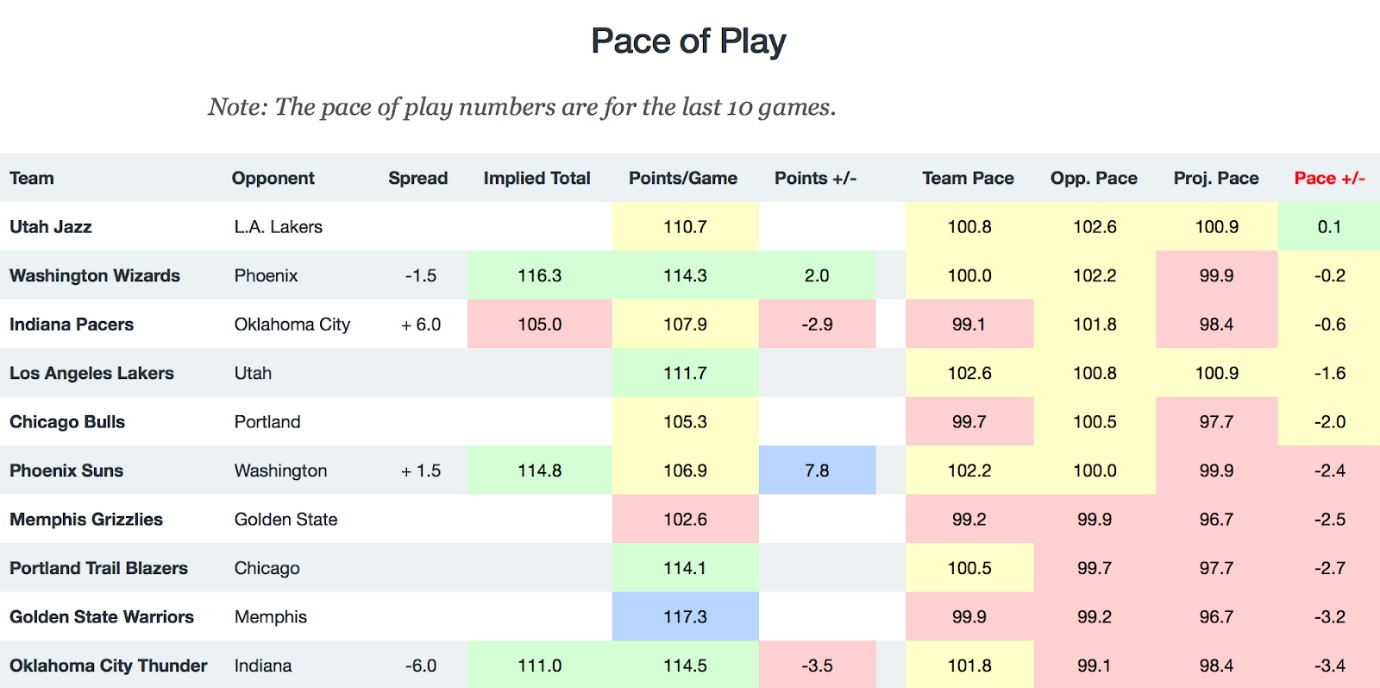 There is very little in the way of pace up matchups to target on this slate. The Phoenix Suns are sporting an implied total that is a massive +7.8 points above their season average making them a great team to target.
The Thunder and Lakers have both been top 5 in the league in pace this season meaning their opponents the Pacers and Jazz should make for soldi targets on this slate. Just note that the Jazz are likely to start at least 10 point favourites at home.
Injury News
Major injury news that could impact this slate includes:
Chicago
Kris Dunn, Zach LaVine and Otto Porter have all been held out with various injuries, while Lauri Markkanen is also a game time decision on this slate. There is no firm news on whether anyone will return for the game against Portland yet, however it is very unlikely they will all play. Of these four players those that do suit up are likely to have a significant amount of usage given the other stars are out. Also monitor the starting lineups, today Wayne Selden (DS $5,390, DK $3,600) played 40 minutes (30.5 fantasy points), Shaquille Harrison (DS $8,220, DK $4,400) played 33 minutes (33.25 fantasy points) and my old friend Ryan ArcidiacoNOOOOOO (DS $5,690, DK $4,100) 30 minutes (28 fantasy points).
Memphis
Memphis look to be without everyone again: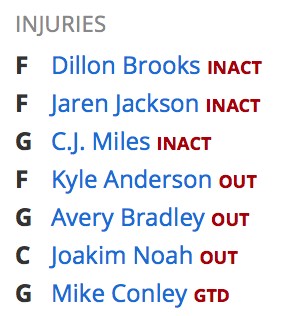 If Conley is out again it will Tyler Dorsey (DS $9,730, DK $4,500) who starts at point guard again and returned 40 fantasy points last game. Bruno Caboclo (DS $7,160, DK $4,400) aka the Brazilian Kevin Durant was also on fire last game starting playing 35 minutes and returning a massive 49 points.
Portland
Jusuf Nurkic will join CJ McCollum on the sidelines after his horrific leg injury last game. Enes Kanter (DS $10,020, DK $5,000) will likely take Nurkic's spot in the starting lineup. Kanter has averaged a massive 1.25 fantasy points per minute this season and if he gets 30 minutes of action becomes a lock and load play.

VALUE
Remember to monitor injury news, particular those uncertainties noted above, as tip off gets closer as further value should open up.
Seth Curry (DS $8,520, DK $4,200) is a safe value play on this slate. Locked into 30 minutes per night he had returned an average of 28.83 fantasy points over the last three games. While more obvious value might become clearer as further news comes forward, at this point Curry is locked into his starting role and his minutes are certain.
MID-PRICED
Jonas Valanciunas (DS $14,330, DK $7,700) has always shown huge fantasy scoring potential and finally he has been unleashed. Running roughshod over the league he has posted a massive 51.9 fantasy points per game over the last four games. With half the Memphis roster still on the injury list Jonas will have all the opportunity in the world on this slate in what should be a pace up matchup and high game total against the Golden State Warriors.
Enes Kanter (DS $10,020, DK $5,000) as mentioned above is expected to start for the injured Nurkic on this slate. He is a fantasy point per minute monster and draws one of the best matchups in the league for his position against Chicago who have given up the 4th most fantasy points to centres over the last ten games.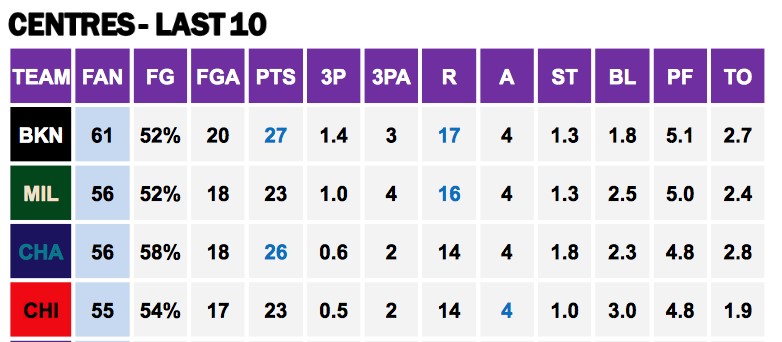 PREMIUM
Damian Lillard (DS $19,670, DK $10,300) is the last man standing for the TrailBlazers with both McCollum and Nurkic now out injured. With those two players off the court this year Lillard has seen an unbelievable 12.3% usage increase this season, resulting in a +13.5 fantasy point increase per 36 minutes. He also draws a plus matchup on this slate against Chicago who have given up the 7th most points to point guards this season, a trend that has continued recently when looking at the last 10 games: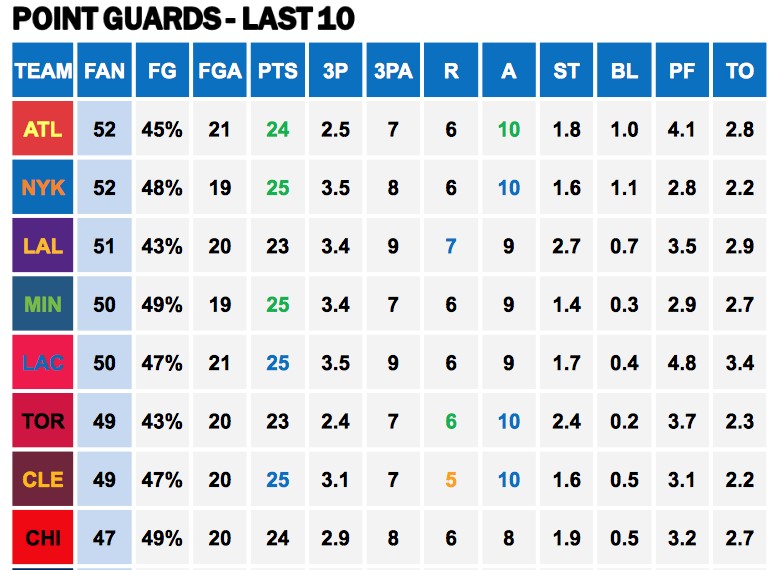 Bradley Beal (DS $15,770, DK $9,000) has seen a decline in his fantasy point output recently and such a corresponding reduction in price. He is still playing high 30s in minutes, however, and he is still getting all the usage he can handle on this squad. On this slate he will matchup against Devin Booker who is ranked 102nd out of 108 shooting guards in the league for defensive real plus minus this season.
Data provided by Notorious of RotoGrinders and Daily Fantasy Rankings NBA Resources

The Daily Fantasy Rankings "Dragon" has scoured the Australian sports betting markets and found some great value picks for these games. Check out his picks for the day below and click on the links to follow his betting plays!

Always remember to gamble responsibly. When the fun stops, stop. If gambling is having a negative impact on your life, seek support at Gambling Help Online. 18+ only.