daily fantasy sports articles
2018-19 NBA Daily Fantasy Tips for Thursday, 4th April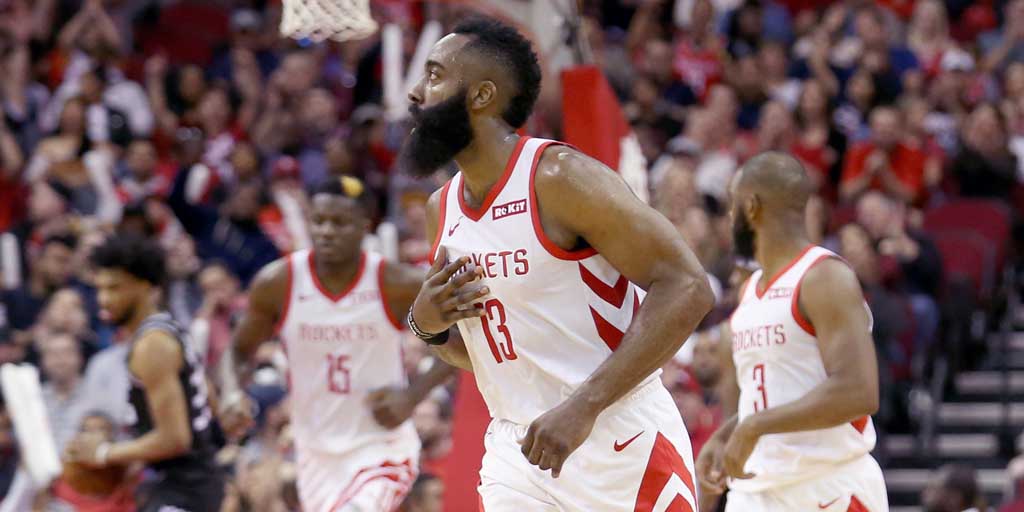 NBA Wednesday (Thursday AEST) brings a monster 12 game slate to play. At this time of year a 12 game slate similar to the movie The Purge when the sirens start, just take cover and hope for the best. The usual major DFS tournaments are on offer:
We have broken down the matchups and highlighted the key plays to help you build winning lineups. For more insight into how to utilise our game breakdown data check out our NBA DFS Training Camp Series:
Part 1 – Betting Lines and Totals
Part 2 – Matchup Analysis – Pace and Defense vs Position
Part 3 – Key Statistics in Daily Fantasy Basketball
Part 4 – Trade Analysis – Breaking Down the Jimmy Butler Trade
Part 5 – DraftKings Sharpshooter Winning Lineup Recap
Part 6 – Adjusting for Line-up News
Have you seen our new NBA DFS Cheat Sheets? We have added even more information for you to see at a glance, including pace numbers, last 5 scores per player and a new Slate Overview section, which brings you projected pace, projected fantasy score totals and Vegas lines and totals for every team on the slate. The perfect accompaniment to our regular previews and a great starting place for the days we don't cover!
GAME BREAKDOWN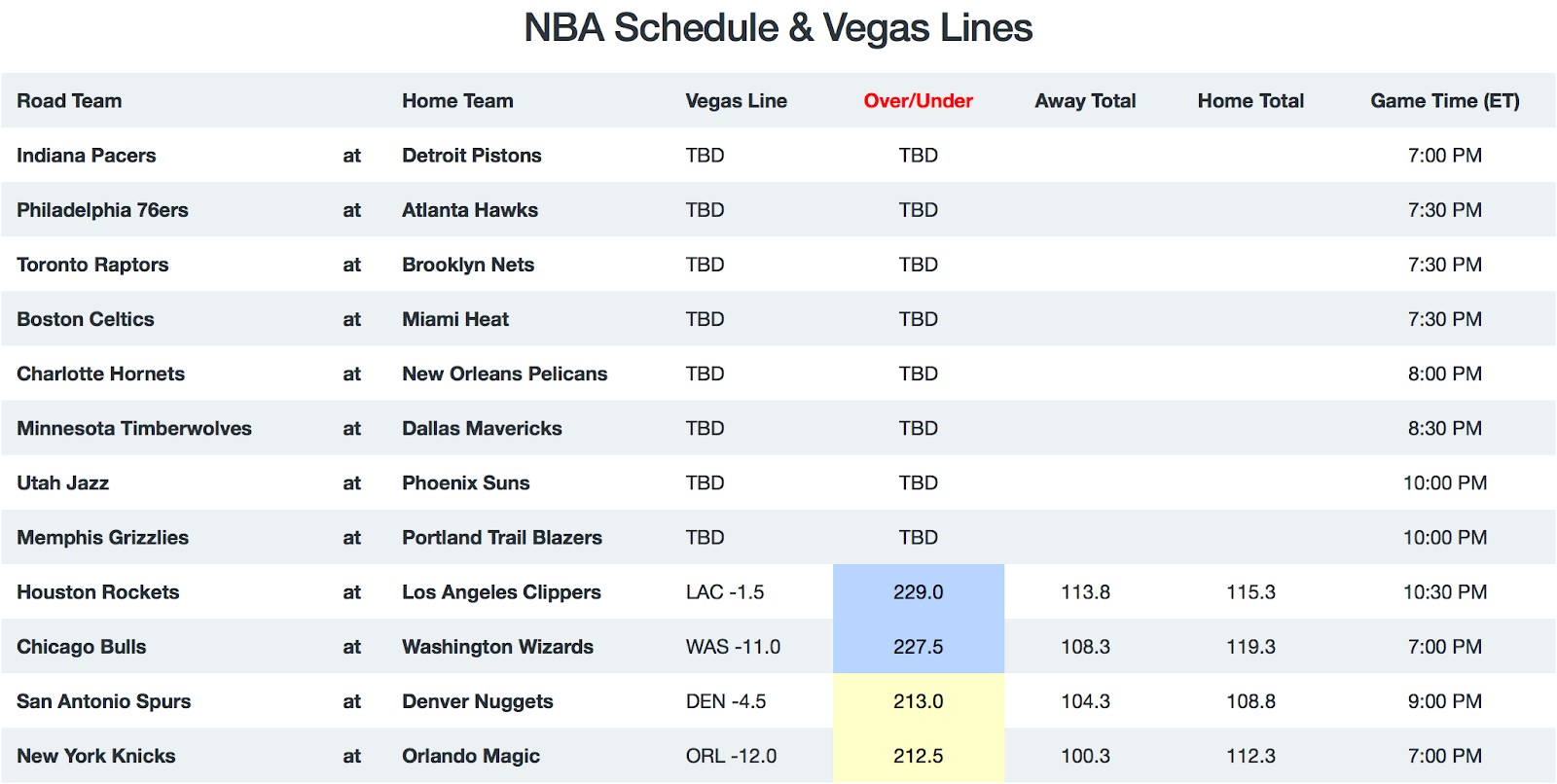 As I said in the opener… The Purge is on! 8 games out of the 12 are yet to have lines set as quite frankly not even Vegas has any idea what they lineups will be at this point in time. We will break down the main injuries/resting/tanking impacts below.
The top game total that is out so far is Houston at Los Angeles Clippers at 229 points. This game still has consequences for both teams as they jockey for their playoff seeding and should be an attractive game to target.
Another game I will look to target heavily and should have a high total is Philadelphia at Atlanta. The Hawks have been frisky down the stretch so they may be able to keep the game close against a Philadelphia team without Joel Embiid.

Charlotte are in the pace up matchup on the slate against New Orleans who have played at the second fastest pace in the league this season. The Hornets still have a mathematical chance to make the playoffs so are likely to take the game seriously, while Anthony Davis may even suit up for the Pelicans.
Injury News
Major injury news that could impact this slate includes:
Chicago
Lauri Markkanen, Otto Porter, Kris Dunn and Zach Lavine are still expected to be out on this slate. The Bulls recent starters in Walt Lemon Jr (DS $10,890, DK $4,700), Shaquille Harrison (DS $11,170, DK $6,300) and Wayne Seldon (DS $7,160, DK $5,100) have all been priced up since entering the starting lineup so there is likely to be better value around on this slate.
Atlanta
John Collins and Taurean Prince are game time decisions on this slate. Both players missed today's game and Justin Anderson (DS $7,710, DK $4,800) and Vince Carter (DS $7,030, DK $3,800) started in their place. It was Kent Bazemore (DS $8,300, DK $4,100) who took advantage of the outs however notching up 41.5 fantasy points in 24 minutes off the bench.
Philadelphia
Joel Embiid remains out on this slate and Jimmy Butler is a game time decision. Jonah Bolden (DS $5,170, DK $5,000) will start in place of Embiid and has averaged +5.7 points during games Embiid has missed this season. Tobias Harris (DS $13,110, DK $7,500) has seen the biggest increase in fantasy scoring in games Embiid has missed this year at +8.4 points. If Butler is out as well both Harris and Ben Simmons (DS $15,740, DK $9,500) will be elite plays.
New Orleans
Anthony Davis is a game time decision on this slate. While it is unlikely he does suit up, it is worth highlighting that if he does it will reduce the usage rates of Elfrid Payton (DS $11,780, DK $7,600) and Julius Randle (DS $13,630, DK $8,700) for the minutes Davis is on the floor.
Dallas
Luka Doncic is once again a game time decision - "tanking" on this slate. Trey Burke (DS $9,240, DK $4,900) has been the biggest beneficiary in the games Doncic has missed this season averaging +15.7 fantasy points from an extra 10.2 minutes of playing time.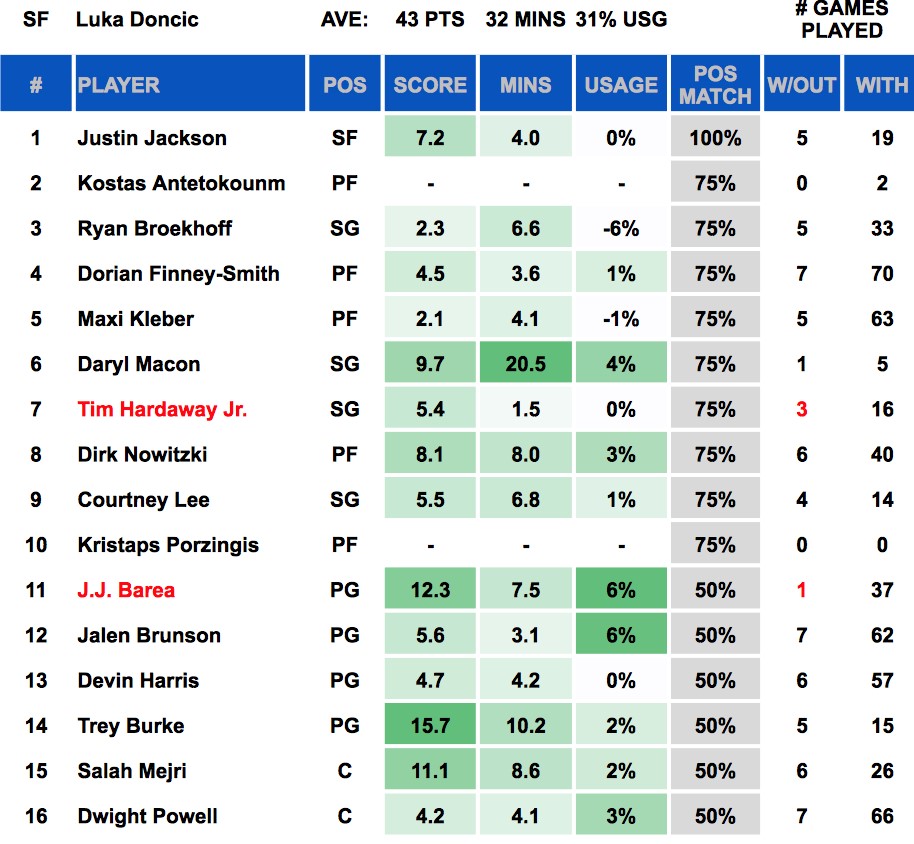 VALUE
At this stage of the year it is more imperative than ever to monitor lineup news closer to slate tipoff, particular those uncertainties noted above, as further value should open up.
Luke Kornet (DS $7,960, DK $4,700) is back heavily in the rotation as the Knicks wrap up their tank-a-thon and are left with no other big bodies to play. In the last two games he has notched up an average of 43.5 points from 32 minutes per game. He should be locked in for a similar level of workload on this slate and at an average of 0.94 fantasy points per minutes this season he is one of the safest value plays on the slate.
Kevin Huerter (DS $7,240, DK $4,200) is another player who is locked into a steady allotment of minutes as the Hawks continue to play for development rather than lottery position. Huerter will play right around the 30 minute mark in what I expect to be one of the highest totals on the slate. He has flashed 40 point upside this season making him safe for both formats on this slate.
MID-PRICED
Tobias Harris (DS $13,110, DK $7,500) has had the biggest increase in fantasy scoring of the remaining stars with Embiid out this season (as mentioned above). He is also priced at the cheapest of the three and brings 50 point upside in a matchup with the fast paced Atlanta Hawks. The Hawks have given up the 5th most fantasy points to the small forward position over the last 10 games.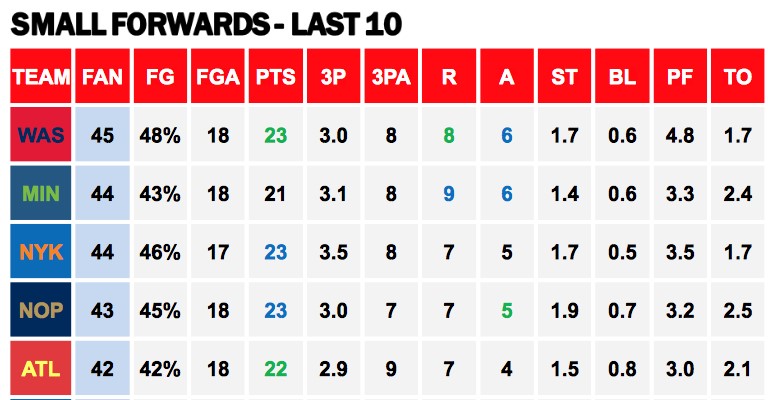 PREMIUM
Kemba Walker (DS $18,020, DK $8,900) is in a last ditch effort to make the playoffs. Last game he fell short of the win despite piling in a massive 47 real points (58.25 fantasy points) against one of the best defensive teams in the league in Utah. On this slate he has an elite matchup against the New Orleans Pelicans who are the second fastest team in the league and have conceded the most points in the league to point guards over the last 10 games.

James Harden (DS $24,240, DK $11,400) factors to be more of a narrative play on this slate for me. Sure the Rockets need to win to try and steal the number 2 seed in the West from Denver, and sure the Clippers have been a great fantasy target all year. But.. what I really like is the fact Harden is still in a neck and neck battle for MVP with Giannis. This has been evident in recent games as Harden has looked to reach statistical milestones. He has averaged 41 real points over the last three games and 68.3 fantasy points.
Data provided by Notorious of RotoGrinders and Daily Fantasy Rankings NBA Resources

The Daily Fantasy Rankings "Dragon" has scoured the Australian sports betting markets and found some great value picks for these games. Check out his picks for the day below and click on the links to follow his betting plays!

Always remember to gamble responsibly. When the fun stops, stop. If gambling is having a negative impact on your life, seek support at Gambling Help Online. 18+ only.