daily fantasy sports articles
2018-19 NBA Daily Fantasy Tips, Saturday 19th January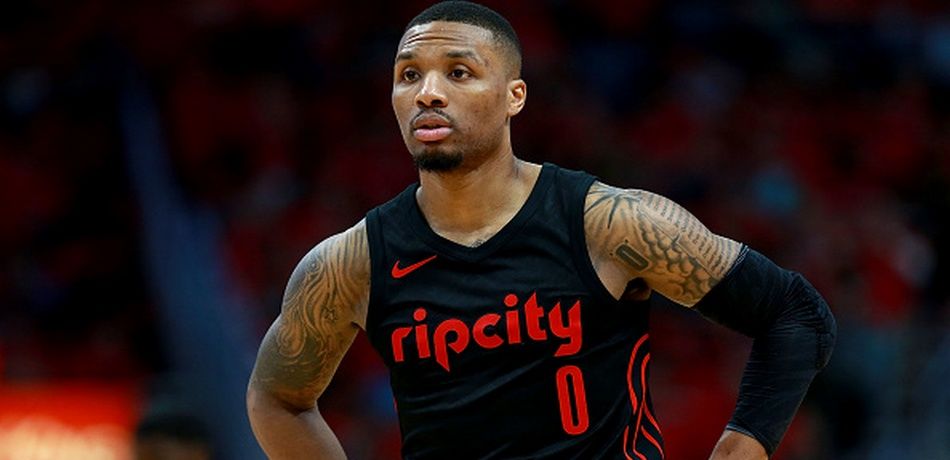 This week has had beautifully sized slates each day and NBA Friday (Saturday AEST) continues that with a manageable 7 games slate. The usual major DFS tournaments are on offer:
We have broken down the matchups and highlighted the key plays to help you build winning lineups. For more insight into how to utilise our game breakdown data check out our NBA DFS Training Camp Series:
Part 1 – Betting Lines and Totals
Part 2 – Matchup Analysis – Pace and Defense vs Position
Part 3 – Key Statistics in Daily Fantasy Basketball
Part 4 – Trade Analysis – Breaking Down the Jimmy Butler Trade
Part 5 – DraftKings Sharpshooter Winning Lineup Recap
Part 6 – Adjusting for Line-up News
Have you seen our new NBA DFS Cheat Sheets? We have added even more information for you to see at a glance, including pace numbers, last 5 scores per player and a new Slate Overview section, which brings you projected pace, projected fantasy score totals and Vegas lines and totals for every team on the slate. The perfect accompaniment to our regular previews and a great starting place for the days we don't cover!
GAME BREAKDOWN

Another slate with a monster 240+ game total leading the slate, and once again Golden State are featured as they take on the LA Clippers. Both squads have been top 10 in pace over the last ten games while the Clippers are ranked 22nd in defensive efficiency. If this game is anything like the Warriors Pelicans game on Thursday it will be a DFS oasis.
The second top game total is 233.5 points and no surprise to see it featuring the New Orleans Pelicans. They have been the 5th fastest team in the league this year and ranked 22nd in defensive efficiency making their matchup with Portland a juicy target on this slate.
With only 7 games on the slate it is hard to rule anything out completely but the game totals fall off very quick with two games under 210 points, including Memphis vs Boston which brings a 10 point line indicating potential blow out risk.

Extremely limited pace up options on this slate with Portland being the stand out playing the 5th fastest team in the league in New Orleans sporting a +6.1 implied point differential to their season average.
The Warriors and Clippers also have pace up matchups and positive implied point differentials which falls in line with their 240+ point game total. Expect these two matches to be extremely popular targets on this slate and particularly in GPPs it might take a bit of creativity to get away from the high owned players.
INJURY NEWS
Major injury news that could impact this slate includes:
Golden State
Demarcus Cousins (DS $6,640, DK $5,500) is expected to make his season debut against the LA Clippers on this slate. Cousins will be in the starting lineup, it will be wise to monitor his minutes limit as even with injury rust he wouldn't take much to return value at this price. It is the perfect match up to return to with the Clippers giving up the most points in the league to centers over the past 10 games.

Remember to consider the impact he may have on the other starters usage rates.

VALUE
As usual remember to monitor news for value opening up as tip off gets closer.
Jae Crowder (DS $8,230, DK $4,700) / Royce O'Neale (DS $8,170, DK $4,300) have both seen increased and more consistent work loads with the injuries to Rubio, Exum and Neto. Their price has yet to see any dramatic increase and on this slate they face the Cavaliers who are not just the worst defensive team in the league this season but quite possibly the worst in NBA history. Both players should also be relatively blow out proof which will be important given the 15 point line set.
Justin Holiday (DS $8,440, DK $3,800) is vomit inducing just contemplating buttering up on after last slate. But until further value opens he maintains a solid option at this price if he holds onto his spot in the starting lineup. He only managed 17 minutes last game primarily due to early foul trouble but was still able to return 21 fantasy points. Expect his minutes to increase on this slate.
MID-PRICED
Danilo Gallinari (DS $11,970, DK $6,700) is having a career year and has posted just two games under 30 fantasy points in his last 10 games. Despite this consistency he has seen a $400 price drop on DraftKings making him beautifully priced on this slate for a matchup with a game total of over 240 points. Last time the Clippers played Goldest State Gallinari posted 25 points and 11 rebounds in a high scoring affair. The matchup is a positive one with the Warriors giving up the 7th most points in the league to small forwards this season.
Nikola Mirotic (DS $11,950, DK $5,900) is quite simply under priced. Averaging over 33 fantasy points this season from just 29 minutes (1.14 fantasy points per minute) he should see his usual quote of around 30 minutes of action on this slate. Last game he showed exactly what he is capable of scoring 46.75 fantasy points off the bench. He will matchup against Portland in the second highest game total on the slate and the Trailblazers have been slightly below average in defending power forwards this season.
Draymond Green (DS $12,410, DK $6,900) came through last slate in the shoot out with the Pelicans and he remains well priced on this slate which will help fit in exposure to the Warriors in this huge game total. High pace affairs suit Green who relies on peripheral stats to return value. The Clippers have given up the second most points to the PF/C position where Green floats between over the past 10 games.

PREMIUM
Kevin Durant (DS $17,810, DK $10,100) is my pick of the studs from the Warriors Clippers game. He is criminally under priced on Draftstars compared to Curry and Davis. It feels like he can sleep walk to 50 points which is around the minimum you need from him at this price. As mentioned above the Clippers are 22nd in defensive efficiency and they have no matchup for Durant (who does). Last time these two teams faced each other Durant posted an eye popping 35 points, 12 rebounds and 5 assists (67 fantasy points).
Damian Lillard (DS $15,580, DK $8,600) has slowed somewhat after a blistering start to the season, however he has still returned consistent scores averaging over 42 fantasy points from his last six games. On this slate he has the pace up matchup of the slate with a game total over 230 points. Furthermore he has one of the top micro matchups with the Pelicans giving up the 4th most points to point guards over the past 10 games.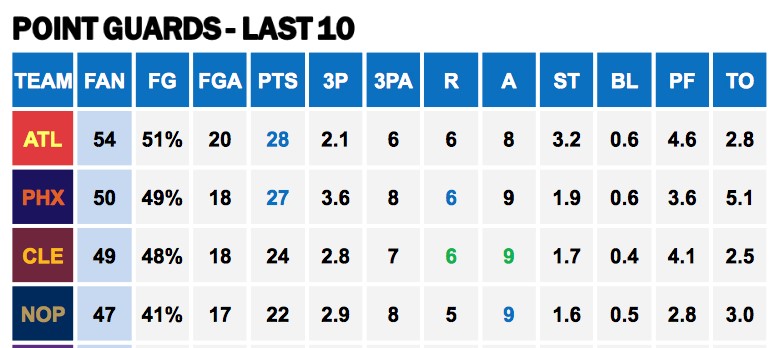 Data provided by Notorious of RotoGrinders and Daily Fantasy Rankings NBA Resources

Always remember to gamble responsibly. When the fun stops, stop. If gambling is having a negative impact on your life, seek support at Gambling Help Online. 18+ only.