daily fantasy sports articles
2018-19 NBA Daily Fantasy Tips, Saturday 5th January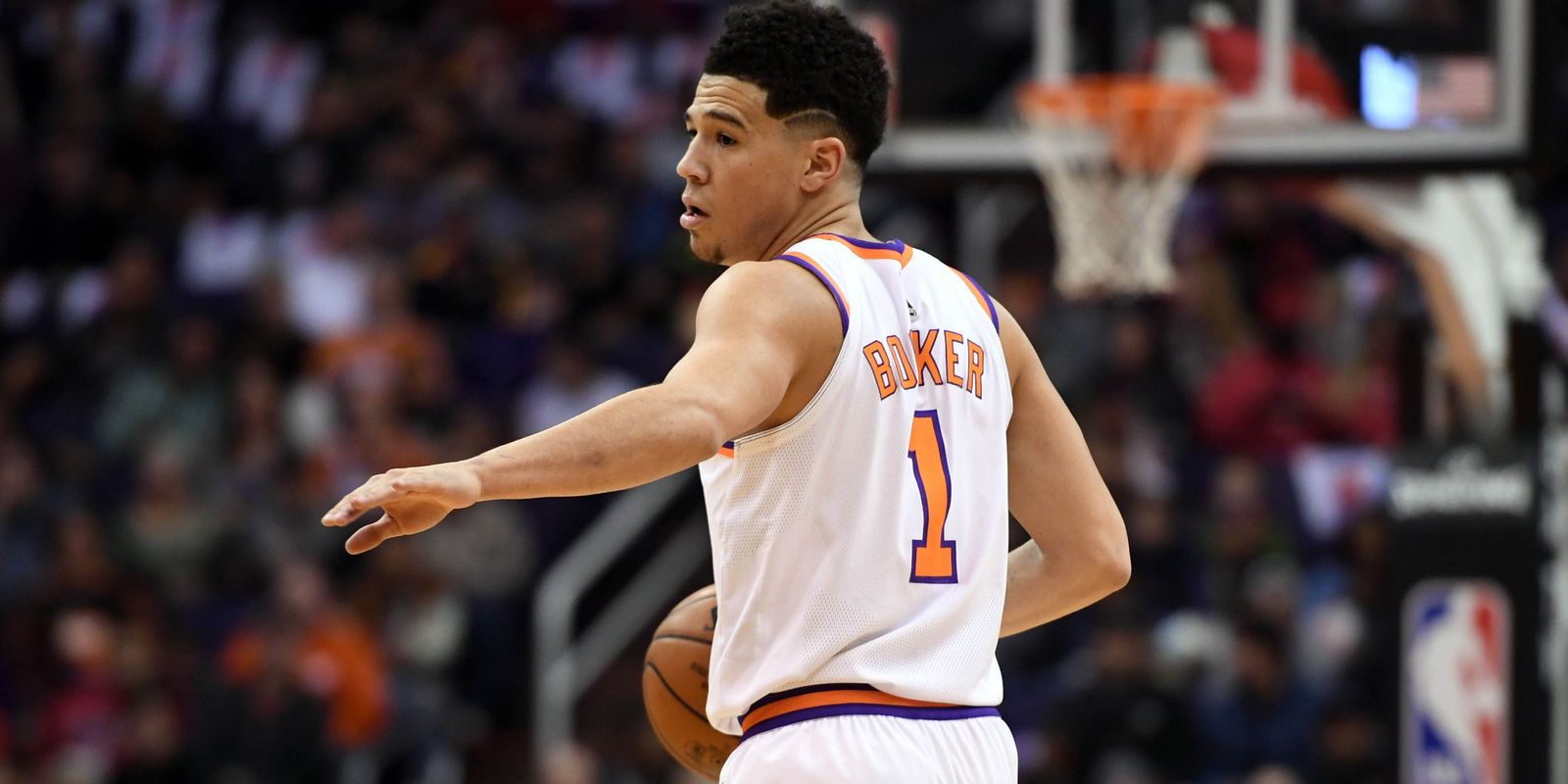 This week's NBA Friday (Saturday AEST) brings the first double figure game slate of 2019 with 10 games to choose from. The usual major DFS tournaments are on offer:
We have broken down the matchups and highlighted the key plays to help you build winning line-ups. For more insight into how to utilise our game breakdown data check out our NBA DFS Training Camp Series:
Part 1 – Betting Lines and Totals
Part 2 – Matchup Analysis – Pace and Defense vs Position
Part 3 – Key Statistics in Daily Fantasy Basketball
Part 4 – Trade Analysis – Breaking Down the Jimmy Butler Trade
Part 5 – DraftKings Sharpshooter Winning Lineup Recap
Part 6 – Adjusting for Line-up News
GAME BREAKDOWN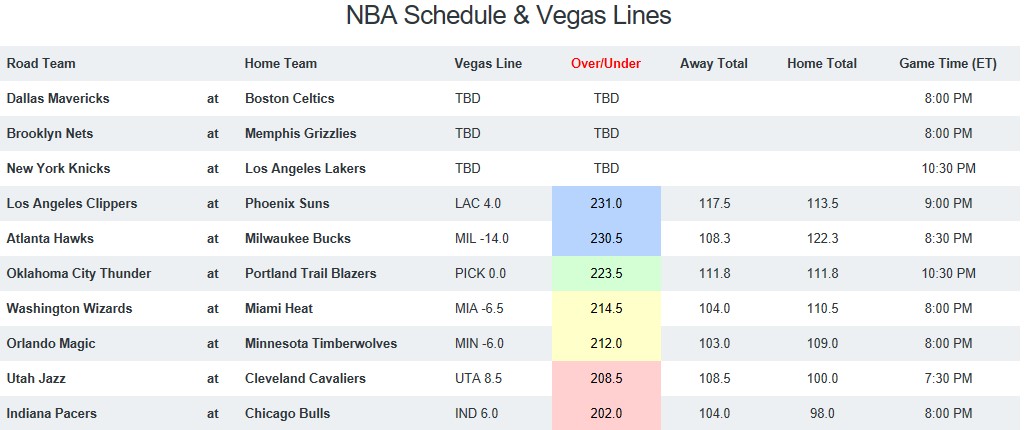 The top game total on this slate is the L.A. Clippers vs the Phoenix Suns at 231 points. This matchup also brings with it a 4 point line indicating it should remain close throughout. The Suns are ranked 28th in defensive efficiency while the Clippers are 21st meaning it should be a juicy match to target for fantasy purposes.
Atlanta vs Milwaukee also has a game total going over 230 points as the 7th fastest team in the Bucks go up against the fastest in the Hawks. The big concern here however is the blowout potential with a 14 point line it is likely that the Bucks will have this game finished before half time.
There are three games on this slate that are yet to have totals set due to injury news. The implications of the injuries is discussed below, out of these games however the New York Knicks vs the Los Angeles Lakers is likely to feature in the top game totals on this slate.

Milwaukee has the top pace up matchup on this slate and is expected to score +5.3 points on their season average, however as noted above the blow out risk is significant.
Portland have the second highest pace up matchup, but despite this their implied point total is only 0.5 points above their season average primarily a result of Oklahoma Thunder having the top ranked defence in the league this season.
Phoenix have the top implied point differential on this slate at +8.1 points on their season average making them my favourite team to target.
INJURY NEWS
Some of the major injury news to monitor includes:
Boston Celtics
Kyrie Irving has been ruled out for the game against the Mavericks. Marcus Morris is listed as questionable. In the games Irving has missed this season Terry Rozier (DS $9,790, $,DK $6,100) has assumed the starting responsibilities and averaged +9.7 fantasy points from 8 extra minutes per game. Gordon Hayward (DS $8,760, DK $5,400) has also benefited averaging +9.1 fantasy points.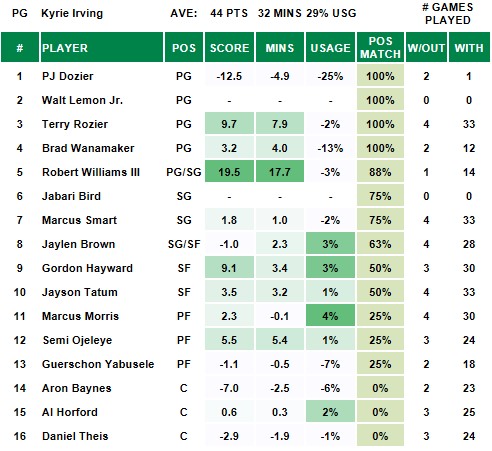 Indiana Pacers
Myles Turner is questionable the game against the Bulls. Turner has missed just 1 game this season and in that game Domantas Sabonis (DS $11,700,DK $7,000) played almost 10 minutes above his season average and scored 12.8 fantasy points above his season average. He would become a lock and load play if Turner was to sit.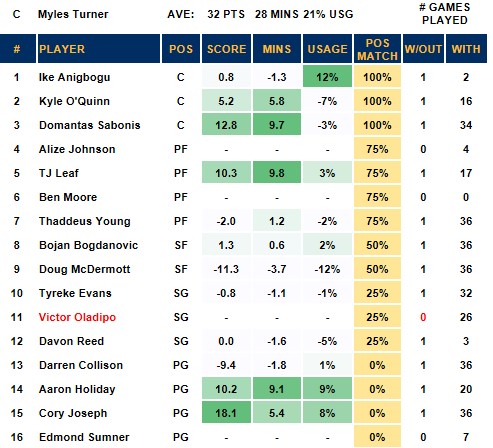 Los Angeles Lakers
Kyle Kuzma is questionable for the game against the Knicks. Kuzma was injured during the last game and played just 16 minutes. In this game Brandon Ingram (DS $11,050, DK $6,800) played 41 minutes and took 21 shots while scoring 39.5 fantasy points.
Memphis Grizzlies
Mike Conley is questionable for the game against the Nets. If Conley is out Shelvin Mack (DS $6,170, DK $4,300) would likely draw the start while Marc Gasol (DS $13,940, DK $8,100) should receive an increase in usage.
Minnesota Timberwolves
Robert Covington is out for the game against the Magic. Jeff Teague and Derrick Rose are questionable. Josh Okogie (DS $6,000, DK $3,900) is expected to replace Covington in the starting lineup, however he has only averaged 0.73 fantasy points per minute this season and last game in the starting role produced just 13 fantasy points from 24 minutes.

VALUE
As usual remember it is early to be predicting the value plays with line-ups not being confirmed until closer to tipoff.
Luke Kornet (DS $8,760, DK $5,400) has been everyone's favourite value play these last three games since entering the starting line-up, topping 32 fantasy points in each. His run has probably come to an end on DraftKings with that price tag, but for Draftstars he is certainly in play again if he holds the starting position.
Derrick Jones Jr. (Ds $7,570, DK $4,700) is worth monitoring on this slate pending who is available for Miami. He has played over 25 minutes in each of the last two games and returned 30+ fantasy points in both. On this slate he draws Washington who have given up the 5th most points to the power forward position this year.
Shai Gilgeous-Alexander (DS $8,610, DK $4,200) has burnt me plenty recently but I can't help but go back to him in GPPs on this slate unless better value opens up. The Suns have been getting absolutely torched by point guards recently and Shai has shown close to 40 point upside this season.

MID-PRICED
Montezl Harrell (DS $11,390, DK $7,200) will matchup against either Deandre Ayton or Richaun Holmes pending who is on the court during his minutes. This centre combo is the only one in the league who has come close to competing with Brooklyn this year for the dubious honour of giving up the most points to opposition centres. Harrell is probably too expensive on DraftKings for the minutes he plays, although for GPPs she still has shown close to 50 point upside. However on Draftstars that price tag is far too cheap for someone who has gone over the 30 fantasy point mark in 7 of his last 9 games.
Domantas Sabonis (DS $11,700, DK $7,000) is another big man off the bench who is too cheap on Draftstars. He will be matched up against the Chicago Bulls on this slate who have conceded the 4th most points in the league to centres this season.
Justice Winslow (DS $12,600, DK $6,700) has been playing point guard for Miami over the last 5 games and during this stretch has had just one game under 30 fantasy points. He has been taking 15 shot attempts per game and on this slate will matchup against the Washington Wizards who have conceded the most points to the point guard position in the league this season.
Kyle Kuzma (DS $11,180, DK $7,300) / Brandon Ingram (DS $11,050, DK $6,800) are both in elite spots on this slate against the New York Knicks. The Knicks have been getting lit up at every position lately conceding the most points to shooting guards over the last 10 games and the fourth most to small forwards.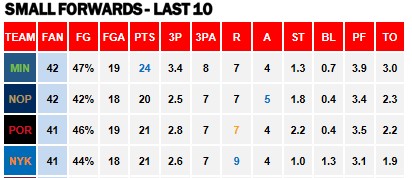 With Lebron out of the line-up Ingram and Kuzma have both seen increases in production, and furthermore Kyle Kuzma is questionable for this game, if he doesn't play you can expect Ingram to hand the majority of the ball handling duties and get a significant increase in shot attempts. If Kuzma is out, Ingram becomes a lock and load play.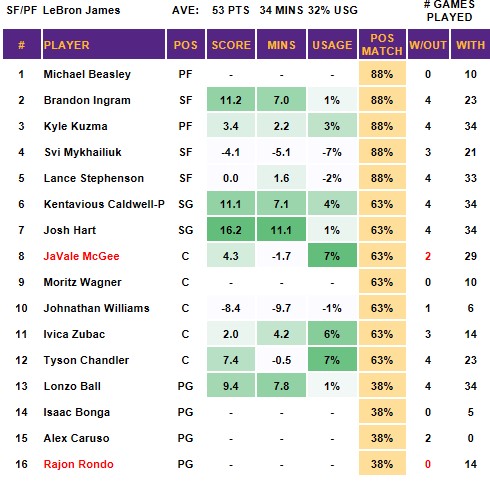 Marc Gasol (DS $13,940, DK $8,100) has the best matchup in the league for his position on this slate against Brooklyn who have given up over 1.6 points per game more to centres than the next worst team. Gasol has shown a season ceiling of just under 60 fantasy points which would be more than enough of a return, particularly with his current price on Draftstars.
Donovan Mitchell (DS $11,950, DK $7,200) remains criminally under-priced on Draftstars for a player averaging 32 minutes with a 31% usage rate. He brings an extremely safe floor of around 28 fantasy points and a ceiling of 50 that can help you win a GPP. His shooting has been down this year but on this slate he matches up against the Cleveland Cavaliers who are ranked dead last in defensive efficiency and have given up the third most points to the shooting guard position.
PREMIUM
DeAndre Ayton (DS $15,990, DK $7,800) has flashed 60 point upside two times in his last 6 games. On this slate he draws the LA Clippers who have conceded the 3rd most points to centres this year. This is one of my favourite plays on this slate and if Ayton doesn't put together 40 fantasy points in this spot I will personally refund you the full cost of this preview.
Devin Booker (DS $16,500, DK $9,000) is another player who is too cheap on Draftstars. While the Clippers have done a good job at defending the shooting guard position this year Booker has been taking more of a playmaking role. The Clippers play at the 8th fastest pace in the league this year while being ranked 21st in defensive efficiency.
Data provided by Notorious of RotoGrinders and Daily Fantasy Rankings NBA Resources

Always remember to gamble responsibly. When the fun stops, stop. If gambling is having a negative impact on your life, seek support at Gambling Help Online. 18+ only.