daily fantasy sports articles
2018-19 NBA Daily Fantasy Tips, Saturday 9th February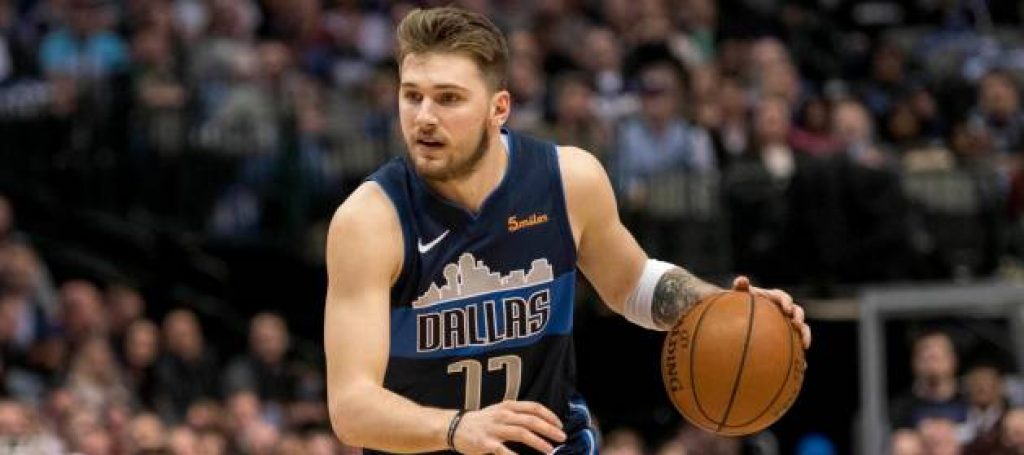 NBA Friday (Saturday AEST) brings another easy to research 8 game slate. The usual major DFS tournaments are on offer:
We have broken down the matchups and highlighted the key plays to help you build winning lineups. For more insight into how to utilise our game breakdown data check out our NBA DFS Training Camp Series:
Part 1 – Betting Lines and Totals
Part 2 – Matchup Analysis – Pace and Defense vs Position
Part 3 – Key Statistics in Daily Fantasy Basketball
Part 4 – Trade Analysis – Breaking Down the Jimmy Butler Trade
Part 5 – DraftKings Sharpshooter Winning Lineup Recap
Part 6 – Adjusting for Line-up News
Have you seen our new NBA DFS Cheat Sheets? We have added even more information for you to see at a glance, including pace numbers, last 5 scores per player and a new Slate Overview section, which brings you projected pace, projected fantasy score totals and Vegas lines and totals for every team on the slate. The perfect accompaniment to our regular previews and a great starting place for the days we don't cover!
GAME BREAKDOWN

No massive game totals that stand out on this slate yet with the highest on the board being Chicago at Brooklyn with a total of 223.5 points. There are two other games over 220 in Milwaukee at Dallas and Cleveland at Washington. Each of the games above 220 points have lines of 8+ points indicating blowout potential making this slate one to beware of.
There are still three games yet to have a line and total set as we await injury news and fall out from the trade deadline. Each of these games has DFS potential, particularly Minnesota at New Orleans which should feature a juicy game total.

Pace of play gives us a much greater number of avenues to attack for DFS purposes. Miami are in the top pace up matchup of the day against Sacramento who have played at the third fastest pace in the league this season.
Chicago are my undercover target on this slate as their pace up spot should be better than advertised going against Brooklyn who have been playing at the fastest pace in the league over the past 15 games.
Injury News and Trade Impact
Major injury news that could impact this slate includes:
Brooklyn
Caris LeVert is available to play on this slate. Monitor the news on if he returns and his minutes limit. When LeVert returns it will impact the usage of Brooklyn players, particularly D'Angello Russell (DS $15,090, DK $8,200).
Chicago
Robin Lopez is expected to be bought out by the Bulls, and Zach LaVine did not practice Thursday. If Lopez was to be bought out before this slate the Bulls would be down to Cristiano Felicio (DS $5,000, DK $3,000) at centre who would receive a significant amount of minutes. In games LaVine has missed this season it has been Kris Dunn (DS $11,290, DK $6,500) and Lauri Markkanen (DS $15,470, DK $7,000) who have benefited the most according to our player out tool. Wayne Selden Jr (DS $6,920, DK $4,100) is likely to draw the start if newly acquired Otto Porter Jr does not suit up for his first game with the Bulls.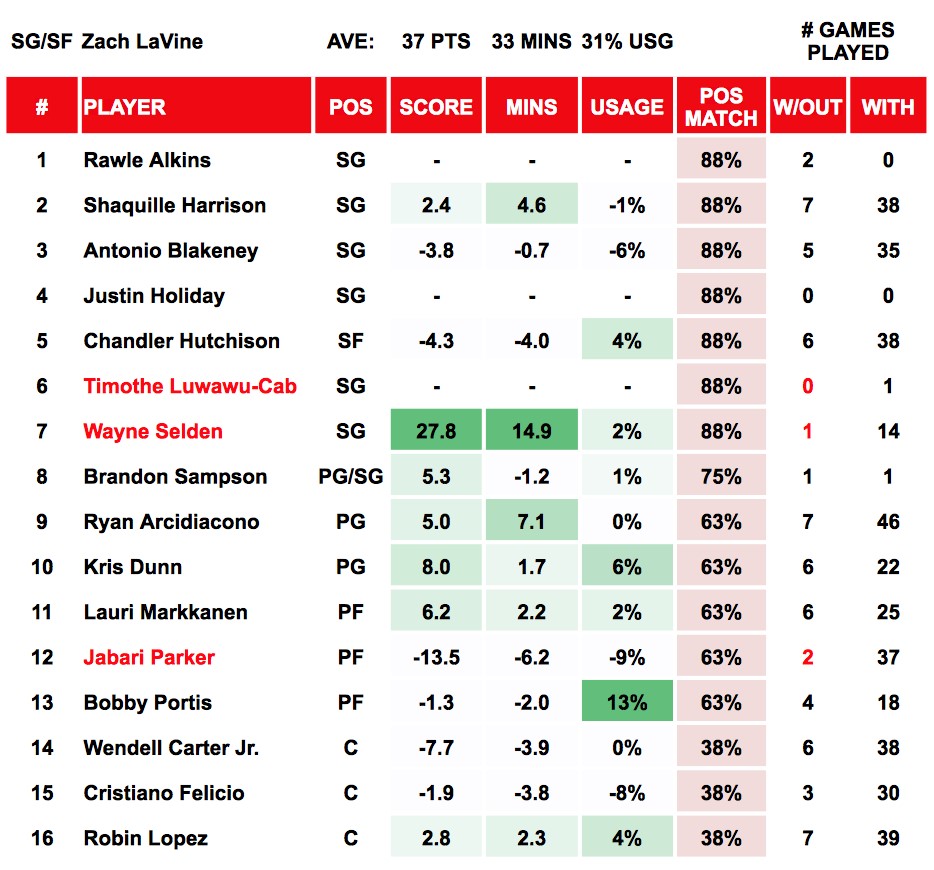 Cleveland
Kevin Love (DS $15,240, DK $7,500) is a game-time decision to return on this slate, while Cedi Osman has been ruled out. Be wary of playing Cavaliers at their current price if Love returns as you can expect him to take a number of minutes and usage away from them.
Dallas
Harrison Barnes was dealt before the trade deadline. He averaged 32 minutes per game this season with a usage rate of 24%, which will be soaked up by remaining players. The rotation for Dallas will be totally up in the air but newly acquired Tim Hardaway Jr (DS $10,500, DK $4,900) will be a likely choice to take Barnes spot in the starting lineup.
Denver
Paul Millsap is a game time decision again on this slate. In the 9 games that Millsap has missed this season it has been Mason Plumlee (DS $9,920, DK $5,400) who has moved into the starting lineup and averaged +6.3 fantasy points from an extra 10 minutes of playing time.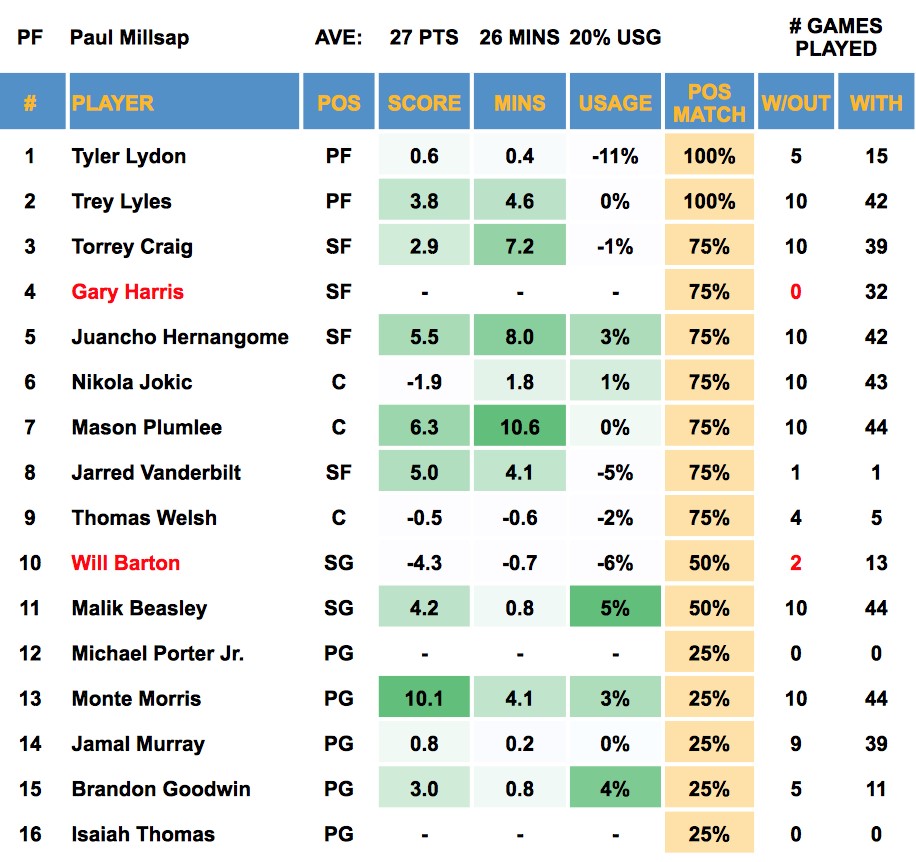 Milwaukee
Khris Middleton wont play on this slate due to rest. In the two games Middleton has missed this season it has been Tony Snell (DS $5,190, DK $3,300) who has been the biggest beneficiary averaging +8.9 fantasy points from an extra 9.2 minutes. Eric Bledsoe (DS $13,560, DK $6,700) has also seen a massive increase in usage at +10%.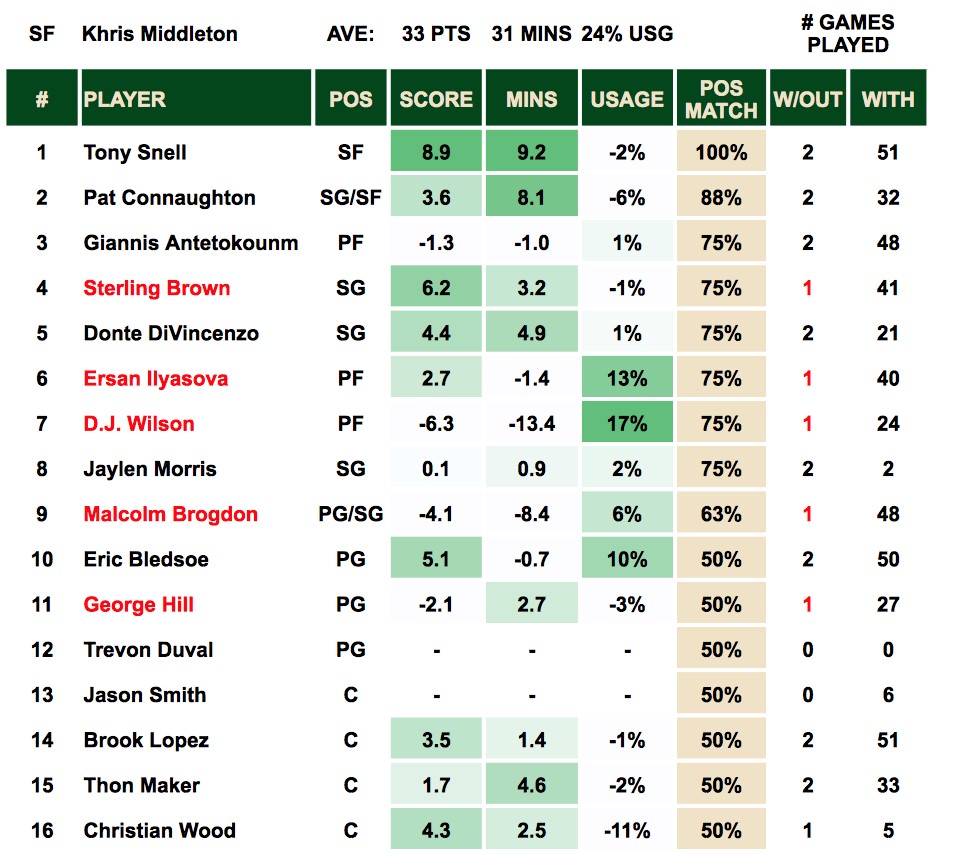 Phoenix
Devin Booker is questionable for the match on this slate. In games without Booker this season Josh Jackson (DS $13,170, DK $5,900) has averaged +7 fantasy points from an additional 7 minutes of playing time.
Sacramento
Alec Burks (DS $11,080, DK $3,800) is expected to make his debut for the Kings on this slate.

VALUE
Remember to monitor injury news, particular those uncertainties noted above, as tip off gets closer as further value should open up.
Tim Hardaway Jr (DS $10,500, DK $4,900) / Jalen Brunson (DS $7,540, DK $4,300) / D. Finney Smith (DS $8,280, DK $3,900) / Maxi Kleber (DS $7,100, DK $4,200) / Dwight Powell (DS $9,560, DK $4,400)
I hate to group such a large amount of players here but realistically this is about all Dallas has left. Each of these five players are under priced for the workload they are going to receive given who is remaining on the roster. Tim Hardaway Jr is the safest play in my opinion, however he is also priced up the most.
Finney-Smith brings one of the biggest values per dollar as he exhibited last game were he scored 34 fantasy points from 33 minutes of playing time. Dwight Powell has also always had massive upside if he gets the minutes, however in the past he has always struggled to get playing time under Carlisle.
Dallas are in a significant pace up matchup and you can certainly roster any number of these players in the same lineup at these prices.
MID-PRICED
Andrew Wiggins (DS $11,630, DK $6,000) is a huge beneficiary of the Timberwolves being without any active point guards at the moment. In todays match he took 24 shots on his way to 47 fantasy points. On this slate he also has one of the top matchups in the league vs the Pelicans who play at the 6th fastest pace in the league.
Dennis Smith Jr. (DS $12,550, DK $5,800) has simply been unleashed in New York, with control of every possession and all the usage he wants… and Dennis wants it all. He faces Detroit for the second game in a row on this slate, in this same matchup just days ago he got up 25 shots and played 40 minutes. Smith Jr. will likely be closer to a $7K player on DraftKings within a week.
Eric Bledsoe (DS $13,560, DK $6,700) as noted above receives a massive 10% usage increase with Khris Middleton out of games this year. He has already been in great form recently averaging 43 fantasy points from his last four games, with the additional usage from Middleton's absence he is almost a lock and load play.
Justise Winslow (DS $9,690, DK $5,500) is my mid priced GPP special on this slate. Miami have one of the best matchups in the league vs Sacramento who play at a blazing pace (3rd fastest in the league), and have given up the third most fantasy points in the league to point guards this season. Winslow has seen $1,600 price decline inside the last 10 games on DraftKings and is now at a GPP winning price with his 50 point upside. Even better due to his poor form recently you should be looking at single figure ownership.
PREMIUM
Luka Doncic (DS $18,490, DK $9,500), like the value plays mentioned above, is a huge beneficiary from the Mavericks cleaning house at the deadline. Doncic will have one of the highest usage rates in the league for the rest of the season, just look at last game where he notched up 54 fantasy points despite going just 5/20 from the floor. LOCK.. AND LOAD!
Lauri Markkanen (DS $15,470, DK $7,000) is still too cheap on DraftKings, averaging over 43 points from his last four games and on this slate draws Brooklyn who are playing at warp speed.
Anthony Davis (DS $23,260, DK $11,200) is expected to (surprisingly) return to the Pelicans on this slate. I have a hunch that he will be coming out all guns blazing after a long lay off and all the gossip. The matchup is only around league average but I never have an issue attacking Karl Anthony-Towns.
Data provided by Notorious of RotoGrinders and Daily Fantasy Rankings NBA Resources

Always remember to gamble responsibly. When the fun stops, stop. If gambling is having a negative impact on your life, seek support at Gambling Help Online. 18+ only.