daily fantasy sports articles
2018-19 NBA Daily Fantasy Tips, Thursday 13th December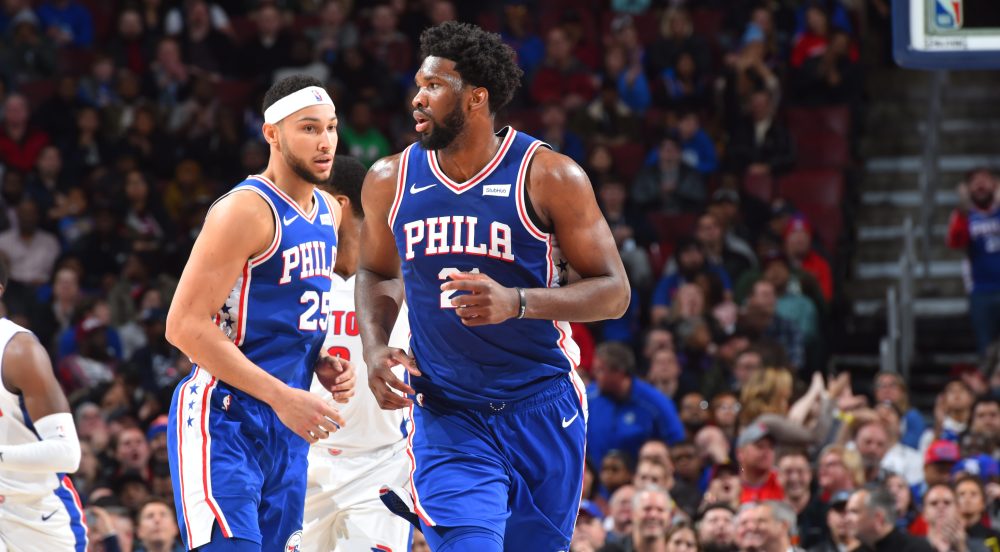 NBA Wednesday is loaded this week with a monster 11 game slate. The usual major Wednesday DFS tournaments are on offer:
We have broken down the matchups and highlighted the key plays to help you build winning lineups. For more insight into how to utilise our game breakdown data check out our NBA DFS Training Camp Series that comes out weekly:
Part 1 – Betting Lines and Totals
Part 2 – Matchup Analysis – Pace and Defense vs Position
Part 3 – Key Statistics in Daily Fantasy Basketball
Part 4 – Trade Analysis – Breaking Down the Jimmy Butler Trade
Part 5 – DraftKings Sharpshooter Winning Lineup Recap
Part 6 – Adjusting for Line-up News
GAME BREAKDOWN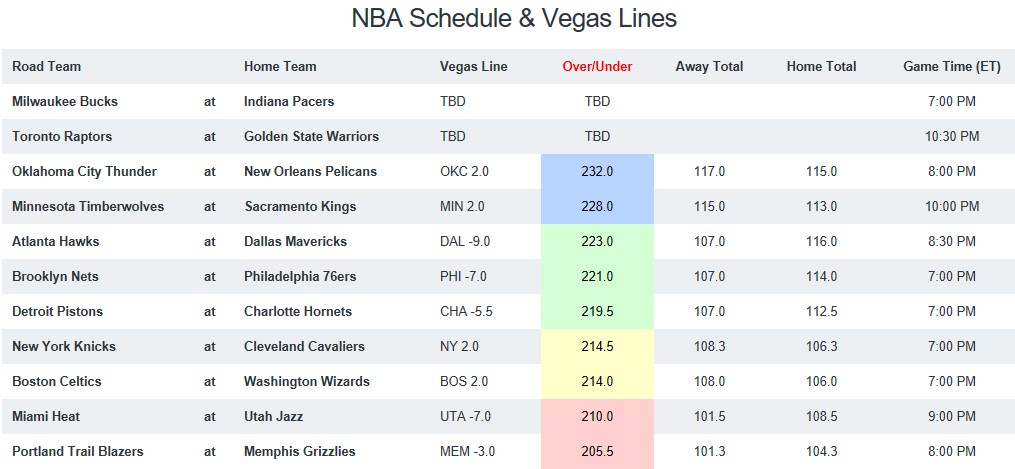 On an 11 game slate it is great to see a couple of games we can easily rule out in Miami vs Utah and Portland vs Memphis with game totals of 210 and under.
The top game total of the night once again includes the New Orleans Pelicans who are taking on Oklahoma City. This will be a great game to target from an Oklahoma City perspective with a 232 point game total and a 2 point line, however beware of stacking on the New Orleans side at the Thunder have the number one defensive efficiency in the league this season.
My favourite game on the slate is the Minnesota Timberwolves vs Sacramento Kings, which features a 228 game total and a 2 point game line. Both teams also have defenses league average or below.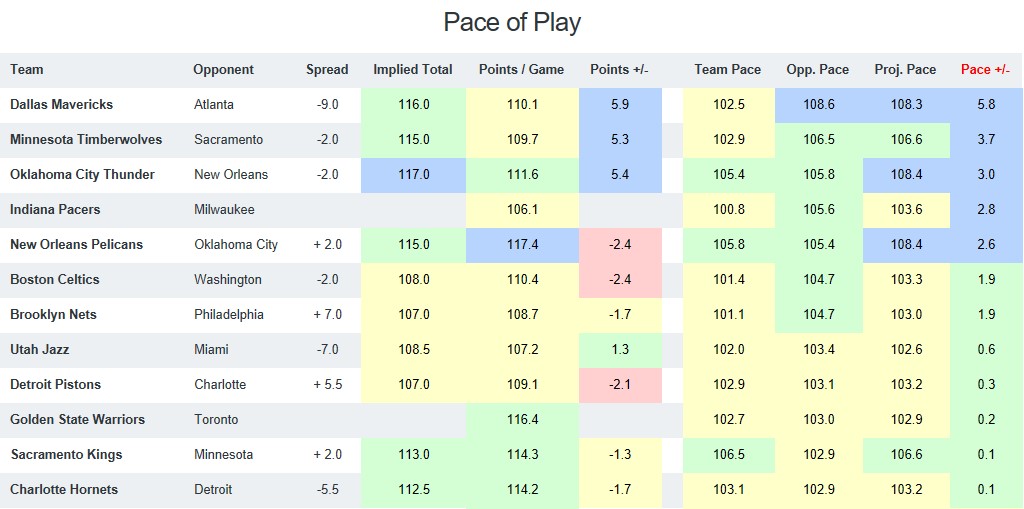 Dallas are in the biggest pace up matchup of the night vs Atlanta and they have an implied total 5.9 points above their season average. The usual blowout concern exists however with a line of 9.0.
Minnesota are in the second best pace up spot of the night and are implied for 5.3 points above their season average supporting the views on the matchup above.
The possibly undercover spot of the night is the Boston Celtics who are in a modest pace up spot vs the Wizards. Nothing statistical really jumps off the page in implied totals, however the Wizards play at the sixth fastest pace in the league this season and are 25th in defensive efficiency.
INJURY NEWS
Some of the major injury news to monitor includes (note there is a significant amount of injury news on this slate, I have picked out the news that I believe has the biggest impact on the slate):
Boston Celtics
Al Horford and Aron Baynes are questionable for the match with the Washington Wizards. Gordon Hayward is doubtful. Monitor this news as the Celtics have a positive matchup on this slate and these outs will open up usage and value for the usual suspects, Marcus Smart (DS $8,420, DK $4,500), Jaylen Brown (DS $10,190, DK $5,400), Marcus Morris (DS $10,980, DK $5,900) and Daniel Theis (DS $7,070, DK $4,600).
Cleveland Cavaliers
Tristan Thompson is out for the match against the New York Knicks. Thompson has yet to miss a game this season and with the Cavaliers roster shake ups this year analysis can be a little difficult. Monitor news to see who gets the start. If it isn't Larry Nance (DS $10,620, DK $5,700) he should at least pickup extra minutes.
Dallas Mavericks
Dennis Smith Jnr is out for the match vs Atlanta. In the 5 games Smith Jnr has missed this season Jalen Brunson (DS $8,330, DK $3,800) has by far been the biggest beneficiary in both average score and minutes played.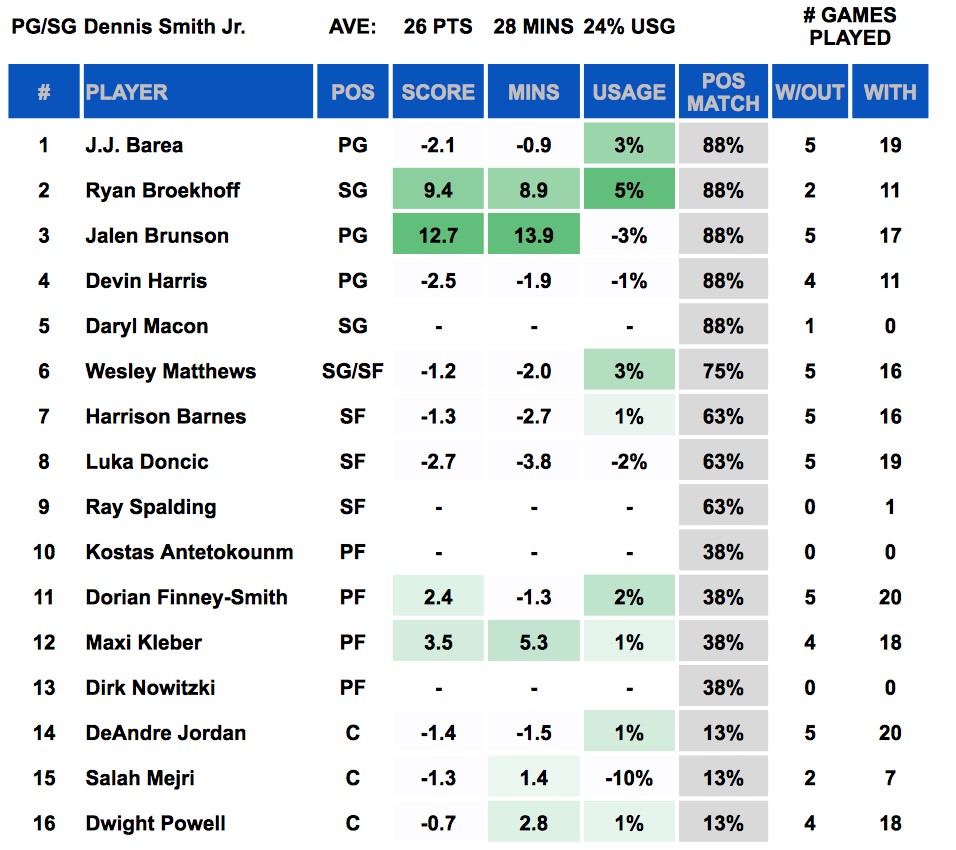 New Orleans
Nikola Mirotic is out for the matchup against the Thunder. In the games Mirotic has missed this year Julius Randle (DS $15,880, DK $7,400) has been absolutely absurd averaging 13.4 points above his average from an extra 10.8 minutes.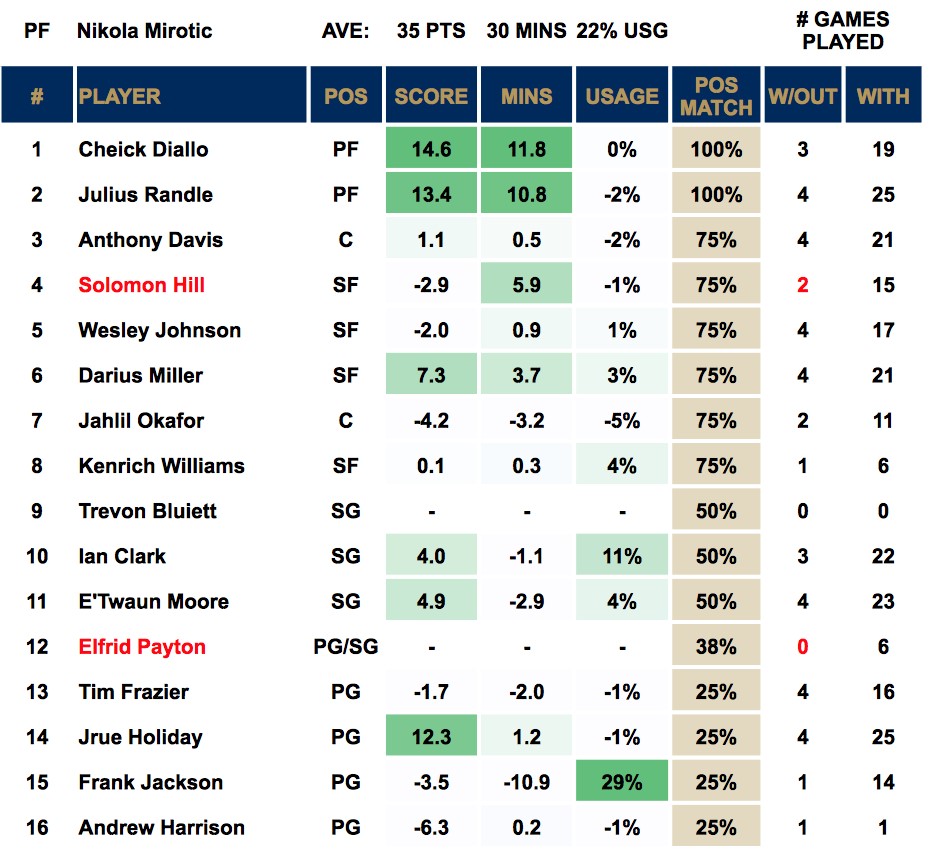 VALUE
As usual remember it is early to be predicting the value plays with line-ups not being confirmed until closer to tipoff.
Wesley Matthews (DS $9,210, DK $4,500) has an elite matchup vs Atlanta who play at the fastest pace in the league and are conceding the most points in the league to shooting guards. Matthews has also seen a 3% usage bump in games Dennis Smith Jnr has missed this year. He is priced better at DraftKings.
Jerami Grant (DS $8,660, DK $4,100) has been the quintessential cash game value play this season. He rarely drops below 20 fantasy points and on this slate he has one of the top matchups in the league vs New Orleans giving him the opportunity to flash his 30+ point upside.
MID-PRICED
Trae Young (DS $10,830, DK $6,000) … yes here we go again. Remember this is a GPP play only, but I can't help myself at this price. Essentially it works like this, Young will have more 40 and 50 point fantasy games this season, so when he is priced like this exposure is a given for me. Jeremy Lin is also out meaning Young has less chance of riding the bench when Lin comes into the game on fire.
Dennis Schroder (DS $11,240, DK $5,300) like Grant above has one of the top matchups in the league on this slate. The Pelicans have given up the fourth most fantasy points to point guards this season and Schroder is priced nicely to return GPP value if he hits his ceiling. Like Young he more of a GPP play and I wouldn't necessarily recommend playing him with Westbrook unless it is a very deep GPP where such a play would be very rare.
Luka Doncic (DS $12,530, DK $7,300) will essentially be running the point vs the Hawks who have given up the 8th most points to that position this season. His ceiling rarely exceeds 40 points, but he is has been a strong cash play at this price with a floor of around 33 fantasy points. From a narrative perspective this makes for a strong matchup with Doncic going against fellow rookie Trae Young.
PREMIUM
De'Aaron Fox (DS $14,780, DK $7,300) has been one of my favourite plays of the season thus far. His price has moved up into the premium category, however he has shown 60 point upside this season and he will be defended by Jeff Teague who has a -0.47 defensive real plus-minus this season.
Russell Westbrook (DS $21,080, DK $10,900) has one of the best matchups of any of the top priced stars on this slate. As mentioned above New Orleans are giving up the fourth most points to point guards in the league this season while playing at the 3rd fastest pace. This makes a perfect game for Westbrook and he is sure to be one of the most popular rosters.
Joel Embiid (DS $20,040, DK $10,500) is my favourite premium play on the slate. Hopefully his ownership will be on the lower end with people targeting Russ. Brooklyn have been getting destroyed by centres all year conceding the most points to the position by almost 5 points per game to second place. This trend has continued with them giving up the fifth most points to the position over the last ten games.
In addition Jimmy Butler is under an injury cloud, Embiid averages 2.8 more fantasy points per 36 minutes with Butler off the court this year.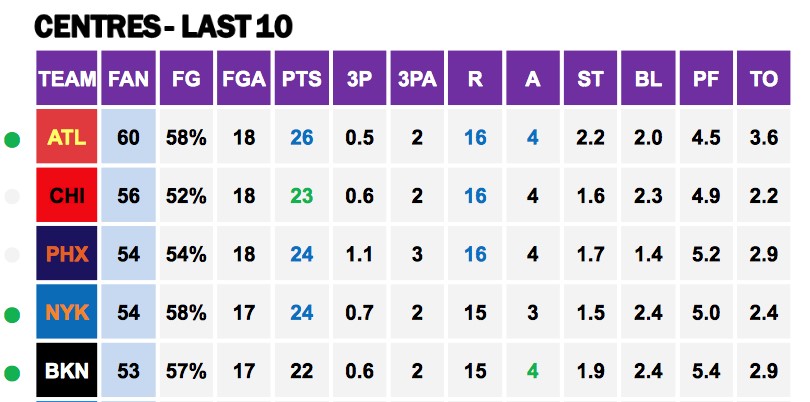 Data provided by Notorious of RotoGrinders and Daily Fantasy Rankings NBA Resources

Always remember to gamble responsibly. When the fun stops, stop. If gambling is having a negative impact on your life, seek support at Gambling Help Online. 18+ only.