daily fantasy sports articles
2018-19 NBA Daily Fantasy Tips, Thursday 20th December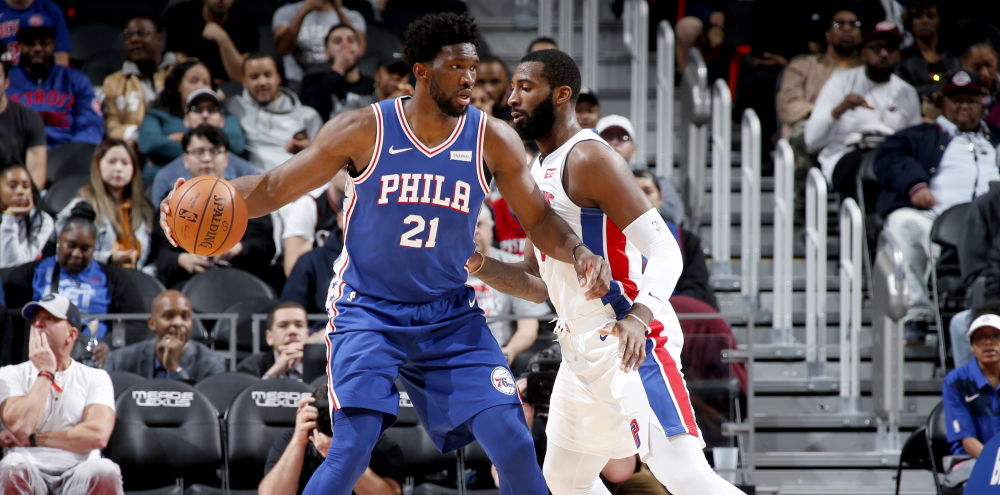 NBA Wednesday (Thursday AEST) brings us a massive 12 game slate this week. The usual major DFS tournaments are on offer:
We have broken down the matchups and highlighted the key plays to help you build winning line-ups. For more insight into how to utilise our game breakdown data check out our NBA DFS Training Camp Series that comes out weekly:
Part 1 – Betting Lines and Totals
Part 2 – Matchup Analysis – Pace and Defense vs Position
Part 3 – Key Statistics in Daily Fantasy Basketball
Part 4 – Trade Analysis – Breaking Down the Jimmy Butler Trade
Part 5 – DraftKings Sharpshooter Winning Lineup Recap
Part 6 – Adjusting for Line-up News
GAME BREAKDOWN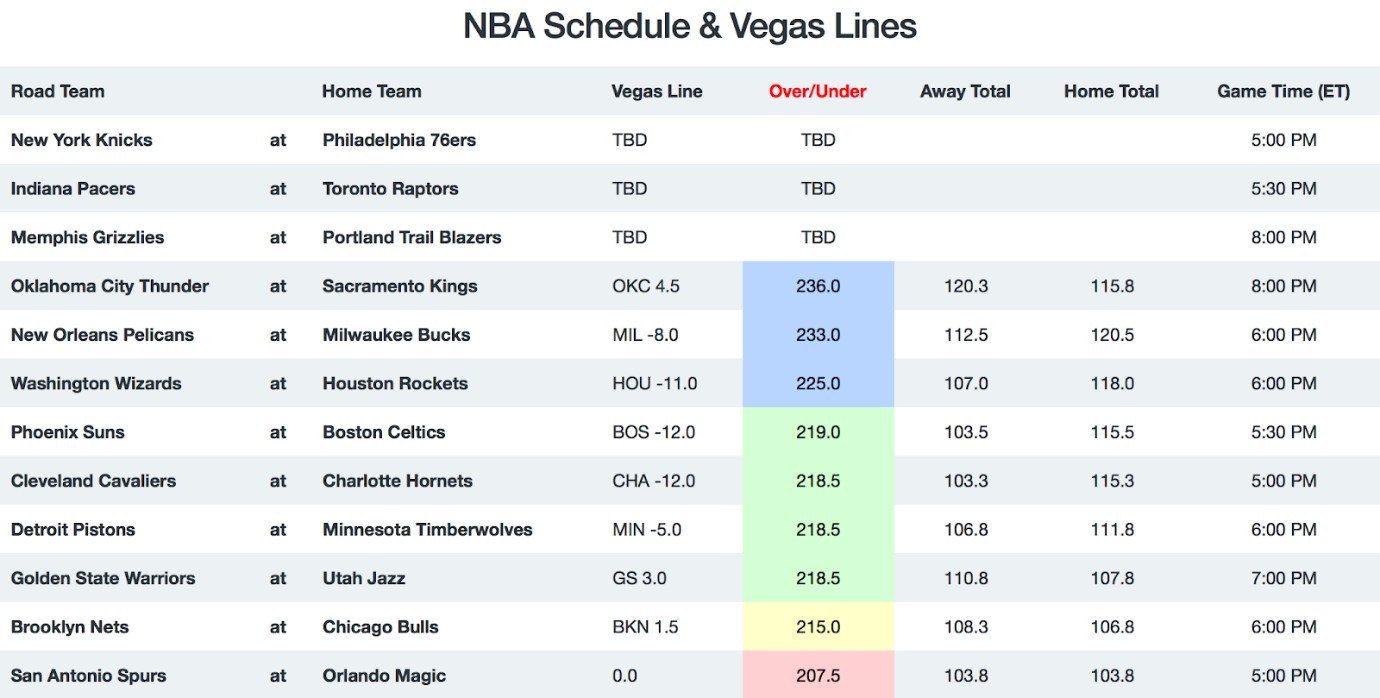 There are two games above the 230 point game total barrier on this slate in the Oklahoma City Thunder vs Sacramento Kings and the New Orleans Pelicans vs Milwaukee Bucks. These games will likely draw a lot of attention, however there aren't without their risk, particularly in the Thunder vs Kings game where the Thunder are the number 1 ranked defense in the league while the Kings coach threw us all through a loop last game playing half the starters under 10 minutes.
Houston vs Washington is the next highest total but brings significant blow out risk with an 11 point line set and Washington on the second night of a back to back where they were beaten by the Atlanta Hawks and John Wall may or may not have been hung over.
There are three games with game totals yet to be set due to injury news which we will cover below. The most attractive of these three games will be the New York Knicks vs Philadelphia 76ers which should feature amongst the top 4 totals on this slate.
On a slate this big it can be critical to narrow your player pool down and the Spurs vs Magic might be a game you can put a line through straight away with a dismal 207.5 point game total.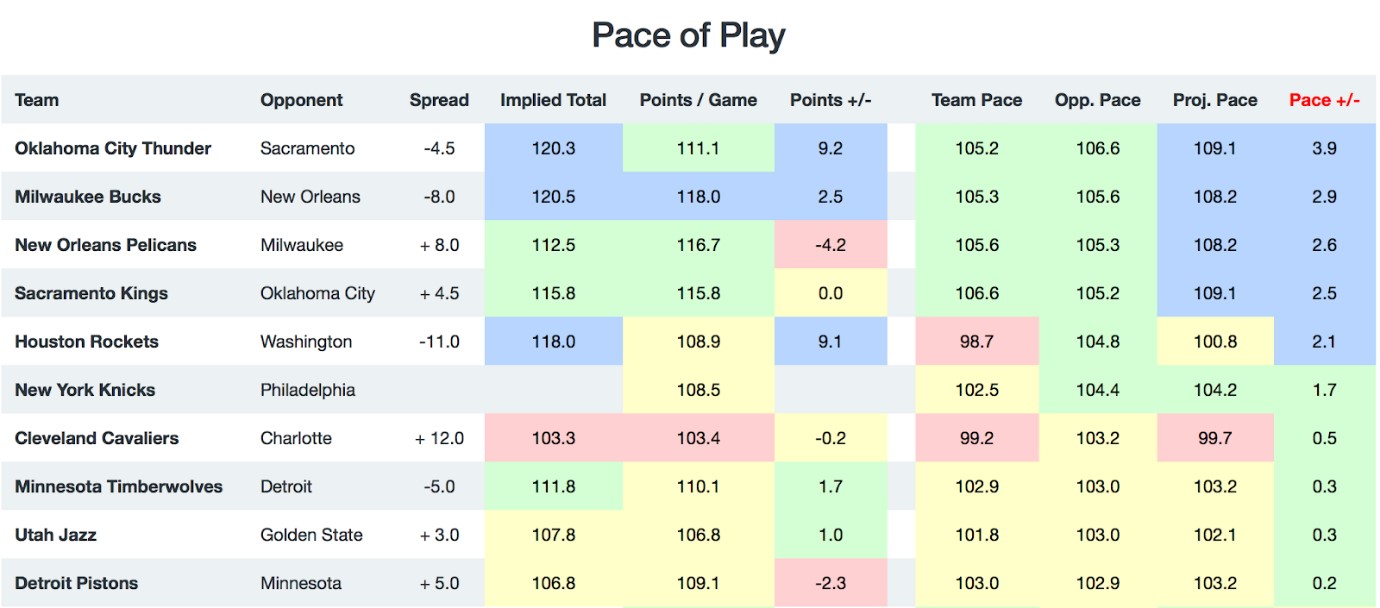 The Thunder have the biggest pace up matchup of the day vs the Kings who are playing at the second fastest pace in the league this season. They are also implied for the a +9.2 points on their season average putting them in an elite matchup on this slate.
INJURY NEWS
Some of the major injury news to monitor includes:
Memphis Grizzlies
Mike Conley is questionable for the match against Portland. Conley has averaged 34 minutes with 28% usage meaning there will be significant slack to be picked up. There is little to glean from the single game he missed this season but when Conley has been off the court this season Garrett Temple (DS $6,980, DK $4,000), Shelvin Mack (DS $6,500, DK $3,700) and Kyle Anderson (DS $9,040, DK $4,600) have seen the biggest usage bumps.
Minnesota Timberwolves
Jeff Teague is out for the match against Detroit. In games Teague has missed this season Derrick Rose (DS $11,370, DK $6,700) has averaged over 7 points above his season average while Andrew Wiggins (DS $11,320, DK $5,800) has seen a 5 point increase.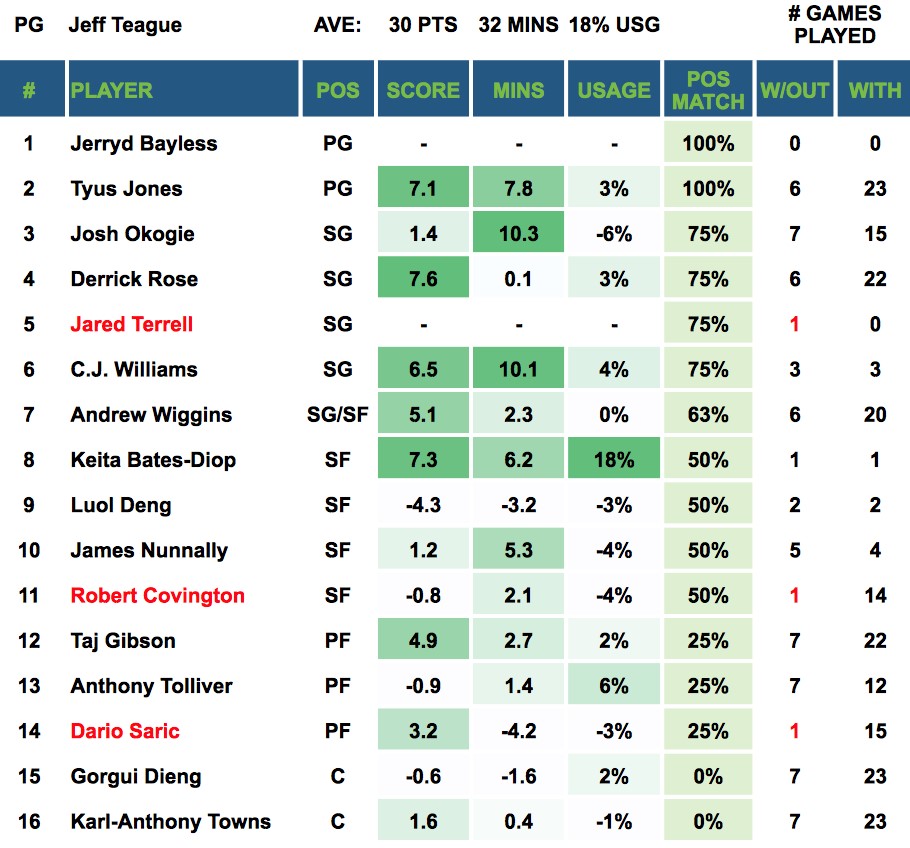 New York Knicks
Tim Hardaway Jnr is questionable for the match against Philadelphia. In the two games he has missed this season Enes Kanter (DS $12,340, DK $7,100) and Emmanuel Mudiay (DS $12,070, DK $6,400) have been the biggest beneficiaries posting significant increases in their average fantasy points as highlighted in our player out tool: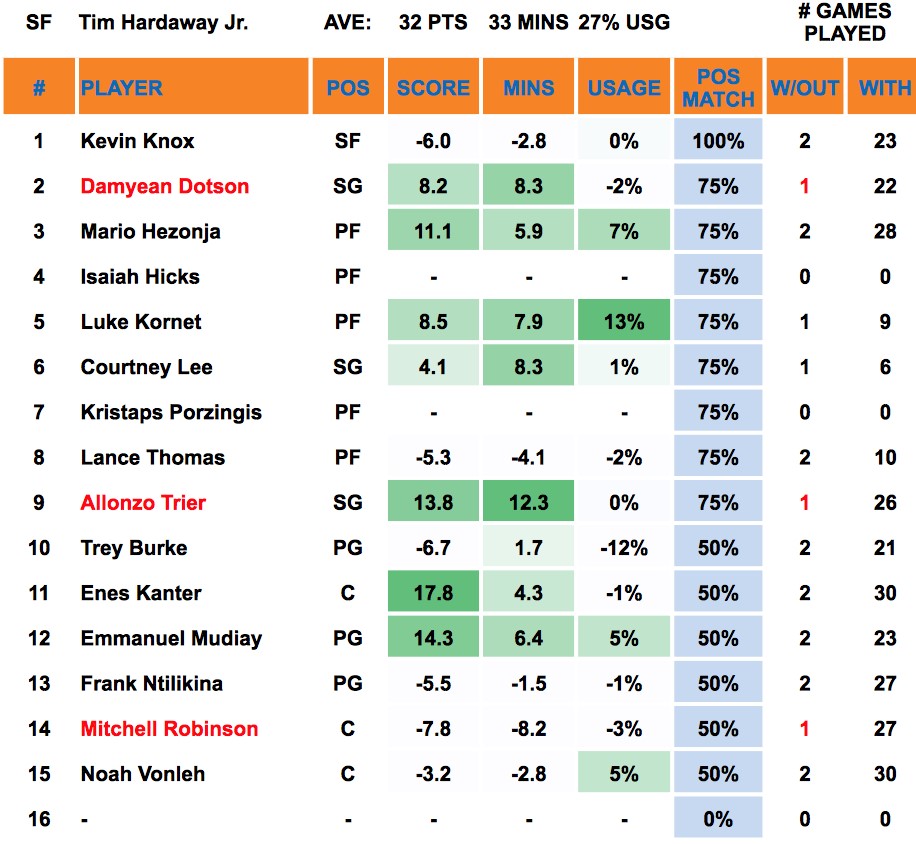 Indiana Pacers
Kyle Lowry and Serge Ibaka are questionable for the match against Indiana. With Lowry, Ibaka and Jonas off the court this season the biggest beneficiaries have been Fred VanVleet (DS $9,270, DK $4,900) with a 6.5% usage increase, and Kawhi Leonard (DS $17,790, DK $9,200), who has seen a 4.9% usage bump.
VALUE
As usual remember it is early to be predicting the value plays with line-ups not being confirmed until closer to tipoff.
Wendell Carter Jr (DS $9,040, DK $4,800) has the number one matchup in the league at his position vs the Brooklyn Nets who have conceded over 3 fantasy points per game more than the next highest to centres this season. Carter has struggled to stay on the court due due to fouling someone every 20 seconds but if he can stay on the court this is a matchup where he can hit his 40+ point upside. On the flip side his opponent Jarrett Allen (DS $10,300, DK $5,500) is also in a great spot with the Bulls conceding the third most points to centres this year.
Aron Baynes (DS $5,680, DK $4,000) / Daniel Theis (DS $8,770, DK $4,200) both players are in a smash spot against the Phoenix Suns rookie DeAndre Ayton who has given up the second most points to centres this year. The big question is who will get the lion's share of the minutes, both players have shown GPP winning upside this year and Baynes is now off his minutes limit since returning from injury. Absolutely do not play these two together but one or the other should make for a solid value play.
Collin Sexton (DS $8,300, DK $4,600) is great value despite not meeting expectations over his last couple of games. With Jordan Clarkson out Sexton is playing over 30 minutes a game and has shown 40+ point upside this season. Charlotte have been a good team to attack at the point guard position recently giving up the most points in the league to the position over the past 5 games.

Trevor Ariza (DS $10,500, DK $4,500) does not have the best matchup vs the Rockets on this slate, however there is the revenge narrative if you buy into that and he is simply too under priced on DraftKings to ignore.
MID PRICED
Jimmy Butler (DS $13,280, DK $7,200) should be played in GPP's only. Quite frankly Philadelphia are like a chook raffle when all three of their stars are in the lineup but Butler offers 60 point upside at this price and is playing the Knicks who are ranked 29th in defensive efficiency this season.
Larry Nance (DS $11,790, DK $6,300) if he gets the start again offers great value at this price. He dropped 50+ today and the platforms haven't had a chance to adjust their price. Nance has averaged over 1 fantasy point per minute this season and 37.7 fantasy points over his past 6 games. He will match up against the Charlotte Hornets on this slate who have given up the 7th most points to centres over the last 10 games.
Lauri Markkanen (DS $11,960, DK $7,400) has gone over 40 fantasy points in his past 2 games and particularly on Draftstars the price has yet to totally adjust. Brooklyn have been a good team to attack at the power forward position recently giving up the fourth most points to the position over the past 10 games.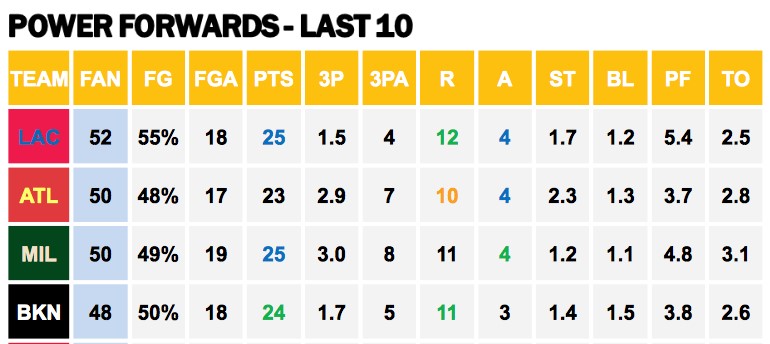 PREMIUM
Russell Westbrook (DS $19,790, DK $11,000) / James Harden (DS $20,900, DK $11,400) / Anthony Davis (DS $21,490, DK $11,600) / Giannis Antetokounmpo (DS $20,480, DK $11,100)
It is quite simply a stud fest on this slate with each of the four priced players in absolute smash spots. Every player is in a pace up matchup vs teams that leak points to their respective decision and any of these four could bust the slate wide open.
If I had to nail it down I would go with Davis given the Randle and Mirotic are both out. With those two off the court this season Davis has seen a ridiculous 9.6% usage increase leading to a massive +20.7 fantasy points per 36 minutes.
Joel Embiid (DS $19,080, DK $10,200) is amazingly in the third highest priced player on the slate and also in an absolute smash spot vs the Knicks. I didn't include him in the above purely due to the fact that his role when Butler is playing has been hit or miss compared to the four others. That said he will be matched up against Enes Kanter who has been getting absolutely eviscerated over the last 10 games.

Data provided by Notorious of RotoGrinders and Daily Fantasy Rankings NBA Resources

Always remember to gamble responsibly. When the fun stops, stop. If gambling is having a negative impact on your life, seek support at Gambling Help Online. 18+ only.