daily fantasy sports articles
NBA 2019-20 Daily Fantasy Preview Friday 3rd January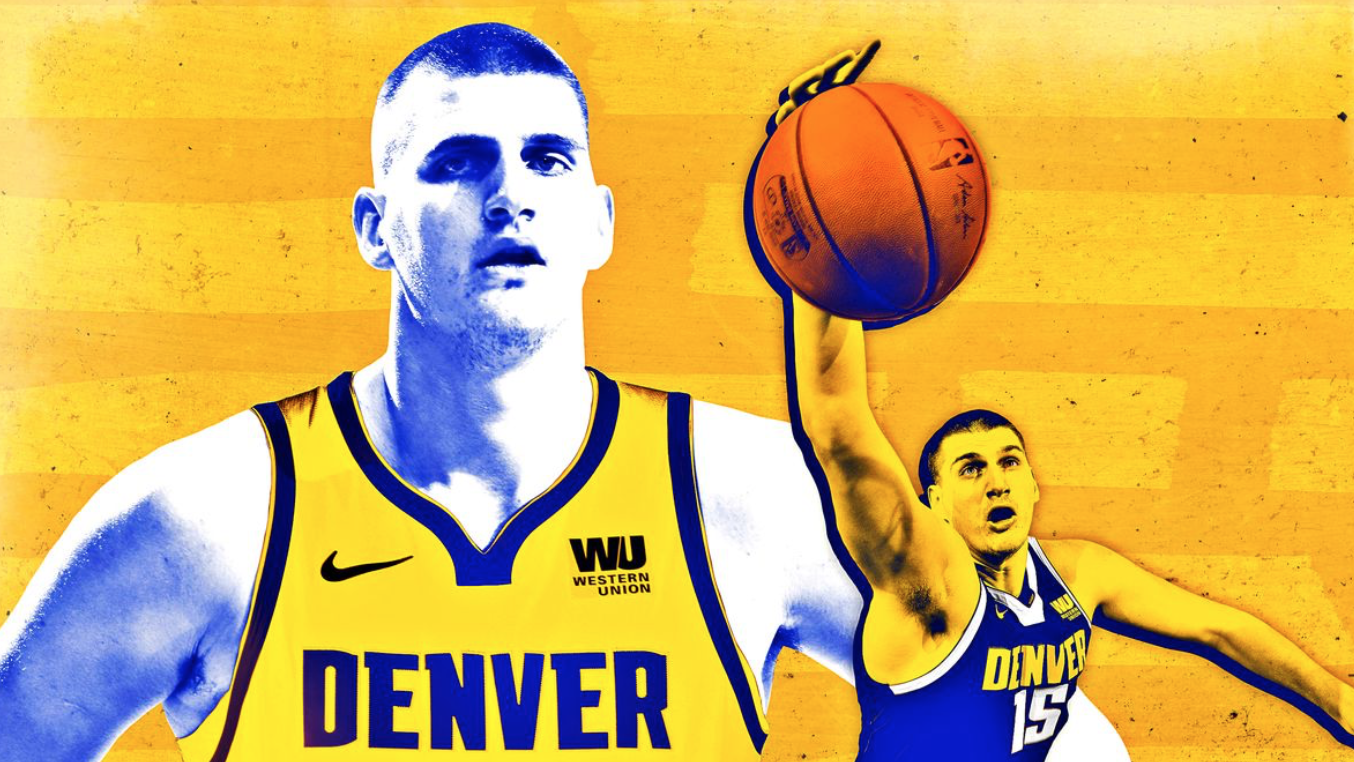 With the holiday season coming to an end NBA Thursday (Friday AEST) delivers a beautiful slate with 9 games of NBA action to break down. The usual array of massive DFS games across are on offer across all platforms:
In addition DraftKings is also holding an NBA VIP Experience Contest on this slate for Australian players only where the winner takes home a flights and accommodation for two to Los Angeles and two tickets into the DraftKings VIP private suite for the Los Angeles Lakers vs Houston Rockets game at Staples Centre.
You can read about the details here and enter the contest here (100 spots only!).


GAME BREAKDOWN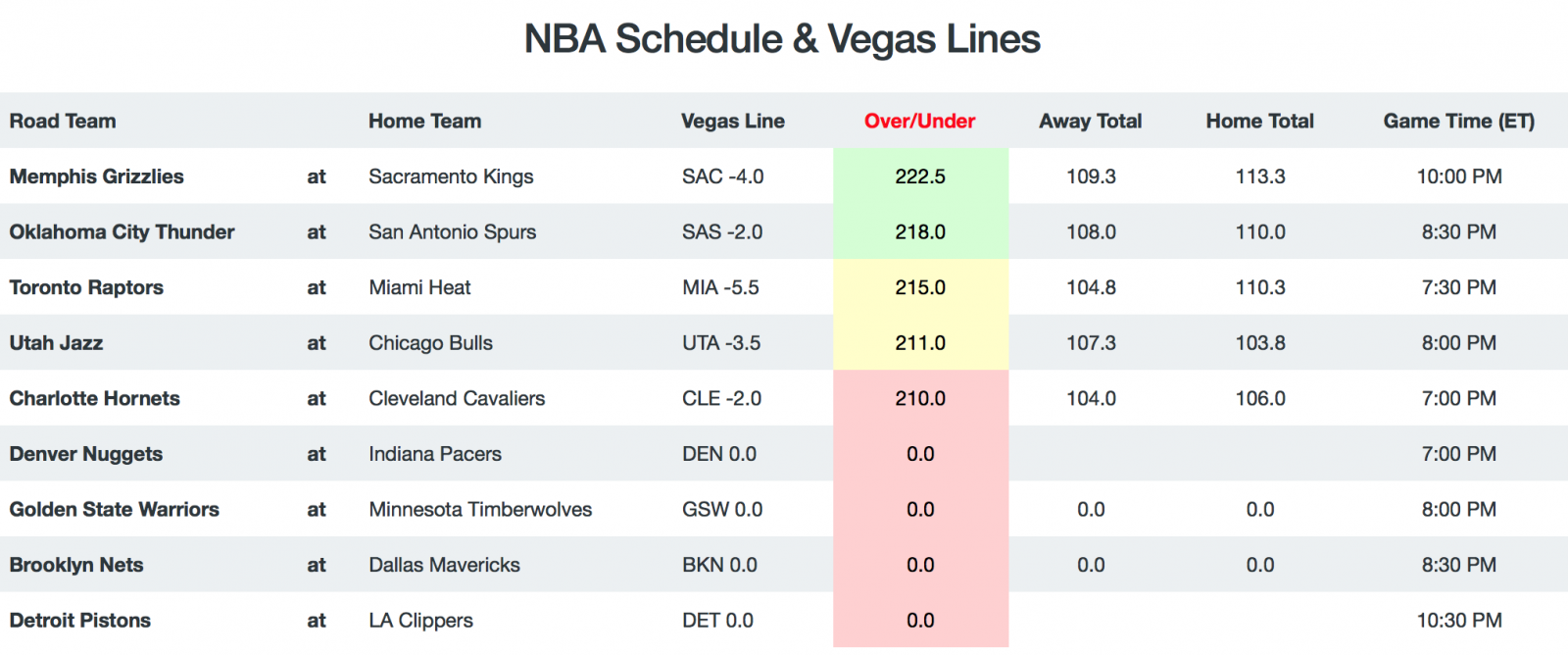 No surprise to have another slate with almost half the games still awaiting major injury news before the lines and totals are released. As usual I have broken down the impact of all possibly major lineup changes below.
This is not full of high total games to attack, with the highest listed at just 222.5 points between Memphis and Sacramento. Memphis play at the 5th fastest pace in the league this season, which puts the Kings into a nice pace up matchup. Both teams are bottom 12 in defense and the Grizzlies concede the 4th most fantasy points this season overall. This difficulty in this match will be gauging where the minutes will go for the Kings who appear to have a rotation of 9 players all thinking they should be the starter.
That is the only game listed currently at over 220 points, so we will need to look closer at pace and defense to find avenues to attack.

The Golden State Warriors are in the biggest pace up spot of the day against the Timberwolves who have played at the leagues 4th fastest pace this season. The Wolves have been without Karl Anthony-Towns, Andrew Wiggins and Jeff Teague recently making their lineup and rotations significantly different than the norm, however their pace has not slowed down (still 3rd fastest over past 5 games). Defensively the Warriors are 24th in the league this year, conceding the 7th most fantasy points, however they have improved in this area recently, ranked 18th in defense over the past 10 games.
Dallas vs Brooklyn might be my favourite game to target on this slate and will likely have the highest game total once they are all released. It is a pace up spot for the MAvericks with Brooklyn playing at the 9th fastest pace in the league this season and both teams are league average in defensive efficiency.
INJURY NEWS
Tim Hardaway Jr will not play and Kristaps Porzingis is questionable for the game against Brooklyn. Jalen Burnson started at guard in place of Hardaway last game, however, as we have become accustomed to if Brunson is playing alongside Doncic he effectively just stands in the corner and watches, which resulted in him returning just 11 fantasy points from 23 minutes. If Porzingis is out it is typically Maxi Kleber who receives the biggest bump averaging +11.1 fantasy points from an additional 5.8 minutes in game time.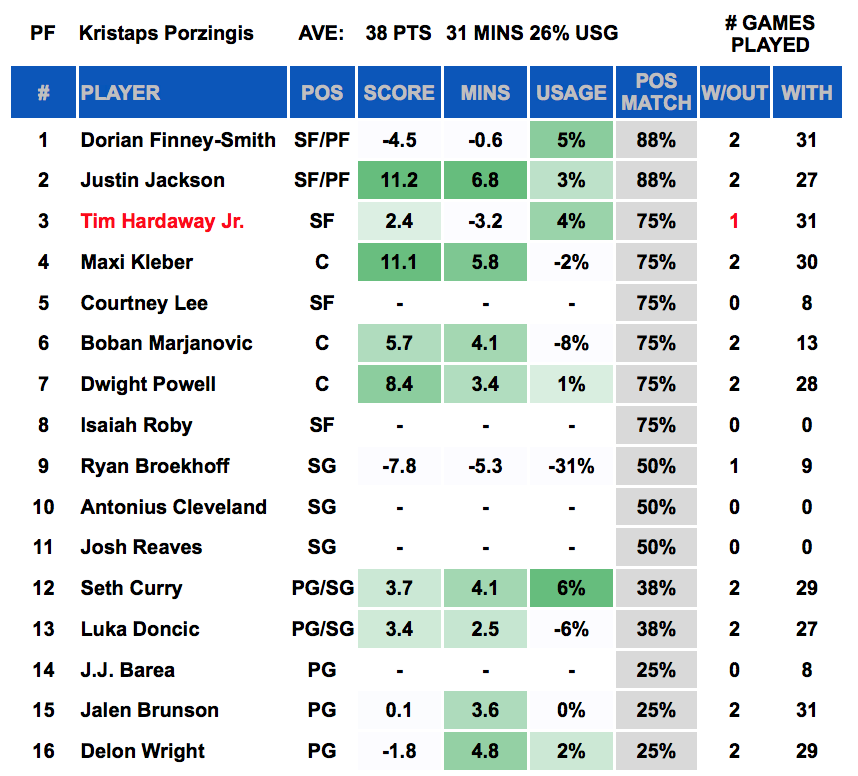 Blake Griffin is doubtful and Markieff Morris has been ruled out of the game against the Clippers. If both players Christian Wood would typically become a chalky play, however his price has risen recently and in the last contest he only managed 21 fantasy points from 28 minutes of game time.
D'Angelo Russell and Willy Cauley-Stein have both been ruled out of the game against the Timberwolves. Without Russell this year it has typically been Ky Bowman seeing the biggest increase in minutes and fantasy production. However, last game he still only played 21 minutes for 19 fantasy points, as the Warriors seem more set on using Alec Burks and Draymond Green as playmakers as much as possible. Marquese Chriss started in place of Cauley-Stein last game and played 34 minutes, however his price has now risen significantly.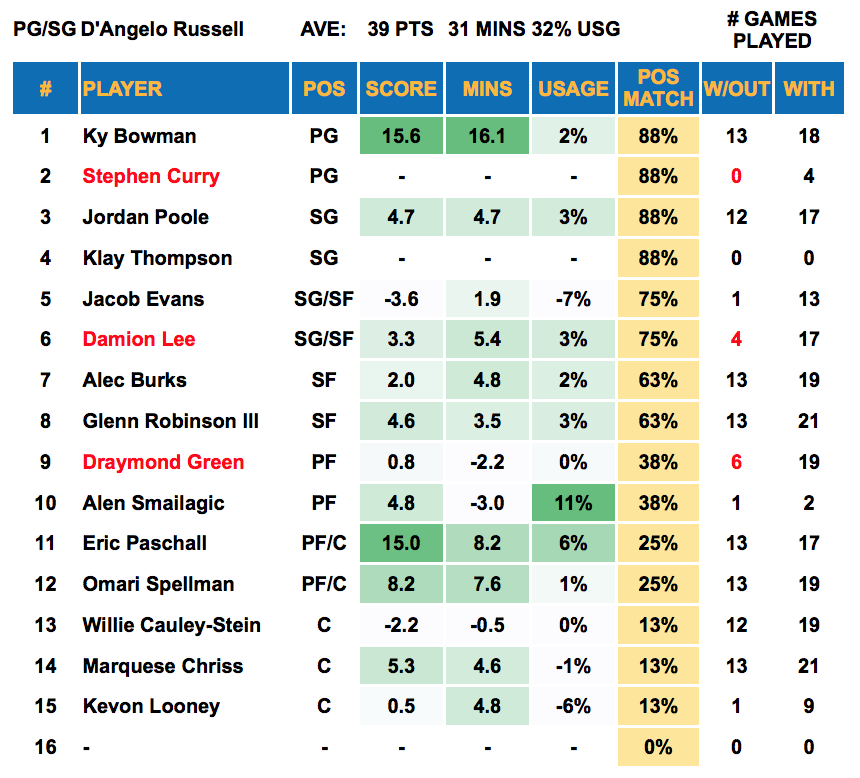 Malcolm Brogdon is doubtful for the game against Denver. Aaron Holiday starts when Brogdon is out injured and he has been a fantasy monster in those situations. From the last 5 games Holiday is averaging 31.6 fantasy points from 31.2 minutes of playing time. Without Brogon we can expect him to play another 30+ minutes, which means he still could play off his increased price tag.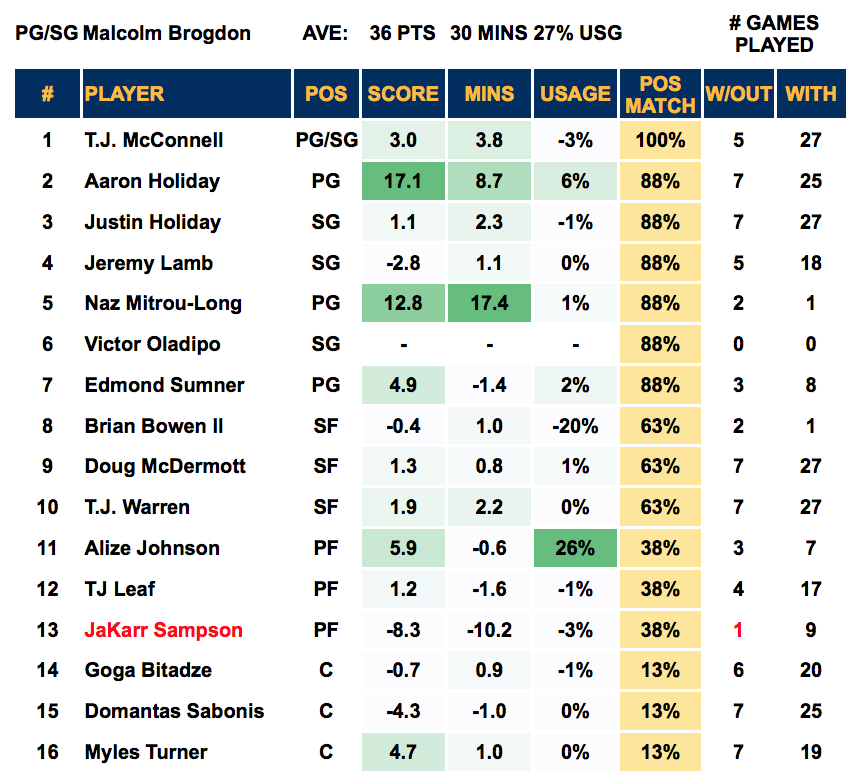 Jeff Teague, Andrew Wiggins and Karl Anthony-Towns all missed today's game against the Bucks. Without these three in the lineup today it was Shabazz Napier who exploded with 37 fantasy points, backing up his 43 points the game before. His price has come up, but at that level of production he could still pay off. Jarrett Culver and Gorgiu Dieng will also expect to start if all three players are out.
VALUE PLAYS
As always more value will likely open up as we get closer to the slate and further lineup news breaks. Also be studious in looking a pricing differences between the three platforms are some players are value on different sites just due price.
In addition to the possible value plays noted above (Christian Wood, Marquese Chriss, Maxi Kleber):
Seth Curry (DS $6,080, DK $4,000, MB $4,100) is my sneaky tournament value play on this slate. He will go overlooked on this slate, whoever last game without Tim Hardaway in the lineup he played 26 minutes and posted 21 fantasy points despite shooting just 3/13, including 3/10 from deep. Curry has already shown significant upside this year posting a 50+ game and on this slate he has an elite matchup with the Nets giving up the third most fantasy points in the league to point guards.
Dillon Brooks (DS $8,600, DK $4,700, MB $5,100) is the perfect last piece if you are looking for someone in this price range. He should be locked into high 20s in minutes and has averaged just under 1 fantasy point per minute this season while 12.5 field goal attempts per game. On this slate he is matched up against the Kings who have given up the fourth most fantasy points in the league to shoot guards over the past 10 games.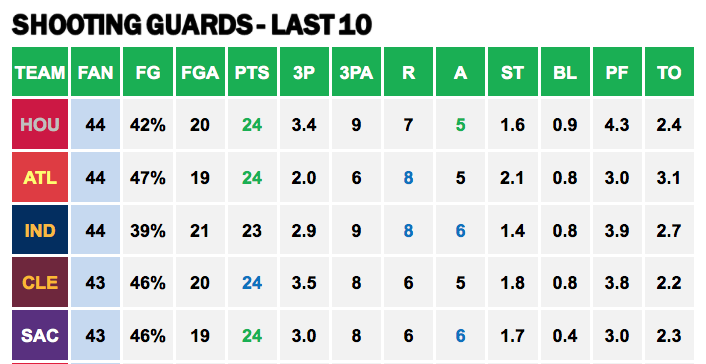 MID PRICED PLAYS
Dejounte Murray (DS $10,550, DK $6,000, MB $6,000)... maybe I am pot committed to Murray at this point but I know the ceiling game is coming and I won't be sitting on the side when it does. If you saw the overtime period against Golden State last game you can see the potential Murray brings. He has averaged 1.17 fantasy points per minute this season and really should be getting around the 30 minutes mark (although Popovich is always an X factor). I love this matchup vs the Pistons who have been giving up the most points in the league to point guards over the past 10 games.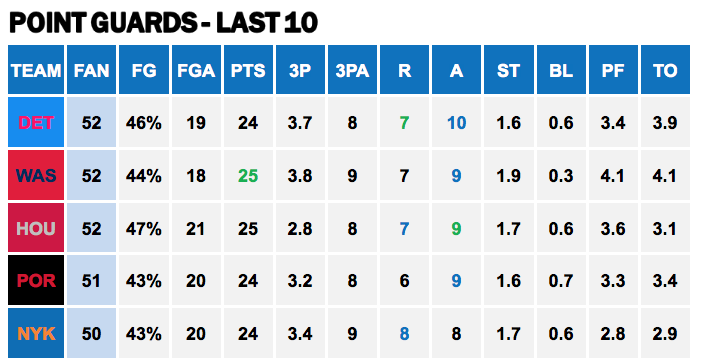 De'Aaron Fox (DS $13,790, DK $7,300, MB $7,600) is under priced due to an injury plagued season, however he is back to playing around the mid 30s in minutes. This is an elite matchup for Fox as it is pace and he draws rookie Ja Morant who has given up the 5th most points to point guards this season.
PREMIUM PLAYS
Devonte Graham (DS $14,480, DK $8,200, MB $8,000) should be lowish owned on this slate, although he has come somewhat of a DFS players favourite this year. He draws arguably the top matchup in the league for his position against the Cavaliers whose guards have been getting destroyed all year. They have given up the most fantasy points in the league to point guards despite playing at a relatively slow pace. Terry Rozier also stands out as having an elite matchup, and while Graham certainly offers teh safer floor, Rozier as a GPP options has greater upside per dollar.
Nikola Jokic (DS $16,540, DK $9,800, MB $9,600) is likely to get overlooked on this slate as the game total should be on the low side. However, the sneaky play of the season has been bigs against Indiana. The Pacers have given up the 5th most fantasy points to centres this season, including the most actual points and 5th most rebounds. Despite having a sub par year compared to expectations Jokic still brings the 60+ point upside and this is a great spot for him.
Dragon's Suggested Draftstars Team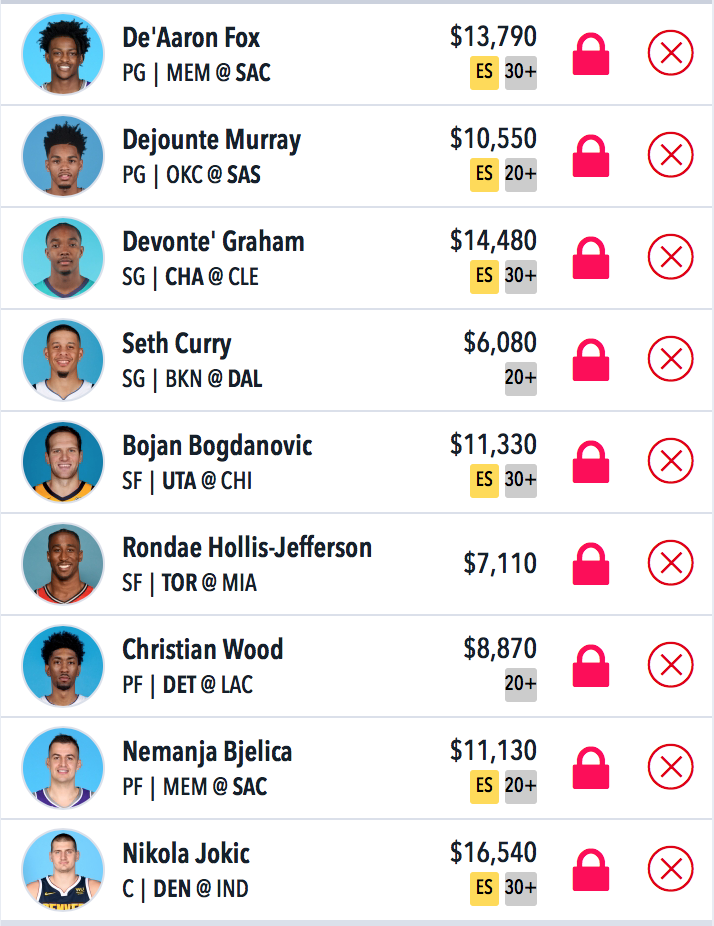 In case you are new to NBA DFS these articles break down the matchups and highlight the key plays to help you build winning lineups. For more insight into how to utilise our game breakdown data check out our NBA DFS Training Camp Series:
Always remember to gamble responsibly. When the fun stops, stop. If gambling is having a negative impact on your life, seek support at Gambling Help Online. 18+ only.

\