daily fantasy sports articles
NBA 2019-20 Daily Fantasy Preview Saturday 11th January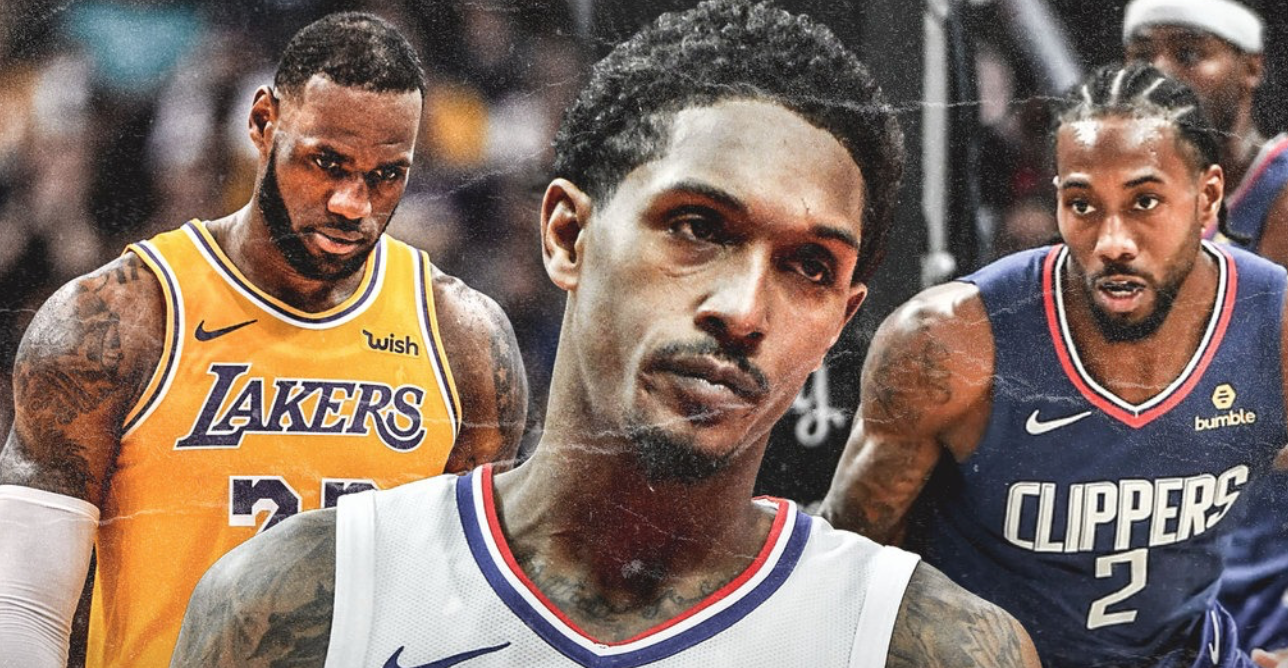 The weekend is here and we have wall to wall NBA action!! NBA Friday (Saturday AEST) offers us daily fantasy lovers a monster 10 game slate to attack with a wide array of daily fantasy contests on offer across the major platforms:

GAME BREAKDOWN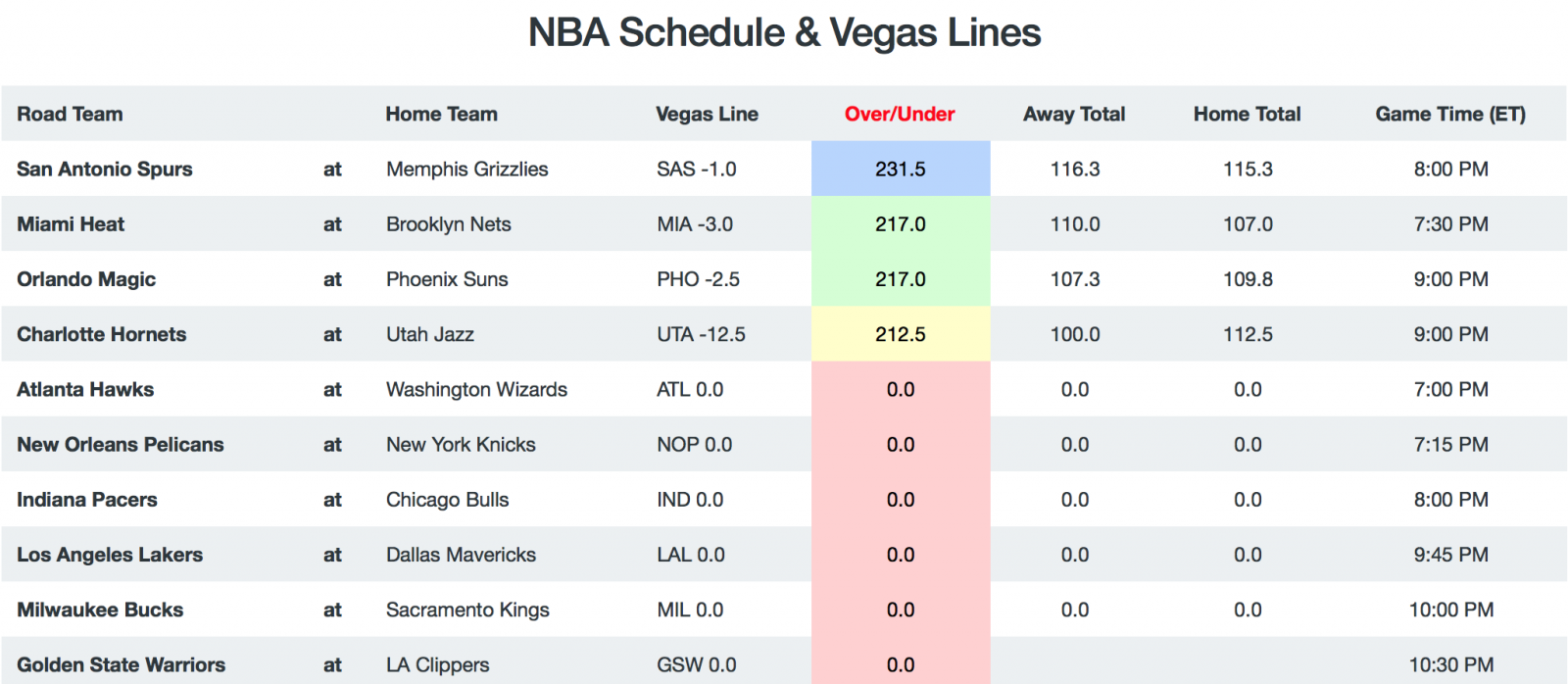 We might as well stop mentioning this as it is quite clearly the norm now with six out of the ten games yet to have totals set as we await for injury news. As always I will break down the major news impacting the slate below.
The top total currently listed is San Antonio Spurs vs the Memphis Grizzlies at a massive 231.5 points. This will be one of the best games to target on the slate between two teams who have hit a patch of form recently. It should be an uptempo game with both sides in a pace up matchup. Memphis are playing at the 3rd fastest pace in the league behind warp speed rookie point guard Ja Morant, while the Spurs are the 11th fastest team this season. Defensively both teams are ranked in the bottom 10, while the Grizzlies have conceded the 4th most fantasy points.

Washington have the pace up matchup of the day against the Atlanta Hawks. You heard that right… the Wizards are hosting the Hawks on this slate in what is practically the daily fantasy dream matchup for this season. Both sides are top 10 in pace while being ranked 28th and 30th in defensive efficiency. For the majority of the season the Wizards have given up the most fantasy points until just recently when the Hawks over took them for the dubious honour. All year these have been the best two teams to attack in daily fantasy and here we get them facing each other, which means game stack, game stack, game stack! It is a rare opportunity where we see these sides in a game expected to stay close, with the line currently set at 2 points.
The other game on this slate that really interests me to attack is New York at New Orleans. This is a significant pace up matchup for the Knicks against the Pelicans who are playing at the 7th fastest pace in the league this year, while the Knicks themselves have also been pushing the pace this recently (8th fastest over the past 10 games). Both sides are bottom 5 in defensive efficiency this year and they are also have given up more fantasy points than league average. Sign me up!
INJURY NEWS
Wendall Carter Jr will remain sidelined for 4-6 weeks. Carter missed the last game against the Pelicans and the Bulls started Thad Young at centre. Young was a monster playing 35 minutes and returning 35 fantasy points. He has been just under 1 fantasy point per minute all season, so with that level of playing time he should be in consideration for rosters again on this slate.
Domantas Sabonis is questionable for the game against the Bulls, while Malcolm Brogdon is expected to make a return. Brogdon's price is down across the industry after being injured for a significant amount of time. If he plays and has no minute restriction he should be considered. If both Sabonis and Brogdon are both out, as I noted last time in the preview, they have combined for over 51% usage rate this season, which means if they are both out there will be a significant amount of usage picked up by Jeremy Lamb and TJ Warren.
Paul George is out for the game against the Warriors. When George has been out this season it is no shock to see that Kawhi Leonard receives a 6% usage increase resulting in +7.8 fantasy points per game. The more sneaky option, however, is Lou Williams who has had a 3% usage increase for +3.4 fantasy points.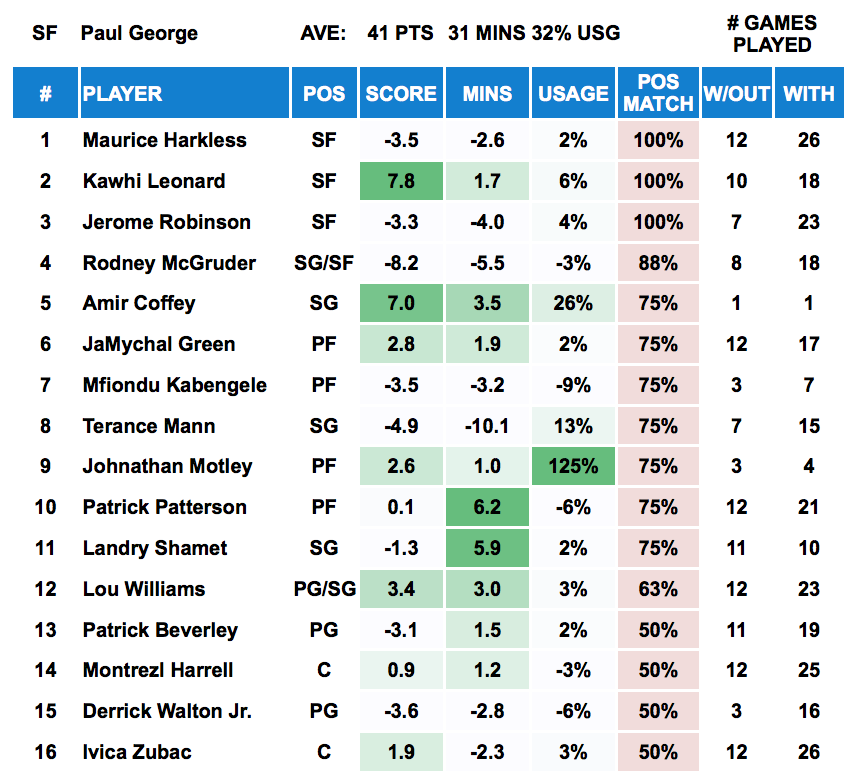 Anthony Davis is questionable for the game against the Mavericks. I would expect Davis to miss this game given how he looked after the fall and the fact there is simply no reason for the Lakers to risk him at this point in the season. In the games he has missed this year Kyle Kuzma has seen a significant increase in minutes resulting in +12 fantasy points. Lebron James is another obvious target to see an increase in usage rate without Davis on the floor, although that has yet to pan out this year in a small sample size. The sneaky target will be Rajon Rondo who had all but fallen out of the rotation recently before playing 23 minutes for 26 fantasy points last game in which Davis went down.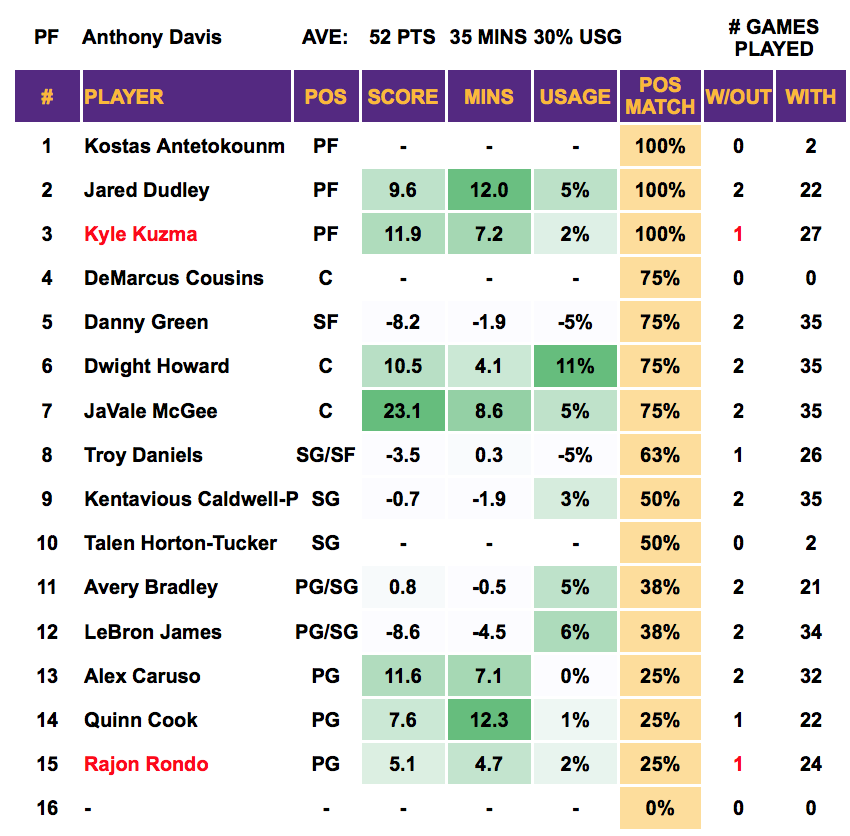 Jrue Holiday will remain out for the game against the Knicks. Brandon Ingram has been absolutely insane in games without Holiday in the lineup this year. Through 4 games he has averaged a whopping +17 fantasy points per contest and he kept this going last game with a massive 60 burger against Chicago. Lonzo Ball has also played well averaging +9 fantasy points from an additional 7 minutes of game time.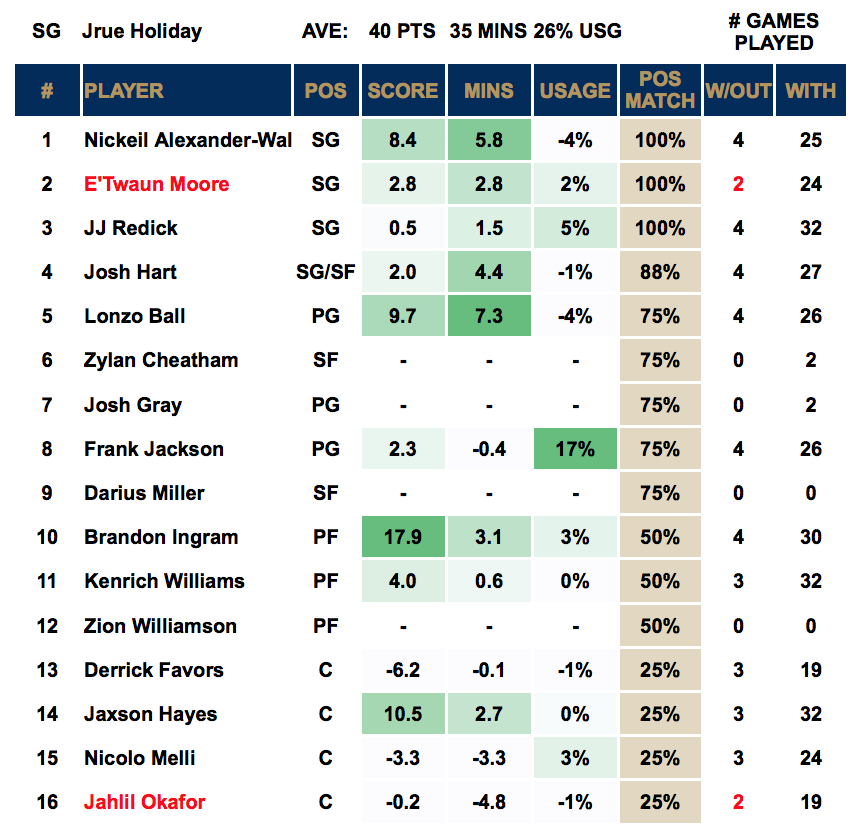 Julius Randle is out, while Marcus Morris is questionable for the game against the Pelicans. It was no surprise to see chalk Bobby Portis destroy last slate without Randle and Morris in the lineup. Averaging over 1 fantasy point per minute this year he played 29 minutes and returned 40 fantasy points. The industry has responded boosting his price across the board, which means this won't just be an automatic roster on this slate.
Richaun Holmes and Bogdan Bogdanovic are both out for the game against the Bucks, while Nemanja Bjelica and Marvin Bagely are questionable. There are a lot of moving parts here, but it is likely that both Harry Giles and Dewayne Dedmon will be required at centre. Last slate Giles was the chalk play with Holmes out, but it was back from the Dedmon who stole the show playing 32 minutes for 26 fantasy points.
Bradley Beal is questionable for what feels like the 100th game in a row. Basically if Beal plays he will be one of the top plays on the slate, however if he is out we will go back to the old favourite in Jordan McRae. McRae failed us last game, but that was in a difficult matchup against the Magic. Facing the number one fantasy opponent in land on this slate he should return to the ceiling games of 40-50 fantasy points he has displayed during the games without Beal this year.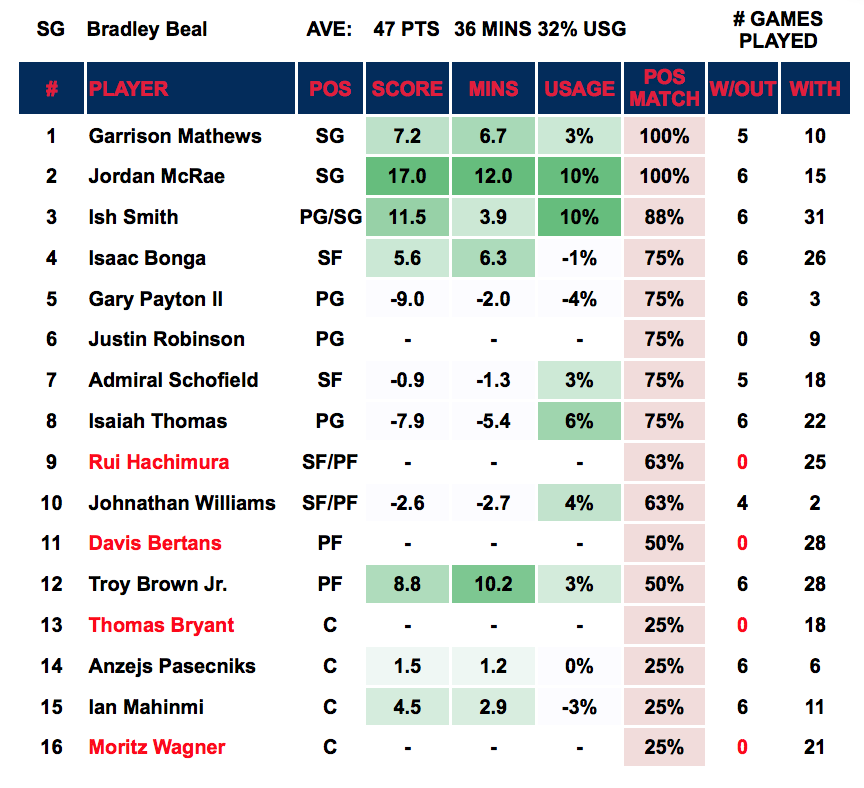 VALUE PLAYS
As always more value will likely open up as we get closer to the slate and further lineup news breaks. Also be studious in looking a pricing differences between the three platforms are some players are value on different sites just due price.
In addition to the possible value plays noted above (Thad Young, Kyle Kuzma, Dewayne Dedmon, Harry Giles):
Terrence Ross (DS $8,400, DK $4,500, MB $4,500) is always available as that last piece if you need some salary relief. He is more suitable for GPPs as he brings upside of 30+, however is heavily reliant on scoring so he must be making shots. On this slate he draws a positive matchup against the Phoenix Suns who plays at a top 10 pace and have given up the 3rd most real points to shooting guards this year. If Aaron Gordon is out this play becomes even more appealing as the Magic will be short on the perimeter.
Duncan Robinson (DS $7,900, DK $4,000, MB $3,800) is my super sneaky value play on this slate. He has shown us 50+ point upside this season and can be an absolute GPP buster if he gets hot. I love to play him on slates where there is no obvious value available or when Miami have a positive matchup, on this slate they face the Nets who play at a top 10 pace this season.
Donte DiVincenzo (DS $7,650, DK $5,000, MB $4,300) is the safe value play that we might need if nothing else is available. He has 30+ point upside and while he is coming off the bench will still be locked into 25-30 minutes with George Hill out. He has posted 20+ fantasy points in 5 out of his last 6 games.
MID PRICED PLAYS
Tomas Satoransky (DS $9,340, DK $5,800, MB $6,000) is a great mid ranged GPP play on this slate that will have almost no ownership. He brings 40+ point upside and has a deceivingly good matchup against the Pacers who have given up the 5th most points to point guards over the past 10 games.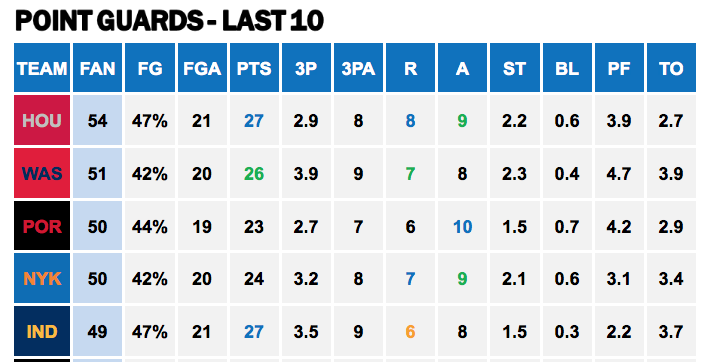 Elfrid Payton (DS $9,650, DK $6,300, MB $5,800) is another play upside play I love on this slate, particularly at the price on Draftstars. While Payton did not perform well last game without Randle in the lineup the usage appeared to be there with 13 shot attempts in just 24 minutes (before being benched due to a blowout). This matchup should be a better opportunity for him against the Pelicans who play at a much faster pace and have given up the fourth most fantasy points to point guards this year.
Lou Williams (DS $12,710, DK $7,400, MB $6,000) will just be a lock and load on Draftstars for me, and possibly all sites. As noted above without Paul George in the lineup he gets a 3% usage bump and should also be reasonably blowout proof against the Golden State Warriors. He has been classic Smooth Lou in the last four games averaging just under 40 fantasy points, with a low score of 36. It is also an elite matchup for Williams with the Warriors giving up the second most fantasy points to the position this season.
PREMIUM PLAYS
Kawhi Leonard (DS $16,730, DK $9,900, MB $9,600) quite simply has to be highlighted on Draftstars due to the pricing. He is essentially a lock and load play on that platform with George out of the lineup. At DraftKings I think there are better options for the price given Leonard's limited upside. As we noted above Leonard gets the biggest boost on the Clippers when George is out and this is also a positive matchup against the Warriors who have given up the second most fantasy points in the league to small forwards over the past 10 games.

John Collins (DS $15,860, DK $8,500, MB $7,400)... essentially everyone in this game is in play. You could talk me into them all. Trae Young is obviously in an elite spot, and is probably the only time he will ever face an opponent that is arguably a worse defender than himself in Isaiah Thomas. The question is whether you are happy for him to pay off his massive price or not (as last game showed he certainly has the upside). This is where Collins comes in, at a more practical price he offers 50 point ceiling against a team that has been getting slaughtered inside (8th most fantasy points to power forwards and most to centres). It will be popular to try and stack up Young and Collins along with Wizards options who aren't nearly as expensive.
Rudy Gobert (DS $15,110, DK $8,600, MB $7,900)... this slate might be the only time you can get a top flight centre against the Hornets at low ownership. The Hornets until recently being overtaken by the Wizards had conceded the most points in the league to the position, being particularly weak in giving up rebounds and block shots, which is Gobert's specialty. This has all the makings of a ceiling game for Gobert (55+ fantasy points).
Dragon's Suggested Draftstars Team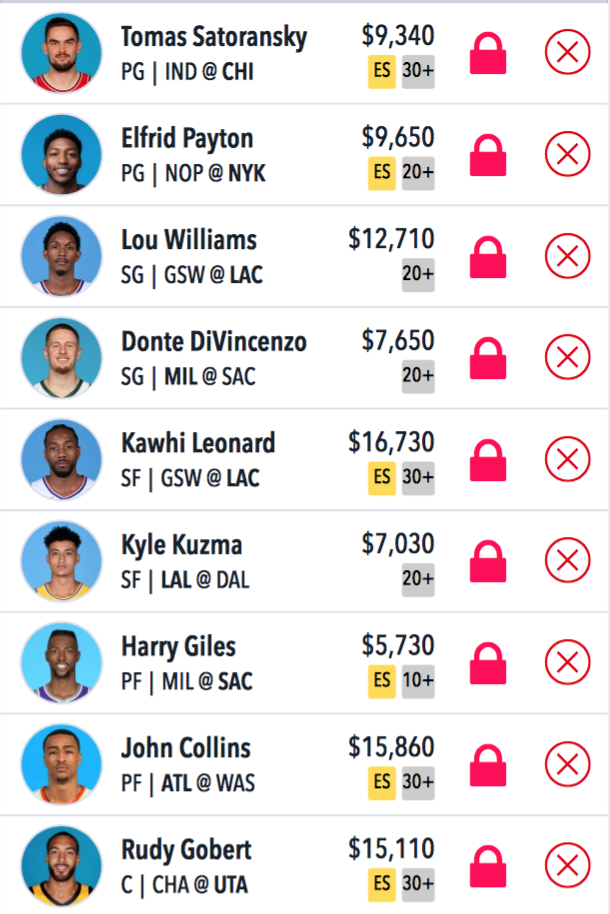 In case you are new to NBA DFS these articles break down the matchups and highlight the key plays to help you build winning lineups. For more insight into how to utilise our game breakdown data check out our NBA DFS Training Camp Series:
Always remember to gamble responsibly. When the fun stops, stop. If gambling is having a negative impact on your life, seek support at Gambling Help Online. 18+ only.