daily fantasy sports articles
NBA 2019-20 Daily Fantasy Preview Saturday 16th November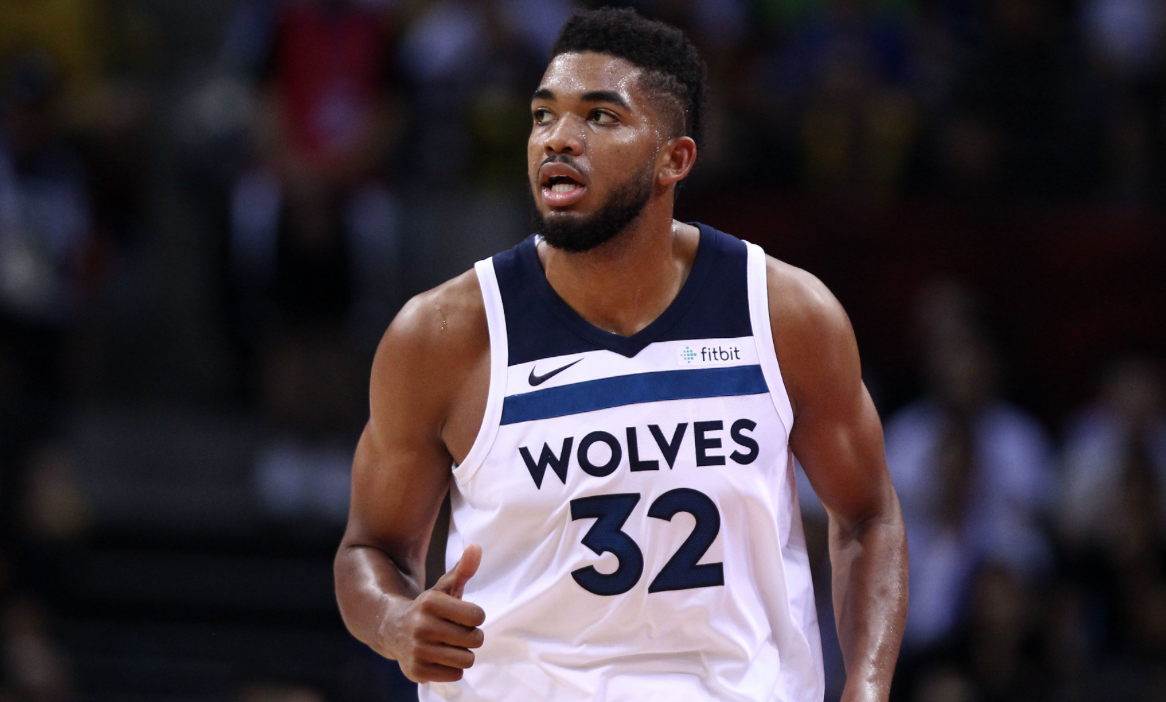 The weekend is back! That means it is time to settle in for a big few days of NBA DFS action. NBA Friday (Saturday AEST) has a really fun 8 game slate to break down. The biggest NBA daily fantasy contents of the week are on offer across the major platforms:
In case you are new to NBA DFS these articles break down the matchups and highlight the key plays to help you build winning lineups. For more insight into how to utilise our game breakdown data check out our NBA DFS Training Camp Series:

GAME BREAKDOWN

My eyes are bulging and my taste buds are salivating at the Washington vs Minnesota game. With a whopping 240 point total it will be time to stack and rack this game every which way on this slate. The game will be a warp speed with the Timberwolves have been playing at the 4th fastest pace in the league this season, while Washington play at the 7th fastest. To make things even better the Wizards are ranked 29th in defensive efficiency, behind only the Golden State Warriors, and also given up the second most fantasy points this year.
The only other game with a total currently set over 220 is Boston at Golden State. This is an elite matchup for the Celtics with the Warriors rating as the worst defensive side in the season thus far. The only risk as usual against the Warriors will be the risk of a blowout, as the Celtics are listed as 8 point favourites.
There are three games yet to have a line and total set as we await injury news, as usual I have broken down the impact of all possibly major lineup changes below.
I expect Houston at Indiana to be a high scoring affair with the Rockets playing at the second fastest pace in the league this season. This puts Indiana in a significant pace up matchup making them an elite team to roster on this slate.
The Orlando Magic have the biggest differential in their implied game total on this slate compared to their season average at +8.6. Given the Magic play at the second slowest pace in the league a matchup against the league average Spurs is still a significant pace up matchup. The Spurs are also a long way from the defensive force they used to be, sitting 22nd in the league for defensive efficiency.
INJURY NEWS
Clint Capella has been ruled out of the game against Indiana and Russell Westbrook is expected to sit out one of the back to back games. Capella has been playing 30 minutes per game this season at centre that will need to be filled. Tyson Chandler will take his spot in the starting lineup, but it is unlikely he can play more than 25 minutes these days. Expect Tucker to play a significant amount of minutes at centre. If Westbrook is out it will be Harden whose 40% usage rate will get even higher. Austin Rivers and Ben McLemore will also be required to play heavy minutes.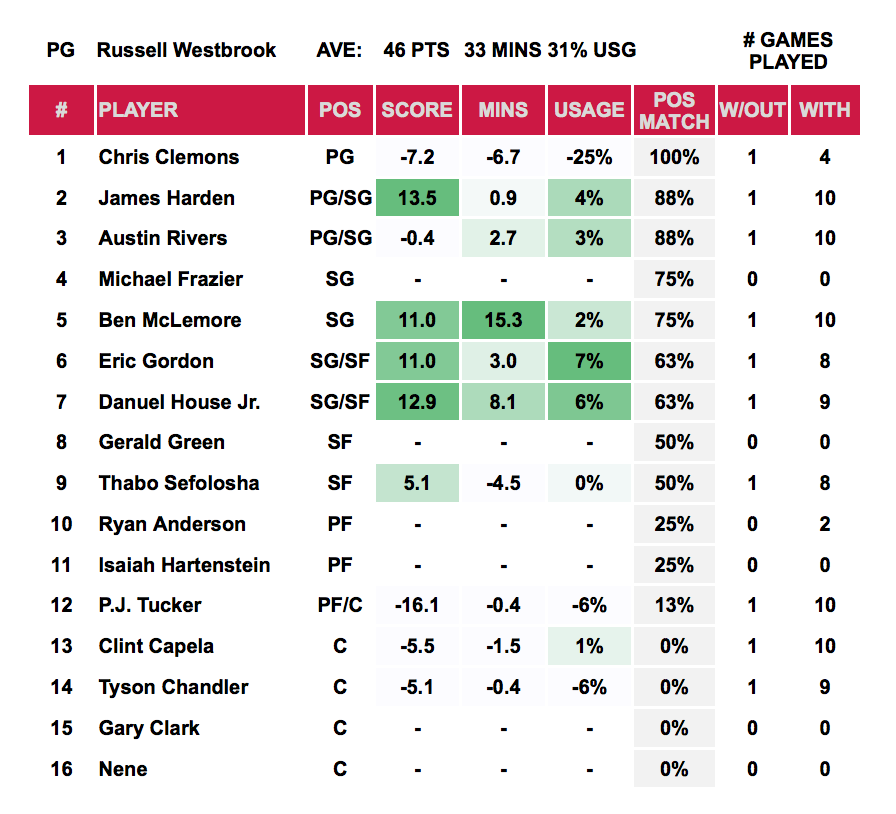 Jeremy Lamb and Miles Turner remain out for the game against Houston. Aaron Holiday is starting at shooting guard with Lamb out and playing around 30 minutes. While Domantas Sabonis is assuming the centre position in Turner's absence and averaging +9.6 fantasy points per game.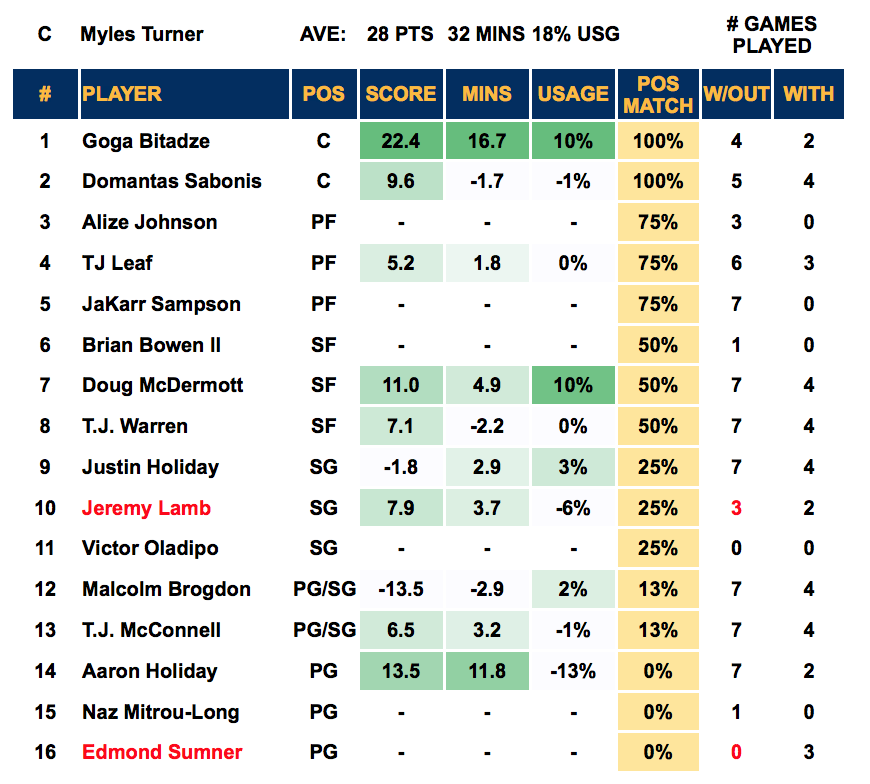 De'Aaron Fox is out for 3-4 weeks. In his first missed game everyone piled into Corey Joseph who took over the starting position. While Joseph played +20 minutes, his usage with the starters dropped 11% and he only managed +4 fantasy points. it was Bogdan Bogdanovic who was the biggest beneficiary playing an extra 6.9 minutes but seeing a ridiculous 12% increase in usage. This resulted in a massive 53 fantasy point game.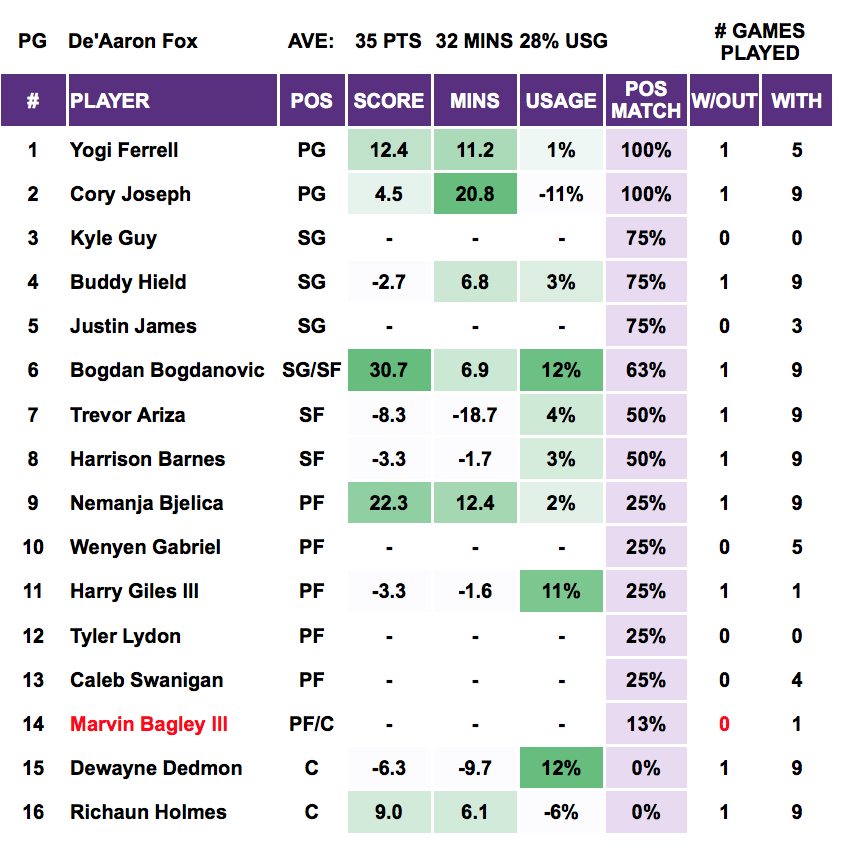 VALUE PLAYS
As always more value will likely open up as we get closer to the slate and further lineup news breaks. Also be studious in looking a pricing differences between the three platforms are some players are value on different sites just due price.
In addition to the possible plays noted above, the current value players to consider include:
Cory Joseph (MB $3,900, DS $7,700, DK $4,600) remains cheap at Moneyball and Draftstars and his 18 fantasy points from 37 minutes last game is around his absolute floor. In past years he has shown a ceiling of 40+ fantasy points while playing as the starting point guard, however he is clearly no sure thing. However, tt is incredibly hard to turn down that level of playing time at these prices, and after last game his ownership should be reduced.
Enes Kanter (MB $4,500, DS $6,540, DK $4,900) is highly dependent on the players available for the Celtics on this slate so monitor the news. If they are low on bigs again Kanter should continue to see 25 minutes of playing time and on this slate he shouldn't need anymore time to smash as the Golden State Warriors have given up the most points in the league to centres of the last 10 games. We all saw what Javale McGee did to them last game and Kanter should have a similar advantage on the glass.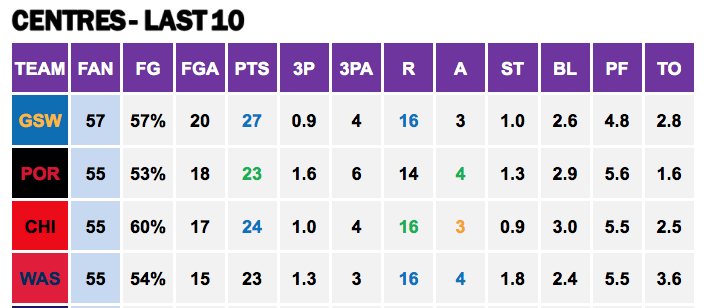 Malik Monk (MB $4,200, DS $6,810, DK $5,000) is another player who will be a better play if Dwayne Bacon is out again. That said, Bacons has been in such a funk Malik had already started staking a place in the rotation. He has played an average of 28 minutes over the past two games and returned 35 fantasy points per game.
Austin Rivers (MB $3,700, DS $5,090, DK $3,700) played 34 minutes last game with both Eric Gordon and Danuel House Jr out of the lineup. If Westbrook rests this game as well, we could see the playing time balloon to closer to 40 minutes as the Rockets injuries are starting to leave them with an extremely short rotation. Rivers should have scared plenty of people off last game managing just 14.5 fantasy points, but he had the opportunities and unfortunately could not make any shots going 3-12 from the field (including 1-8 from 3). He will start making open looks eventually and has the potential to return 30+ fantasy points when that happens.
MID PRICED PLAYS
Bogdan Bogdanovic (MB $5,900, DS $12,630, DK $6,700), as mentioned above, is the biggest beneficiary of Fox being out as he assumed a significant amount of the playmaking duties. His usage rate went a ridiculous 12% in the first game without Fox and his price has risen across the industry. As we saw with a massive 50 burger last game, however, he can still return GPP winning value at these price points.
Malcolm Brogdan (MB $8,700, DS $14,950, DK $7,600) is looking like an all star calibre player as the lead guard for the Pacers this season. Averaging 42 fantasy points per game he is far too cheap on DraftKings, but also brings the upside to be playable on the other two platforms. On this slate he draws an elite matchup against the Houston Rockets who have conceded the 4th most fantasy points in the league over the past 10 games.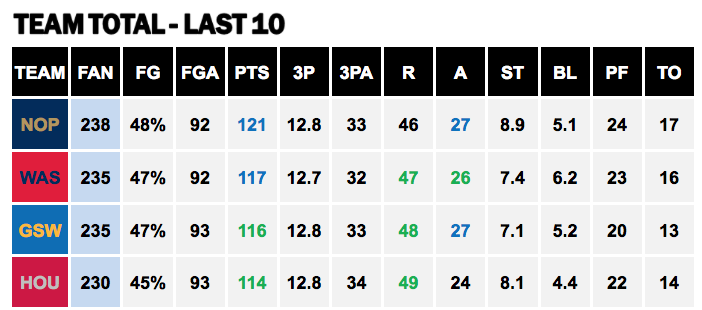 PREMIUM PLAYS
Karl Anthony-Towns (MB $10,900, DS $21,330, DK $10,000) is likely to be the chalk premium play on this slate barring other news coming through. He is in what factors to be the most popular game of the night against WAshington with a stupid 240 point total. Barring the game against Embiid where they were ejected his lowest score this year is 47 fantasy points and he brings an upside of 80+, which is firmly in play on this slate against Washington who have given up the most points in the league to the centre position this year (and fourth most over the last 10 games).
Dragon's Suggested Moneyball Team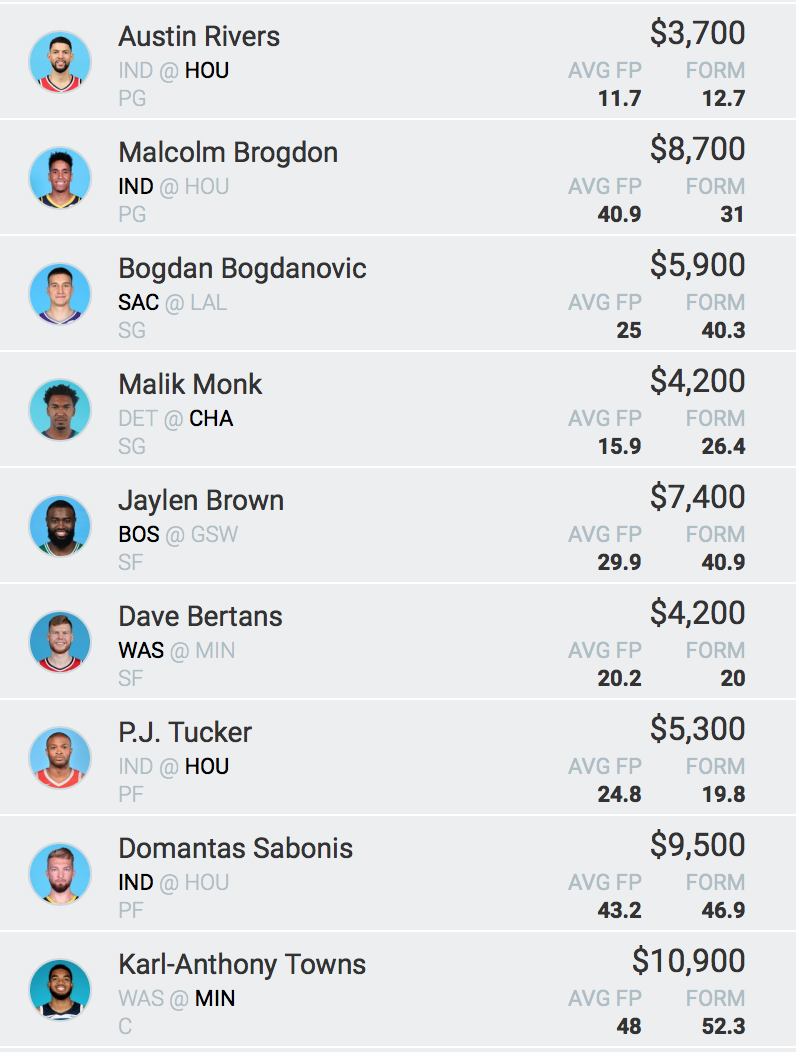 Always remember to gamble responsibly. When the fun stops, stop. If gambling is having a negative impact on your life, seek support at Gambling Help Online. 18+ only.