daily fantasy sports articles
NBA 2019-20 Daily Fantasy Preview Saturday 18th January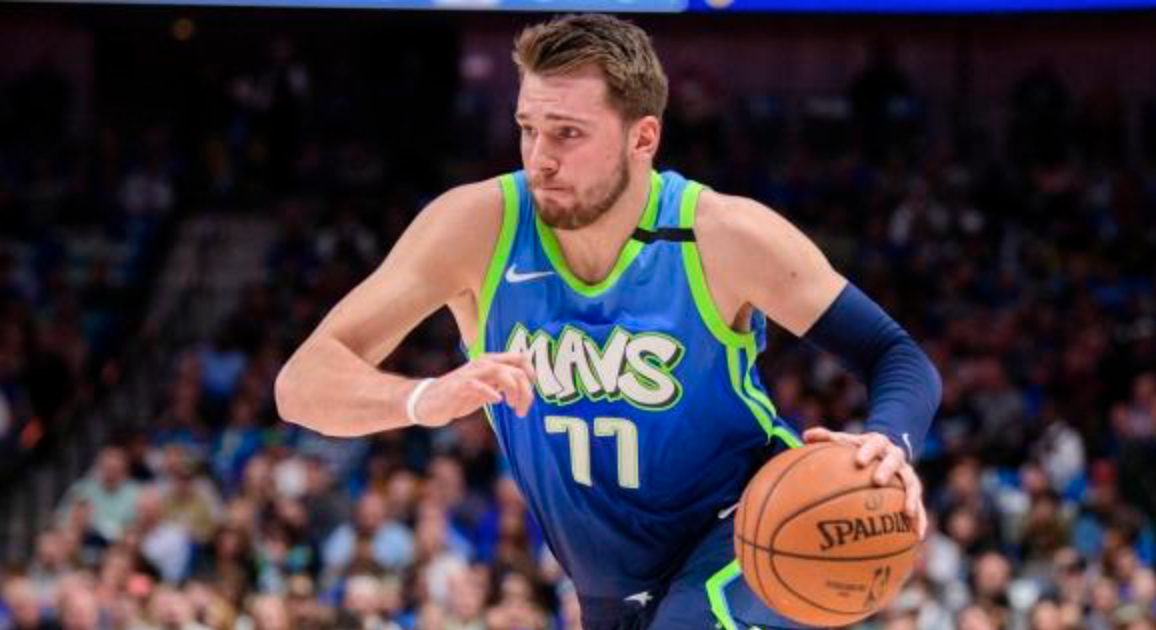 Bring on the weekend and a huge two days of daily fantasy!! NBA Friday (Saturday AEST) brings a 7 game slate to play with a number of massive NBA daily fantasy competitions on offer across the major platforms:

GAME BREAKDOWN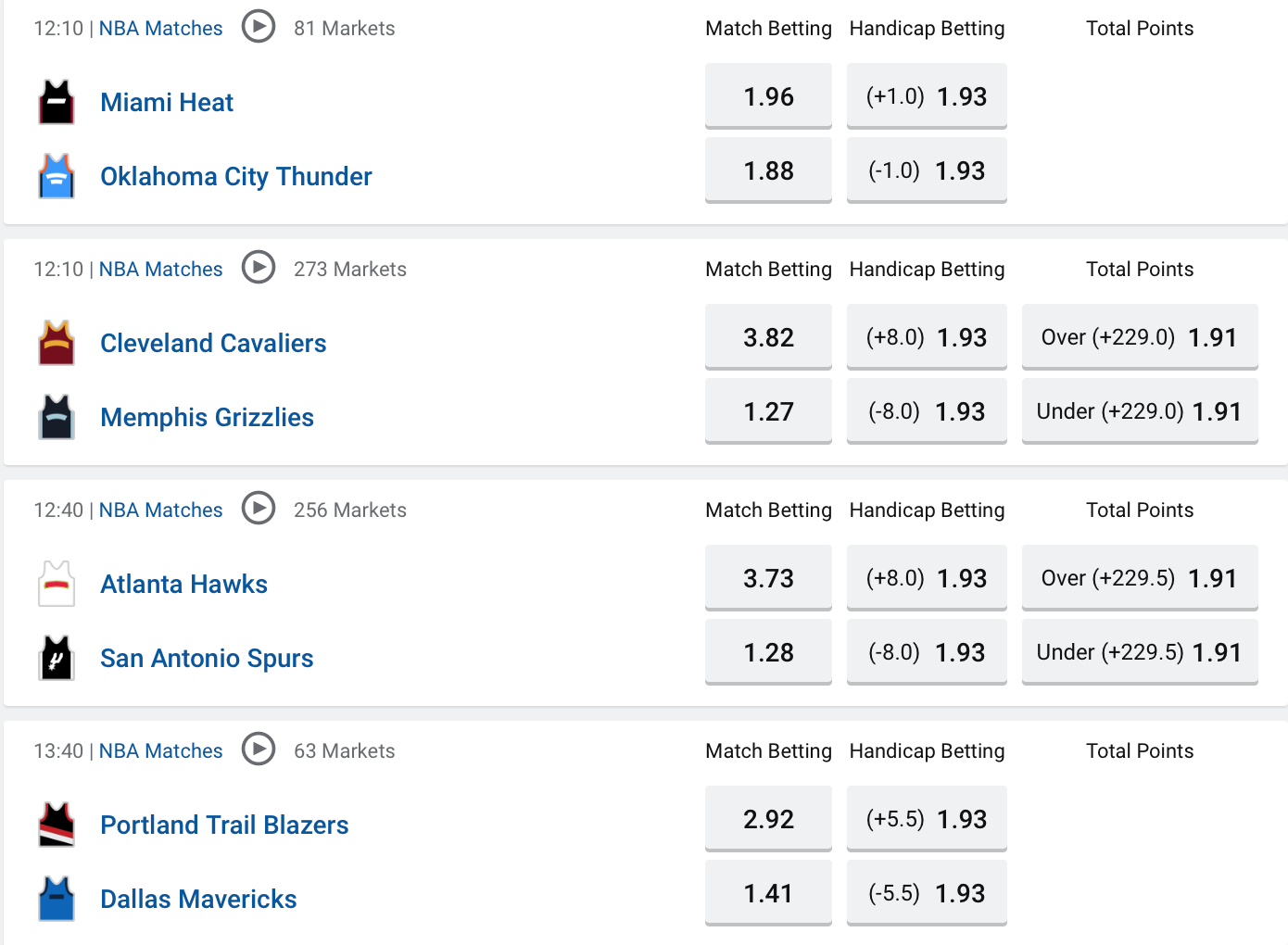 There are some huge totals already on this slate, even though three games are yet to have one set as we await injury news. As always I breakdown the major injuries that could impact the slate below.
There are three game totals at 229 or higher, which really widens our avenues to attack. The top total listed is Atlanta at San Antonio at 229.5 points. Atlanta are playing at the 6th fastest pace in the league this season, while the Spurs are the 12 fastest. This puts both teams in a pace up matchup and throw in the fact that both sides are bottom 10 in defense and we are left with a dream matchup for daily fantasy.
The other two games with 229 point totals are Washington at Toronto and Cleveland at Memphis. Both these games have blowout potential with the Raptors 10 point favourites and the surging you Grizzlies 8 point favourites. As I mentioned umpteen times this season whenever the Wizards are on the slate we are looking to attack them as they are top 5 in pace, dead last in defense and concede the most fantasy points in the league. The Cavaliers sit just two spots behind for point conceded in 3rd, which means getting exposure to Raptors and Grizzlies will be a high priority on this slate.

Indiana draw the top pace up matchup on this slate as they face the Minnesota Timberwolves who have played at the 4th fastest pace this season. This is the second game of a home and home between the two sides and in the first game Sabonis ripped the Timberwolves to shreds with 58 fantasy points. It is certainly a game to include in your pool, however I would mainly want exposure to the Pacers side.
The other game that stands out to me is Portland at Dallas. Dallas are in an elite spot as Portland play at the 11th fastest pace this season and have been an abomination defensively, which has led to conceding the 7th most fantasy points.
INJURY NEWS
Karl Anthony-Towns is questionable… AGAIN! As I mentioned last slate Towns has now been out so long the prices have adjusted adequately. The one player to highlight is Keita Bates-Diop who has been going absolutely ballistic in limited playing time posting 30 fantasy points in just 15 minutes last game. It is also worth noting that Jeff Teague was traded since last game and as such Shabazz Napier and Jarrett Culver should both be locked into 30+ minutes of playing time.
Steve Adams is unlikely to play against the Heat, while Nerlens Noel is questionable. If both players are out Mike Muscala will likely get the starting role. He played 31 minutes and returned 32 fantasy points last game after Adams went down injured. If Noel plays he will be likely one of the chalkier plays on playtforms where his price has not been increased.
Kristaps Porzingis is questionable for the game against Portland. Without Porzingis in the lineup Dwight Powell has been dominant posting +7.5 fantasy points from an additional 4% in usage. He has averaged over 30 fantasy points in his last 3 games, however his price is now starting to reflect this performance.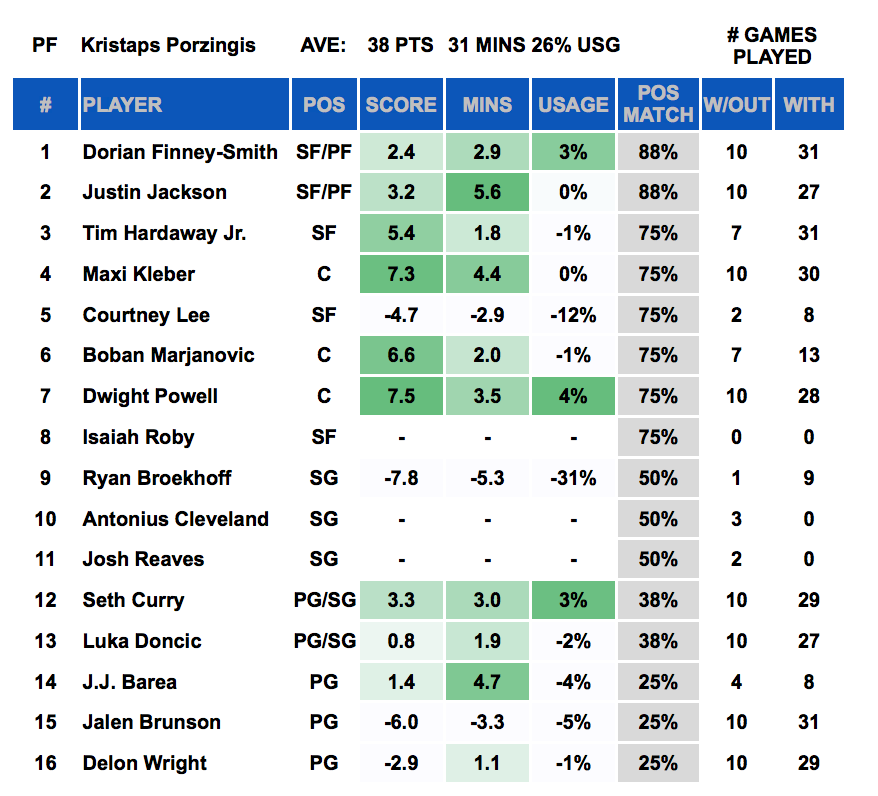 Fred VanVleet is questionable for the game against Washington. Without VanVleet this year it has been Norman Powell who typically moves into the starting lineup and returns an additional 9 fantasy points per game while playing an extra 4 minutes.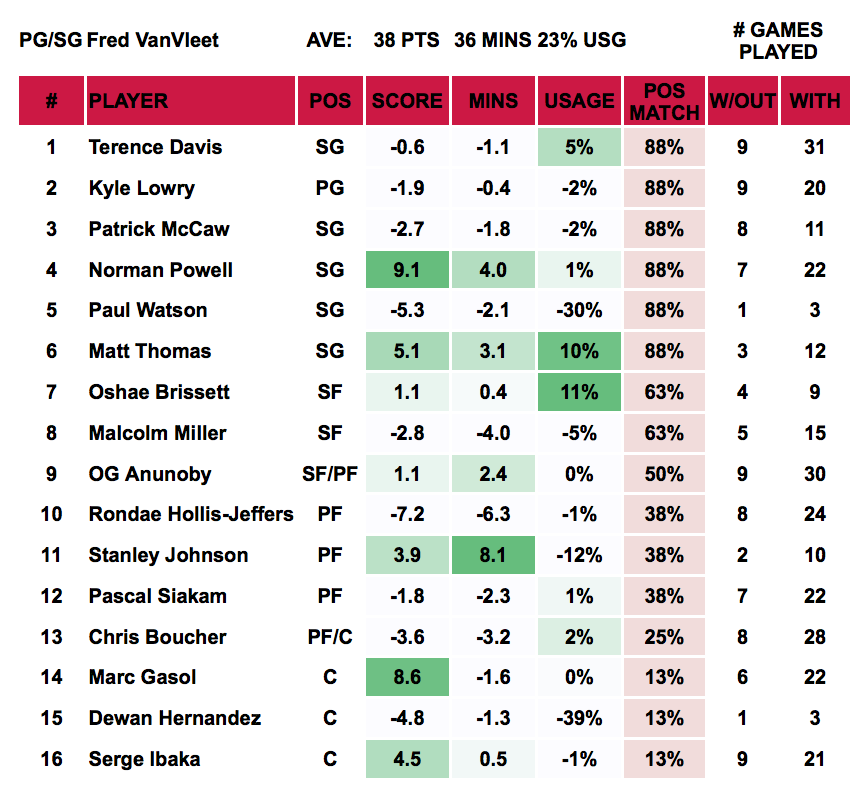 Daniel Gafford will join Wendall Carter Jr on the sidelines for an extended period. This leave the Bulls with their third string centre in Luke Kornett as the likely starter. Kornett played 35 minutes last game after Gafford went out and returned 24 fantasy points. It should also open up more minutes for Thad Young who has averaged just under 1 fantasy point per minute this season.
VALUE PLAYS
As always more value will likely open up as we get closer to the slate and further lineup news breaks. Also be studious in looking a pricing differences between the three platforms are some players are value on different sites just due price.
In addition to the possible value plays noted above (Mike Muscala, Nerlens Noel, Luke Kornett):
Shabazz Napier (DS $8,750, DK $5,000, MB $4,400) this play is for Draftstars and MoneyBall where Napier is priced nicely for a player who has been playing over 25 minutes per game as the starting point guard recently and will now no longer be sharing duties with Jeff Teague. On the season Napier has averaged right on 1 fantasy point per minute and should expect to see upwards of 30 in this game. Napier has also shown GPP winning upside with a ceiling of 40+ fantasy points.
Seth Curry (DS $6,540, DK $3,700, MB $4,000) is my "very very sneaky sir" GPP play. There may be no need to reach this far if there is a lot of good value chalk that opens up closer to tip off but if you are looking for a pivot or in need of salary relief I love going to Curry in tournaments. He has shown 40-50 plus point upside this year when he gets hot and on this slate he will playing the Trailblazers who have given up the most fantasy points in the league over the past 10 games. For those of us that love narratives, this game is also against Curry's last team.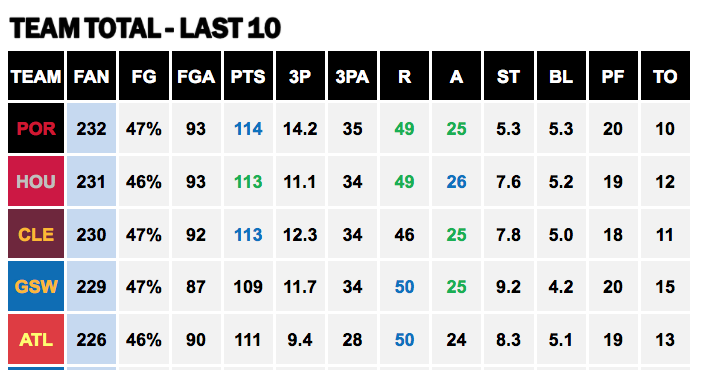 MID PRICED PLAYS
Al Horford (DS $12,730, DK $7,500, MB $7,000)... I will continue to ride with at Draftstars at this price. Horford gets the biggest usage boost on the team without Embiid in the lineup of +6%. This has resulted in +8 fantasy points and on this slate he draws one of the top matchups in the league for his position against Chicago who have given up the third most fantasy points to centres. This should be made even better by the fact that he will be lining up against third stringer Luke Kornett on this slate. On DraftKings I think there are a number of more appealing options at this price.
CJ McCollum (DS $12,730, DK $6,800, MB $7,600)... another one of my guys who has been as consistent as you come this season for me. The last three games he has posted a low score of 36 fantasy points and gone over 40 two times. This should be one of the higher scoring games on the slate and I think McCollum is the best way to get exposure to the Trailblazers side without hard capping yourself.
PREMIUM PLAYS
Luka Doncic (DS $20,580, DK $12,400, MB $11,000) is hands down the top play on the slate for mine. Going against the Trailblazers who as I noted above have given up the most fantasy points in the league over the past 10 games. They have also been obliterated by point guards, conceding the most points to the position over that same period. Luka accumulates fantasy points in his sleep, with the third highest usage rate in the league at 36%, he also appears to have the Russell Westbrook rebounding agreement with his team mates. Last game he popped off 70 fantasty points iwth a stupid 25 points, 15 rebounds and 17 assists at low ownership, unfortunately on this slate he will be one of the higher owned plays.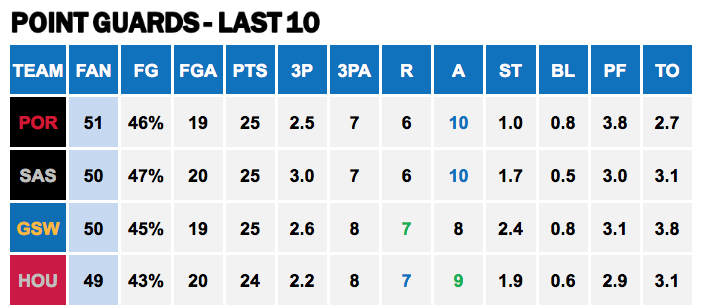 Pascal Siakam (DS $15,510, DK $7,900, MB $8,200) is back and set to unleash. His minutes have returned after coming back from injury, playing 30 last game. It is only a matter of time before he busts out for another ceiling game and this is the perfect matchup for it. Going against the Wizards who get destroyed by bigs (most fantasy points to centers, 9th most to power forwards), Siakam will excel in the uptempo pace. His price is just ridiculous on DraftKings and he will be a lock and load play for me there.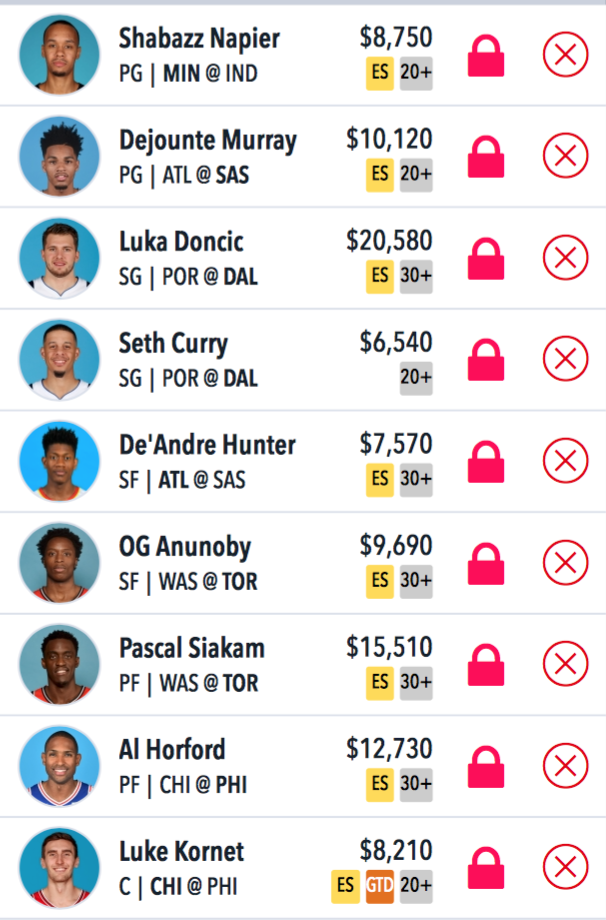 In case you are new to NBA DFS these articles break down the matchups and highlight the key plays to help you build winning lineups. For more insight into how to utilise our game breakdown data check out our NBA DFS Training Camp Series:
Always remember to gamble responsibly. When the fun stops, stop. If gambling is having a negative impact on your life, seek support at Gambling Help Online. 18+ only.