daily fantasy sports articles
NBA 2019-20 Daily Fantasy Preview Saturday 26th October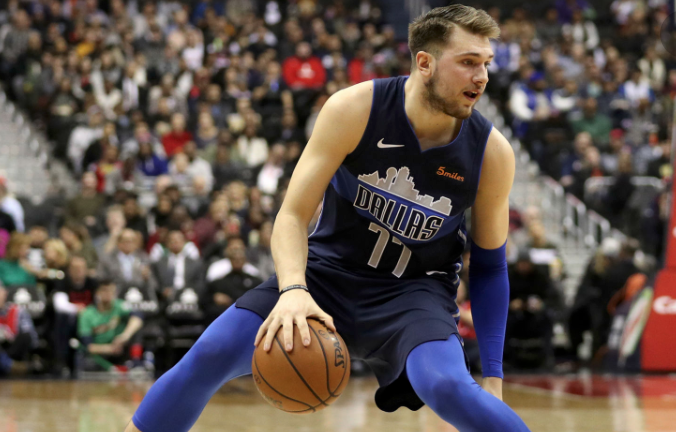 The first NBA Friday (Saturday AEST) slate of the season is here and we are spoilt with a juicy 9 game slate. As usual there is a huge array of DFS tournaments to choose from:
For more details on contest types on offer check out our NBA primer article here.
In case you are new to NBA DFS these articles break down the matchups and highlight the key plays to help you build winning lineups. For more insight into how to utilise our game breakdown data check out our NBA DFS Training Camp Series:
Part 1 – Betting Lines and Totals
Part 2 – Matchup Analysis – Pace and Defense vs Position
Part 3 – Key Statistics in Daily Fantasy Basketball
Part 4 – Trade Analysis – Breaking Down the Jimmy Butler Trade
Part 5 – DraftKings Sharpshooter Winning Lineup Recap
Part 6 – Adjusting for Line-up News
GAME BREAKDOWN
There are four games on this slate with a total over 225+ and another two that go over 220. This makes for a number of prime targets and we should see another set of high fantasy scores. I love the top two game totals as games to stack with Minnesota at Charlotte and Dallas at New Orleans being set at 228.5.
As discussed in the Thursday preview Minnesota played at the fastest pace in the league during the preseason and were set to unleash a new game style that pushed the tempo. This was evident in their first game as they played at the 10th fastest pace in the league so far this year (note small sample size). They draw an elite matchup against Charlotte who had the second worst defensive efficiency rating in their first game of the year, trailing only the Golden State Warriors who game up a gazillion points to the Clippers today.
The New Orleans Pelicans are another side that is set to play at a blistering pace this season, following on from their form last year where they played at the second fastest pace in the league (were also the 5th fastest team in preseason). They also had the 25th worst defensive efficiency rating in their first game of this season, which is a trend that is likely to continue.
INJURY NEWS
It is just the fourth day of the season and already lineup news is having a big impact on our daily fantasy decisions:
Deandre Ayton has been suspended for violating the NBA's Anti-Drug Policy. Aaron Baynes (MB $3,500, DS $5,000, DK $3,200) is likely to take Ayton's spot in the starting lineup. The Suns have other options in Cheick Diallo and Frank Kaminsky who will be able to relieve Baynes and as a result he is unlikely to see much more than 25 minutes playing time. That should be enough to hit value at his minimum price points, however, as he averaged 0.89 fantasy points per minute last season.
Marvin Bagley will miss 4-6 weeks with a thumb fracture. This will leave the Kings extremely short on bigs with Harry Giles also out. Namanja Bejilca (MB $3,900, DS $5,000, DK $3,600) is expected to take the starting position and becomes almost a lock and load value play on this slate. Bjelica averaged 23 fantasy points from 23 minutes last year and flashed 40+ upside on several occasions. Without Bagely, Dewayne Dedmon is also likely to see a boost in playing time.
Enes Kanter has been ruled out of Boston's next game against the Raptors. Robert Williams (MB $4,100, DS $5,610, DK $3,200) is likely to take over the starting role. Williams has played in 32 games last year and averaged over a fantasy point a minute from his 9 minutes of playing time. His ceiling will be limited as the Celtics are likely to play him in the low 20s and rotate Daniel Theis and Semi Ojeleye through as well.
VALUE PLAYS
Plenty of value will become more obvious as we get closer to line-up lock so make sure you keep on top of the news. In addition to names mentioned as a result of injury news above, these players are worth considering:
Dorian Finney-Smith (MB $3,500, DS $5,930, DK $3,400) is priced at close to the minimum across all three platforms and figures to play a major role in the Maverick's team this season. He averaged 0.74 fantasy points per minute in 2018-19, which isn't a massive mark, but more than enough to pay off his salary if he continues to play the 32 minutes of game time he received in the first game of the year. In addition, he also draws an elite matchup against the New Orleans Pelicans who played at one of the fastest teams in the league last season and through the preseason.
Royce O'Neale (MB $3,700, DS $7,350, DK $3,700) is similar to Finney-Smith in that he won't turn your head with fantasy points per minute or usage rate, however he figures to play a massive role for the Jazz this season. Limited with sizeable wings O'Neale looks set to play over 30 minutes per game this year. In game 1 he returned 24 fantasy points from 30 minutes of game time.
Treveon Graham (MB $3,500, DS $5,060, DK $3,300) is another player set to be logging around 30 minutes of playing time at close to the minimum price across all platforms. He managed 22 fantasy points in his first game, filling up the peripheral stats. On this slate he draws one of the best matchups in the league against the Charlotte Hornets who had the second worst defensive efficiency rating in the league during their first game.
Marcus Morris (MB $4,700, DS $8,160, DK $5,200) played a ridiculous 39 minutes for the Knicks who incredibly seem to be going with nothing but power forwards in their rotation this year. At that level of workload Morris is under priced, particularly at Draftstars. He scored 26 real points in his first game en route to 40 fantasy points, on this slate he draws a better matchup against Brooklyn who will play at a faster pace than the Spurs this season and have had significant trouble defending bigs in recent years.
Taurean Prince (MB $5,200, DS $7,750, DK $5,600) is worth highlighting purley because he is significantly underpriced on Draftstars. He played 41 minutes in game 1 (overtime), and returned just under 40 fantasy points.
MID PRICED PLAYS
Pascal Siakam (MB $8,200, DS $13,730, DK $8,100) along with Fred Vanvleet were the two players to fill the void left by Kawhi Leonard in the first game as expected. Siakam looked ready to blossom into a legitimate star of the league posting 26 points and 10 rebounds. He will draw a much tougher matchup on this slate against Boston, however he is still too cheap on Draftstars and he figures to have a massive usage rate all season for the Raptors (35% in game 1).
Zach Lavine (MB $8,200, DS $11,870, DK $7,400) was my tip on Thursday and he while he wouldn't have won you a GPP necessarily he still provided 36 fantasy points in a game where he shot just 7/17 and took 1 free throw. Playing 30 minutes with a 25% usage rate is the type of workload you hope to see and he looks criminally under priced on Draftstars and well priced on DraftKings. He draws a solid matchup against Memphis who look to be playing at a faster pace with a young team and Ja Morant running point (fastest pace in the league for the first game) and are no longer the defensive juggernaut from years past.
Andrew Wiggins (MB $6,700, DS $9,980, DK $6,000) is another selection from Thursday that didn't really pay off. But it is time to bring back the old mantra… back the truck right over it. Wiggins managed just 26 fantasy points, but it played out as I had hoped. He chucked up 27 shots with an insane 30% usage from 36 minutes. Unfortunately he made just 10 of those shot, went 0-4 from deep and shot just 2 free throws. Wiggins has significant upside on that level of opportunity when it falls into place and you will pick him up at low ownership on this slate. He also draws what factors to be one of the top matchups in the league this year against Charlotte (worst defensive efficiency in the league after game 1), and will benefit from Minnesota playing up in pace this season.
PREMIUM PLAYS
Luka Doncic (MB $9,900, DS $18,930, DK $9,200) looks set to become a bona fide superstar already. He destroyed the hapless Wizards in game 1 with 34 points and 9 rebounds on his way to 52 fantasy points. On this slate the matchup gets even better from a fantasy perspective going against New Orleans who will play at one of the fastest paces in the league this season. They also had the 25th worst defensive efficiency in game 1 this year.
Dragon's Suggested Moneyball Team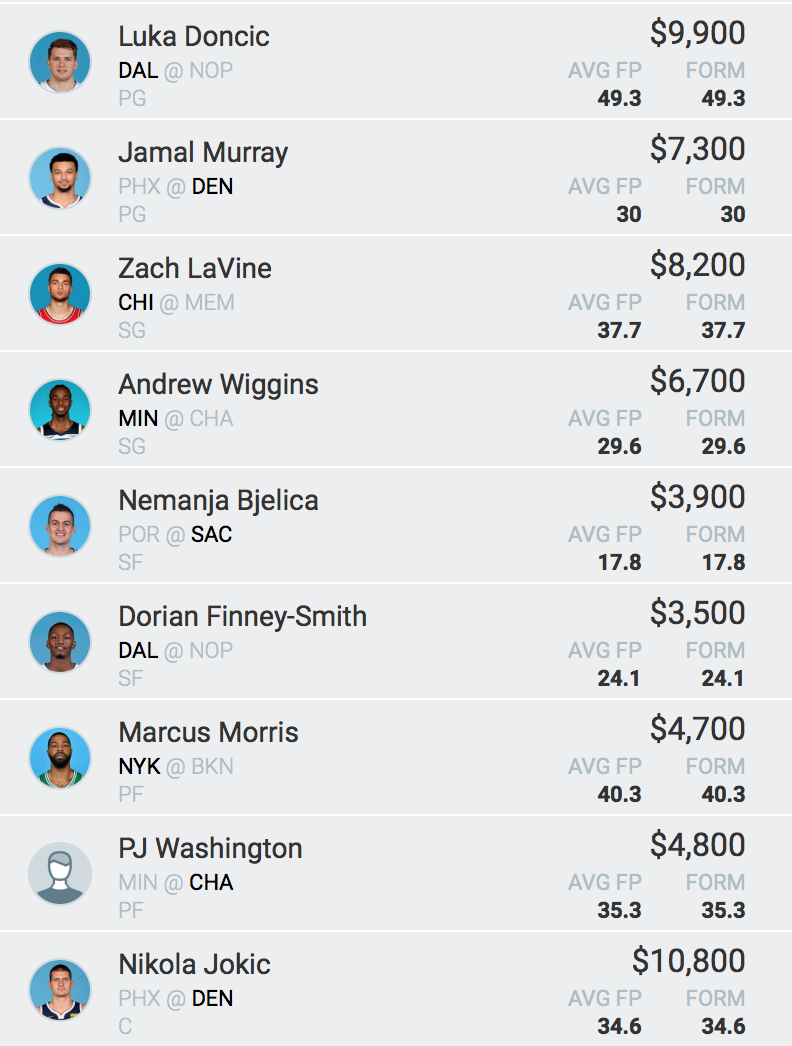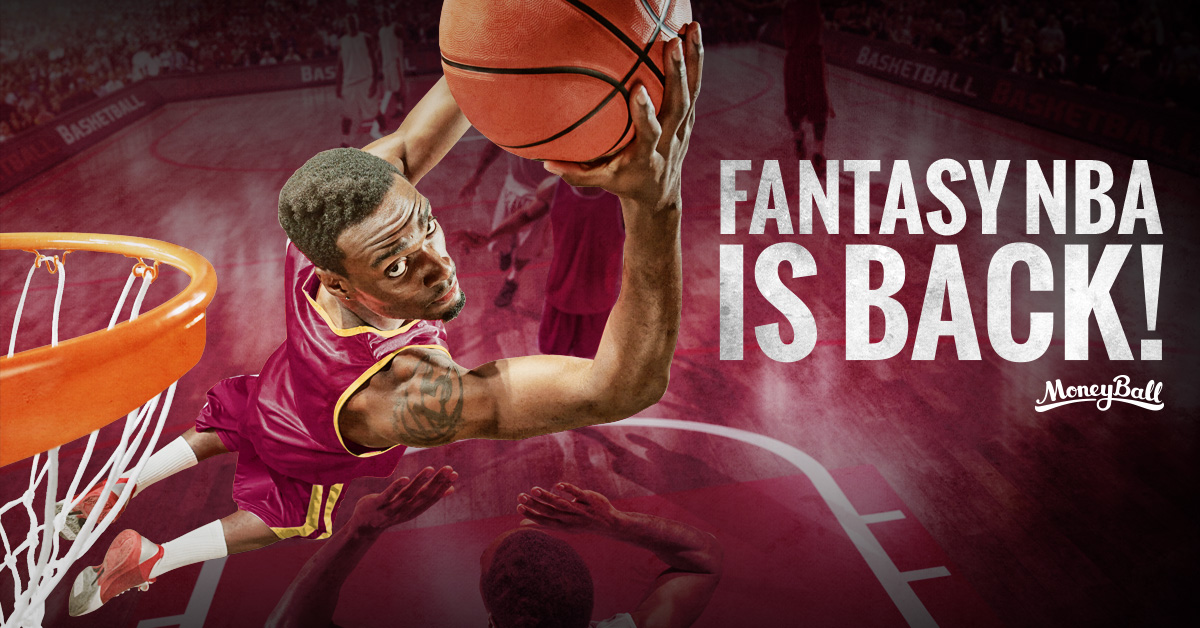 Always remember to gamble responsibly. When the fun stops, stop. If gambling is having a negative impact on your life, seek support at Gambling Help Online. 18+ only.