daily fantasy sports articles
NBA 2019-20 Daily Fantasy Preview Saturday 4th January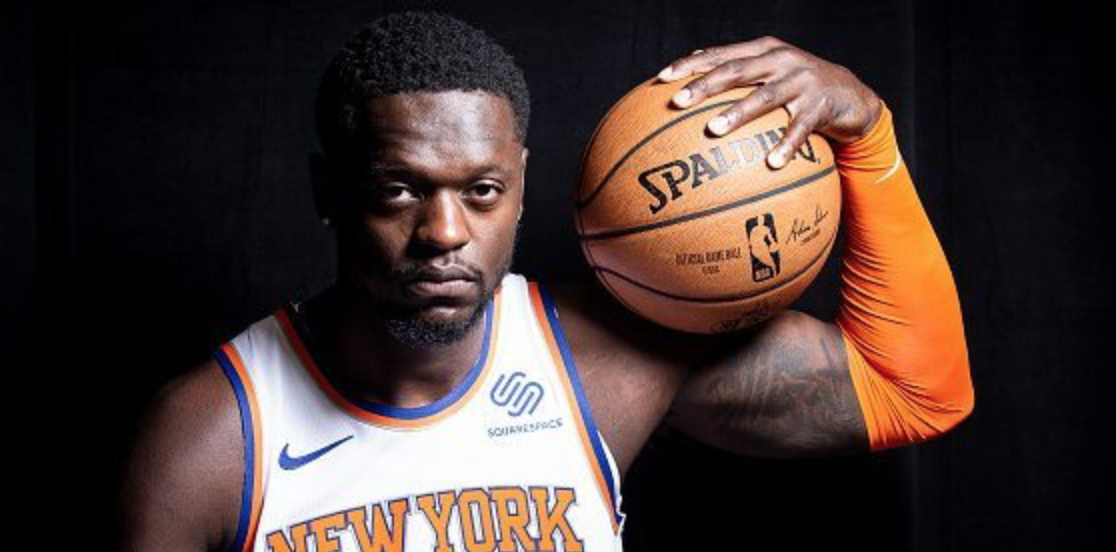 The NBA grind continues this weekend with a perfectly sized 6 game slate of NBA to sink the teeth into. NBA Friday (Saturday AEST) is scheduled to tip off at 11:00am AEST and the usual major contests are on offer:

GAME BREAKDOWN

Wow! Just the one total up currently, which means we will have plenty of injury news to breakdown below. We will get deeper into the matchups without a total below when we look at pace.
The single game listed between New Orleans and the LA Lakers has a 224.5 point total, which will be one of the top totals on the slate. New Orleans have played at the 7th fastest pace in the league this season, which puts the Lakers in one of the pace up matchups of the day. They are also ranked 25th in defensive efficiency and have conceded the 9th most fantasy points in the league. It is worth nothing that this could all be fools gold now as the Pelicans have slowed their pace recently and improved significantly on the defensive end where they are ranked 8th over the past 10 games.

Philadelphia are in the biggest pace up spot of the day against the Houston Rockets who play at the second fastest pace in the league this season. Houston are also a touch below league average for defensive efficiency, which has resulted in them conceding the 8th most fantasy points in the league. This game has just a 4.5 point line, which indicates it will close throughout. The 76ers will be a popular team to roster on this slate and are in an elite position to attack with guards.
My favourite game on the slate to attack, and the one I expect to have the highest total is Portland at Washington. As we mentioned everytime on the slate the Wizards are the best team in the league to attack for daily fantasy purposes. They play at the 4th fastest pace in the league this year, are ranked dead last in defensive efficiency and have conceded the most fantasy points to opposition. What makes this game even juicier is the fact that for once the Wizards are not expected to be in a blowout with a line set at 6 points. Their opponent, the Portland Trailblazers, are also very fantasy friendly, playing at the 11th fastest pace this season and ranked 22nd in defense, they have given up the 5th most fantasy points in the league. Simply just inject this matchup right into my rosters!
Now while everyone will be looking to Washington vs Portland, the sneaky game I will target is New York at Phoenix. Another game where the line is close enough at 6.5 points and both sides have been giving up increasingly more fantasy points as the season goes on, with the Suns concededing the 9th most fantasy points over the past 15 games, and the Knicks the 4th most over that stretch.
INJURY NEWS
Trae Young is expected to make his return on this slate vs Boston. I would keep an ear out for possibly minutes limits after a long lay off, and regardless, the matchup isn't ideal so I will not be looking to play him. Remember his return will reduce other Hawks usage rates.
Kemba Walker is a game time decision for the game against Atlanta. Walker has missed just one game so far this season and in that game it was Marcus Smart who had the biggest boost playing an additional 5.8 minutes of game time for +18.3 fantasy points. Jason Tatum also saw a 4% usage increase, however he failed to capitalise on it.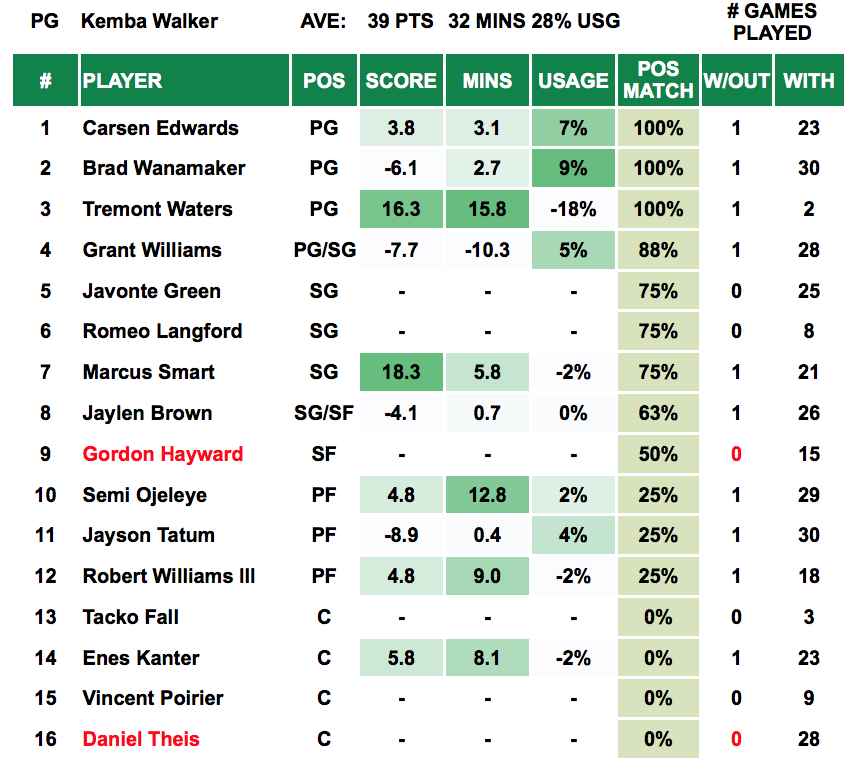 Elfrid Payton is questionable for the game against the Suns. We will need to monitor the lineup news if Payton is out as the Knicks could go with any number of starting lineups. I would expect Frank Ntilinka to get the start. Franky Smokes was on fire last game posting 34 fantasy points from 23 minutes of playing time and certainly offers GPP winning upside at his minimum pricing.
Aaron Gordon is questionable for the game against the Heat, while Jonathon Isaac will miss the next two months with a knee injury. Gordon has played 31 minutes per game this year with a 21% usage rate, while Isaac has played 31 minutes with a 19% usage rate. This opens a significant window for Magic wings who don't usually play (Wes Iwundu and Amile Jefferson), while also increasing usage for Nikola Vucivic, Evan Fournier and Markelle Fultz. Last game without both Gordon and Isaac we saw Fultz and Augustin playing together for spurts.
Joel Embiid missed the last game, however he went through practice and is not currently listed as injured. If Embiid were to miss I would go straight to Al Horford who has seen a 7% usage increase in games without Embiid this year.
Bradley Beal is questionable again on this slate, while Davis Bertans, Mortiz Wagner, Rui Hachimura and Thomas Bryant remain out. In the two games Beal has missed this season it has been Jordan McRae who has gone nuclear posting +25.1 fantasy points per game from an additional 13 minutes playing time. Isaiah Thomas has also seen a massive 7% usage increase in those two games up from his usual 24% rate, which would bring him right into play for me.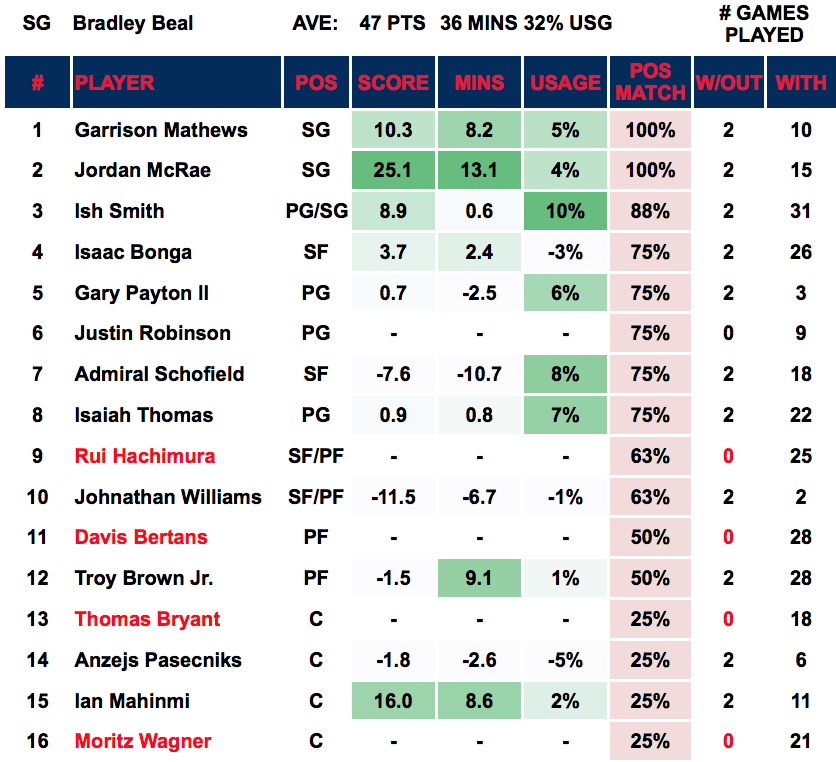 VALUE PLAYS
As always more value will likely open up as we get closer to the slate and further lineup news breaks. Also be studious in looking a pricing differences between the three platforms are some players are value on different sites just due price.
In addition to the possible value plays noted above (Frank Ntikilina, Jordan McRae, Isaiah Thomas):
Mikal Bridges (DS $6,380, DK $3,800, MB $4,400) is my super sneaky value play on this slate. He has become firmly entrenched in the rotation recently averaging 25 minutes per game over the past 5 games. Through this stretch he has returned an average of 19 fantasy points per game, including 2 games over 20 fantasy points. This year he has already shown 30+ point upside and on this slate he has one of the top matchups in the league vs the New York Knicks.
Kyle Kuzma (DS $8,960, DK $5,200, MB $5,100) has really come to life recently after returning from injury. He is in the best form he has shown this season over the past 5 games where he has posted 4 games of 26.5+ fantasy points. I love him as a value play at his price on Draftstars and he draws a great matchup against the Pelicans who have given up the 9th most fantasy points in the league this year.
Terence Ross (DS $8,670, DK $4,000, MB $4,800)... while this isn't an elite matchup against the Miami Heat I expect Ross should see an uptick in minutes with Isaac out and Gordon also a chance to miss the game. He has shown just under 40 point upside this year, and if he can play 30+ minutes should be able to pay off his salary if there isn't more obvious value opening up as the slate draws closer.
MID PRICED PLAYS
Ricky Rubio (DS $13,650, DK $7,200, MB $7,600) / Kelly Oubre (DS $13,830, DK $6,800, MB $7,200) … this is where pricing on sites matters. I love targeting the Knicks on this slate and at DraftKings it will be via Rubio and Oubre. Rubio is a great GPP play as he has shown recently with four 40+ point performances from his past 6 games. On this slate he draws an elite matchup against the Knicks who have given up the equal 6th most points to point guards over the past 10 games. Meanwhile Oubre is having his best stretch of the season, averaging just under 50 fantasy points from his last three games.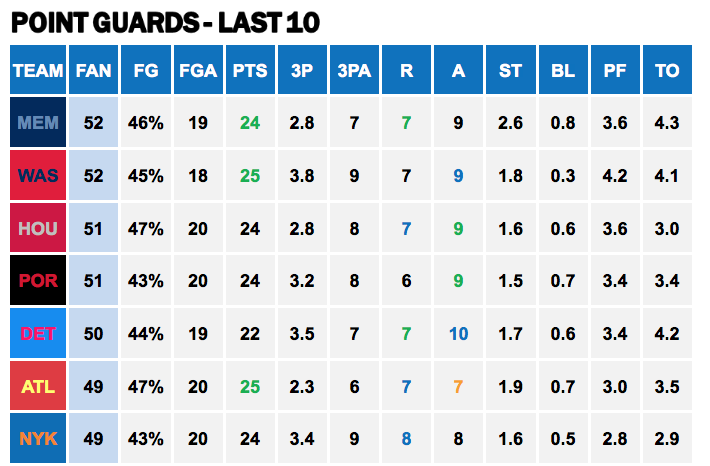 CJ McCollum (DS $14,250, DK $7,100, MB $7,400)... boy have they made it hard to attack the Wizards with tight pricing on this slate. Obviously everyone on the Trailblazers is in the best possible matchup on this slate, however Damian Lillard and Hassan Whiteside have almost been priced outside of their ceiling, particularly for GPPs. In order to get some exposure I will likely be finding some value with Kent Bazemore or Anthony Simons and/or looking to roster CJ. McCollum is rarely the most exciting roser in DFS, however he does have upside that can hit you a GPP win at this price tag. Washington have given up the equal 4th most points to shooting guards over the past 10 games.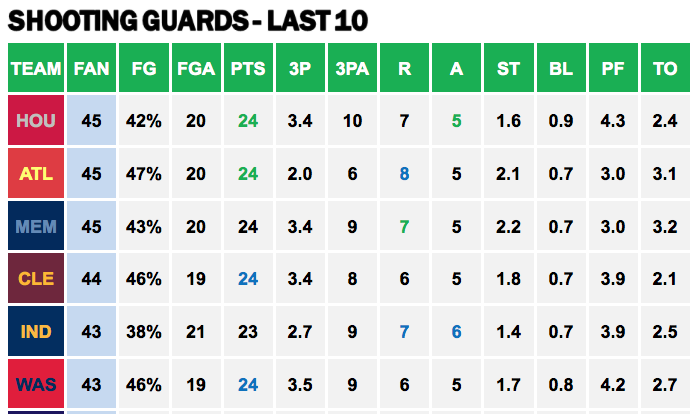 PREMIUM PLAYS
Devin Booker (DS $15,410, DK $7,900, MB $7,500)... pricing, pricing, pricing. Devon Booker is where I will be looking on DraftKings to get Suns exposure. He is averaging 40 fantasy points on the season, and is priced too cheap there for that output.
Julius Randle (DS $16,610, DK $7,700, MB $7,800) has been given a new lease on life since the coach Fizdale was shown the door. Over the past four games his usage has sky rocketed taking over 20 shots per game, which has resulted in a ridiculous 52 fantasy point average over that stretch. On this slate he draws another elite matchup against the Phoenix Suns who have given up the equal 6th most points to the position over the past 10 games.
Anthony Davis (DS $21,250, DK $10,300, MB $10,800) has to be mentioned for all the narrative lovers out there. This will be the second time this season he has faced his former squad and in the first contest he put up a lazy 41 points and 9 rebounds en route to 60 fantasy points. Lebron has had most of the play in recent games, so this might be seen as an opportunity to feed the big fella.
It is also worth highlighting that if Bradley Beal is right to play I will be diving into him against Portland in what I believe will be the top game total of the day.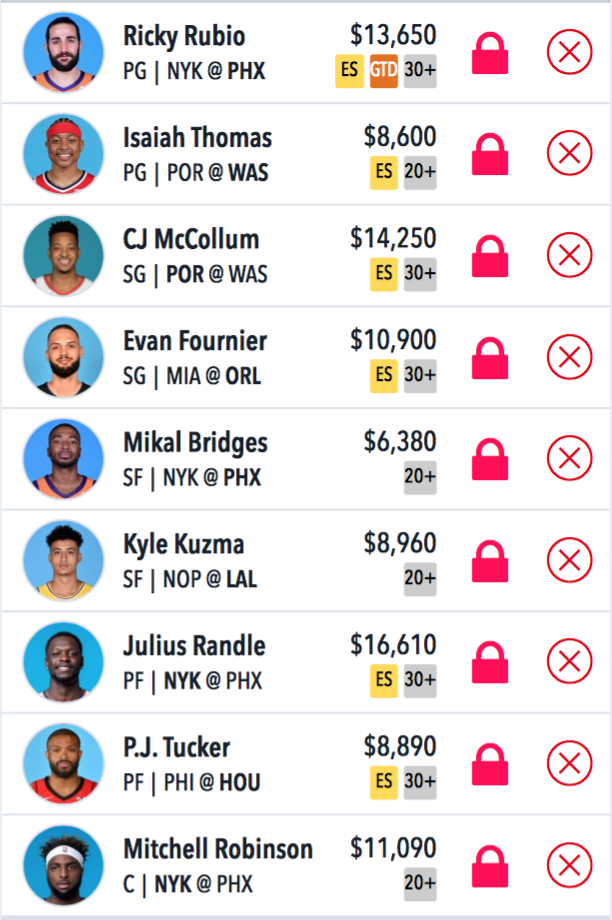 In case you are new to NBA DFS these articles break down the matchups and highlight the key plays to help you build winning lineups. For more insight into how to utilise our game breakdown data check out our NBA DFS Training Camp Series:
Always remember to gamble responsibly. When the fun stops, stop. If gambling is having a negative impact on your life, seek support at Gambling Help Online. 18+ only.