daily fantasy sports articles
NBA 2019-20 Daily Fantasy Preview Saturday 9th November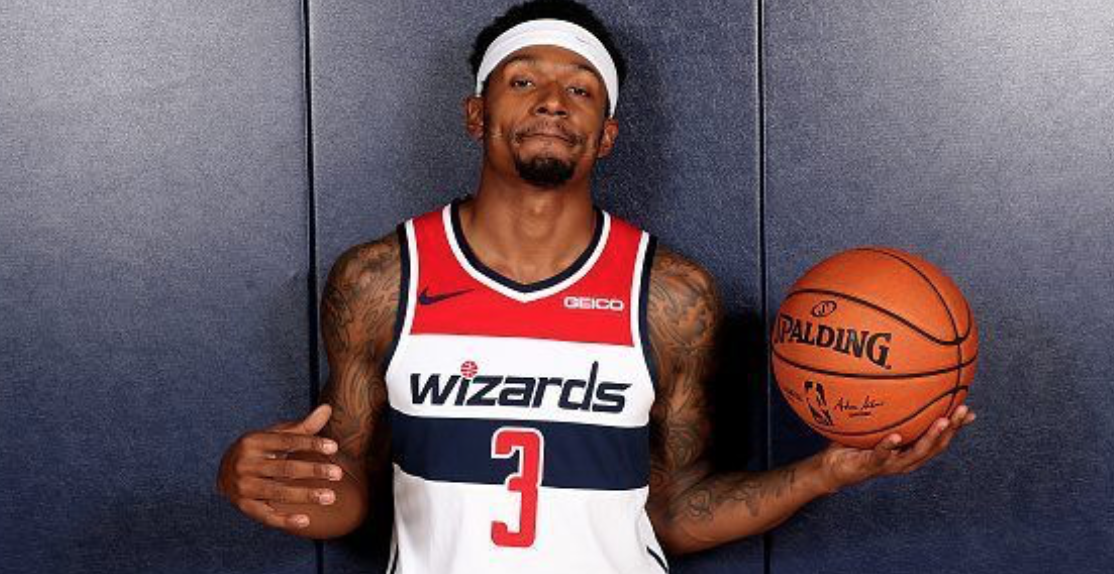 Welcome back! The weekend is here and two straight days of wall to wall NBA action is waiting. NBA Friday (Saturday AEST) has a ridiculous 11 games of NBA action on the slate and I am going to break it down to help your daily fantasy builds. As usual there are several huge tournaments on offer across the major platforms:
In case you are new to NBA DFS these articles break down the matchups and highlight the key plays to help you build winning lineups. For more insight into how to utilise our game breakdown data check out our NBA DFS Training Camp Series:

GAME BREAKDOWN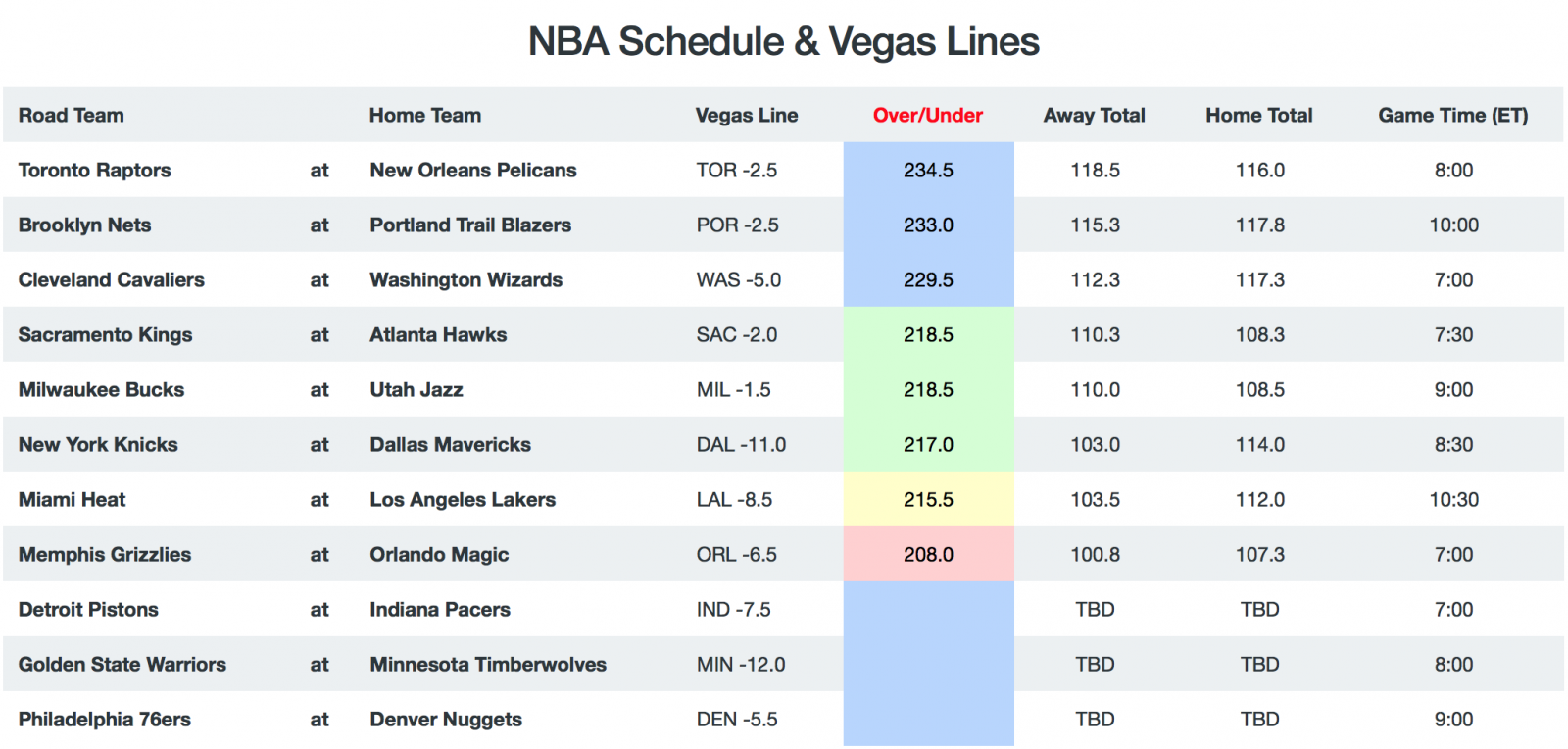 As usual we are dealing with a slate that is currently in flux with three games yet to have totals and lines set as we await pending injury news. As usual I breakdown the major news that could impact decisions on this slate below.
This slate is fully loaded with big game totals to target headlined by Toronoto at New Orleans with a 234.5 point game total. The Pelicans have played at the 6th fastest pace in the league this year while also ranked 29th in defensive efficiency, which puts the Raptors in an elite matchup on this slate. The 2.5 point line makes this game even more attractive as it is expected to stay close to the end.
Brooklyn at Portland is the other game with a total over 230 points. The Nets have played at the 4th fastest pace this season, while POrtland have also been top 10, which means this game should have a high number of possessions. Both teams are also bottom 11 in defensive efficiency.
Golden State at Minnesota is yet to have a line or total set at this point, however I expect this game total to be the highest on the slate.

Sneaky teams to target who are in pace up matchups but not necessarily in a high game total include the Utah Jazz who have been the second slowest team in the league this year will face the Bucks who are they third fastest. This step up in pace results in the Jazz possessing the highest differential between their season average and their implied point total on this slate at +7.7.
Cleveland are also a great option to target as they play against the Wizards whose pace is the 8th fastest in the league and defensive efficiency is 27th. They are likely to go overlooked on this massive slate so you can expect to pick up their players a very low ownership.
INJURY NEWS
Tim Frazier is considered doubtful and Derrick Rose has been ruled out of the match against the Pacers. Bruce Brown will continue as the starting point guard if they are both out again. He has posted an average of 34.8 fantasy points over the past three games. Luke Kennard is also seeing an increased role averaging 34.1 fantasy points over the last three games with a +7% usage rate.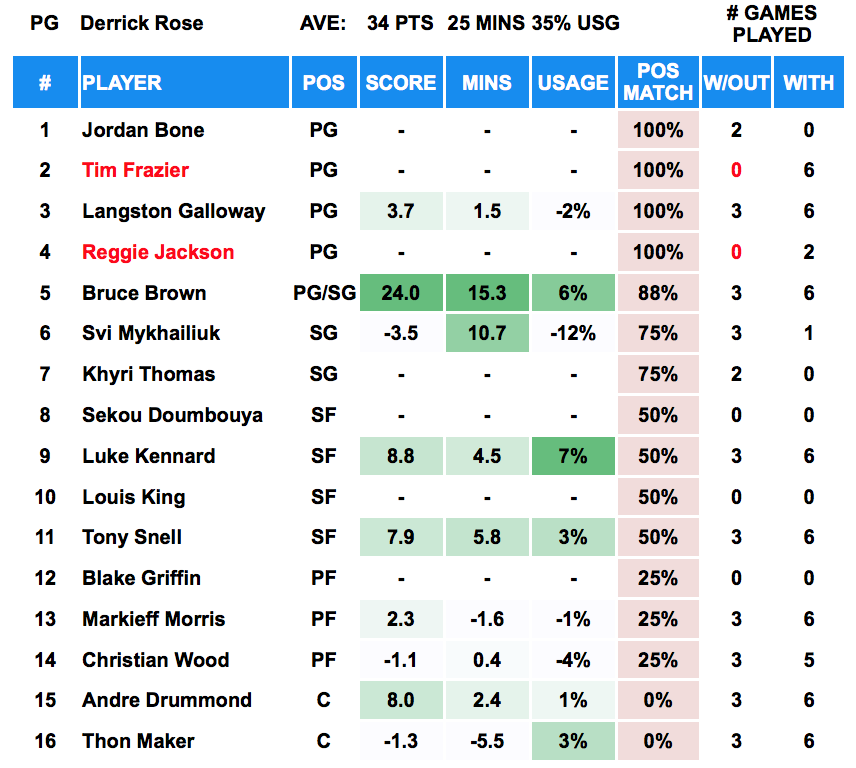 Jeremy Lamb will not play against the Pistons. Aaron Holiday moved into the starting lineup last game without Lamb and played 31 minutes returning 23.5 fantasy points. He will be in play again as a value on this slate slate with that level of workload.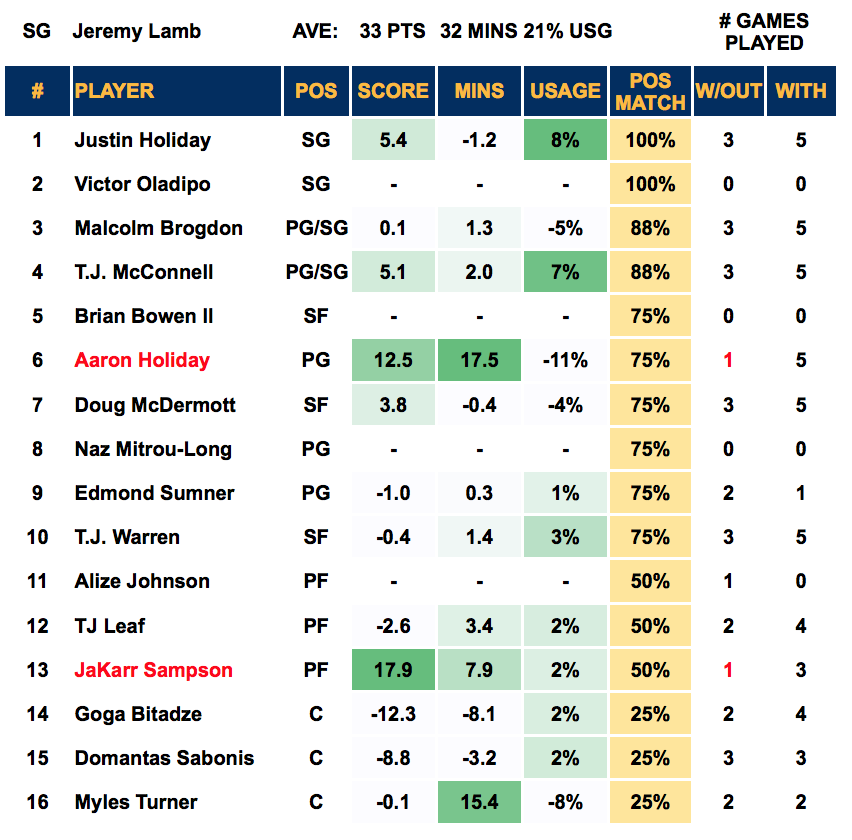 Jeff Teague and Shabazz Napier are doubtful for the matchup against the Warriors. If both players are out again it will Jarrett Culver who will start at point guard. Last game he logged 30 minutes of game time and returned 32.75 fantasy points. Andrew Wiggins will also see an increased usage rate as he handles more of the playmaking, last game he his usage went up 6% resulting in +14.7 fantasy points.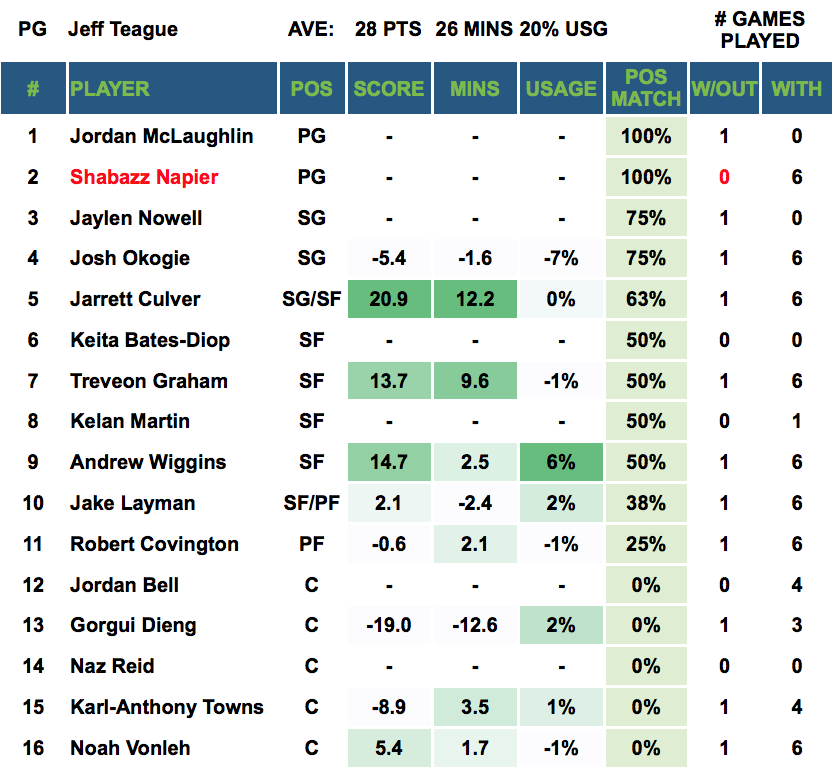 Mitchell Robinson will not play against the Mavericks. No one can ever be certain about what Fizdale is going to do with his rotations but Bobby Portis is typically splitting time at the centre position with Robinson. Portis has averaged just under 1 fantasy point per minute this season and if he is likely to see up to 30 minutes of playing time he comes right into play on this slate.
Ben Simmons is set to miss the next three games. Raul Neto did not start the second half after Simmons went out but he ended up playing over 16 minutes in the second half and had his biggest game of the season with 25 fantasy points from 30 minutes of game time. At around minimum pricing he will be an obvious value on play on this slate.
VALUE PLAYS
As always more value will likely open up as we get closer to the slate and further lineup news breaks. Also be studious in looking a pricing differences between the three platforms are some players are value on different sites just due price.
In addition to the possible plays noted above, the current value players to consider include:
Alec Burks (MB $4,600, DS $8,900, DK $5,200) is one of the few legitimately experienced NBA players left on the Warriors roster and he showed that last game posting massive 47 fantasy points while taking 18 shots. With Russell back in this contest the usage may dip, however he is averaging 0.9 fantasy points per minute this season and if he continues to play 30 minutes of game time that is enough to return value on both Moneyball and Draftstars. He is in an elite matchup on this slate against Minnesota who have been playing at the fastest pace in the league this year.
Markieff Morris (MB $4,500, DS $7,220, DK $4,400) is averaging 29 minutes of game time this season, which includes a 14 minute game recently due to foul trouble. At that level of workload he is well price across the industry to return value. In his last game he showed he also has the ceiling at this price point to help win a GPP posting a 39 fantasy points game.
Evan Fournier (MB $5,200, DS $8,520, DK $4,400) is my sneaky play at Draftstars and DraftKings. You can be assured of low ownership after he posted 14 and 10 fantasy point games in back to back matches. Fournier is a 27 fantasy point player who has shown 40 point upside over his career. On this slate he has an elite matchup for his position against Memphis who have given up the fourth most points in the league to shooting guards.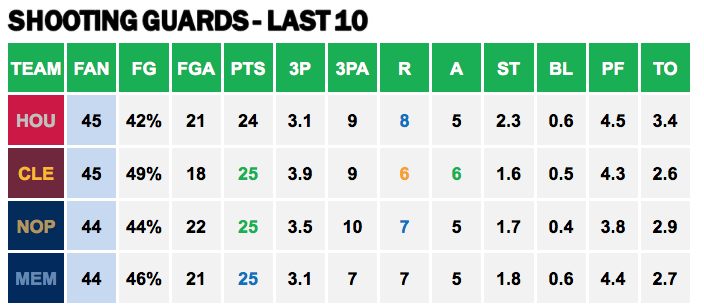 MID PRICE PLAYS
Richaun Holmes (MB $6,600, DS $9,870, DK $5,800) is my lock and load mid priced play on this slate. He is averaging over 1 fantasy point per minute this season and has shown 40 point upside. He will have the centre position all to himself with Dwayne Dedmon out injured, which should lead to an additional 3-5 minutes of game time. He will be matched up against the Atlanta Hawks in what is currently the 4th highest game total on the slate. It is a positive matchup at his position with the Hawks starting a front line of Alex Len and Jabari Parker.
PREMIUM PLAYS
Pascal Siakam (MB $9,000, DS $15,630, DK $8,800) has taken over the role that Leonard vacated this season almost seamlessly. With a massive 30% usage rate he is averaging 44 fantasy points per game and has shown a ceiling of 60+. On this slate he draws one of the top matchups in the league for fantasy purposes against the New Orleans Pelicans. They play at the 6th fastest pace in the league and have the 29th defensive efficiency, in addition they have given up the equal most points to power forwards this season.

Bradley Beal (MB $8,900, DS $15,580, DK $8,600) has an enormous usage rate of 33% while playing 35 minutes per game this season. Despite this heavy workload he hasn't had the start to the year that was expected and his shooting career lows at 40% from the field and just 22% from behind the arc. This creates an opportunity for us in the daily fantasy world as these shooting percentages will regress back up as the season goes on. This could be the slate where it begins as Beal faces the Cavs who have given up the equal most points in the league to the shooting guard position this year.
There are a number of maximum priced players to choose from on this slate who can all go off and break the slate. Karl Anthony-Towns draws the best matchup against the Santa Cruz Warriors, however there will be a blowout risk in that contest. My next favourite play in this price bracket is Joel Embiid who will pickup usage with Ben Simmons out and as usual will be fired up for a centre matchup against another top line centre in Jokic who has struggled significantly to start the year.
Dragon's Suggested Moneyball Team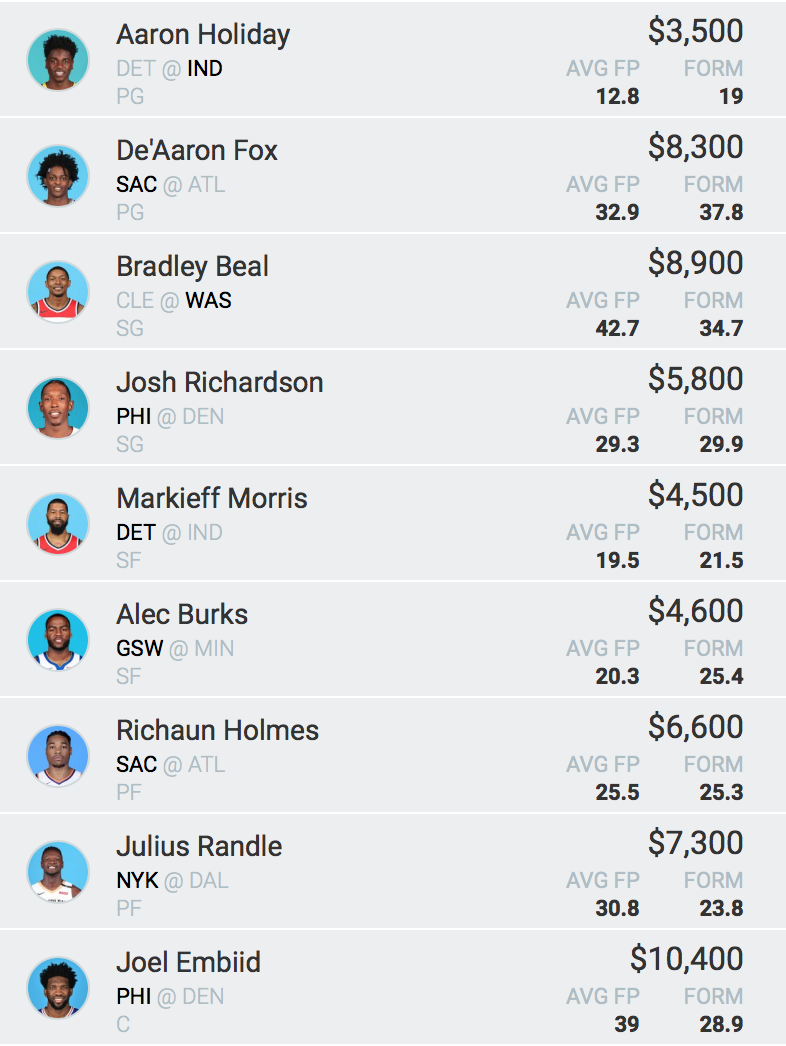 Always remember to gamble responsibly. When the fun stops, stop. If gambling is having a negative impact on your life, seek support at Gambling Help Online. 18+ only.