daily fantasy sports articles
NBA 2019-20 Daily Fantasy Preview Thursday 16th January
Here we go with the biggest NBA day of the week again! NBA Wednesday (Thrusday ASEST) brings a huge 10 game slate to attack with a number of massive NBA daily fantasy competitions on offer across the major platforms:
GAME BREAKDOWN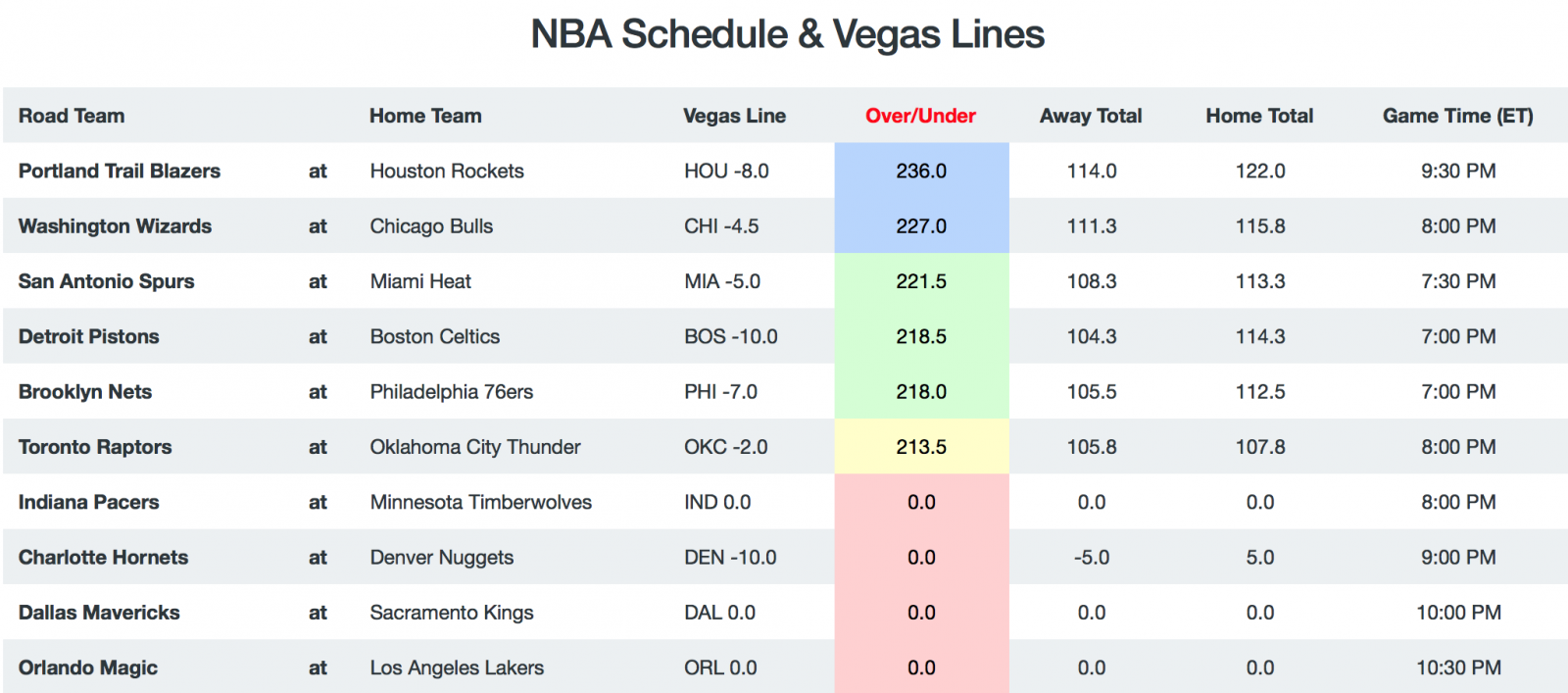 The top game total on the slate is an absolute beauty for daily fantasy with Portland at Houston being set at a massive 236 points. It should be an uptempo matchup with the Rockets playing at the second fastest pace in the league and Portland the 12th fastest. The Trailblazers have also been atrocious defensively this season, ranked 24th in defensive efficiency, all of which has led to both teams being top 8 for fantasy points conceded this season. Make no mistake, this will likely be the most popular game on the slate to target.
The other game that will draw a lot of attention is Washington at Chicago with a game total of 227 points. The Wizards have been one or two on our top target list all season and this continues to be the case as they play at the 5th fastest pace in the league, which puts the Bulls in a significant pace up matchup. They are also ranked 30th in the league in defensive efficiency and have given up the second most fantasy points in the league.

Indiana have the biggest pace up matchup of the day against the Minnesota Timberwolves who are ranked 3rd in pace this season. While the Wolves have been around league average defensively, the pace they play it is seeing the fantasy points conceded creep up, currently giving up the 10th most (6th most over the past 15 games). As a result I love looking ato Pacers to roster in this matchup and the line is set at 2.5, which means it is expected to be a close contest.
Philadelphia also draw a nice pace up matchup on this slate as they face the Brooklyn Nets who are 10th in the league in pace this year. The Sixers have been a notoriously slow team, but without Embiid in the lineup they should play a little bit faster. Meanwhile the Nets are around league average defensively and in fantasy points conceded, however there are position that you can target and their defense is likely to take a hit with Kyrie Irving back in the lineup.
INJURY NEWS
Paul Milsap is out, while Jamaal Murray and Garry Harris are both questionable for the game against Charlotte. With Milsap out it has been Jerami Grant who has moved into the starting lineup and posted +5.9 fantasy points from an additional 9 minutes per game of playing time. Mason Plumlee is another option who can certainly provide a GPP winning score in a small allotment of minutes, however on a 10 game slate he might not be worth the risk unless it is in a very large field tournament.
Murray and Harris will be the more interesting players to get news on as they could open up significant value with Monte Morris the likely player to start at point guard if Murray is out. Morris averages a touch under a fantasy point per minute this year and would become close to a lock value play if he is predicted to get upwards of 25 minutes. If Harris is out it would possibly open up opportunity for Malik Beasley or Michael Porter Jr.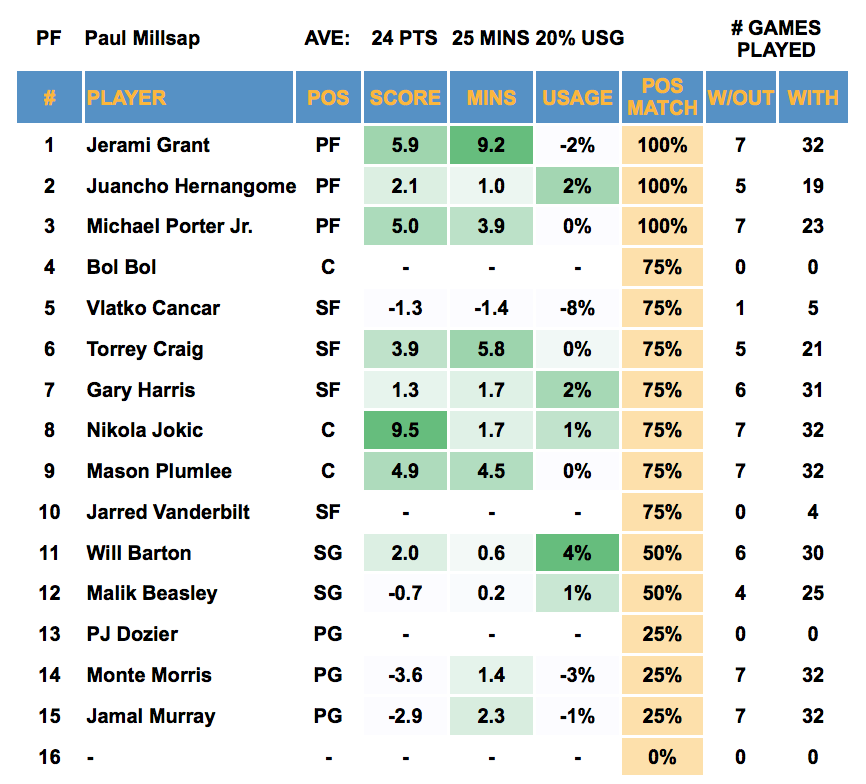 Domantas Sabonis is questionable for the game against Minnesota. If Sabonis was to miss Myles Turner would become an elite play as shown in the single game he played without Domantas in the lineup this year where he posted 56 fantasy points.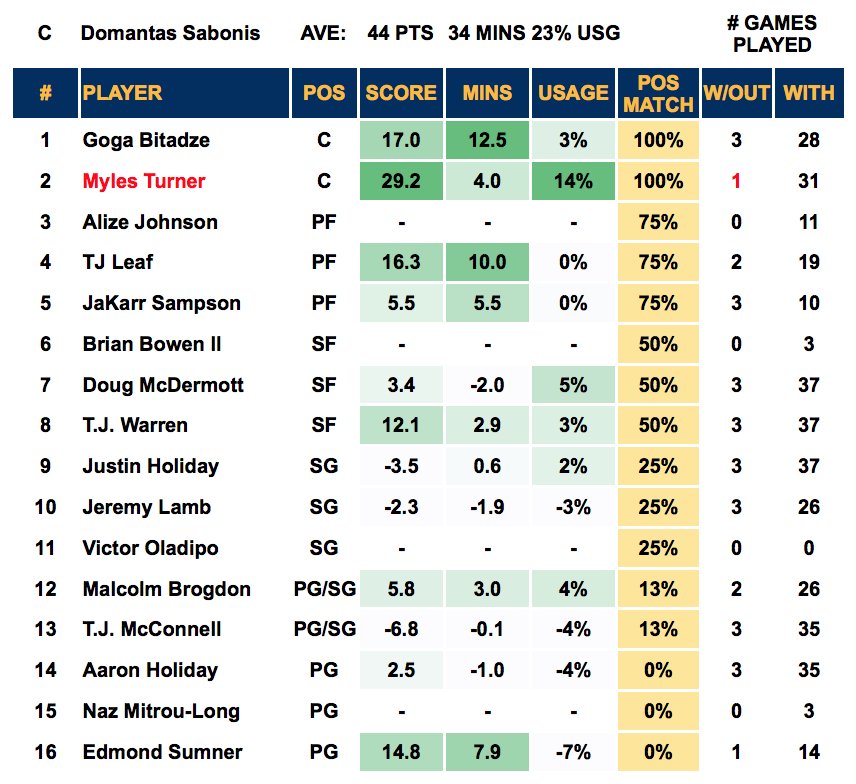 Anthony Davis is questionable for the game against the Magic. Kyle Kuzma has seen the biggest increase in production with Davis out of the lineup this season averaging +14 fantasy points from an additional 9 minutes of playing time and a usage increase 5%. The two centres, Dwight and Javale, have also seen solid increases in fantasy scoring as they pick up the additional minutes that Davis typically plays at centre. Meanwhile Lebron James is also seeing a 5% usage increase but on average this has yet to translate to higher fantasy scores.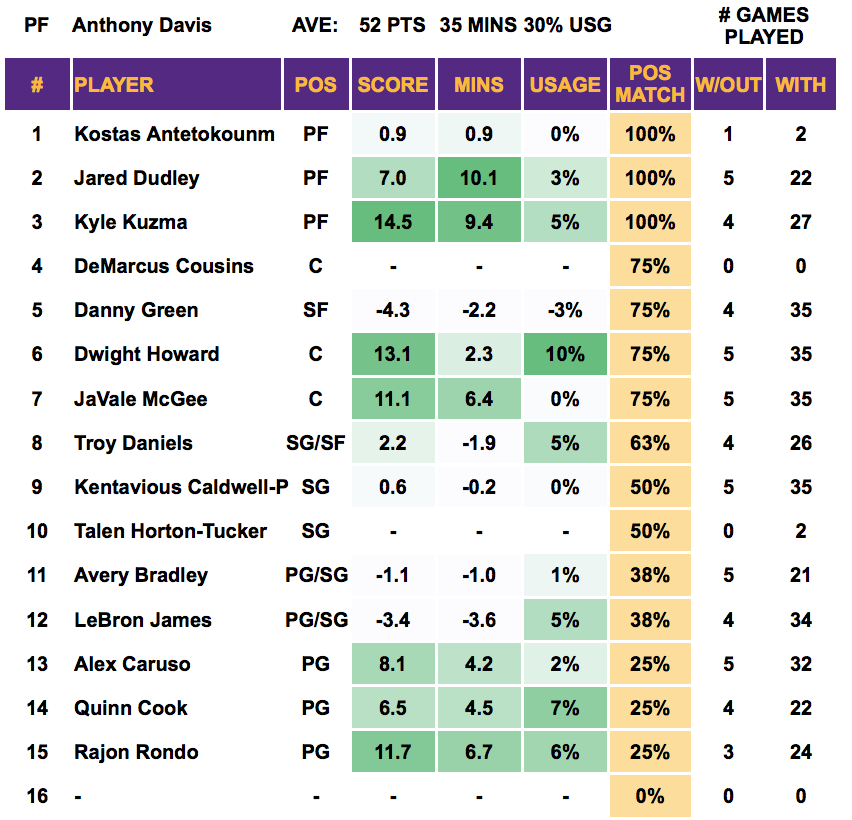 Karl Anthony-Towns is questionable for the game against Indiana. There isn't much to say about this one by now. Towns has missed a significant number of games and the pricing has been adequately updated to reflect the new playing time and usage rates. Gorgui Dieng has seen his price come down recently as despite starting he hasn't played over 20 minutes in each of the last 3 games.
VALUE PLAYS
As always more value will likely open up as we get closer to the slate and further lineup news breaks. Also be studious in looking a pricing differences between the three platforms are some players are value on different sites just due price.
In addition to the possible value plays noted above (Javale McGee, Monte Morris, Jerami Grant):
Ian Mahinmi (DS $7,930, DK $4,800, MB $5,000) is a spruik play if you can't find better value on thi slate close to tip off. Mahinmi still played 31 minutes of game time last game despite the return of Thomas Bryant off the bench, and he has been in solid form recently posting over 26 fantasy points in 3 of his last 4 games. On this slate he draws one of the top matchups at his position against Chicago who have conceded the 3rd most fantasy points to centres this year.
Coby White (DS $7,440, DK $4,700, MB $4,400) is a nice GPP dart on this slate. I want to get exposure to the Bulls players who, as noted in the matchup breakdown above, draw the Washington Wizards who have given up the second most fantasy points in the league this year. White has shown he has no hesitation at getting shots up and he has still be playing 24 minutes per game over his past 6 matches. If he catches fire he has flashed 40 point upside this year and the Wizards have given up the most fantasy points to shooting guards this season (and 8th most to point guards).
MID PRICED PLAYS
Tomas Satoransky (DS $9,900, DK $6,000, MB $4,900) is another play I love in GPPs as I try and get exposure to the Bulls to attack Washington. The Wizards are the worst defensive team in the league and have given up the second most fantasy points. This pace up matchup should suit Satoransky who has shown 40 point upside this season. There is the added narrative bonus in this matchup as Satoransky will face his old team. Kris Dunn is another GPP alternative to playing Satoransky.
Al Horford (DS $12,410, DK $6,700, MB $6,500)... this play didn't quite hit like I expected in the last game, however he did not kill us either posting 33 fantasy points. I will be right back to the well on this slate as Horford faces the Brooklyn Nets who have given up the 5th most fantasy points to centres this season. Horford will continue to be the starting centre without Embiid in the lineup and he has seen a 6% usage increase in the 10 games he has played without Embiid this season.
CJ McCollum (DS $13,660, DK $6,800, MB $7,500) is where I will mainly look to get my exposure to Portland players as I look to attack Houston in the highest game total of the slate. McCollum is priced nicely for a player averaging 36 fantasy points per game and in this matchup should easily push to 40+. The Rockets have given up the third most fantasy points to shooting guards this season and equal 6th most over the past 10 games.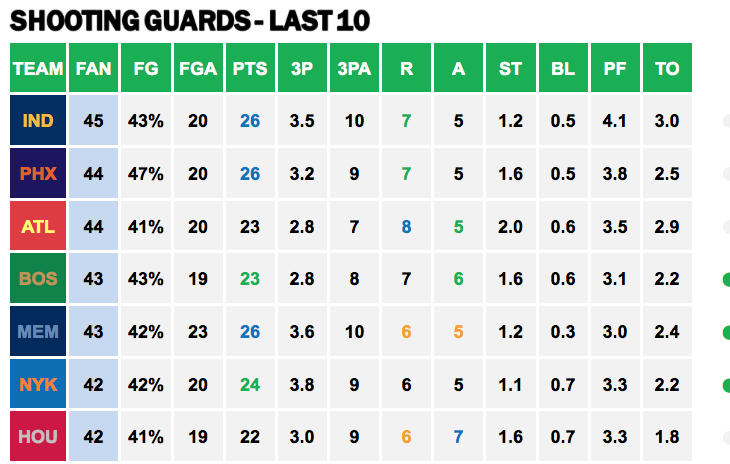 Malcolm Brogdon (DS $13,050, DK $6,700, MB $6,400) is still simply too cheap after returning from injury. In his first game back he posted 46 fantasy points from 34 minutes (despite shooting just 5/15), showing no ill effects of the lay off. On this slate he has the top pace up matchup on the entire slate as he faces the Timberwolves who are 3rd fastest team in the NBA this season. If Sabonis is in fact ruled out, Brogdon should also see a usage increase of 4%.
PREMIUM PLAYS
Nikola Jokic (DS $18,110, DK $10,100, MB $9,100) draws one of the top matchups in the league for his position on this slate. The Hornets have given up the 2nd most fantasy points to centres this season, a trend that has continued over the past 10 games where they are till top 7. Jokic is also now looking like he his back to peak condition after a slow start to the year, posting an average of 52 fantasy points per game over the past 5 games. Jokic has also performed better this year when Milsap is out, and if Murray and/or Harris are out he should see an even further increase in usage.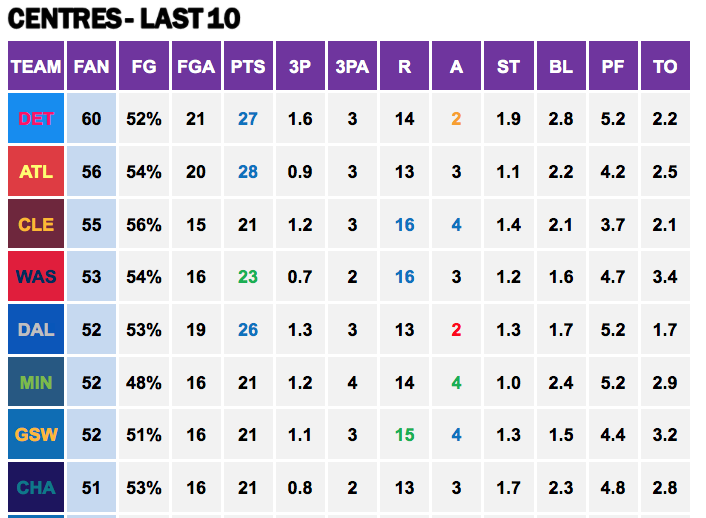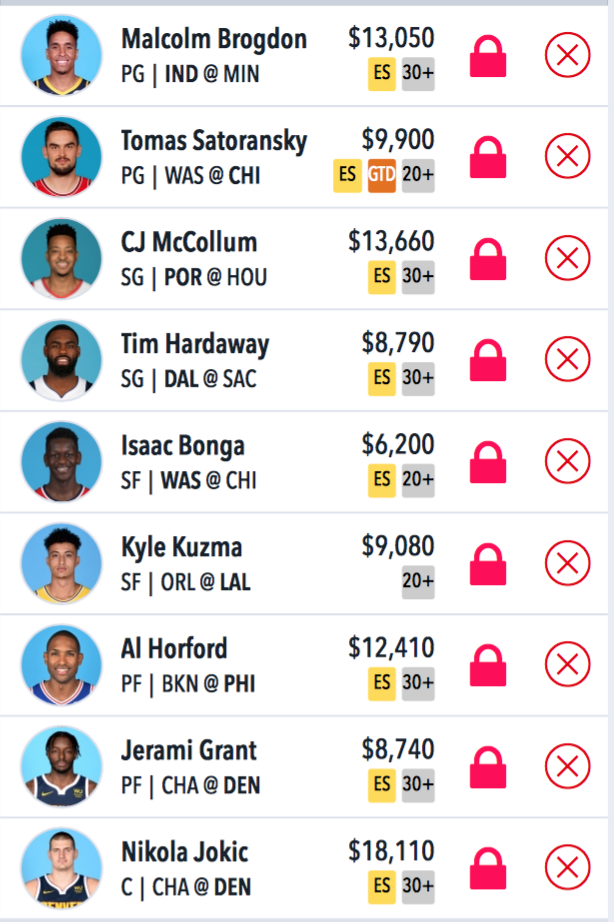 In case you are new to NBA DFS these articles break down the matchups and highlight the key plays to help you build winning lineups. For more insight into how to utilise our game breakdown data check out our NBA DFS Training Camp Series:
Always remember to gamble responsibly. When the fun stops, stop. If gambling is having a negative impact on your life, seek support at Gambling Help Online. 18+ only.