daily fantasy sports articles
NBA 2019-20 Daily Fantasy Preview Thursday 19th December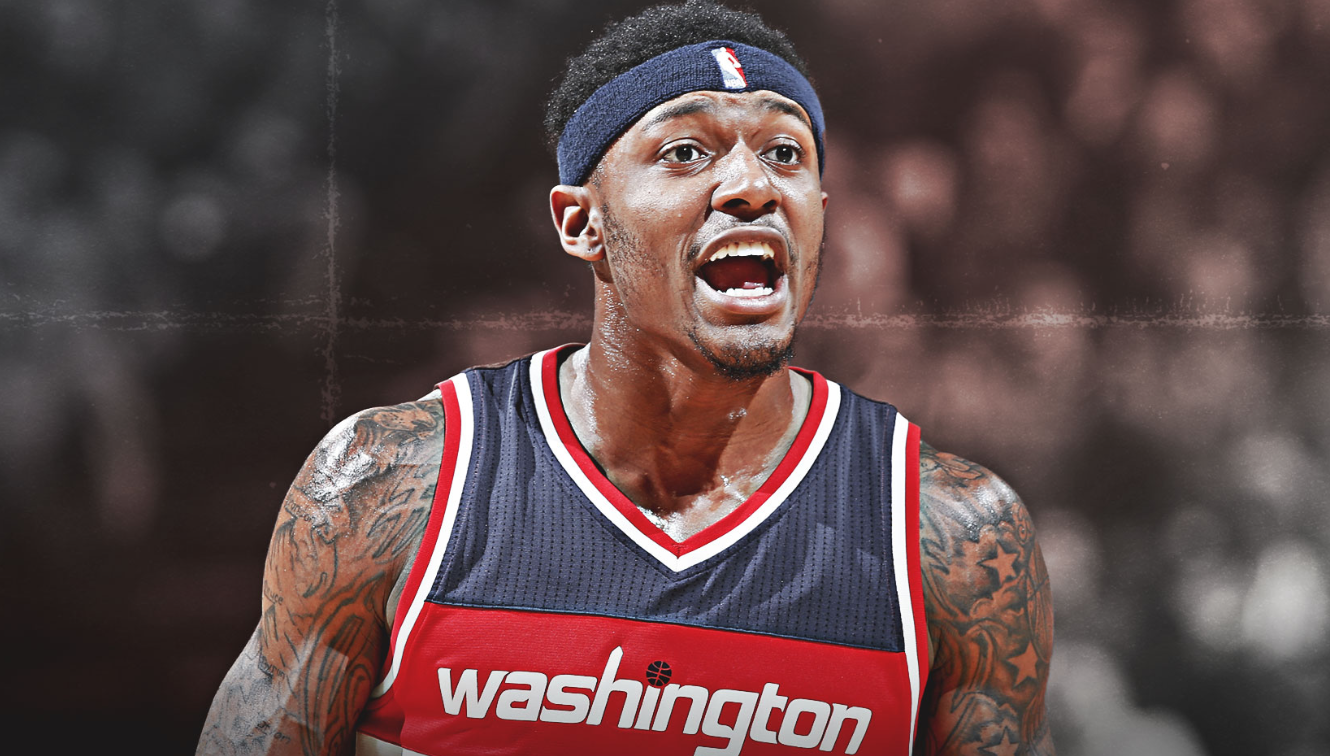 The biggest day of the NBA week is here again with NBA Wednesday (Thursday AEST) delivering a big 9 game slate to attach. The usual array of massive DFS games across are on offer across all platforms:
Have you seen the details of the NBA DraftKings Live Event in Melbourne? You can read about the details here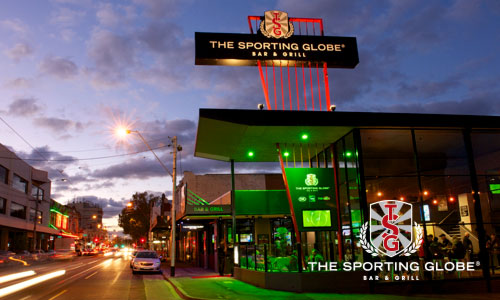 GAME BREAKDOWN

We are waiting on injury and lineup information to come through for just 2 out of the 9 games on this slate. As usual I have broken down the impact of all possibly major lineup changes below.
From the games listed there is a matchup that stands out well above the rest. Chicago vs Washington has a 231 point total, which is over 11 points higher than the next biggest on the slate. Chicago will be one of the most popular teams to target as they draw the premier matchup of the league with Washington playing at the 2nd fastest pace in the league, ranked last in defensive efficiency and have given up the most fantasy points this season. With a total so high it also makes a nice game stack opportunity as the Bulls also play at the 12th fastest pace in the league, which means the tempo should be right up there in this matchup.
The next highest total on the slate is Golden State at Portland with a 219.5. This is also an attractive game to target, although there is a blowout risk with a line set at 9.5 points. Both sides play at a top 10 pace this season and are bottom 10 in defensive efficiency.

New Orleans at Minnesota is yet to have a total set, however it looks like a dream matchup to attack. Both sides are in a paceup matchup with the Timberwolves having played at the 4th fastest pace this season, while the Pelicans have played at the 7th fastest. In addition both sides are bottom 7 in defensive efficiency and the Pelicans have given up the 3rd most fantasy points in the league this season. Fantasy points shall be flowing!
INJURY NEWS
Luka Doncic remains out for the game against Boston. Jalen Brunson stands out as the player who benefits the most from the Doncic injury. He has moved into the starting point guard position and played an additional 16 minutes last game, which lead to 37 fantasy points. Kristaps Porzingis has also been unleashed, obtaining a 3% usage increase and most excitingly finally being allowed to grab a rebound, leading to 53 fantasy points.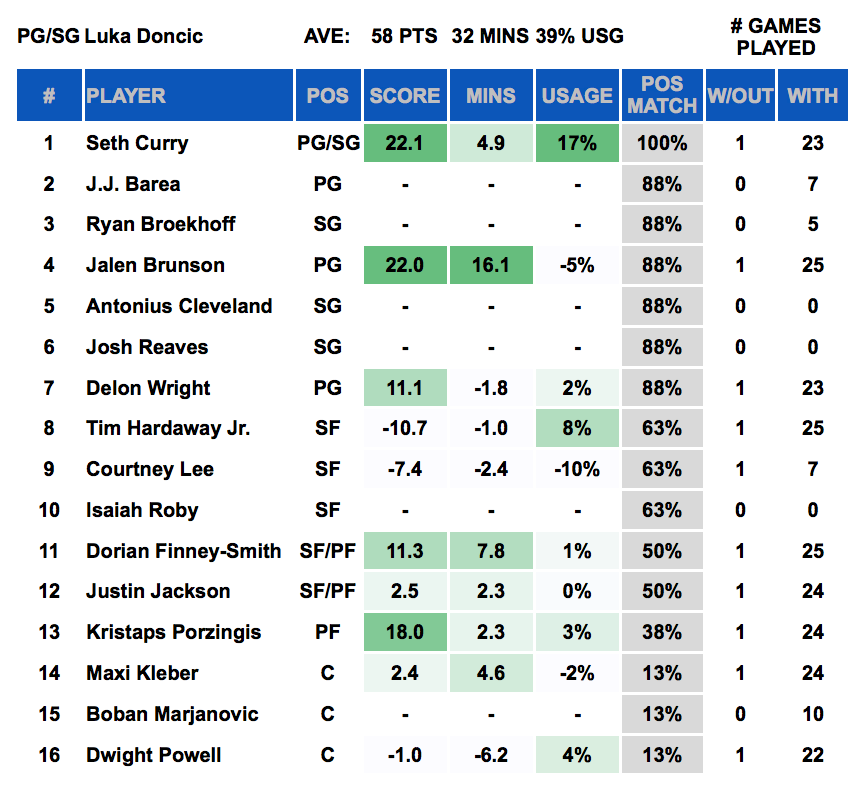 Goran Dragic and Justice Winslow continue to be out for the game against Philadelphia. As we have mentioned on previous slates this has led to more playmaking responsibilities for Jimmy Butler who is effectively the teams point guard now, averaging +11 fantasy points per game in the 9 games Dragic has missed.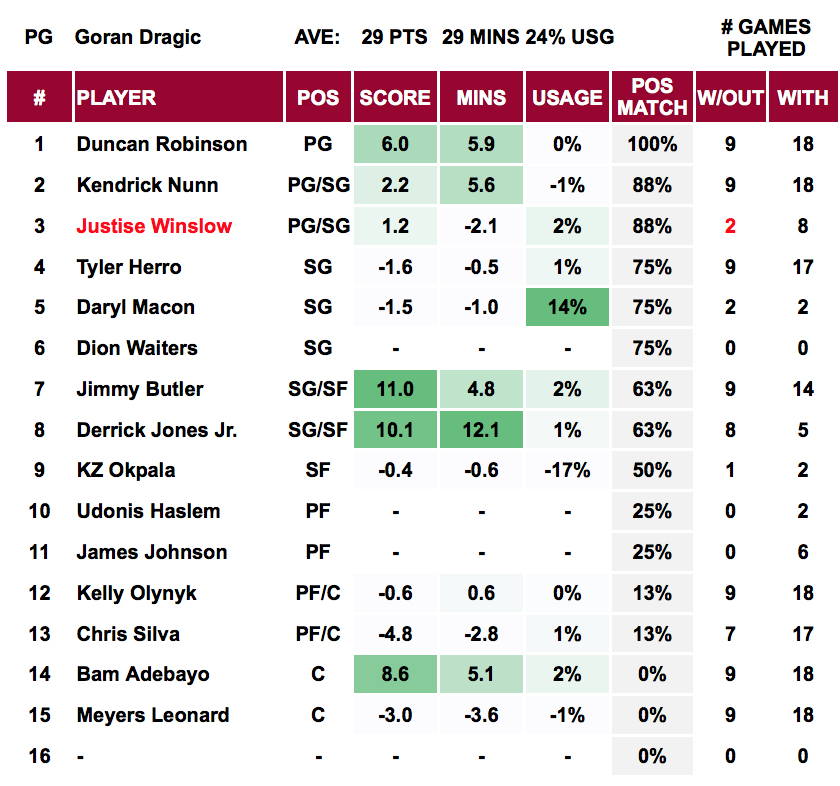 Karl Anthony-Towns is questionable for the game against New Orleans. In the two games Towns has missed this year it has been Gorgui Dieng who has moved into the starting lineup playing an additional 9.1 minutes of game time, which resulted in +20 fantasy points. With Towns having a 29% usage rate I would expect a significant chunk of that to fall to Andrew Wiggins, despite the numbers not indicating that in the small sample size of missed games so far this year.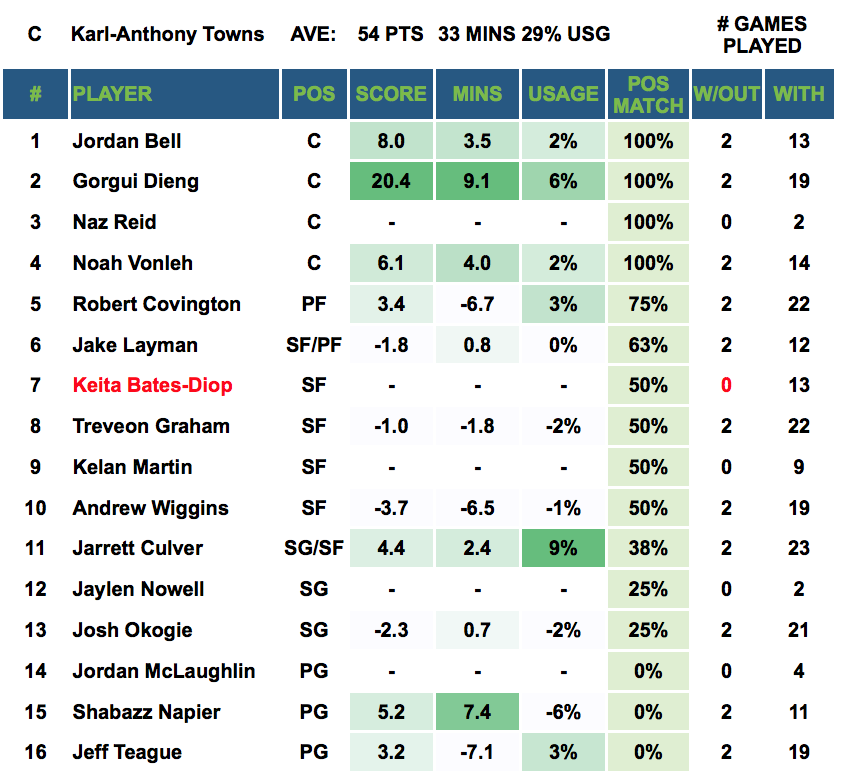 Rui Hachimura will join Thomas Bryant and Mortiz Wagner on the sidelines for the game against the Bulls. Davis Bertans will likely take the starting power forward position for Rui, while Ian Mahinmi will be forced to play significant minutes as the Wizards continue to become thinner at the centre position.
VALUE PLAYS
As always more value will likely open up as we get closer to the slate and further lineup news breaks. Also be studious in looking a pricing differences between the three platforms are some players are value on different sites just due price.
Isaiah Thomas (DS $8,880, DK $5,100, MB $5,300) comes in a nice price at Draftstars. He showed no signs of rust from the recent layoff returning and playing 25 minutes for 38 fantasy points. That is essentially his upside this season and on this slate he is in the highest game total of the slate.
Josh Hart (DS $8,990, DK $5,300, MB $5,300) despite coming off the bench is playing a significant role for the Pelicans averaging 31 minutes per game over the past 5 games (and was in the crunch time lineup today for the end of regulation and overtime). He has averaged just under 1 fantasy point per minute this season and on this slate has drawn a pace up matchup against the Timberwolves.
MID PRICE PLAYS
Tomas Satoranksy (DS $10,750, DK $5,300, MB $6,200) is a nice mid priced tournament dart, making a nice pivot off Jalen Brunson who is likely to be popular once again. He has the top matchup in the league, as noted above, against the Wizards who have given up the second most fantasy points to point guards over the past 10 games. A little bonus is the revenge narrative as Satoransky plays his old team.
D'Angelo Russell (DS $13,050, DK $7,800, MB $8,700) has disappointed the last two games, however they were against tougher matchups playing against the Kings (slowest pace in the league) and Jazz (top ten defense). On this slate he faces Portland who are top 10 in fantasy points conceded this season. Russell has already shown an upside of 80 fantasy points this year and if the Warriors can keep this game competitive he should eaisly pay off his salary across the platforms.
Kyle Lowry (DS $13,850, DK $7,700, MB $9,000) is starting to see an increase in scoring over the past two games without VanVleet in the lineup posting 35 and 43 fantasy points. On this slate he has a positive matchup against the Pistons who have given up the 7th most fantasy points to point guards this season.
Kristaps Porzingis (DS $13,910, DK $8,300, MB $9,100) has posted back to back 50 fantasy point games and without Doncic in the lineup has more closely resembled the unicorn capabilities that he displayed in his early seasons with the Knicks. His usage rate has gone up 3%, but he is also averaging double figure rebounds in the last two games. On this slate he faces the Boston Celtics who are not typically an elite matchup to target, but they do not have the size to match up up against Porzingis who is priced nicely still at Draftstars.
PREMIUM PLAYS
Bradley Beal (DS $16,410, DK $9,500, MB $10,500) is well underpriced on Draftstars and pretty much a lock and load play for me on this slate. As noted above this matchup is the top game total on the slate and Beal will see his usual 30+% usage rate. He has topped the 54 fantasy point mark in each of the past two games.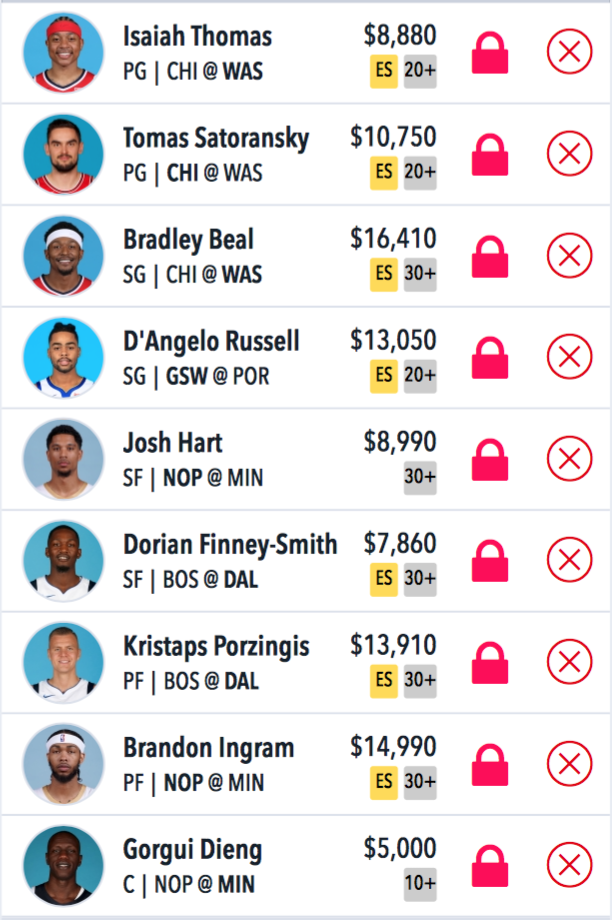 In case you are new to NBA DFS these articles break down the matchups and highlight the key plays to help you build winning lineups. For more insight into how to utilise our game breakdown data check out our NBA DFS Training Camp Series:
Always remember to gamble responsibly. When the fun stops, stop. If gambling is having a negative impact on your life, seek support at Gambling Help Online. 18+ only.