daily fantasy sports articles
NBA 2019-20 Daily Fantasy Preview Thursday 21st November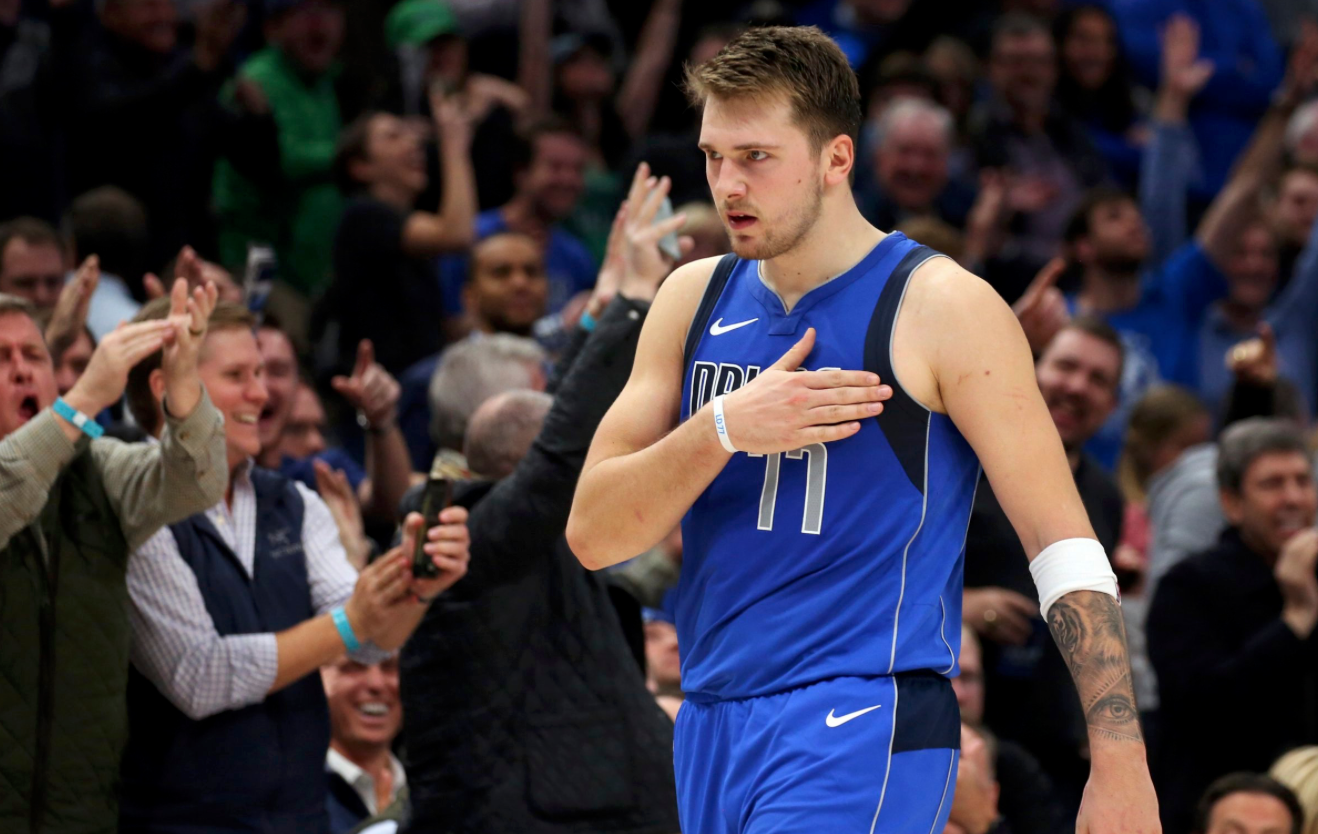 The biggest day of the NBA week is upon us once again and NBA Wednesday (Thursday AEST) has delivered with a monster 11 game slate. There is a massive amount of daily fantasy contests to choose from across each of the major platforms:
In case you are new to NBA DFS these articles break down the matchups and highlight the key plays to help you build winning lineups. For more insight into how to utilise our game breakdown data check out our NBA DFS Training Camp Series:

"Player Swap" is now LIVE on Draftstars. If you do not know what this means when you play on Draftstars, we suggest you read on how it works by clicking on the banner below

GAME BREAKDOWN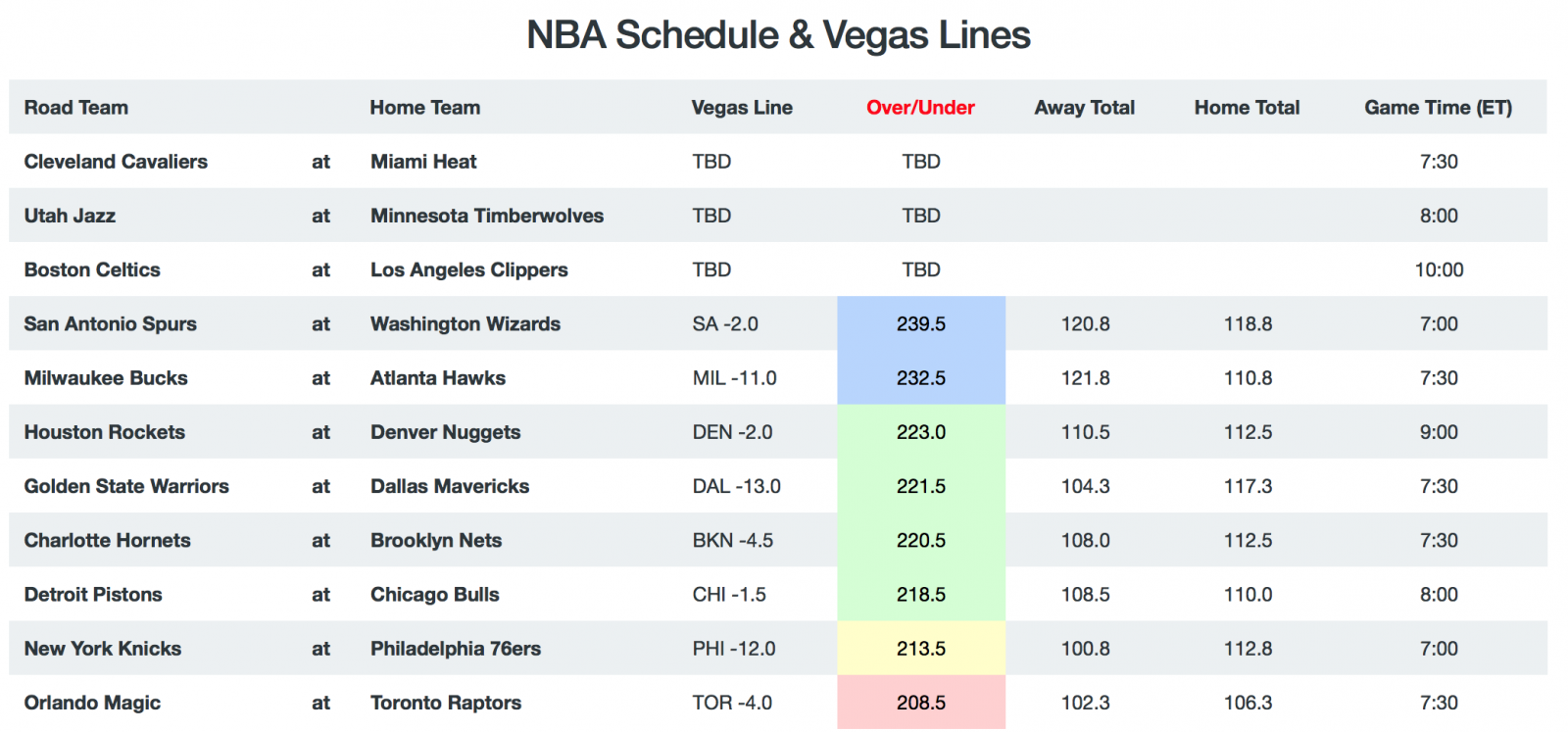 There are two games on the slate that stand out with game totals over 230 points. The top number is a massive 239.5 for the matchup between San Antonio and Washington. This matchup also has a 2 point line, which means that it is likely to stay close throughout the contest. Washington have been a team to target all season, playing at the 6th fastest pace and possessing the second worst defensive efficiency has resulted in them conceding the most fantasy points in the league. Surprisingly the Spurs have also been unusually poor defensively this year, currently ranked 27th in defensive efficiency, making this one of the top games to target on the slate.
Milwaulkee vs Atlanta is the other game over 230 with a game total of 232.5. Unfortunately there is some blowout risk in this matchup with the Bucks coming in as 11 point favourites despite playing on the road. Atlanta's pace is creeping up to a similar speed to last season ranking as the 3rd fastest team over the past 5 games. And they continue to have issues defensively, currently ranked at 23rd, which has led to them conceding the 4th most fantasy points this year. This should be an uptempo game with the Bucks playing at the fastest pace in the league.
Once again there are three games yet to have a line and total set as we await injury news, as usual I have broken down the impact of all possibly major lineup changes below.

This slate has the top 4 fastest teams in the league this season the slate, and 5 of the top 6. Washington and Milwaulkee were covered above, but in addition the Timberwolves face the Utah Jazz again on this slate. The Wolves have played at the second fastest pace in the league this year, however defensively they have been surprisingly around league average and their fantasy points conceded as reflected this. They were able to beat the Jazz last game and did not let anyone go off, so tread carefully here.
The Houston Rockets are the third fastest team in the league currently, however this pace appears to be slowing and amazingly their defense is on the sharp improve (ranked 4th in efficiency over the past 5 games). Their fantasy points allowed is reflecting this as they now sit around league average. This indicates that while early on they have been a team to target, Denver might not be in as big a smash spot as the general player expects.
Brooklyn are the final team to look at are currently fourth in the league in pace. They are matched up against Charlotte on this slate, and the total of 220.5 looks a little light to me. The Hornetts have played a slow pace this year, however their defensive efficiency is ranked 28th. They have conceded the 6th most fantasy points this year, just ahead of Brooklyn in 8th.
INJURY NEWS
Jabari Parker is questionable for the matchup against the Bucks. If Parker was to join the Hawks already long list of injuries, particularly to the bigs position it would likely open up opportunity for Bruno Fernando who currently subs for Parker. Fernando has averaged 10 fantasy points per game from 12 minutes of action this year and at the minimum if he was to get 25 minutes of playing time would likely return value. There might also be bumps in playing time for Alex Len and/or Damian Jones.
Kyrie Irving will not play against Charlotte. It is not a shock to anyone that Spencer Dinwiddie, a more than capable starting point guard in his own right, has had no issues moving into the starting role. In the two games Irving has missed so far this year Dinwiddie has played an additional 6 minutes of playing time, seen an increase in usage and scored +14.7 fantasy points on his season average.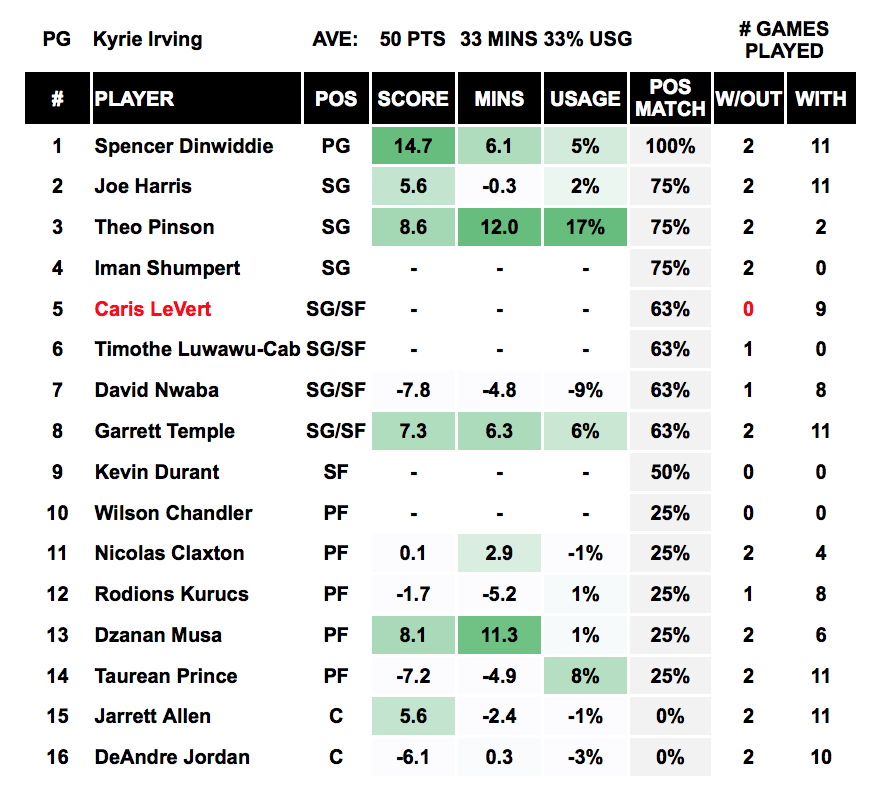 Kawhi Leonard is questionable for the game against Boston. Leonard has continued on with his trend from last season when it comes to managing his body. He has already missed 5 games in this short season so far. Bench studs Lou Williams and Montrezl Harrell have been the biggest beneficiaries when Leonard has been out this year seeing a 4% and 8% usage bump respectively.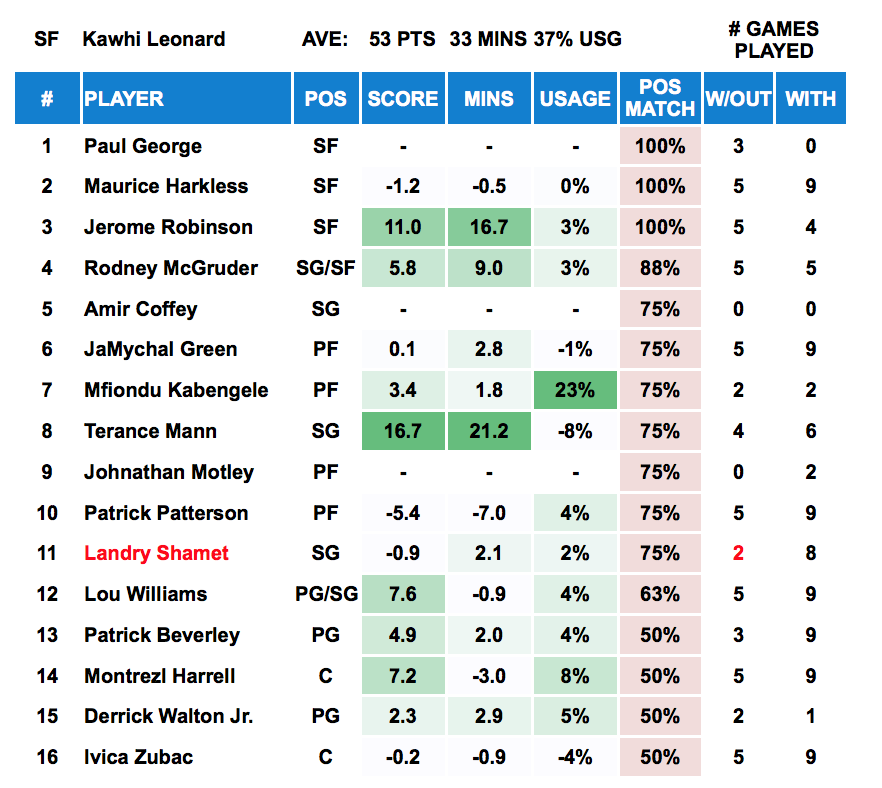 Andrew Wiggins is questionable for the game against Utah. In the 3 games Wiggins has missed so far this year Jeff Teague has seen the biggest boost with a 4% increase in usage contributing to +6 fantasy points per game.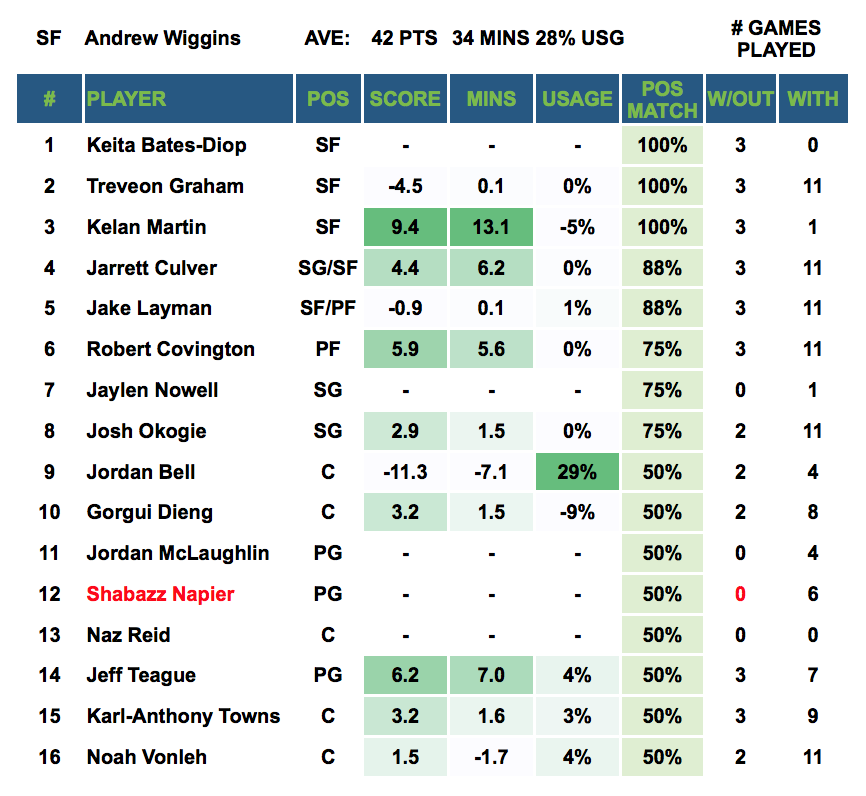 VALUE PLAYS
Derrick Rose (MB $4,600, DS $10,800, DK $5,400) is a great play at his price on Moneyball. Undervalued there compared to the other platforms Rose is essentially giving you a floor of 20 fantasy points this year and is averaging over 1 fantasy points per minute from 24 minutes of playing time. There is also the added narrative factor on this slate as the Pistons are playing his former team the Chicago Bulls in his hometown.
Donte DiVincenzo (MB $4,400, DS $7,140, DK $4,700) / George Hill (MB $4,300, DS $7,400, DK $4,200) are almost splitting hairs on a possible value play if nothing more obvious arises closer to the slate. Without Kris Middleton it has been DiVincenzo who has taken over the starting role and he has settled in nicely over the past two games averaging 29.25 fantasy points. If you are looking for the sneakier version of this play it is George Hill comes off the bench. Hill has been averaging 23 minutes per game this season for 20 fantasy points, but he can see upwards to just under 30 minutes depending on how the game is going.
On this slate they face the Atlanta Hawks who have been one of the worst teams at defending guards this season, conceding the most points in the league to shooting guards over the past 10 games.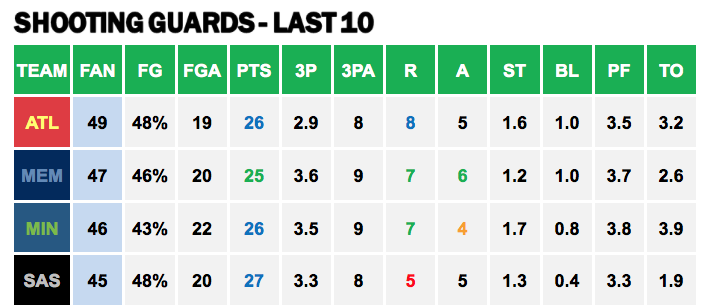 PJ Washington (MB $6,600, DS $9,360, DK $4,700) is underpriced at DraftKings. His price was up over $6K on that platform a few games ago (more comparable to the other sites). He has had just 2 games under 23 fantasy points this season, which included last game where he was in foul trouble and played just 17 minutes. His upside of 38 fantasy points is GPP winning value and on this slate he faces the Brooklyn Nets who have given up the most points in the league to power forwards over the past 10 games.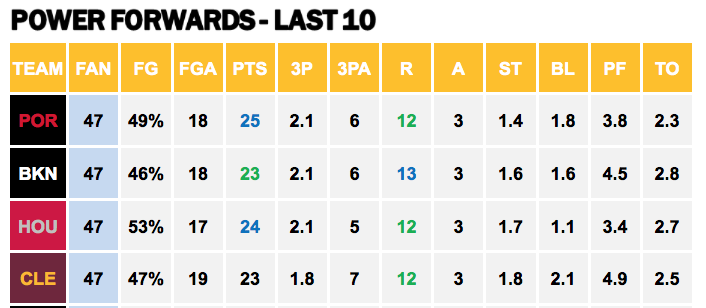 MID PRICE PLAYS
Spencer Dinwiddie (MB $6,100, DS $13,290, DK $7,200) as noted above will be starting in place of the injured Kyrie Irving on this slate. Dinwiddie could be the starting point guard on a number of NBA teams and he showed that last game where he played 33 minutes and returned 50 fantasy points. His best value is on Moneyball where he is close to a lock and load play. He has a positive matchup against Charlotte who have given up the 6th most fantasy points in the league.
Dejounte Murray (MB $7,000, DS $10,250, DK $5,200) played just under 25 minutes last game, which was on par with his highest of the season. He has averaged 1.26 fantasy points per minute this season and flashed 40+ upside on several occasions, including against his opponent on this slate the Wizards. Murray may see the biggest amount of playing time all year with Derrick White out and as noted in the game breakdown above, it is an elite matchup on this slate with Washington giving up the 4th most points to point guards this year.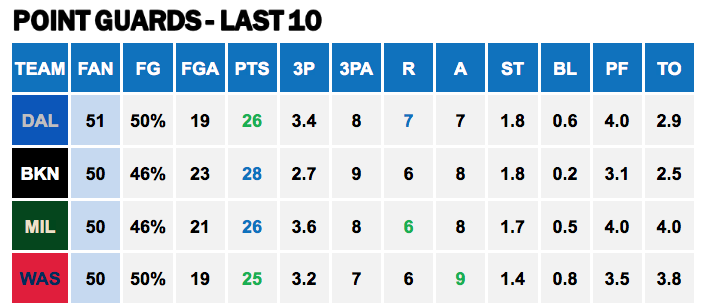 Lamarcus Aldridge (MB $8,300, DS $14,270, DK $7,700) is another avenue I like in getting exposure to attacking Washington on this slate. Despite starting at power forward, Aldridge still plays a portion of time at centre, and in addition to this being a pace up matchup against one of the worst defensive teams in the league, the Wizards also give up the most fantasy points in the NBA to centers this year.
Lauri Markkanen (MB $7,100, DS $12,360, DK $5,400) is quite simply too cheap on DraftKings, despite how terrible and out of sync he has looked this year. Two of his past three games have come against Milwaukee who are one of the top defensive teams in the league. In these matchups he still managed 20 fantasy points per game despite shooting just 4/21 from the field. On this slate things will be a lot easier against Detroit who are above average in fantasy point conceded to power forwards.
PREMIUM PLAYS
Giannis Antetokoumpo (MB $12,300, DS $24,610, DK $11,200) continues his back to back MVP campaign against the Atlanta Hawks on this slate. While it is hard to really pinpoint a position for Giannis as he is effectively the point power forward do everything for the Bucks, the Hawks have given up the most points in the league to small forwards over the past 10 games, as well as just under 1 point less than the high team for power forwards. He has no direct matchup in this game that could even dream of stopping him, especially if the matchup ends up being Jabari Parker (who is currently questionable.... I would be too Jabari).
Luka Doncic (MB $11,400, DS $23,840, DK $10,400) is coming after the GOAT fantasy status championship belt in just his second NBA season… incredible. Averaging 61.2 fantasy points he is a walking triple double and has the responsibility of every single action of the Mavericks when they are in possession of the ball. On this slate he draws the Golden State Warriors who have given up the second most fantasy points in the league this year, and offers the added bonus of being around $1K cheaper than the other premium stars on each platform.
Dragon's Suggested Moneyball Team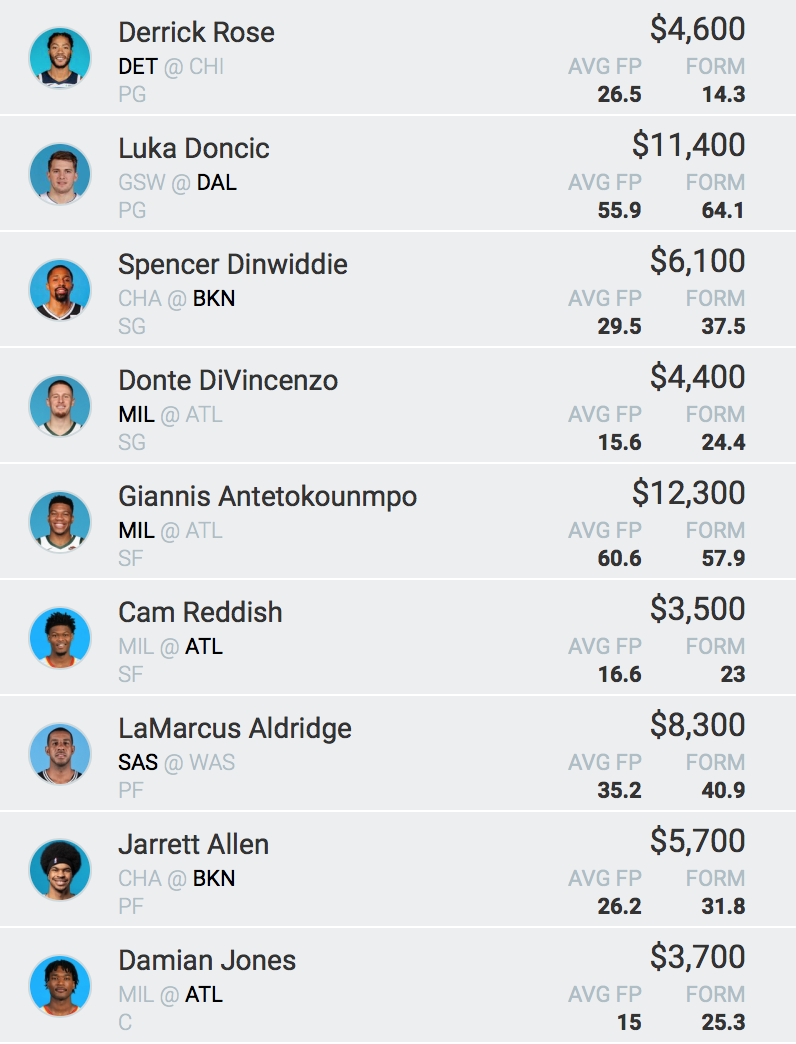 Always remember to gamble responsibly. When the fun stops, stop. If gambling is having a negative impact on your life, seek support at Gambling Help Online. 18+ only.