daily fantasy sports articles
NBA 2019-20 Daily Fantasy Preview Thursday 23rd January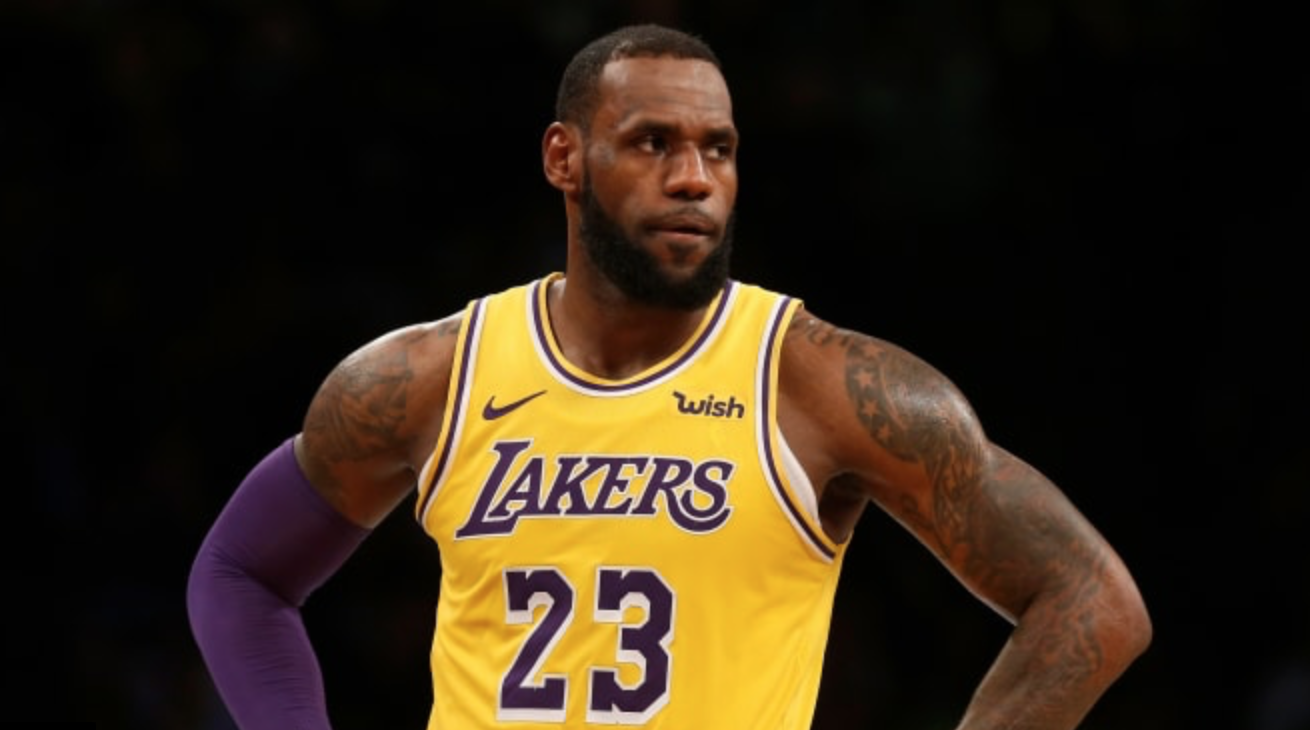 We are back again with another monster slate for this NBA Wednesday (Thursday AEST).! Following up MLK day is a 12 game slate, with all the games included in the main slate. As usual there are major daily fantasy contests on offer across all platforms:

GAME BREAKDOWN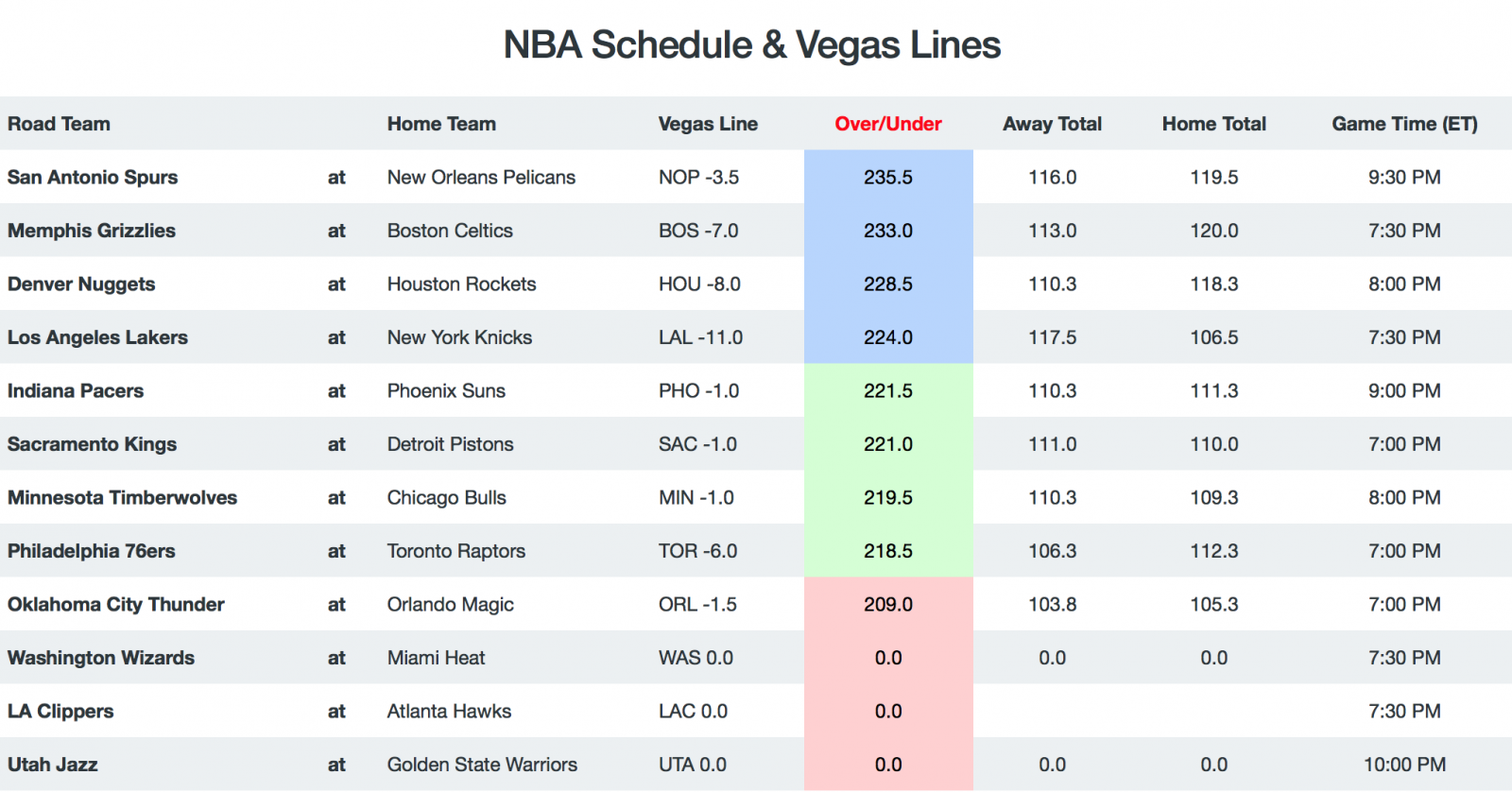 Amazingly we have just three games without a total set at this stage, which means there shouldn't be a significant amount of late injury news swinging the slate. That said, this is the NBA and anything can happen between now in tip off. As always I have broken down the injury news impacting the slate below.
The number one game total listed is San Antonio at New Orleans with a massive 235.5 points. Even better this game is expected to be close with a line of 3.5, which means we should see a full allotment of minutes. Both sides are in a pace up matchup with the Pelicans playing at the 5th fastest pace in the league and Spurs 13th. They have also been two of the worst defensive teams in the league, ranked in the bottom 7 for defensive efficiency. All this should result in a fantasy point shootout is my number one target for game stacking on the slate.
The next highest total is Memphis at Boston at 233 points. This game has the Cetlics favoured by 7 points and could have blowout risk, however the Grizzlies have been one of the top teams to target this season. They play at the 3rd fastest pace in the league, which puts Boston in a solid pace up matchup and they have given up the 6th most fantasy points this season. This has resulted in the Celtics having the highest differential between their season average and their implied points total at +7.7 points.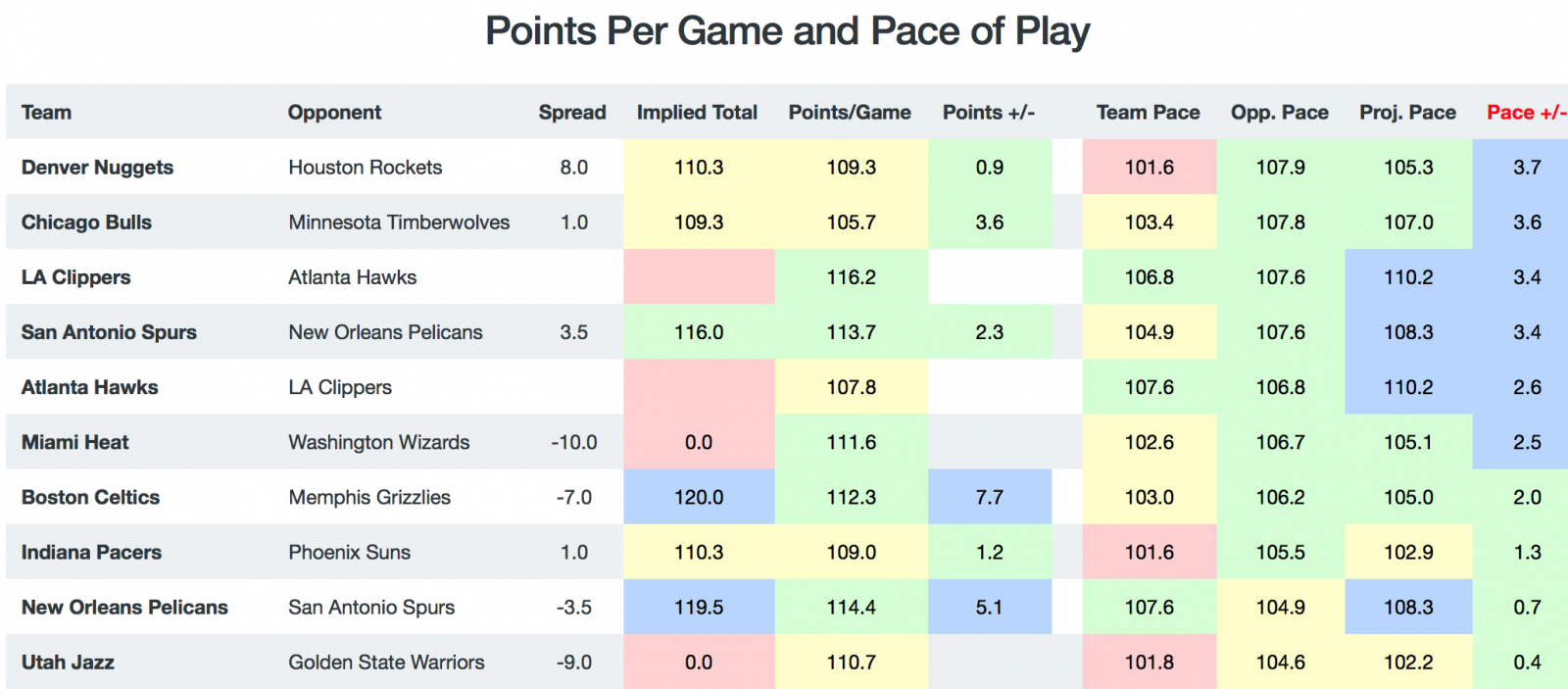 Denver have the biggest pace up matchup on the slate as they face the Houston Rockets who play at the second fastest pace in the league this season. The Rockets are 8 point favorites as the Nuggets continue to battle injury trouble, however Houston have not been playing well either. The game style the Rockets play has led to consceding the 5th most fantasy points in the league this year and I will certainly be looking to get exposure to the Nuggets in this matchup.
There are also elite matchups for teams in games without totals yet, including Miami who face Washington. This has consistently been one of the top matchups in the league this year with the Wizards giving up the 4th most fantasy points. Right behind them in points conceded is Golden State who face Utah on this slate. Blowout risk exists in both of these games, but the matchup is too good to pass up.
INJURY NEWS
Jaylen Brown is questionable for the game against the Grizzlies. Kemba Walker has been the biggest beneficiary when Brown has missed games this season receiving a 6% usage increase, which has led to +14.9 fantasy points. Gordon Hayward and Marcus Smart have also had significant increases in their fantasy output.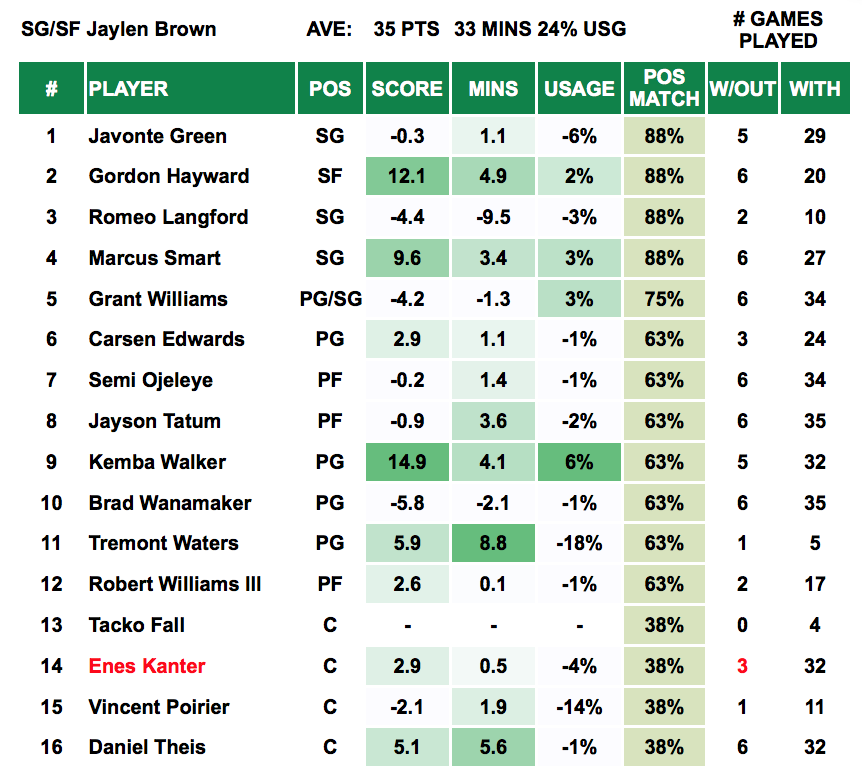 Paul Milsap, Mason Plumlee and Jamal Murray have all been ruled out for the game against Houston, while Gary Harris is doubtful. With both Milsap and Plumlee out the Nuggets will be quite short handed at power forward and will need to lean heavily on Jerami Grant and Michael Porter Jr. Porter Jr. is showing everyone the potential he had back in high school recently with three of his last four games topping 37 fantasy points.
Andre Drummond is questionable for the game against the Kings. Markieff Morris has been huge in games without Drummond this year, receiving a 3% usage increase and additional 8.5 minutes playing time, which has resulted in +12 fantasy points per game. Christian Wood will also be there to torment us, as while he is a fantasy point per minute monster you never can tell how quickly he will fall into Dwayne Casey's dog house.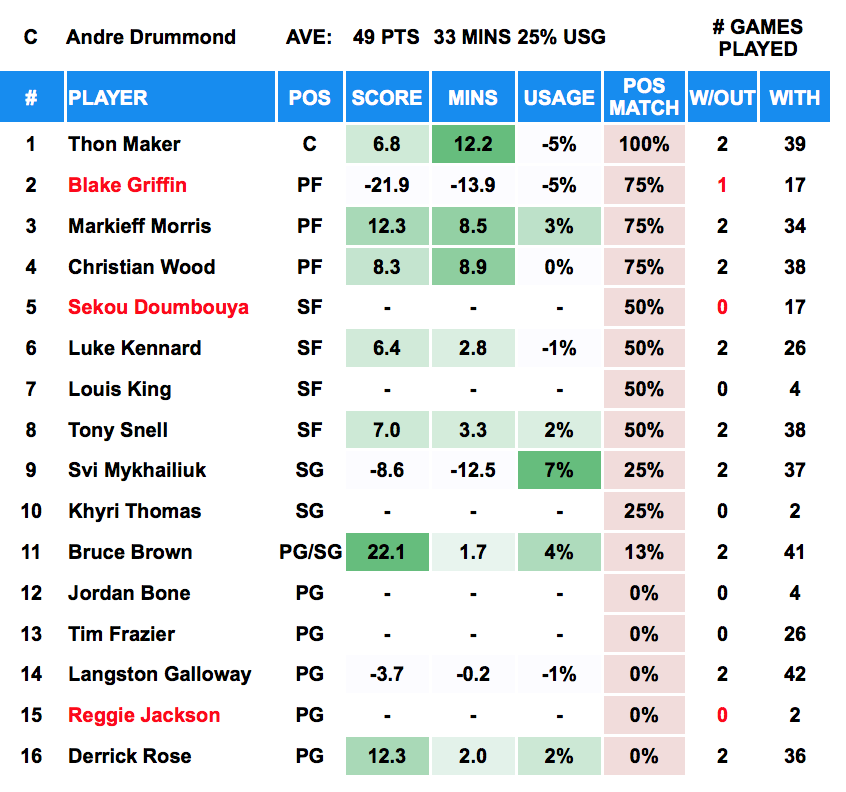 VALUE PLAYS
As always more value will likely open up as we get closer to the slate and further lineup news breaks. Also be studious in looking a pricing differences between the three platforms are some players are value on different sites just due price.
In addition to the possible value plays noted above (Markieff Morris, Christian Wood):
Marc Gasol (DS $8,980, DK $4,800, MB $5,300) appears to be played as required by the matchup for the Raptors and against the Sixers I expect he will be needed to matchup with Al Horford and will play closer to 30 minutes. Since his return he has continued on from where he left off averaging over 1 fantasy point per minute and makes for a safe value play if nothing more obvious opens up.
Landry Shamet (DS $6,970, DK $3,800, MB $4,100) is my super sneaky value play on this slate. Once again if we aren't staring at obvious plays come tip off I like his production recently where he has averaged over 30 minutes of playing time and over 22 fantasy points from his last 4 games. He is also in the dream matchup against the Hawks who have given up the most points to shooting guards over the past 10 games.

MID PRICED PLAYS
Will Barton (DS $12,980, DK $7,400, MB $6,900) I absolutely love on this slate. In the three games since the Nuggets were struck down by mass injuries he has provided a floor of 31 fantasy points with a ceiling of 50+. He draws one of the top matchups in the league against the Houston Rockets who play at the second fastest pace and have given up the equal third most fantasy points to small forwards over the past 10 games.
Gordan Hayward (DS $12,640, DK $5,800, MB $6,000) will be a total lock and load play for me on DraftKings where he is just far too cheap. He is averaging 32 fantasy points on the season and notched up 33 or higher in three of his last four games. On this slate he has one of the top matchups in the league against the Memphis Grizzlies who are playing at a blistering pace right now and have conceded the 6th most fantasy points in the league this season. If Jaylen Brown is out, Hayward will likely become a lock for me on all platforms.
PREMIUM PLAYS
Donovan Mitchell (DS $14,100, DK $7,800, MB $6,800) has been inconsistent lately, however he is still providing a floor of around 32 fantasy points, with a ceiling of over 60. On this slate he draws the Golden State Warriors who have conceded the third most fantasy points to shooting guards this season. I also like the rotations for Mitchell if this game becomes a blowout as he typically sees minutes to start the 4th quarter, which means he won't be limited as much as other starters who don't reenter the game until later.
Zach LaVine (DS $16,470, DK $9,000, MB $8,700) is my sneaky premium GPP play on Draftstars for this slate. He has been going absolutely berserk this season posting 50-60+ point games every other night as he catches fire from deep. On this slate he has a pace up matchup against the Timberwolves who have been playing at the 7th fastest pace in the league and there is also the added narrative benefit as he faces off against his old team.
Lebron James (DS $19,930, DK $10,800, MB $11,100) at MSG? Sign me up. There has been some scrutiny over James performance last game against the Celtics after he flew to see his son's basketball game early in the day. I think that combined with the fact that Lebron has a history of putting on a show at the Garden are good enough reasons to think he will have a big game in this matchup. Furthermore, the Knicks have given up the most fantasy points in the league this season to small forwards and the fifth most to point guards, depending on what position you consider Lebron to be playing.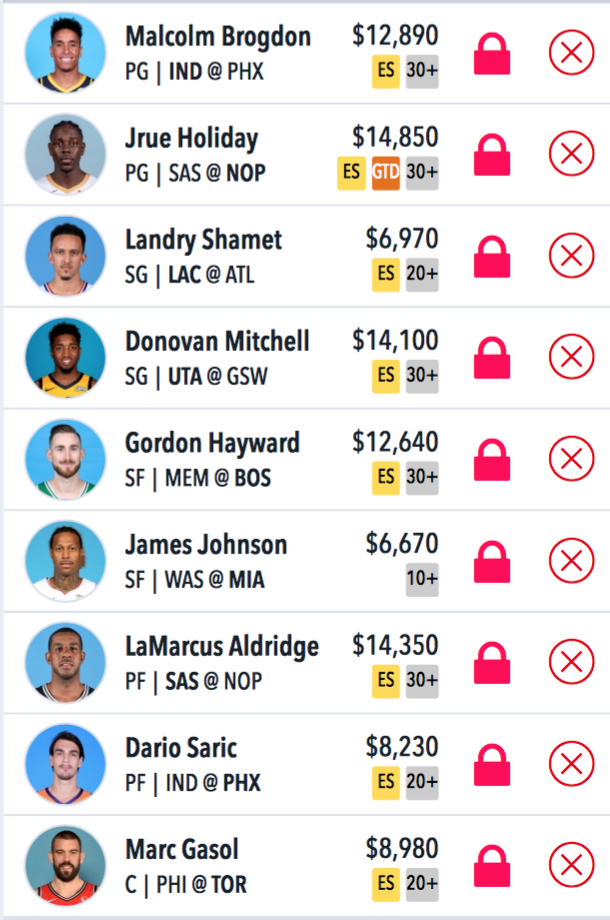 In case you are new to NBA DFS these articles break down the matchups and highlight the key plays to help you build winning lineups. For more insight into how to utilise our game breakdown data check out our NBA DFS Training Camp Series:
Always remember to gamble responsibly. When the fun stops, stop. If gambling is having a negative impact on your life, seek support at Gambling Help Online. 18+ only.