daily fantasy sports articles
NBA 2019-20 Daily Fantasy Preview Thursday 24th October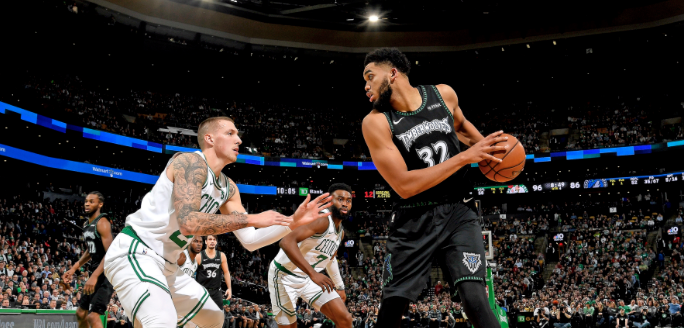 Opening night is in the books and now it is time to hit the real grind as the first major NBA Wednesday (Thursday AEST) slate of the 2019-20 season is upon us. It hasn't disappointed with a ridiculous 11 games on the card it figures to be an absolutely wild day.
There is a huge array of DFS tournaments to choose from:
For more details on contest types on offer check out our NBA primer article here.
In case you are new to NBA DFS these articles break down the matchups and highlight the key plays to help you build winning lineups. For more insight into how to utilise our game breakdown data check out our NBA DFS Training Camp Series:
Part 1 – Betting Lines and Totals
Part 2 – Matchup Analysis – Pace and Defense vs Position
Part 3 – Key Statistics in Daily Fantasy Basketball
Part 4 – Trade Analysis – Breaking Down the Jimmy Butler Trade
Part 5 – DraftKings Sharpshooter Winning Lineup Recap
Part 6 – Adjusting for Line-up News
GAME BREAKDOWN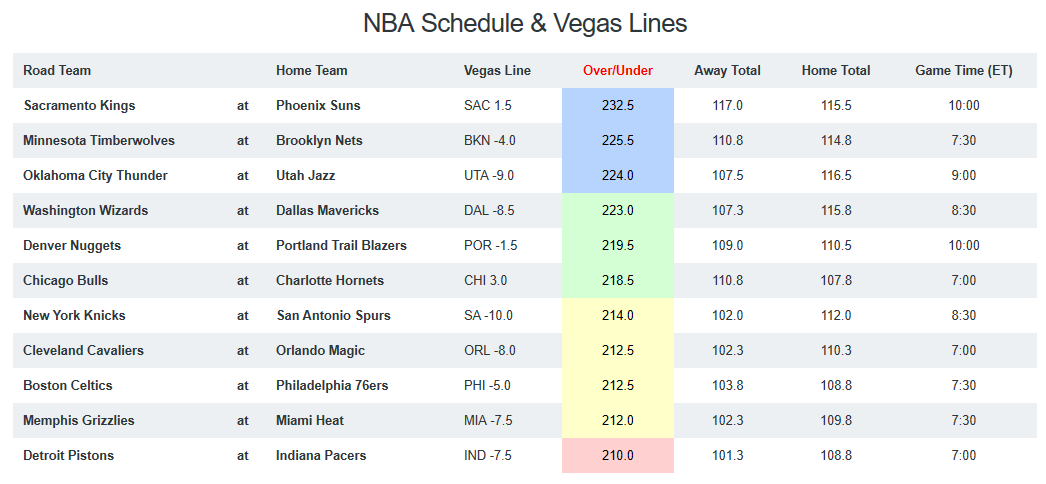 There are four games with totals going over the 220 points and another two at 218.5 or higher giving us plenty of options to target on this slate. The game that stands out is Sacramento at Phoenix as the only matchup with a total over 230 points. Last season Sacramento played at the 3rd fastest pace in the league, a trend expected to continue this year, and the Suns played at the 12th fastest. Both sides were bottom 10 in the league in defensive efficiency, providing plenty of opportunity for fantasy output.
The other game that peaks my interest is Minnesota at Brooklyn, which has the second highest game total at 225.5 points. Minnesota played at the fastest pace in the league during the preseason and all indications out of the training camp were that there was a new offensive scheme in place and the team was planning to play uptempo. It wouldn't surprise me if the Timberwolves lead the league in pace this year. That combined with the fact that the Timberwolves have been notoriously poor defensively (24th in defensive efficiency last year) make for a glorious daily fantasy matchup.
VALUE PLAYS
Plenty of value will become more obvious as we get closer to lineup lock so make sure you keep on top of the news. However, there are two locks on Moneyball pricing right off the bat in Robert Covington (MB $3,800) and Kelly Oubre Jr. (MB $4,400). Both are criminally under priced on that platform and will be the chalk from hell.
PJ Washington (MB $3,600, DS $5,610, DK $5,500) is one of the clear value chalk plays of the slate at Moneyball and Draftstars. He has been an instant success after being selected number 12 in the draft. Fitting in seamlessly at the power forward for the Charlotte Hornets he should get a significant allotment of minutes (averaged 25 in 5 preseason games) and opportunity for a team expected to be one of the worst in the league (averaged 12 points, 5 rebounds in the preseason).
Collin Sexton (MB $6,900, DS $7,780, DK $5,500) is clearly under priced on Draftstars in comparison to the other platforms. Sexton showed signs of promise during his rookie year and flashed 40+ point upside on a number of occasions. He should continue to see a lion's share of the offensive on the Cavaliers this year as they look to him as a critical cog to the teams future in the back court. During the preseason he averaged 14 real points per game from 10 shot attempts in 25 minutes of game time.
Marcus Morris (MB $6,800, DS $6,680, DK $5,100) is another player who stands out dramatically on Draftstars as being under priced. Now playing for the New York Knicks who already look to be a right mess, Morris should get enough opportunity to pay off that price tag on Draftstars (he is a straight fade on the other platforms). There is a glut of players at the forward position on the Knicks, however through the preseason Morris was still receiving plenty of action, averaging 26 minutes, 17 points, 7 rebounds and 12 field goal attempts.
On a slate this size and this early in the season there are numerous value options to consider, players that are likely to get enough playing time and usage to return GPP winning value include Dwayne Bacon (MB $5,200, DS $6,780, DK $5,300), Jae Crowder (MB $5,500, DS $7,490, DK $4,600), Cody Zeller (MB $5,900, DS $8,840, DK $4,700), Kevin Knox (MB $6,400, DS $5,000, DK $4,000), Gary Harris (MB $5,600, DS $8,390, DK $4,800).

MID PRICED PLAYS
Zach Lavine (MB $8,000, DS $13,170, DK $7,900) has received a huge amount of hype through the preseason and with good reason. He looks to be at peak health now after the ACL injury two years ago and poured in almost 1 point per minute during the preseason averaging 23.3 points in 24 minutes per game. He has never had a problem with usage since joining the Bulls with a rate of 30% and 29.5% over the past two seasons. It is likely that come December his price will be closer to the premium price bracket across the platforms, so jump on now while you can.
Jimmy Butler (MB $8,400, DS $13,100, DK $7,600) joined the Miami Heat this summer and will now resume alpha dog status this season. This means his price is currently too low, particularly on Draftstars and DraftKings. Last season he averaged 36 fantasy points per game despite having his lowest usage rate since 2014-15 at Philadelphia at 22%. With no other major offensive threats on this squad I would expect that to climb back to the 25+ range and his fantasy points to return to the 40+. UPDATE: Jimmy Butler is OUT due to personal reasons. Which probably make Zach Lavine a more popular play.
Bam Adebayo (MB $7,500, DS $11,810, DK $7,000) has always been a fantasy point per minute monster throughout his career. Last year he averaged 24.2 fantasy points from just 23.2 minutes of playing time. This season the shackles of Whiteside have been unleashed and Adebayo should make the centre position his own. During the preseason he averaged 11.2 points, 9.6 rebounds and 1.6 blocks in just 23.6 minutes of game time, this should edge closer to the 30 mark as the season begins.
Andrew Wiggins (MB $7,500, DS $10,250, DK $5,700) is my sneaky play on Dratstars and DraftKings for this slate. I would expect him to be near the minimum in ownership with a massive 12 games worth of options. It all centres around the pace that the Timberwolves are expected to play. As noted above they played the fastest pace in the league during the preseason, a style that should suit Wiggins. He averaged 31 fantasy points per game last season with the Timberwolves playing at a league average pace. We saw in the last two preseason games the level of usage you can expect him to have under this style, getting up an average 17 FGAs.
PREMIUM PLAYS
Karl Anthony-Towns (MB $10,800, DS $20,350, DK $10,100) is another of the Minnesota Timberwolves who should benefit from the increased pace of play. Furthermore they have implemented a new offense that figures to run directly through Towns. Towns already had a 29% usage rate and averaged 50.4 fantasy points last season, but I think we can expect this to top the 30% mark this year and with more possession due to pace his fantasy points should see a related bump. He also draws one of the top matchups in the league against the Brooklyn Nets who gave up one of the highest marks in the league to centres last season.
Dragon's Suggested Moneyball Team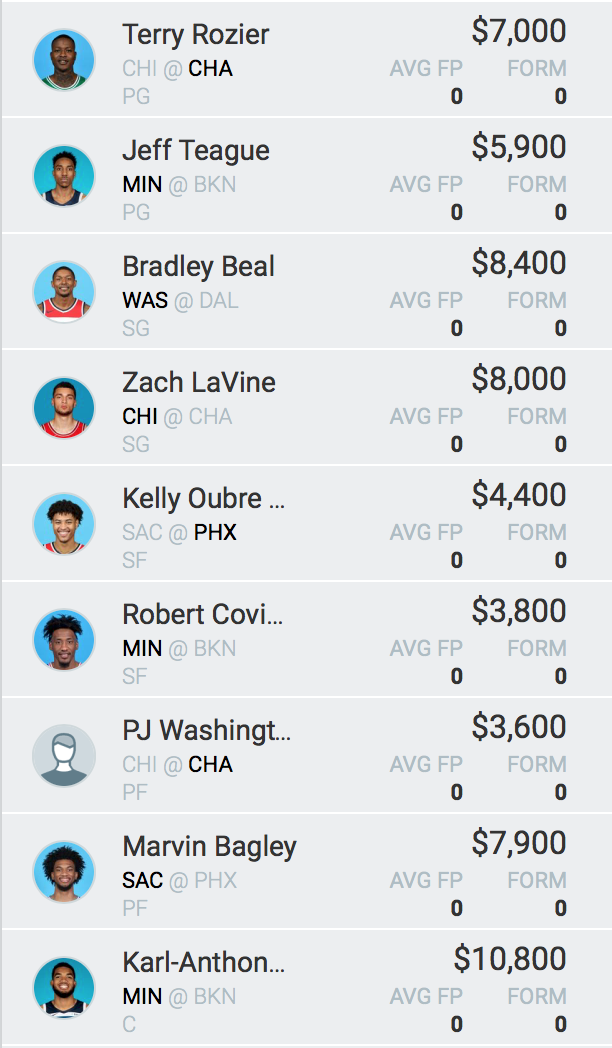 Always remember to gamble responsibly. When the fun stops, stop. If gambling is having a negative impact on your life, seek support at Gambling Help Online. 18+ only.