daily fantasy sports articles
NBA 2019-20 Daily Fantasy Preview Thursday 26th December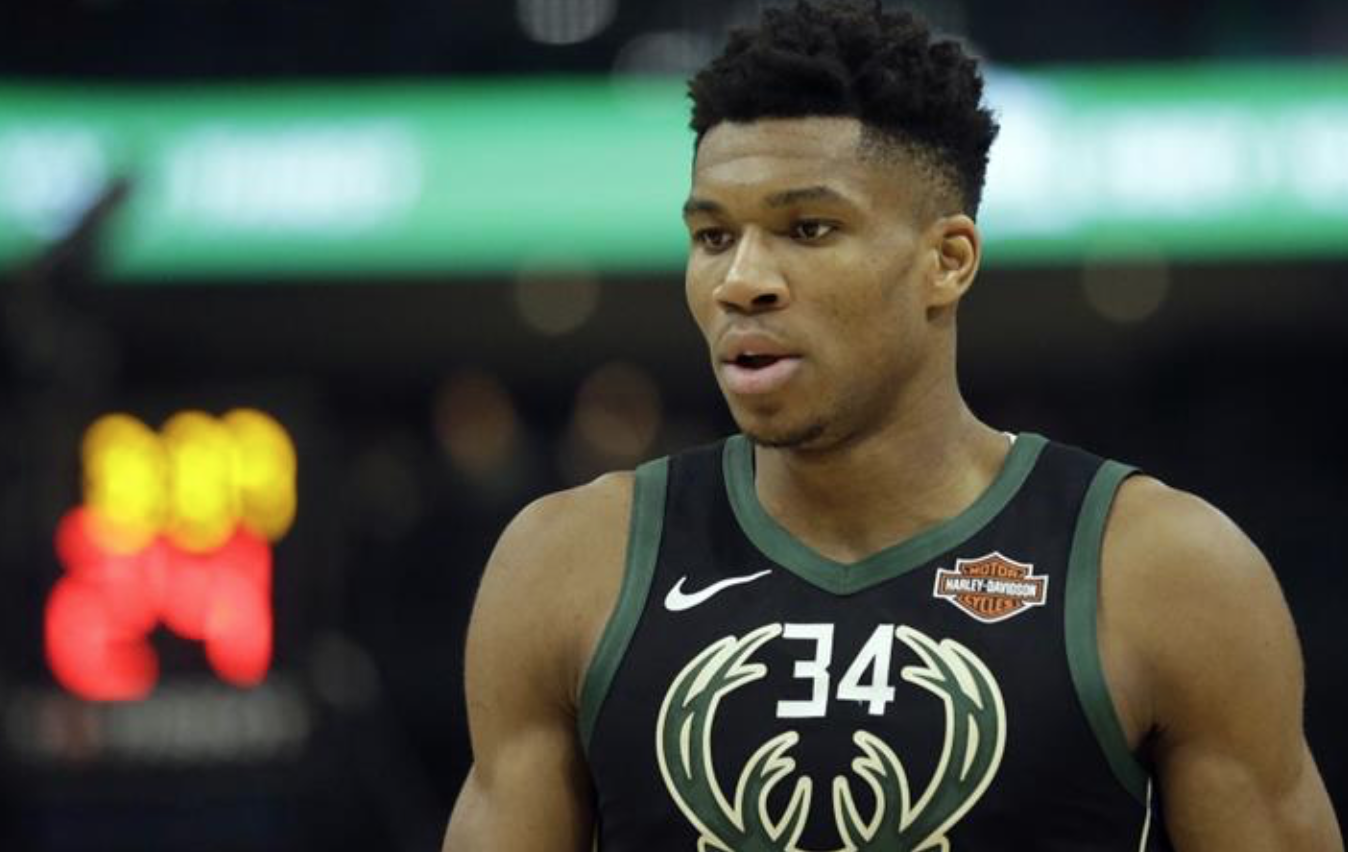 The biggest day of the regular season for NBA is here. With five massive Christmas Day (Boxing Day AEST) games all slated back to back to back, and several huge daily fantasy contests (kicking off at both 4am AEST for full day slates and throughout the day for smaller slates), including a millionaire maker at DraftKings.
Major contests include:
Have you seen the details of the NBA DraftKings Live Event in Melbourne? You can read about the details here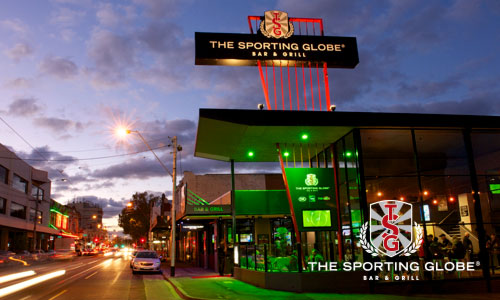 GAME BREAKDOWN
Given there are five huge games with plenty of single game contests and late contests also available we will change up the format for today's preview and go game by game.

The slate kicks off with Toronto hosting Boston. This is expected to be a slow game tempo with two great defensive teams and as such it has the lowest game total on the slate by almost 7 points. I will be looking to avoid this game for the most part, however Boston are 2.5 point favourites, which means we should expect a close contest and a full allotment of minutes.
Injury wise the Celtics are expecting to have Gordon Hayward return to the lineup, which will negatively impact Jason Tatum, Jaylen Brown and Kemba Walker's usage and fantasy scoring. On the Raptors side there is far more volatility to the norm with Pascal Siakam, Marc Gasol and Norman Powell all out indefinitely. In the two games they have missed it has been Serge Ibaka moving to the starting centre position and Patrick McCaw starting at forward. Fred VanVleet has seen the biggest usage increase at 8%, however this has yet to result in a positive fantasy point return, while Lowry has seen the biggest boost at +13.4 fantasy points per game.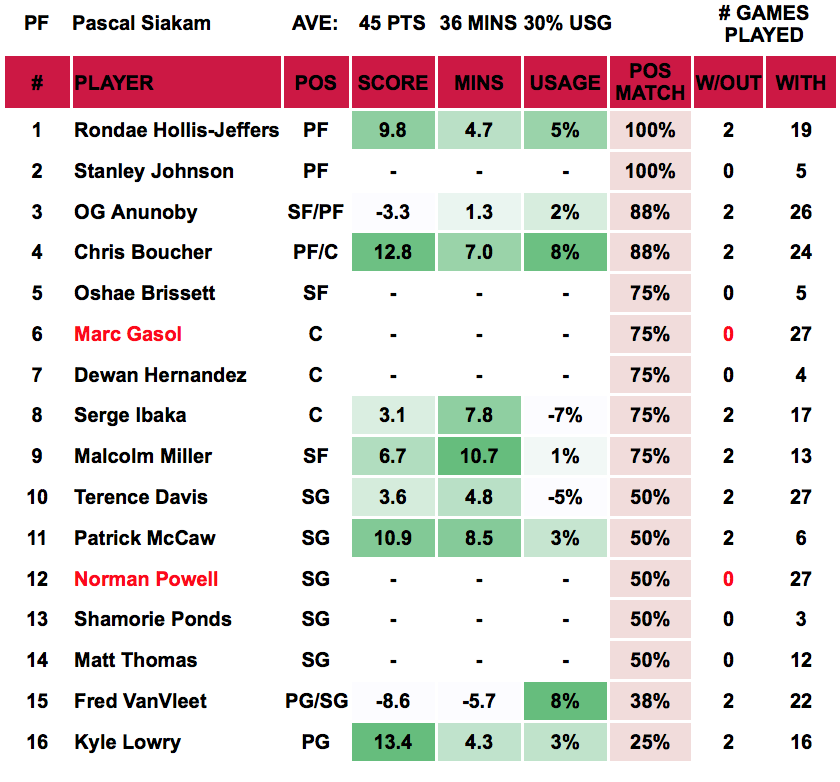 Value Play
Patrick McCaw (DS $5,000, DK $3,900, MB $4,300) will start at the wing position and appears to be a favourite of Nick Nurse's. Playing 26 minutes per game over the last 6 matches his spot in the rotation is secure even before the injuries struck. His only issue is production, averaging just 0.49 fantasy points per minute this season is slow going, however as we can see above his usage does increase with the three players being hurt. At essentially the minimum across the platforms he does not need to do much to pay off the salary, but an alternative with more risky minutes but higher upside is Terence Davis.
Mid Priced Play
Serge Ibaka (DS $12,150, DK $7,300, MB $7,900) has been an absolute tear the last four games posting an average over 35 fantasy points during that stretch. As the starting centre his rebounding and scoring production have increased as he plays 35-40 minutes. The matchup is suitable against the Celtics who are weak at the centre position playing a combination of Daniel Theis and Enes Kanter (historically poor defender). The Celitcs have given up the 8th most real points to the position this year.
Premium Play
Jason Tatum (DS $14,840, DK $7,800, MB $7,900) has been scorching recently averaging over 48 fantasy points from the past three games, including his best game of the season against Charlotte where he posted 39 points and 12 rebounds. Hayward returning will likely hurt Tatum's usage in this game, however if I was choosing to pay up in this contest I would want to ride his hot hand.

Game 2 is an eastern conference slobberknocker and along with the battle of LA, the most exciting contest of the day. The 221.5 point game total is the third highest on the slate and the 76ers will be playing in a pace up matchup against the Bucks who are the fastest team in the league this season. Both teams are tough defensively with the Bucks ranked 1st in defensive efficiency, while Philadelphia sit 7th. As a result there isn't really any obvious position that stands out to target against either side.
Both sides appear to have no major health issues to consider beyond Eric Bledsoe still being out for the Bucks. This has been the status for some time now, with Donte DiVencenzo taking the position in the starting lineup.
Value Play
George Hill (DS $8,900, DK $4,300, MB $4,700) is the obvious value play from this game with the opportunity for more minutes in a close game and with Bledsoe injured. He is having a career year shooting wise going at over 50% from the field and from deep. He has shown a very safe floor with consistent play over the past 6 games where he has averaged over 24 fantasy points.
Mid Priced Play
Kris Middleton (DS $11,640, DK $6,500, MB $6,400) is priced nicely in the mid range from this game for a player that sports 40+ point upside. Without Bledsoe he has yet to see a usage increase this season but I expect it to come, and as we saw two games ago against the Knicks he can put up points in a hurry with 43 fantasy points from just 23 minutes.
Premium Play
Giannis Antetokoumpo (DS $21,630, DK $11,300, MB $11,200) has just been an absolute beast this season averaging an insane 1.97 fantasy points per minute. To put this in perspective James Harden "only" averages 1.67 per minute. Essentially the only thing that has stopped the Greek Freak this year has been blowouts. The fact that this game has a line of 2.5 and is expected to stay close is almost all I need to make Giannis a lock, and while Philadelphia are not exactly a team I like to target Giannis has a history of bad blood against Ben Simmons and the team in recent years and has totally shown out against them averaging 43 points, 15 rebounds and 7.6 assists against them in 3 games last season (yes you read that right!).

Let's just all sit back and have a laugh at how we have ended up with two huge mis-matches on Christmas. Obviously the Warriors demise this season was not something many predicted to this level, but here we see the Rockets at 10 point favourites, and even that is probably unders. It does give us the biggest total on the slate at 228.5 points and the Warriors will be playing up in pace while the Rockets get to attack the 23rd worst defense in the league.
Value Play
Danuel House (DS $8,100, DK $3,600, MB $4,900) is hard to ignore as a value play in this matchup purely due to the security of minutes. Playing over 30 minutes per game in an elite matchup against one of the worst defenses in the league he will be gifted plenty of wide open shots off Harden and Westbrook drives. In addition, the Warriors have given up the third most points in the league to small forwards over the past 10 games. For a bit more expensive, I also love using PJ Tucker or Damion Lee on this slate.

Mid Priced Plays
Draymond Green (DS $11,910, DK $6,100, MB $7,000) is a bit of a flier on this slate and a pure GPP play as he has been totally up and down this season. But this is an elite spot for power forwards with the Rockets giving up the fourth most points to the position this year. Christmas day should provide some motivation for Green to rack up peripherals, however he is somewhat reliant on teammates hitting shots, which can be difficult on this team.
Premium Play
Russell Westbrook (DS $18,100, DK $8,900, MB $9,600)... look all things being equal James Harden is in a great spot in this matchup. However, we live in a salary cap world and I am a salary cap girl. I prefer spending up for Giannis on this slate if I am picking between the two big dogs, particularly with the blow out risk in this game. Moving down to Westbrook is another great option, however, with D'Angelo Russell having no chance at all in staying in front of him. You can always rely on Westbrook to bring extra effort chasing peripheral stats on a big game like this and he has been ridiculously consistent form lately with just one game under 47 fantasy points from his last 10 games.

This is the marquee game of the slate as the two now powerhouses battle for the city of LA. The first matchup was game one of the season and neither team had yet settled into their new surroundings, and Paul George wasn't even in the lineup yet. We are all looking to this game to size up what could be the Western Conference Finals. The game has a nice 223.5 point total and is expected to remain close with the Lakers slight favourites. Incredibly, everyone is expected to play in this matchup.
Value Play
Rajon Rondo (DS $8,850, DK $4,700, MB $4,900) I love this as a unique tournament play as we will get national television Rondo and he has actually been incredibly solid performer over his past 8 games where he has had just 2 games under 20 fantasy points. He is averaging around 24 minutes per game from his last 5 games and his minutes are relatively set in the rotation to the point where only a blow out would likely limit him. This season he is averaging 1.07 fantasy points per minute, which is solid production for his level of playing time and will draw the majority of his minutes against a bench unit that features backcourt defense of Lou Williams and Landry Shamet. Sign me up!
Mid Priced Play
Lou Williams (DS $11,640, DK $5,800, MB $5,400)... his minutes will be a concern with both Leonard and George in the lineup as we have seen them drop all the way back to low 20's in these situations at times. However, even in that time frame he has shown the ability to pay off this salary if he gets hot.
Premium Play
Anthony Davis (DS $20,740, DK $10,100, MB $10,600) is one of my favourite pay up options on this entire day. If you read the tea leaves of the best path for the Lakers to beating the Clippers it is through Davis. We all know the Clippers have arguably to two best wing defenders in the league in Kawhi and George to put on Lebron, but where they are vulnerable is in the big man positions. They have conceded the sixth most points to power forwards over the past 10 games the position Davis predominantly plays, and it is a similar story to centres. Davis lowest score in the last 7 games has been 49 fantasy points.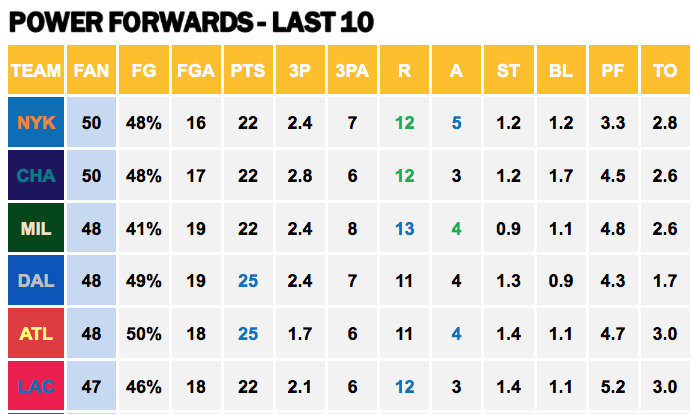 The second game where you ask yourself… how'd we end up here on Christmas. Unfortunately the league cannot predict injuries and therefore he have our second 10 point line of the day. It also gives us another elite team to attack for daily fantasy in the New Orleans Pelicans who play at the 7th fastest pace in the league, are 25th in defense and have given up the 4th most fantasy points. As always the blow out looms, but you will find it hard not to load up on the Nuggets on this slate.
Value Play
Jerami Grant (DS $6,770, DK $3,700, MB $4,200) I absolutely love rostering in pace up games especially on a slate that is going to be devoid of any real obvious value plays. Just looking at his recent positive games there is always one common thread for his high scores:
13/12 Portland 33 fantasy points
9/12 Brooklyn - 24 fantasy points
27/11 Washington - 29 fantasy points
18/11 Memphis - 26 fantasy points
15/11 Brooklyn - 24 fantasy points
They all come against high pace teams. As noted in the breakdown the Pelicans are the second fastest paced team in the league this year. Milsap has also been under an injury cloud which means if Grant is running well he could see increased playing time. In addition, the prospect of a blowout also opens up more potential minutes for Grant (and other reserves such as Plumblee who is a nice GPP option).
Mid Priced Play
Derrick Favors (DS $9,090, DK $5,700, MB $5,800) I just absolutely love at this price when he is getting a solid allotment of minutes. He appears to be solidified into the rotation against after injury troubles, playing 27 and 30 minutes in each of his last two games. He has averaged 1.15 fantasy points per minute this season, which I love if he is playing 30 minutes of game time. Despite this being a pace down matchup for the Pelicans I am happy to target Jokic who has struggled at times this season and the Nuggets have given up the second most real points to centres this year.
Premium Play
Nikola Jokic (DS $19,370, DK $9,400, MB $9,500)... it is hard to look elsewhere for a price up option in this game with Jokic now looking to be back into regular season form after starting the year somewhat… sloppy. He has averaged 54.5 fantasy points in his last 5 games and the game before that he had a 70 point ceiling game. This is a pace up game against a team that struggles defensively. Another play I love on the Nuggets side if you are not willing to spend up to Jokic is Will Barton.
Dragon's Suggested Draftstars Team
In case you are new to NBA DFS these articles break down the matchups and highlight the key plays to help you build winning lineups. For more insight into how to utilise our game breakdown data check out our NBA DFS Training Camp Series:
Always remember to gamble responsibly. When the fun stops, stop. If gambling is having a negative impact on your life, seek support at Gambling Help Online. 18+ only.