daily fantasy sports articles
NBA 2019-20 Daily Fantasy Preview Thursday 27th February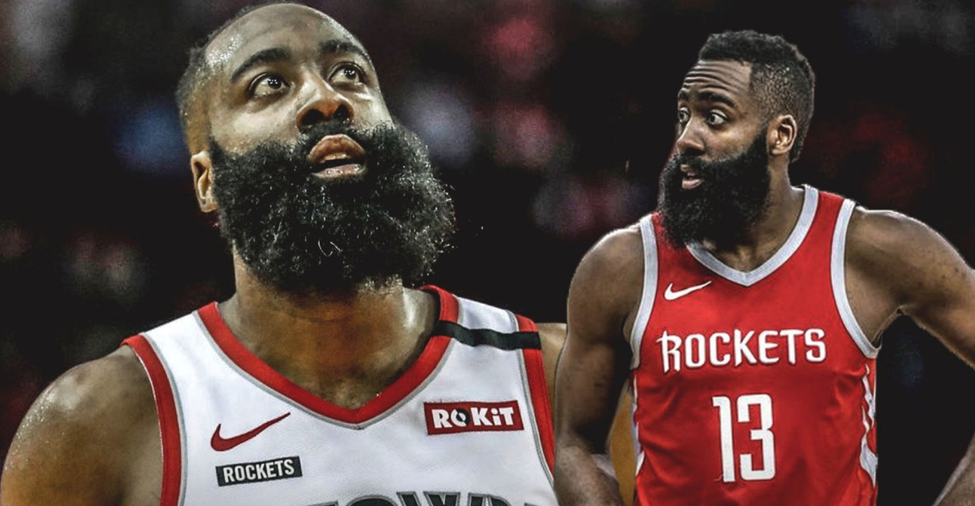 Here we are for another big day of NBA daily fantasy. NBA Wednesday (Thursday AEST) is the biggest day of the week on the NBA calendar and it doesn't disappoint with a solid 9 games of action. The usual major daily fantasy tournaments on offer across the platforms:
GAME BREAKDOWN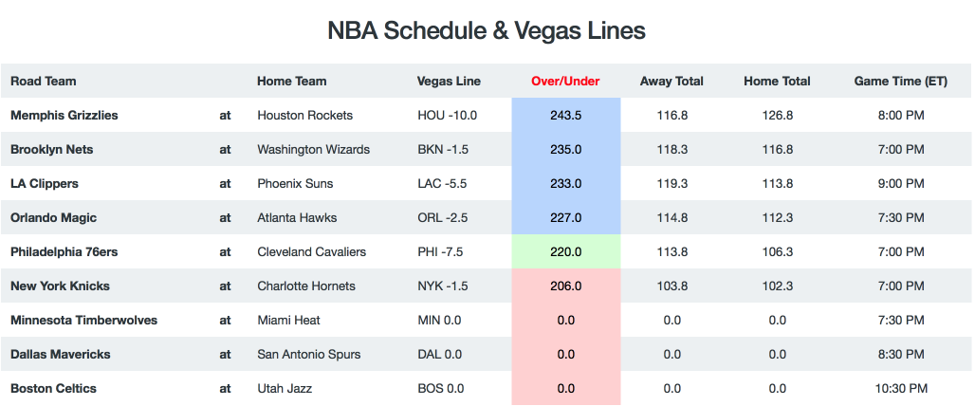 Hello, just 3 games without totals set at this stage, which means this slate should be a piece of cake! As always, I break down the impact of all injury news from a daily fantasy perspective below.
This slate jumps off the screen right away with huge totals. There are three games set at 233 or higher and therefore we should expect some shootouts and a lot of fantasy goodness. The top game on the slate is a monster 243.5 points between Memphis and Houston. This game will be at warp speed with both sides playing at a top 6 pace in the league this season. As a result, both sides leak fantasy points, with Houston giving up the 6th most in the league and the Grizzlies following right behind, conceding the 7th most. If this game can stay close (currently a 10-point line), it will be a dreamer's game stack.
An even better game to target in my opinion is the second highest total of 235 points between Brooklyn and Washington. If you have been following all season you should know the rap on the Wizards this year by now, 4th fastest pace, dead last in defensive efficiency and given up the 2nd most fantasy points. The only question is how many Brooklyn Nets are too many, in this match-up. But we can also return with Wizards as well given the Nets playing at the 10th fastest pace and attackable at certain positions. This match-up is made all the better by the fact the line is set at 1.5 points, which means we can expect a full allotment of minutes.

There are plenty of other avenues to go on this slate as well, which we can see in the breakdown of pace above. Miami has the biggest jump in pace of any team on this slate as they face the Minnesota Timberwolves who have played at the 5th fastest pace in the league this season. Not only that but over the past 7 games the Timberwolves have given up the 3rd most fantasy points and have just been an abomination of the defensive end. Exposure to Miami players will be a must for me!
Then we have Orlando who arguably has the best daily fantasy match-up in the league. Playing a significant pace up match-up against the Atlanta Hawks who are the 7th fastest team, 28th ranked defense and give up the most fantasy points, it is possible to pass up. Even better this game also has a 2.5-point line, which means we can expect a close game and lots of minutes!
INJURY NEWS
Brandon Clarke and Jaren Jackson Jr will both be out for the game against Houston. In the last game Clarke went down 4 minutes in and it was Gorgui Dieng who saw the boost in playing time, logging 28 minutes and returning 38 fantasy points. Josh Jackson has also been seeing increased playing time posting 24+ fantasy points in each of his last 3 games and logging 23 and 26 minutes in the last two games.
Jimmy Butler is questionable for the game against Minnesota. In the games without Butler this season it has been the guards that have seen the biggest increase in production with Kendrick Nunn posting +6.7 fantasy points and Goran Dragic +7.2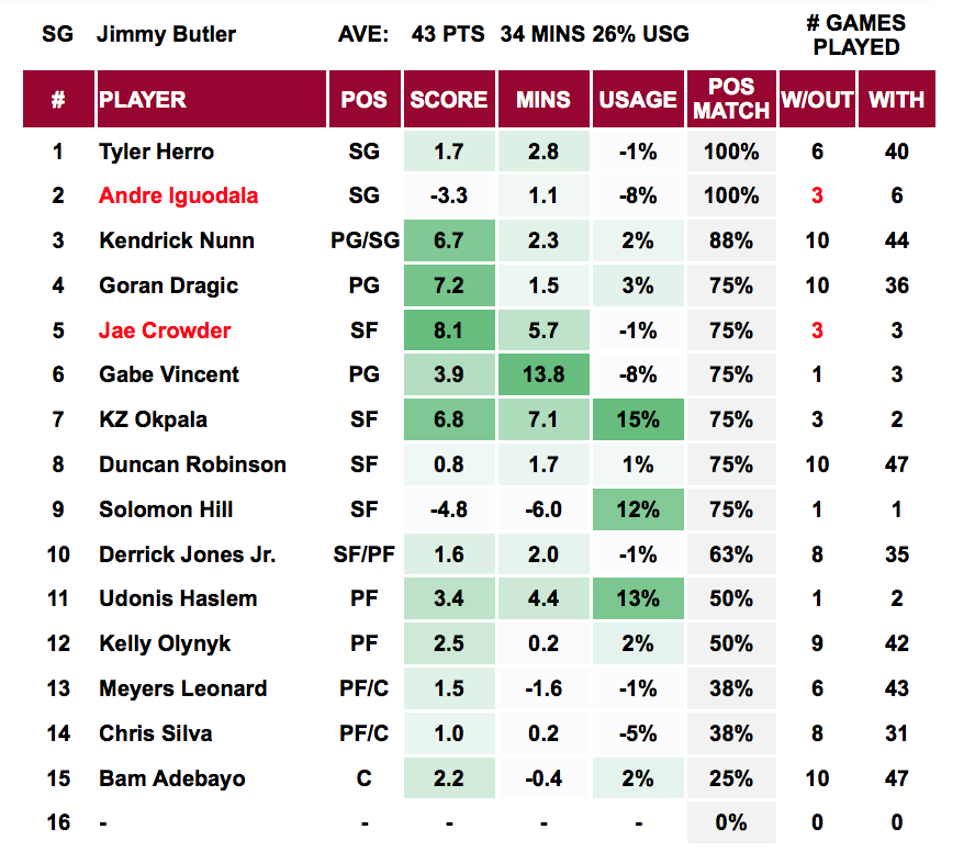 Ben Simmons is out indefinitely. Joel Embiid is now coming to the forefront of this team without Simmons in the lineup. Through four games this year that Simmons has missed, Embiid is receiving a 4% increase in usage and posting a massive +10 fantasy points per game. WE saw what he is capable of in the last game where he posted a career high 49 real points en route to 79 fantasy points. Keep an eye on the starting lineup as usual, but it looks like Shake Milton will be getting plenty of opportunity in the rotation going for over 20 fantasy points in each of the last two games.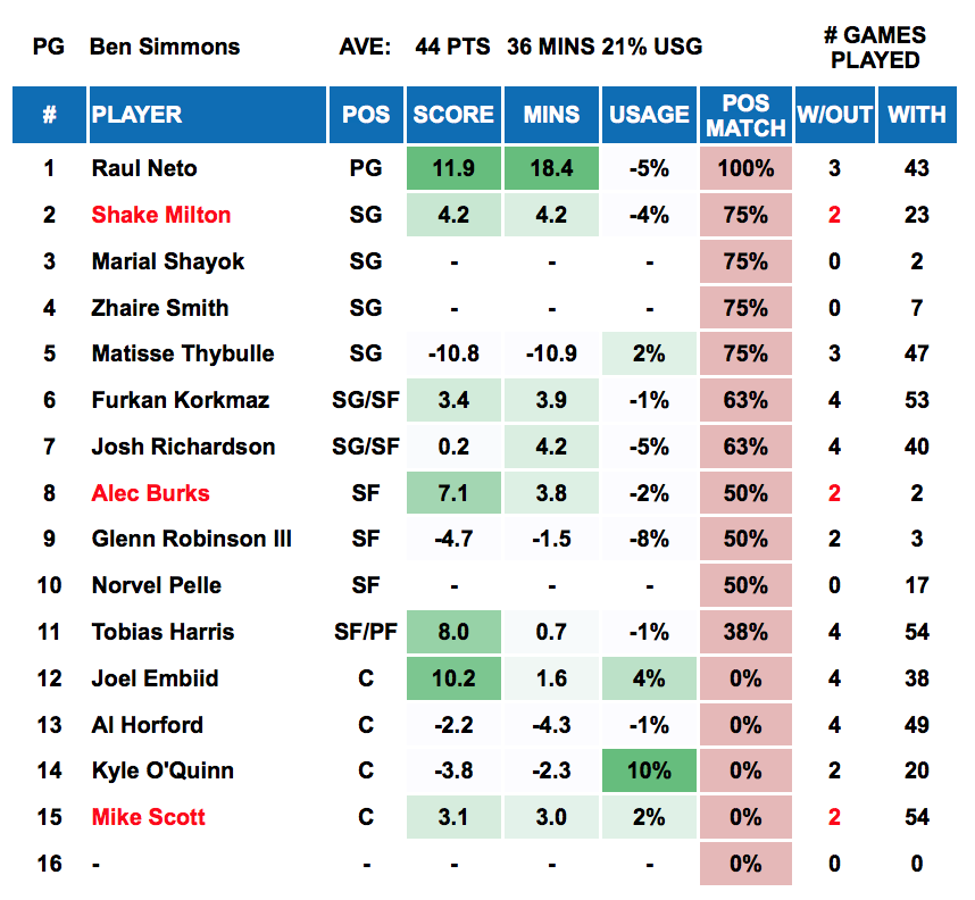 Kelly Oubre Jr will miss the game against the Clippers. The other starters have all received usage bumps in the 2 games Oubre has missed this season, which means they all should be considered in some manner. The player that looks to get the biggest boost, however, is Mikal Bridges, who has played +12 minutes per game without Oubre in the lineup this year resulting in +10 fantasy points.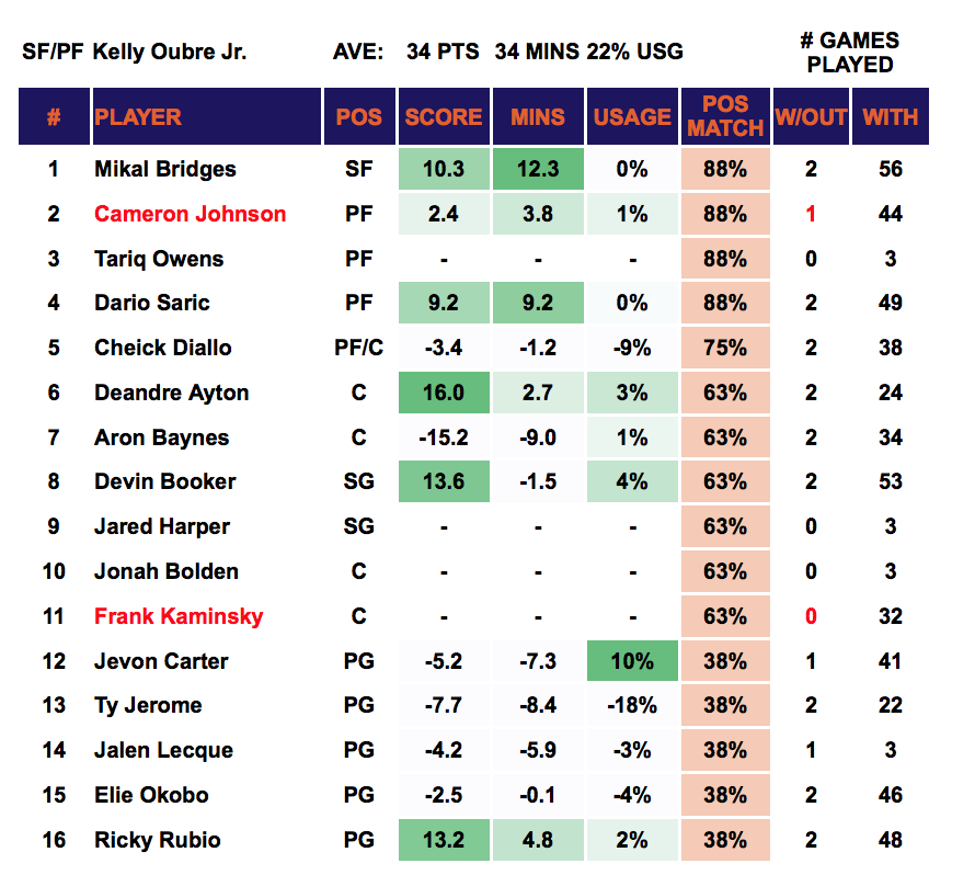 LaMarcus Aldridge is out for the game against Dallas. That means Jakob Poeltl day. If he starts at center for Aldridge, he will be one of the chalk plays on this slate. In four games without Aldridge this season Poeltl has played an additional 14 minutes per game leading to +15 fantasy points. Take it as a free square and move on.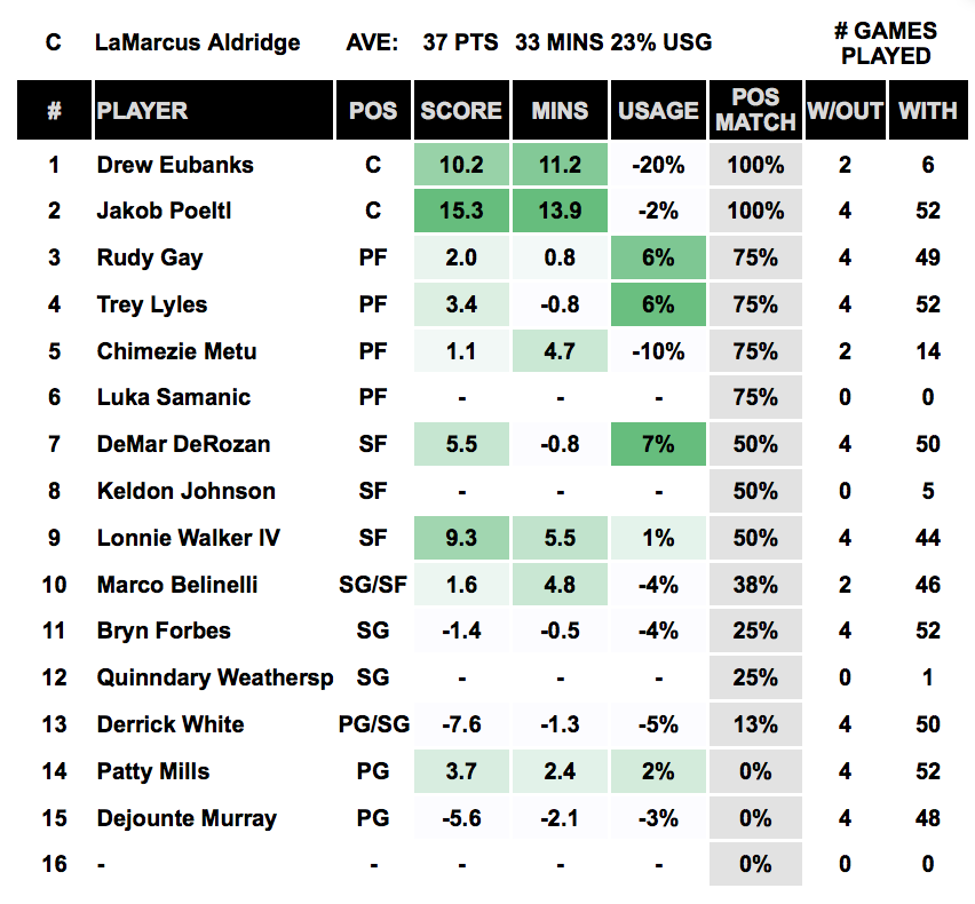 VALUE PLAYS
As always, more value will likely open up as we get closer to the slate and further lineup news breaks. Also be studious in looking at pricing differences between the three platforms as some players are value on different sites just due price.
In addition to the possible value plays noted above (Shake Milton, Jacob Poeltl, Josh Jackson, Mikal Bridges):
Kelly Olynyk (DS $7,690, DK $4,900, MB $4,200) / Derrick Jones Jr (DS $6,840, DK $4,500, MB $4,500) are both starting for the shorthanded Miami Heat currently. They both bring huge upside for their price points and have an elite match-up against the Timberwolves on this slate as noted in the game breakdowns above.
MID PRICED PLAYS
Caris LeVert (DS $13,740, DK $7,500, MB $6,800) has been absolutely tearing it up during this recent run, with just one game below 37 fantasy points from his last 9 outings. I want serious exposure to this match-up and LeVert is best priced to take advantage of that. The Wizards have given up the most points in the league to shooting guards this season.
Markelle Fultz (DS $10,980, DK $5,900, MB $6,000) yes.. Right back to the well here in GPPs. Sure, he didn't hit the last game but that just means let's get less ownership for when it pays off. As I mentioned last slate Fultz has GPP winning upside now and looks to be locked into 30+ minutes even with DJ Augustine back in the lineup. On this slate he draws arguably the best match-up in the league against Trae Young who sits close to dead last in defensive RPM this season.
Ja Morant (DS $12,580, DK $7,100, MB $6,500) is another buy low GPP play that I love on this slate. He looks to have crashed right into the rookie wall recently with three straight games in the 16-20 fantasy point range. He will certainly bounce back at some stage, however, and he has shown 60-point upside just 5 games ago. On this slate he is in the highest game total of the day, and a significant pace up match-up against Houston that should suit his game style.
PREMIUM PLAYS
Bam Adebayo (DS $16,770, DK $9,000, MB $8,900) has been one of the biggest revelations in the league this season. He is posting over 41 fantasy points per game and recently has been on an absolute tear with two 60+ point games in his last three. As I mentioned in the game breakdown above the Timberwolves are one of the best teams to attack since the trade deadline and in particular at center where they have given up the second most fantasy points in the league over the last 7 games.
James Harden (DS $21,760, DK $11,300, MB $11,500) against Memphis is almost a lock on every occasion. In the last 6 times he has faced the Grizzlies, Harden has gone for 50+ real points 2x and 40+ real points 3 times. In the single occasion he has gone for at least 40+ he dropped in a 30+ point triple double. To say he owns the Grizzlies is one of the bigger understatements you will see. All this in addition to the fact that it is the highest game total on the slate and give up the 7th most fantasy points in the league, Harden is a pay up play for me.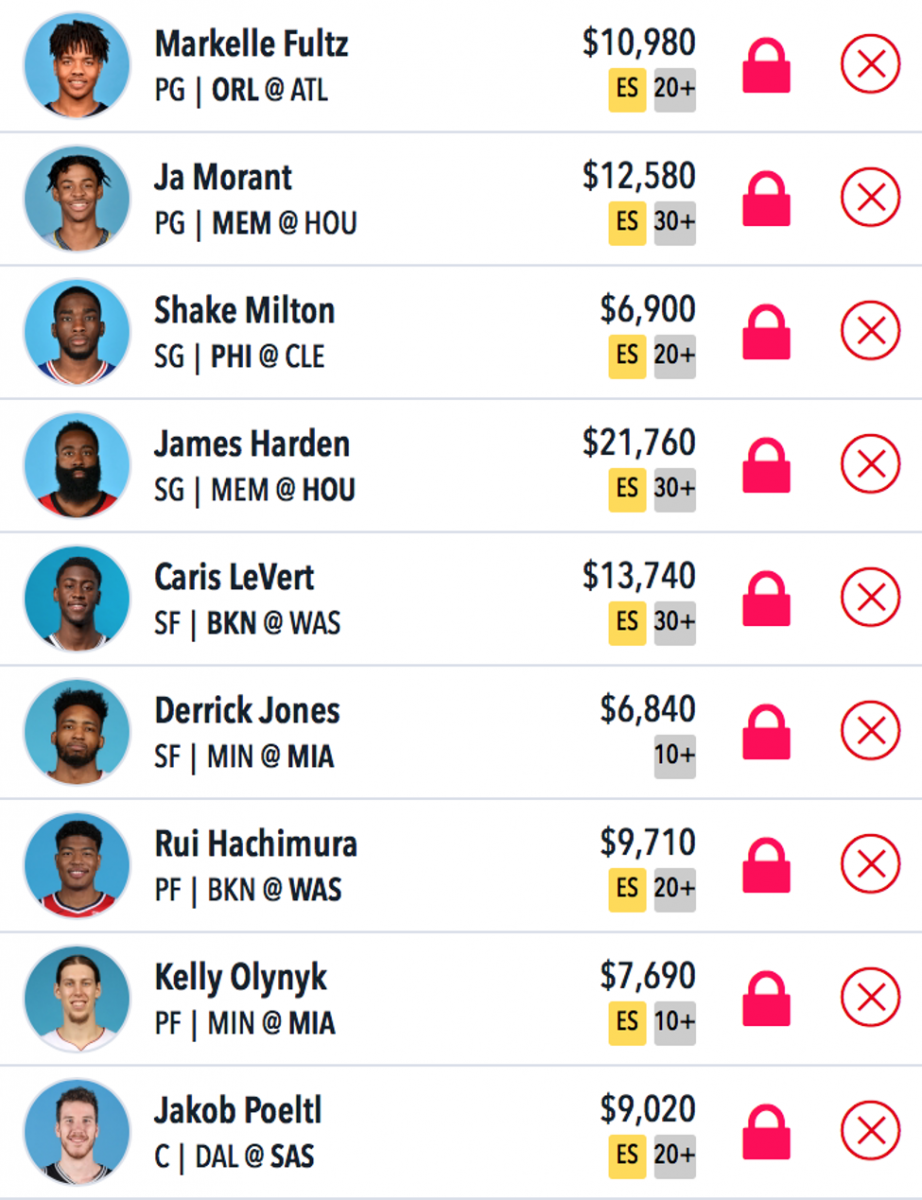 In case you are new to NBA DFS these articles break down the matchups and highlight the key plays to help you build winning lineups. For more insight into how to utilise our game breakdown data check out our NBA DFS Training Camp Series:
Always remember to gamble responsibly. When the fun stops, stop. If gambling is having a negative impact on your life, seek support at Gambling Help Online. 18+ only.