daily fantasy sports articles
NBA 2019-20 Daily Fantasy Preview Thursday 30th November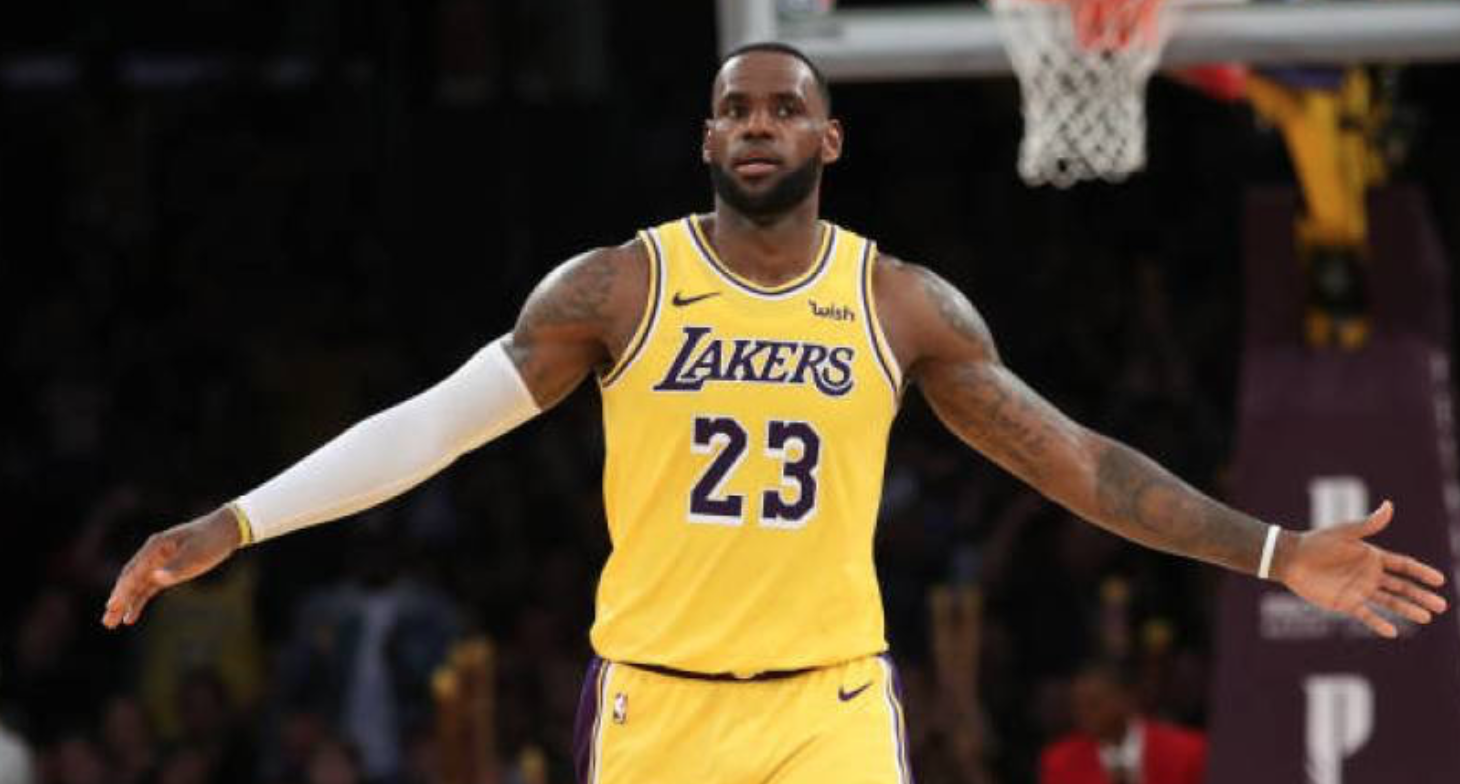 After a rare day off for Thanksgiving we have been able to rejuvenate and now set to attack another massive day of NBA. NBA Friday (Saturday AEST) features a fully loaded 13 game slate and there are the usual array of massive DFS games across all platforms:
In case you are new to NBA DFS these articles break down the matchups and highlight the key plays to help you build winning lineups. For more insight into how to utilise our game breakdown data check out our NBA DFS Training Camp Series:

GAME BREAKDOWN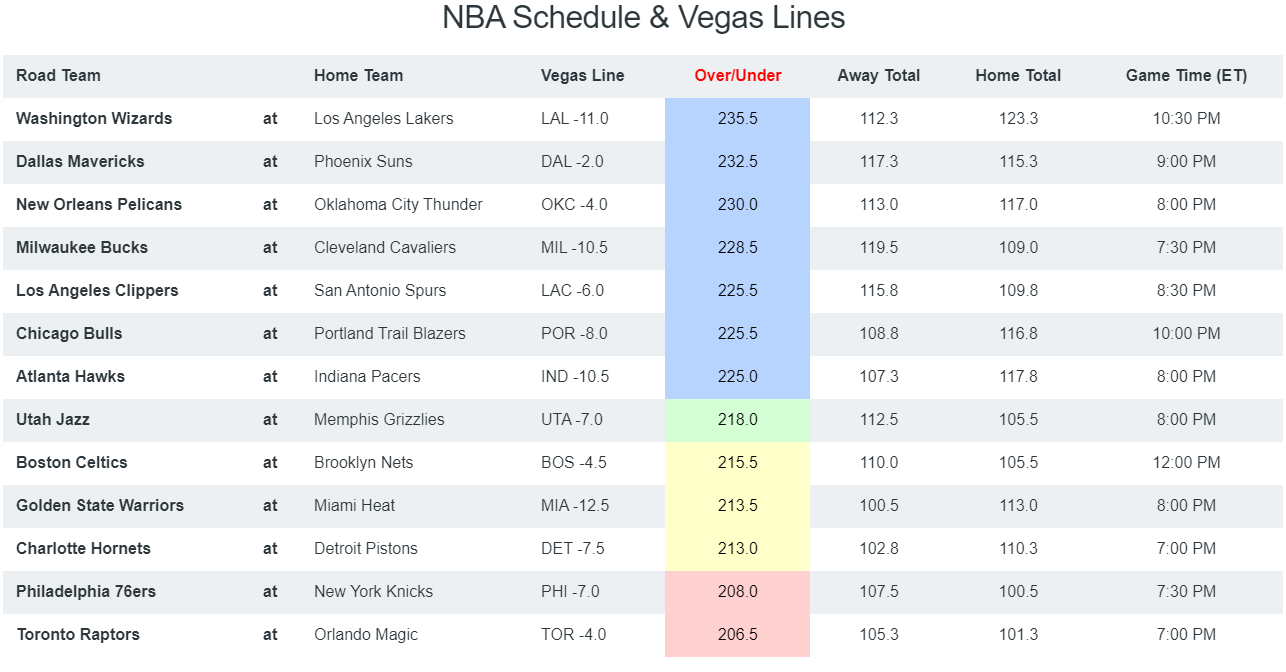 This slate is absolutely loaded with high scoring games to target for daily fantasy. With a ridiculous 7 games featuring totals of 225.0 or higher it is really going to be a case of pick your poison. On a slate this size you really need to narrow down your player pool and make decisions. An easy start would be to right off Toronto at Orlando as the game features a dismal 206.5 total.
When it comes to targets expect the Lakers to be popular on this slate as they face off against the Washington Wizards. The game total is the highest on the slate at 235.5 points and it is a pace up matchup for the Lakers as the Wizards have been playing at the 4th fastest pace in the league this year. Furthermore, they are now the league's worst ranked defense at 30th in defensive efficiency and have given up the most fantasy points. It is a total smash spot for the Lakers.
An undercover target on the slate in my opinion is Chicago at Portland. The game has a 225.5 point game total, which is the 7th highest on this slate but still solid. Both sides are top 10 in pace this year with Portland also being bottom 10 in defense. As a result both sides are top 10 for fantasy points given up in 2019 and two of the worst rebounding teams in the league. With all the options on this slate the matchup will almost certainly go overlooked and you can expect to get low ownership on most options.
There are two games that are yet to have a total set as we await lineup and injury news. As usual I have broken down the impact of all possibly major lineup changes below.

Cleveland has the biggest pace up matchup on this slate against the fastest paced team in the league, the Milwaukee Bucks. I am typically hesitant to target players against the Milwaukee Bucks as they are 3rd in defensive efficiency rating and finding a matchup that is positive seems hard. The line is also set at 10.5 points, which means there is a strong chance of a blowout.
The Oklahoma City Thunder have the second highest pace up matchup against the New Orleans Pelicans. The Pelicans have at the 5th fastest pace this season and are ranked 27th in the league in defensive efficiency. They have given up the 5th most fantasy points in the league an you should be able to get the majority of Thunder players at low ownership on this slate.
INJURY NEWS
Al Horford is out and Jason Richardson is doubtful for the game against the Knicks. In the single game Horford missed this year Embiid saw the biggest boost playing an additional 6 minutes of playing time for a massive return of +16 fantasy points. The power forward and wing positions will open up if Josh Richardson is out as well, meaning that Matisse Thybulle and Mike Scott will receive additional playing time.
Jimmy Butler is questionable for the game against the Warriors. As noted on Thursday Justice Winslow has seen an enormous boost in the games with Butler this year, however he was on a minute limit last game and came off the bench. Keep an eye on the news closer to tip to see if this has yet been lifted. The chalky plays of Goran Dragic and Kenrick Nunn didn't pay off last game, however they will be options again if Butler is out as they have both seen increases in fantasy points in the games Butler has missed. Tyler Herro makes for a nice sneaky play off the bench without Butler as well, especially if you think this game will blowout.
Kyrie Irving remains out for the game against the Celtics. Spencer Dinwiddie has been absolutely killing it as the starting point guard in his place. He has posted +12.9 fantasy points from an additional 6 minutes of playing time in the 7 games Irving has missed.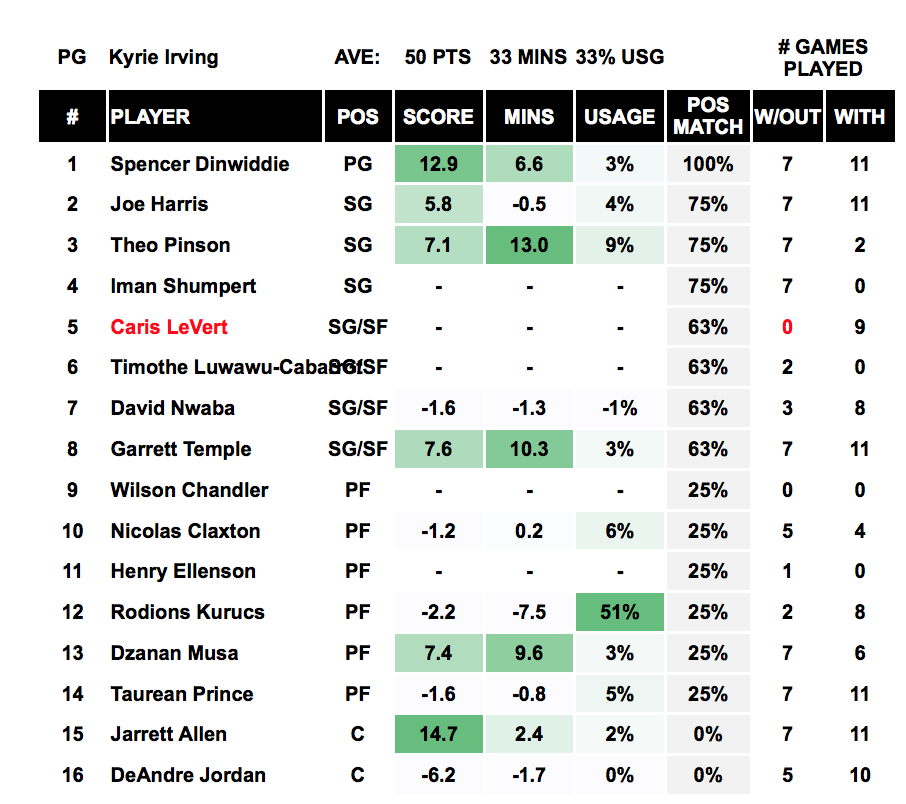 Nikola Vucevic is out and Aaron Gordon is questionable for the game against the Raptors. While he hasn't got the start in Vucecic's absence, Mo Bamba has been destroying off the bench. Averaging +15.8 fantasy points per game without Vucevic this year, Bamba has played an additional 8 minutes per game. He showed off his range last game as well, knocking down a ridiculous 5/5 from deep.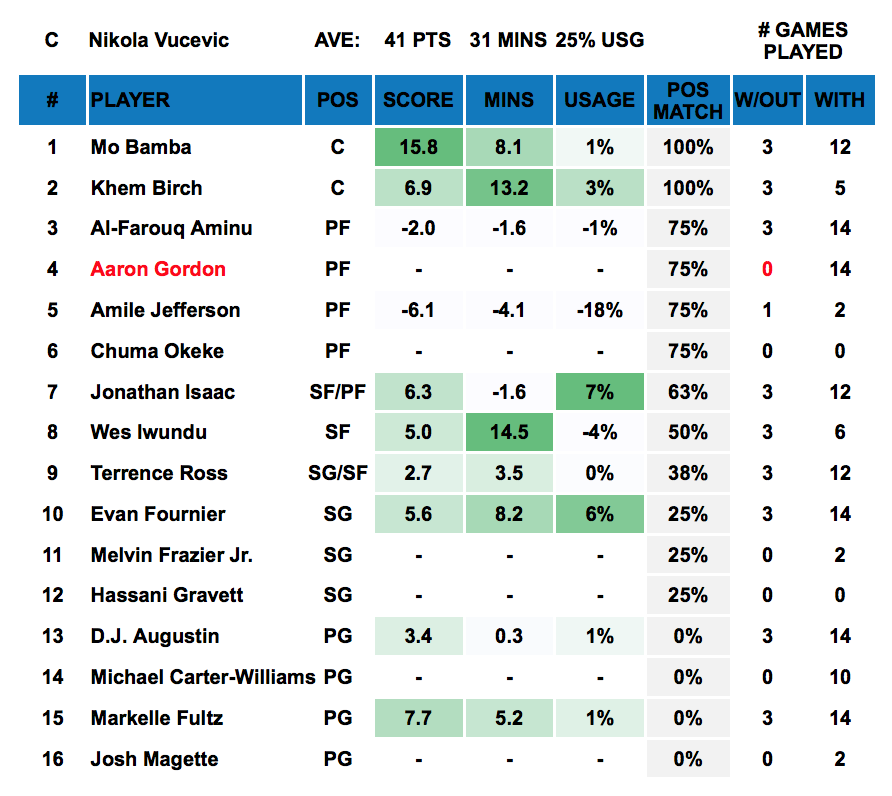 VALUE PLAYS
As always more value will likely open up as we get closer to the slate and further lineup news breaks. Also be studious in looking a pricing differences between the three platforms are some players are value on different sites just due price.
In addition to the possible plays noted above (specifically Matisse Thybulle stands out at the near minimum), the current value players to consider include:
Javale Mcgee (MB $4,400, DS $7,160, DK $4,200) / Dwight Howard (MB $4,800, DS $8,710, DK $3,900) are my undercover plays on this slate. Tournaments only, but picking one or the other (possibly pending your platform and price) offers a low owned high upside play on a slate where the Lakers play a pace up matchup against one of the worst defensive sides in the league. The Wizards have been quite susceptible to the centre position conceding the second most fantasy points to the position over the last 10 games. Both players have demonstrated 40+ point upside this year and if Davis was to miss the game I'd be locking at least one of them into everyone of my lineups.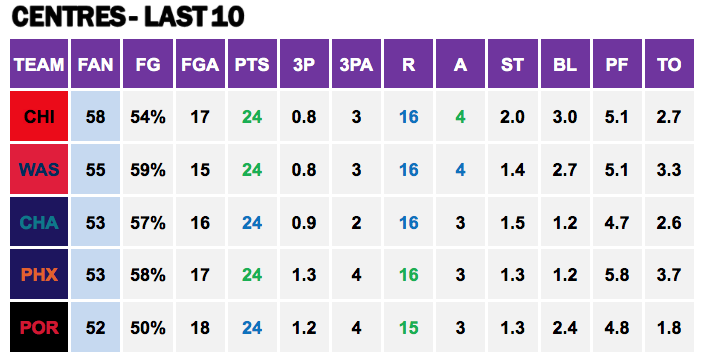 Kyle Kuzma (MB $4,900, DS $9,640, DK $4,500) I mentioned last slate and still like the play again. Essentially we saw last year that Kuzma has 40+ point upside if he catches fire and we are still waiting for that game this season. His minutes are around the 25 per game mark and he benefits from the same positive matchup as Dwight and Javale on this slate.
Joe Ingles (MB $4,600, DS $8,830, DK $4,900) has looked like he finally remembers how to play basketball these last two games. He has clearly had to get used to a new role on the side with the off-season additions made by the Jazz. Over the last two games he has upped his shot attempts to around 10 and this has resulted in 28 fantasy points per game. On this slate he draws a pace up matchup against Memphis who have conceded the third most fantasy points in the league. If you are hard pressed for value he makes sense, particularly on Moneyball.
MID PRICED PLAYS
Dennis Schroder (MB $6,000, DS $10,900, DK $5,800) … at this stage without the Butler news I will be looking to Schroder in this price range. If Butler is indeed out then I would likely switch this play to either Kenrick Nunn or Goran Dragic. Schroder makes for a great tournament play in the right matchups as he has shown a 40+ point ceiling on multiple occasions. On this slate he matches up against the Pelicans who have given up the 5th most fantasy points on this slate. He should avoid Jrue Holiday defense for the most part as Holiday focuses on Chris Paul and Shai. Earlier this year Schorder notched up 36 fantasy points against the Pelicans.
Bam Adebayo (MB $8,800, DS $14,630, DK $8,000) is having a ridiculous season so far this year. His improvement on the offensive side of the ball, especially his playmaking, has been a revelation. Averaging over 10 rebounds, 4 assists and 1 block and 1 steal he fills up the peripheral stats giving him a very safe floor. On this slate he draws and elite pace up matchup against the Golden State Warriors who are also one of the worst defenses in teh league. The have given up the 6th most fantasy points to centres this season, which includes the 5th most rebounds and second most blocks.
Zach Lavine (MB $7,400, DS $14,260, DK $7,000) … I don't love going back to this play again after catching his 57 point game at minimal ownership last slate (hope you all followed me in). Recency bias is likely to have an impact here, however on a 13 game slate I still expect him to go overlooked. Over and over Lavine has showed a ceiling in the 45-60 point range typically in uptempo matchups against poor defensive sides. On this slate he matches up against Portland who are bottom 10 in defense and top 10 in pace.
PREMIUM PLAYS
Lebron James (MB $11,400, DS $21,490, DK $11,200) is having yet another incredible season in his 17th year of NBA basketball. He has decided this year to go out and just lead the league in assists as he assumes the de facto point guard position on the team. On this slate he has a dream matchup against Washington, which we have covered several times already. But what stands out the most is that the Wizards have conceded the most points in the league over the last 10 games to the point guard position. Lebrons floors sits at around 45 points this season, and if Davis was to sit out this game his usage would get a significant boost (+8% in the only game with Davis this year).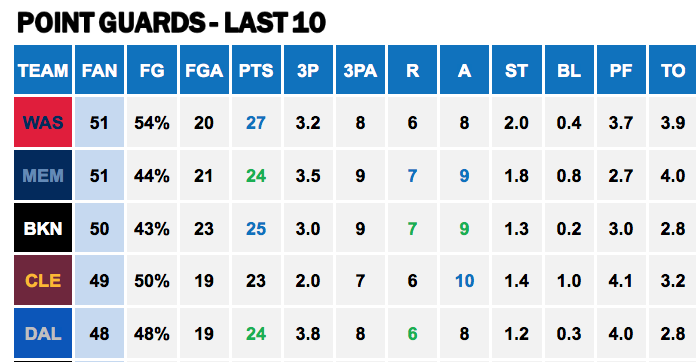 Dragon's Suggested Moneyball Team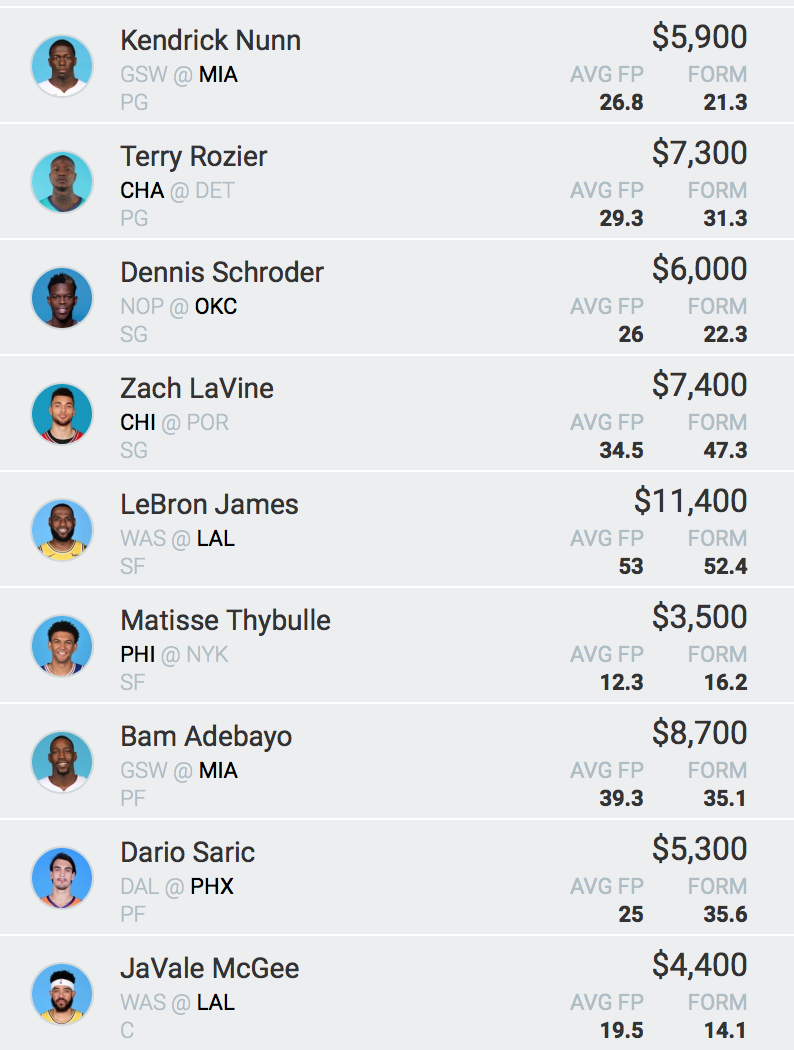 Always remember to gamble responsibly. When the fun stops, stop. If gambling is having a negative impact on your life, seek support at Gambling Help Online. 18+ only.