daily fantasy sports articles
NBA 2019-20 Daily Fantasy Preview Thursday 31st October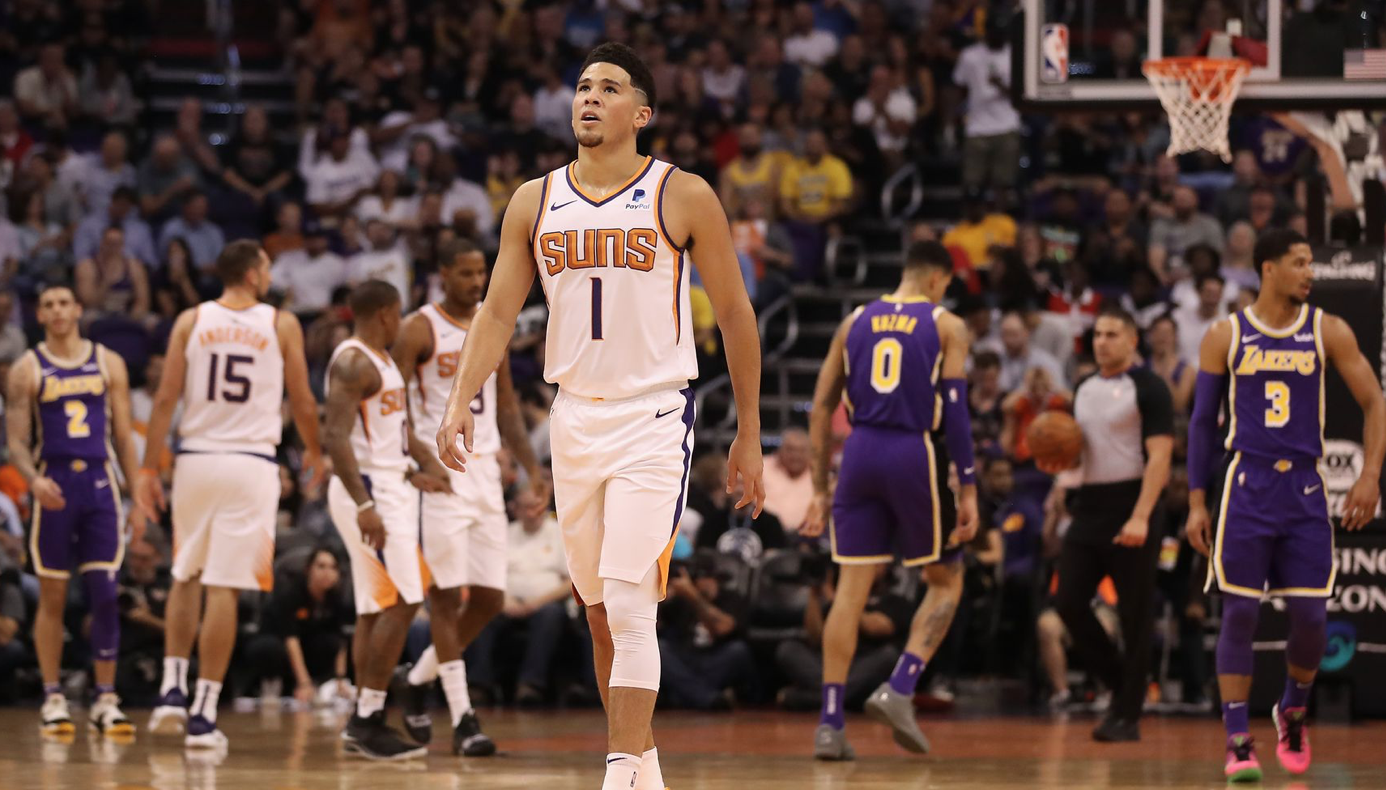 NBA Wednesday (Thursday AEST) is back again with another massive 11 game slate for daily fantasy. As usual there is a huge array of DFS tournaments to choose from:
For more details on contest types on offer check out our NBA primer article here.
In case you are new to NBA DFS these articles break down the matchups and highlight the key plays to help you build winning lineups. For more insight into how to utilise our game breakdown data check out our NBA DFS Training Camp Series:
Part 1 – Betting Lines and Totals
Part 2 – Matchup Analysis – Pace and Defense vs Position
Part 3 – Key Statistics in Daily Fantasy Basketball
Part 4 – Trade Analysis – Breaking Down the Jimmy Butler Trade
Part 5 – DraftKings Sharpshooter Winning Lineup Recap
Part 6 – Adjusting for Line-up News
GAME BREAKDOWN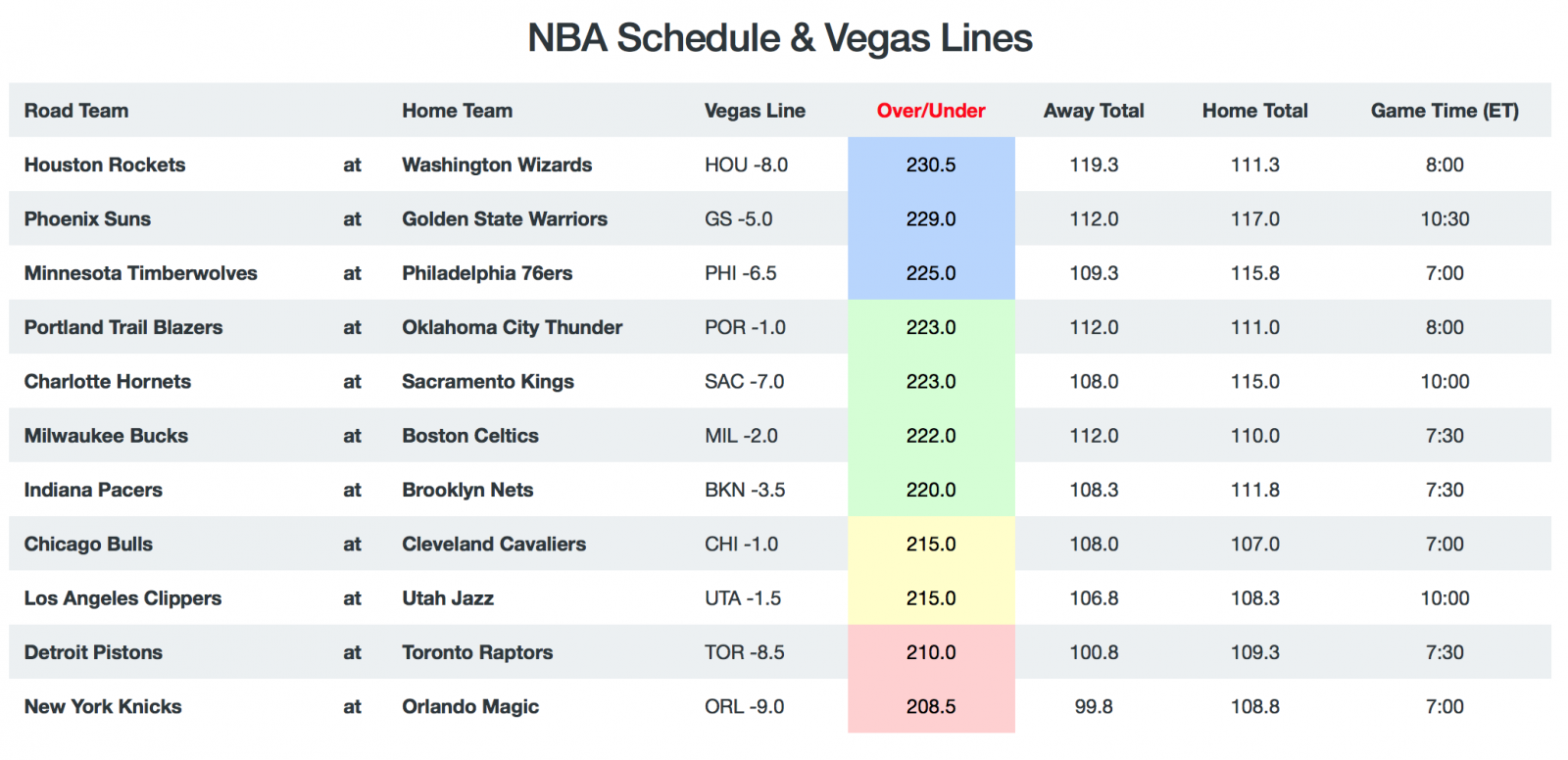 Lots of juicy game totals on this slate to work through as well as a few booby traps. The top game total of the night is the only contest set with a total topping the 230 point mark between Houston and Washington. Houston are playing at the 4th fastest pace so far this season (a significant turnaround from last year), which means it is the Washington side that I will look to target in this matchup. The Rockets have are also ranked 24th in defensive efficiency through three games.
Phoenix at Golden State is my favourite game on the slate to target, with a 229 point game total we have seen the Warriors play at the 6th fastest pace through this early part of the season while also ranked dead last in defensive efficiency. The Suns on the other hand are 14th in pace through four games.
Minnesota at Philadelphia is my trap game total set at 225 points, which is the third highest on the slate. I love the under on this as the 76ers have the 5th best defensive efficiency in the league (and have the potential to finish the year number 1) and should control the matchup at home. This is the slate where it time to fade the Timberwolves, including Towns who has been on an absolute tear to start the year.
Charlotte at Sacramento is my next favourite game to attack on this slate. With a game total of 223 points we are seeing the 27th and 28th ranked defenses go against each other. The Kings looked to return to a pace of play similar to last season in their most recent game as well, which should help drive up fantasy opportunities.
Injury News
Enes Kanter remains out while Daniel Theis is questionable for the matchup against the Milwaukee Bucks. With both players out last game it was Robert Williams (MB $4,400, DS $5,290, DK $4,600) who got the start and played 22 minutes posting 22.75 fantasy points. His price has risen, but he is averaging 1.24 fantasy points per minute through three games this season. Grant Williams (MB $3,500, DS $5,000, DK $3,500) is another player to consider as he logged 19 minutes last time out for 19.75 fantasy points.
Elfrid Payton has been ruled out of the matchup with the Orlando Magic. Frank Ntilikina (MB $3,600, DS $5,000, DK $3,100) picked up 22 minutes last game as the sub for Payton who was injured during the game. Be wary if he gets the start, however, as he has managed just 0.2 fantasy points per minute so far this year, and is yet to hit a field goal through three games. RJ Barrett (MB $6,900, DS $11,990, DK $6,500) is likely to pick up playing time as the point guard, as the injury to Payton last game resulted in Barrett playing 40 minutes including various stints as the team's point guard during the second half.
Steven Adams is questionable for the matchup against the Portland Trailblazers. Nerlens Noel (MB $3,700, DS $5,000, DK $3,300) might be a lock and load play if Adams is unable to go. He is the obvious choice to slot in as the starting centre and has always been a fantasy point per minute monster. Last game he got 21 minutes and returned 22.75 fantasy points.
VALUE PLAYS
Plenty of value will become more obvious as we get closer to line-up lock so make sure you keep on top of the news. Also remember to check the pricing for the different platforms, there are clear players who are underpriced at specific providers and on an 11 game slate it is impossible to cover them all in this preview.
In addition to names mentioned as a result of injury news above, the following players are worth considering:
Namanja Bjelica (MB $4,300, DS $8,270, DK $4,400) is the Kings starting power forward now that Baguely is out injured. He has been an absolute roller coaster ride playing 28 minutes, 17 minutes and 33 minutes from his last three games. This means he is not safe for cash games, but with the 40+ point upside and the 33 fantasy point game he had last matchup he is clearly a high upside value play that suits GPPs. On this slate he has an elite matchup against the Hornetts who have given up the third most fantasy points to power forwards so far this season.
Jevon Carter (MB $4,000, DS7,490, DK $3,400) has grabbed his opportunity with both hands these past two games. When Rubio was out with injury two games ago he played 33 minutes in the Suns win against the Clippers and returned 25 fantasy points. Last game the trend of Ricky Rubio didn't impact him as he still received 27 minutes of playing time as the Suns look to limit Rubio's playing time. The two even shared the court together during the fourth quarter. Carter managed 28 fantasy points in this contest and now he draws the easiest matchup of the three against the Warriors who have the worst defensive efficiency in the league to start this season.
Dave Bertans (MB $4,100, DS $6,410, DK $3,700) is a value play who is safer for cash contests (assuming something more obvious doesn't open up due to injury). He has a consistent amount of minutes with the Washington Wizards logging 29 per game through the first three contests. He also draws a positive matchup on this slate against Houston who have played at the fourth fastest pace in the league and have conceded the second most three pointers to small forwards.
Bogdan Bogdanovic (MB $4,700, DS $9,870, DK $3,900) is criminally under priced on DraftKings. On an 11 game slate there is a chance you can draw him at low ownership and despite having a horrific start to the year shooting 11/40 from the floor through 4 games, his shooting will regress back upwards. If he gets hot he brings legitimate 40+ point upside and on this slate he will have every opportunity against the Charlotte Hornets who have given up the third most fantasy points in the league so far this year.
MID PRICED PLAYS
De'Aaron Fox (MB $7,100, DS $13,410, DK $7,800), like most Kings has had an awful start to the season. However, his two sub 20 point fantasy games were toal blowouts where he didnt even log 30 minutes of playing time. In the other two more competitive games Fox posted an average of 40+ fantasy points and they were against solid competition. On this slate he draws his first positive matchup of the season against Charlotte who as noted above have given up the third most fantasy points in the league this season.
PREMIUM PLAYS
Devin Booker (MB $9,100, DS $15,260, DK $7,900) has yet to truly explode yet this season despite the early success of the Suns as a team. He has played three of the better defensive teams in the league in Utah, Denver and the LA Clippers, but on this slate he will finally get some reprieve. Matched up against the Golden State Warriors who have little to no positive wing defenders (given up the third most fantasy points in the league to shooting guards) , and the worst overall defensive efficiency in the league, Booker's ceiling of 50-60 is squarely in play. At his pricing on DraftKings he will be a lock and load for me.
James Harden (MB $11,100, DS $22,320, DK $10,100) is still priced way up despite not even averaging 50 fantasy points to start the season. There is one reason for that, however, and it isn't what most people are thinking. Harden's usage has not taken a hit due to the addition of Westbrook, rather he still has sported a whopping rate of 36.7% to start the year. The problem?? He cannot make a basket to save himself. Through three games he has made just 6 three points from a ridiculous 40 attempts, including going 5/32 in the last two games alone. Despite this he still managed 57 fantasy points in his last match, so when his shot starts falling you can expect a 70+ fantasy point game and I for one will be ready and waiting to catch up. His ownership should continue to fall with these lackluster performances and he should have little defensive resistance on this slate against the Washington Wizards who have given up the 8th most fantasy points in the league to shooting guards this year.
Kawhi Leonard (MB $9,900, DS $15,970, DK $8,800) is simply priced too low on Draftstars and DraftKings. Leonard has had an unbelievable start to the year averaging 50 fantasy points per game from an insane 37% usage rate. He draws one of the tougher matchups in the league on this slate against the Utah Jazz, however at those prices he can still easily return value. UPDATE - Leonard has been ruled out due to Rest. This should provide a good bump to Lou Williams for the Clippers.
Dragon's Suggested Moneyball Team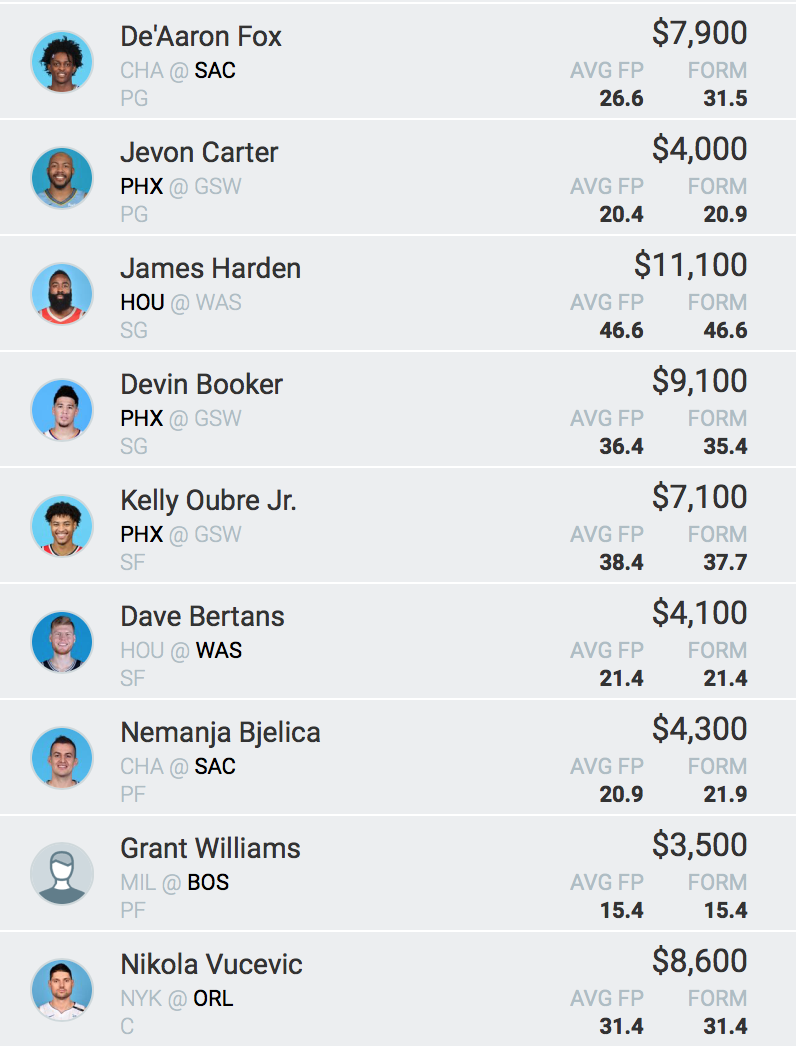 Always remember to gamble responsibly. When the fun stops, stop. If gambling is having a negative impact on your life, seek support at Gambling Help Online. 18+ only.