daily fantasy sports articles
NBA 2019-20 Daily Fantasy Preview Thursday 5th December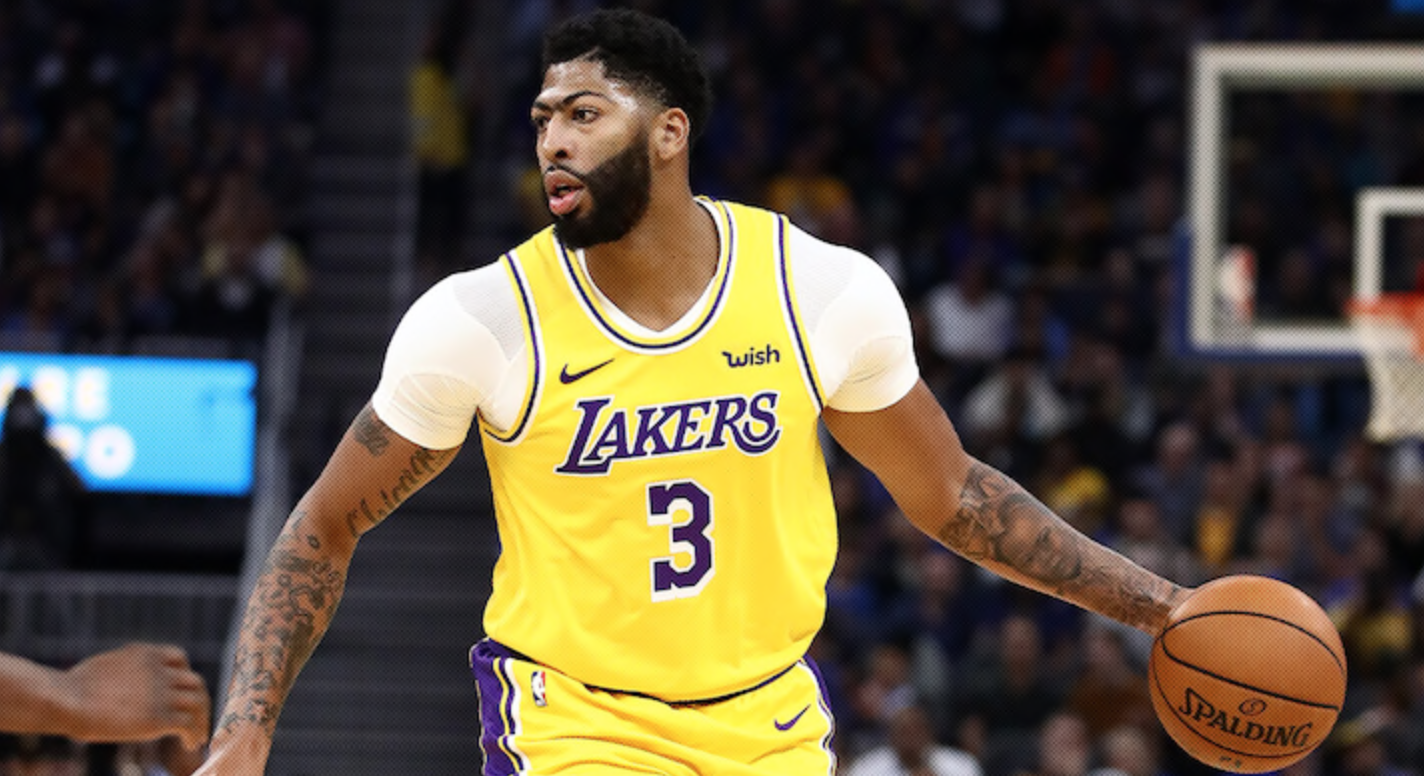 The gold star slate of the NBA week is here with NBA Wednesday (Thursday AEST) featuring a massive 10 games of action to play. There are the usual array of massive DFS games across all platforms:
Have you seen the details of the NBA DraftKings Live Event in Melbourne? You can read about the details here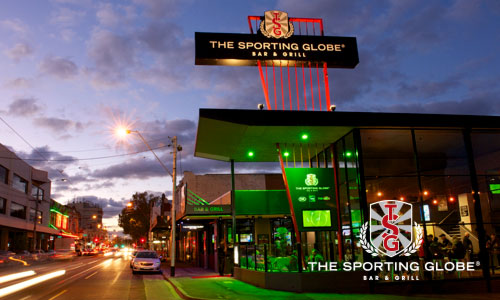 "Player Swap" is now LIVE on Draftstars. If you do not know what this means when you play on Draftstars, we suggest you read on how it works by clicking on the banner below

GAME BREAKDOWN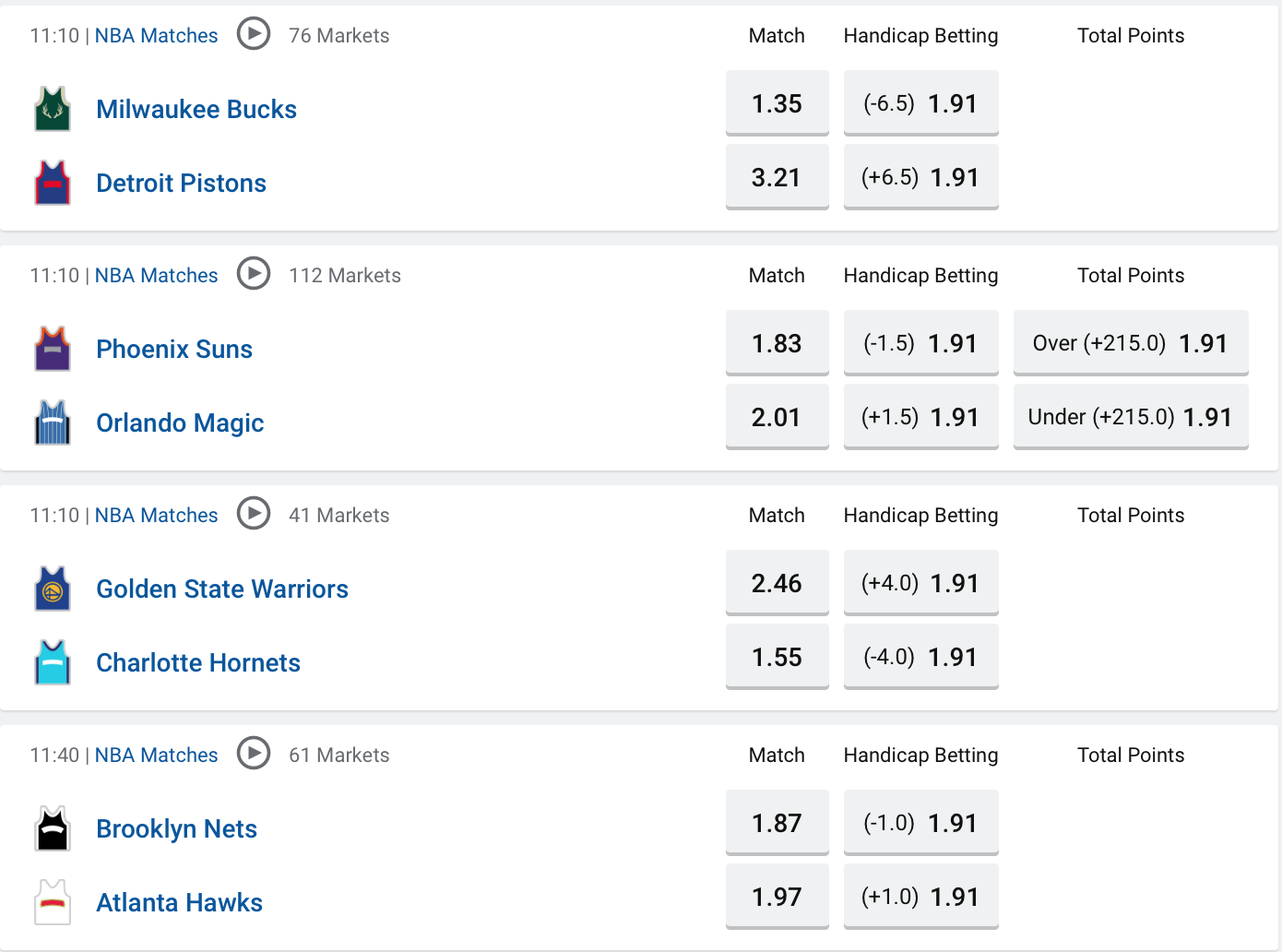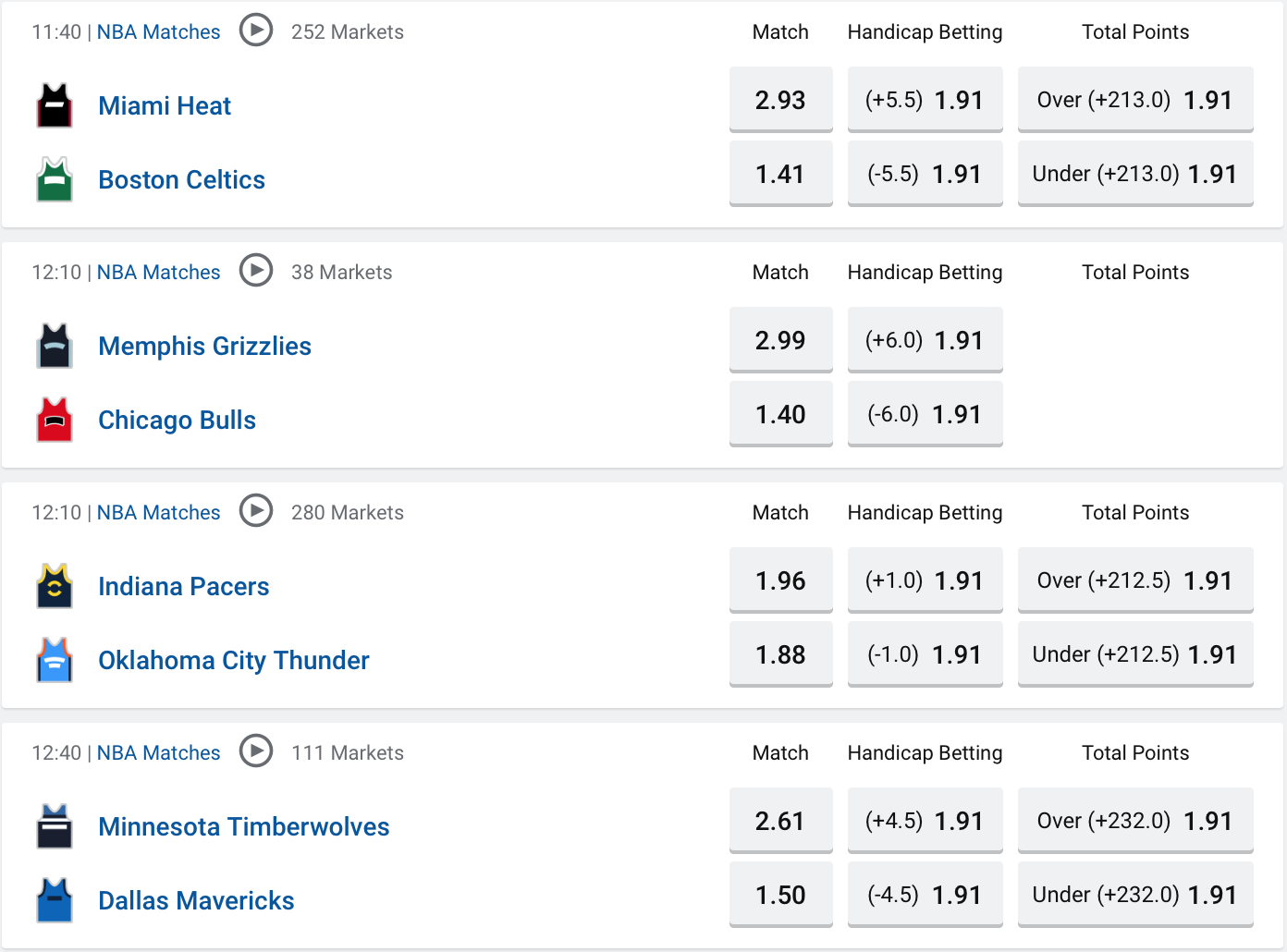 Welcome to the NBA in 2019. Four of the ten games are yet to have a total as we await lineup and injury news. As usual I have broken down the impact of all possibly major lineup changes below.
For the games with totals set there is just one game over 220 points and that is Minnesota at Dallas. With a line of 232 this game will be one of the most attractive targets on the slate. The Timberwolves are playing at the 4th fastest pace in the league this season, which will put Dallas into a significant pace up matchup so we can expect yet another day of chalk Luka Doncic. Defensively both sides are around league average this year and this has translated into Minnesota conceding the 12th most fantasy points in the league and Dallas the 18th most.

My favourite game to target on the slate will be Brooklyn at Atlanta. This game is yet to have a total set, which is a little confusing as we are predominantly waiting on news of Atlanta role players. Both sides are in a pace up situation, which is perfect for game stacks as the Nets play at the 8th fastest pace in the league this season and the Hawks the 12th. Defensively the Hawks have been atrocious this season, ranked 25th in efficiency (29th over the last 10 games) and have conceded the second most fantasy points.
Detroit has the second highest pace up matchup on the slate, behind Dallas, as they square off against the second fastest team in the league, the Milwaukee Bucks. As usual it is buyer beware facing the Bucks as they are ranked number 1 in the league for defensive efficiency and are in the bottom half for fantasy points conceded.
INJURY NEWS
Allen Crabbe is out and DeAndre Hunter is unlikely to play against the Nets. This will mean DeAndre Bembry will maintain his role as the starting shooting guard, while Cam Reddish is likely to move back into the starting lineup. Kevin Huerter is a chance to return for this game from a significant lay off, he would also be in line to fill these positions, however be cautious of a minutes limit. Bembry has averaged 30 minutes per game over the last three and averaged 26.5 fantasy points.
D'Angelo Russell is questionable to return on this slate and Draymond Green will return to the lineup after resting last game. Russell has averaged 31 minutes and had a usage rate of 32% this year, which means there will be a significant impact to Ky Bowman, Eric Paschal and Alec Burks upon his return.
Jonas Valanciunas is questionable for the game against the Bulls. Bruno Caboclo was one of the trap plays of the year last game with Jonas out. Unfortunately he did not repeat his efforts from the game before and was given just 14 minutes of playing time (as I alluded to in our last preview his previous game was related to Jaren Jackson Jr. foul trouble). Rather it was a surprise packet in Solomon Hill who benefited posting a massive 39.5 fantasy points from 33 minutes.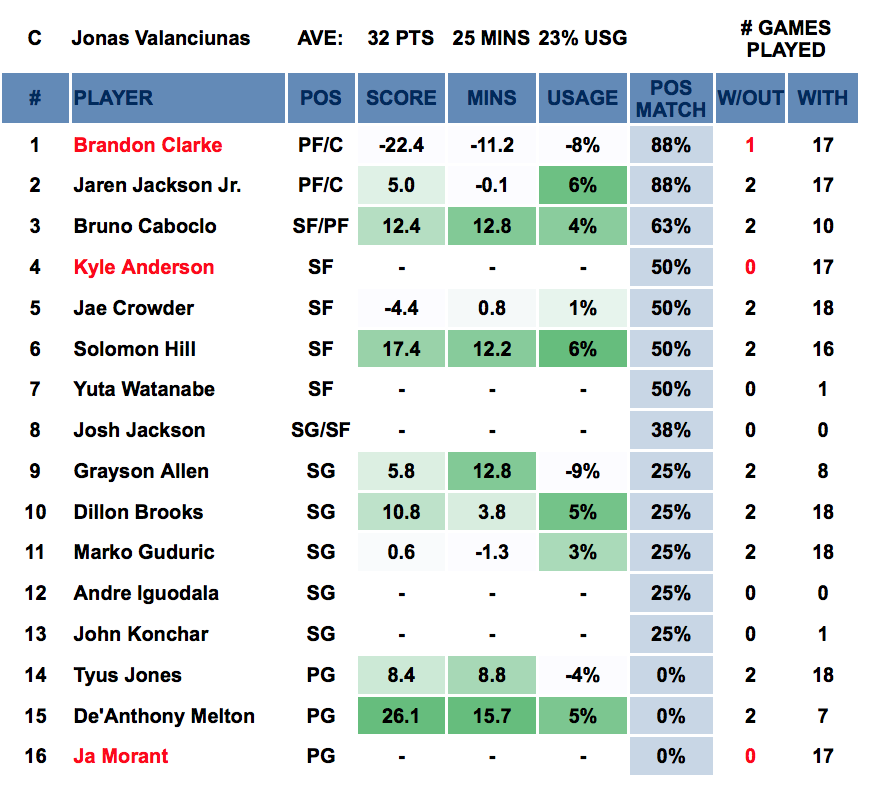 Ricky Rubio is questionable and Aaron Baynes has been ruled out of the game against the Magic. In the games Baynes has missed this year it has been Cheick Diallo who has benefited the most posting a massive +17 fantasy points from an additional 17 minutes of playing time. Frank Kaminsky has almost played himself out of the rotation, unless absolutely required like last game and Diallo is who I would be looking for at a cheaper price point.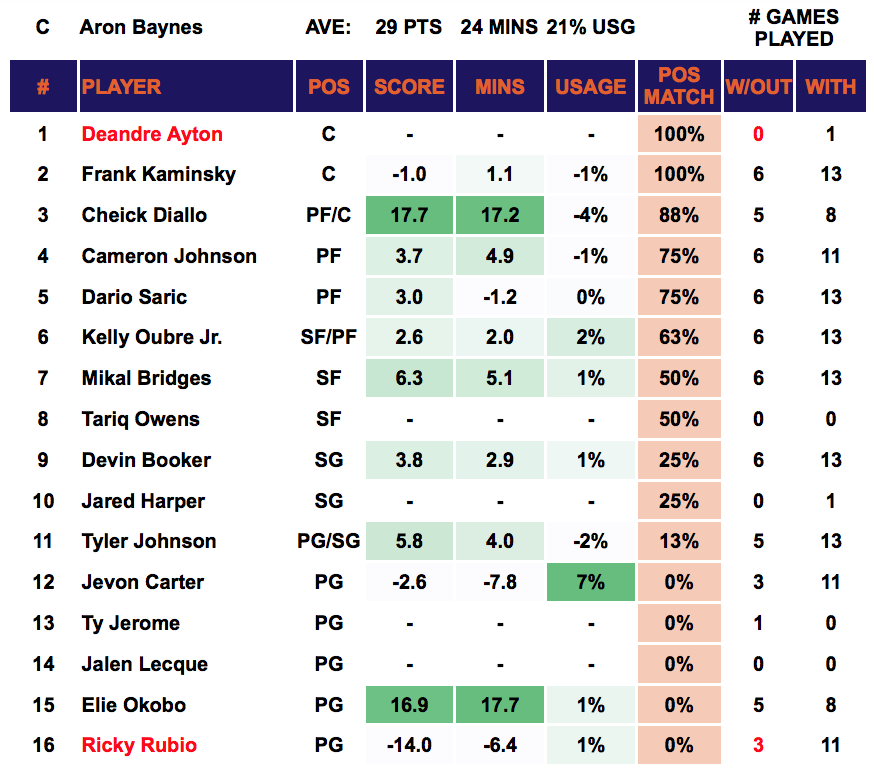 Mike Conley has been ruled out of the game against the Lakers. Conley is yet to miss a game this year but has averaged 30 minutes of playing time with a 24% usage rate, meaning there will be plenty of additional fantasy scoring opportunities open up. Keep an eye on the news for the starting lineups, I would expect it to be Emmanuel Mudiay who has averaged 0.94 fantasy points per minute this season. However, it is worth noting that last game Dante Exum was first off the bench to replace Conley.
VALUE PLAYS
As always more value will likely open up as we get closer to the slate and further lineup news breaks. Also be studious in looking a pricing differences between the three platforms are some players are value on different sites just due price.
In addition to the possible value plays noted above (Cheik Diallo, Frank Kaminsky, DeAndre Bembry, Utah point guards, Solomon Hill), the current value players to consider include:
Tyus Jones (MB $4,300, DS $8,320, DK $5,200) / De'Anthony Melton (MB $3,500, DS $7,060, DK $4,600) with Ja Morant still out for some time Jones will start at point guard for the Grizzlies. In the last two games without Morant he has averaged 28 minutes per game and has hit once and missed once posting a 31 fantasy point game and a 16 point game. He is averaging 0.81 fantasy points per minute, which means he is still firmly in play at his price point on Moneyball.
Melton has also seen a boost in playing time with Morant out of the lineup. Despite playing less minutes (an average of 23 minutes over the past two games) he has out performed Jones at a cheaper price posting 35 and 32 fantasy points respectively. Overall Jones minutes are much safer and appears to be the cash game play, while Melton is more attractive for tournaments.
Joe Ingles (MB $4,500, DS $8,110, DK $4,900) is my super sneaky tournament play only tip on this slate. It has been a miserable season for Ingles thus far as he has struggled to adjust to his new role coming off the bench and gelling with Conley and Bogdanovic. In some ways he does not appear to have recovered from his mental breakdown at the World Cup in the off season where he suddenly became afraid to shoot, as seen by his 30% strike rate from three point range this year. However, with Conley out on this slate Ingles should pick up additional responsibilities as the playmaker, a role he typically took on second units in the past. Last game for example the Jazz looked to use no point guard for periods in the second half and Ingles ended up with 8 assists en route to 38.5 fantasy points.
MID PRICED PLAYS
Taurean Prince (MB $5,600, DS $9,990, DK $5,800) … getting as much exposure to Brooklyn against the Hawks on this slate is a must. As noted above the Hawks have been one of the worst defensive teams in the league this season and they are getting worse by the game. They have conceded the second most fantasy points in the league and the third most to power forwards over the past 10 games. Prince has shown 40+ point upside this year, which is a GPP winning ceiling at his price point, and this matchup brings that level of game into play.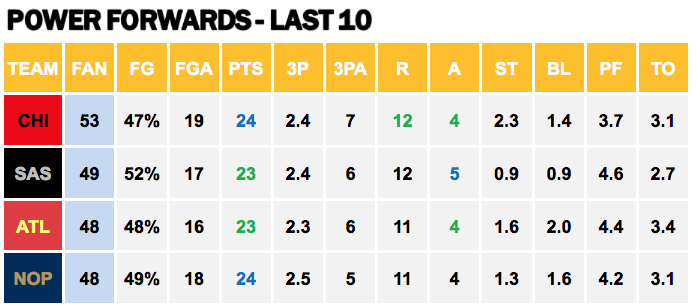 Buddy Hield (MB $7,300, DS $14,530, DK $7,400) has seen his playing time and usage go through the roof this past four games as the Kings try and cling onto the edge of the playoff race. Averaging a ridiculous 39.5 minutes and taking 22.75 shots per game (including 14 threes per game) during this four game stretch he has returned over 40 fantasy points a night without seeing any real price increase. On this slate he matches up against the Portland Trailblazers who are 9th in fantasy points conceded over the past 10 games.
PREMIUM PLAYS
Trae Young (MB $10,000, DS $18,970, DK $10,400)... burnt us on Tuesday as the Warriors effectively double teamed him at every opportunity and said we are going to just let anyone else beat us (which they did… handedly). But the matchup is just as good on this slate and as always in DFS we back that truck over it and enjoy a lower level of ownership. The Nets have given up the 5th most points to point guards over the last 10 games and the 3rd most real points to the position on the season. There is nothing more certain than a bounce back game for a star in the NBA after a tough individual night and I expect nothing less from Young who despite last game is averaging 52 fantasy points over his last 6 contests.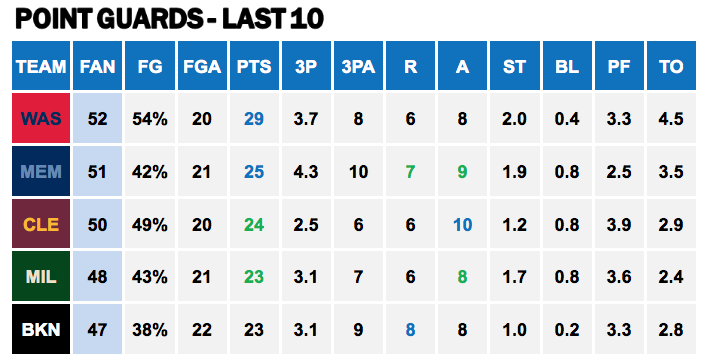 Anthony Davis (MB $10,000, DS $19,300, DK $9,400) is my sneaky GPP premium play on this slate. Yes I know everyone all inherently fears the Jazz who are consistently ranked at the top of defensive efficiency every season. Well this year the Jazz are slipping, down to 10th, and on a very micro level the Jazz quite simply have no matchup at all for Davis. If Gobert stays with the Lakers starting centre and roams the paint that will leave either Bogdanovic or O'Neale to try and hand Davis. I absolutely love his price on DraftKings where it is the lowest it has been in almost 10 games, and when the Lakers played the Jazz earlier in the year Davis posted 50 fantasy points.
Dragon's Suggested Moneyball Team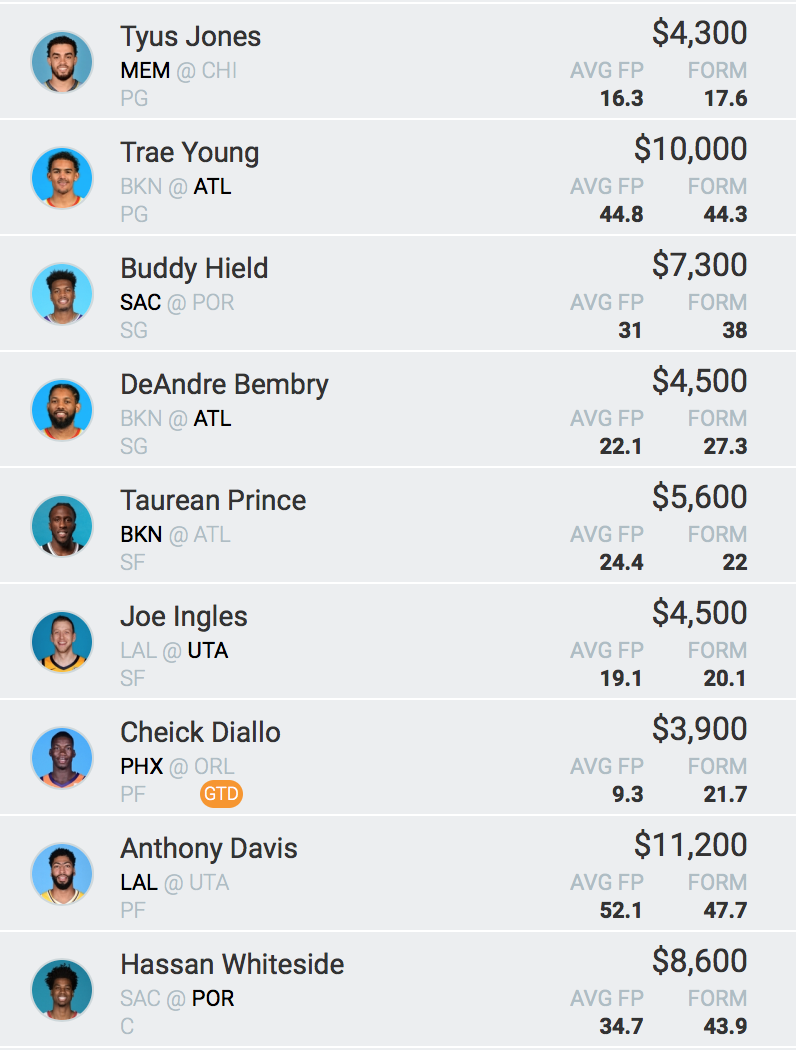 In case you are new to NBA DFS these articles break down the matchups and highlight the key plays to help you build winning lineups. For more insight into how to utilise our game breakdown data check out our NBA DFS Training Camp Series:
Always remember to gamble responsibly. When the fun stops, stop. If gambling is having a negative impact on your life, seek support at Gambling Help Online. 18+ only.