daily fantasy sports articles
NBA 2019-20 Daily Fantasy Preview Thursday 6th February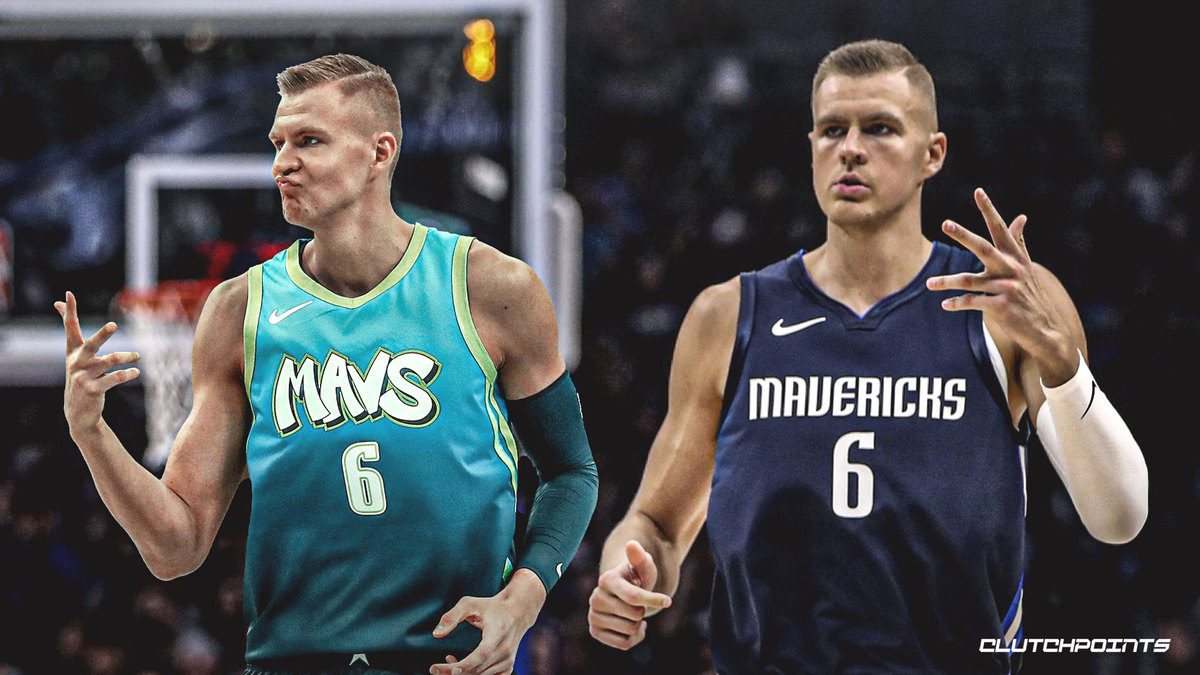 Welcome back for the biggest day of the week, NBA Wednesday (Thursday AEST), where we have a 9 game slate to attack. The usual major daily fantasy tournaments on offer across the platforms:

GAME BREAKDOWN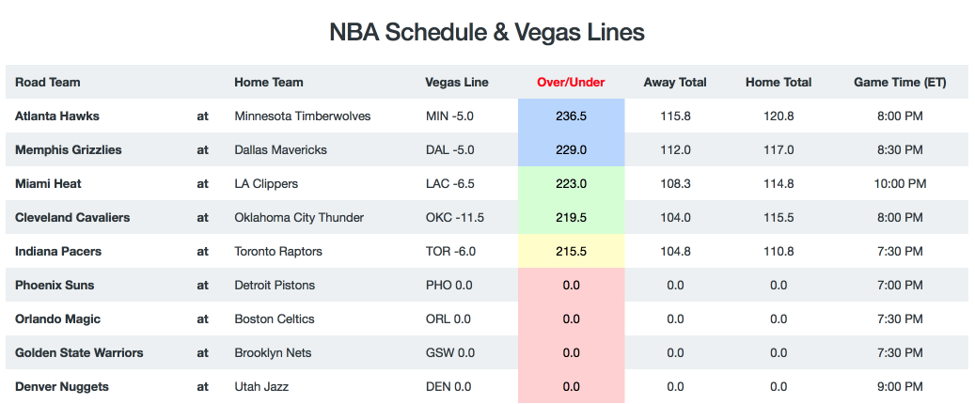 Four of the nine games on the slate are yet to have the totals set as we await injury news. As usual I have broken down the major news that will impact the games from a fantasy perspective below.
The top game total on the slate is a very juicy 236.5 points for Atlanta at Minnesota. Here we have a pace up match with both teams top 7 in the league this season for pace. Both teams have significant deficiencies defensively with Atlanta ranked 28th and Minnesota progressively getting worse as the season goes on. Atlanta also lead the league this season for most fantasy points conceded, making them the current number one target for daily fantasy. Stack and rack this game!
Memphis at Dallas is the next highest game total at 229 points and this should be another glorious daily fantasy match-up. The Grizzlies have been one of the best teams to target all season, playing at the 5th fastest pace while being ranked 20th is defensive efficiency, they have given up the 7th most fantasy points this season.

Golden State at Brooklyn is yet to have a total set, however it factors to be a great fantasy game with the Warriors in a significant pace up match-up. The Nets play at the 10th fastest pace in the league this season, while the Warriors are 12th. The Warriors have also struggled defensively, ranked 23rd in defensive efficiency while conceding the 4th most fantasy points. Brooklyn on the other hand has been extremely poor at defending the point guard and centre positions.
INJURY NEWS
Cam Reddish and DeAndre' Bembry will be out of the game against Minnesota, while De'Andre Hunter is questionable. Last game it was Jeff Teague who stepped into the starting lineup as the Hawks battled a slew of injuries to the wing position. He responded with 35 fantasy points from 36 minutes of playing time.
Daniel Theis is out, while Kemba Walker and Marcus Smart are questionable for the game against the Mavericks. With Enes Kanter expected to be back, he will likely start at centre. In the game Theis has missed this season, Kanter has played an additional 7 minutes per game returned +4.9 fantasy points. If Walker and Smart are out, the additional usage will be spread among the Celtic wings, Jaylen Brown, Gordon Hayward and Jayson Tatum.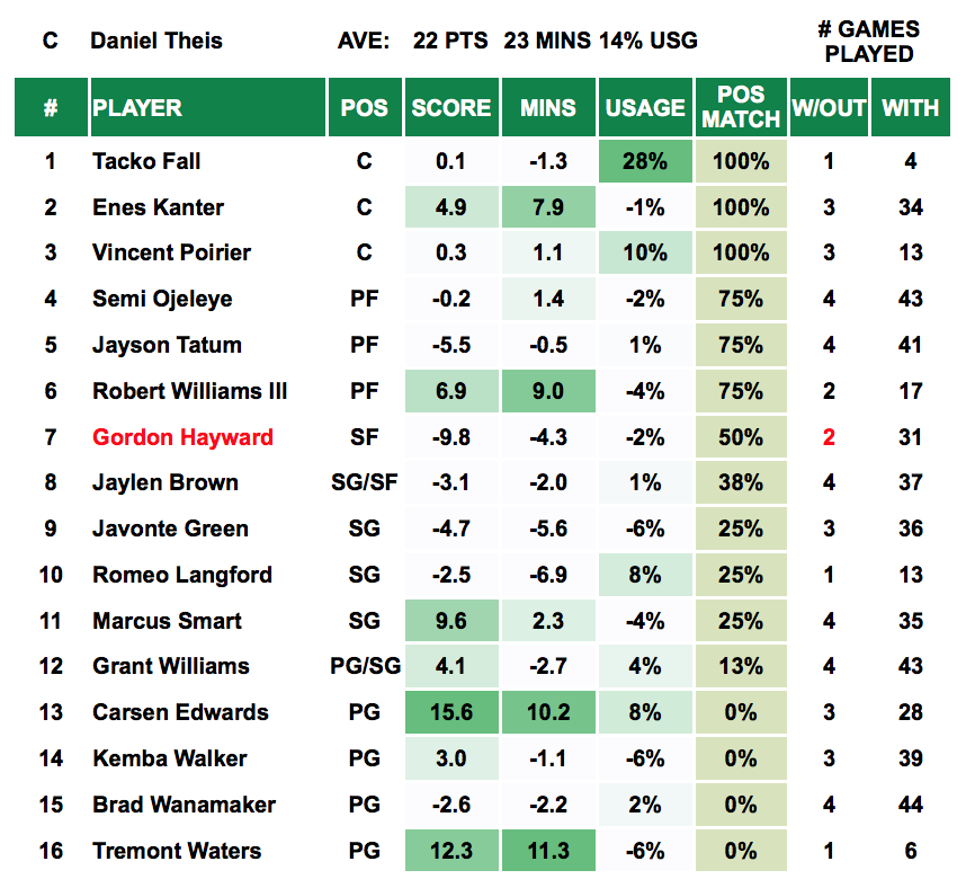 Derrick Rose and Sviatoslav Mykhailiuk won't play against the Suns. This will leave the starting point guard role to Reggie Jackson again who has posted 4 30+ performances in his last 7 games. While he disappointed those of us who played him last game, posting just 17 fantasy points, it should be noted that he did this despite shooting 1/16 from the floor, which you would have to say is unlikely to happen again (but it is Reggie Jackson, so anything is possible). Bruce Brown should also play close to 40 minutes, and given he averages 0.84 fantasy points per minute this season, should be considered.
After a trade that saw the Minnesota Timberwolves send out Robert Covington and Shabazz Napier, they will be shorthanded on this slate, particularly at the point guard position. Jarret Culver will be a lock for major playing time and the only legitimate point guard the Wolves currently have on their roster is Jordan McLaughlin, who has averaged 0.8 fantasy points per minute this season. Keep an eye on the news for the starting lineups.
VALUE PLAYS
As always more value will likely open up as we get closer to the slate and further lineup news breaks. Also be studious in looking at pricing differences between the three platforms as some players are value on different sites just due price.
In addition to the possible value plays noted above (Jeff Teague, Enes Kanter, Reggie Jackson, Jarrett Culver):
Marquese Chriss (DS $8,840, DK $5,300, MB $5,300) is consistently playing 25 minutes per game currently as the starting centre for the Warriors. He has posted 20+ fantasy points in 7 straight games and thus is priced nicely on Draftstars for this level of output. In addition, he has one of the top matchups in the league for centres, with the Nets giving up the third most points in the league this season to the position.
Jalen Brunson (DS $8,310, DK $5,800, MB $6,000) has seen his price plummet on Draftstars after a down performance last game. With Luka Doncic still out and injury clouds over JJ Barea and Seth Curry, Brunson should start at point guard and play around 30 minutes (averaged 28.5mpg over the past 2). Given that he has averaged just under 1 fantasy point per minute this season, he should be in a great position to smash value on this slate and he draws one of the top matchups in the league against Memphis who have conceded the 7th most fantasy points in the league this season.
MID PRICED PLAYS
Shai Gilgeous-Alexander (DS $13,260, DK $7,200, MB $8,000) Guards against the Cavaliers has become arguably the best position to attack in the entire league. Over the past 10 games they have given up the most fantasy points in the league to both point guards and shooting guards. The hardest part will be picking which of the three headed monster guard rotation to play from the Thunder. Shai, Paul and Schroder are all in great spots and playing 2 of the 3 is likely a great strategy here. I landed on Shai at Draftstars due to price, but on DraftKings I will likely lean more to Chris Paul.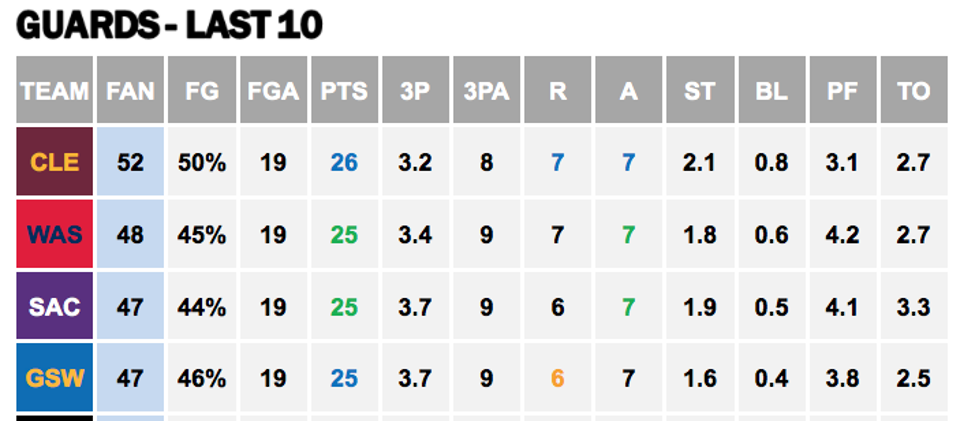 Jarret Allen (DS $11,690, DK $6,300, MB $6,500) if you are looking for a mid range spend at centre on this slate, Allen is one that stands out to me. He offers 40+ point upside (even with DeAndre Jordan playing) and on this slate has one of the top matchups in the league for his position. The Warriors, starting Chriss, have been destroyed by centres over the past 10 games, and they have been blitzed on the boards all season (giving up the second most rebounds to centres on year). This will suit Allen's game style, as he is averaging 9.6 rebounds per game.
Ja Morant (DS $11,910, DK $6,800, MB $7,600) has gone into a mini funk these last two games just as the hype train was hitting full speed. As a result, his price on Draftstars has dipped dramatically, and this brings him into play as he has consistently displayed 40-50 point upside already this season. He is a true tournament play but being in the second highest game total on the slate, it is the perfect matchup for Morant to bounce back.
PREMIUM PLAYS
Kristaps Porzingis (DS $15,410, DK $8,300, MB $8,300) is just a flat out monster with Luka out of the lineup. He has averaged a massive +19 fantasy points per game in the 6 games he has played without Doncic this season, from an additional 6 minutes and 3% usage bump. In his last two games he posted 56 and 59 fantasy points. His price has rocketed up as a result, however in this situation and in the second top game total on the slate, he is still an elite play in both cash and tournament formats.
Karl Anthony-Towns (DS $19,600, DK $10,600, MB $10,000) there has been something terribly uninspiring about Towns recent play. But when you dig back through the numbers, he has still consistently gone 50+ fantasy points, hitting that mark in 7 of his last 10 games, with 3 60+ performances. On this slate he draws the one of the best matchups in the league against the Hawks, who have given up the second most fantasy points to centres over the past 10 games. It has a whopping game total, with the Timberwolves implied points +9 above their season average. If there is a game where Towns can return to the ceiling scores we saw at the starting of the year, this is it!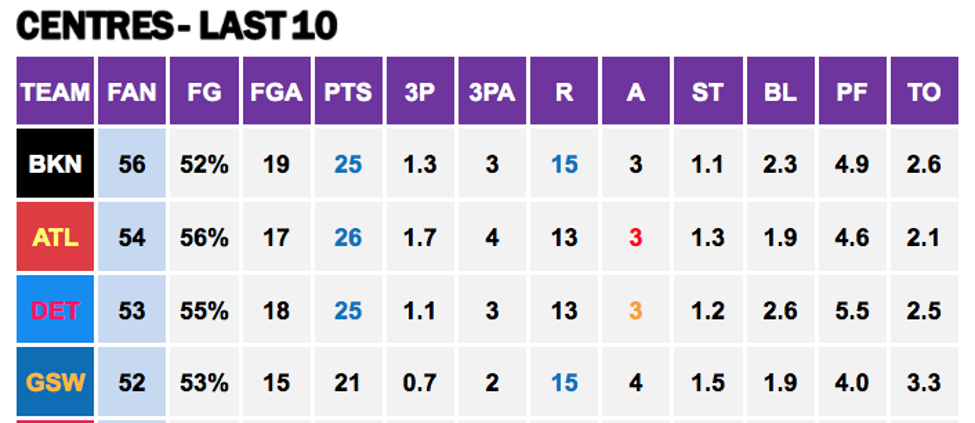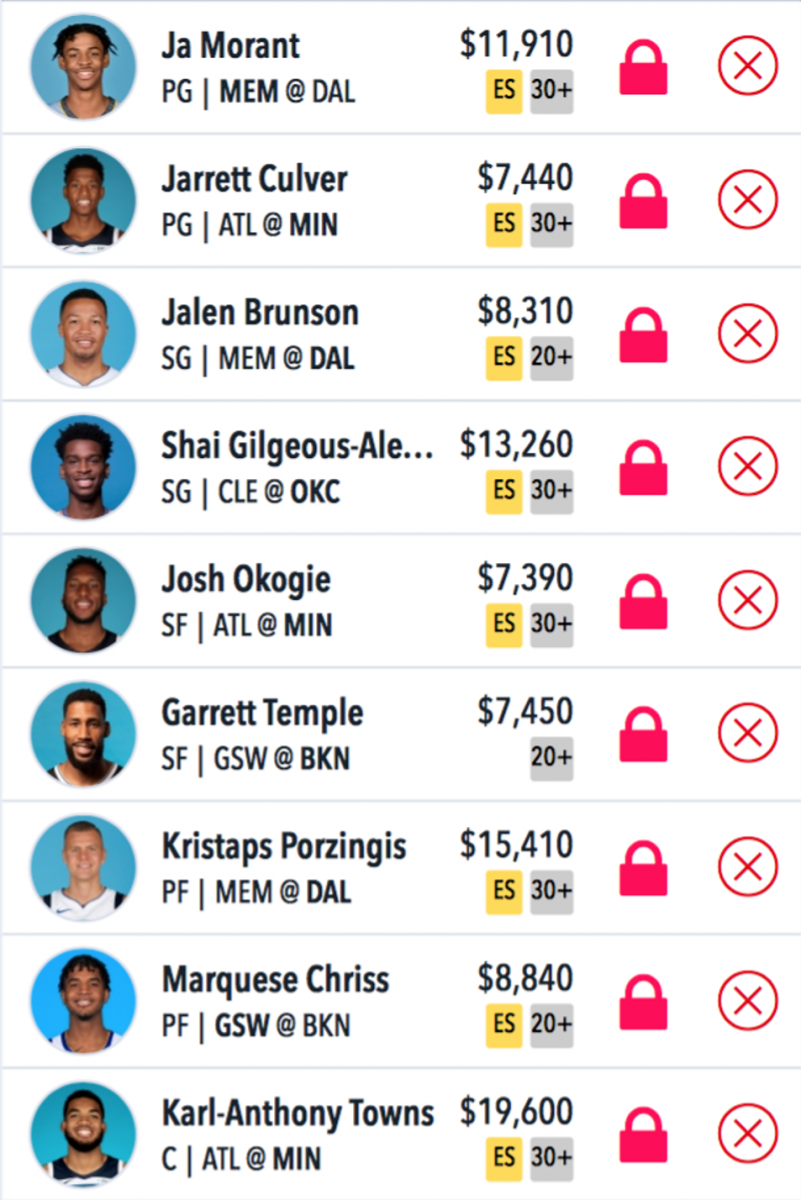 In case you are new to NBA DFS these articles break down the matchups and highlight the key plays to help you build winning lineups. For more insight into how to utilise our game breakdown data check out our NBA DFS Training Camp Series:
Always remember to gamble responsibly. When the fun stops, stop. If gambling is having a negative impact on your life, seek support at Gambling Help Online. 18+ only.