daily fantasy sports articles
NBA 2019-20 Daily Fantasy Preview Thursday 7th November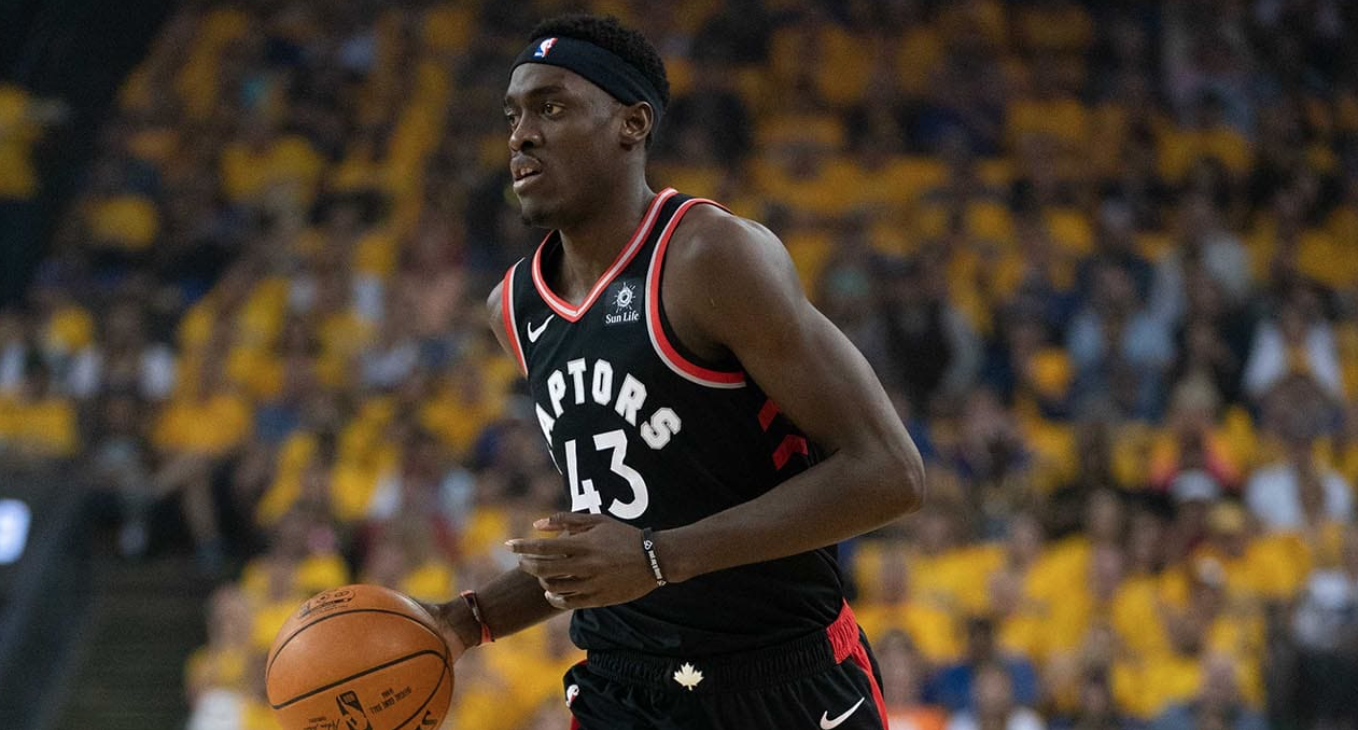 Monster NBA day is here, which means it is time for some of the biggest NBA DFS competitions of the week. NBA Wednesday (Thursday AEST) has 9 games of NBA action on the slate to assess and the usual array of tournaments are available across all the major platforms:
In case you are new to NBA DFS these articles break down the matchups and highlight the key plays to help you build winning lineups. For more insight into how to utilise our game breakdown data check out our NBA DFS Training Camp Series:

GAME BREAKDOWN

Once again we are dealing with a slate that is currently in flux with four games yet to have totals and lines set as we await pending injury news. As usual I breakdown the major news that could impact decisions on this slate below.
The top game total currently set is the Milwaukee Bucks at the LA Clippers, which has a 228 point total and a dream line for DFS of -1, which means we should get a high scoring close contest. This is an exciting matchup as two of the top teams go head to head in what could possibly be an NBA finals preview, unfortunately it won't give us a rematch of Kawai Leonard and Giannis Antetokounmpo from last year's Eastern Conference Finals as Leonard will be rested. The rotations and minutes are well known with these two teams and will certainly be a matchup worth attacking.
Minnesota at Memphis is the next highest total at 225.5 points and as you can see below this matchup has two of the 3 fastest paced teams on the slate going against each other. The Timberwolves have played at the fastest pace in the league so far this season and bring back superstar Karl Anthony Towns for this matchup. Memphis are in a nice pace up spot, however their rotations have been unfriendly from a DFS perspective with up to 10 players seeing an equal amount of playing time. I would tread very carefully rostering anyone from the Grizzlies as remember, minutes = points!

Once all lines are out the highest game total is likely to be Golden State at Houston. Here we see two teams that play a pace up style of basketball but also sport two of the worst defensive ratings in the league. This is a dream situation for NBA DFS, the one question mark will be who is playing for the Rockets and whether the Warriors can keep the game close. Golden State value plays will be in a strong spot from every position again in this matchup.
INURY NEWS
John Collins has been suspended for 25 games due to a violation of the league's anti-drug policy. Collins has been playing 32 minutes with a 20% usage rate. In the first game without him it was Jabari Parker who slid into his role 32 fantasy points from 32 minutes of playing time. Trae Young also saw his already incredibly high usage rate go up another 5%.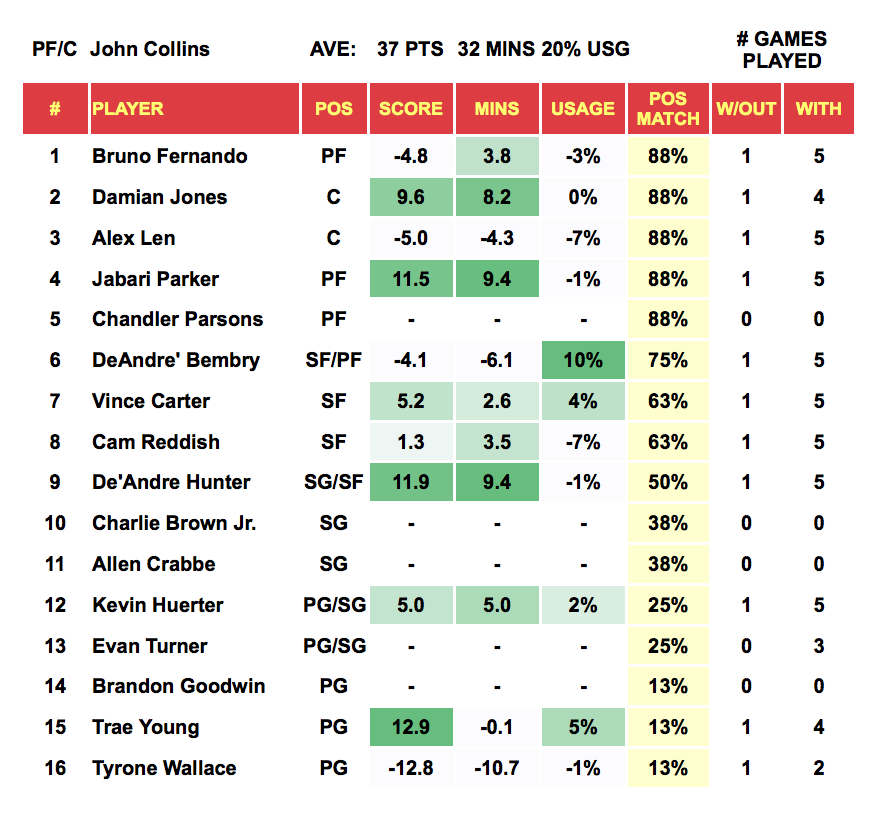 Tim Frazier and Derrick Rose are both ruled out for the matchup against the Knicks. Bruce Brown has taken over the starting point guard duties posting 40 fantasy points per game over the last 2 matches from 38.5 minutes of playing time. Luke Kennard is also seeing an increased role averaging 35 fantasy points over the last two games.
D'Angelo Russell is questionable for the game against the Rockets. Without Russell the Warriors are down all of their big name players, leaving all the action to the rookies and second year players. Ky Bowman has been a revelation as the starting point guard posting an average of just under 35 fantasy points form the last two games. While future MVP Eric Pascall has also seen a ridiculous usage bump of 14% these last two games and went absolutely ballistic last game with 55 fantasy points.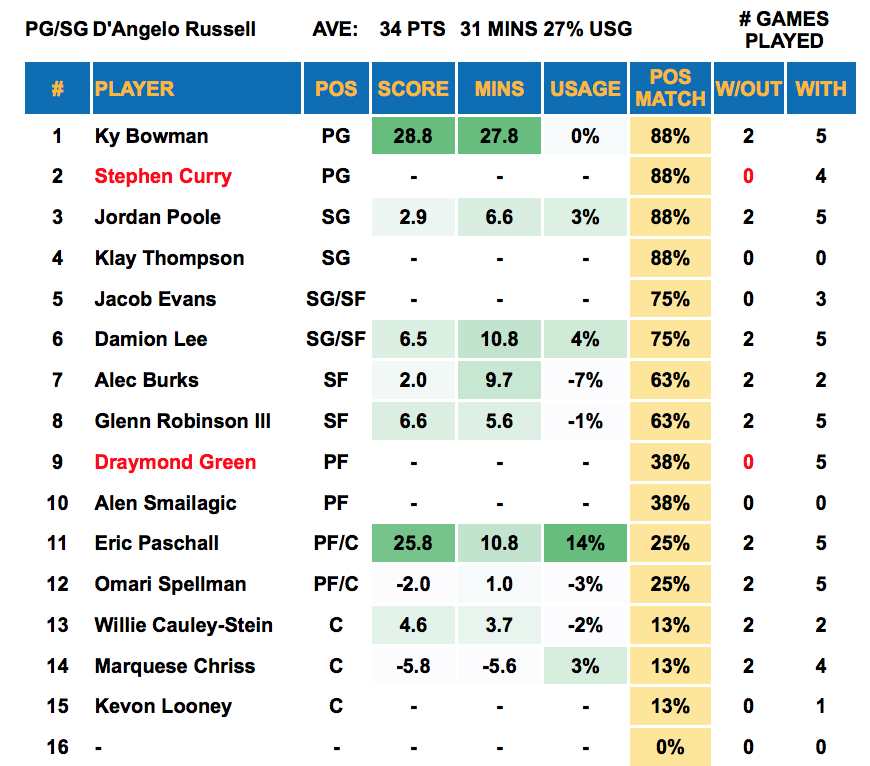 Kawhi Leonard will be out for load management against the Bucks. This is Leonard's second game missed as part of his "load management" and unfortunately it tarnishes one of the more exciting matchups of the young season. When Leonard sat out last game it was JaMychal Green who took full advantage posting +21 fantasy points from an additional 7 minutes of playing time and +7% usage. Be wary, however, as Green absolutely shot the lights out in this game going 5/6 from downtown.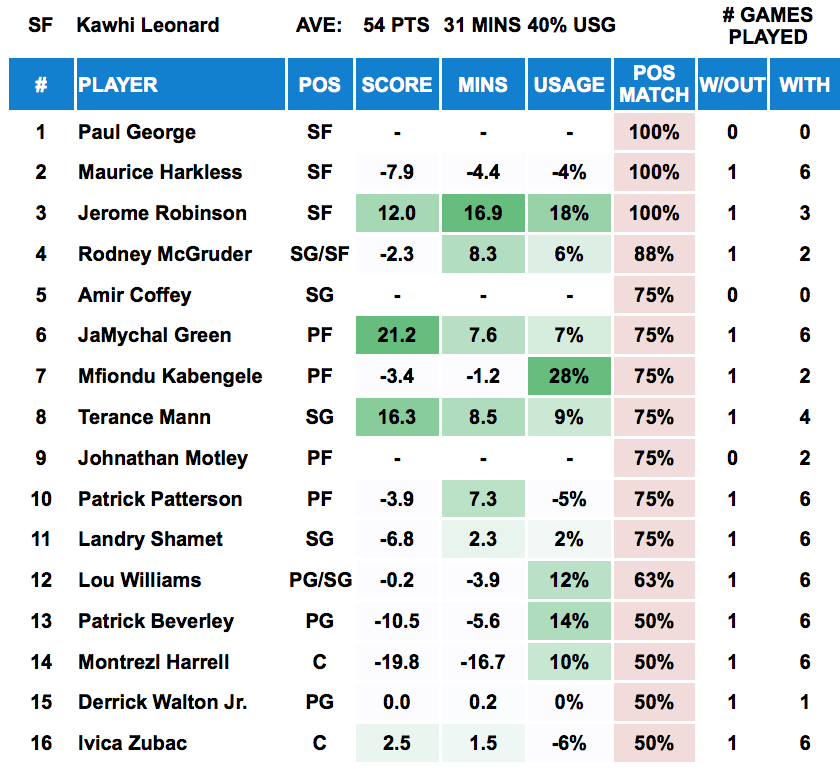 Jeff Teague is questionable for the game against the Grizzlies. If Teague was to sit it would be Shabaz Napier who slides into the starting lineup. Napier would become the chalk play of the slate as he is currently averaging slightly under a fantasy point per minute and would be expected to play at least 30+ minutes.
VALUE PLAYS
As always more value will likely open up as we get closer to the slate and further lineup news breaks. Also be studious in looking a pricing differences between the three platforms are some players are value on different sites just due price.
In addition to the possible plays noted above, the current value players to consider include:
Bruce Brown (MB $4,100, DS $7,560, DK $5,300) is a lock and load play at Moneyball where his price is still low and close to the same at Draftstars. On DraftKings I will probably pass although he has clearly shown he can return value at that price as noted above he has averaged 40 fantasy points per game over the past two contests as the team's starting point guard. The New York Knicks have been in the top 11 for points conceded to point guards so far this year, however Frank Ntilikina is an elite defensive player who could give him trouble if he can stay on the court for longer than 15 minutes.
Damion Lee (MB $4,100, DS $7,170, DK $4,300) is a great value option on any of the three platforms and regardless of whether Russell plays or not. Furthermore I love that Lee is essentially blowout proof if, as expected, the Rockets end the game early against the Warriors. He has also flashed GPP winning upside already this year posting a 43 point fantasy outing against the Pelicans.
Eric Gordon (MB $4,100, DS $8,880, DK $4,500) - BE SURE HE IS PLAYING - last game he managed to stumble into 25 fantasy points for us, but Gordon has been in one of the worst shooting slumps since he joined the Rockets. He is currently shooting 27% from the floor this year and 23% from long distance. This will rectify itself at some point and if there is ever a slate for it to happen it is against the Warriors who are the worst defensive team in the league so far this year. UPDATE - Gordon is out with a Hamstring Injury
Troy Brown (MB $3,900, DS $8,560, DK $4,500) has forced his way into the Washington starting lineup and commanded attention. His minutes have steadily increased over the past three games hitting 30 in the most recent where he posted a massive 39 fantasy points. The Pacers are not the best matchup on this slate, however 30 minutes of playing time at 1.14 fantasy points per minute is impossible to ignore at this price point.
MID PRICED PLAYS
Zach LaVine (MB $7,600, DS $12,180, DK $7,200) is more of a GPP play as he showed today. He has a ceiling that can certain lead you to a big pay day posting 48 fantasy points vs the Lakers and topping the 50 point mark earlier this season. I love his usage rate (28.8%) for his price level and on this slate he will matchup against Atlanta who are starting rookie Cam Reddish at shooting guard. The Hawks have given up the 5th most real points to shooting guards this season, which is where LaVine derives the majority of fantasy output from.
Jabari Parker (MB $5,000, DS $11,560, DK $6,700) is close to a must have at Moneyball where his price is still reasonable. At the other two sites you don't have to do it. We saw today that Pakers was essentially filling the John Collins role on this team as the pick and roll/pop man with Trae Young. He has an elite matchup on this slate for his position against Chicago who have given up the 5th most points in the league to power forwards. Furthermore the Bulls are the worst rebounding team in the league and Parker had 8 rebounds today as he scored 32 fantasy points.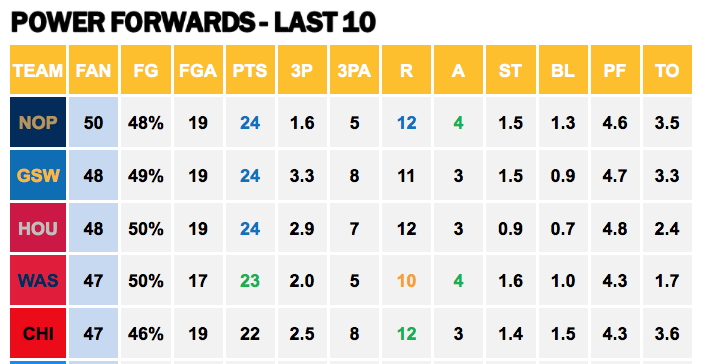 Lou Williams (MB $7,200, DS $11,040, DK $6,500) continues to have a massive usage rate off the bench this year at 28%. This went up by a ridiculous 12% the last time Kawhi sat out, which puts him firmly in play at his price points across the platforms. The Bucks are a solid defensive team, however it will be a pace up matchup for the Clippers as Milwaulkee play at the 7th fastest pace in the league. Williams will also be advantaged as he always is by the fact he will play significant minutes against the second units.
PREMIUM PLAYS
Malcolm Brogdon (MB $9,000, DS $13,720, DK $8,100) has been out of this world as the lead guard for the Pacers to start the season. He has averaged just under 48 fantasy points through 7 games and sports a massive 27% usage rate. His price is just ridiculous on Draftstars and will be a lock and load play for me on that site. He has an elite matchup on this slate against the Wizards who are now starting Isaiah Thomas at point guard. Thomas has routinely graded at as one of the worst point guards in the NBA defensively.
Pascal Siakam (MB $9,000, DS $13,760, DK $8,000) is sporting a whopping 31% usage rate this season now that Kawhi is no longer on the team. This has led to an average of 43 fantasy points per game. On this slate he faces the Sacramento Kings who are 23rd in defense efficiency this season and also have the 23rd worst rebound % in the league. This will suit Siakam who has averaged 8.5 rebounds this year and in his one game over 60 fantasy points grabbed 18.
Dragon's Suggested Moneyball Team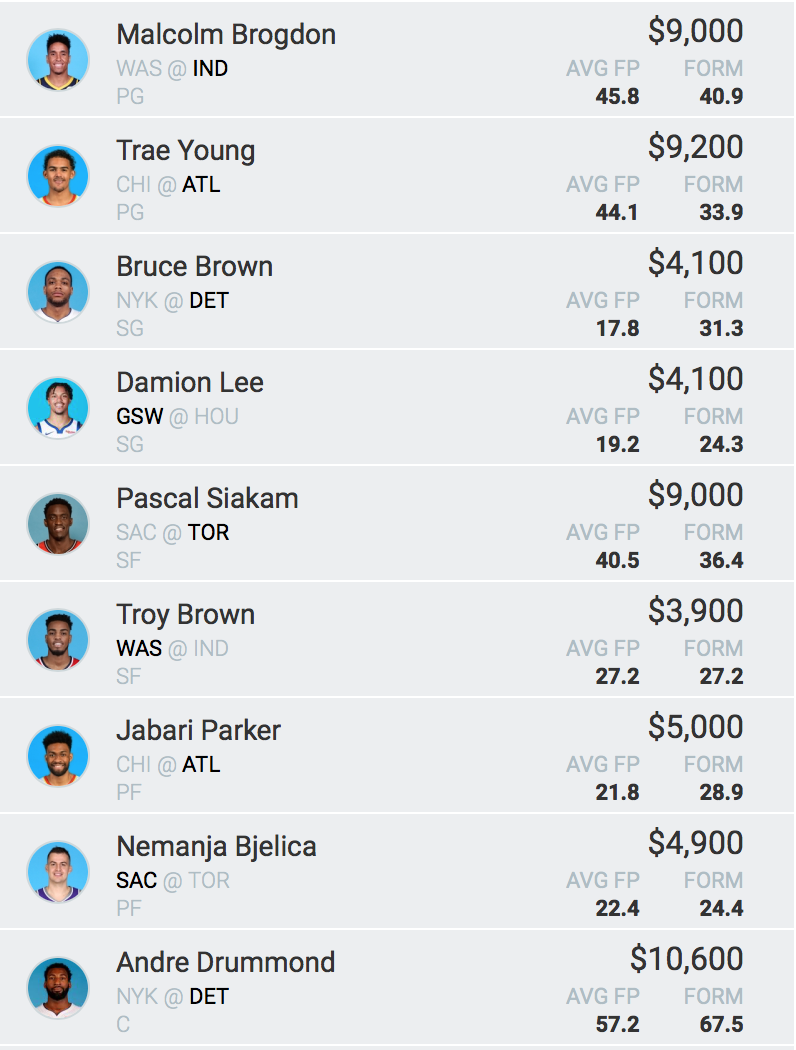 Always remember to gamble responsibly. When the fun stops, stop. If gambling is having a negative impact on your life, seek support at Gambling Help Online. 18+ only.