daily fantasy sports articles
NBA 2019-20 Daily Fantasy Preview Thursday 9th January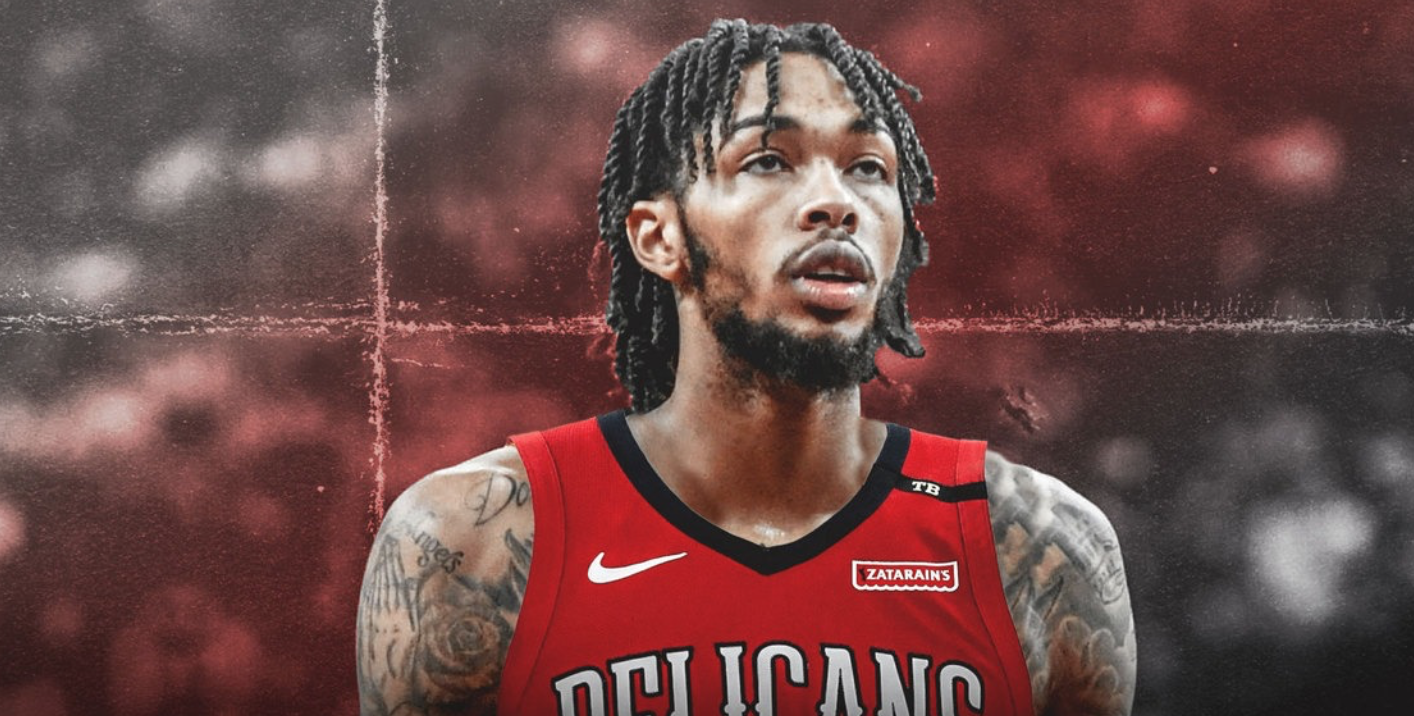 We are back with the biggest day of the week for NBA daily fantasy with a massive 9 game slate for NBA Wednesday (Thursday AEST). The usual array of daily fantasy contests are on offer across the major platforms:
Have you seen the details of the NBA VIP Experience in Los Angeles brought to you by DraftKings? THE CONTEST IS TODAY! You can read about the details here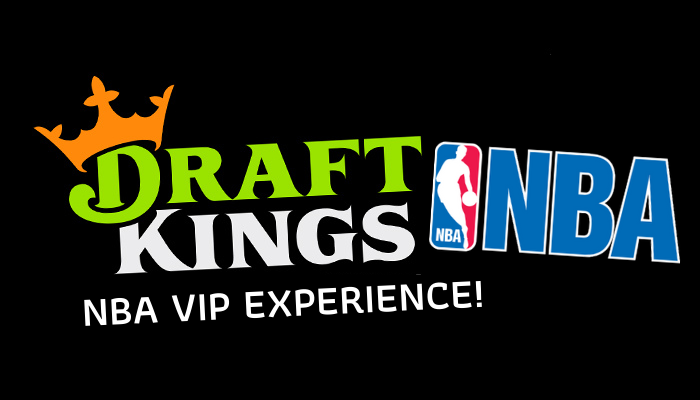 GAME BREAKDOWN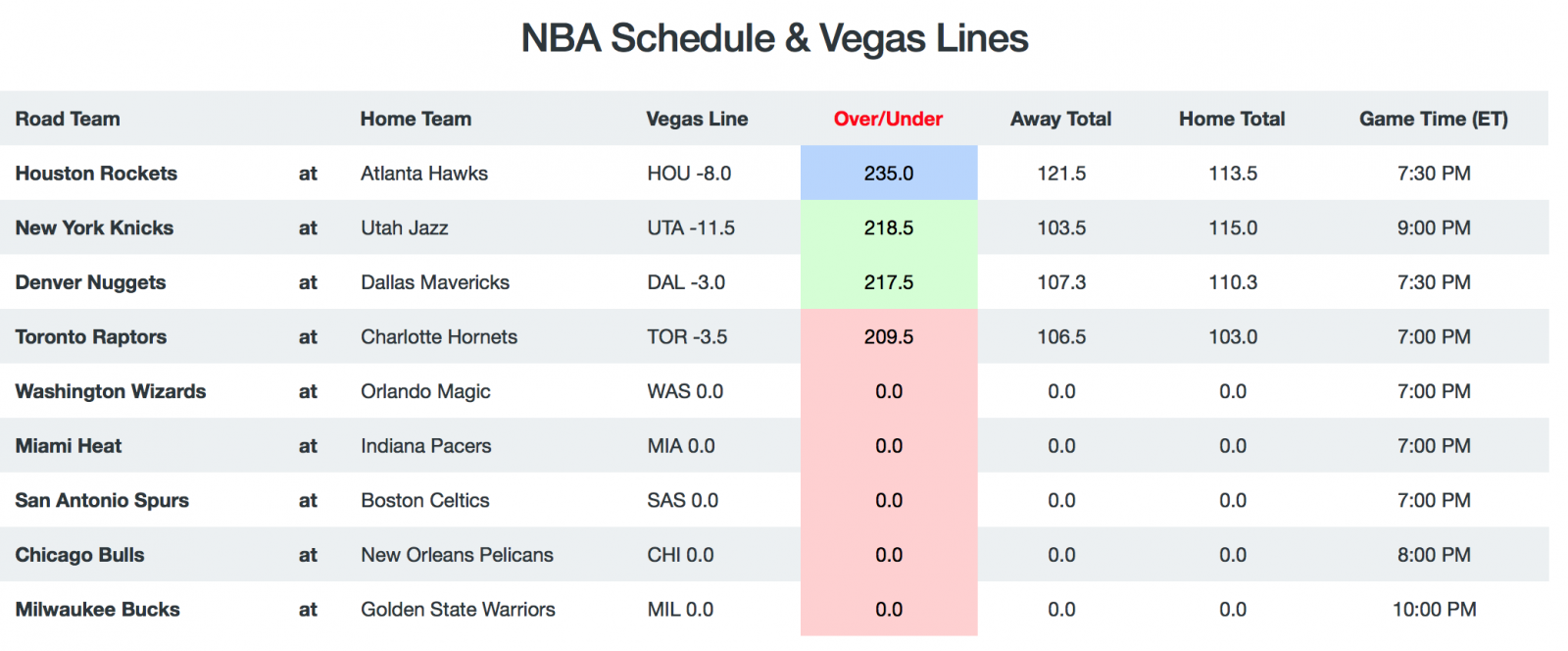 Once again we are battling a ridiculous amount of injury news that will significantly impact the slate with 5 games yet to have a total set. As always I breakdown the major lineup news that may impact the slate below.
The top game total of the games with a line set is one probably the juiciest game to target on the slate with Houston playing Atlanta. Both sides are in a pace up matchup with Houston playing at the second fastest pace in the league this season and the Hawks 8th fastest. Atlanta are also ranked 28th in defensive efficiency and have overtaken the Washington Wizards for most fantasy points conceded in the league this year. Houston are also very leaky giving up the sixth most fantasy points, meaning this game should be a daily fantasy spectacle.

Based on what we said above, it is no shock to see Altanta and Houston in the first and third biggest pace up spot of the day here just highlighting how much this matchup stands out. Golden State are in the next best pace up spot against the Milwaulkee Bucks who play at the fastest pace in the league. The issues in this matchup is the fact that despite playing fast the Bucks are the number 1 defense in the league and give a below average amount of fantasy points.
Surprisingly Orlando have just the 5th best pace up matchup on the slate against our favourite daily fantasy target, the Washington Wizards. The Wizards play at the 5th fastest pace in the league and are dead last in defensive efficiency, which means the MAgic players will be popular. There is a significant blow out risk, however, with Orlando being favoured by 10 points.
INJURY NEWS
Kemba Walker and Daniel Theis are both questionable for the game against the Spurs. Marcus Smart continues to see the biggest boost with Kemba out of the lineup. He has played an additional 4 minutes per game by moving into the starting lineup, which has led to an additional 8.9 fantasy points per game. If Theis were to miss it is likely that Enes Kanter would move into the starting lineup. Kanter has averaged 32 fantasy points from 21 minutes per game over the past 5 contests, so any boost in playing time could result in a ceiling game.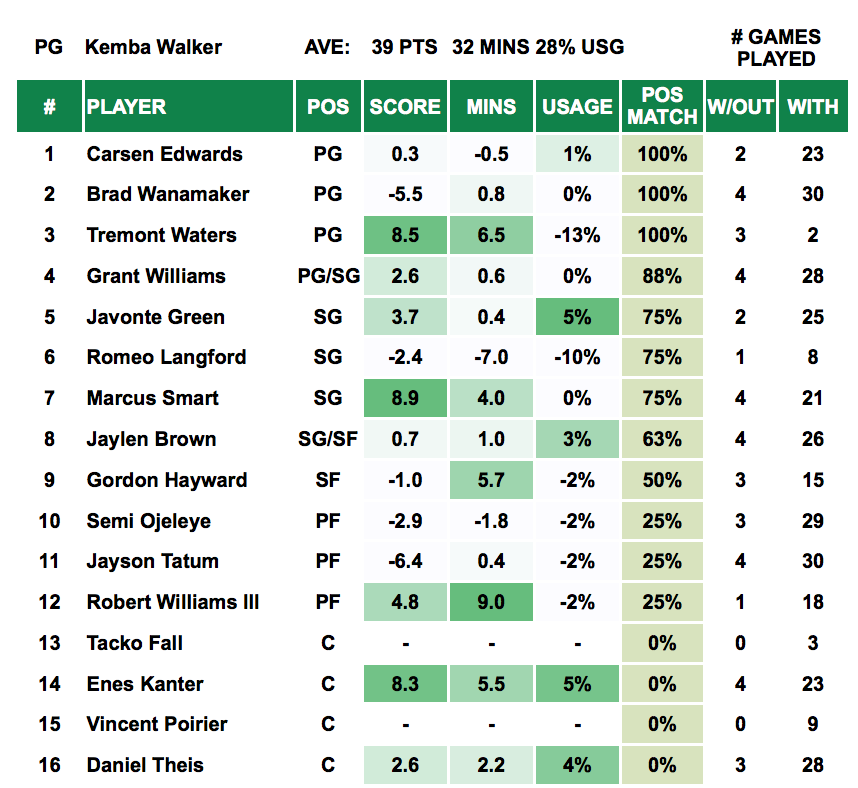 Wendall Carter Jr. has been ruled out of the game against the Pelicans. This will be the first game that Carter has missed this season, however, as we saw last game it was Daniel Gafford who picked up a significant increase in playing time. Gafford played 25 minutes (including the entire fourth quarter) and returned 27 fantasy points after Carter went down in the third quarter. Thad Young also played 28 minutes and poured in 32 fantasy points.
Will Barton will not play against the Dallas Mavericks. Michael Porter Jr has been showing a lot of potential recently and will likely get an extended run with Barton out the lineup. Porter has averaged over a fantasy point per minute this season and if we can expect him to play in the high 20s range for minutes, should almost be a lock and load play.
Russell Westbrook will sit out of the game against Atlanta for rest purposes. Without Wesbtrook this year James Harden has seen a huge 10% usage increase, which means his usage rate has hit 46% in those games, a totally obscene number. Ben McLemore and Austin Rivers also see significant minutes increases as they split up a portion of Westbrook's minutes at the guard positions.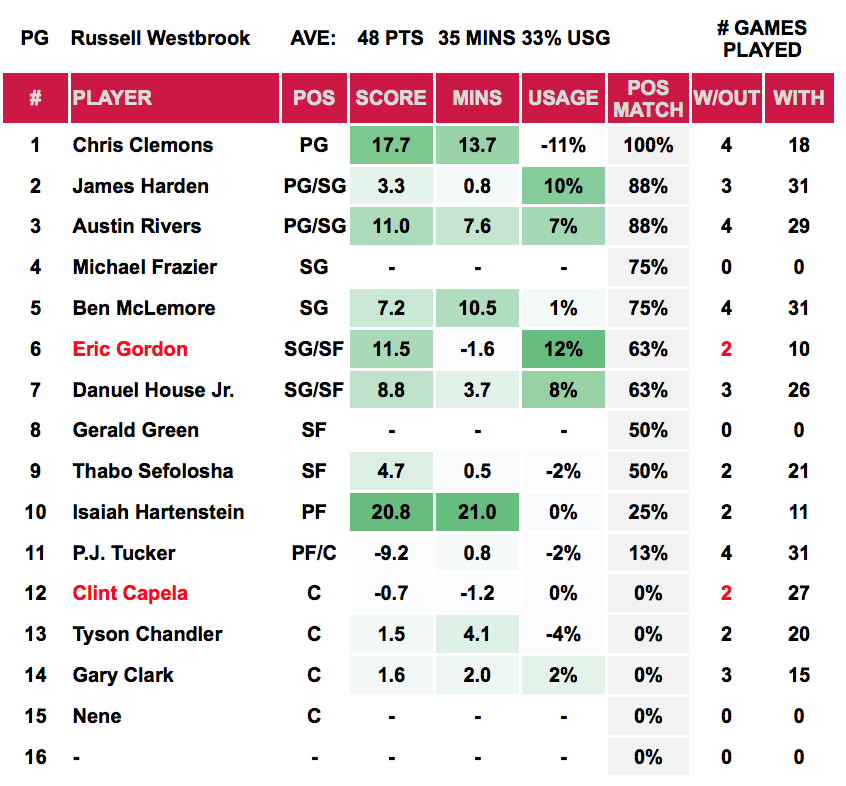 Malcolm Brogdon and Domantas Sabonis are questionable for the game against the Heat. The two have combined for over 51% usage rate this season, which means if they are both out there will be a significant amount of usage picked up by Jeremy Lamb and TJ Warren. Also keep an eye on the news to see who replaces Sabonis in the starting lineup if he doesn't play as Goga Bitadze had monster games in the 2 contests Sabonis missed this year, however they were also without Myles Turner in the lineup.
Jrue Holiday has been ruled out of the game against Chicago. Brandon Ingram and Lonzo Ball have both seen massive increases in fantasy point production in the three games that Jrue has missed this year. Ingram has seen his usage increase 3% leading a ridiculous +17.1 fantasy points per game, while Ball has played an additional 6.6 minutes game resulting in +12.5 fantasy points.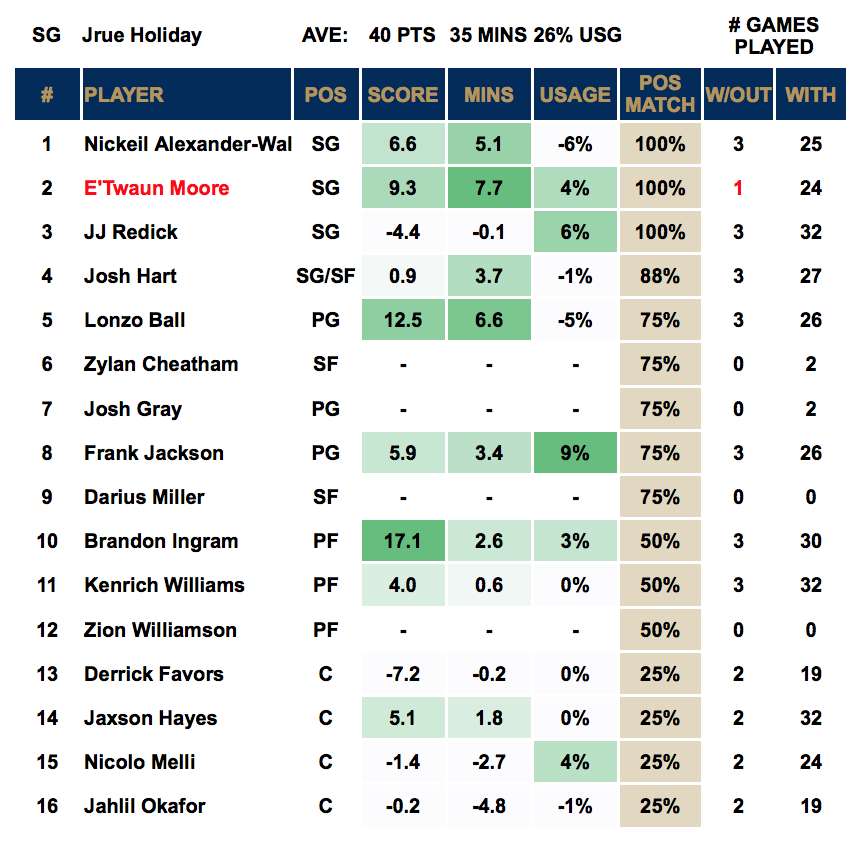 Fred VanVleet has joined Pascal Siakam, Marc Gasol and Normal Powell on the injury list. Kyle Lowry picks up all the usage he can handle with all those players out of the lineup as we saw today where he posted 48 fantasy points while taking 23 shot attempts and dishing out 10 assists.
Braldey Beal is questionable again on this slate. Jordan McRae has quite simply been a revelation in the 5 games Beal as missed this year posting a ludicrous +20.7 fantasy points from a usage increase of 10%.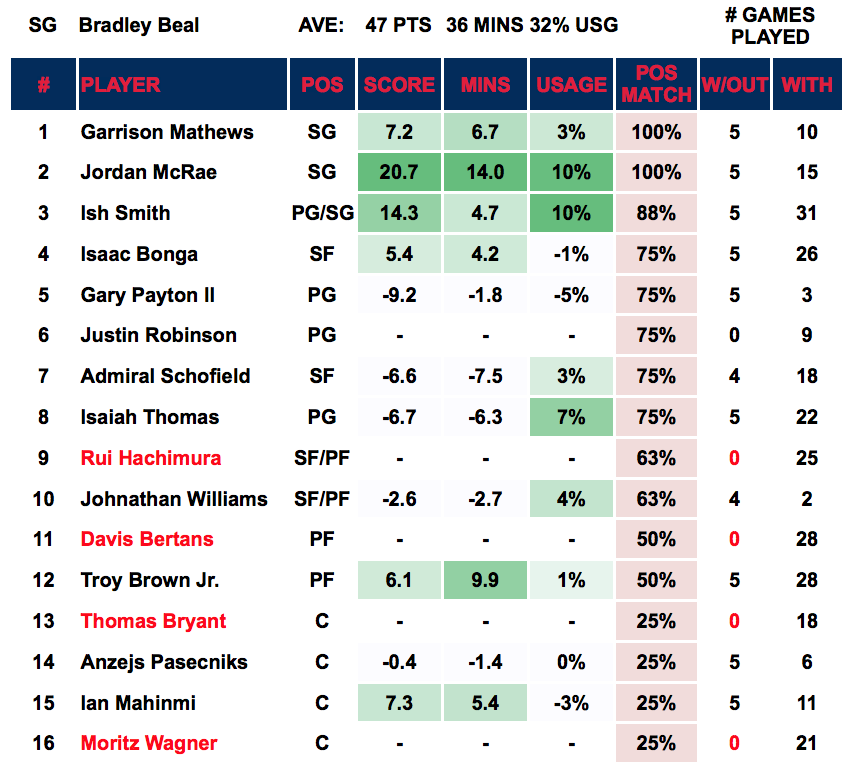 VALUE PLAYS
As always more value will likely open up as we get closer to the slate and further lineup news breaks. Also be studious in looking a pricing differences between the three platforms are some players are value on different sites just due price.
In addition to the possible value plays noted above (Marcus Smart, Daniel Gafford, Michael Porter, Austin Rivers):
Josh Hart (DS $8,450, DK $4,200, MB $4,500) / JJ Redick (DS $8,840, DK $5,100, MB $4,400)
Both players will start and play high 20s to early 30s in minutes. Picking which one will hit is the bigger task. Last game Hart was super chalky and unfortunately ran into foul trouble which impacted his minutes and flow for the game finishing with just 14 fantasy points. Reddick on the other had was shooting well and returned 28 fantasy points. Both players have scored at around 0.85 fantasy points per minute this season and make for safe cash game value plays on this slate.
Donte DiVincenzo (DS $7,460, DK $4,200, MB $4,500) has been yet another cog in the Budenholzer machine that revolves around Giannis this season. He has averaged just under 1 fantasy point per minute this season and on this slate should see an increase in playing time with backup point guard George Hill not playing. He also draws a great matchup against the Warriors who are 21st in defensive efficiency and he will be somewhat blowout proof if the Bucks pull away early as expected.
Rondae Hollis-Jefferson (DS $6,820, DK $4,900, MB $5,200) was the starting power forward on today's slate with the ridiculous injury list the Raptors are currently dealing with. He exploded in the first half, before slowing down in the second returning 20 fantasy points from 25 minutes of playing time. Jefferson has averaged just under the 1 fantasy points per minute mark this season and should be in consideration again on this slate if he remains in the starting lineup. The Hornets have given up the fourth most points to power forwards over the past 10 games.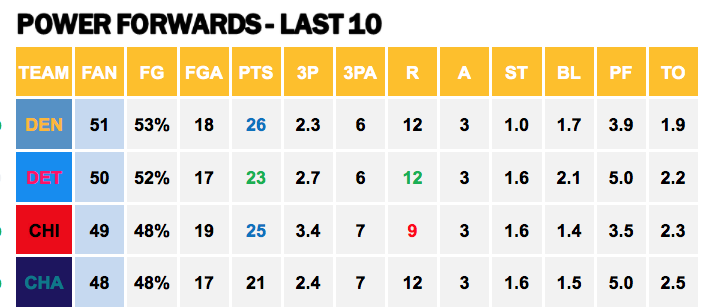 MID PRICE PLAYS
Dejounte Murray (DS $9,640, DK $5,400, MB $5,900)... I am a total sucker for Murray at this price point. He has continued to show all year that he can rack up fantasy points quickly, averaging 1.16 fantasy points per minute on the season. His minutes continue to be somewhat limited by Popvich, playing around 27+ per game at the moment. If he is playing well he will likely creep over the 30 mark and certainly offers a ceiling of well in excess of 40 fantasy points, which makes him a great GPP play at this price point.
Aaron Gordon (DS $13,560, DK $6,200, MB $6,000)... we are going to need exposure to the Magic somewhere on this slate with the matchup against the Wizards. They have given up the fourth most fantasy points in the league this season and while most of the MAgic have been priced up fairly, Gordon still remains in an attractive range for this matchup. In six of his last seven games he has posted 32+ points, which almost makes him safe for cash and he also brings a 40-50 point ceiling.
Serge Ibaka (DS $13,070, DK $7,800, MB $7,800) is seeing a significant level of usage with number of players the Raptors currently have out. Ranging from 12-20 shot attempts per game he has very solidly posted an average of 37 fantasy points over the past 6 games. On this slate he draws his best matchup yet against the Charlotte Hornets who have given up the second most fantasy points to centres this season.
PREMIUM PLAYS
Brandon Ingram (DS $15,710, DK $8,800, MB $8,700) as we noted above sees an incredible boost in fantasy point production in games without Jrue Holiday. On this slate is aligns nicely with one of the top matchups in the league at his position with the Chicago Bulls giving up the third most fantasy points in the league to power forwards over the past 10 games. Ingram has become one of the safest plays in the league this year as well, with just 3 of his last 10 games going under 42 fantasy points and of those three the lowest score was 32.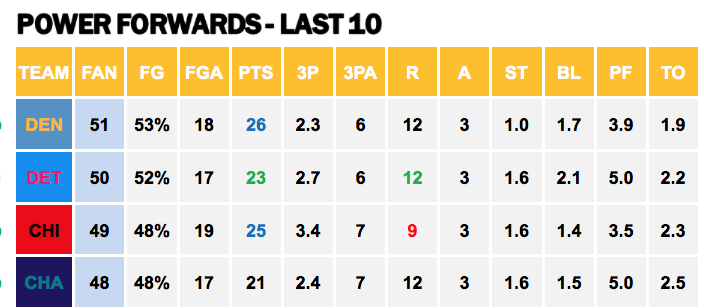 Bam Adebayo (DS $14,320, DK $8,300, MB $8,900) is my sneaky premium play on this slate. A position to attack that no one has been talking about is centres against Indiana. They have conceded the 5th most fantasy points to the position this season, and the matchup is likely to get even better if Sabonis is out.
Look it essentially goes without saying (based on the points raised in the game breakdown) that Trae Young (DS $19,250, DK $9,700, MB $9,400) / James Harden (DS $26,130, DK $12,800, MB $11,100) are both in absolutely elite spots on this slate. These two are arguably one of the best game environments they will face all season. I will have plenty of exposure to both, particularly if we get a lot of value opening up and if you can find a way to swing it salary wise, stacking them together makes a lot of sense.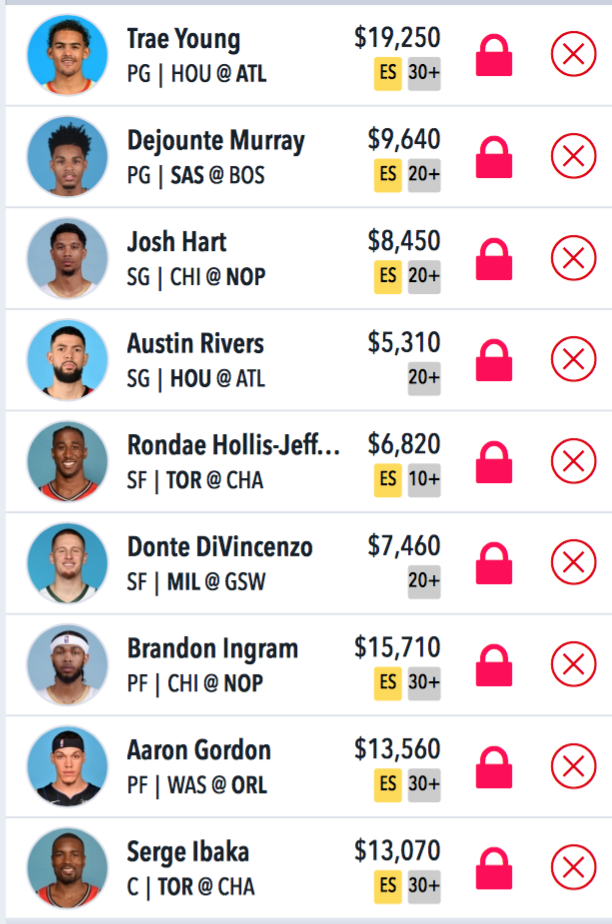 In case you are new to NBA DFS these articles break down the matchups and highlight the key plays to help you build winning lineups. For more insight into how to utilise our game breakdown data check out our NBA DFS Training Camp Series:
Always remember to gamble responsibly. When the fun stops, stop. If gambling is having a negative impact on your life, seek support at Gambling Help Online. 18+ only.