daily fantasy sports articles
NBA 2019-20 Daily Fantasy Preview Tuesday 10th December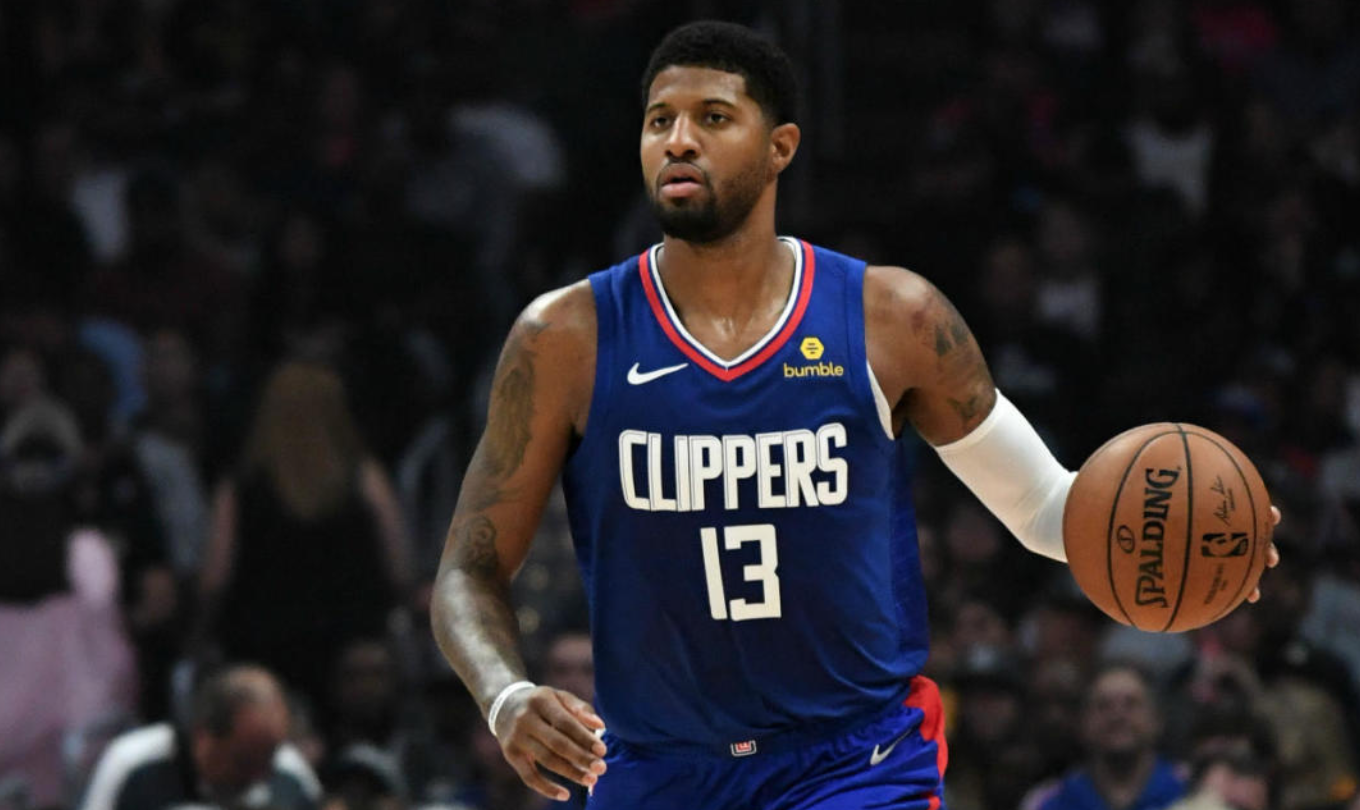 Welcome back! Another big week of NBA action is here and we get things started with a massive 9 game slate for NBA Monday (Tuesday AEST). There are the usual array of massive DFS games across all platforms:
Have you seen the details of the NBA DraftKings Live Event in Melbourne? You can read about the details here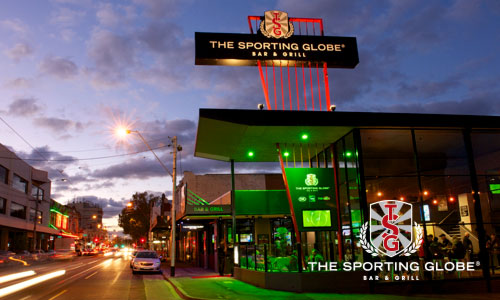 GAME BREAKDOWN

This slate is modest in terms of game totals with just the two teams expected to top the 220 point mark. The highest game total listed is Sacramento at Houston which is forecast for 228 points. Houston are the second fastest teams in the league while Sacramento currently play at the slowest pace, which puts the Kings in a massive pace up matchup. The Rockets have conceded the 9th most fantasy points this year, while the slow pace has resulted in the Kings giving up the 10th fewest. This game also features a 12 point line indicating the possibility of a blow out and such may be somewhat fools gold in terms of matchups to target.
Detroit at New Orleans is far more appealing to me with a total of 226.5 points and a line of just 1 point it is expected to stay close throughout. The Pelicans have played at the 5th fastest pace this season and are ranked 29th in defensive efficiency, while the Pistons are also bottom 10 in defensive efficiency.
There are two games where we are still awaiting lineup and injury news. As usual I have broken down the impact of all possibly major lineup changes below.

Minnesota at Phoenix is another game that looks juicy to target. The total is yet to be set at this stage but when it does I expect it to be one of the top totals on the slate. In addition, the line is just 3.5 points. The Timberwolves have played at the 4th fastest pace in the league this year, while the Suns are the 8th fastest, which puts both sides in a pace up matchup. Both sides are in the bottom half of the league in defensive efficiency, while the Suns have really started leaking fantasy points without Baynes in the lineup, giving up the 4th most fantasy points over the last 15 games.
INJURY NEWS
Gordon Hayward is considered questionable for the game against the Cavs. Hayward has played 31 minutes per game this season with a usage rate of 23%, which means his return will negatively impact several current Celtics. Marcus Smart will likely return to the bench while Jaylen Brown and Jason Tatum will also see drops in minutes and usage.
Malcolm Brogdon is questionable for the game against the Clippers. In the four game Brogdon has missed this year it has been Aaron Holiday moving into the starting lineup, playing an additional 10 minutes per game and scoring +18.2 fantasy points.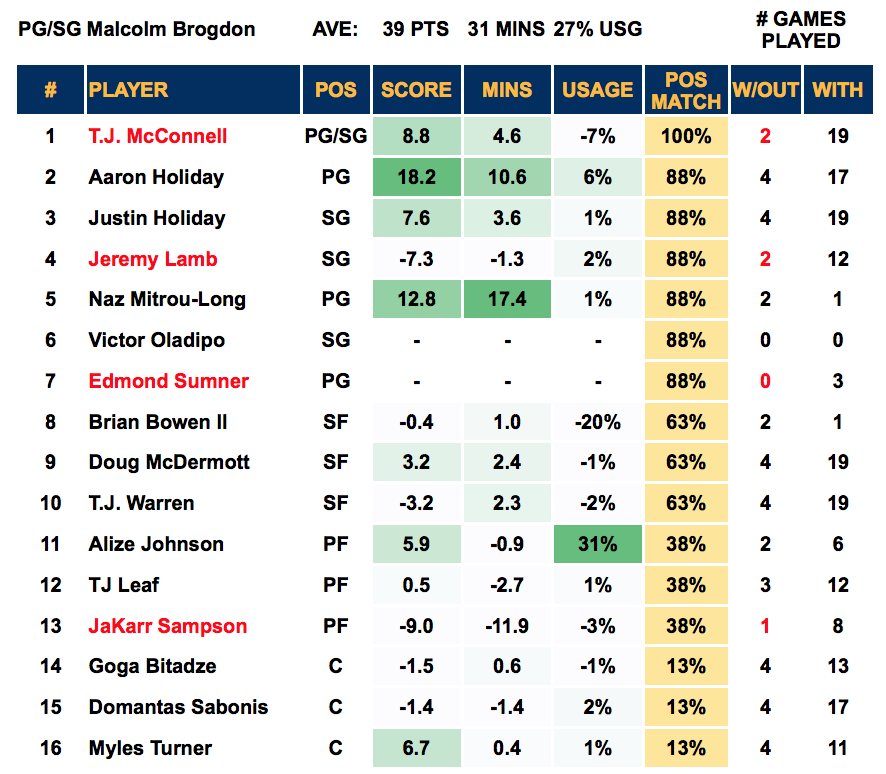 Kawhi Leonard could be rested for the game against the Pacers. Paul George has seen a ridiculous usage increase in games without Kawhi this season of +10%. He has played less minutes in this these games as the majority came as George was just returning from injury. Bench players Lou Williams and Montrez Harrell have also seen 5% and 7% usage rate increases respectively. This has resulted in a massive +11 fantasy points per game for Williams.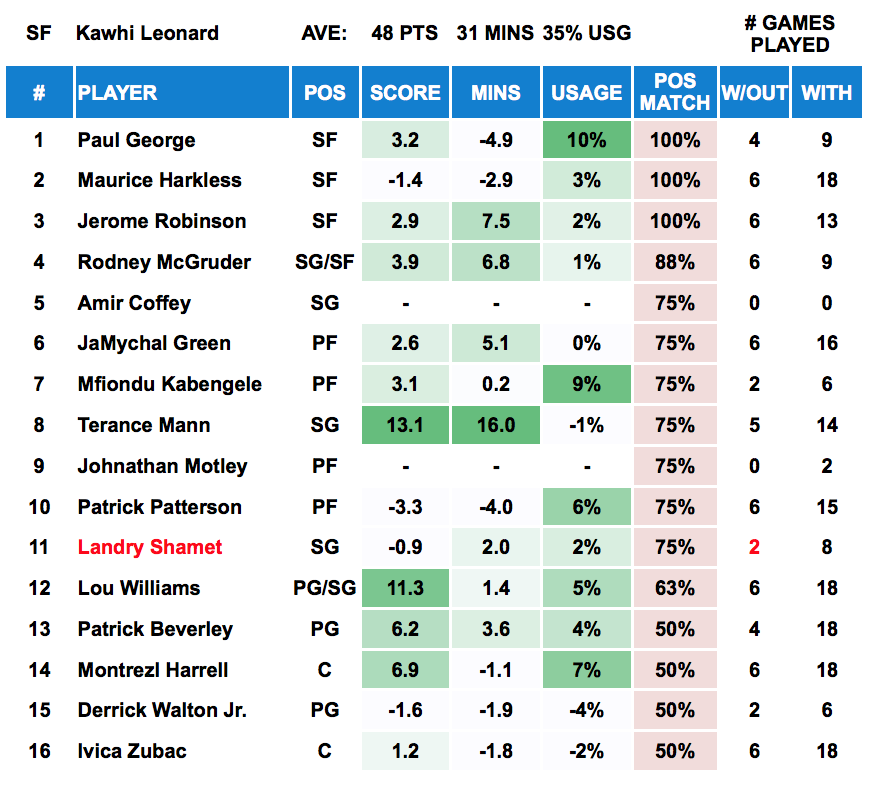 Aaron Baynes is probably for the game against the Timberwolves. If Baynes returns it will push Frank Kaminsky to the bench. Be sure to monitor for possible minutes limits for Baynes.
Andrew Wiggins and Karl Anthony-Towns were both game time decisions for today's game and are on the second leg of a back to back on this slate against the Suns. If either player miss the game on this slate it will result in a significant usage increase for the other. Jeff Teague is likely to be the other major benefit. Andrew Wiggins missed the game against OKC two matches ago and Teague responded with 50+ fantasy points. If Towns was to miss Gorgui Dieng would likely start and play significant minutes.
VALUE PLAYS
As always more value will likely open up as we get closer to the slate and further lineup news breaks. Also be studious in looking a pricing differences between the three platforms are some players are value on different sites just due price.
In addition to the possible plays noted (Gorgui Dieng, Aaron Holiday) above, the current value players to consider include:
Ben McLemore (MB $4,800, DS $10,100, DK $5,300) probably has the easiest job in basketball right now, particularly for a shooter. There is a lot of talk in the media and on NBA twitter about the Rockets style and James Harden style and whether he would be fun to play with. Well think what you want about all that, but I can guarantee you that Ben McLemore is not complaining. Who wouldn't want to stand in the corner and just get practice shots all game. McLemore has flourished in the Rockets system and been flat out unconscious in recent games posting 34 points per game over his slate four (5.5 made threes from a ridiculous 11 attempts a game). It is unlikely I touch him at Draftstars or DraftKings but he is still cheap on Moneyball.
Joe Ingles (MB $4,400, DS $8,230, DK $5,400) had the standard bounce back game on Sunday for those of us that held the course after he burned everyone as chalk in the game before. Mike Conley remains out on this slate, which means Ingles will once again be starting and handling a significant amount of the playmaking duties. He gets a 5% usage bump in games without Conley this season and is still underpriced for this role on both Moneyball and Draftstars.
Bogdan Bogdanovic (MB $6,000, DS $10,050, DK $4,800)... as you can see there is certainly a price disparity between DraftKings and the other two platforms here. He makes for a great GPP play at DraftKings, as he has averaged just over 1 fantasy point per minute this season and should continue to get 25+ minutes per game (possibly higher on a second night of a back-to-back). Bogdonaic has shown 50+ point upside if he gets going in the past.
MID PRICED PLAYS
Blake Griffin (MB $7,500, DS $15,060, DK $7,200) … this could be a day late as Griffin broke out finally last slate with 42 fantasy points against Indiana. His price remains low on Moneyball and DraftKings, however, and he looks locked into 30 minutes per night now. I want to get exposure to this game against the Pelicans who have given up the equal 4th most fantasy points to power forwards over the last 10 games. Both Blake and Drummond are in elite matchups.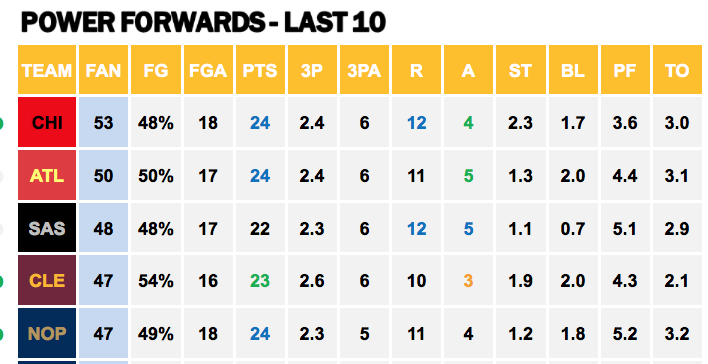 Paul George (MB $9,100, DS $13,930, DK $7,800) is premium priced at Moneyball but absurdly cheap at the other two platforms. I like him everywhere on this slate, however, with the expectation that Kawhil will be out on the second leg of the back to back. This isn't the best matchup in the league against the Pacers, but the 10% usage increase in games that Leonard has missed is just far too juicy to pass up.
D'Angelo Russell (MB $8,300, DS $13,450, DK $7,700) is my mid priced GPP play. As I mentioned with Blake above we want to be a day early on Russell not a day late. Since returning from injury he has played just 25 minutes and 29 minutes in two games, but as you can see trending upwards. Keep an eye on the news, but if we can expect to get a normal allotment of minutes Russell will be in an elite position to break out again with Memphis conceding the second most points to point guards over the past 10 games. Russell has already shown 80 point upside this year and before his injury was in a run of 4 straight games of 48 points or better.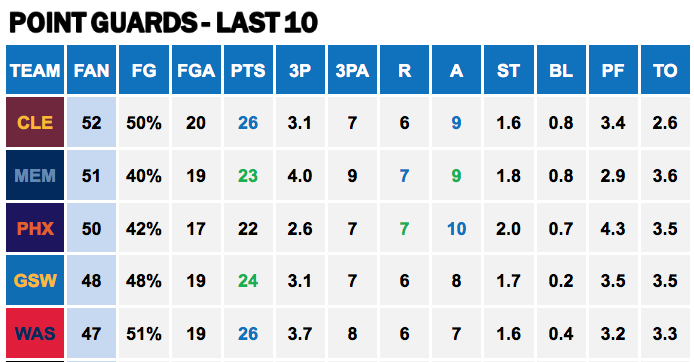 PREMIUM PLAYS
James Harden and Giannis Antetokoumpo will be the main choice that most players grapple with on this slate. Both players have the highest floor of practically anyone in the league, along with Luke Doncic. There is a real risk of a blowout in both matchups on this slate as both players are in games with lines of 12 points. If pressed James Harden looks to be a great spot for positive regression after shooting just 10/42 from deep over the past 3 games.
The option I will look down to if he is playing is Karl Anthony-Towns (MB $11,000, DS $20,590, DK $9,300). The Suns have been playing at a fast pace this season (ranked 8th) and have conceded the 7th most fantasy points to centres over the past 10 games and for the season have given up the 5th most made threes, which plays right into Towns strengths as he 42% on over 8 attempts this year.
Dragon's Suggested Moneyball Team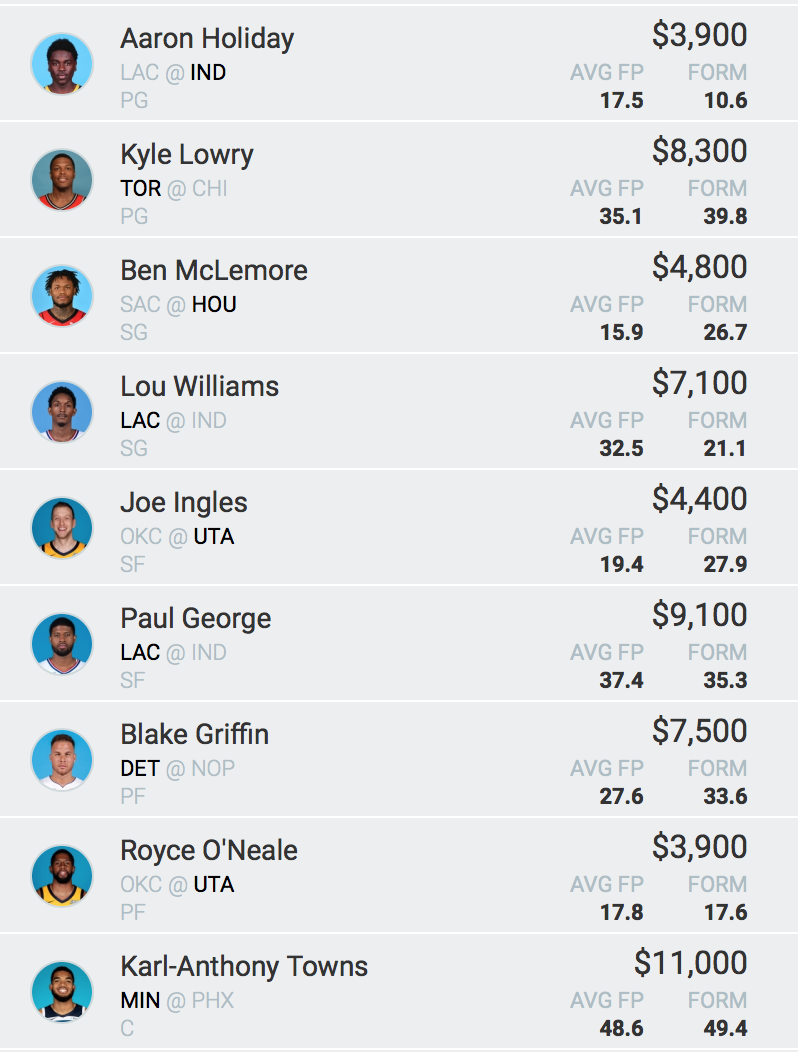 In case you are new to NBA DFS these articles break down the matchups and highlight the key plays to help you build winning lineups. For more insight into how to utilise our game breakdown data check out our NBA DFS Training Camp Series:
Always remember to gamble responsibly. When the fun stops, stop. If gambling is having a negative impact on your life, seek support at Gambling Help Online. 18+ only.