daily fantasy sports articles
NBA 2019-20 Daily Fantasy Preview Tuesday 11th February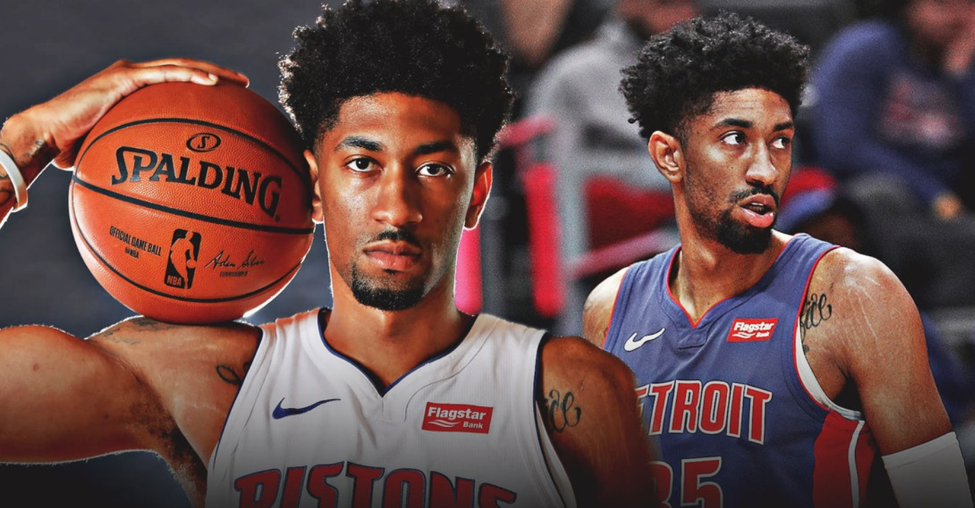 Time to kick off the final week before the All Star break. The season has flown past to date and we are almost at the downhill run to the playoffs. NBA Monday (Tuesday AEST) brings a 9 game slate for us to attack. The usual major daily fantasy tournaments on offer across the platforms:
● $20K NBA Tuesday at Draftstars
● $1.5K NBA Tuesday Mini ($2 Entry) at Draftstars
● $450K NBA Fadeaway ($100K to First) at DraftKings
● $125K Four Point Play (20 Entry Max) at DraftKings
● $40K NBA Pick and Roll (Single Entry) at DraftKings
● $7K NBA Tuesday Special at Moneyball
● $1K NBA Tuesday ($2 Entry) at Moneyball

GAME BREAKDOWN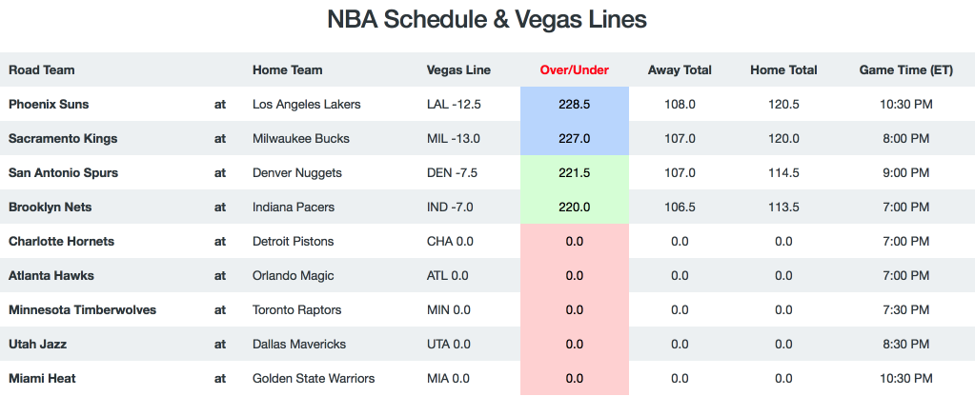 Just another day in NBA daily fantasy with 5 of the 9 games on the slate yet to have totals set while we await a plethora of lineup news. As always, I break down the major impact of the injury news and fallout from the trade deadline to work out the impacts for our daily fantasy teams.
The highest game total of those listed currently is Phoenix at Los Angeles at 228.5 points. This is a nice pace up match-up for the Lakers with the Suns playing at the 10th fastest pace in the league this season. Phoenix are also bottom 10 in defensive efficiency and have given up the 11th most fantasy points this season. As such, it is not a big surprise to see the Lakers as 12.5-point favourites in this match-up. I will certainly be looking to roster Lakers in this spot, however the blowout does give some pause.
Sacramento at Milwaukee is the next highest total at 227 points. This game has the Kings in the biggest pace up spot of the day with the Bucks the fastest team in the league this season. Normally that would mean let's dive right in, however, Milwaukee are by far the best defensive team in the NBA and have been relatively stingy from a fantasy perspective despite their pace. Furthermore, the Bucks are likely to end this game in the first half as they have done so often this season, they are currently sitting at 12.5 favourites.

My favourite team to target on this slate will be the Orlando Magic. They face Atlanta in the third highest pace up spot of the day. The Hawks are a daily fantasy wet dream, they play at the 5th fastest pace in the league, are ranked 27th in defensive efficiency and concede the most fantasy points. There isn't a position you can't realistically target them in, and on this slate, they are only 6 point underdogs, which means there is a reasonable chance the game stays close.
Toronto is also in a significant pace up spot as they face the 7th fastest team in the league, the Minnesota Timberwolves. The Wolves are around league average defensively this year, however when Towns has played that is significantly worse, and they are also adding in D'Angelo Russell at point guard, which is a negative on the defensive side of the floor. Over the past 15 games we have seen Minnesota give up the 8th most fantasy points in the league, which means the Raptors should feast in this match up.
INJURY NEWS
Will Barton and Michael Porter Jr will remain out for the game against the Spurs. It is a relatively small sample size without Barton in the lineup this year, however it has typically been PJ Dozier and/or Torrey Craig who have picked up additional playing time. Jamal Murray does stand out as seeing a solid boost in usage of +4% in four games without Barton.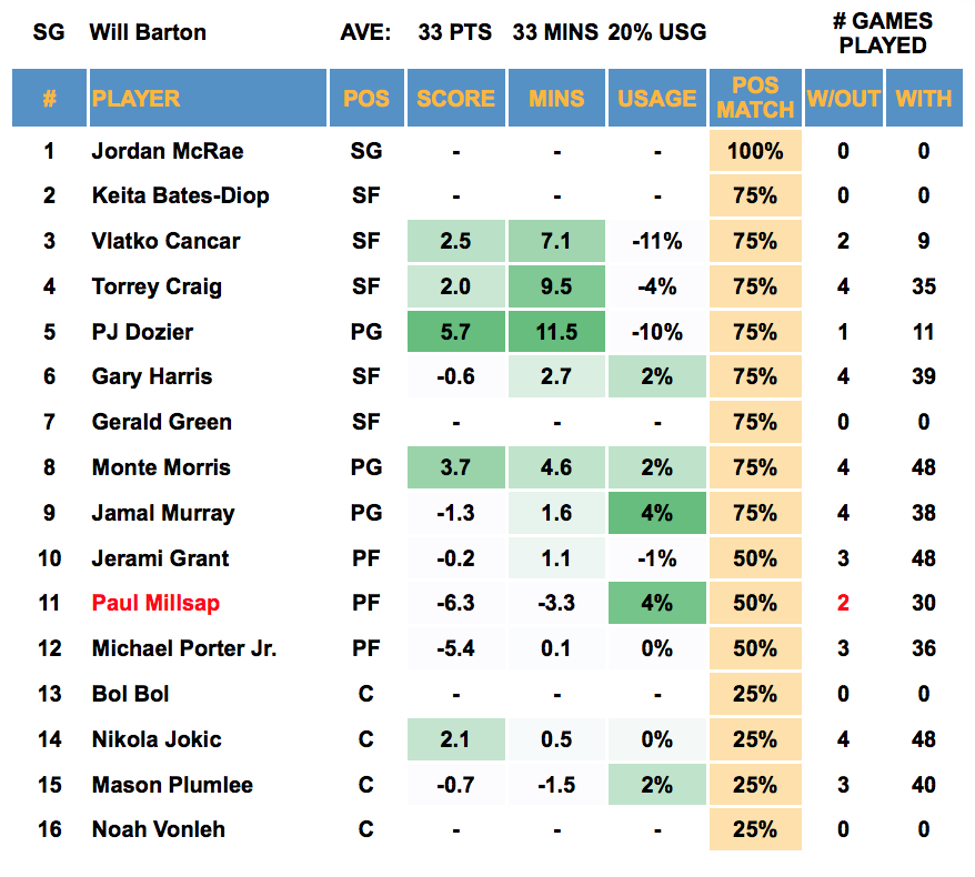 Giannis Antetokounmpo is questionable for the game against Sacramento. If Giannis is out the roster construction becomes easy on this slate, simply lock in Eric Bledsoe (+23 fantasy points, +9% usage), Kris Middleton (+15 fantasy points, +9% usage) and Ersan Ilyasova (+22 fantasy points, +9 minutes). No need to overthink things here.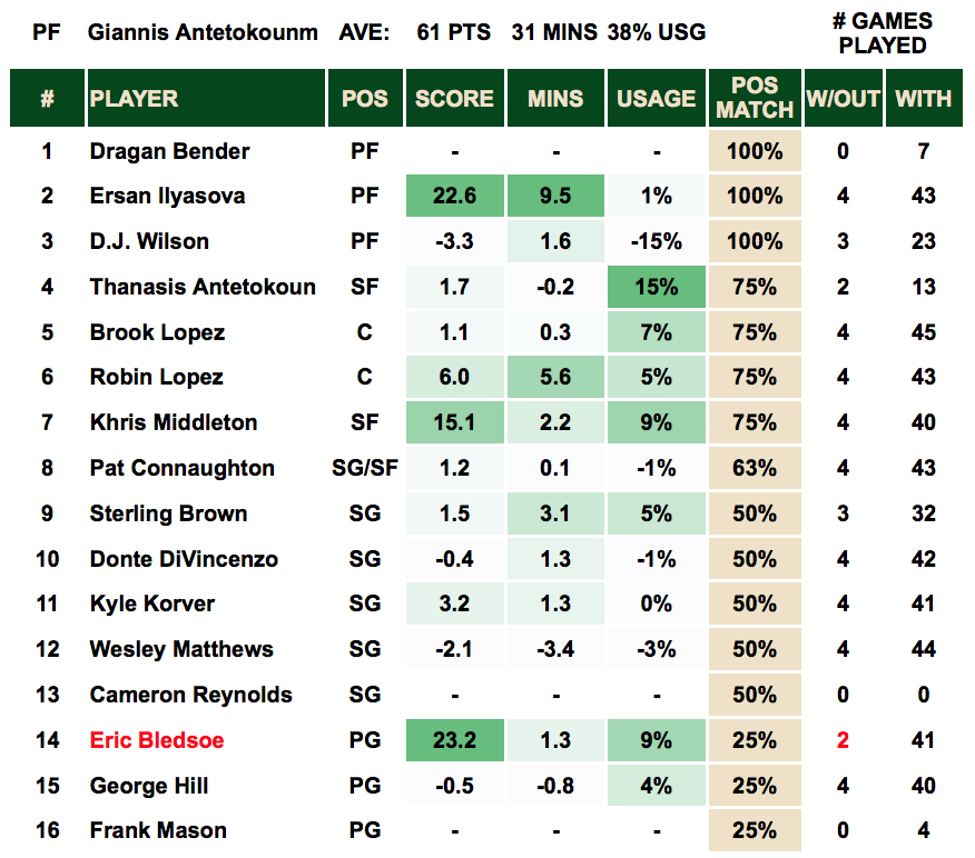 D'Angelo Russell is questionable for the game against the Raptors. He is yet to play for the Timberwolves, however in the first game post trade deadline we got a good look at the lineup without Russell in it and point guard Jordan Mclaughlin (48 fantasy points) and shooting guard Malik Beasley (48 fantasy points) were unleashed.
DeAndre Ayton is questionable for the game against the Lakers. Without Ayton, and possibly Aaron Baynes who has been out for an extended period, we would likely see a lot of Cheick Diallo at centre. Diallo has averaged exactly 1 fantasy point per minute this season, meaning if he got the start, he would be a very chalky and elite value play on this slate.
Kyle Lowry is questionable, while Marc Gasol remains out for the game against Minnesota. If Lowry is out, I will be going right back to the well of Terence Davis who started in his place last game and poured in 35 fantasy points. Fred VanVleet will also be an elite option, averaging +6.3 fantasy points per game this season without Lowry in the lineup from an additional 3% of usage.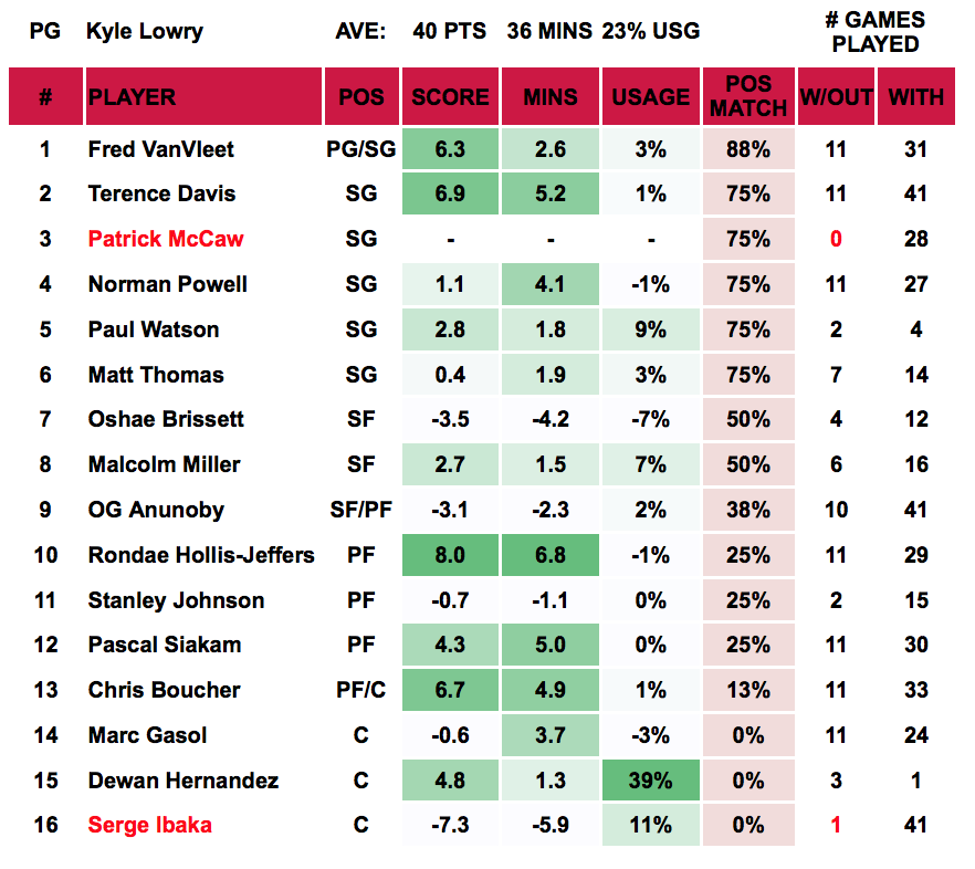 VALUE PLAYS
As always, more value will likely open up as we get closer to the slate and further lineup news breaks. Also be studious in looking at pricing differences between the three platforms as some players are value on different sites just due price.
In addition to the possible value plays noted above (Malik Beasley, Cheick Diallo, Terence Davis, Ersan Ilyasova):
Juancho Hernangomez (DS $6,490, DK $3,600, MB $4,000) looks to have moved directly into the starting lineup at the Timberwolves. In his first game he started at power forward and played 27 minutes, returning 23 fantasy points. If this role continues, he is a solid value option if the more chalkier plays discussed above do not eventuate.
Jordan Clarkson (DS $8,370, DK $4,400, MB $4,500) always makes for a great value pivot in GPPs as he brings massive upside. We saw it today as he went bezerk off the bench and posted a 42 fantasy point game while scoring 30 real points. On this slate he draws Dallas who have given up the 7th most fantasy points to shooting guards over the past 10 games.
MID PRICED PLAYS
Spencer Dinwiddie (DS $12,940, DK $7,900, MB $6,700) hasn't seen an appropriate price adjustment given the fact that Kyrie is now out, especially on Draftstars. Without Irving in the lineup this season Dinwiddie has averaged +10 fantasy points from an additional 6% usage. Last game he posted a massive 49 fantasy points.
Markelle Fultz (DS $10,190, DK $6,100, MB $6,000) I love this match up against Trae Young who rates out as not just one of the worst defensive point guards in the league, but players period. As I noted in the game breakdown above, this is a significant pace up spot for the Magic and the Hawks are one of the worst defensive teams in the league. Fultz has been locked into 30+ minutes per game with DJ Augustin out of the lineup, and during this stretch has shown us 40+ point upside.
PREMIUM PLAYS
Christian Wood (DS $14,630, DK $7,200, MB $7,600) is now showing the world what all of us daily fantasy players knew all along. He is a total beast when it comes to accumulating stats. Through two games since the Andre Drummond trade, Wood has posted 52 and 41 fantasy points while playing 35+ minutes. His price is creeping upwards, however on this slate he draws the Charlotte Hornets who have been destroyed by centres all season, giving up the second most fantasy points to the position. Amazingly Wood has become one of the safest plays on the slate.
Domantas Sabonis (DS $16,430, DK $9,600, MB $8,400) I will be locking this in on Draftstars, but likely staying away at the price on DraftKings. Brooklyn continues their trend of getting lit up by centres, as they have conceded the most points in the league to the position over the past 10 games. They have conceded the 4th most rebounds to centres this year, which will play right into Sabonis's hands (averages 12.6 per game). Now, while you are likely thinking right now Sabonis starts at power forward, while this is correct his minutes are staggered with Turner's significantly giving him a solid portion of run at the centre position.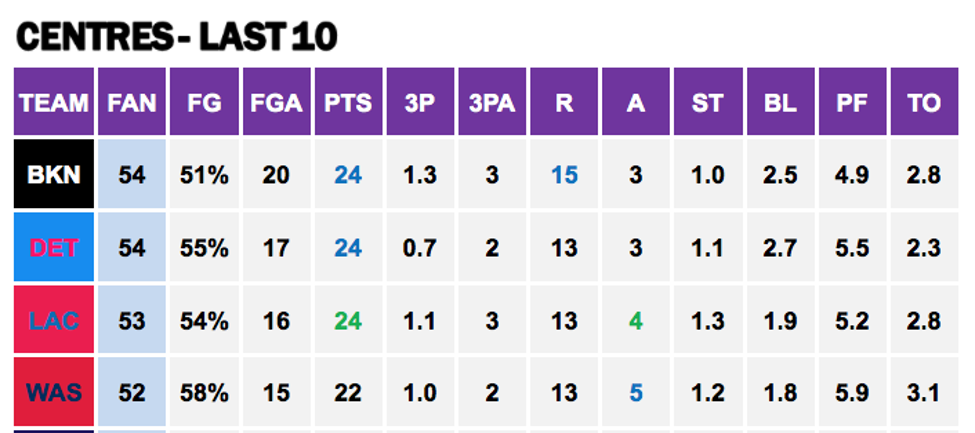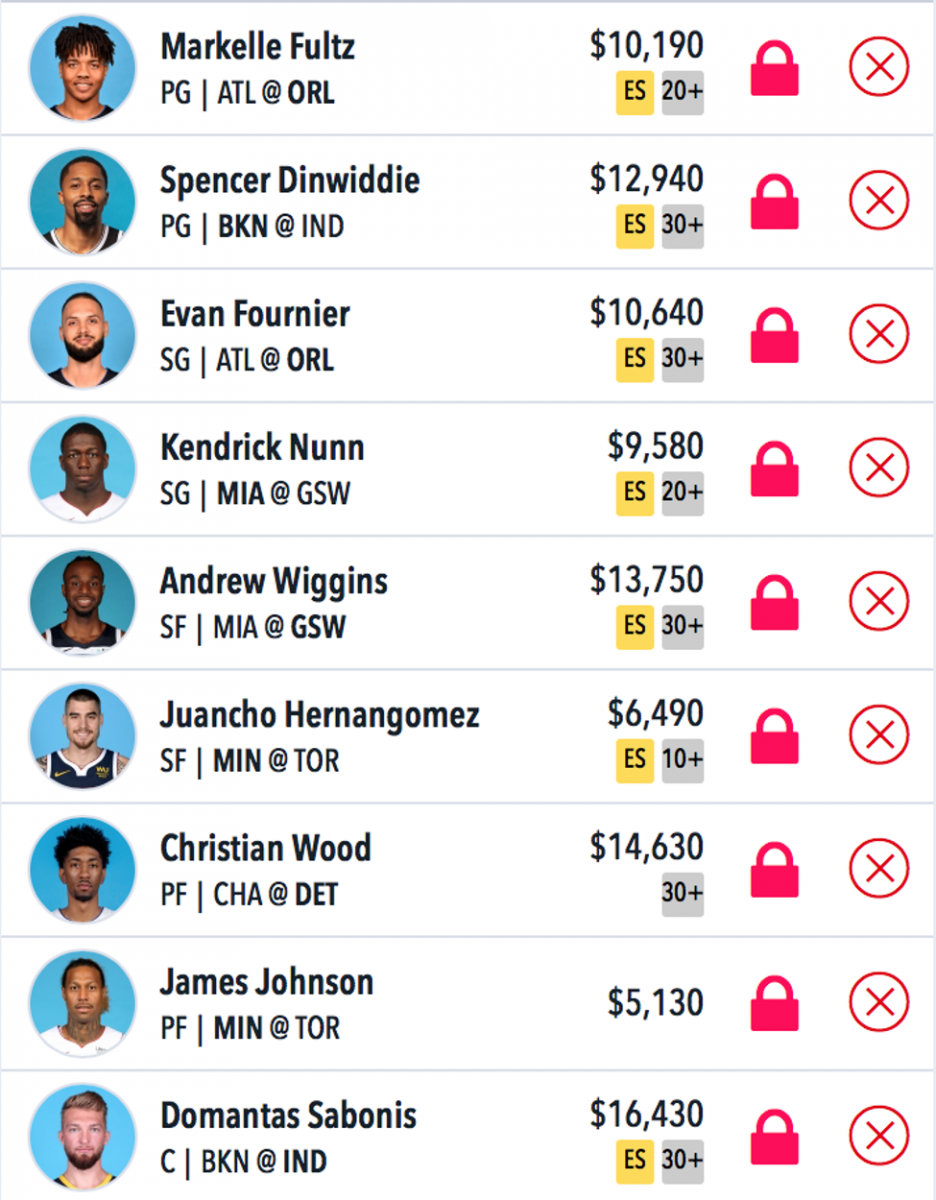 In case you are new to NBA DFS these articles break down the matchups and highlight the key plays to help you build winning lineups. For more insight into how to utilise our game breakdown data check out our NBA DFS Training Camp Series:
● Part 1 – Betting Lines and Totals
● Part 2 – Matchup Analysis – Pace and Defense vs Position
● Part 3 – Key Statistics in Daily Fantasy Basketball
● Part 4 – Trade Analysis – Breaking Down the Jimmy Butler Trade
● Part 5 – DraftKings Sharpshooter Winning Lineup Recap
● Part 6 – Adjusting for Line-up News
Always remember to gamble responsibly. When the fun stops, stop. If gambling is having a negative impact on your life, seek support at Gambling Help Online. 18+ only.