daily fantasy sports articles
NBA 2019-20 Daily Fantasy Preview Tuesday 14th January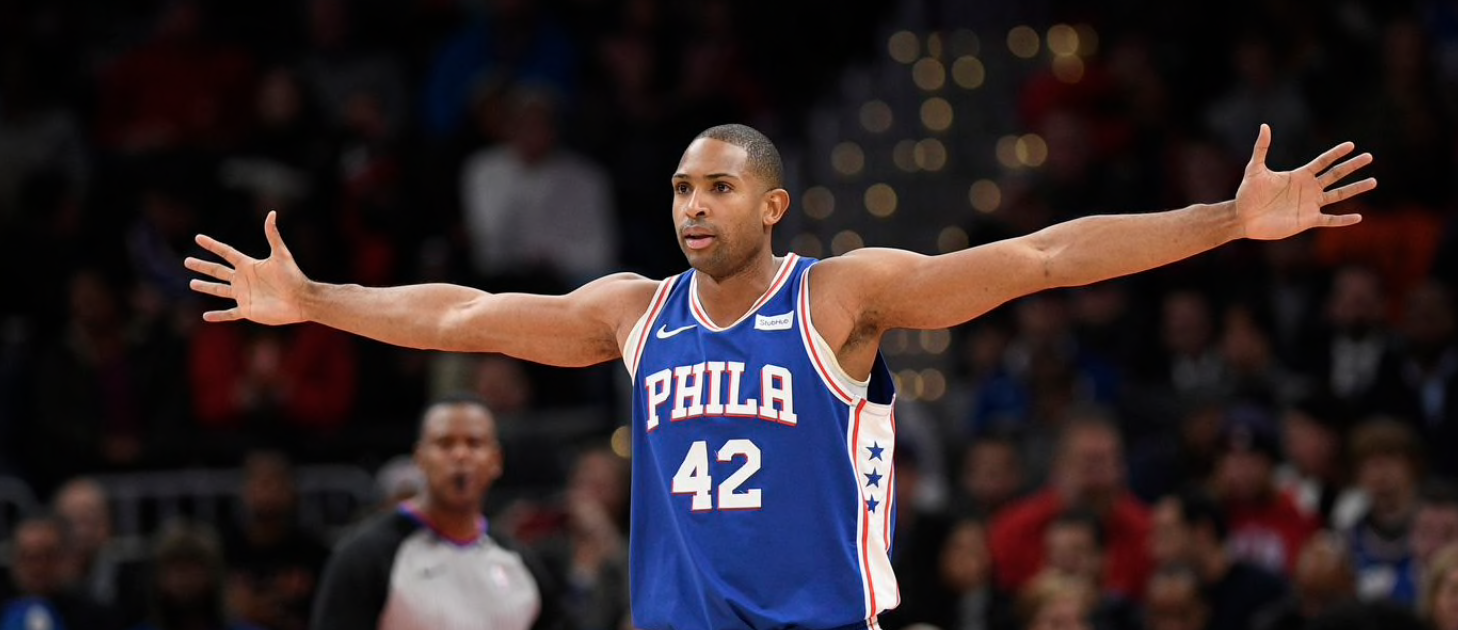 Let's kick this week off right with more NBA DFS as NBA Monday (Tuesday AEST) kicks off with a perfectly sized 7 game slate to attack. With the NFL round now done and dusted all the major NBA daily fantasy competitions are on offer across the major platforms:

GAME BREAKDOWN

This is just getting plain silly. Looks to be a wild slate ahead, we have just two games with totals set currently as we wait for injury news. As always I will break down the major news impacting the slate below.
Of the two games listed neither are very eye catching with the highest total between Charlotte and Portland at 217.5 points. Portland play at the 11th fastest pace in the league this year, which will put Charlotte in a significant pace up matchup as they have been the snails of the league this season playing at the slowest pace in the league. Despite this, however, they have still conceded the 9th most fantasy points as a result of being ranked 27th in defensive efficiency. So while this game might not look so attractive based on the total it will be one of my favourite games to target on the slate.

As you can see we are not blessed with many pace up matchups in this 7 game slate. Oklahoma City are in the biggest pace up spot of the slate by a wide margin as they face the Minnesota Timberwolves who are ranked 4th in pace this year. Both the Thunder and Timberwolves have been around league average defensively this year and despite their uptempo style the Wolves have conceded just the 14th most fantasy points (around league average).
Probably the stand out game to target in my opinion is New Orleans at Detroit. This game has a 1 point line, which means it is expected to stay close so we should get a full allotment of playing time from the main players. It is a pace up matchup for the Pistons as the Pelicans have played at the 7th fastest pace this season (and this has increased with Lonzo now fixed into the starting point guard position). Meanwhile, the Pistons have been getting absolutely decimated for going on 15 games now, over this stretch they have conceded the second most fantasy points in the entire league behind only Atlanta.
INJURY NEWS
Malcolm Brogdon and Domantas Sabonis are both questionable for the game against Philadelphia. If both Sabonis and Brogdon are both out, as I noted last time in the preview, they have combined for over 51% usage rate this season which leaves a lot of action for the remaining starters. In the most recent game it was Myles Turner who took advantage posting a massive 56 fantasy points. TJ Mcconnell also started and played 26 minutes, while he only managed 14.75 fantasy points I would be going right back to the well if he was starting again as he has averaged just over 1 fantasy point per minute this season.
Anthony Davis is questionable for the game against Cleveland, while Lebron James is expected to play. Kyle Kuzma has been absolutely lights out recently, especially without Davis in the lineup. In the 3 games that he has played with Davis he has posted a ridiculous +19 fantasy points from an additional 11 minutes of playing time and a usage boost of 5%. Both centres have also seen increases in production, however while McGee picks up additional minutes, Dwight is the one seeing a massive increase to his usage at +10%.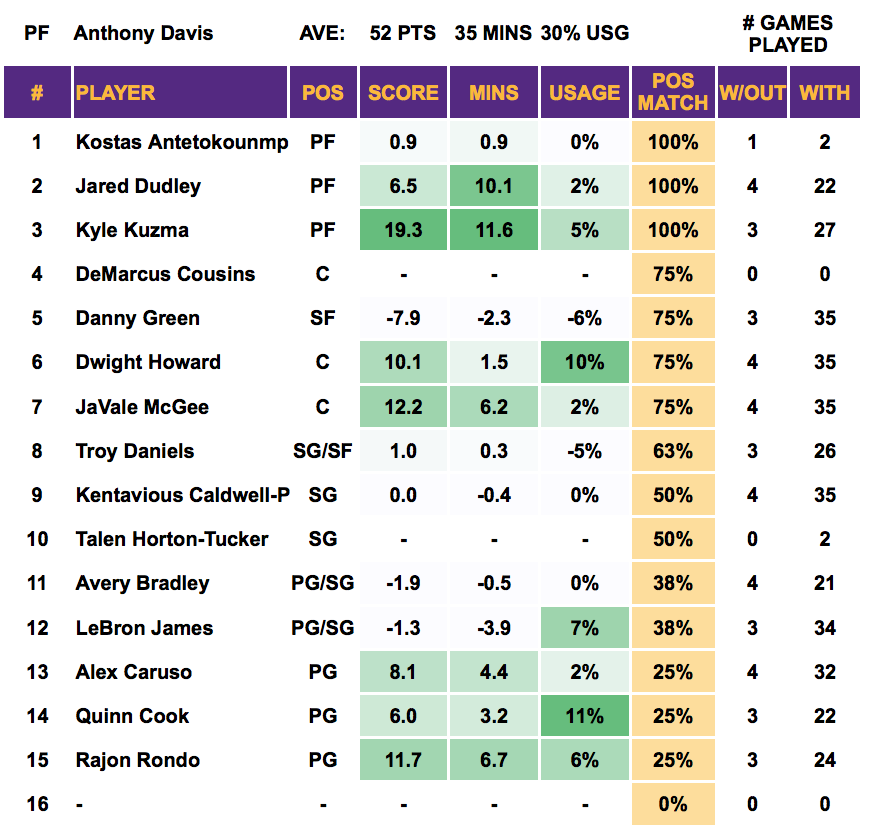 Karl Anthony-Towns is questionable for what is now the 789th straight game (no really, look it up!). Realistically Towns has now been out for so long there is little in the way of value to carve out here now, but it has been Gorgui Dieng who has started in his place and flourished averaging +21.2 fantasy points. Surprisingly, Andrew Wiggins, has not seen a single % of usage increase in the 11 games he has played without Towns this year.
Derrick Favors, Jrue Holiday and JJ Redick are all questionable for the game against the PIstons. Without Favors in the lineup it has been rookie Jaxon Hayes who has taken advantage, moving into the starting centre position and averaging +5 fantasy points per game. When it comes to the guard, without Jrue Holiday it has been Lonzo Ball (+11 fantasy points from +7 minutes per game) and Brandon Ingram (+11 fantasy points) who have lifted their performance.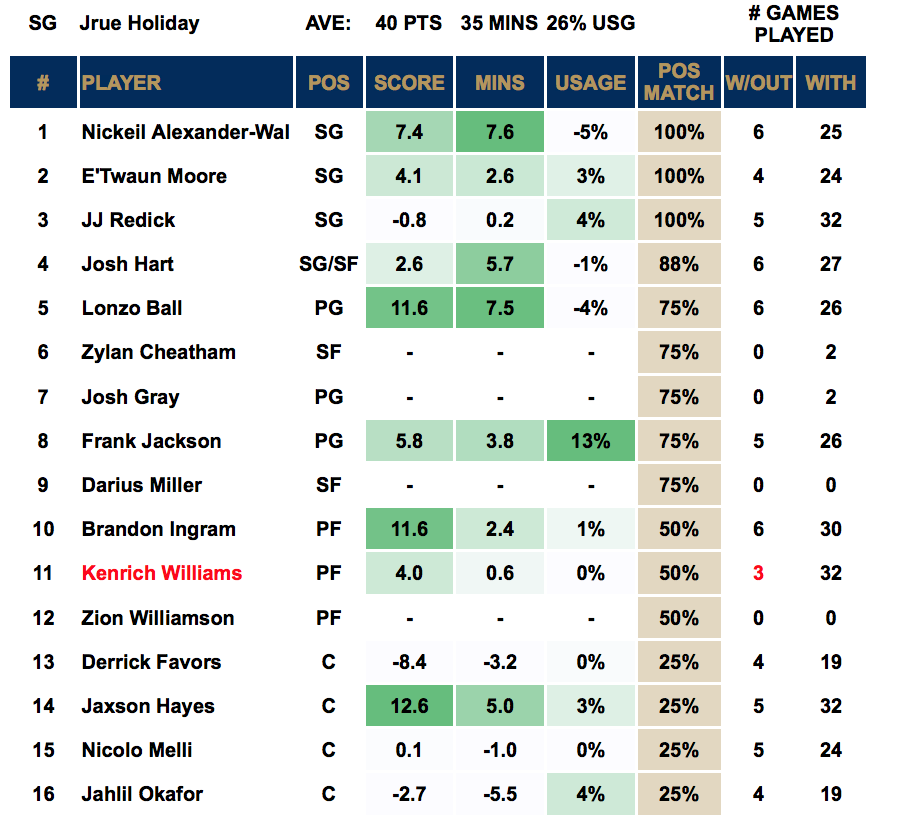 Richaun Holmes has undergone surgery on his shoulder, while Bogdan Bogdanovic remains out and Marvin Bagely is questionable for the game against Orlando. Nemanja Bjelica has been the biggest beneficiary of the Kings recent injury troubles playing 38 and 40 minutes in the last two games, which has resulted in 35+ fantasy points on both occasions. The minutes at the centre position are realistically anyone's guess at this point with Harry Giles looking to be capped around 16 minutes regardless and Dwayne Dedmon going from 32 two games ago back to just 12 minutes last game.
VALUE PLAYS
As always more value will likely open up as we get closer to the slate and further lineup news breaks. Also be studious in looking a pricing differences between the three platforms are some players are value on different sites just due price.
In addition to the possible value plays noted above:
Daniel Gafford (DS $8,550, DK $4,000, MB $4,500) has played in 25 minutes per game over the last two without Carter Jr in the lineup and it has been somewhat of a roller coaster. Posting just 12 fantasy points in the first game before unleashing 28 in the second. Averaging just under 1 fantasy point per minute this season if he is going to see 23-27 minutes of playing time he grades out as a very solid value play on this slate.
Trevor Ariza (DS $8,760, DK $4,400, MB $5,000) looks to have found the fountain of youth recently. With a very long injury list leaving Ariza to playing over 30 minutes in each of the Kings last four games he has been able to return over 31 fantasy points in three of them.
MID PRICED PLAYS
Al Horford (DS $11,570, DK $6,800, MB $6,700) I just can't look past average Al without Embiid in the lineup until that price rises. He has seen a huge 7% usage increase in the games without Joel this season and this has reaped benefits all year. In the last two games with Embiid sidelined Horford posted 42 and 38 fantasy points. In addition, the Indiania Pacers have long been a sneaky team to attack at centre this season conceding the 6th most points to the position.
Devonte Graham (DS $13,750, DK $7,300, MB $7,100) sprang back to life today, so on this slate it will be interesting to see how many flock to him (if at all). Graham has been a total revelation this season and while he has cooled off a touch recently, has still shown over 50 point upside and the capability to top the 40 fantasy point mark regularly. On this slate he has a dream matchup against Portland who have conceded the second most points to point guards over the past 10 games.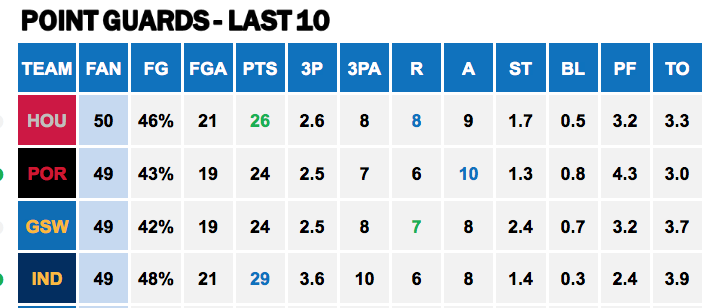 PREMIUM PLAYS
Brandon Ingram (DS $16,880, DK $8,100, MB $9,700) I just can't look passed Ingram until his price comes up more. Especially if Jrue Holiday sits, as Ingram has totally crushed in games without him this year (see above). Last game was effectively his basement floor with 30 fantasy points, however remember that he played just 30 minutes as well due to the blowout, which is about 8-9 minutes under the volume he is currently getting without Holiday playing. In addition, this is probably my favourite game of the night to target with the PIstons conceding the third most fantasy points to power forwards over the past 10 games. Ingram has been ruled out with a Knee injury

Nikola Vucevic (DS $16,760, DK $8,200, MB $9,100) has been the epitome of cash game safe. He has topped the 41+ fantstay point mark in 9 straight games, with the 10th being 37. On this slate he matches up against the Sacramento Kings who are down to just Harry Giles and Dwayne Dedmon to match up on opposition centres. Vucevic should have no problem crushing these two, particularly given the Magic are without Jonathon Isaac and possibly Aaron Grodon again, meaning Vucevic will have an increased usage rate.
Dragon's Suggested Draftstars Team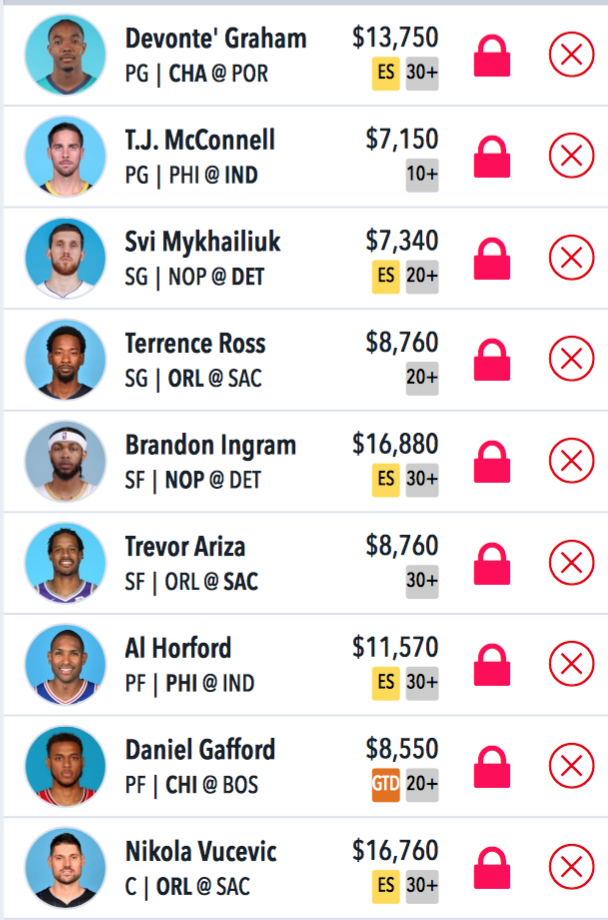 In case you are new to NBA DFS these articles break down the matchups and highlight the key plays to help you build winning lineups. For more insight into how to utilise our game breakdown data check out our NBA DFS Training Camp Series:
Always remember to gamble responsibly. When the fun stops, stop. If gambling is having a negative impact on your life, seek support at Gambling Help Online. 18+ only.