daily fantasy sports articles
NBA 2019-20 Daily Fantasy Preview Tuesday 17th December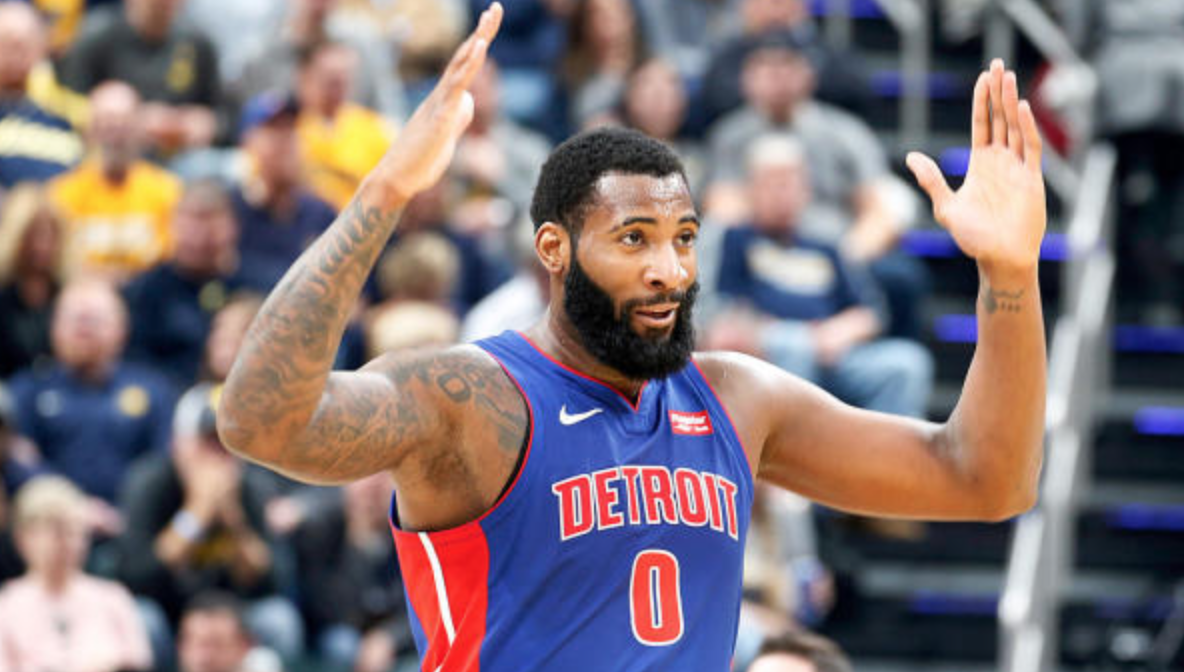 Time to kick off another NBA week with NBA Monday (Tuesday AEST) delivering a fun 7 game slate to play. The usual array of massive DFS games across are on offer across all platforms:
Have you seen the details of the NBA DraftKings Live Event in Melbourne? You can read about the details here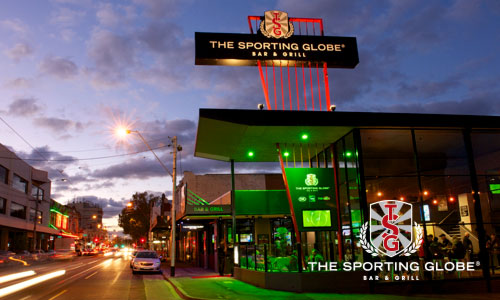 GAME BREAKDOWN

We are waiting on injury and lineup information to come through for 3 out of the 7 games on this slate. As usual I have broken down the impact of all possibly major lineup changes below.
From the listed totals there is one game set at over 230 points between the San Antonio Spurs and the Houston Rockets. What would have been a classic western conference matchup in past years is not expected to be a blowout with the Rockets favourites by over 10 points. The Rockets play at the 4th fastest pace in the league this season, which means a pace up matchup the 14th fastest Spurs. Uncharacteristically, the Spurs are ranked 23rd in defensive efficiency, which means James Harden and Hardeniers are likely to get little resistance on the offensive end.
The second highest total on the slate is between Dallas and Milwaulkee in what should have been a marquee matchup between the games two best young stars. Unfortunately Luka Doncic will be out, which means the Bucks are likely to cruise to another massive en route to their 19th in row with Giannis logging no more than 24 minutes.

Based on the totals above it is no shock to see the Spurs and Mavericks in the two pace up spots of the day. The two games I much prefer to target will be Detroit vs Washington and Portland vs Phoenix.
Washington are the number one team to target in the entire league as they cover the trifecta of leagues second fastest pace, dead last defensive efficiency rank and giving up the most fantasy points. In short, the Pistons are in the best matchup you can possibly have and in particularly will be playing at a pace significantly up from their snail speed (ranked 24th).
Portland and Phoenix might have the highest total on the slate when it is all said and done. The line is just 0.5 points, which means we should get a close contest between two of the top 11 fastest teams in the league. Furthermore both sides are in the 12 in the league in defensive efficiency and as a result are in the top half of the league for most fantasy points conceded this year. This late night hammer is definitely my favourite game to stack on this slate.
INJURY NEWS
For the third slate in a row the Chicago Bulls have half their roster listed as probable for this matchup. Keep an eye on the news closer to tip off as the possibility of significant value opening up on the Bulls side is there, however at this stage I would expect everyone to play.
Luka Doncic is expected to miss multiple weeks with a moderate right ankle sprain. This will be a momentous shock to the Mavericks system with Luka averaging an absurd 39% usage this season while playing 32 minutes. In the last game where Luka went down with the injury is was Porzingis who led the way, finally being allowed to grab a rebound, and posted 51 fantasy points. Tim Hardaway Jnr also picked up significant usage notching up 40 fantasy points while taking 22 field goals.
Andre Drummond and Blake Griffin are both questionable for the matchup against the Wizards. If I was a betting man, and I am, I'd expect Griffin to sit out while Drummond plays. Griffin has looked like the one legged man all season and his play has reflected it. Without Griffin this season Drummond has seen a significant boost averaging +6.4 fantasy points while increasing his usage rate by 2%.
Jae Crowder is questionable for the matchup against the Miami Heat. Crowder missed his first game of the year in Memphis last matchup and while Kyle Anderson moved into the starting lineup and was the chalk play of that day, it was Dillon Brooks who saw a massive usage increase of 11% resulting +15.7 fantasy points.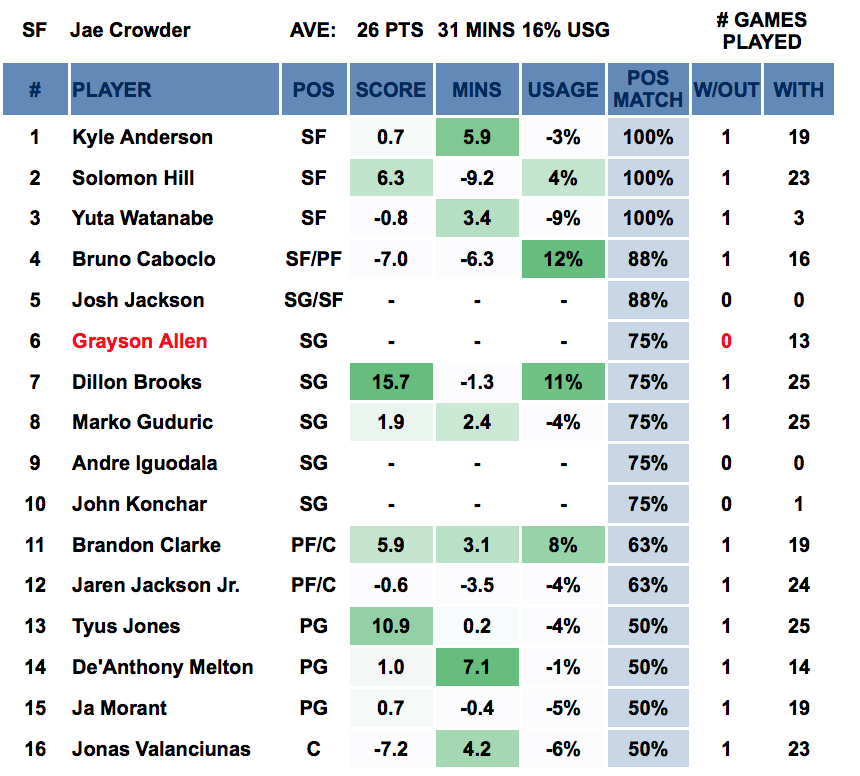 Goran Dragic and Justice Winslow have both been ruled out again for the game against Memphis. We are starting to build up a solid sample size without these two playmakers and it was Jimmy Butler who has really stood out averaging +12 fantasy points in the game Dragic has missed. Butler is essentially the starting point guard now on this squad and plays that role even longer without these two backups.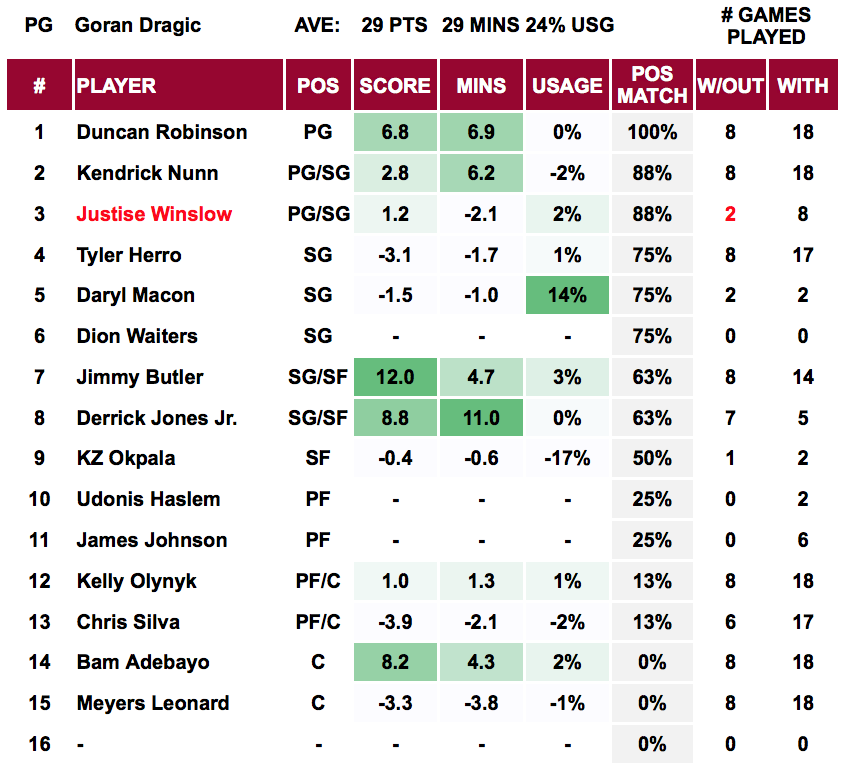 Devin Booker will be held out of the game against the Trailblazers. Booker missed the last game and it is no surprise to point guard Ricky Rubio pickup the slack. His usage went up by 7% in that game and it resulted in a massive 53 point fantasy performance.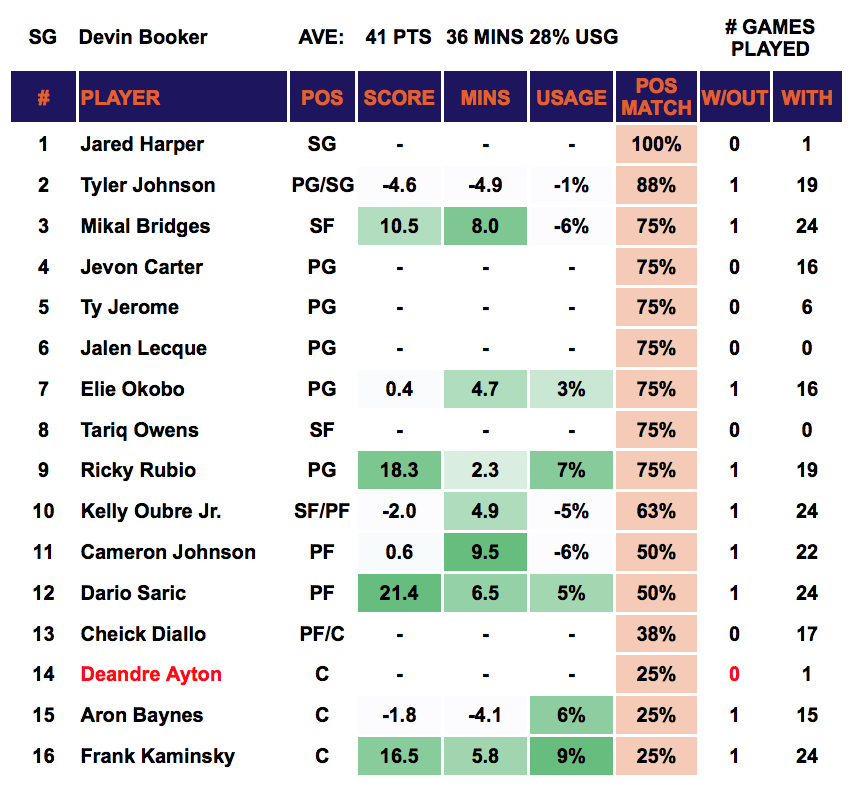 Fred VanVleet is doubtful for the game against Cleveland. In the three games VanVleet has now missed it has surprisingly not been Kyle Lowry who has benefited like most of us have predicted. But rather Marc Gasol has exploded averaging a ridiculous +20 fantasy points per game. Whether this is related (only a 1% usage increase) or the alcohol from celebrating an NBA title and World Cup gold medal has finally worn off remains to be seen. Norman Powell has been the other major beneficiary, moving into the starting lineup and averaging +8.8 fantasy points from an additional 4 minutes of playing time and 4% bump in usage rate.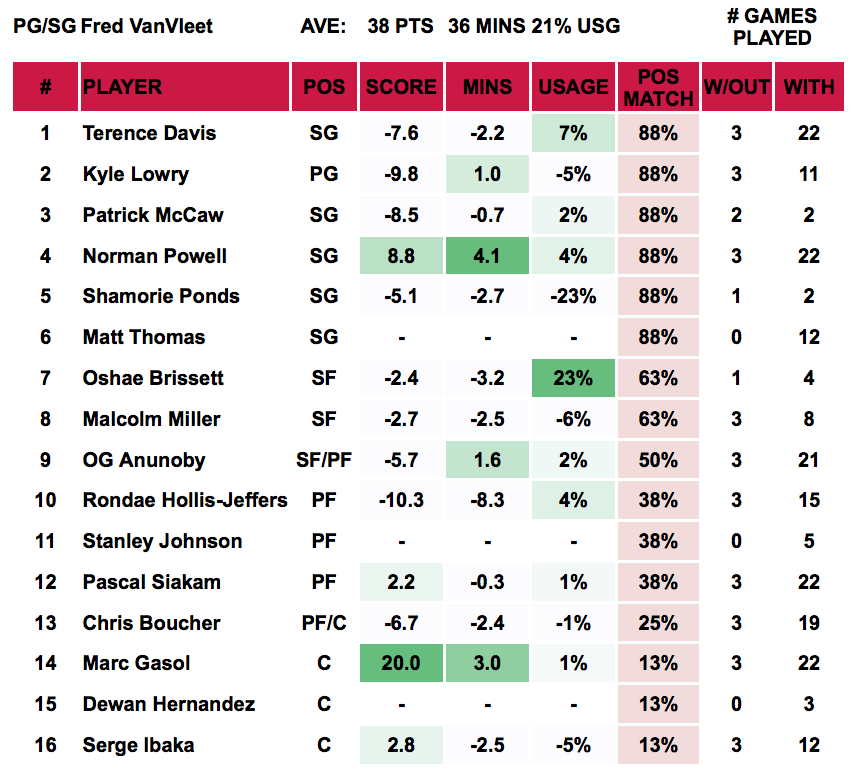 VALUE PLAYS
As always more value will likely open up as we get closer to the slate and further lineup news breaks. Also be studious in looking a pricing differences between the three platforms are some players are value on different sites just due price.
Tyler Herro (MB $4,600, DS $8,370, DK $4,600) / Derrick Jones Jr (MB $4,300, DS $7,740, DK $4,200)
Both players have benefited off the bench from the recent Heat injuries. Herro is much more hit and miss as he relies heavily on his jump shot, but he brings a level of upside that can win you a tournament as shown by posting a 42 and 31 point game in his last 4 contests (just dont even look at his other two games in that stretch). Jones Jr on the other hand has been incredibly steady over the past three games averaging 27 fantasy points with a low score of 23. HIs minutes seem to be locked into just under 30 minutes of playing time and a pace up matchup should suit his style as he can rack up the peripherals.
Donte DiVincenzo (MB $4,100, DS $7,370, DK $4,600) moved into the starting lineup last game with Bledsoe out and would be expected to remain there for the new future. He responded with a 33 fantasy point performance. There is a value choice of either Donte or backup point guard George Hill and on this slate I essentially land on Donte as I expect him to receive a greater share of the playing time if there is a blow out (similar to last game) due to his younger age. On this slate a blowout is well and truly on the cards as the Bucks are over 10 point favourites against the Dallas Mavs.
MID PRICED PLAYS
Kris Middleton (MB $7,400, DS $13,750, DK $6,900) is another major beneficiary of the Bledsoe injury as he saw his usage rate rise by 5% last game. The blowout is somewhat of a concern here, but if Middleton can get more than the 23 minutes he got last game he should bust past the 40 point mark against the Mavs who have given up the 4th most fantasy points in the league this year.
CJ McCollum (MB $7,300, DS $13,630, DK $6,500) is a nice GPP target at his price given his ceiling of 50+ fantasy points. On this slate he draws an elite matchup against the Phoenix Suns who have given up the equal 5th most points to the position over the past 10 games.
Dejounte Murray (MB $6,800, DS $9,780, DK $6,100)... the big question is can you trust him for cash yet?? Trying to read Greg Popovich's mind at this point is like trying to unlock the Davinci Code, however in two of the last three games Murray has managed to play over 30 minutes. He is averaging 1.2 fantasy points per minute this season, which means at the level of playing time he is probably looking at a floor at around 32, with an upside into 50s. He has one of the top matchups in the league on this slate against Houston who play at the 4th fastest pace and have given up the 8th most fantasy points in the league this year.
PREMIUM PLAYS
Andre Drummond (MB $10,000, DS $18,370, DK $9,300) is by far the most obvious play on this slate if he has recovered from his avocado infection (only in the NBA right?). The Washington Wizards are essentially playing centre by committee at this point without Thomas Bryant and Moritz Wagner in the lineup. They have given up the qual 4th most points to the position over the past 10 games and concede the most rebounds to the position in the league this year.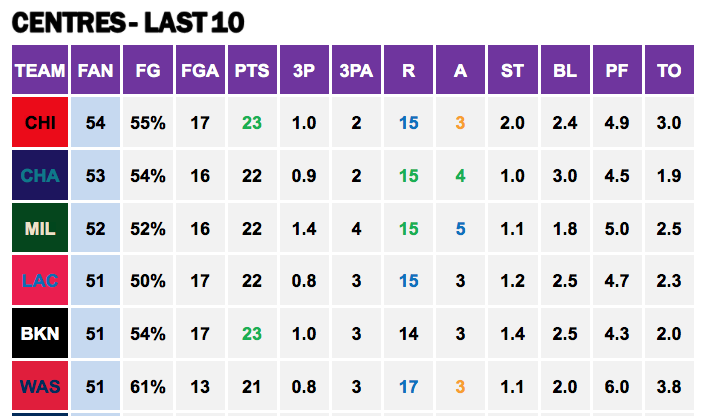 Jimmy Butler (MB $9,400, DS $17,710, DK $9,100) I love on this slate against Memphis who have given up the second most points in the league to point guards this season. As I noted in the injury section above, without Dragic and Winslow it has been Butler who has assumed the majority of the playmaking duties for the Heat this year. In an uptempo matchup against a bottom 10 defense Butler's 60+ point ceiling is firmly in play on this slate.
Dragon's Suggested Moneyball Team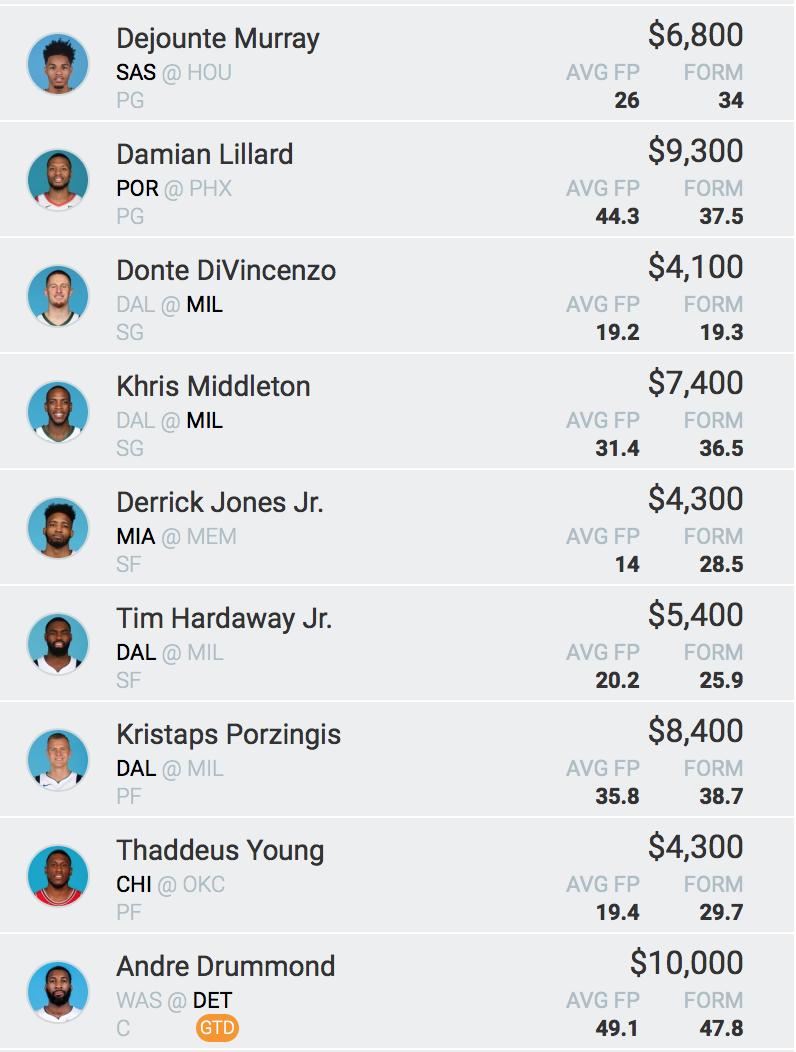 In case you are new to NBA DFS these articles break down the matchups and highlight the key plays to help you build winning lineups. For more insight into how to utilise our game breakdown data check out our NBA DFS Training Camp Series:
Always remember to gamble responsibly. When the fun stops, stop. If gambling is having a negative impact on your life, seek support at Gambling Help Online. 18+ only.