daily fantasy sports articles
NBA 2019-20 Daily Fantasy Preview Tuesday 19th November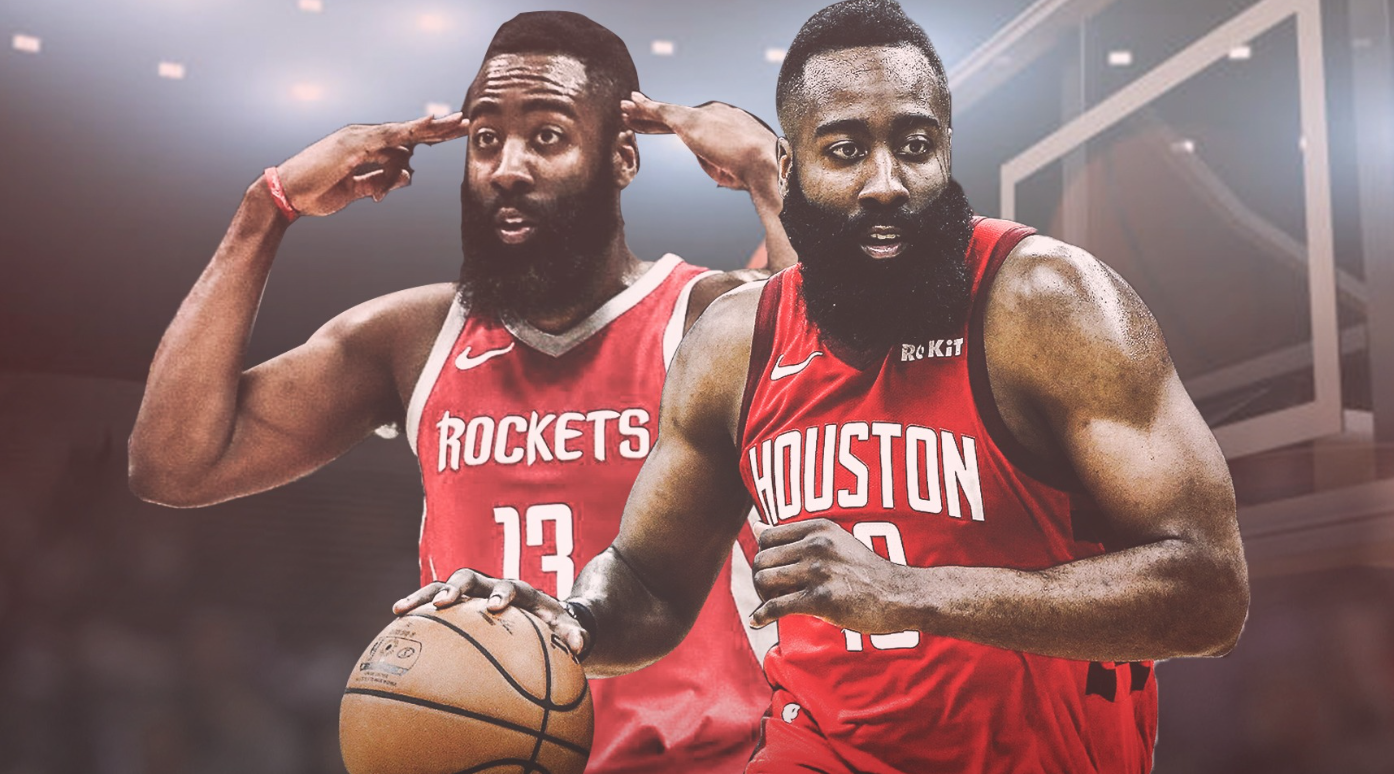 We are back on the grind as another week of NBA action kicks off. NBA Monday (Tuesday AEST) is bringing back the big slates with a massive 9 games of action. The biggest NBA daily fantasy contents of the week are on offer across the major platforms:
In case you are new to NBA DFS these articles break down the matchups and highlight the key plays to help you build winning lineups. For more insight into how to utilise our game breakdown data check out our NBA DFS Training Camp Series:
Today is the start of "Player Swap" on Draftstars. If you do not know what this means when you play on Draftstars, we suggest you read on how it works by clicking on the banner below

GAME BREAKDOWN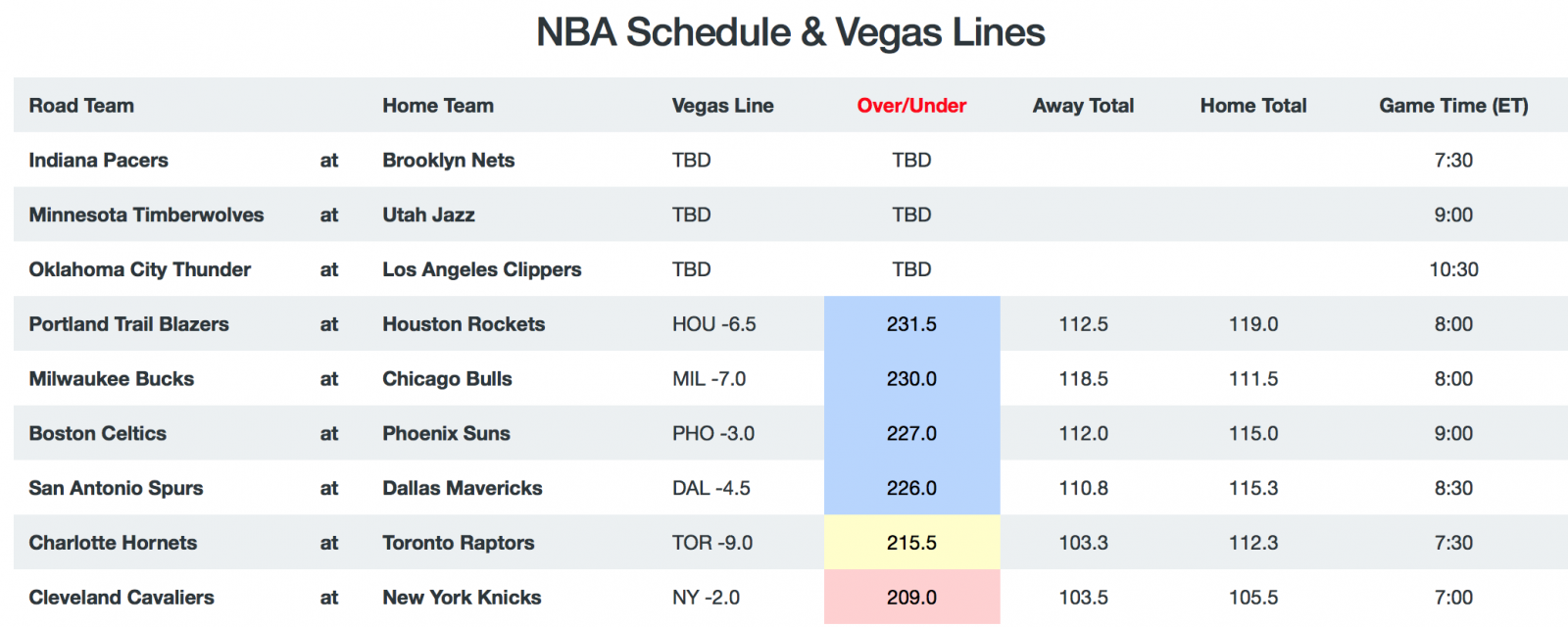 There are several juicy games on this slate with four of the six currently listed featuring totals of 226 or higher. Portland at Houston has the highest total on the slate at 231.5 points. This game will be at a fast pace with the Rockets are playing at the 3rd fastest in the league this season and Portland the 10th fastest. The Trailblazers have also had a rough start defensively this year currently ranked 19th in defensive efficiency.
Milwaulkee at Chicago is also set at with a total of 230 points. The Bucks have played at the fastest pace in the league this season and the Bulls at the 8th fastest. There is also some risk targeting the teams against Bucks, however, as they are one of the top defensive sides in the league (ranked 3rd).
There are three games yet to have a line and total set as we await injury news, as usual I have broken down the impact of all possibly major lineup changes below.
The Minnesota Timberwolves are playing at the second fastest pace in the league this year, which places Utah (7th slowest) in a huge paceup matchup. As a result, Jazz players will be in an elite matchup on this slate as Utah will likely have one of the biggest implied point differentials to their season average once the line is set.
Indiana are another team that is in a smash spot on this slate. It is a significant pace up matchup as the Nets are playing at the 4th fastest pace in the league this year and to make things even better they are 21st in defensive efficiency.
INJURY NEWS
Kyrie Irving is questionable for the game against the Pacers. Irving is averaging 33 minutes with a huge 33% usage rate this season, which means if he is to miss there will be significant workload picked up by the remaining players. In the single game he missed this season it was Joe Harris who was the biggest beneficiary with +21.8 fantasy points and an additional 4% suage. Spencer Dinwiddie would be the most likely to start at Point Guard in Irving's spot and has shown a significant ceiling in the past, particularly with Caris LeVert already out.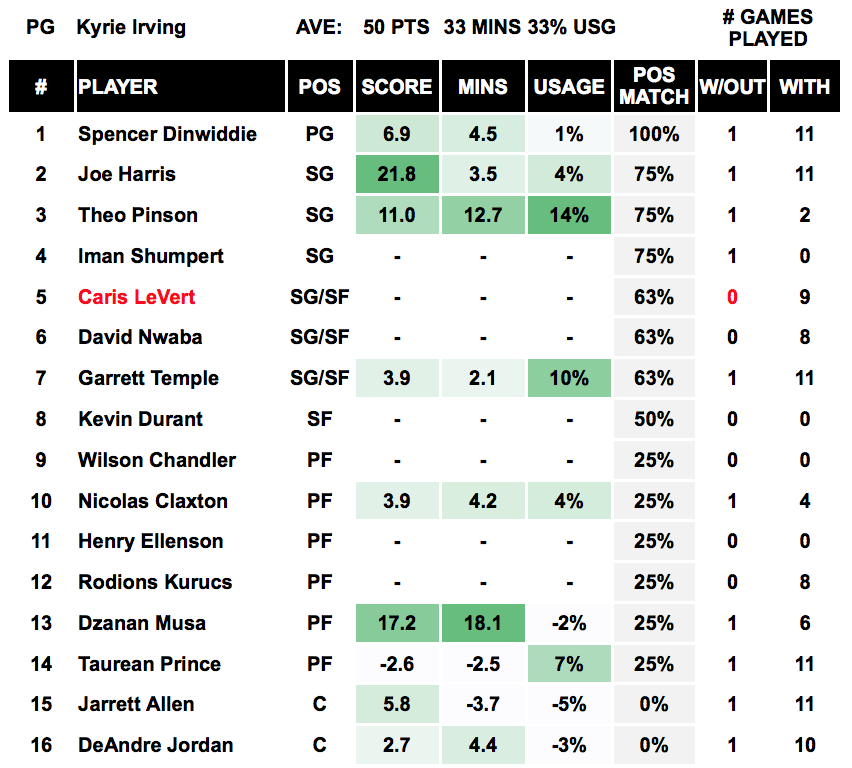 Jeremy Lamb, Malcolm Brogdon and Domantas Sabonis are questionable for the game against the Nets. There is plenty to digest here, Lamb has been out for 8 games already this year and Aaron Holiday has taken over the starting role returning +14 fantasy points per game. He would take over the point guard role if Brogdon is out as well. If Sabonis is also out all the usage should be left to Myles Turner (who posted 44 fantasy points in his first game back from injury) and TJ Warren who posted +20 fantasy points in the two games Sabonis has missed this year.
Kawhi Leonard and Patrick Beverly are questionable for the game against the Thunder. Both players have been out the last two games and Paul George has gone absolutely ballistic sporting a 46% usage rate and averaging 52 fantasy points despite playing just 22 minutes. Terrance Mann has been starting at point guard in Beverly's absence and he came through last game against Atlanta with a 31.5 fantasy points. Lou Williams is another who stands out as receiving a nice boost if both players are out after seeing a 4% increase in usage rate the last two games.
Andrew Wiggins is doubtful for the game against the Jazz. Wiggins had been sensational this season before going down with injury these last two games. While he has been out it has been rookie Jarrett Culver who has seen a boost in playing time of 8.1 minutes, resulting in +6 fantasy points.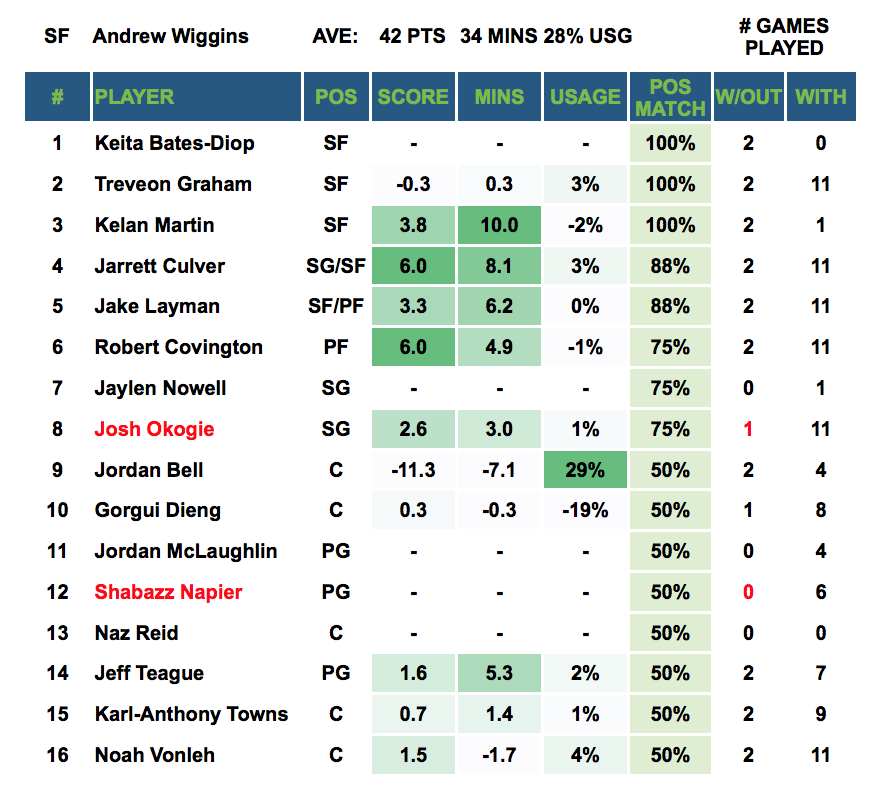 VALUE PLAYS
As always more value will likely open up as we get closer to the slate and further lineup news breaks. Also be studious in looking a pricing differences between the three platforms are some players are value on different sites just due price.
In addition to the possible plays noted above, the current value players to consider include:
Nicholas Batum (MB $3,700, DS $7,000, DK $4,300) returned last game from injury and was immediately back into the rotation with 29 minutes of game time. From this he returned 26 fantasy points. Batum has been a serious disappointment over the past year+, however at his best he has shown significant upside over his career. If he is getting this level of playing time he a great value play, particularly in tournaments, at his price on Moneyball.
OG Anunoby (MB $6,000, DS $9,530, DK $4,600) was in career best form to start this season and looked like he had made a legitimate leap as a player. He was averaging 33 fantasy points through the first 7 games, including 4 games of 38+ fantasy points. After his eye injury his price plummeted on DraftKings and despite posting just 15 fantasy points (all in the second half) in his first game back from injury he is close to a lock on that platform on this price. All the better he has one of the top matchup s in the league for his position on this slate.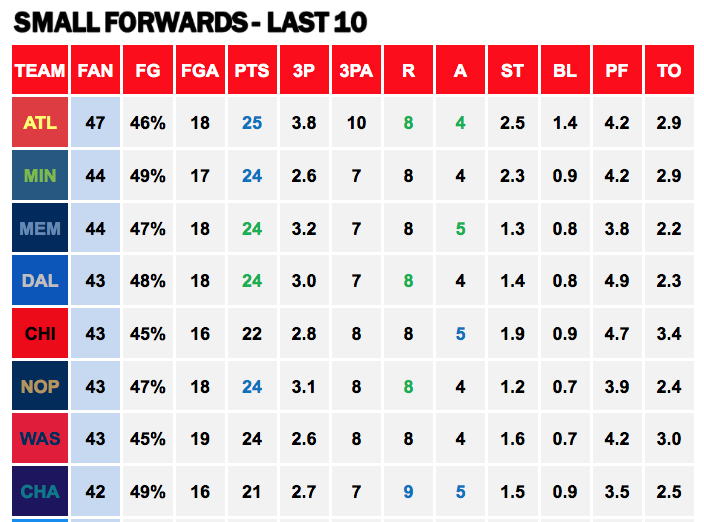 Steven Adams (MB $4,500, DS $9,850, DK $5,100) is another player who has been priced down to far on a platform. At $4,500 on Moneyball he is a solid cash game play despite having arguably the worst starts to a season of his career. Adams has still posted 7 out of 9 games over 20 fantasy points, with a season low of 19 fantasy points.
MID PRICED PLAYS
Donovan Mitchell (MB $8,600, DS $15,840, DK $7,900) has hit his straps posting 40+ in 5 of his last 6 games. He has a 30% usage rate this season with the Jazz rotations giving him plenty of time leading the second unit throughout the games. I certainly want Utah exposure on this slate as I mentioned in the game breakdowns above and Mitchell is in in an elite matchup with the Timberwolves giving up the second most fantasy points to his position over the last 10 games.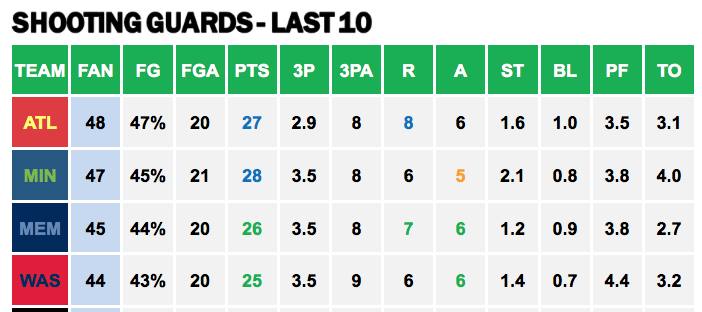 Myles Turner (MB $7,300, DS $14,180, DK $6,100) has the dream matchup on this slate against Brooklyn. Centres vs Brooklyn feels like it has been going for an eternity now and once again they have given up the most points in the league to the position this year. The Turner play gets juicier the more players that are out, and is probably a lock and load if Sabonis is out as well.
PREMIUM PLAYS
James Harden (MB $12,700, DS $23,540, DK $12,000) it is as boring to write about Harden on every slate as it is to watch him isolate and hunt fouls… unless your riding home for a big DFS win! But the fact his he has essentially held the daily fantasy rostering to ransom at this point. On the last slate the optimisers had him projected at over 70 fantasy points, which is the biggest projection in recent memory, maybe ever. In his last 7 games he has just 2 scores under 70, with a low of 61. His usage rate is 40% and on this slate he draws one of the top matchups for guards with POrtland giving up the second most fantasy points to point guards this year.
Dragon's Suggested Moneyball Team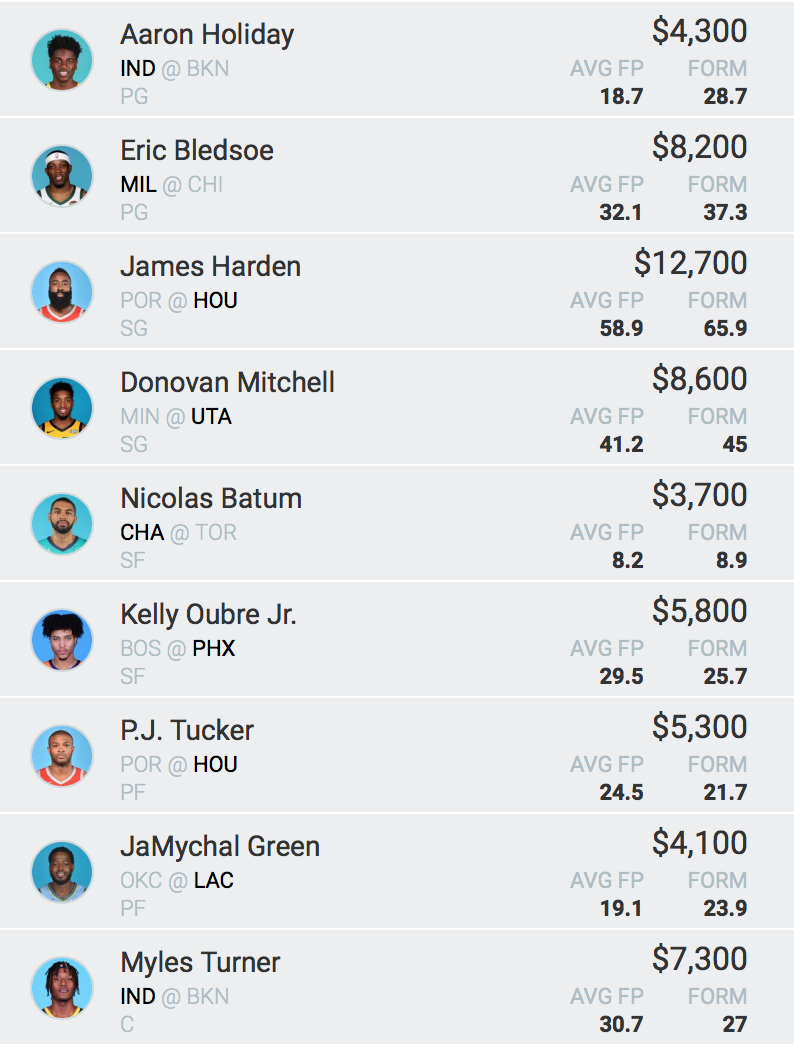 Always remember to gamble responsibly. When the fun stops, stop. If gambling is having a negative impact on your life, seek support at Gambling Help Online. 18+ only.