daily fantasy sports articles
NBA 2019-20 Daily Fantasy Preview Tuesday 21st January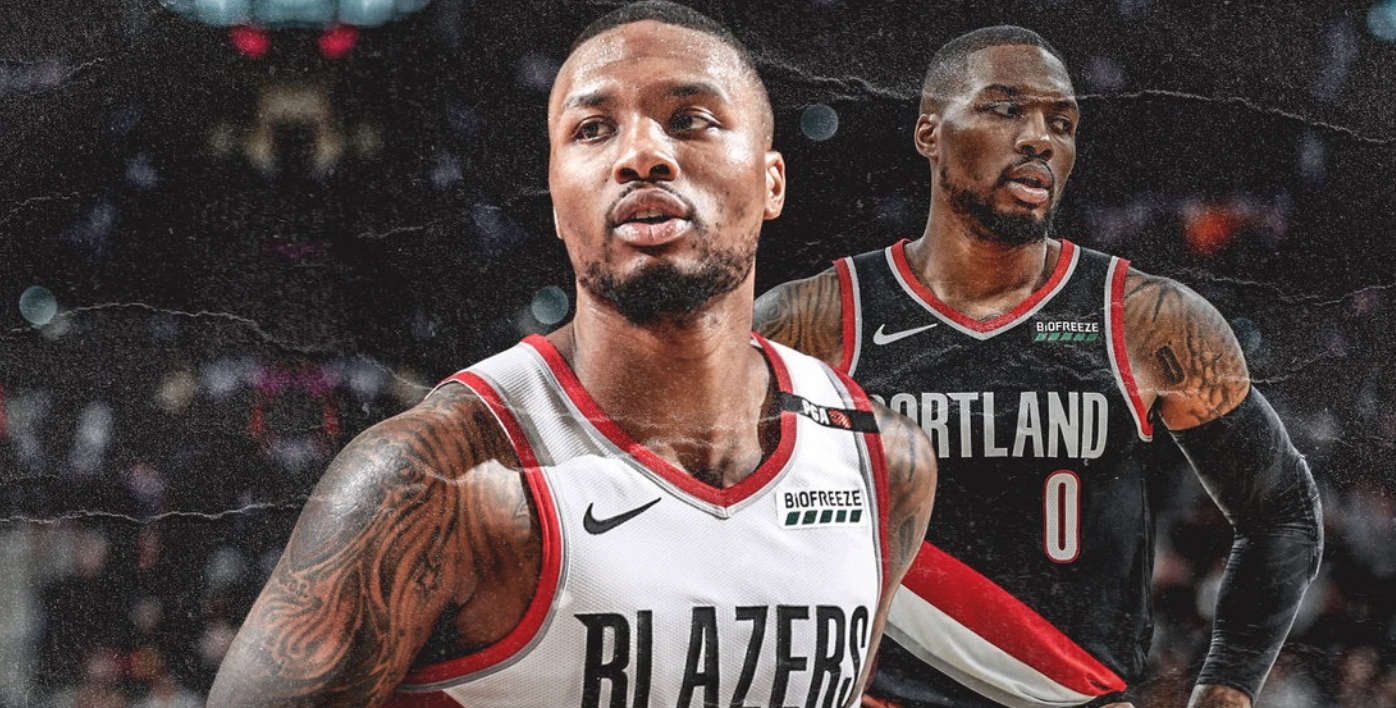 Welcome back to another week of NBA action! Amongst the chaos of the NFL championship games the NBA is bringing some massive slates this week, kicking off with a ridiculous 14 games on NBA Monday (Tuesday AEST). This has resulted in a number of different contests being offered across the platforms, including an 11 game main contest starting at 9am AEST on both Draftstars and Moneyball, while on DraftKings there is a 9 game early slate on and a 5 game main slate:

GAME BREAKDOWN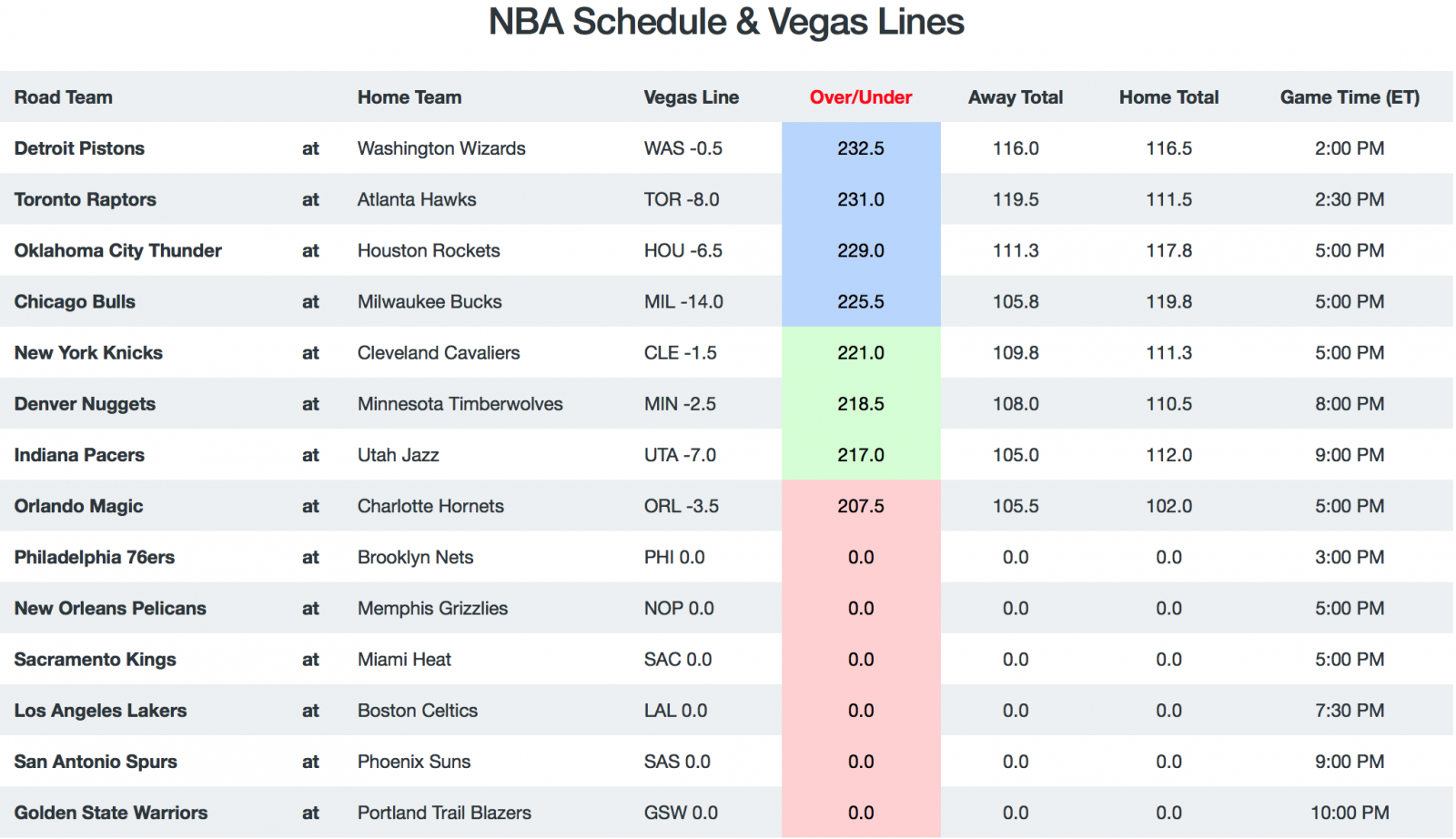 Just a crazy amount of games to work through on this slate. Just remember that most slates kick off at 9am AEST, however if you are playing DK there is also a later main slate. So consider which games are involved in your contests as you work through the article.
There is plenty of injury news to come and as a result we still have 6 games yet to have the line and total set. As always I break down the major impact of the DFS slate below.
Incredibly the top two totals on the slate are the two earliest games and not featured on most daily fantasy slates (only the DraftKings early contests). These two games should both be popular targets for the contests they are in. Oklahoma City at Houston is the top total on the board from the main games at 229 points. This is a significant pace up matchup for the Thunder as the Rockets play at the second fastest pace in the league this year. They are also in the bottom half in the league in defensive efficiency and as a result have given up the 4th most fantasy points this season. As a result I will have significant interest in loading up on Thunder players in this matchup.
New York at Cleveland is another game that interests me. On this slate I don't think ownership will be a huge issue, however this game should have solid daily fantasy options and might go under owned as the total is only 221 points neither team plays at a fast pace. They are both bottom 6 in defensive efficiency, however, and the Cavaliers give up the 3rd most fantasy points this year, while the Knicks are in the top 10. An additional benefit is the game is expected to remain close based on the 1.5 point line, which is unusual for both sides given their respective records.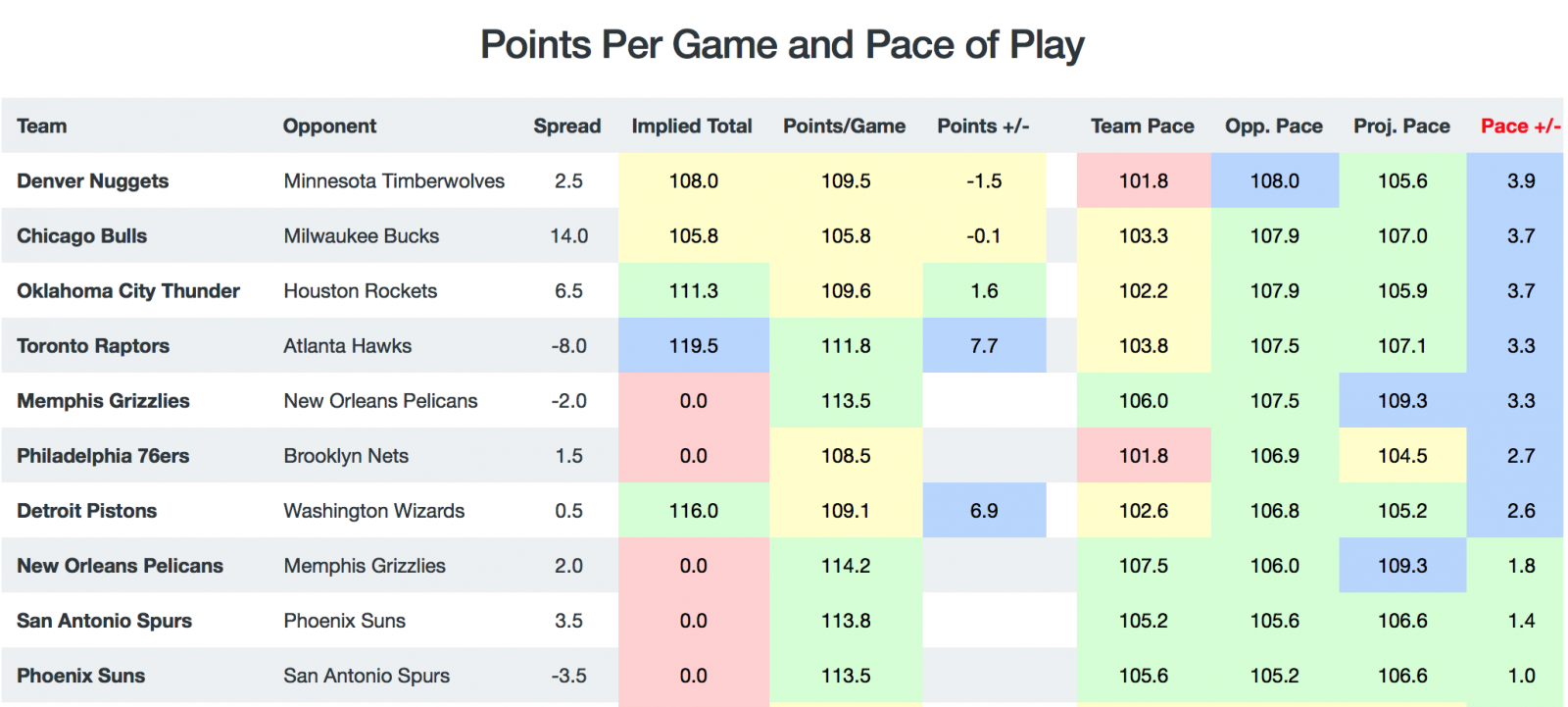 Denver draw the biggest pace up matchup of the day squaring off against the Timberwolves who play at the 5th fastest pace in the league this year. This game only has a 218.5 total, however I do like targeting the Nuggets side of the game due to the tempo. The line is only 2.5 points, primarily due to the injuries being carried by the Nuggets, however, it does mean most main Denver players should see a full allotment of minutes.
The top game on the slate for daily fantasy in my opinion will be the New Orleans Pelicans at the Memphis Grizzlies. This total is not yet out, however I expect it should be close to the top of the entire slate. Not only should it be an uptempo track meet with both teams top 6 in pace this season, it should also be one of the most exciting brands of basketball played between two of the leagues young and upcoming squads who are all of a sudden making a run at 8th spot in the West. From a fantasy perspective, in addition to the pace, both sides are bottom 10 in defensive efficiency and top 8 for most fantasy points conceded. Expect this game to be immensely popular for game stacking.
INJURY NEWS
Jaylen Brown and Kemba Walker are both questionable for the game against the Lakers. Both players missed the last game, which resulted in Marcus Smart starting and putting up 25 shot attempts, making 11 threes and scoring 37 real points for a ridiculous 68 fantasy points. Now Smart obviously won't make 11 threes again, but this was off the back of a 40 fantasy point game so he will be in play given his level of usage is one or both of Brown and Walker are out. Jayson Tatum and Gordon Hayward will also benefit as they posted 50 and 44 fantasy points respectively.
Paul Milsap, Gary Harris and Jamal Murray all missed today's game and are unlikely to suit up against the Timberwolves. Monte Morris has started at point guard in replace of Murray for the past two games but managed an average of just 16 fantasy points from 27 minutes per game. Jerami Grant will also play around 30 minutes at the power forward position, and his production definitely goes up in uptempo games, however Mason Plumlee is always lurking there to steal his production if he gets hot. Everybody's favourite Michael Porter Jr is also in line to play around 25 minutes with everyone out and he showed against Golden State he has significant upside posting 47 fantasy points, however his price has risen across the industry now making him difficult to play.
Anthony Davis is questionable for the game against Boston. In the game Davis has missed this year it has been Kyle Kuzma who has stepped up dramatically posting +12 fantasty points from an additional 9 minutes of playing time. The two centres who have also filled the role vacated by Davis with Javale Mcgee averaging +11 fantasty points per game and Dwight Howard +12. Dwight is the one that stands out the most, he has played incredible basketball and been a much bigger focus of the offense without AD playing, seeing a usage boost of +8%.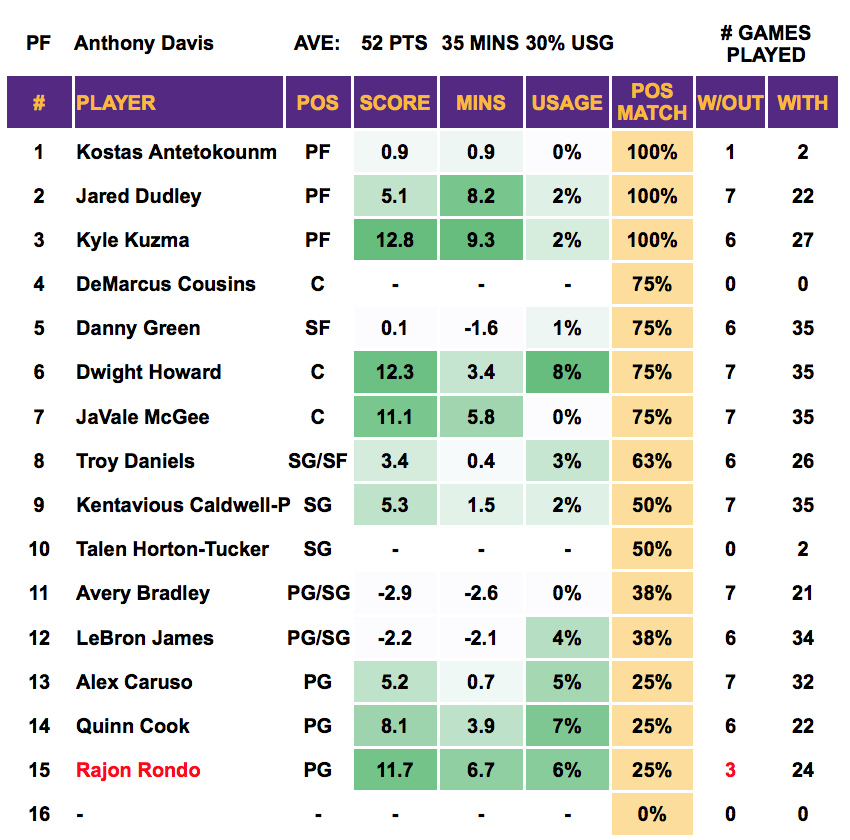 Jrue Holiday and Derrick Favors are questionable for the game against Memphis. Lonzo Ball has been totally unleashed without Holiday in the lineup this year. Playing his natural starting point guard position his increase in playing time has led to +13 fantasy points per game. Brandon Ingram is also exploding onto the national scene right now fresh off an absolute superstar 49 real point performance against Utah two games ago. Without Holiday in the lineup he has been a beast, posting +12 fantasy points per game from a 2% usage increase.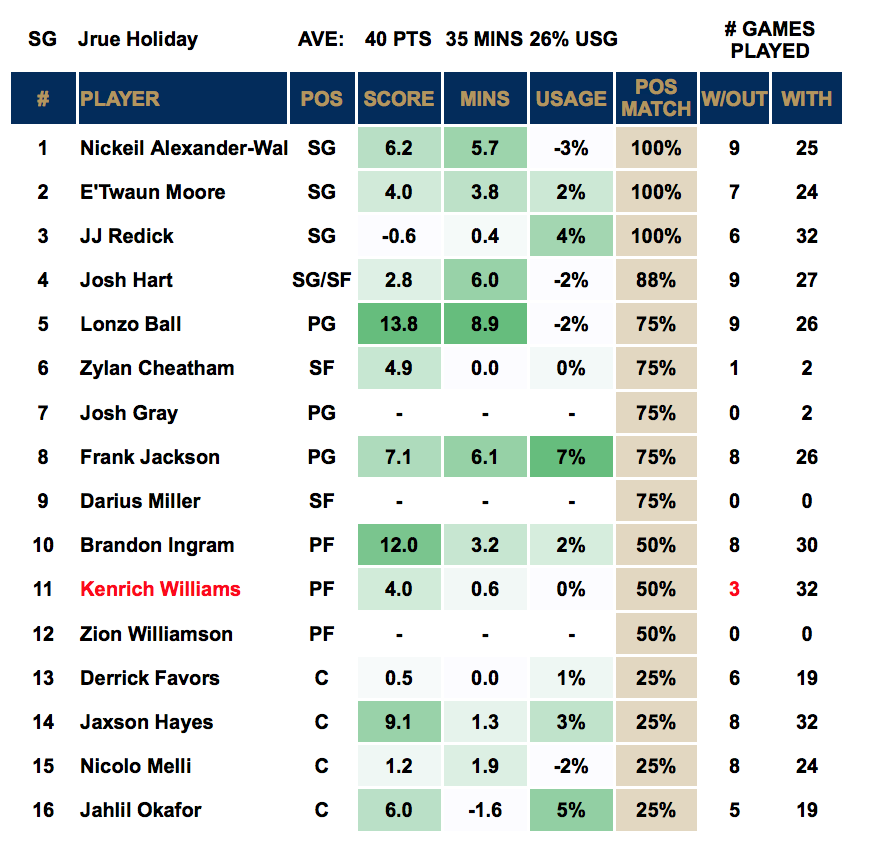 Al Horford is questionable for the game against Brooklyn. Given Joel Embiid is already out for an extended period, Horford being out would open up significant value. Kyle O'Quinn would likely get a significant amount of run (even if he doesn't assume the starting position. He has averaged 1.18 fantasy points per minute this year and has always been a fantasy point per minute monster throughout his career. This game is only on the early DraftKings slate, but Quinn is a must play if Horford in out.
CJ McCollum will not play against the Warriors. In the most recent game without McCollum in the lineup it was Anfernee Simons who started at shooting guard and played 35 minutes. Despite this, he returned just 17 fantasy points while Gary Trent Jr came off the bench to post 48 fantasy points. Keep an eye on the expected lineups as if newly acquired Trevor Ariza suits up for this match I would expect him to log significant playing time.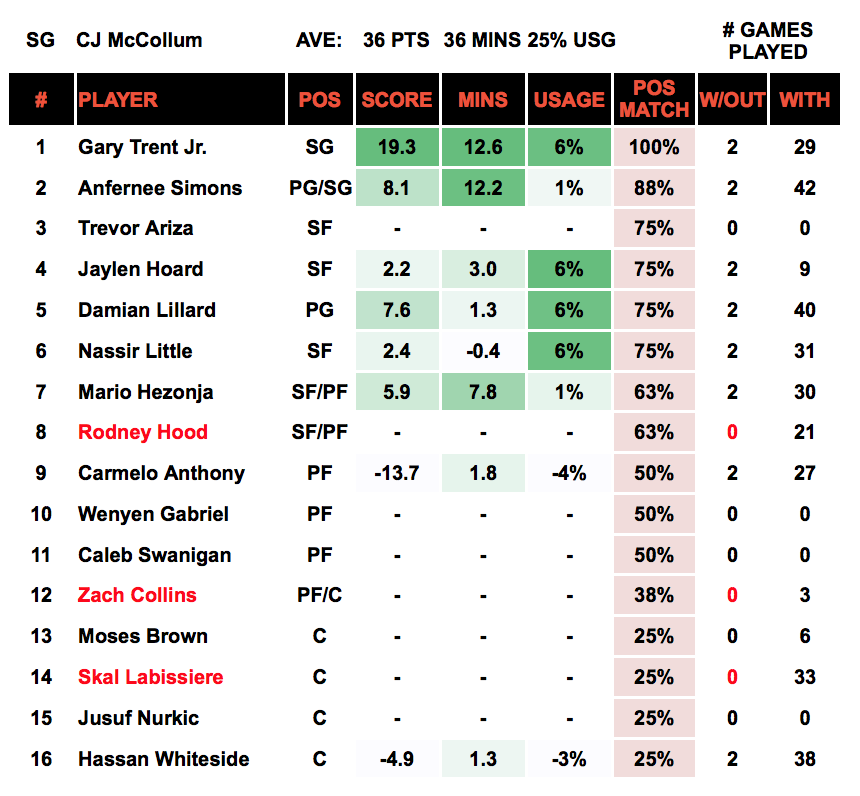 VALUE PLAYS
As always more value will likely open up as we get closer to the slate and further lineup news breaks. Also be studious in looking a pricing differences between the three platforms are some players are value on different sites just due price.
In addition to the possible value plays noted above (Anfernee Simons, Kyle O'Quinn):
Mikal Bridges (DS $7,980, DK $5,200, MB $4,800) / Dario Saric (DS $8,260, DK $4,700, MB $3,700) both Bridges and Saric have been performing well in recent games as a result of missing Suns. Bridges has played over 30 minutes in each of his last three games averaging over 30 fantasy points, while Saric has played in 28+ in each of the last two games to also average over 30. Kelly Oubre should return on this slate, which will eat into their playing time, however Baynes should miss, which means Saric's minutes will remain high while Mikal is also likely to keep his playing time. Both players are in a solid matchup against the Spurs who have been below average defensively this season.
Eric Paschall (DS $8,620, DK $5,300, MB $4,600) is a bit of a sneaky punt on this slate given Draymond Green is expected to play. However, picking the Warriors minutes is tricky on the best of nights and I think Kerr will give Paschall more of a run based on recent perfromance. Paschall has averaged 27 fantasy points per game from 25 minutes over his past 5 games and on this slate he draws one of the top matchups in the league who have given up just 1 fantasy points per game less than the league leader for points conceded to power forwards over the past 10 games.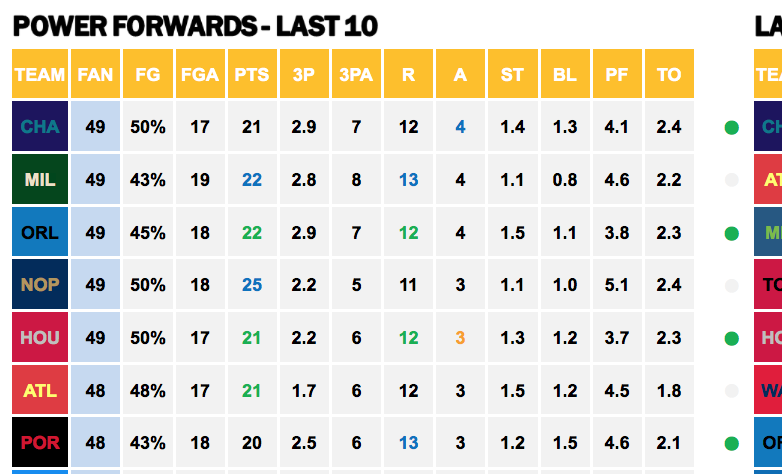 MID PRICED PLAYS
Will Barton (DS $12,410, DK $7,800, MB $6,900) is a play that gets better pending the number of players missing from the Nuggets. He has averaged over 40 fantasy points over the past two games, including 18.5 shot attempts and 6 assists. He spends a significant portion of time as the defacto point gaurd, particularly with Murray out of the lineup. On this slate has the top pace up matchup on the slate against the Timberwolves which should suit his style of play.
Elfrid Payton (DS $10,220, DK $5,300, MB $5,700) is averaging 1 fantasy point per minute this season and looks to be set on around 30 minutes per game. This gives me a solid floor, but I also love the fact that Payton has shown significant upside over his career. On this slate he draws arguably the top matchup in the league for his position with the Cavaliers conceding the most fantasy points to point guards this year, a trend that has continued over the past 10 games.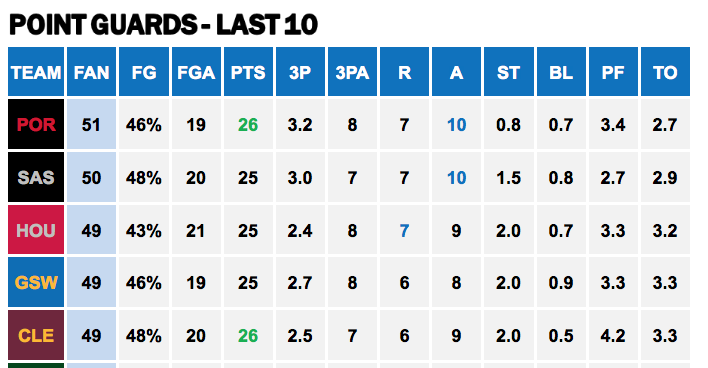 PREMIUM PLAYS
Ja Morant (DS $14,810, DK $8,200, MB $7,800) has been the talk of the NBA over the past week as he leads the upstart Grizzlies towards a possible playoff birth. More than just a highlight reel he has averaged 45 fantasy points over the past 4 games, which included going over 50 on one occasion. As I mentioned in the game breakdowns this will be a warp speed matchup that should suit Morant's athleticism and it will also be one of the highest (if not the highest) totals on the slate. The Pelican's have given up the 7th most fantasy points to point guards this season and I will start by getting my exposure to this game right here with Ja.
Nikola Vucevic (DS $16,810, DK $8,400, MB $8,700) will likely go underowned on this slate. But he is safe as houses for cash games posting just two games under 40 and one under 36 from his last 10. He also draws what has been the premier matchups for centres this season against the Hornetts who have given up the second most fantasy points to the position.
Damian Lillard (DS $17,850, DK $8,400, MB $8,900) is always in consideration when CJ McCollum is out as he has seen a 6% usage increase in the games he has missed this season. He has played 36+ minutes in each of the last two games without McCollum and averaged 50+. As noted above he also draws an elite matchup against Golden State who have given up the equal third most fantasy points to point guards over the past 10 games.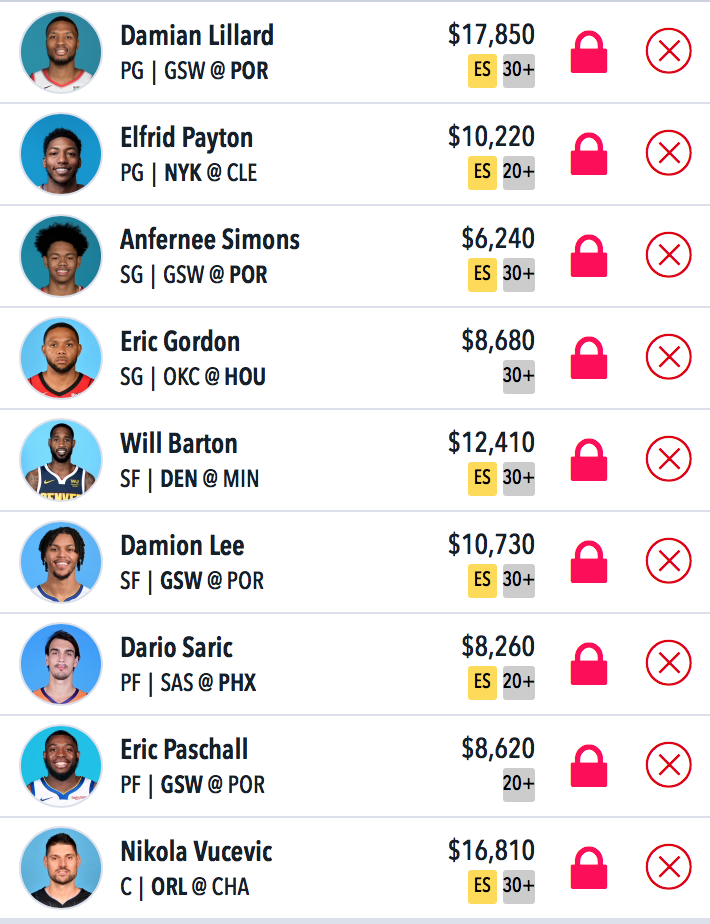 In case you are new to NBA DFS these articles break down the matchups and highlight the key plays to help you build winning lineups. For more insight into how to utilise our game breakdown data check out our NBA DFS Training Camp Series:
Always remember to gamble responsibly. When the fun stops, stop. If gambling is having a negative impact on your life, seek support at Gambling Help Online. 18+ only.