daily fantasy sports articles
NBA 2019-20 Daily Fantasy Preview Tuesday 24th December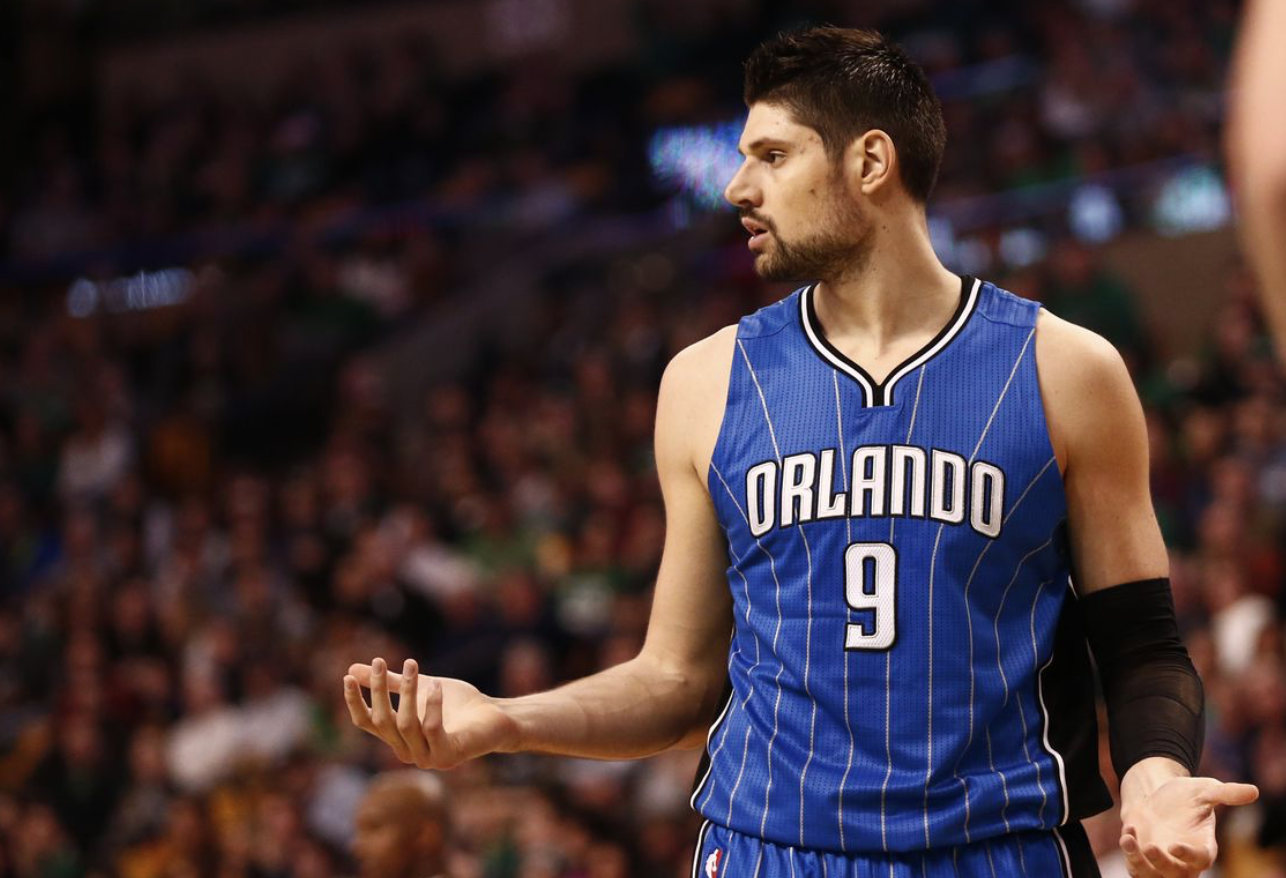 Christmas week in here, which means a massive week of NBA action. It all kicks off on NBA Monday (Tuesday AEST) with a massive 11 game slate ahead of a day off before the Christmas day (Boxing day AEST) games. The usual array of massive DFS games across are on offer across all platforms:
Have you seen the details of the NBA DraftKings Live Event in Melbourne? You can read about the details here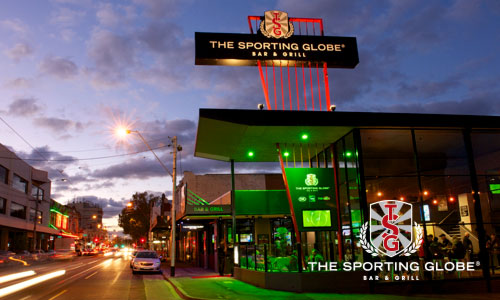 GAME BREAKDOWN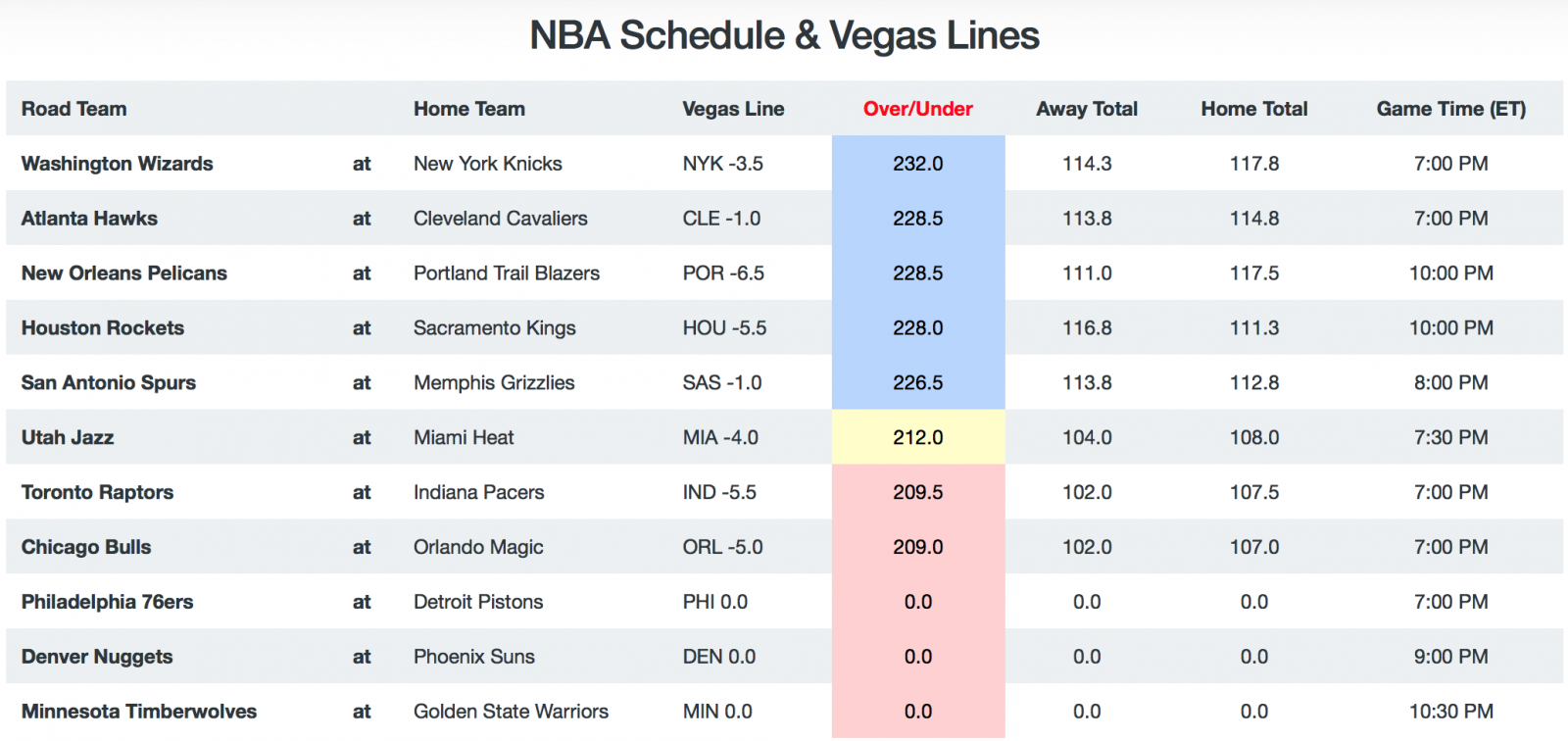 We are waiting on injury and lineup information to come through for 3 of the 11 games on this slate. As usual I have broken down the impact of all possibly major lineup changes below.
It is no shock that on an 11 game slate we have a wide variety of juicy totals to target. There are five games with totals 226.5 or higher. This is headed by everyone's favourite team to the target with Washington playing New York. As we have said several times this season, the Wizards hit the trifecta of DFS dreams playing at the second fastest pace, ranked dead last in defensive efficiency and as a result concede the most fantasy points in the league. Anytime they are on the slate the first point of call is looking for avenues to attack them.
Atlanta at Cleveland is another dream matchup for daily fantasy. The game total is slightly lower at 228.5 points, but we see two of the top three teams for fantasy points conceded this year squaring off. The Hawks are playing at a top 9 pace, which puts the Cavaliers in a pace up spot, while both teams are bottom three in defensive efficiency this year.
On a slate this size it is critical to be able to narrow down your playing field and fortunately we have three games with totals of 212 points or lower. Barring any obvious value plays from these games I will most likely put a pen through each team in these matchups.

Sacramento are in the biggest pace up spot of the night against the Houston Rockets who play at the 3rd fastest pace in the league this season. The spread is only 5.5 points, which means the Kings are expected to keep this game reasonably close. The only issue is the Kings lineup is back to full strength now and predicting minutes can be tricky.
Golden State have the next highest pace up matchup against Minnesota who play at the 4th fastest pace. This game is yet to have a total set as we await news around Karl Anthony-Towns, however it looks like a great game to target with both teams in the bottom 10 in the league in defensive efficiency and Warriors giving up the 6th most fantasy points this year.
INJURY NEWS
Jonas Valanciunas is questionable for the game against the Spurs. The last Memphis game gave us a great indication of how the Grizzlies will handle the situation without Valanciunas. Jaren Jackson Jr slid over to the centre position, while Solomon Hill was inserted into the starting lineup. Jackson Jr had 41 fantasy points last game and has seen a 2% usage increase in games without Valanciunas this season. Solomon Hill has played an additional 10 minutes per game resulting in a +12.2 points per game to his fantasy output.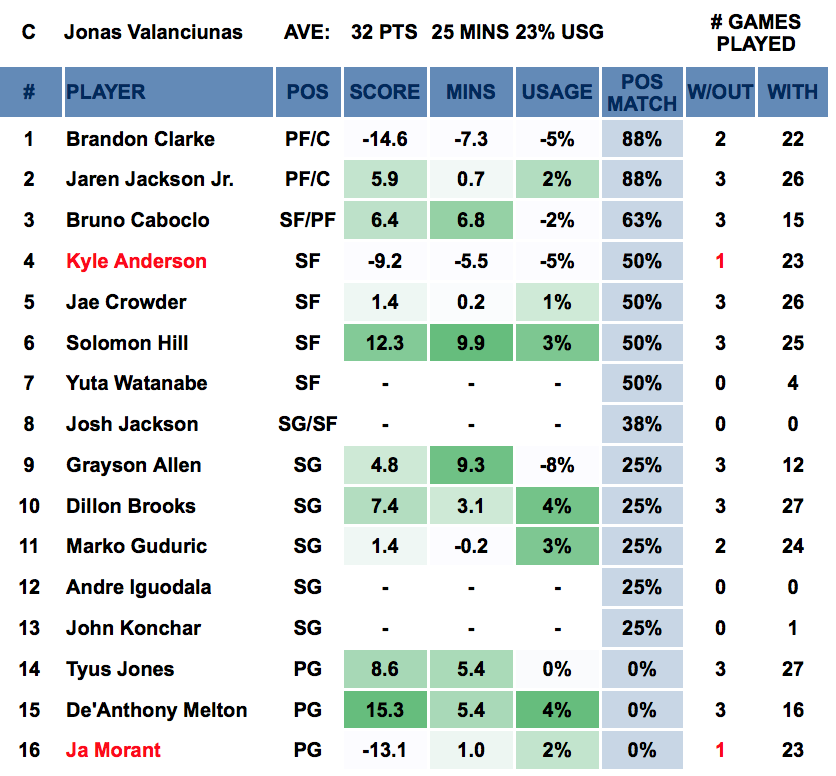 Karl Anthony-Towns is questionable for the game against the Warriors. Gorgui Dieng has started at centre in the games without Towns this year and responded with a massive +20 fantasy points per game from an additional 13.7 minutes of playing time.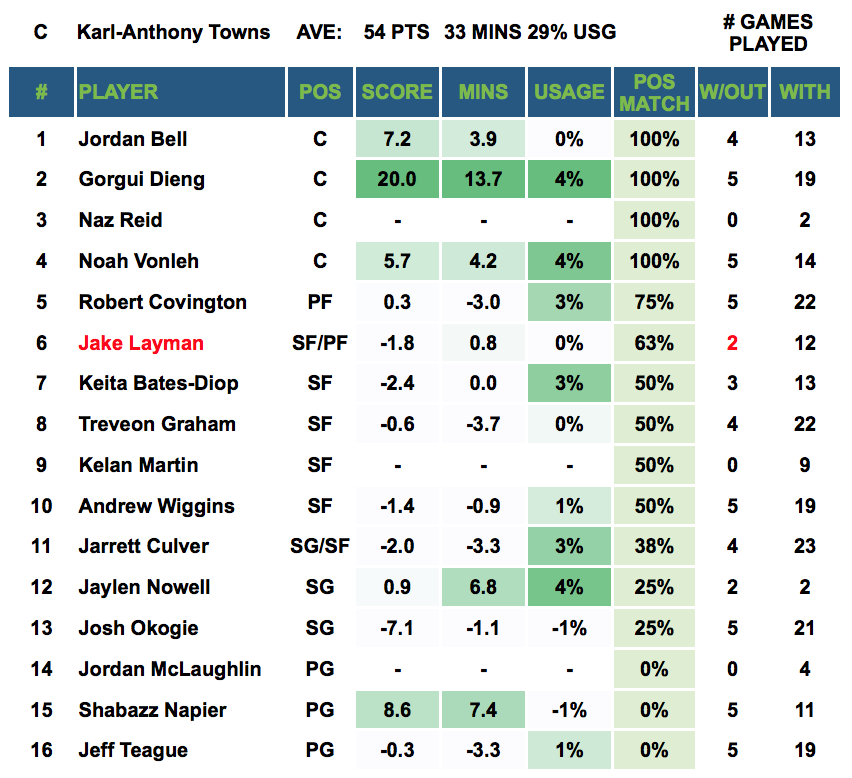 Ricky Rubio is considered questionable for the game against the Nuggets, while DeAndre Ayton has already been ruled out and Frank Kaminsky and Dario Saric are probable. Elie Okobo started at point guard last game and scored 29 fantasy points from 30 minutes of playing time.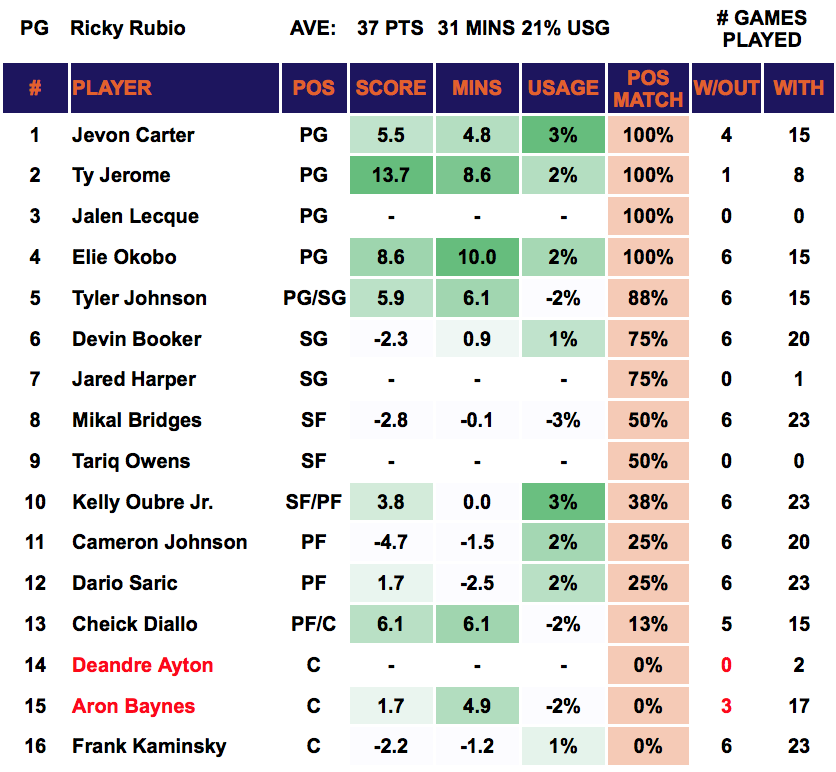 Carmelo Anthony is questionable for the game against the Pelicans. Without Anthony in the lineup last game Skal Labissiere was the sharp play of the day, playing 26 minutes off the bench he returned 28 fantasy points. Skal has just under 1 fantasy point per minute this season and is a great play at minimum price whenever it is clear he will get an opportunity.
David Bertans and Isaiah Thomas have been added to the Wizards list of outs that already includes Thomas Bryant, Moritz Wagner, Rui Hachimura and Jordan McRae. Ish Smith will start at point guard and instantly become one of the chalkier plays on the slate. At power forward the Wizards will have to dig deep into their depth chart with Troy Brown a likely candidate to move into the starting lineup and Admiral Schofield likely to see a significant number of minutes.
VALUE PLAYS
As always more value will likely open up as we get closer to the slate and further lineup news breaks. Also be studious in looking a pricing differences between the three platforms are some players are value on different sites just due price.
In addition to the possible value plays noted above (Ish Smith, Troy Brown, Gorgui Deing, Skal Labissiere):
Shabazz Napier (DS $7,800, DK $3,400, MB $4,200) has moved into the starting lineup for the Timberwolves recently with Jeff Teague continuing to play off the bench. This has seen a boost to Napier's minutes playing 20 and 30 minutes in his last two games resulting in returns of 18.5 and 35.5 fantasy points respectively. Napier has averaged a whisper under 1 fantasy point per minute this season and has always had a strong history in regards to fantasy scoring when he received playing time. On this slate he will face the Warriors who are in the bottom 10 for fantasy points conceded to point guards this season.
Damion Lee (DS $8,280, DK $4,300, MB $4,100) is likely to be a bit of a low owned tournament shot but his production has been increasingly solid in recent games. Starting at shooting guard Lee has seen a solid amount of playing time over the past four games averaging 30 minutes per game and 26 fantasy points. Lee has been aggressive when on the court sporting a solid usage rate of 20% and as noted above he is in a pace up matchup against the Timberwolves on this slate, which is likely to suit his athletic style.
MID PRICED PLAYS
De'Aaron Fox (DS $13,250, DK $6,600, MB $6,800) has returned to the starting lineup and is now beginning to log minutes at the 30+ range. This should continue to rise and quite simply with this level of playing time Fox price is too cheap (especially on DraftKings). Fox as already topped the 37 fantasy point mark in two of his three games since returning from injury and on this slate he draws the biggest pace up matchup of any team playing against the Houston Rockets.
D'Angelo Russell (DS $13,750, DK $7,500, MB $8,700) has a 33% usage rate this season the injury plagued Warriors, which means he regularly getting up 20+ shot attempts. At his price across the industry that is a bargain and we have all seen his upside this season when he gets going (season high 80+). I love that he is in a pace up matchup on this slate and he always has a little something extra when going against friend Karl Anthony-Towns (if he plays) as he showed with his ceiling game earlier this season of 81.5 fantasy points (from 52 real points).
Julius Randle (DS $13,310, DK $6,700, MB $7,000) is my first stop when finding a way to target the Wizards on this slate. Randle has shown much more signs of life under new coach Mike Miller, already posting 2 40+ fantasy point performances. His floor looks to be around the 33 point make making him safe for cash as well. Washington are giving up the most fantasy points in the league this season and have absolutely no interior presence left.
Dejounte Murray (DS $11,610, DK $5,900, MB $6,600) will remain in my player pool on every slate now that he is playing around the 30 minute mark. In his last four games he has averaged 27 minutes and returned 34 fantasy points per game, with only blowouts preventing a couple of 40 point games. On this slate he draws one of the best matchups into the league against the Memphis Grizzlies who have conceded the queal third most fantasy point sin the league to the point guard position over the past 10 games.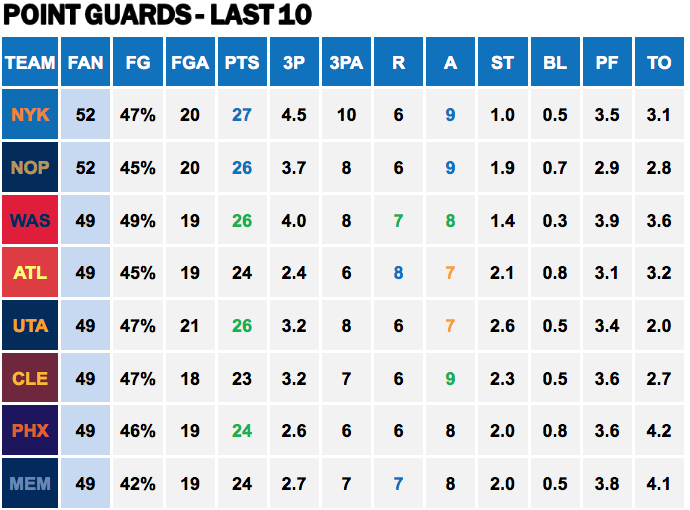 PREMIUM PLAYS
Nikola Vucevic (DS $16,630, DS $8,200, MB $8,000) is a solid chance to go overlooked on a slate this big. He is on my short list for players I continue to return to as under owned tournament plays who offer significant upside. I know I mentioned at the top that I would likely pen everyone from this game due to the low total, however Vucevic is in the dream spot here. The Bulls have been destroyed at the centre position all season giving up the second most fantasy points primarily through points and rebounds, which are the two primary categories driving Vucevics scoring.
In terms of other premium plays Trae Young's price has amazingly topped James Harden's at DraftKings. Young has a great matchup against the Cavaliers, however, John Collins return should reduce his usage rate to some degree. Harden's price has dropped almost $2K recently on DraftKings and he is certainly in play on that platform. Damien Lillard has a dream matchup against the Pelicans who have been leaking points to point guards recently (although he might not quite have the ceiling for his Draftstars price). If Karl Anthony-Towns does play he will be in one of my favourite spots against Golden State.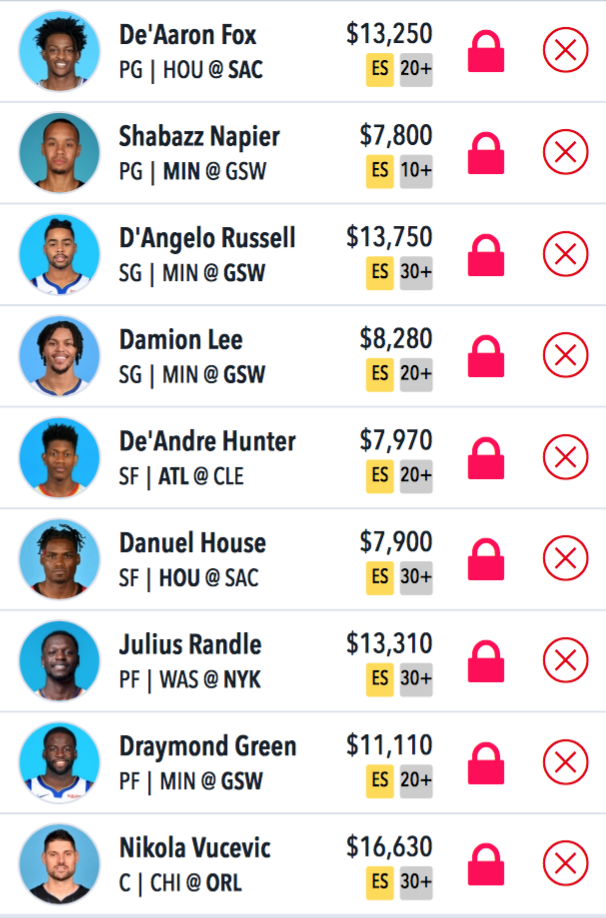 In case you are new to NBA DFS these articles break down the matchups and highlight the key plays to help you build winning lineups. For more insight into how to utilise our game breakdown data check out our NBA DFS Training Camp Series:
Always remember to gamble responsibly. When the fun stops, stop. If gambling is having a negative impact on your life, seek support at Gambling Help Online. 18+ only.