daily fantasy sports articles
NBA 2019-20 Daily Fantasy Preview Tuesday 29th October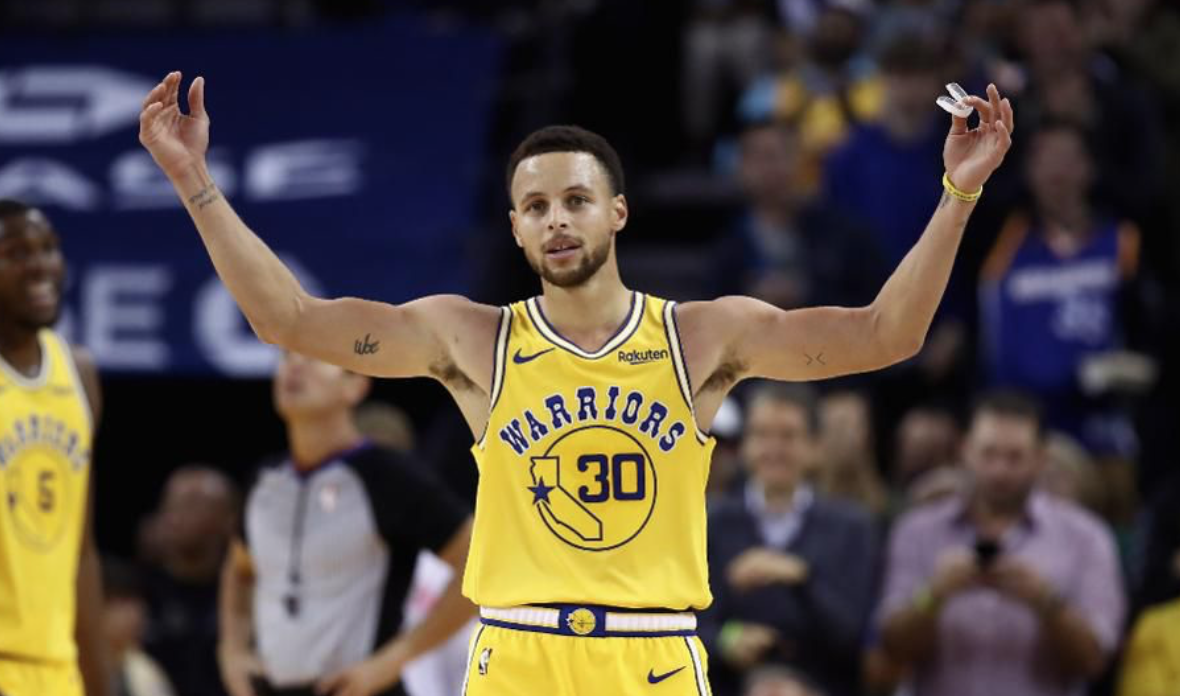 NBA Monday (Tuesday AEST) is here as we kick off another week of NBA Daily Fantasy with a monster 11 game slate. As usual there is a huge array of DFS tournaments to choose from:
For more details on contest types on offer check out our NBA primer article here.
In case you are new to NBA DFS these articles break down the matchups and highlight the key plays to help you build winning lineups. For more insight into how to utilise our game breakdown data check out our NBA DFS Training Camp Series:
Part 1 – Betting Lines and Totals
Part 2 – Matchup Analysis – Pace and Defense vs Position
Part 3 – Key Statistics in Daily Fantasy Basketball
Part 4 – Trade Analysis – Breaking Down the Jimmy Butler Trade
Part 5 – DraftKings Sharpshooter Winning Lineup Recap
Part 6 – Adjusting for Line-up News
GAME BREAKDOWN
No surprise to see several 220+ game totals on the card with 11 games to choose from. Oklahoma City at Houston is the highest total posted currently at 225.5 points with the Thunder drawing a pace up matchup with the Rockets playing at the 2nd fastest pace in this league so far this year, while also sitting 21st in defensive efficiency.
I am quite wary of some of the other high game totals as Charlotte at the LA Clippers, which also has a 225.5 game total, and Cleveland at Milwaukee, 222 point game total, are expected to be blowouts with both games having 15 point totals. To make this worse Charlotte are also on the second night of a back to back in LA, while the Clippers have some respect to earn back after a disappointing loss to the Phoenix Suns.
My favourite game to attack on this slate is yet to have a total set as we await injury news on Jrue Holiday. But Golden State at New Orleans should be the clear highest total on the slate when it comes out. Both teams are top 10 in pace to start the year while also being bottom 3 in defensive efficiency. Give me all the game stacks from this matchup!!
Injury News
Reggie Jackson is considered doubtful for the matchup against Indiana. In the Pistons last game it was Tim Frazier (MB $3,700, DS $5,000, DK $3,500) who replaced Jackson as the starting point guard. Frazier scraped together value at his price with 17 fantasy points from 21 minutes of game time. The biggest beneficiary, however, was Derrick Rose (MB $6,700, DS $8,540, DK $5,200) who came off the bench and poured in 46 fantasy points from 27 minutes of game time.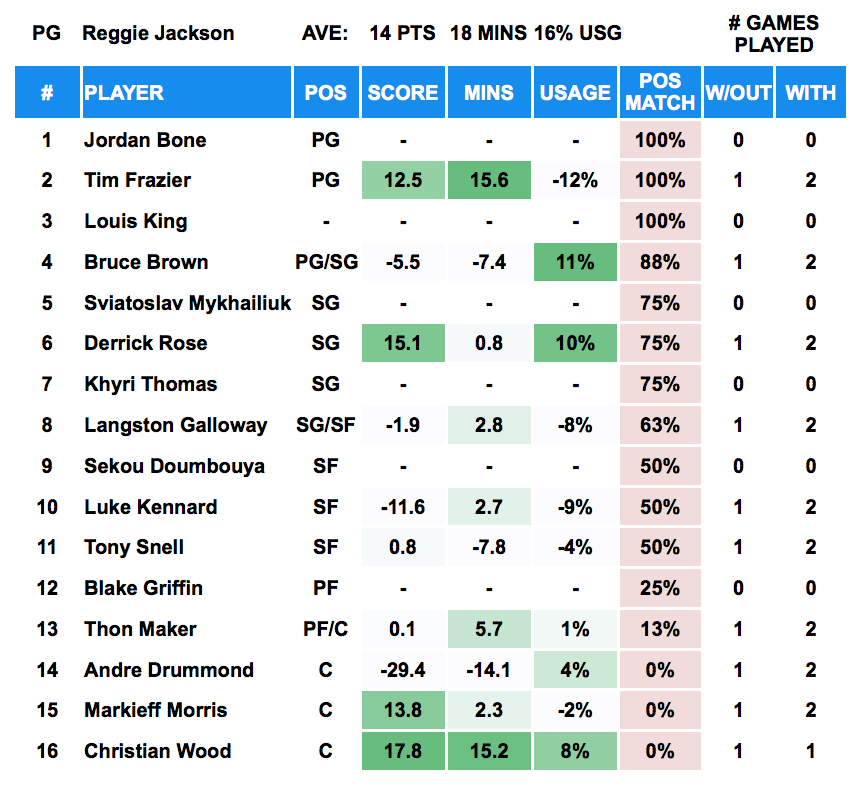 Jrue Holiday is listed as questionable for the matchup against Golden State. Josh Hart (MB $6,000, DS $8,500, DK $4,800) replaced Holiday in the starting lineup last game and continued his hot start to the year with 36 fantasy points from 34 minutes. Lonzo Ball (MB $7,100, DS $11,450, DK $6,300) also saw an increase in playing time receiving 36 minutes and Kenrich Williams (MB $4,100, DK $5,000, DK $3,200) had a massive boost with 32 minutes of game time, despite only managing 16 fantasy points.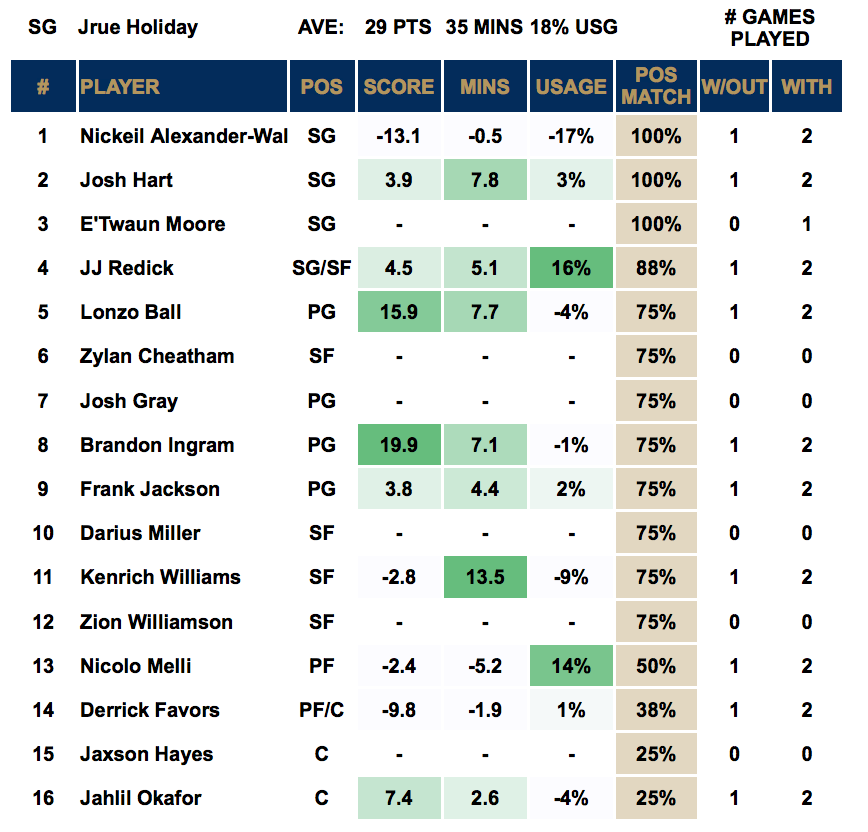 Joel Embiid is considered questionable for the matchup against Atlanta. In the last game without Embiid it was Al Horford (MB $7,100, DS $12,660, DK $6,200) who moved into the entre position and posted 44.75 fantasy points.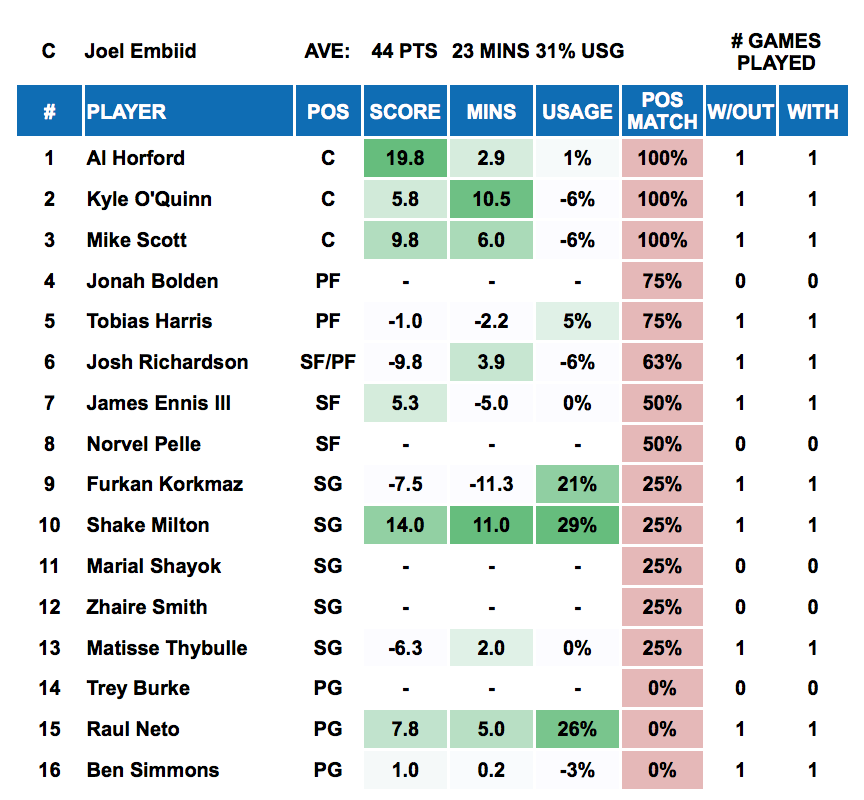 VALUE PLAYS
Plenty of value will become more obvious as we get closer to line-up lock so make sure you keep on top of the news. In addition to names mentioned as a result of injury news above, these players are worth considering:
Josh Hart (MB $6,000, DS $8,500, DK $4,800) has been a stand out value play of the season thus far receiving a much bigger role off the bench than most expected this year. Averaging 33 fantasy points through 3 games (including 36 from 34 minutes in the last game where he started for Jrue Holiday). He is still well priced at Draftstars and DraftKings, particularly if Holiday is out again. At Moneyball his price has shot up and is a clear fade regardless of the lineup.
Dwayne Dedmon (MB $4,200, DS $8,120, DK $4,500) is my sneaky value play of the day, particularly on Moneyball where the pricing is making it difficult to find obvious value on this slate. Dedmon has seen his minutes increase in both games that Baguely has been out, and in the most recent contest played 28 minutes to return 18 fantasy points despite turning the ball over 7 times. Dedmon has been a solid fantasy performer in recent years, especially when given the opportunity. He has flashed 40+ upside on several occasions and if his minutes can remain in the high 20s should be able to return value.
Derrick Rose (MB $6,700, DS $8,540, DK $5,400) has had a blistering start to the year averaging 37 fantasy points per game. As noted above he took advantage of Reggie Jackson being out last game with 46 fantasy points and is yet to go under 30 in three games this season. At Moneyball's price he is a pass but he is still way too cheap at Draftstars (a near lock if Jackson is out) and quite playable at DraftKings.
Marquese Chriss (MB $4,000, DS $6,500, DK $3,200) … I know… I know. I am shuddering even typing this. But on a day where Moneyball has really turned the pricing screws and at DraftKings where he is practically the minimum Chriss makes some sense. The Warriors are down to bare bones on the interior without Kevon Looney and Willy Cauly Stein. Chriss got the start today against the Thunder and posted 25 fantasy points from 23 minutes and has gone for over 1 fantasy point per minute across the first two games of the year. In addition the Warriors have one of the top matchups in the league against the Pelicans who play at a top 10 pace and are 28th in the league in defensive efficiency.
MID PRICED PLAYS
Brandon Ingram (MB $8,500, DS $11,170, DK $7,500) is ridiculously under priced at Draftstars and still offers value on DraftKings. He has been the biggest beneficiary of the move to the Pelicans sporting a 28% usage rate through three games to start the year. He has averaged 50 fantasy points per game through the first 3 contests, including a massive 63 point game with Jrue Holiday out of the lineup in their last match. On this slate Ingram draws what has been the top matchup in the league thus far this season against the Warriors who have an insane 124 points per 100 possessions defensive efficiency rating through 2 games.
PREMIUM PLAYS
Steph Curry (MB $9,200, DS $18,570, DK $9,500)... like the rest of the Warriors has had a dismal start to the year. His usage has still been there at 32%, although this is arguably lower than most had expected going into the season. He has averaged just 36 fantasy points from 30 minutes of game time with both games blowing out early. But Curry is shooting abnormally poor through these games going just 2/20 from downtown. Regardless of how the Warriors go this will turn for Curry and this matchup is the perfect contest to do it. The tempo will be high paced and noted above the Pelicans are 28th in defensive efficiency so far this year.
James Harden (MB $11,100, DS $21,310, DK $10,100) has also started the season in a shooting slump. In the last game against the Pelicans Harden equalled the record for the most three pointers missed in a game going just 2/18 from downtown. He responded by slamming the ball into his own face. Through 2 games he is just 3/26 from deep and 10/42 overall, however he has still managed to average 46 fantasy points per game. This means as soon as his shot starts falling he will bust out a ceiling score of 70+.
Kawhi Leonard (MB $9,900, DS $14,840, DK $9,200) is a fade for me at Moneyball and DraftKings but his price can't be ignored at Draftstars. While he might not play the minutes of the other stars, he has started his tenure with the Clippers sporting the highest usage rate in the league at 39%. This almost guarantees a floor of 40 points, even in a blow out. He draws one of the top matchups in the league on this slate against Charlotte who have the 29th ranked defensive efficiency so far this season.
Dragon's Suggested Moneyball Team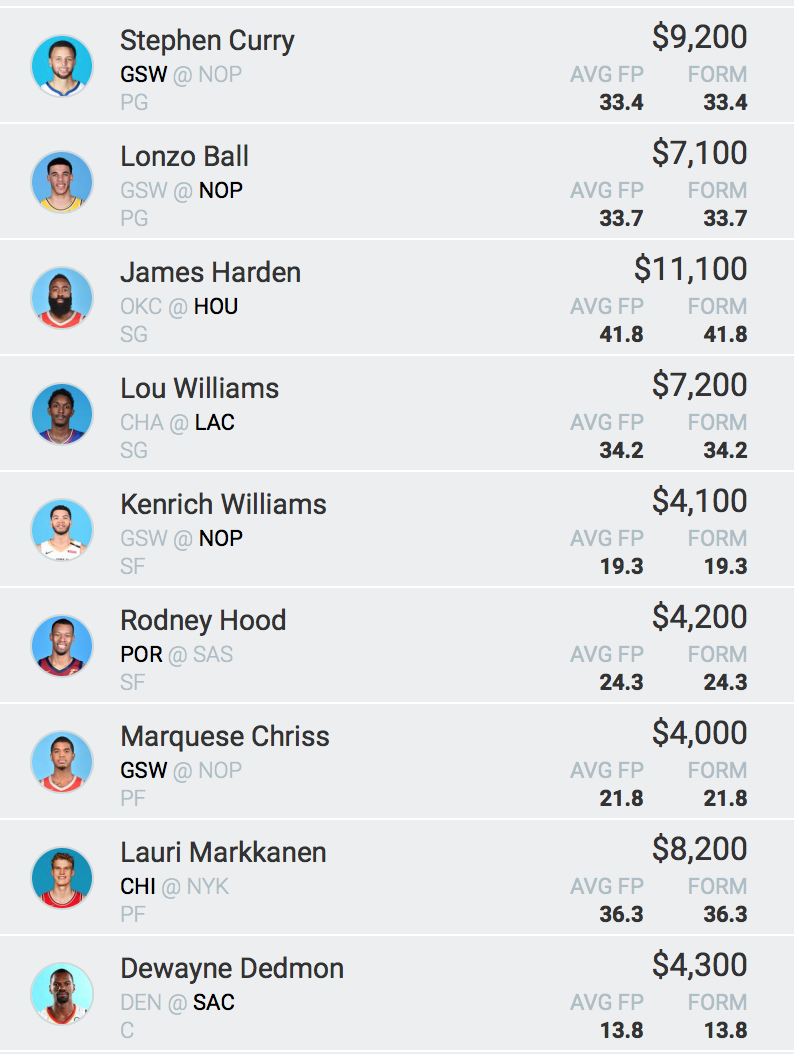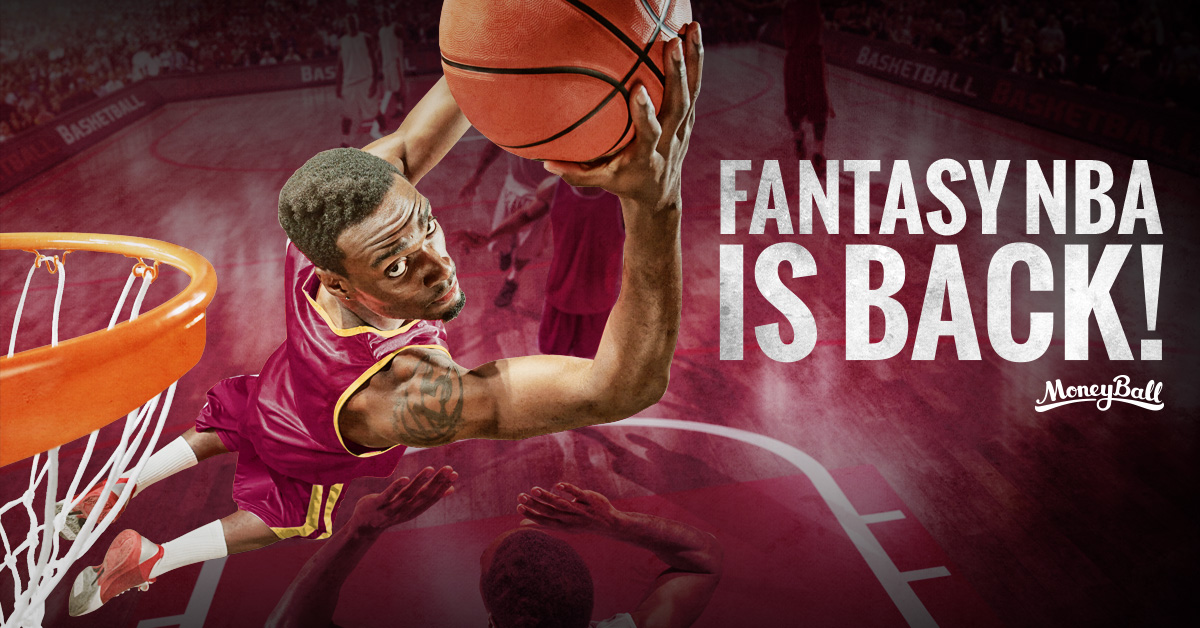 Always remember to gamble responsibly. When the fun stops, stop. If gambling is having a negative impact on your life, seek support at Gambling Help Online. 18+ only.