daily fantasy sports articles
NBA 2019-20 Daily Fantasy Preview Tuesday 31st December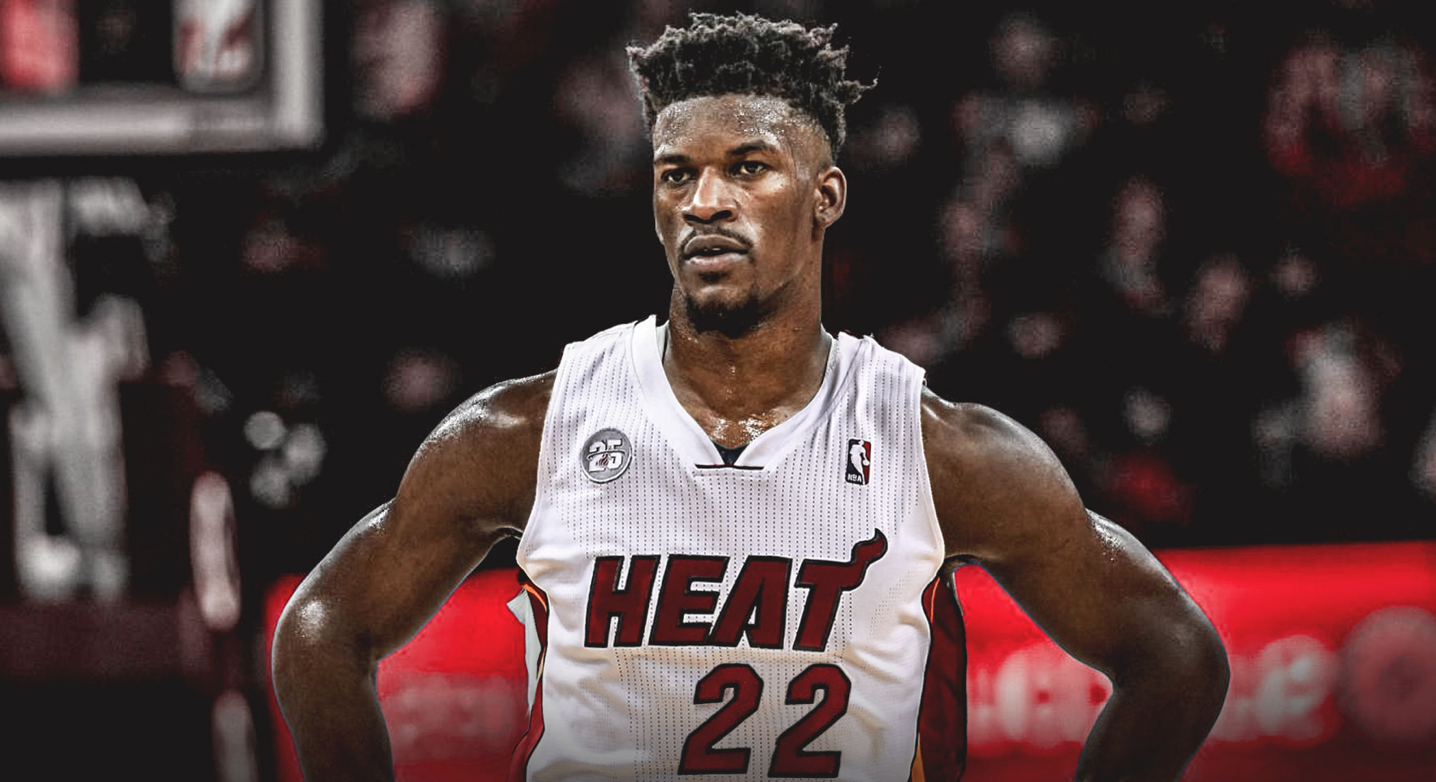 A fresh week of NBA begins and we kick the action off with NBA Monday (Tuesday AEST). With 6 games of NBA action this is probably close to my favourite size for an NBA slate. The usual array of massive DFS games across are on offer across all platforms:
Have you seen the details of the NBA VIP Experience in Los Angeles brought to you by DraftKings? You can read about the details here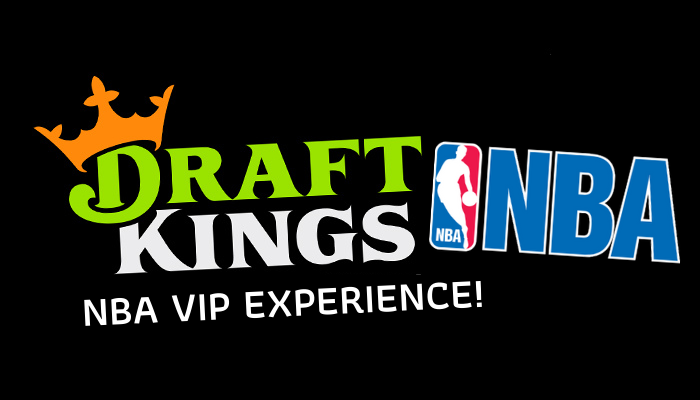 GAME BREAKDOWN

Even on a small slate we can't avoid having a lot of news to wait for on the injury front with 4 out of the 6 games yet to have a total set. As usual I have broken down the impact of all possibly major lineup changes below.
The top game total on the slate for those listed is likely the top for all games with Phoenix playing at Portland. Both sides are top 11 in the league in pace this year, with the Suns being top 5 over the past 10 games. Both sides are also bottom 11 for defensive efficiency and the Trailblazers have given up the 6th most fantasy points in the league.

For are medium size slate we are gifted with a number of options to target. Brooklyn are in the pace up spot of the slate going against the Tumberwolves who have played at the 4th fastest pace in the league this year. Given the Nets have played at the 10th fastest, this should be the highest paced game on the slate and will likely have close to the highest total. The Timberwolves have been a total mess with injuries in recent games so sorting through that news and guessing rotations might be risky, but it is one of the best games to attack on both sides.
Orlando have an elite spot against the Atlanta Hawks, although we got a glimpse of the Hawks without Trae Young last game and blowout will be a huge risk in this matchup. The Hawks have are the 29th ranked defense in the league this season and have conceded the second most fantasy points.
Who has given up more than the Hawks you ask…. Well the Washington Wizards who are in the next game to mention as they face the Miami Heat. Once again the blowout risk is significant in this matchup with the Heat 9.5 point favourites, and this could become worse if Bradley Beal misses again. That said, it cannot be emphasised enough how positive this matchup is with the Wizards playing at the second fastest pace, ranked 30th is defense and giving up the most fantasy points in the league.
INJURY NEWS
Trae Young has been ruled out of the matchup against the Magic, and Jabari Parker is considered doubtful. As expected Cam Reddish started in place of Trae Young last game and returned 20 fantasy points from 28 minutes. John Collins had all the usage he could handle posting 55 fantasy points from a ridiculous 26 field goal attempts, although with the higher price now and tougher matchup I wouldn't be chasing this score.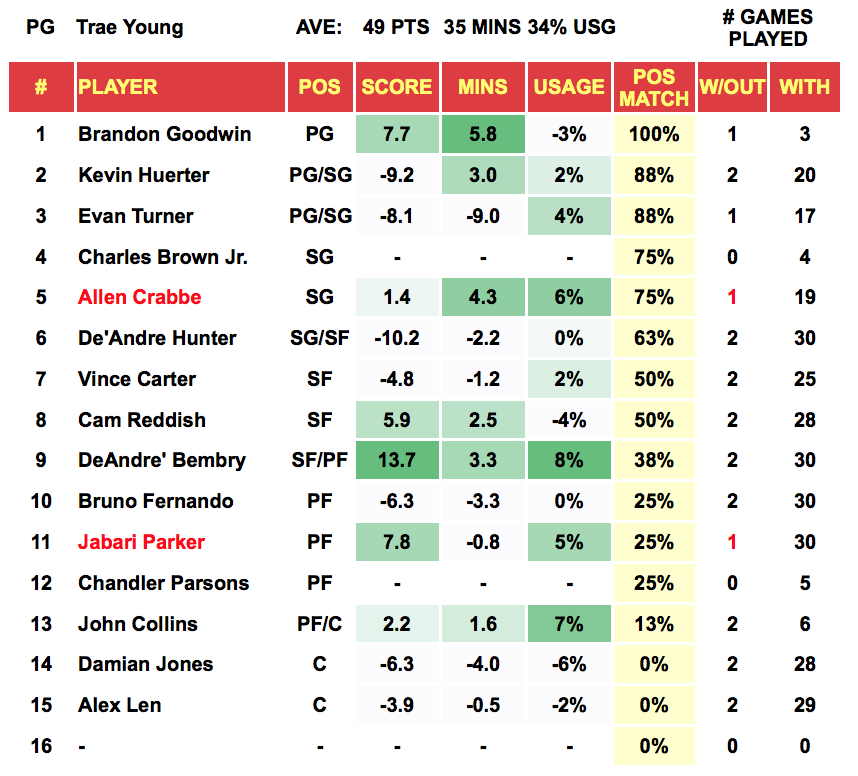 Blake Griffin is considered doubtful for the game against Utah. With Markieff Morris and Luke Kennard also out the Pistons will be short handed once again. Christian Wood should get the start, although Dwane Casey appears to hate him, however even off the bench he will be needed for 20+ minutes of action. Wood has averaged 1.21 fantasy points per minute this season, which means over 20 minutes of playing time should pay off his low salary on certain platforms.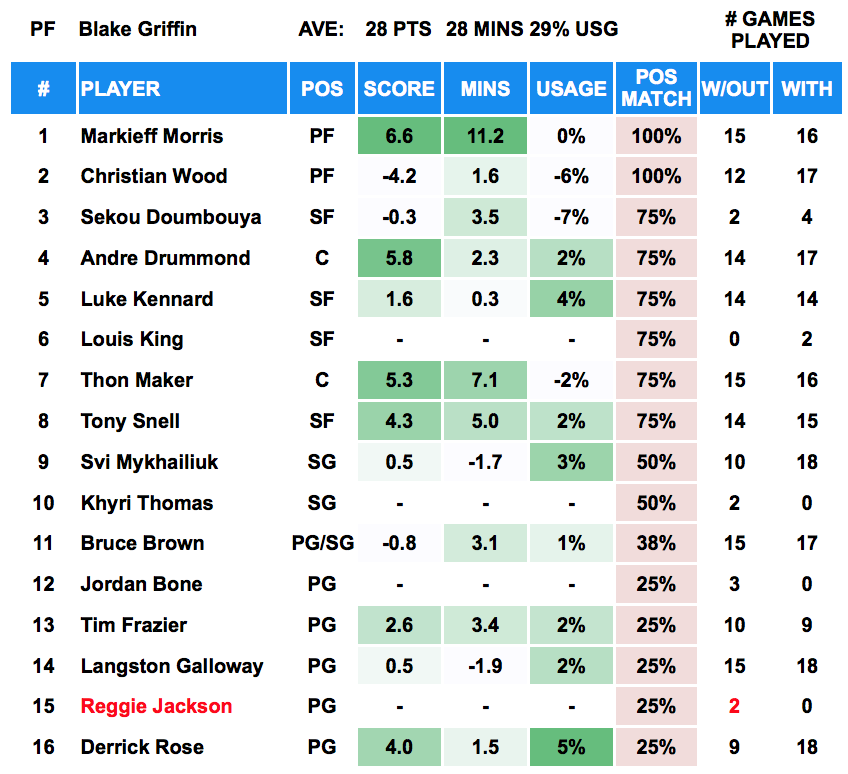 Giannis Antetokoumpo is questionable for the game against Chicago, while Eric Bledsoe is likely to return. Ersan Ilyasova has been an absolute monster without Giannis this year averaging a massive +26 fantasy points per game from an additional 10 minutes of playing time.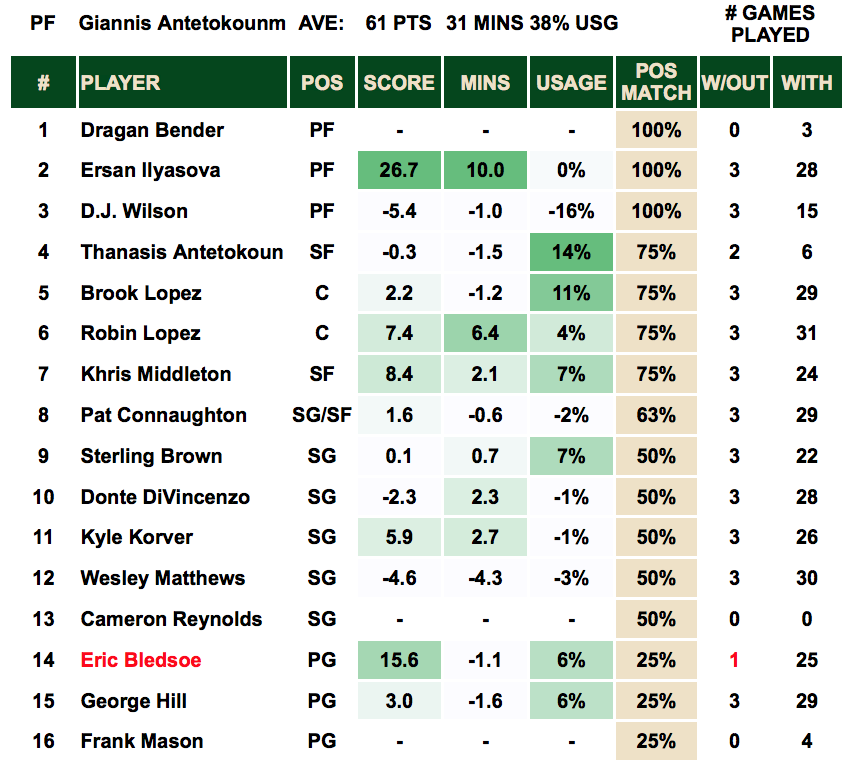 Karl Anthony-Towns and Andrew Wiggins are both questionable for the game against the Nets. In games without Towns this year Gorgiu Dieng has moved into the starting lineup and been a very solid performer. Towns has been out so long his price has now gone right up as he has averaged 35 fantasy points per game over the past 5 games. Without Wiggins in the lineup Jeff Teague is the player to look to as he has received a 6% usage increase, however the risk is that he now shares minutes with Shabaz Napier.
Bradley Beal is questionable for the game against the Heat, while Thomas Bryant, Moritz Wagner, Rui Hachimura and David Bertans continue to be sidelined. As expected Isaiah Thomas saw the biggest usage increase without Beal in the lineup at +11%, which resulted in 33.5 fantasy points. Jordan McRae was also big off the bench posting 32 fantasy points from 29 minutes of playing time.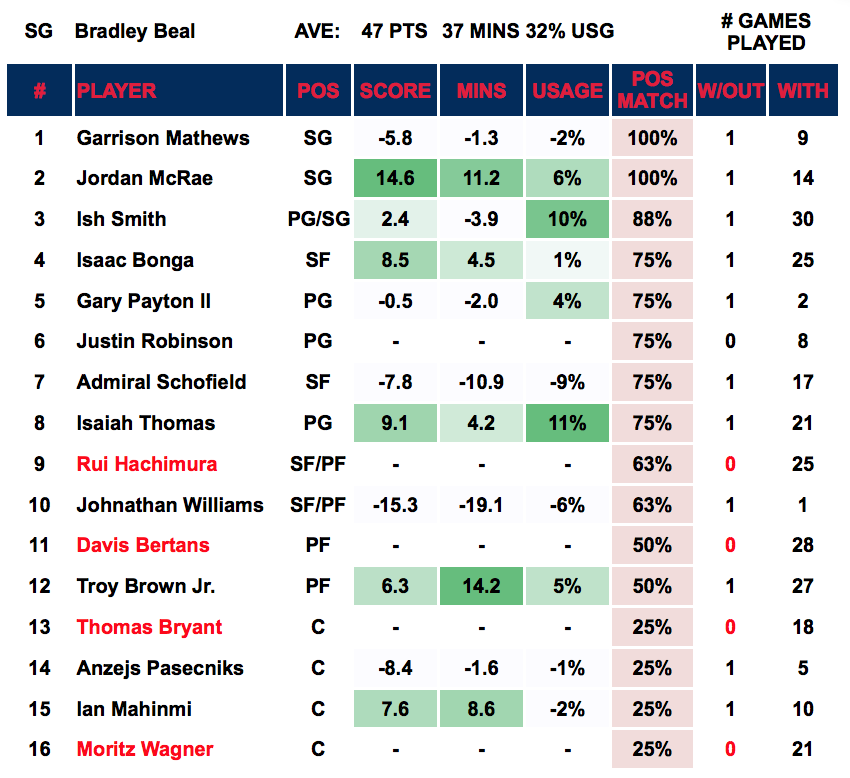 VALUE PLAYS
As always more value will likely open up as we get closer to the slate and further lineup news breaks. Also be studious in looking a pricing differences between the three platforms are some players are value on different sites just due price.
In addition to the possible value plays noted above (Isaiah Thomas, Jordan McRae, Ersan Ilyasova, Cam Reddish):
Duncan Robinson (DS $8,510, DK $4,000, MB $3,900) I absolutely love in GPPs on games where Miami bring an elite matchup and it doesn't get any better than the Washington Wizards as noted above. The Wizards also conceded the 4th most threes in the league (3rd most to shooting guards), which suits Robinson who gets up over 8 attempts from deep per game. We have already seen this year a ceiling game of 50+ fantasy points and other in the high 30s.
Evan Turner (DS $5,000, DK $3,000, MB $3,800) is super sneaky as he returns from injury and you will need to pay attention to the news in case there is a significant minutes limit. But the positive is the Hawks are significantly lacking in ball handling and playmaking with Trae Young sidelined. This is Turner's skill set, which he will bring off the bench at the bare minimum in pricing. If value ends up tough to find on this slate he is flier option in GPPs.
MID PRICED PLAYS
Taurean Prince (DS $9,680, DK $5,400, MB $5,100) I just love in fast paced games, his 40+ point performances this season have come against the Pelicans (8th fastest), Rockets (3rd fastest) and Hawks (fastest). Earlier in the year when the Nets and Timberwolves met Prince posted 38 fantasy points. He has shown to have a 40+ point upside on this slate and Minnesota have given up the 4th most fantasy points to power forwards over the past 10 games.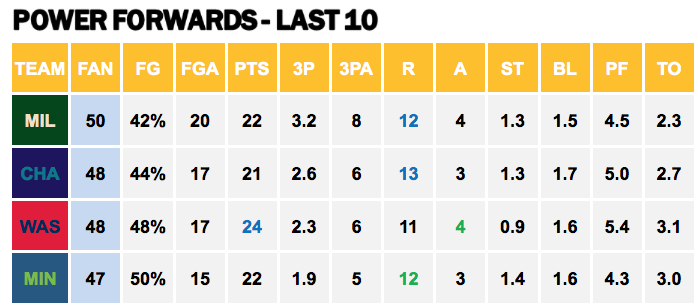 Ricky Rubio (DS $13,240, DK $7,200, MB $7,500) over his last 10 games has posted just two games under 35 fantasy points and 6 games over 40. This matchup is the highest game total on the slat at over 230 points as noted above and Rubio has a great individual matchup against Damian Lillard with the Blazers giving up the 7th most fantasy points to point guards this year.
PREMIUM PLAYS
Nikola Vucevic (DS $16,100, DK $7,900, MB $8,200)... my old favourite. Unfortunately I typically like to grab the Vuc on slates where he will be under owned, but he stands out like a sore thumb on this slate. Atlanta is the second worst defensive team in the league and they have been getting killed at the centre position over the last ten games conceding the third most fantasy points. Vucevic looks as safe a play as you can fine with a floor of 35 fantasy while also bringing 60 point upside and is priced extremely well at DraftKings.

Jimmy Butler (DS $16,470, DK $7,800, MB $8,700) is just too cheap at DraftKings and I just have to find exposure to the teams playing the Wizards. Butler still plays plenty of point guard in the starting lineup, even though this has been limited as the game goes on given Goran Dragic is now back. Butler still posted over 50 fantasy points last game and draws the top matchup in the league on this slate. He is priced too cheap on DraftKings where he will almost be a lock and load play for me.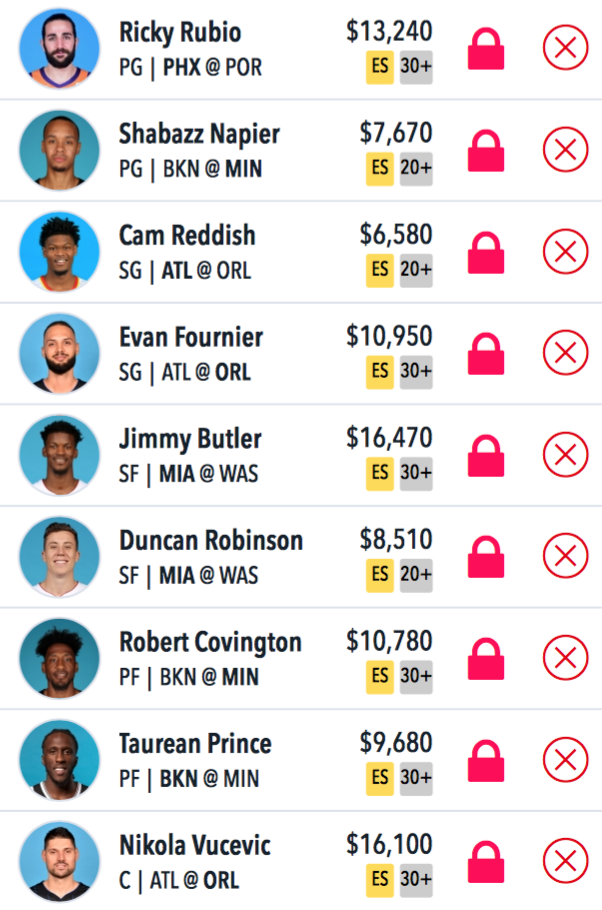 In case you are new to NBA DFS these articles break down the matchups and highlight the key plays to help you build winning lineups. For more insight into how to utilise our game breakdown data check out our NBA DFS Training Camp Series:
Always remember to gamble responsibly. When the fun stops, stop. If gambling is having a negative impact on your life, seek support at Gambling Help Online. 18+ only.