daily fantasy sports articles
NBA 2019-20 Daily Fantasy Preview Tuesday 4th February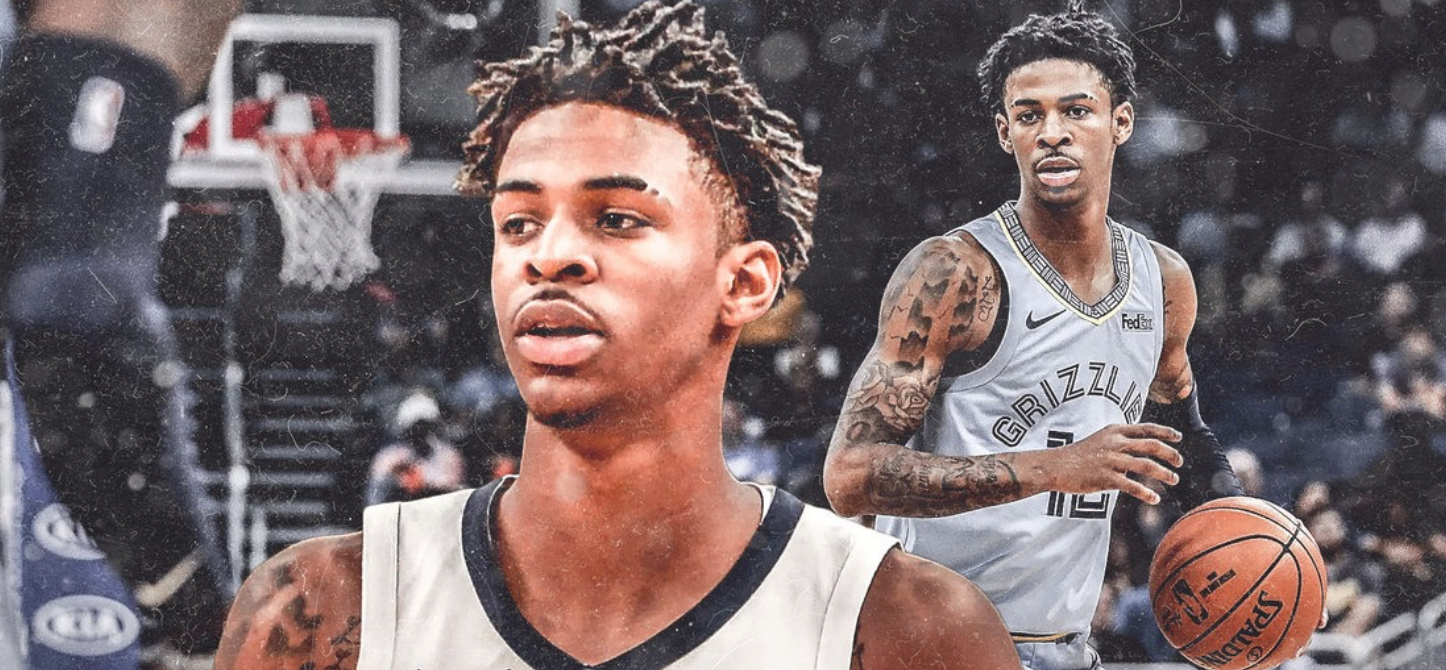 The NFL season is behind us and now the focus shifts to the NBA with massive DFS contests on offer. NBA Monday (Tuesday AEST) kicks of the week off with a massive 10 game slate to attack. The usual major daily fantasy tournaments on offer across the platforms:

GAME BREAKDOWN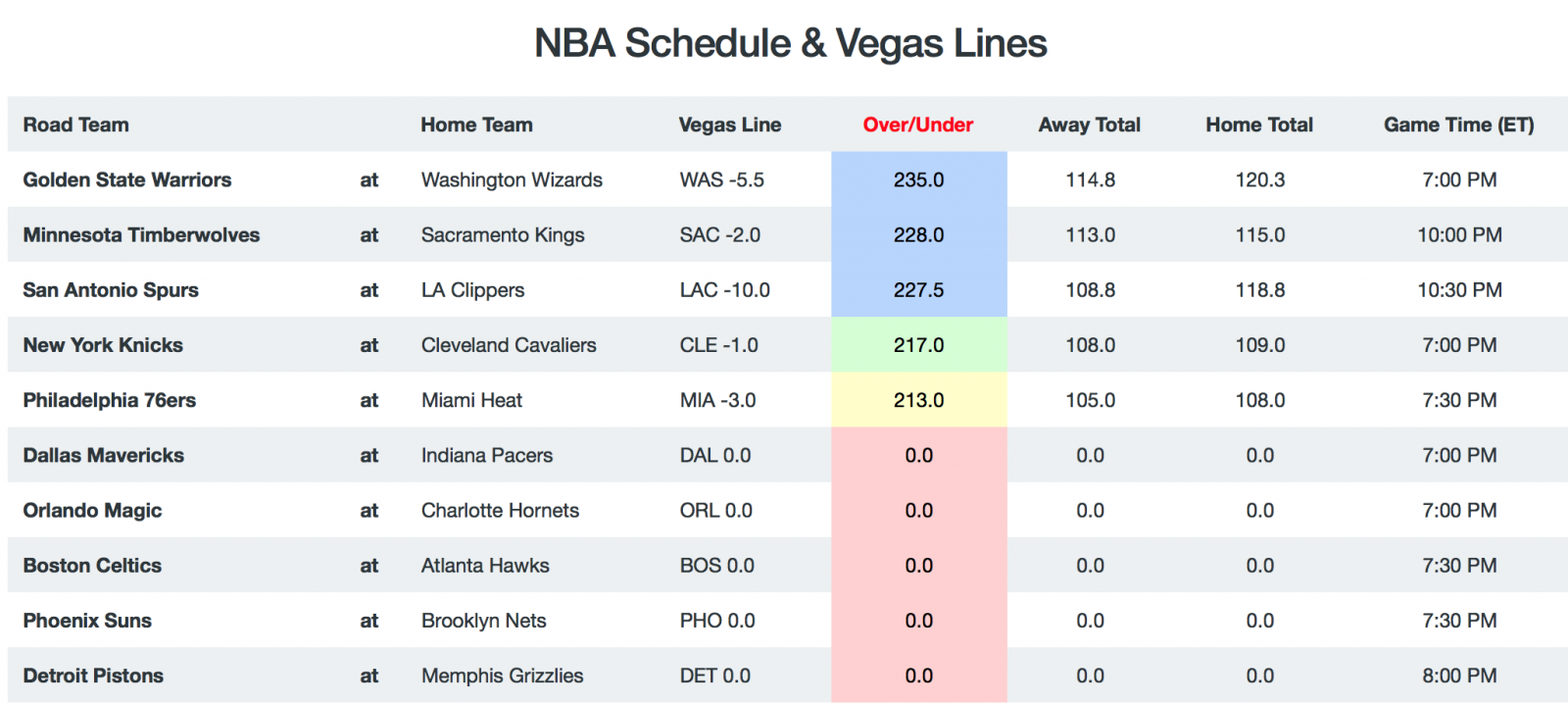 No shock to see half the games yet to have a total set as we await plenty of injury news on this slate. As usual I have broken down the major news that will impact the games from a fantasy perspective below.
The top game total of the night is Golden State at Washington, which is set at a sizeable 235 points (7 points higher than the next highest listed). It is a pace up match for both sides with Washington playing at the 6th fastest pace in the league this season and Golden State 12th. Both sides are bottom 10 in defensive efficiency (Washington are dead last at 30th) and as a result they are top four for most fantasy points conceded this year. This should be one of the most popular games on the slate to attack and with good reason, the added bonus is the 5.5 point line means that the game should remain relatively close.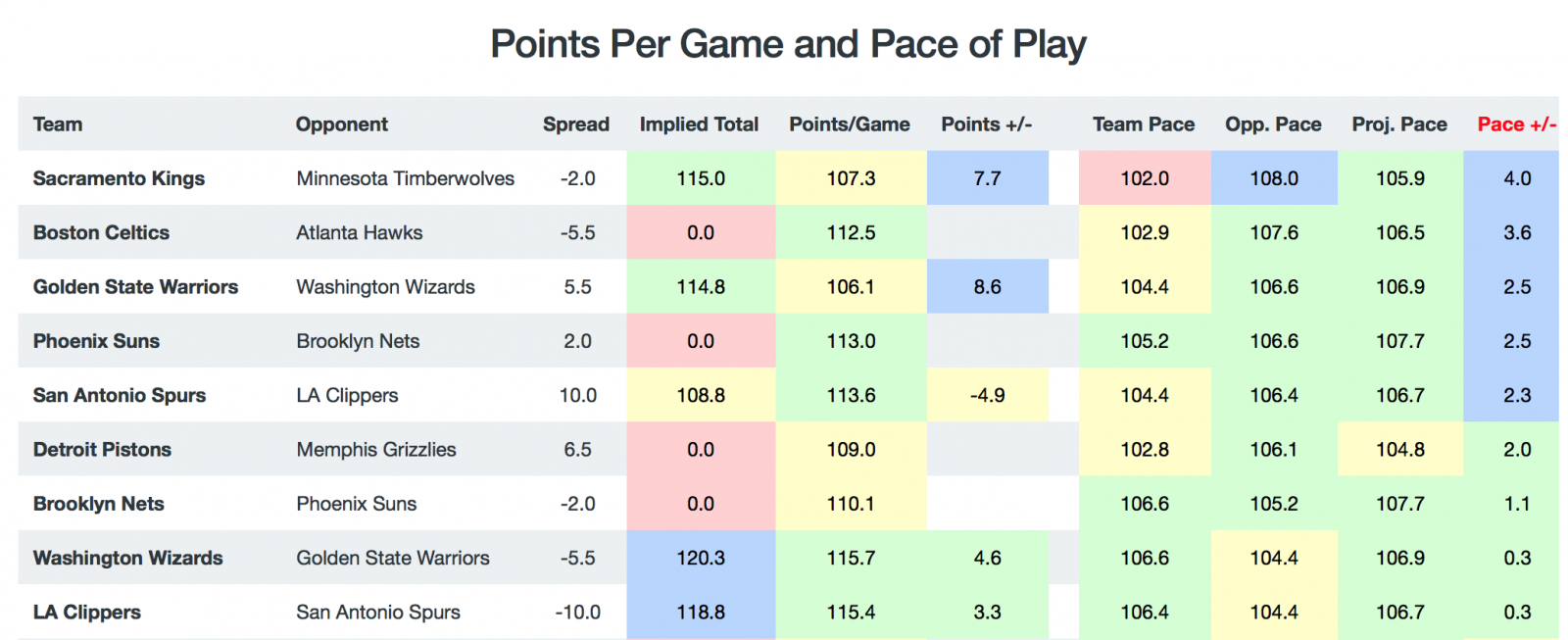 Sacramento have the biggest pace up matchup on the slate as they go against Minnesota who are ranked 7th in pace this season. This game is also the second highest total on the board currently at 228 points and is expected to closely fought with a line of 2 points. The worry is neither team is overly poor defensively or has conceded a significant number of fantasy points this season so it might be a game that I avoid despite standing out on a few obvious indicators.
The two games that will have my attention are Phoenix vs Brooklyn and Detroit vs Memphis. These are pace up spots for both the Suns and the Pistons and all four teams are below average in defensive efficiency (with both Detroit and MEmphis bottom ten in the league).
INJURY NEWS
Trae Young is questionable for the game against the Celtics. Jeff Teague will likely draw the start in Young's absence. Since the trade he has played in one game without Young and was not overly successful as a chalk play. However, last game he did play 30 minutes after Young left with an ankle injury and managed 24 fantasy points despite shooting just 2/10 from the field.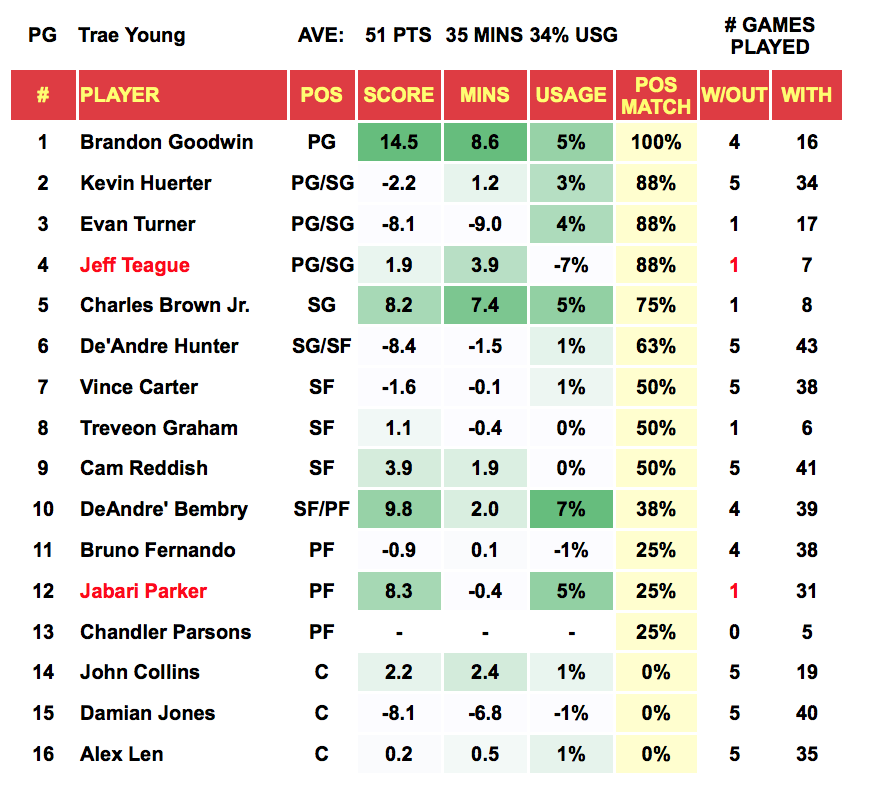 Kemba Walker will not play against Atlanta and Marcus Smart is considered questionable. Jaylen Brown has been the biggest beneficiary in games without Walker this season, with a +5% usage rate he has managed +4.3 fantasy points. Smart is the other player who sees a large boost in output, however if he is also out, look for Brad Wanamaker to draw the start and play significant minutes at point guard.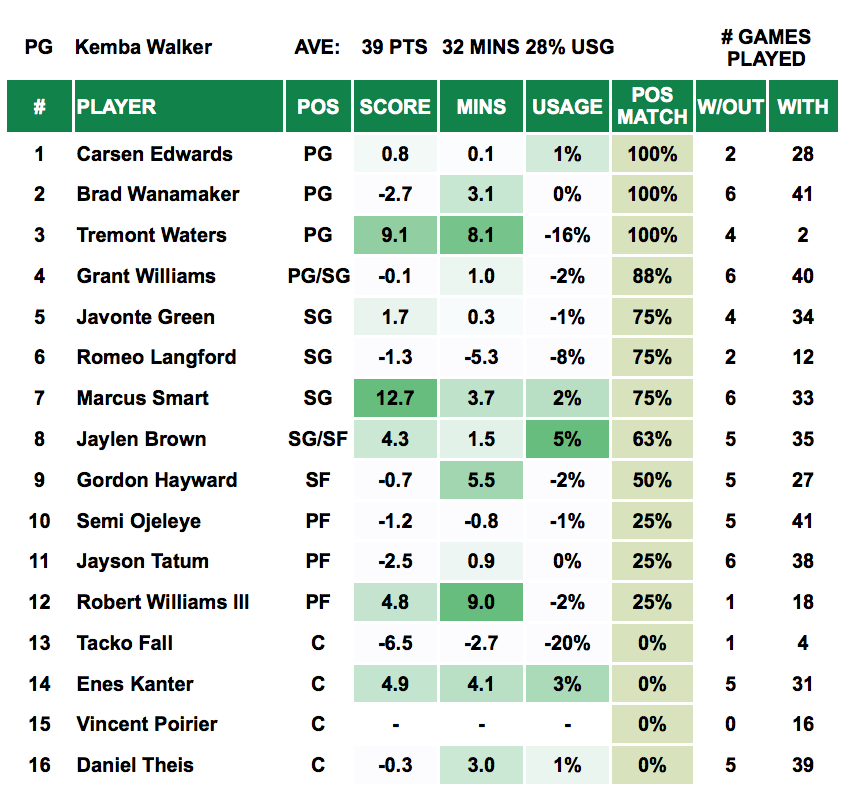 Kyrie Irving is out with a knee injury and will be reevaluated in 2 weeks. We have a signficiant sample size without Irving this season and quite obviously it is Spencer Dinwiddie who sees the biggest boost, with a +6% usage rate and additional 4.7 minutes per game in playing time. His price has already rebounding back up, however, so the play I will be looking to is Caris LeVert who gets a 7% usage bump and will be likely to see a significant increase in playing time as well.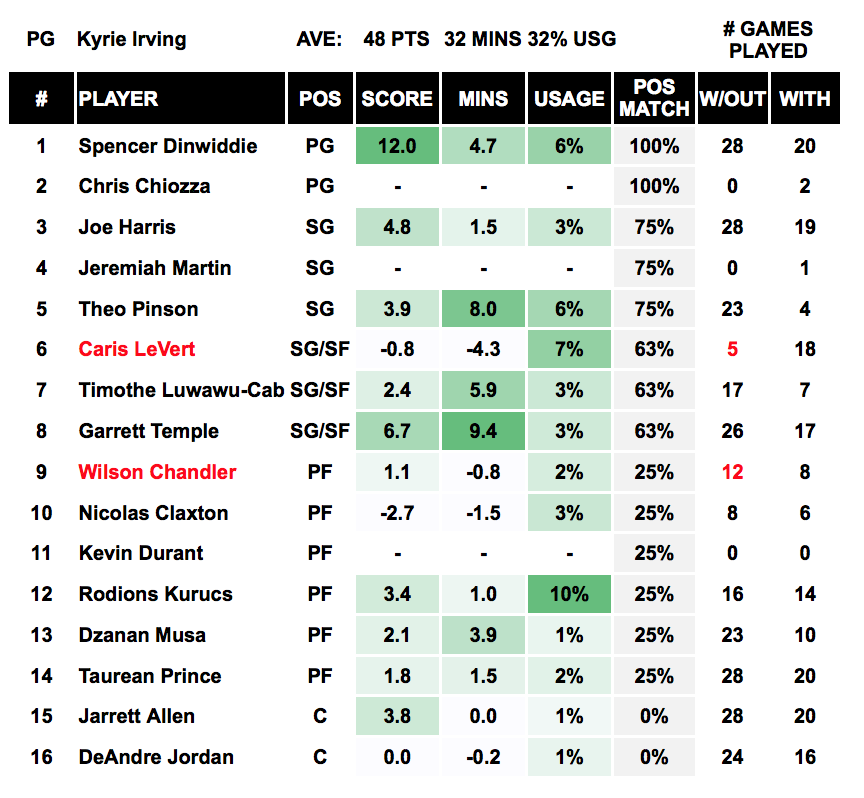 Luka Doncic remains out for the game against Indiana. You have a better chance playing the lotto than guessing what Rick Carlisle will do with his rotation on any given night. Luke has missed the last two games and in the first it was JJ Barea night, and the second was Jalen Brunson night. The player who draws the start appears to be the best bet on who will get the point guard minutes. The one lock for me in this situation, however, is Kristaps Porzingis who averages +18 fantasy points per game this year in games without Luka.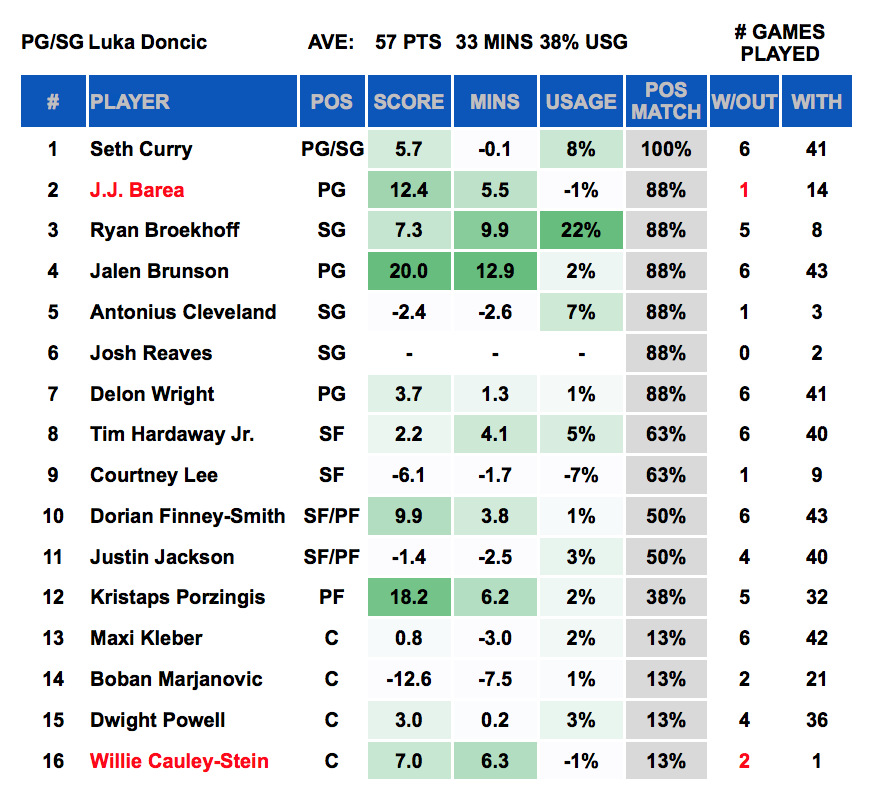 D'Angelo Russell is questionable for the game against Washington. Again working out who will get the minutes for the Warriors can be difficult. But I would expect Alec Burks to get the start as they have tended lately to like Draymond Green running the point.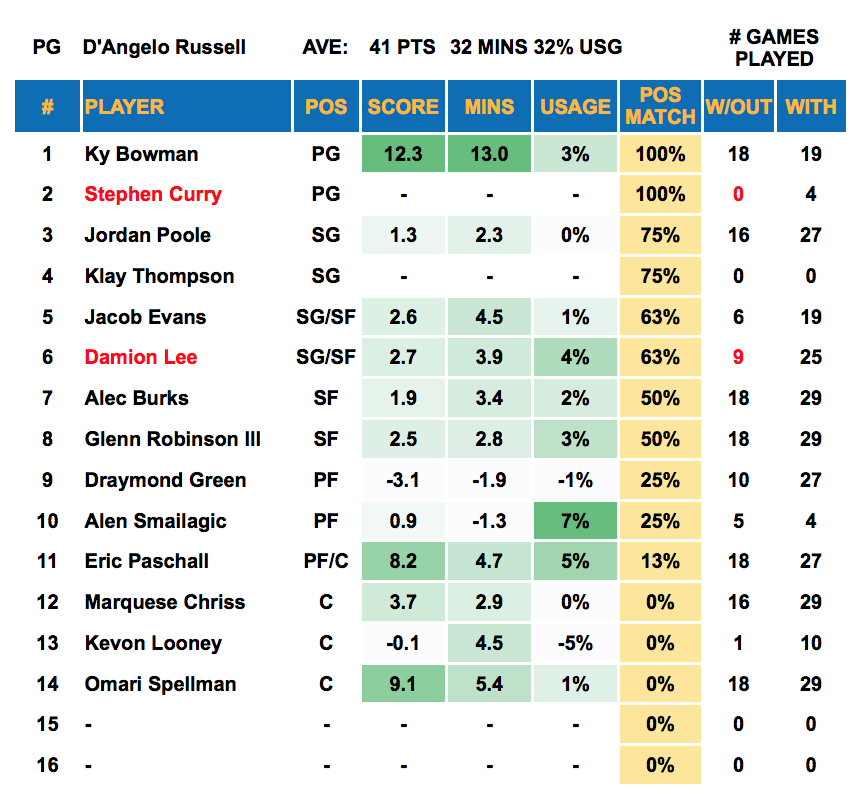 Julius Randle is questionable for the game against Cleveland. Keep an eye on the starting lineups if Randle is out as Bobby Portis will become a chalk play. He has always been a fantasy point per minute monster and in games without Randle this season he has averaged +13 fantasy point from an additional 8 minutes of playing time per game.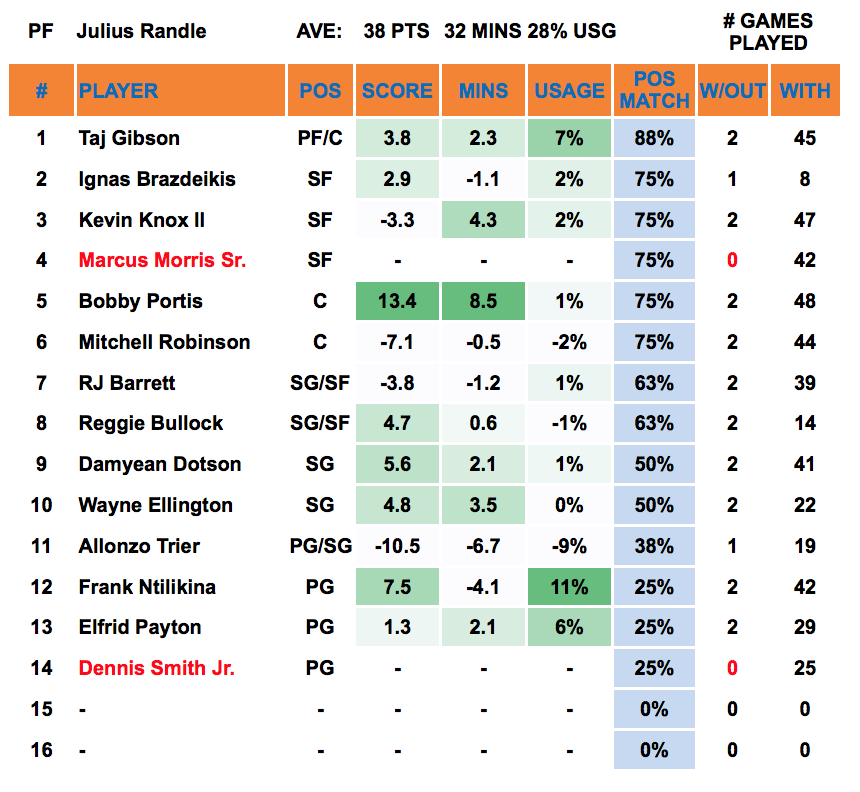 VALUE PLAYS
As always more value will likely open up as we get closer to the slate and further lineup news breaks. Also be studious in looking at pricing differences between the three platforms as some players are value on different sites just due price.
In addition to the possible value plays noted above (Bobby Portis, Alec Burks, Caris LeVert, Jeff Teague):
Tim Hardaway (DS $8,800, DK $5,600, MB $5,200) ruined us last game posting just 10 fantasy points, however he is still too cheap on Draftstars on this slate especially with Luka out of the lineup. He will continue to play 30+ minutes per game and get up over 10 shot attempts, with the results pending purely on making shots. He makes for a great GPP play as he has shown 40 point upside this season.
MID PRICED PLAYS
Ja Morant (DS $12,110, DK $6,800, MB $7,700) was a total wash out last game posting just 21 fantasy points. His shot attempts were there, he just didn't get the peripheral stats and played under the 30 minutes as the Grizzlies were blown out by the Pelicans. Hopefully, this will scare a few off as he is in another great spot against the Pistons. Eight of Morant's last 10 games have been 34+ fantasy points.
Thomas Bryant (DS $10,920, DK $5,800, MB $5,300) is still seeing his minutes increase, however he looks locked into around the 25+ mark current even though he is still coming off the bench. He scores at over 1 fantasy point per minute this season and has shown 50 point upside this season. On this slate he draws what has been one of the best matchups in the league at the centre position for years against Brooklyn.
PREMIUM PLAYS
DeAndre Ayton (DS $16,250, DK $7,700, MB $8,500) has been averaging 19 shot attempts per game over the past four contests and has gone for 45+ in 6 of his last ten games. He is criminally under priced on DraftKings but I like him across all platforms on this slate where he faces the Golden State Warriors who have given up the second most fantasy points to centres over the past 10 games.
De'Aaron Fox (DS $14,790, DK $8,200, MB $8,200)... on a slate where there are none of the absolute high priced stars in play, it opens the door for a variety of different builds. I will be looking to have a high exposure to Fox who should be well suited in a pace up match against the Timberwolves. He is a particularly good GPP play as he has shown massive upside with 2 60 point games in his last 10 and another 56+ point performance.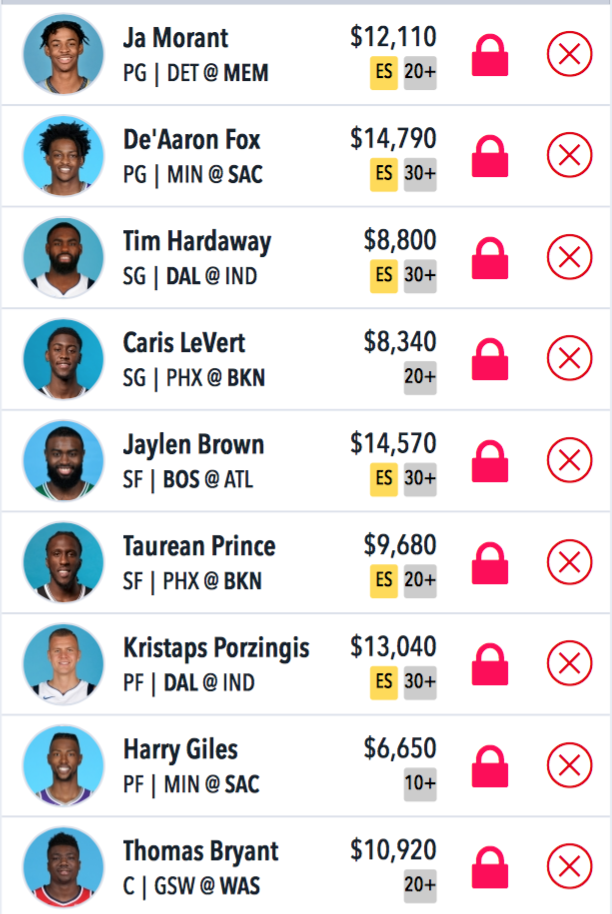 In case you are new to NBA DFS these articles break down the matchups and highlight the key plays to help you build winning lineups. For more insight into how to utilise our game breakdown data check out our NBA DFS Training Camp Series:
Always remember to gamble responsibly. When the fun stops, stop. If gambling is having a negative impact on your life, seek support at Gambling Help Online. 18+ only.