daily fantasy sports articles
NBA 2019-20 Daily Fantasy Preview Tuesday 5th November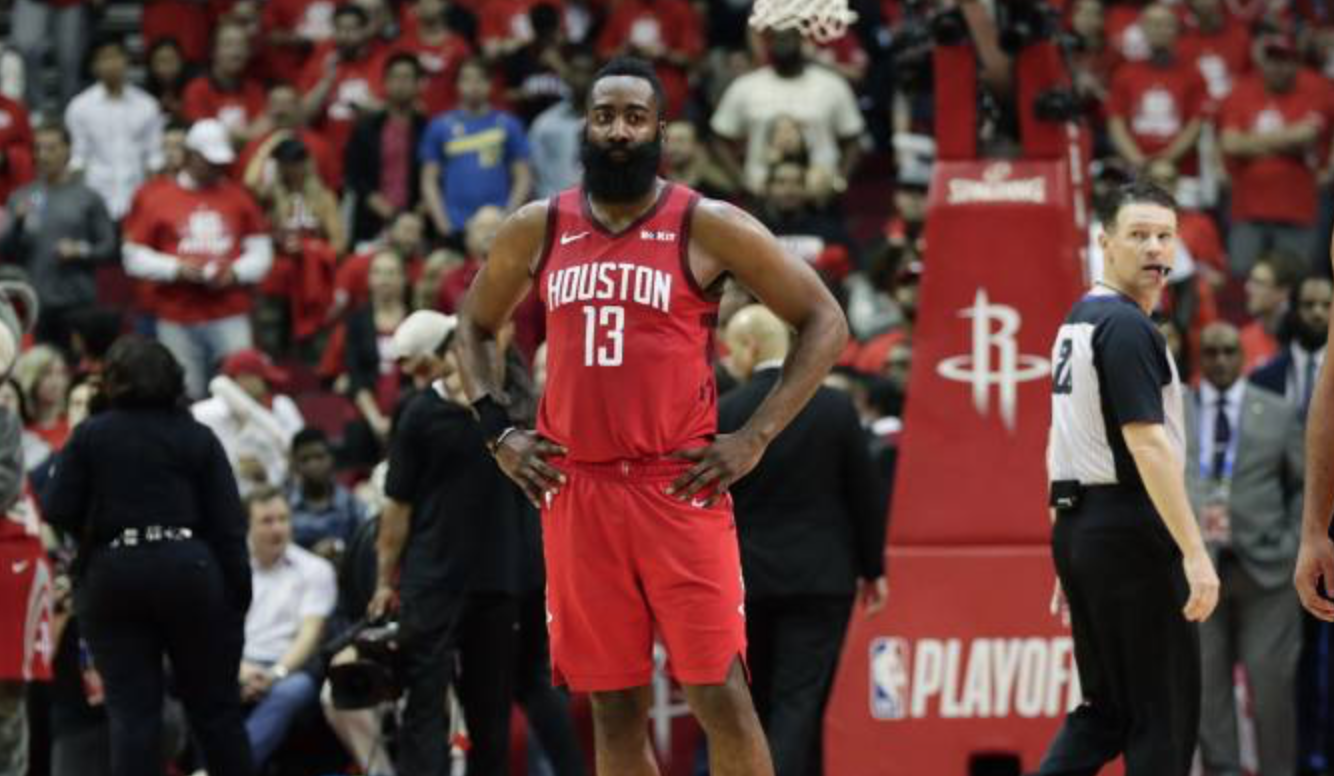 A fresh new week in the NBA kicks off right with NBA Monday (Tuesday AEST) bringing us a perfect sized 6 game slate (my favourite). The usual array of DFS tournaments are available across the major platforms:
In case you are new to NBA DFS these articles break down the matchups and highlight the key plays to help you build winning lineups. For more insight into how to utilise our game breakdown data check out our NBA DFS Training Camp Series:
Part 1 – Betting Lines and Totals
Part 2 – Matchup Analysis – Pace and Defense vs Position
Part 3 – Key Statistics in Daily Fantasy Basketball
Part 4 – Trade Analysis – Breaking Down the Jimmy Butler Trade
Part 5 – DraftKings Sharpshooter Winning Lineup Recap
Part 6 – Adjusting for Line-up News

GAME BREAKDOWN

How do you know the NBA season is in full swing? When half the games on the slate are yet to have the line set due to unclear injury news. As per usual I will break the impact of major news that will impact the slate below.
For just a 6 game slate it is absolutely loaded with juicy games to attack. Two of the games listed have totals of 230+ and the three not listed should have high totals as well. Houston at Memphis is expected to be the top target as two of the three fastest teams matchup. Not to mention both sides are bottom 10 in defensive efficiency.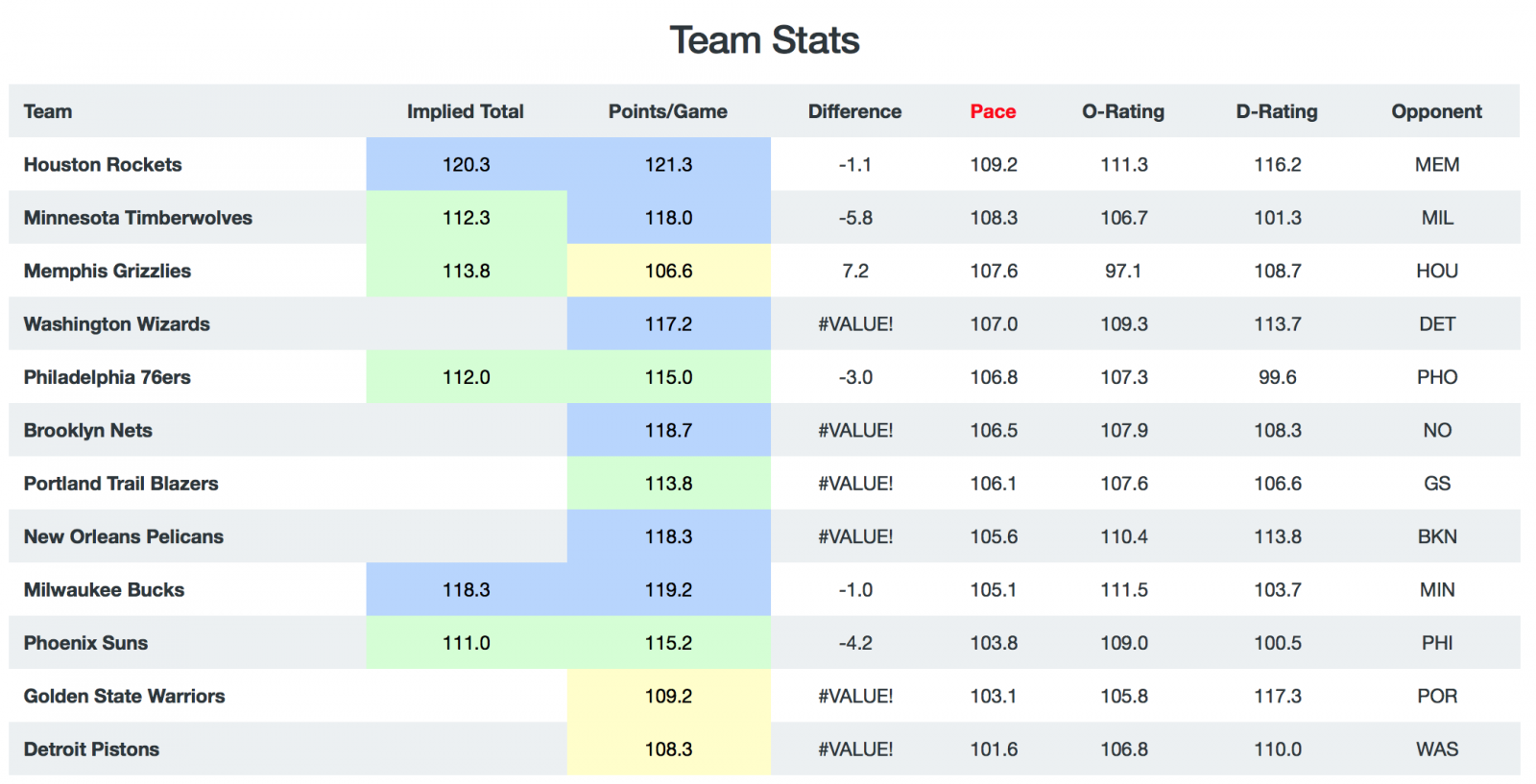 From the games without totals currently set New Orleans at Brooklyn is likely to have the highest game total making for a top game to target on this slate. Both sides have been top 9 for pace to start this year, while the Pelicans are 28th in defensive efficiency and Brooklyn are also bottom 11.
Expect Andre Drummond to be chalky for what feels like the 100th time already this season as the Pistons draw a pace up matchup against Washington who have played at the 4th fastest pace in the league this year and are also sporting a bottom four defense.
INJURY NEWS
Reggie Jackson and Derrick Rose will be out again for the matchup against the Wizards, while Tim Fraizer is considered doubtful. With all three out last game it was Bruce Brown who started at point guard and played the game of his life with 39 fantasy points from 40 minutes of game time. Luke Kennard was the other big beneficiary playing +7 minutes of game time and received an addition 8% in usage, as he took over playmaking duties for major stretches of the game. Andrew Drummond didn't receive a usage bump but put up +20 fantasy points on his season average, and has seen a higher usage rate with Derrick Rose off the court this season.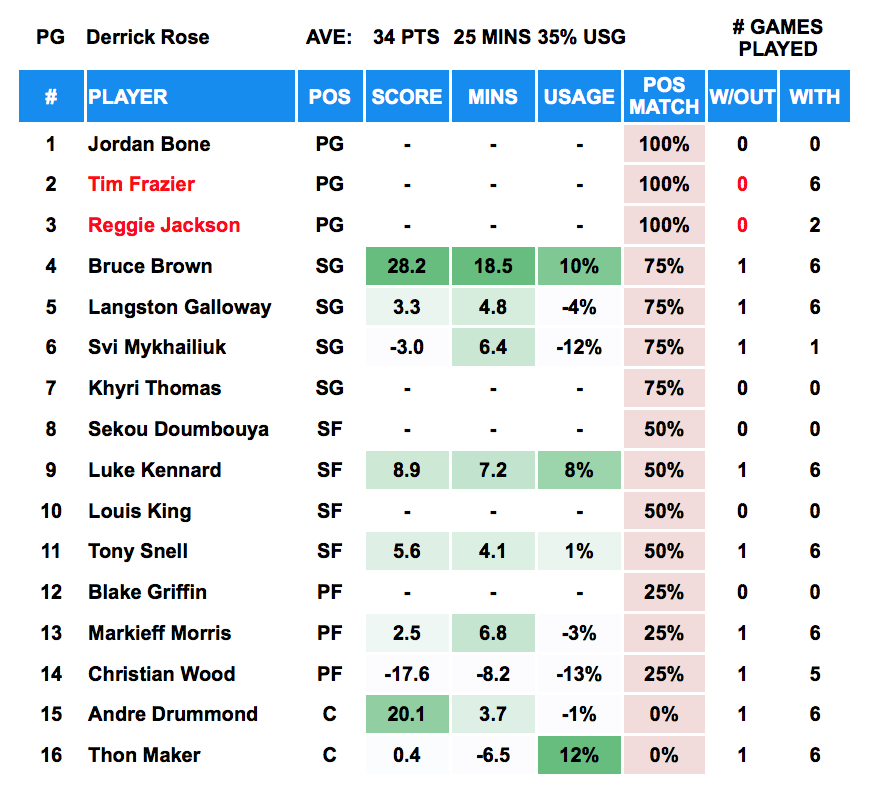 Draymond Green will be sidelined for the next few games, while D'Angelo Russell is questionable. In the last game with both players out it was Eric Paschall and Ky Bowman who succeeded the most. If Russell plays then draw a line through Bowman, however Paschall should still be in line for a significant workout with Green out.
Russell Westbrook will be rested for the game against the Grizzlies. Westbrook has averaged 33 minutes and a 29% usage rate to start this season, which leaves a significant amount of opportunity for the remaining Rockets players. A good example for comparison is the Rockets team without Chris Paul last year. In these games James Harden averaged a massive +15.5 fantasy points per game and +4% usage. Eric Gordon and Danuel House should also soak up the extra playing time.
Jaren Jackson Jr is questionable for the game against the Rockets. Brandon Clarke is the early tip to move into the starting lineup, while Jonas Valanciunas is likely to need to play a bigger allotment of minutes, as is Kyle Anderson.
Karl Anthony-Towns will continue to serve his suspension and will miss the game against the Bucks. Gorgui Dieng the starting centre role and played +17.4 minutes en route to a massive +35.5 fantasy points. Jeff Teague was the other major beneficiary as the bulk of the offense ran through him and Wiggins. Teague picked up +5% in usage rate resulting in +21.2 fantasy points.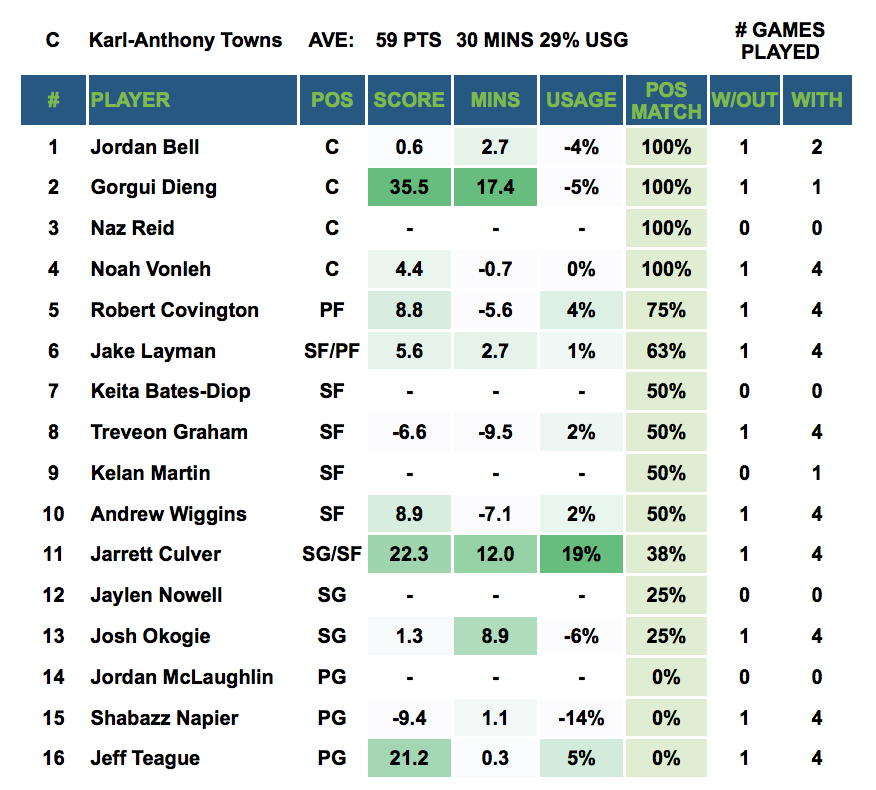 Joel Embiid will continue to serve his suspension and will miss the game against the Suns. In the two games Embiid has missed this year it has been Al Horford who has benefited with his usage going through the roof at +13%.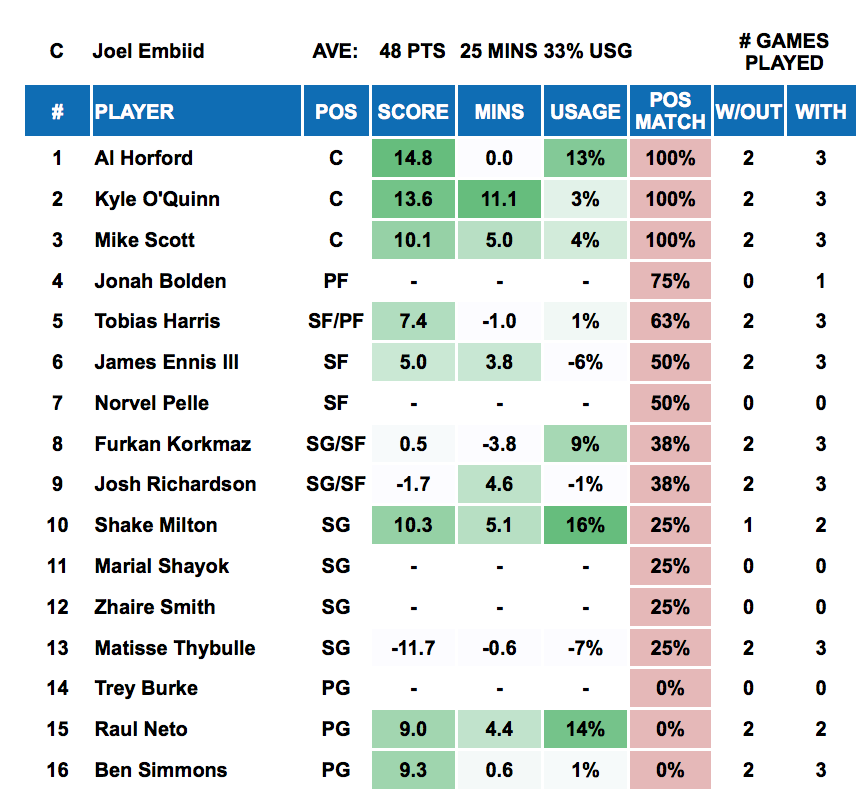 VALUE PLAYS
There are numerous value options on this slate directly as a result of injury news. I have listed them above and it is crucial to monitor the news as the slate approaches. A couple more to highlight:
Jahill Okafor (MB $4,500, DS $6,250, DK $3,100) has been on a tear the last two games without Favors in the lineup posting 38 fantasy points per game from over 30 minutes playing time. On this slate he draws a positive matchup for centres against Brooklyn who given up the third most points in the league to the position so far this season. Even if Favors returns on this slate he is unlikely to play over 20 minutes, which means Okafor should still be in a situation to return value at the near minimum price at DraftKings.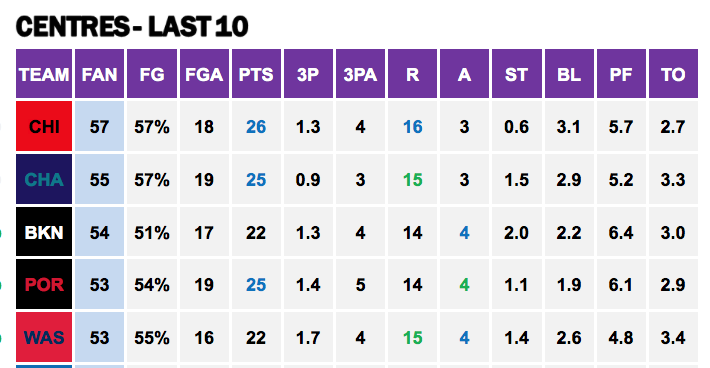 Eric Gordon (MB $4,100, DS $9,910, DK $4,000) … don't throw up yet… Just note that Gordon will almost certainly spend playing time without either Harden or Westbrook on the floor in this game, something that has rarely happened this year. Gordon is likely to be almost unowned due to his recent performance, but he has historically shown 40 point upside, typically in games where one of Houston's ball dominant players have been out. This is a pure GPP play only and absolutely not on Draftstars, but the usage and matchup will be there.
Aaron Baynes (MB $6,000, DS $7,500, DK $5,100) is making an early season run at a shock MVP campaign this year averaging 34 fantasy points per game, and an infinite number of bone crunching screens that make it look like the opposition just set off a land mine on the floor, over the last 5 contests (without De'Andre Ayton). This will be a tough matchup against Al Horford, however he is still worth highlighting on Draftstars where his price is criminally low for his current level of output.
MID PRICED PLAYS
Luke Kennard (MB $5,000, DS $10,260, DK $5,000) figures to be a really safe cash game play at this price with all of Detroit's point guards out. As noted above he picked up 8% of usage last game and effectively assumed the role of running the second unit, which is usually performed by Rose. He also draws an elite matchup on this slate as Brooklyn have given up the second most points in the league to shooting guards.
Tobias Harris (MB $7,200, DS $12,320, DK $7,000) / Al Horford (MB $7,100, DS $13,380, DK $6,900) are two mid range price plays that factor well for cash game lineups without Embiid in the lineup. As noted above both players have seen significant increase in fantasy production with Embiid out of the team this year, and Horford effectively runs the half court offense from the centre position. On this slate Horford will have difficult defensive matchup, which leads me to lean Harris as the safer option if choosing between the two.
Jeff Teague (MB $5,900, DS $10,720, DK $6,000) assumes a significant increase in play making responsibility without Towns in the lineup. The TImberwolves have effectively run the offense through Towns this season, with Teague mainly spacing the floor. But as we saw last game Teague got a 5% usage increase without him in the game. He is still under priced on this slate for late level of production and the Timberwolves will play a fast paced matchup against the Bucks.
PREMIUM PLAYS
James Harden (MB $11,000, DS $22,980, DK $10,800) is going to be one of the top owned plays on this slate with Westbrook expected to rest. As noted above his usage rate will likely return to last seasons massive number when Paul wasn't playing (up to the 40% range). He also draws a matchup against Memphis who have played at a top 3 pace this season. To top it off Harden absolutely loves playing Memphis, last season he scored 57 real points two times and in the other two matches against the Griz he posted triple doubles.
Andre Drummond (MB $10,300, DS $19,810, DK $10,400) has become the automatic chalk play of the slate each time out without Blake Griffin in the lineup. Averaging an absurd 57 fantasy points he faces the Washington Wizards on this slate who have given up the fifth most points in the league to centres this year.
Dragon's Suggested Moneyball Team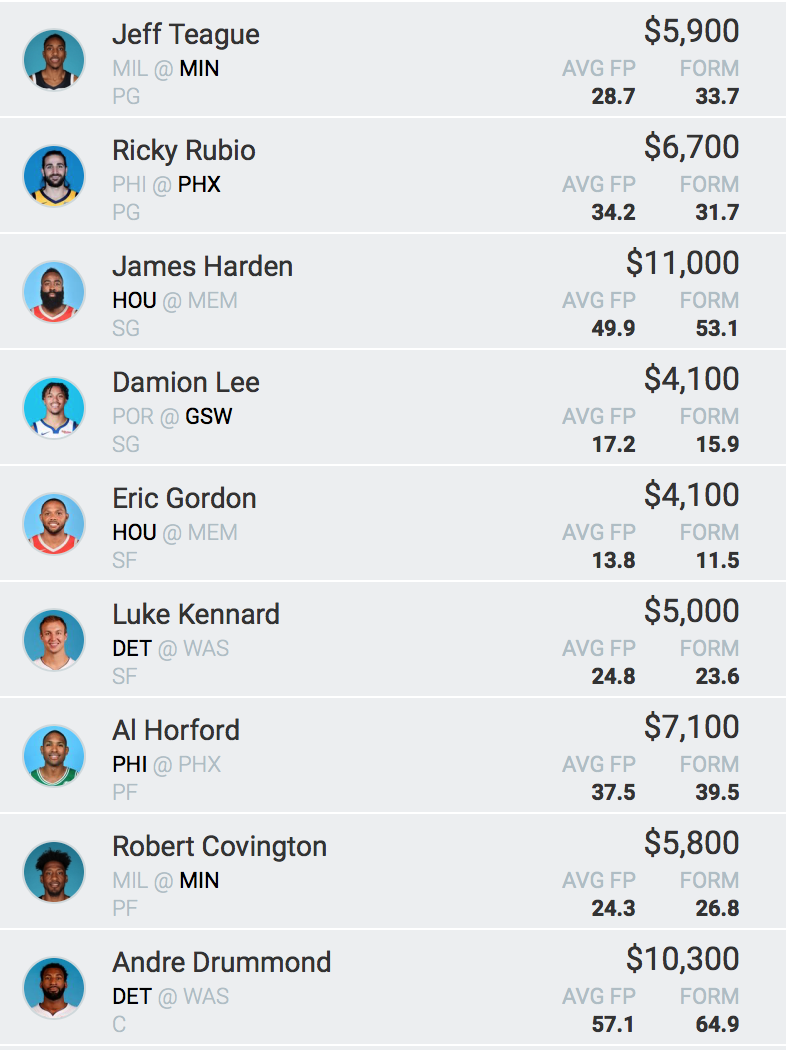 Always remember to gamble responsibly. When the fun stops, stop. If gambling is having a negative impact on your life, seek support at Gambling Help Online. 18+ only.