daily fantasy sports articles
NBA 2019-20 Daily Fantasy Preview Wednesday 11th March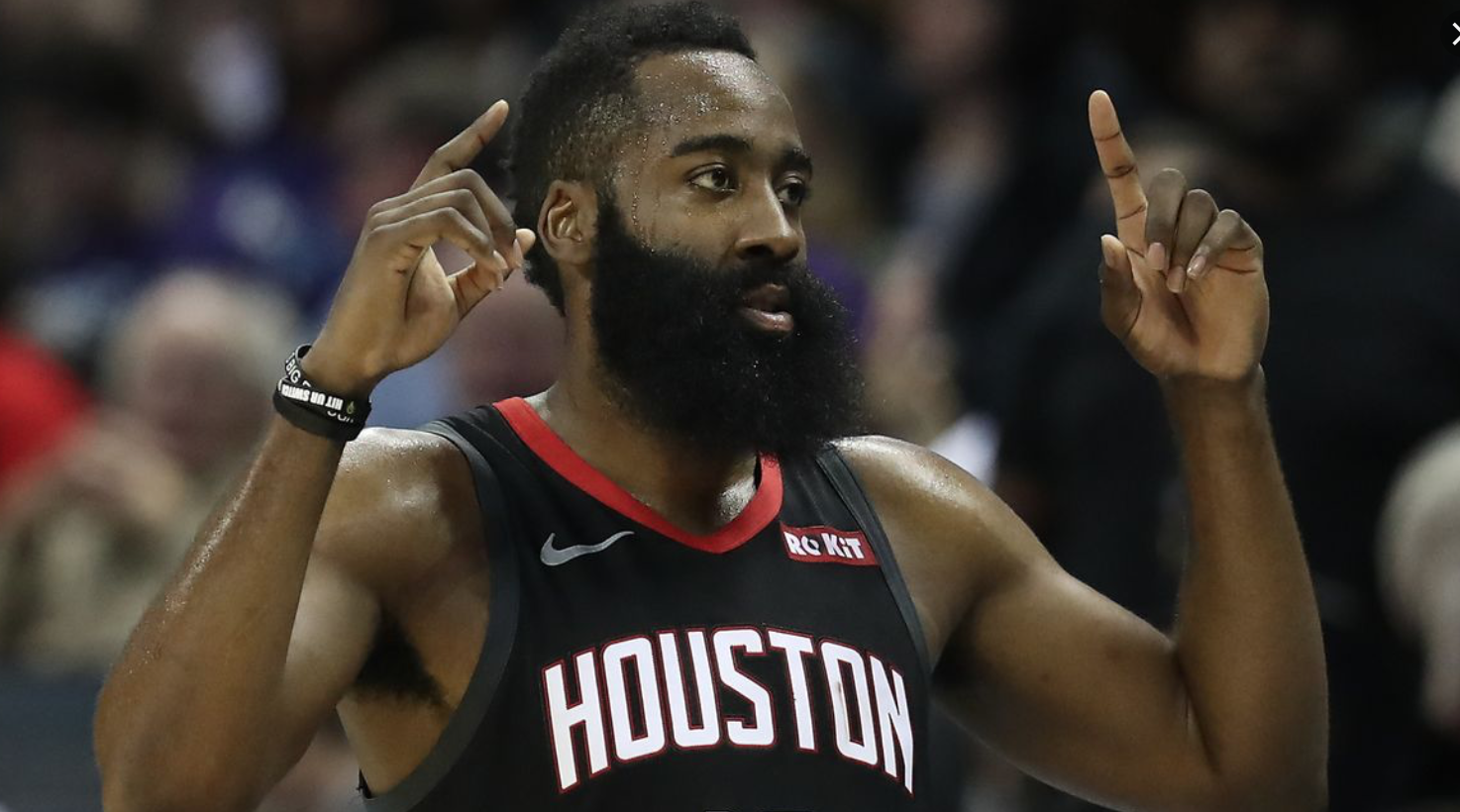 After what we saw today it is clear the silly season is well and truly underway. But we are back at it for a massive NBA Tuesday (Wednesday AEST) with a mega 9 game slate for us to attack. The usual major daily fantasy tournaments on offer across the platforms:
GAME BREAKDOWN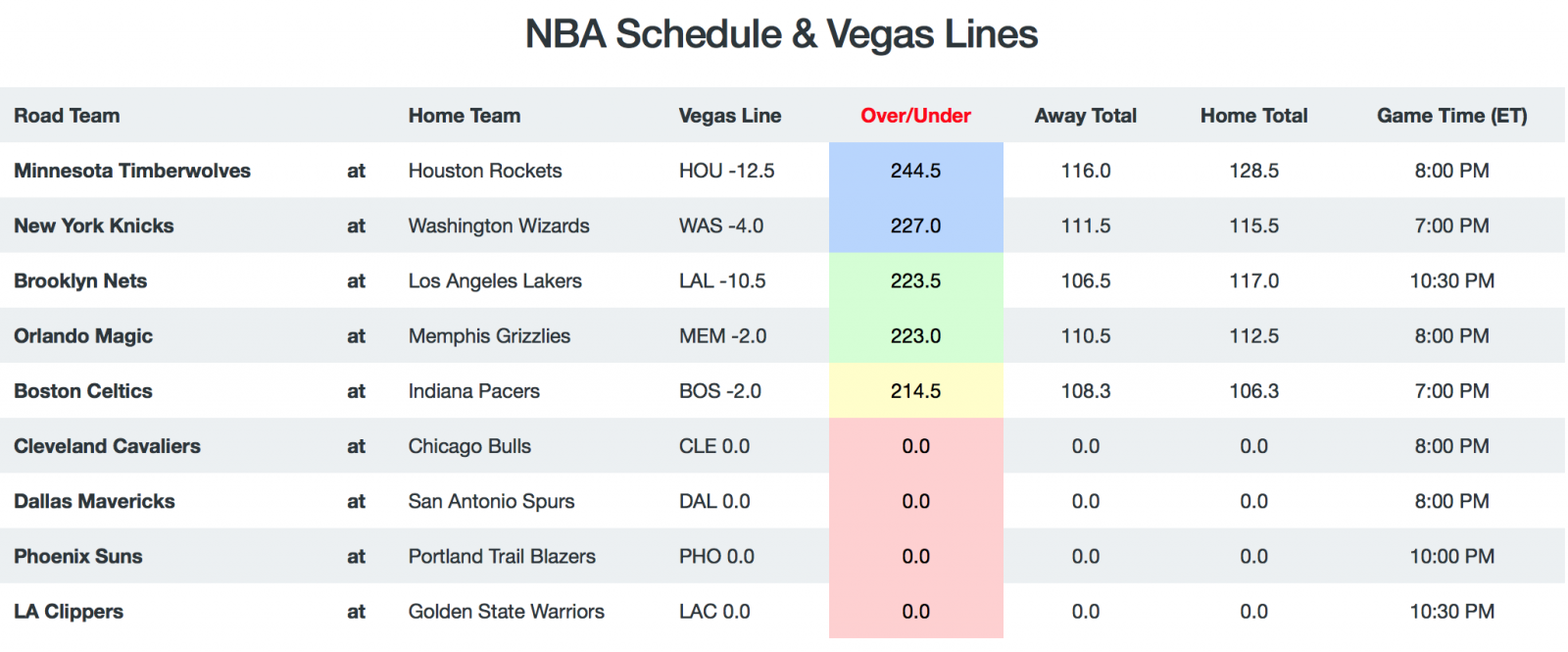 Nothing too crazy just yet with just four games currently without a total while we await injury news. But be ready for a late rush of changes as you never can tell what the NBA will throw up at this point in the season. As always I cover the impact of all the major injury news for DFS below.
We have yet another game of the century on this slate with Minnesota at Houston offering a monster 244.5 total. The Timberwolves have climbed up to the second fastest team in the league this season and over the last 15 games have been a clear first. During that same stretch they are ranked 30th in defensive efficiency and have given up the most fantasy points in the league. They are the number one team to target in the league at the moment and you can bet I will be loading up on the Rockets on this slate (along with everyone else). We can easily stack the game up playing Timberwolves as well, as the Rockets have been an attractive team to target all season.
The next highest total is New York at Washington at 227 points. The Wizards have generally been the benchmark in teams to target for fantasy purposes all year. They are 5th in pace, 30th in defensive efficiency and have conceded the second most fantasy points.

No surprise to see teams I mentioned above as the top three in pace up match-ups. The sneaky game I will look to target, however, is Orlando vs Memphis. It is a great pace up spot for the Magic with Memphis playing at the 6th fastest pace in the league this season, meanwhile Orlando has seen their defense slip lately being ranked 24th in defensive efficiency over the past 10 games. The game is also expected to stay close with a 2 point line.
INJURY NEWS
Luka Doncic is questionable for the game against the Spurs. Just lock Kristaps Porzingis straight into your lineups if Doncic is ruled out. He has been an absolute monster this season when Luka hasn't played averaging a massive +15.6 fantasy points in 10 games. It is also a perfect matchup against the Spurs for bigs. I would also be looking to Tim Hardaway Jr, given the fact Seth Curry is also out on this slate.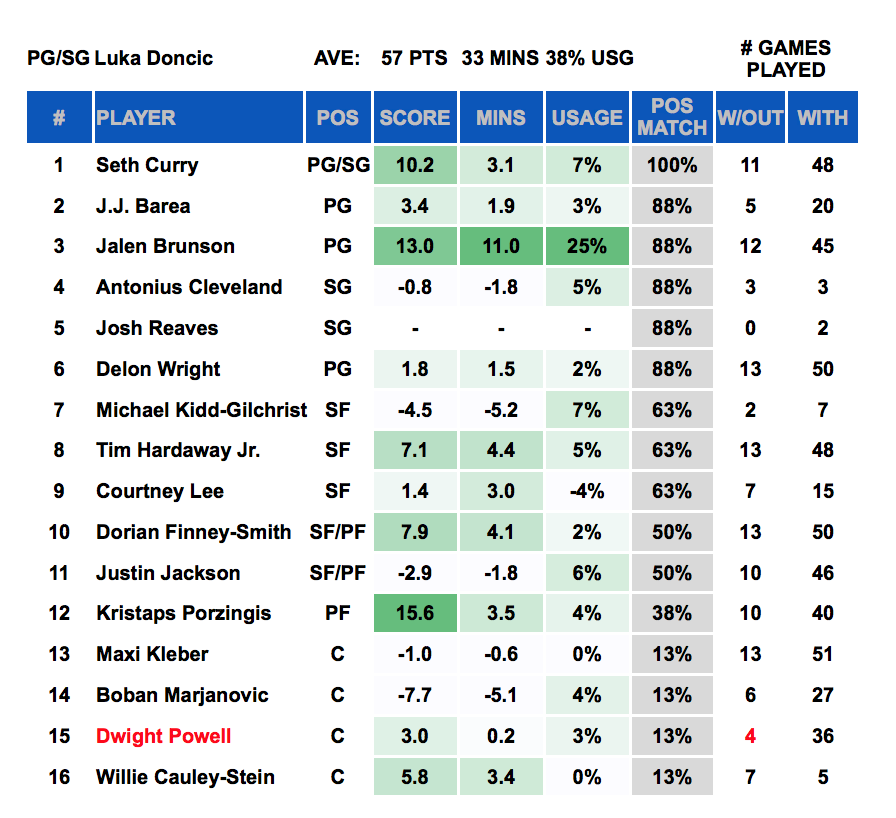 Victor Oladipo is questionable for the game on this slate, with Malcolm Brogdon still out. This could potentially open up the entire back court for the Pacers with TJ McConnell and Aaron Holiday the likely replacements. Holiday has played 30+ minutes in each of the last two games without Brogdon in the lineup and posted over 20 fantasy points in one of these. McConnell has averaged right on 1 fantasy point per minute this season and if he was given the opportunity to play upwards of 25 minutes becomes an elite play.
Lebron James is questionable for the game against Brooklyn. Without James this season it has been Rajon Rondo who has started and returned a massive +17.3 fantasy points from an additional 8.8 minutes of playing time. Rondo's play recently has left plenty to be desired, however, so keep an eye on news for the starting lineups. The two other players that would be in heavy consideration are Anthony Davis who sees a ridiculous 8% usage boost, and Kyle Kuzma who has posted +12 fantasy points per game without James in the lineup.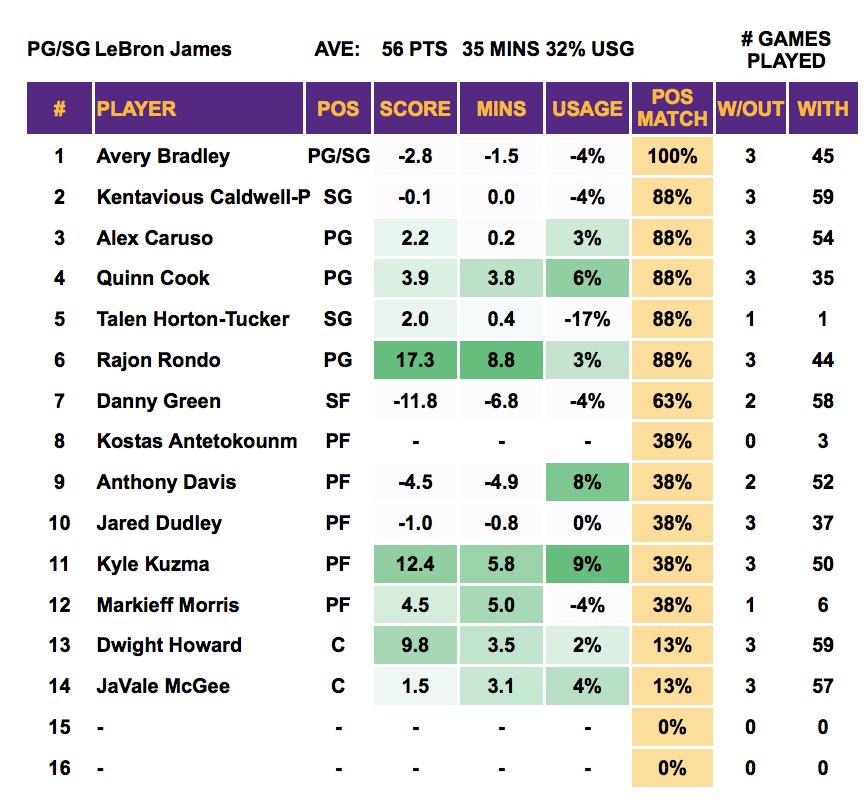 Deandre Ayton is questionable for the game against the Blazers. Without Ayton in the lineup these past two games Aaron Baynes has revitalised his MVP case posting a ridiculous 69.5 fantasy points (not a typo!), backed up with a 37.5 point performance. He still has some value left in his price and would be worth considering if Ayton were to miss this game.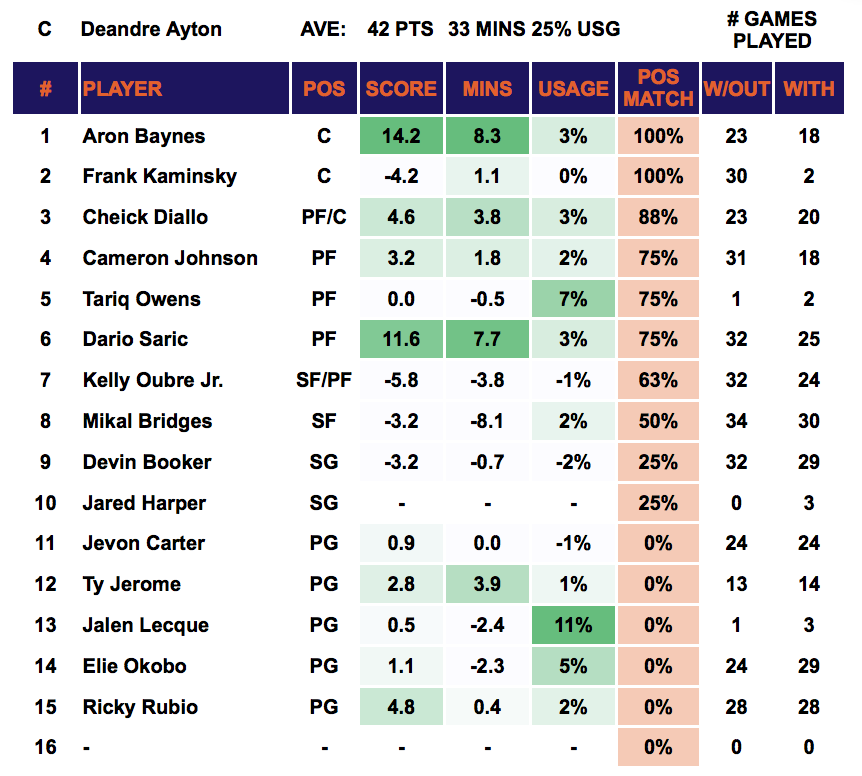 Dejounte Murray is out with a calf strain, joining the injured LaMarcus Aldridge. Good luck trying to navigate Popovich's lineups in this situation, however without Murray in the lineup the obvious player to take his role would be Derrick White. That said, during the season when Murray has missed it has been Patrick Mills who has seen the biggest boost posting +9.7 fantasy points per game.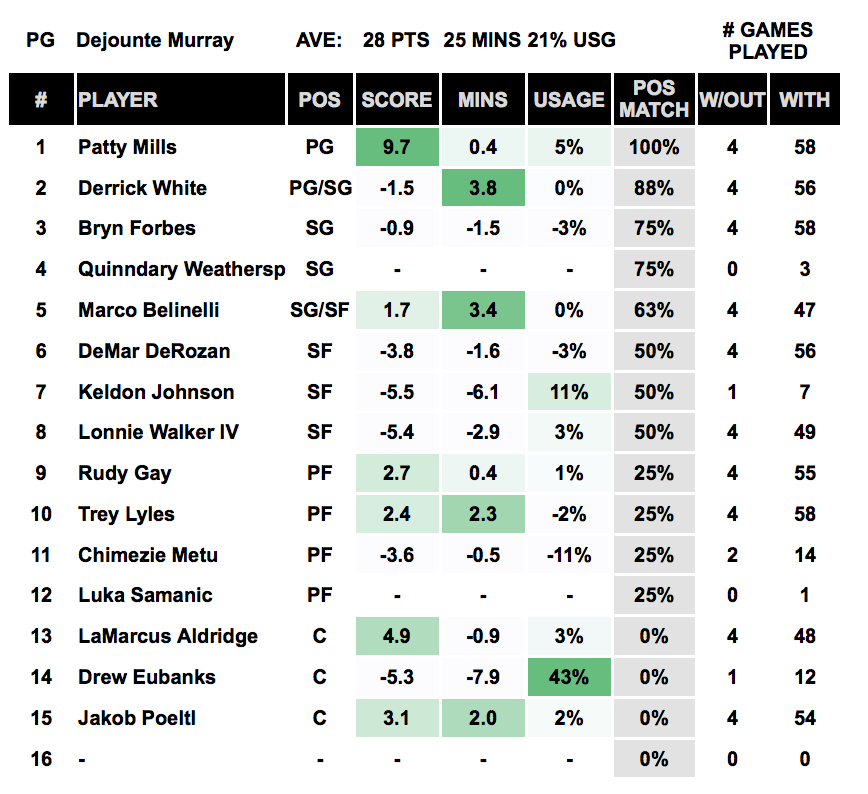 VALUE PLAYS
As always more value will likely open up as we get closer to the slate and further lineup news breaks. Also be studious in looking at pricing differences between the three platforms as some players are value on different sites just due price.
In addition to the possible value plays noted above (Derrick White, Aaron Baynes, Rajon Rondo, Kyle Kuzma):
Danuel House (DS $7,910, DK $4,300, MB $4,400) is a nice value option to get exposure to the Rockets playing Minnesota on this slate. He is a little hit and miss, but has still posted 26+ in three of his last six games. His minutes are guaranteed at around 25-30+ and it is literally the best matchup in the league at the moment with Minnesota giving up the most fantasy points over the past 15 games.
Matthew Dellavedova (DS $7,940, DK $4,000, MB $3,900) is still way too underpriced now that he has moved into the starting lineup. Dellavedova has played in 29+ minutes in the last 4 games (over 30 in the last 3). Through this stretch he has averaged 26+ fantasy points including back to back games of over 35. He is close to a lock and load play for me on this slate.
MID PRICED PLAYS
Malik Beasley (DS $11,660, DK $6,200, MB $5,600) is in the matchup of the century. Since coming across to the Timberwolves he has been unleashed as the starting shooting guard and is already making the Nuggets question their decision to let him go. He has posted 31+ fantasy points in 7 of his last 10 games, with a number of 40+ point performances. He has an elite individual matchup with the Rockets conceding the fourth most fantasy points to shooting guards this season.
Markelle Fultz (DS $9,740, DK $5,700, MB $5,300)... ahh yes my old friend. There isn't too much more to say about this play that wouldn't be repeating my last few previews (he did drop a 40+ for us last time I tipped him). It is a GPP only play, but I love the matchup against the up-tempo Memphis squad and the fact that Evan Fournier is out of the lineup.
Montrezl Harrell (DS $11,610, DK $6,100, MB $6,000) / Marquese Chriss (DS $12,330, DK $6,000, MB $6,500)... these two are both in smash spots to me. Both similarly priced, which means you can choose one or the other, or try them together. Chriss has been an absolute revelation for the Warriors posting back to back 40+ point games against tough competition, while Harrell just keeps on ticking posting 32+ in four of his last five games.
PREMIUM PLAYS
D'Angelo Russell (DS $16,950, DK $8,500, MB $8,400) / James Harden (DS $21,890, DK $11,300, MB $11,000)
No surprise I am going right to the game of the century. I ran through all the reasons this game is DFS dream in the breakdowns above. The interesting thing here is we are dealing with two players who are in one of the worst shooting slumps you will ever see. Russell has shot just 36% from his last 6 games, while Harden is at 31% from his last 5. This means regression backup is on its way, and what better game to get us there. To make things even better, both sides get torched by opposition point guards.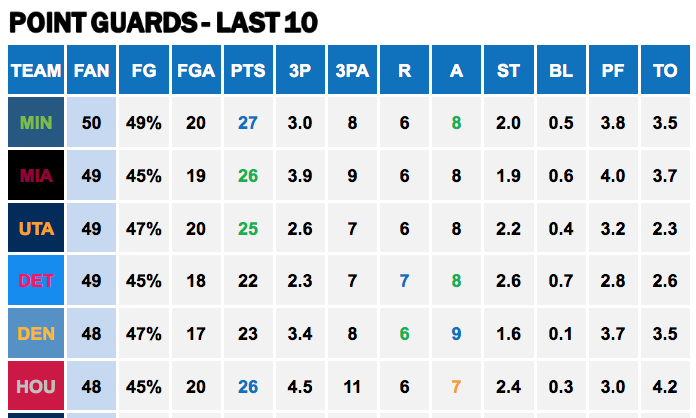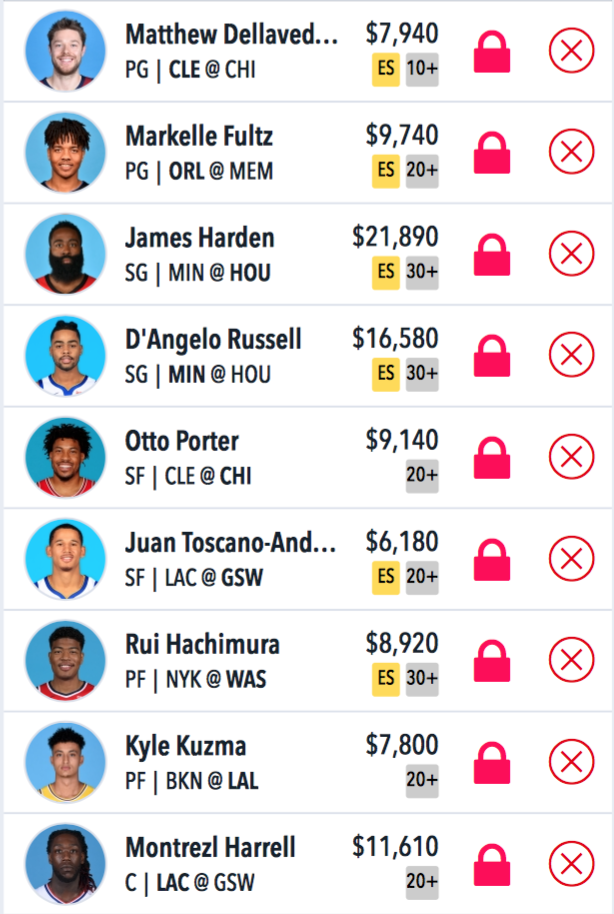 In case you are new to NBA DFS these articles break down the matchups and highlight the key plays to help you build winning lineups. For more insight into how to utilise our game breakdown data check out our NBA DFS Training Camp Series:
Always remember to gamble responsibly. When the fun stops, stop. If gambling is having a negative impact on your life, seek support at Gambling Help Online. 18+ only.