daily fantasy sports articles
NBA 2019-20 Opening Night Daily Fantasy Preview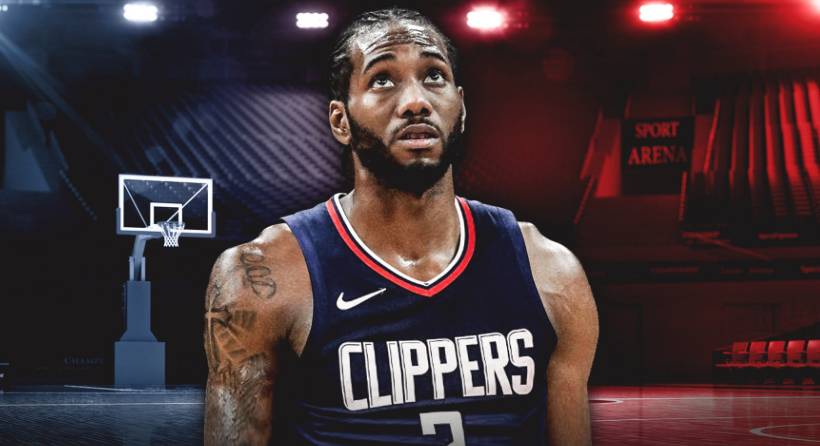 IT IS BACK! The 2019/20 NBA Season kicks off this week with a massive double header to open this NBA Tuesday (Wednesday AEST). I will be on deck here all season once again to break down all the major NBA DFS slates and opening night has no shortage of daily fantasy action with several massive contests across all the major platforms:
For more details on contest types on offer check out our NBA primer article here.
In case you are new to NBA DFS these articles break down the matchups and highlight the key plays to help you build winning lineups. For more insight into how to utilise our game breakdown data check out our NBA DFS Training Camp Series:
Part 1 – Betting Lines and Totals
Part 2 – Matchup Analysis – Pace and Defense vs Position
Part 3 – Key Statistics in Daily Fantasy Basketball
Part 4 – Trade Analysis – Breaking Down the Jimmy Butler Trade
Part 5 – DraftKings Sharpshooter Winning Lineup Recap
Part 6 – Adjusting for Line-up News
GAME BREAKDOWN

Opening night factors to be a high scoring affair in both games of the double header slate. Featuring the now Kawai-less reigning champion Toronto Raptors going against the new team on the block (but unfortunately Zion-less) New Orleans Pelicans, and for desert the first edition in the battle of Los Angeles as the Lakers face the Clippers.
Both games have massive games totals with New Orleans at Toronto topping the slate at 231 points. Raptors are relatively favoured at -7 points, which has been impacted by the loss of Zion for the Pelicans. While the Lakers at Clippers is expected to be close throughout with a Los Angeles 2.5 point favourites.

New Orleans and Toronto figures to be a track meet with the Pelicans carrying on from where they left off last year during the preseason playing at a top 5 pace. They gave up the most fantasy points in the league last season, and while there have been defensive additions in this is a trend that should continue given their pace of play. Meanwhile the Raptors pushed the ball significantly in preseason, which is no surprise given they were one of the best transition teams in the league last year.
The Lakers and the Clippers figures to be much slower with the Lakers running the game through Lebron who has predominantly played at a slower tempo throughout his career, and now pairing with Davis who brings mismatches in the half court. They played at the 23rd fastest pace during the preseason, while the Clippers played the 11th fastest.
Lineup Changes
This past offseason was one of the most active yet with all four of the teams on this slate impacted the most by player movement.
They lost the most valuable player to their championship run in finals MVP Kawhi Leonard (34 minutes per game, 30% usage), as well as starter Danny Green (27 minutes, 14% usage). This leaves a significant number of minutes and usage to be soaked up by the remaining players. Expect OG Anunoby to step into a starting role and play major minutes, while it is likely that Norman Powell and Fred VanVleet will benefit from the other roster spot.
Our player out tool indicates that Kyle Lowry was the biggest beneficiary in the 22 games that Leonard missed last year, receiving a 10 points per game bump from an addition 6% usage.
The Pelicans have seen a major overhaul due to the Anthony Davis (33 minutes per game, 29% usage) trade, as well losing Julius Randle (30 mpg, 27% usage) and Elfrid Payton (30 mpg, 18% usage). These roles will be filled by newly acquired Lonzo Ball, who is expected to start at point guard, small forward Brandon Ingram, and centre Derrick Favors.
Zion Williamson averaged 27 minutes with a 25% usage rate throughout the preseason, so his injury will leave more burden on the likes of Jrue Holiday and likely Derrick Favors. Favors averaged a ridiculous 21 points 14 rebounds per 36 minutes last season without Gobert on the floor, meaning that if he played significant minutes at centre he should be an elite target.
The Clippers acquired the aforementioned Kawhi Leonard (34 minutes per game, 30% usage) this off season in addition to injured superstar Paul George. Without George opening night I would expect similar output from Leonard as past season, however there can always be a time where players need to acclimatise to the new role. His playing time and usage is likely to have an impact on Lou Williams (26 mpg, 32% usage) who led the Clippers in usage in 2018/19.
The Lakers brought in their big fish in Anthony Davis (33 minutes per game, 29% usage) this summer for the majority of their young assets. They have rounded the team with a series of veterans who will all play off Lebron and Davis. The two superstars should be able to maintain their levels of usage from past years, particularly with Lebron expected to play point guard and while Kyle Kuzma remains out injured.
Remember to monitor starting lineup news right up until tip off.
VALUE PLAYS
OG Anunoby (MB $4,500, DS $8,310, DK $3,900) is the stand out safe value option at this stage on the slate. This is before the new value opens up as the starters are announced. OG has been much heralded by the Raptors and now healthy, with Kawai and Green gone, should be locked into 30+ minutes per game. He will be required to help shoulder the loss of Kawhi's 26.6 points per game last season. Through 4 preseason games he averaged 10 points, 3 rebounds 2 assists and 1.5 steals from 24 minutes of game time, and draws an elite matchup in the season opener against the Pelicans who played at the second fastest pace last season, and fourth fastest during preseason.
MID PRICED PLAYS
Kyle Lowry (MB $7,800, DS $13,350, DK $6,800) and Pascal Siakam (MB $8,200, DS $14,880, DK $7,600) will be set for massive statistical seasons as a result of the loss of Kawhi Leonard who commanded a massive 30% usage for the Raptors last year. As noted above when Leonard didn't play it was Lowry who saw the biggest boost in 2018-19 with a massive +10 in fantasy points from 6% more usage. This season Siakam should eat into that as the Raptors look to hand the offensive duties over to him.
Both players are in elite matchups on this slate against the Pelicans who as we mentioned above factor to be one of the fastest teams in the league again this year and who gave up the most fantasy points in the league in 2018-19. Lowry and Siakam are both great plays on this slate, lean to Lowry on Draftstars and DraftKings and Siakam at Moneyball.
PREMIUM PLAYS
Jrue Holiday (MB $8,900, DS $14,090, DK $7,900) is my top play for the high priced players on this slate due to the safety his role brings. Without Zion and Davis no longer on the roster he will locked into the 30+ minutes in playing time for one of the fastest paced teams in the league. He will draw significant usage and offers a floor of high 30s and comes in at a price tag lower than the James, Davis, Leonard trio.
At his price point on DraftKings he is an absolute lock on this slate.
Kawhi Leonard (MB $9,900, DS $16,460, DK $9,600) is my pick of the three MVP candidates in the battle of LA. Leonard is just the safer play at this stage and brings a cheaper price point of the three. Without George in the lineup Leonard should continue on with his 30% usage rate from last year, just in another city.
Davis and James on the other hand will be playing with another high usage player for the first time and while they should maintain their levels bring some uncertainty at higher price tags.
Dragon's Suggested
Moneyball
Team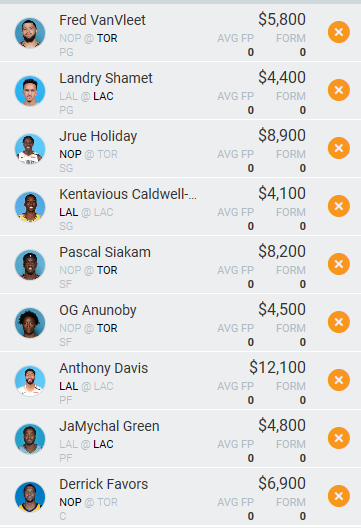 Always remember to gamble responsibly. When the fun stops, stop. If gambling is having a negative impact on your life, seek support at Gambling Help Online. 18+ only.