daily fantasy sports articles
NBA 2020-21 Daily Fantasy Preview Thursday 24th December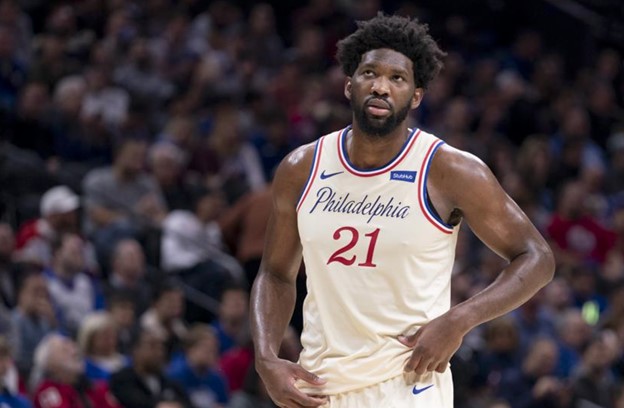 Well opening day was a nice little warm up. But day 2 is delivering a massive punch with a monster 13 game slate to attack. There is a lot to work through on this NBA Wednesday (Thursday AEST) slate so let's dive in to get ready for all the massive DFS contests on offer:
In case you are new to NBA DFS these articles break down the matchups and highlight the key plays to help you build winning lineups. For more insight into how to utilise our game breakdown data check out our NBA DFS Training Camp Series:
Part 1 – Betting Lines and Totals
Part 2 – Matchup Analysis – Pace and Defense vs Position
Part 3 – Key Statistics in Daily Fantasy Basketball
Part 4 – Trade Analysis – Breaking Down the Jimmy Butler Trade
Part 5 – DraftKings Sharpshooter Winning Lineup Recap
Part 6 – Adjusting for Line-up News
GAME BREAKDOWN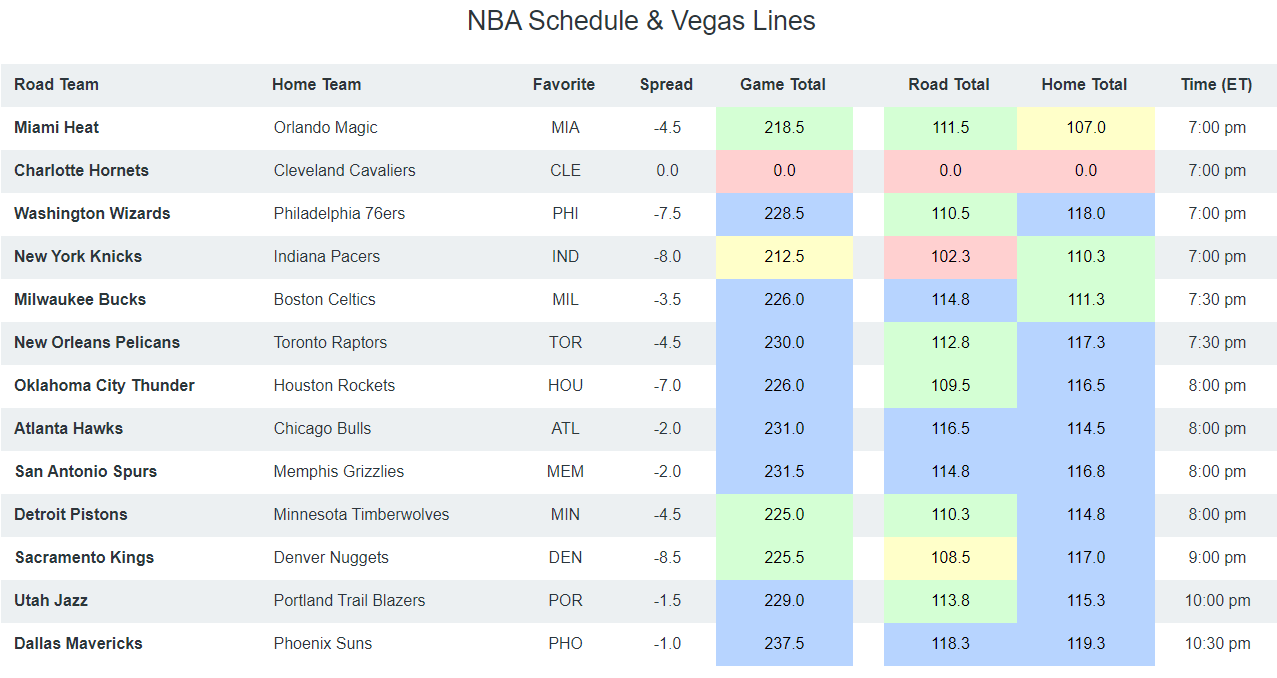 No shock given the size of the slate to see a large number of monster game totals. This is spearheaded by a ridiculous 237.5 point total for the game between Dallas and Phoenix. Based on the preseason pace of both sides this is almost a little surprising as both sides were in the bottom half of the league for tempo. However, last year Dallas were the top offense in the league (and a historically good one) and it is unlikely we see any drop off this season.
San Antonio vs Memphis is the next highest total and a game I will be targeting as they also have the highest projected pace of all 13 games on the slate. Memphis were the fastest team in the league during the preseason with Ja Morant pushing the tempo constantly, while the Spurs also played at the 11th fastest pace.
The toughest call on this slate will be who not to target with so many options. Games under 220 points totals such as the New York vs Indiana and Miami vs Orlando can almost be ruled immediately to narrow your player pool.
TOP GAME STACK - San Antonio @ Memphis

VALUE:
There are unlimited value options to pick from on this slate and as always it will be key to monitor the starting lineups closer to tip off to see if the news of those who are starting opens up any obvious options.
Darius Bazley (DS $7,290, DK $5,100)
The Thunder's team has been totally gutted this summer and as a result opportunity has opened up for the remaining players, especially on the wings. Bazley is the player with the most upside and he has looked solid in the preseason posting 10 points 11 rebounds in the last game against the Bulls in just 23 minutes. The most promising number from that game was his shot attempts at 12. He will certainly be locked into a starting role and we should expect up to 30 minutes of game time against the Houston Rockets who look to be weak defensively this season.
OKC Game has been postponed.
Malik Beasley (DS $7,550, DK $5,100)
Malik Beasley had his world totally open up last season in terms of productivity after being traded to the Minnesota Timberwolves. From there he took over the starting shooting guard position and averaged 20 points and 5 rebounds from 14 games. He should hold onto the starting role this season, despite the Wolves drafting Anthony Edwards with the number one pick. Throughout the preseason Edwards has come off the bench behind Beasley. In the last game of the preseason Beasley showed his upside is still there with 18 points 11 rebounds in 24 minutes.
MID PRICED:
Christian Wood (DS $12,760, DK $6,300)
One of the biggest acquisitions from a fantasy perspective this off season was Houston acquiring Christian Wood. Now totally free from the shackles that held him back in Detroit this fantasy point per minute monster will take over the starting centre position in what should be the perfect role. The pick and pop/rim runner for James Harden (assuming Harden decides to show up and/or tries). Last year Wood averaged 1.19 fantasy points per minute and he should be locked into 30+ minutes per game with the Rockets. UPDATE - There are some issues with player availability with COVID tracing hitting the Rockets. With John Wall and Demarcus Cousins in isolation, this becomes a great spot for Wood with less teammates available.
Houston Game has been postponed.
Coby White (DS $9,560, DK $6,500)
White looks to be set for breakout season based on the flashes in the preseason and the way he ended his rookie campaign. In their second last preseason game against the Thunder White showed his upside popping for 27 points (on 5 threes made) and 5 rebounds. This is not unusual as White showed late last year with a run of three straight 33+ point games. He is priced perfectly given his upside for a GPP play on this slate and has an elite matchup against Atlanta who had one of the worst defenses in the league last season (especially in the back court).
Al Horford (DS $11,180, DK $6,000)
The Thunder have taken on Horford with an eye on flipping him again down the line for further picks because well Presti won't rest until he has all the picks! As a result, we can expect them to be fattening the pig for market so to speak and giving Horford every opportunity to fill up the stat sheet. To be honest there are not many other options anyway. During the preseason he showed he still had plenty left in the tank with a 15-point 7 rebound game against the Bulls in just 15 minutes, followed up by a 17-point 8 rebound game in 20 minutes. I also love the matchup against Christian Wood who certainly isn't known for his defensive prowess.
OKC Game has been postponed.
PREMIUM:
Ja Morant (DS $15,210, DK $8,400)
It is hard to have a breakout year the season after you win the rookie of the year, but I expect Morant to burst into total superstardom this season. His preseason performance showed he has already taken things up a level, absolutely dominating and looking like the best player on the court at all times. He has one of the top matchups on the slate against the Spurs as noted above with the game expected to be the highest pace of the day. He is also price nicely below the top echelon of players and should return 45+ fantasy points, which is a solid value at this price point.
Joel Embiid (DS $20,330, DK $9,800)
If you are going to spend right up on this slate, I think Embiid makes a great pivot away from Luka and Giannis who will likely draw a lot of ownership. There has been plenty of talk about Embiid's off season workout regime in addition to the fact the Sixers have a new coach and new starting lineup with players capable of opening up the floor for him and Ben Simmons. On top of that he draws what has been one of the top matchups in the league for centres in recent years against Thomas Bryant. He will have absolutely no chance in slowing down Embiid in a game that should see the Sixers playing way up in pace against the Wizards. Last year Washington gave up the most fantasy points in the entire league and the addition of Russell Westbrook should do nothing to slow this down.
Always remember to gamble responsibly. When the fun stops, stop. If gambling is having a negative impact on your life, seek support at Gambling Help Online. 18+ only.