daily fantasy sports articles
NBA Daily Fantasy Tips for NBA Finals, Game Six
After one of the craziest games in NBA Finals history we have yet another DFS slate to crunch as the series heads back to Oracle for one final time… ever. The Golden State Warriors will have a chance to extend this series to 7 games if they can get a win on their home floor against the Toronto Raptors.
And of course there is all kinds of DFS on offer:
Just remember with DraftKings contests they are showdown format, which as we discussed in the last preview means you select a captain whose score counts for 1.5x their total fantasy score.
In case you are new to NBA DFS these articles break down the matchups and highlight the key plays to help you build winning lineups. For more insight into how to utilise our game breakdown data check out our NBA DFS Training Camp Series:
Part 1 – Betting Lines and Totals
Part 2 – Matchup Analysis – Pace and Defence vs Position
Part 3 – Key Statistics in Daily Fantasy Basketball
Part 4 – Trade Analysis – Breaking Down the Jimmy Butler trade
Part 5 – DraftKings Sharpshooter Winning Lineup Recap
Part 6 – Adjusting for Line-up News
Have you seen our new NBA DFS Cheat Sheets? We have added even more information for you to see at a glance, including pace numbers, last 5 scores per player and a new Slate Overview section, which brings you projected pace, projected fantasy score totals and Vegas lines and totals for every team on the slate. The perfect accompaniment to our regular previews and a great starting place for the days we don't cover!
GAME BREAKDOWN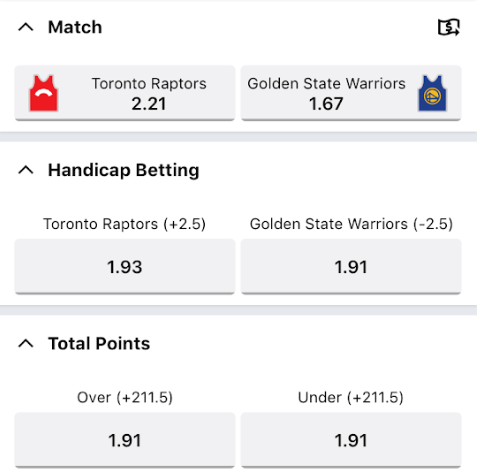 INJURY/LINEUP NEWS
Every game of this series we have touched on Kevin Durant's status. We all saw what happened in game 5 as Durant attempted to give it a go and now have the devastating news that he ruptured his achilles tendon. Durant played an exceptional 12 minutes for the Warriors before the injury, looking just like the regular KD, and more than likely was part of the reason they were able to secure the win in the end.
The Warriors will have to finish the series without him, this is the first time Durant's return will no longer be looming over this series. Without Durant the usage for Steph Curry, Klay Thompson and Draymond Green all go up as we have seen throughout this playoff run.
DeMarcus Cousins will also be needed, as he went from being on track for a DNP – Coaches Decision to playing 20 minutes in the final 3 quarters and posting 14 points and 6 rebounds. Quinn Cook should also be in the rotation as the Warriors look to be trying to get more offense and shooting on the floor.
Kevon Looney is questionable for game 6 after playing just 18 minutes in game 5. From all reports Looney is going to do everything in his power to play, which likely will involve receiving pain numbing injections again. The question will be if he does suit up how long will he be able to last.
If Looney does miss the game, look for even further increases in playing time for Cousins, while Andrew Bogut will also receive more minutes.
VALUE
Quinn Cook (DK $2,600, DS $5,000, MB $4,500) is my flier value play on this slate. By this point everyone knows about Andre Iquodala and the Danny Green. If you are going to squish in Kawhi Leonard or Steph Curry along with another well priced star you need salary relief. Kerr looked to be going to Cook more in game 5 after Durant went down to help stretch the floor. Alfonso McKinnie didn't get on the court for the first game in the series and Cook was playing down the stretch as the Warriors went with offense defence line-ups as much as they could.
MID PRICED
DeMarcus Cousins (DK $4,800, DS $10,050, MB $6,500) as mentioned above will be locked into 20 minutes of playing time at least in this game. This is likely to push upwards of 25 if he is able to contribute offensively. If Looney is out, high 20s should almost be a certainty as the Warriors are quite simply out of bodies to put on the floor.
Cousins has shown upside in this series with a massive 37 fantasy points in game 2, which was backed up with 26.5 in game 5. They will run some offense through him in the post, particularly on line-ups without both Curry and Klay on the floor.
PREMIUM/CAPTAIN
Kawhi Leonard (DK $11,800, DS $17,540, MB $11,500) has been my lock and load premium in every game this series and he hasn't disappointed. As much as the possibility of a Curry showing out party for the Oracle finale is on the cards, Leonard is the safe play. Averaging 56.75 fantasy points through 5 games, he has consistently looked to be able to get what he wants against the Warriors. With Durant out there will always be certain line-ups where the Warriors simply have no passable matchups for Leonard.
In game 5 Leonard didn't have a great game beyond that one 3 minute patch in the fourth quarter. He shot just 9/24 from the field and turned the ball over 5 times. But he still managed to post a game high 58 fantasy points. Death, taxes and Kawhi in this series.
Dragon suggested team at DraftKings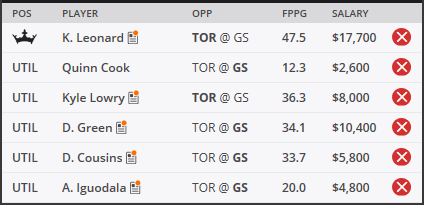 The Daily Fantasy Rankings "Dragon" has scoured the Australian sports betting markets and found some great value picks for this game. Check out his picks for the day below and click on the links to follow his betting plays!
Always remember to gamble responsibly. When the fun stops, stop. If gambling is having a negative impact on your life, seek support at Gambling Help Online. 18+ only.